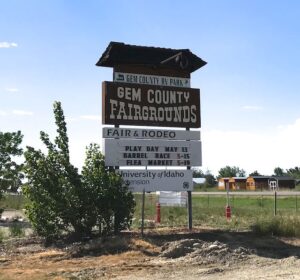 Greetings from first Emmett, Idaho
.
.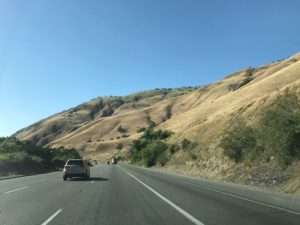 and then the next day Bakersfield, California
.
 .
From the travels and adventures of the 
"World's #1 Trackchaser"
.
.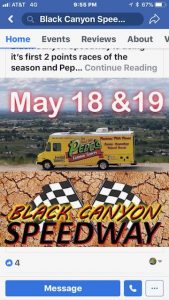 Black Canyon Speedway
Dirt oval
 Lifetime Track #2,425
.
.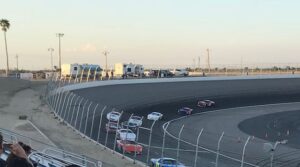 Kern County Raceway Park
Inner asphalt oval
 Lifetime Track #2,426
The EventVideo PlusPhotos
Editor's note: From time to time I will consolidate two track visits into one Trackchaser Report. That is the case today with my visits to first Idaho and then California.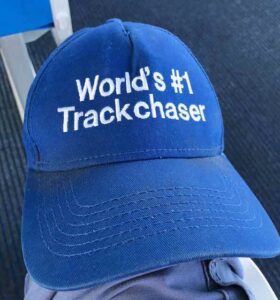 THE EVENT
I am a "trackchaser". So, what the heck is that? I get that question all the time from racing and non-racing people all the time. Here's my best answer.
I'm a racing fan. I love to travel. I love to analyze opportunities to get the most out of everything while saving time and money.
Trackchasing fills the need for all of the above. The racing part of my trackchasing has me trying to see wheel to wheel auto racing at as many different racetracks as I can all over the world. So far that is going pretty well. I've seen racing at more than 2,400 tracks in 80 countries. As a matter of fact, I've seen racing at more tracks than anyone else in the world.
Equally important to me are the things I get to see and experience over the "long and dusty trackchasing trail". I called these adventures "Trackchasing Tourist Attractions". You won't want to miss my "Trackchasing Tourist Attractions" page or my "Sports Spectating Resume" page on my website at www.randylewis.org.
I live in southern California. Most of the racetracks in the U.S. are located well over 1,000 miles from where I live. As a matter of fact, my average trip covers 5,000 miles and more. I take 35-40 of those trips each season. In any given year I will travel well over 200,000 miles, rent more than 50 cars, and stay in more than 150 hotel rooms.
I get the chance to meet people all over the world. With trips to 80 countries and counting just getting the chance to experience so many other cultures, spend times in their homes and meet their friends is a huge reward for being in this hobby. I am indebted to several of these folks for their help and friendship.
It's takes a good deal of planning to do the above and not spend my entire retirement portfolio. I enjoy the challenge, the travel and every other aspect of "trackchasing".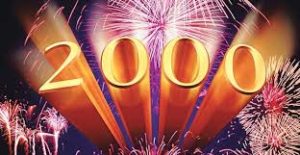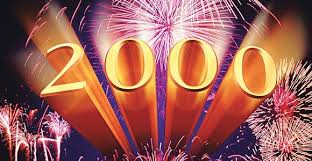 Today's adventure was one more of the 2,000 trips that have taken me up, down and around the long and dusty trackchasing trail. If you would like to see where I've been and experience those adventures here's the link:
If you've got a question, comment or whatever please leave it at the bottom of this report.  It's very easy to do.  Or you can visit me on Facebook.  Thanks!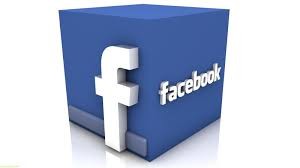 FOREWORD
Friday, May 18 & Saturday, May 19, 2018.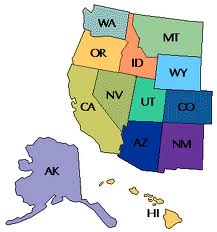 Conquering the logistical challenges of trackchasing requires my full attention. This weekend I would be trackchasing in the Far West. In business world the "West" was always the "13 Western states" including Hawaii and Alaska. I stick with that definition today.
Trackchasing in the Far West is not for the faint hearted. The tracks are few and far between. That's why, if you were to look at the lifetime track lists of the top 50 trackchasers, you would see very little penetration in the 13 Western states.
Today I was heading to Idaho. After tonight's racing I will have seen 21 tracks in the Gem state. My own wife Carol sits in second place right now with nine Idaho tracks. There are only two trackchasers other than Carol who have seen more than five tracks in Idaho. I guess that proves my point that trackchasers don't get out to the Far West all that often.
In order for me to make the trip to Idaho work I needed to wake up at 3 a.m. in the sleepy little seaside village of San Clemente. At 3:23 a.m. I was backing out of my driveway.
Southern California is noted for lots of traffic. Yes, Southern California can have clogged freeways. However, if you know what you're doing and know when to go and where to go traffic isn't much of a problem at all.
I am rarely in stop and go traffic anytime or any place when I travel in Southern California. It takes me about two minutes to get on the freeway from my house. This morning the freeway moved along nonstop all the way to LAX. I had my car on speed control for the entire 65-mile drive.
It was a Friday. Like I frequently do I was flying standby thanks to my airline sponsors. Fridays and Sundays are the most difficult times to try such a thing. Nevertheless after connecting in Seattle with a first class seat I made my way into Boise with no problems. I landed at there at about 12 noon.
When I travel, and there's time, I want to stop and see the local attractions. I never liked the thought of someday finishing my hobby of trackchasing and thinking back that I never really saw anything other than the racetrack. I'm happy that that potential issue will never be a problem for me.
Yes, I was landing in Boise at about noon. Tonight's speedway selection, the Black Canyon Speedway in Emmett, Idaho, was only about 45 minutes away from the Boise Airport (BOI). With that in mind I checked TripAdvisor to see what the top attractions in the greater Boise, Idaho area were.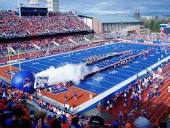 I had already been to several of them. One of the Boise highlights is the famous "blue" field of the Boise State University Broncos. Carol and I have stood out in the center of that "blue" field. I wonder how many loyal Bronco fans have ever done that?
Today the number six-ranked Boise attraction caught  my eye. It was the old Idaho State Penitentiary. This prison closed in 1973 after a riot.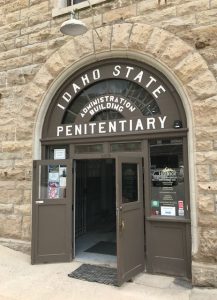 I seem to have a fascination with penitentiaries. I haven't seen that many but the ones I have seen are pretty famous. Back in college Carol and I had a school field trip to the infamous Joliet state prison. We had a 7 a.m. criminology class. Getting up for a 7 a.m. college class was brutal! Joliet was made even more noteworthy by the Blue Brothers and "Joliet Jake"! We've done the Alcatraz tour in San Francisco several times. If you go to San Francisco you don't want to miss that. It's the most popular tourist attraction in the city.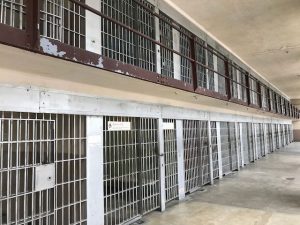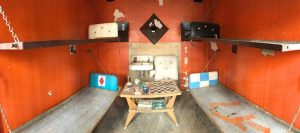 The old penitentiary in Boise has both guided and self-guided tours. Today the self-guided tour was my only choice. I was fine with that. The place wasn't all that big. One could definitely see it all in an hour and read all of the captions describing the "action" that took place there. I found it most entertaining. I'd recommend you take a look at the photographs and see what the inmates were faced with "back in the day" in Boise.
As you know I try to powerwalk at least 4 miles most days every week. This morning before I boarded a 5:20 a.m. flight I had nearly 2 miles in my walking bank. This afternoon I finished off the rest to easily surpass my requirement.
THE RACING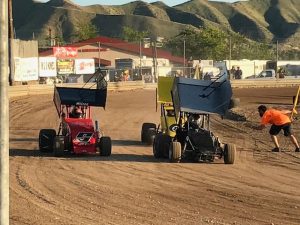 Black Canyon Speedway – Emmett, Idaho
There are some areas of the country that just have a special affinity with one form of racing or another. In Indiana it's sprint cars. In Iowa it's modifieds. Up in the Northeast it's the dirt modified. There are a few hotbeds for winged outlaw carts. Surprisingly, Idaho is one of those hotbeds.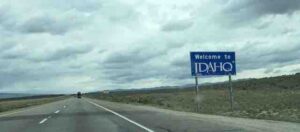 As I mentioned I've seen 21 tracks now in Idaho. For a rural Far Western state that's a pretty strong total as evidenced by what my fellow competitors have been able to do there. Again, surprisingly, nine of those twenty-one tracks have featured winged carts and mini sprints of one form or another as their main attraction.
My contact, track promoter Brian Lev, decided to build this track on his own. They started racing a little bit last year. This year they have a Friday/Saturday race schedule over six or seven 2018 weekends.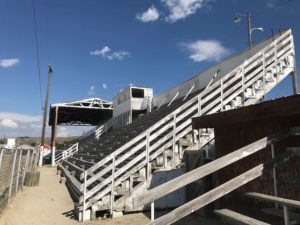 The Black County Speedway is located at the Gem County Fairgrounds in Emmett, Idaho. The fairgrounds has a classic old-line covered grandstand. It's definitely seen better times and I'm sure is very old.
However, the Black Canyon Speedway does not sit in front of that old grandstand. It's not part of the arena at the Gem County Fairgrounds. The speedway is its own freestanding newly built track.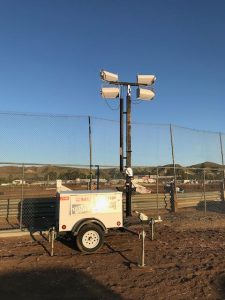 You can tell that everything here is still a work in progress. They have six temporary light standards powered by generators for night time illumination. A lot of the chain-link fencing is still being put up around the track. Right now they don't have a speaker system and therefore no announcer. Even with what they have it's pretty amazing how much it takes to build a decent quality built dirt oval race track.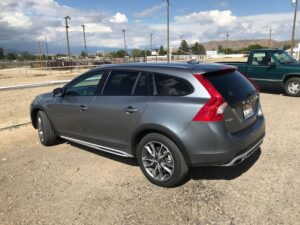 I had rented a Volvo S60 SUV crossover vehicle. Normally I prefer a sedan for the comfort and the gas mileage. For my trip out and back to the track tonight I would end up only putting 83 miles on the rental car's odometer.
I chose an SUV tonight because I planned to sleep overnight in the car. I didn't expect to get back to Boise until nearly midnight. On Saturday morning I had a 5:20 a.m. flight departure. That meant I needed to be returning my car by about 4 a.m. That also meant that I would only get four or maybe five hours of sleep tonight. It wouldn't make any financial sense to get a hotel. I would simply sleep in the back of the SUV.
I will tell you this. It's probably more comfortable simply to sleep in the driver's seat with the seat back leaned back than to sleep in the back of an SUV. Yes, I guess I could bring a mattress along to ease the discomfort. Sadly, most of my airline partners frown on that.
I paid five dollars, the senior rate, to watch the racing on the 1/6-mile banked dirt oval. I believe regular general admission tickets went for seven dollars. A pit pass was $14 USD.
Racing was scheduled to begin at 7 p.m. They started 20-30 minutes or so late. There would also be several "intermissions" that would slow the program down as well. Without an announcer I didn't always know which class was racing or why the delays were happening.
There were six classes of racecars tonight. All but one of the 68 competitors was a caged kart of one form or another. It looks like two of the classes were for kids maybe three. Obviously, the rest were for adults.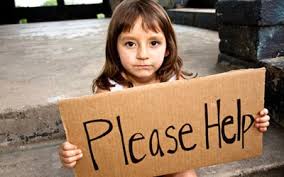 As you know a childless trackchasing group made up the rules of trackchasing back in the 20thcentury. This was a group of ten white men, none of which had never publicly sired a human child. Why is this of note? Because they agreed that a class that was limited to children should never, never ever, be counted in the hobby of trackchasing. The politically correct term for this child abuse is "age-restricted". No class that is age-restricted for drivers seventeen and under can ever count in the trackchasing hobby. OMG, what were they thinking?
Tonight's program had each class competing in two heats and a feature race. With 68 competitors, as a fan, I would probably vote for one heat and a feature. Alas, often the program is not presented for the fan but the competitor. They still had two or three features to go at 11 p.m. when I left after being at the track for five hours and four hours after the scheduled start time.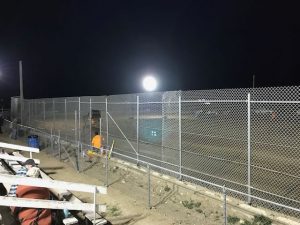 I found the silver-colored chain-link fan-protection fence, that went up about 15-20 feet in height, difficult to see through when the cars raced down the front stretch. The video actually looks better from that viewpoint than what I was seeing in real time. I wonder if they painted that fence black if would be easier for the fans to see the cars?
By the end of the night I had switched from shorts and a T-shirt to long pants and one of my heavier Angels' jackets. The wind and the drop in temperature made it chilly.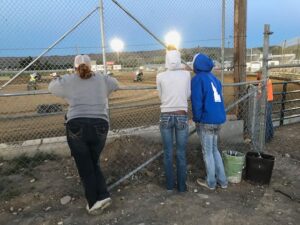 With 68 cars on hand, racing over six classes, that put about 11 cars in each division on average. Again, without an announcer, I couldn't tell if an individual class was breaking up all of its entries into two heats or one. I'm sure they will get a speaker system installed at the track soon. It really adds a lot to the show. By the way there was a pretty good spectator turn out in the grandstands, which is not always the case with this form of racing.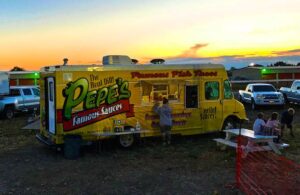 The concessions consisted of a portable Pepe's taco truck. Bathrooms were of the porta-potty variety. I have no problem with that. I did try three of the street Carnitas tacos later on in the evening using Pepe's special sauce. Very tasty.
I thought the racing was decent. They could certainly do without the delays/intermissions between certain races. A winged small car racing program shouldn't take more than four hours to complete.
The track originator and promoter, Brian Lev, told me he was planning to build a sprint car track right next to the Black Canyon Speedway. He was thinking he might be able to do that in the next three or four years. If he does, I'll be back.
AFTER THE RACES
By the time I gassed up my rental car and made the nearly one hour drive back to Boise it was midnight. Logistically and financially, I had made a good choice to bypass a hotel that I could use for only four hours. However, sleeping in the back of an SUV with the rear seats folded down, unless you have some decent padding, is not exactly like having an overnight at the Marriott. However it was what it was. In a couple of weeks I will have forgotten all about the inconvenience. I will notice there is no charge on my American Express card for hotel room in Boise, Idaho though!
Good evening from Emmett, Idaho
Moving on to Bakersfield, California….
For some ungodly reason there was a scheduled commercial flight leaving Boise for Seattle, Washington at 5:20 a.m. on this Saturday morning. Who wants to fly that early on a Saturday? Well, I must admit I did. Well, I didn't really WANT too but I needed too. By the way Saturday is the lightest travel day of the week at most airports.
Nevertheless, the flight was surprisingly full. I had only a half hour connection in Seattle to grab an early morning flight back to Los Angeles. Luckily, the gate for my arriving flight and the gate for my departing flight were right next to each other. I made that second flight and was back at LAX by about 9 a.m.
My plan for today was to trackchase at the Kern County Raceway Park in Bakersfield, California. This track is only about two hours from LAX. Their racing program was scheduled to begin at 7 p.m.
 
With four hours of somewhat fitful sleep in the back of an SUV, in the cold Idaho night, I needed to just kick back for a while. That being the case, I stopped in at the Alaska lounge and hung out there for two or three hours. I did some work on my computer. I like to share my photos, videos and reviews of my trackchasing adventures with folks who follow what I do on my website at www.randylewis.org and on Facebook.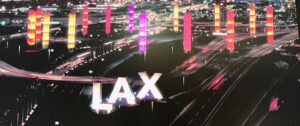 When it was time to leave LAX I took the "long" walk back to my parking garage. That walk includes the "horseshoe" at LAX. That's a walk of nearly 2 miles. This effort would get me started on achieving another day of four miles or more of walking.
I want to always have a very detailed plan before I embark on any of these trips. Just because it's detailed does not mean that it's not subject to change on a moment's notice. My policy on this is simple. As soon as I hear about a new, better idea the old idea plan is out the window.
Today's plan called for me to drive up to the Gorman rest area, which is about halfway between LAX and Bakersfield. Carol had positioned a "featherbed" in the back of the Carol Lewis owned and MFunds sponsored Lexus RX 350. By the way, I think that featherbed weighs more than she does! It was nice to have the padding but it wasn't exactly like I was sleeping in a 42-foot Winnebago.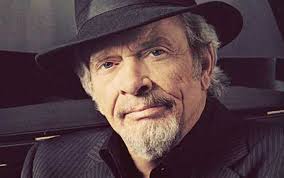 Bakersfield is noted for several things. They've got quite a history with country music and with stock car racing. They also have a strong Hispanic population and a number of very authentic Mexican restaurants.
Before the races tonight I stopped at one of those Mexican eateries to order my favorite dish, queso fundido chorizo. This cafe was a real hole in the wall. I was taking a bit of a chance on its five-star Yelp rating based on only three reviewer's feedback.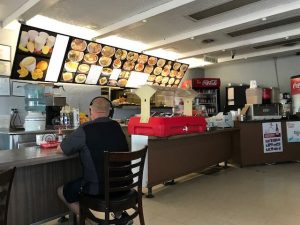 I don't know what it was like in the 1950s to walk into a non-air-conditioned little Mexican eatery in California, Texas or maybe even Mexico. I can tell you this much. Not much has changed from that old-time ambience and the experience compared to when you enter the Agave Azul Mexican Grill in 2018.
At the Agave Azul you order at the counter. I greeted my server with a few words in Spanish. I always like to do that to suck up in the hopes the employee will appreciate my attempt at Spanish and give me an advantage here and there. Yep. Always thinking.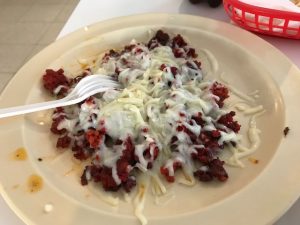 Although it wasn't on the menu I asked the waitress if she could serve me an order of queso fundido chorizo. This was about as Mexican of a Mexican restaurant as you're ever going to see this side of the border. I thought this was be a no-brainer. Nevertheless, she shook her head silently, "No". Then I asked if she could make me a concoction of cheese and chorizo? Now she shook her head silently, "Yes". Her response was a bit confusing to me but since queso fundido chorizo is essentially meat and cheese I thought I had a winner.
This restaurant came with a five-star Yelp rating albeit from just three reviewers. It wasn't a five star cafe. It might have been a "3 ½". Nevertheless I give it a five star rating for its ambience and uniqueness.
THE RACING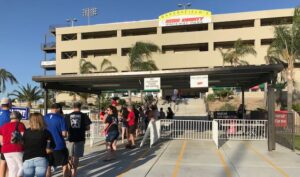 Kern County Raceway Park – Bakersfield, California
From there it was a half-hour drive up to the Kern County Raceway Park. This facility opened in 2013. It, along with the Irwindale speedway, is easily one of the top five or ten asphalt tracks in the country not connected with a NASCAR facility.
I've seen racing at 2,435 tracks. However, in all of that time I have never gone to a speedway with the express purpose of seeing a "skid plate stock car" race. There must be a reason why! I've only seen a few of those in my life and they were never the main attraction. Ironically, I saw skid plate racing last week in Orlando, Florida.
You might be asking yourself, "Randy, what in the heck is "skid plate racing"? Good question I'm glad you asked.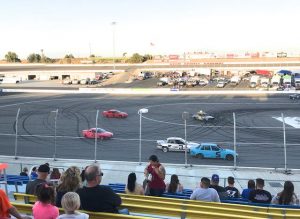 Skid plate racing uses front wheel drive junker type stock cars. The rear wheels are 100% immobilized. The tires on the rear part of the car don't rotate. They sit on a piece of steel so there is no rubber touching the track. This makes the machines very difficult to control. They are prone to spinning out since the only contact in the back of the car to the asphalt racing surface is a steel plate. I have never seen skid plate racing on dirt!
Right now there are four countable racing tracks at the Kern County Raceway Park. I've already seen racing at their half-mile and quarter-mile asphalt oval tracks. I've also seen racing on their quarter-mile dirt track.

The asphalt tracks and the dirt track are located within 50 yards of each other. The dirt track location also has an inner oval. I'm pretty sure only children's classes race there.

Trackchasers, apparently hate children and therefore don't want to count any kind of racing with age-limited racing classes. Kern County also has a motocross track used primarily for…..wait for it…. motorcycles. I suspect they'll be having UTV races at Kern County on some type of track as they did in 2017. What does all of that mean? I'll probably be back to the Kern County Raceway Park!
Back in 2013 Carol and I came to Kern County and saw racing on their half-mile and quarter-mile asphalt ovals. On that day they also had some racing on their 1/8 mile oval. But racing on that little track was age-limited and therefore did not count by trackchasing rules. In 2016 Carol and I saw racing at the Kern County dirt oval.
About a month ago California transplant and trackchaser Edward Corrado came to Kern County. He saw some skid plate racing on the 1/8-mile oval track. That was news to me and I appreciate Edward sharing that information broadly. Edward's track sharing was the reason I came to the track tonight. By the way I have never met Edward Corrado in person although I did invite him to become an "official" trackchaser some 15-20 years ago. I never heard back from him. Maybe he didn't get my message.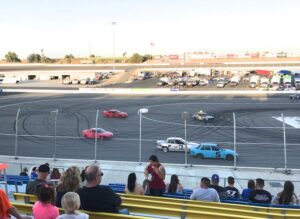 I must admit that even in my own mind I was more than skeptical about the idea of counting a division like skid plate racing on the 1/8-mile oval Kern County track. However, coming to Bakersfield tonight fit nicely with last night's adventure near Boise, Idaho and tomorrow morning's planned trip to Baja California, Mexico. Of course, that's if your definition of "fit nicely" includes sleeping overnight in your car for four hours. Like I say I have never attended a track for a skid plate race that was the one and only countable class at the track I would be visiting.
As noted the physical plant at Kern County Raceway Park is one of the nicest anywhere. I was a little irritated at their five-dollar parking charge. There are a few tracks in California the charge for parking but not very many. I probably couldn't name ten or maybe even five tracks that routinely charge for parking on the short track level. My mother used to become agitated by the $0.25 parking charge at the Peoria Speedway back in the late 1950s. I share her irritation with parking charges at short tracks.
Carol would not be coming to Bakersfield with me tonight. She had already seen racing on three of their ovals. I couldn't, with a straight face, invite her to make the long-haul up to Bakersfield and get home after midnight to see nine skid-plate cars do their thing on a 1/8-mile oval. I'm sorry I just couldn't do it. I have more respect for her than that. It's O.K. at times to put myself through trackchasing torture but I just can't do that to Carol.
Although I was a little unhinged with the five-dollar parking charge I was more than pleasantly surprised to see the senior admission for all of the racing being offered was only seven bucks. That was an absolute steal. The regular adult ad mission price was only $10.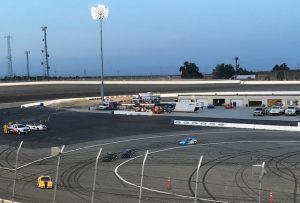 Car counts by class, at just about every track I visit, are dramatically lower and often times half as much as what car counts seemed to be back in the day. Tonight there were four divisions of race cars competing at Kern County.
Two divisions would race on the larger half-mile asphalt oval. The program on that track included two 35-lap main events for 15 super stocks/late model stock cars. They also had an eight car 25-lap modified stock car race on the big oval. The bandoleros ran a 25-lap feature for about nine cars on the quarter-mile track. The car count for the skid plate cars totaled nine as well. That meant there were about 45 racing teams in the pits spread over four classes.
Later in the evening they were also planning on some motorcycle racing, demolition derby and a "waterless" boat race. That was a lot of racing action for seven bucks or ten bucks if you're a youngster.
I would have loved to have stayed for that part of the program. However, when I left Kern County I was facing a three-hour drive over the "Grapevine" to get home. Then I had an early morning wakeup call so that Carol and I could drive down to Ensenada, Mexico, another three-hour drive with an international border crossing.
Tonight I had no idea when the skid-plate race would be happening. I sort of suspected it would be later in the program. Luckily I was wrong.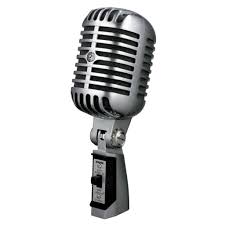 Kern County Raceway Park has a really good lively announcer. He's enthusiastic! It's worth its weight in gold for a track to have a good person manning the microphone. What does having a good announcer mean? It's means the track has a smart promoter. Tonight the commentator could be heard well over a stout PA system.
I'm sure I was smiling broadly when I was told over the PA system that the first race of the night, starting promptly at 7 p.m., would be skid-plate race #1. If I wanted to, by about 7:20 p.m., I could be heading down Interstate 5 toward home.
The skid-plate race was entertaining for what it was. I think they went for about 10 laps. Don't miss the video. Next, the super stocks ran a 35-lap feature on the big track. This was a very competitive race with bumping, grinding and lead changes all the way to the finish. They were having two of these feature events tonight, which again was a great racing value.
The Bandoleros competition on the quarter-mile track was entertaining as well. They had some banging on the last lap. The race-long leader was rooted out of the way and a young woman driver came from third place to get the checkered flag first in the last corner. This was her first ever feature win. She and her family could not have been happier.
The modified race on the big oval suffered from lack of entries. It was getting close to 9 p.m. when I had seen all four divisions race. That was enough for me. It was time to head back to the barn.
AFTER THE RACES
My fellow trackchasing competitors leave nothing on the table when it comes to gathering all of the crumbs (tracks) on the trackchasing table. I'm the same way. I will go to an event that has virtually no socially/racing redeeming value (skid-plate racing) as long as it counts toward my trackchasing totals.
I would say that driving five or six hours out of my way to see a skid-plate stock car race on a 1/8-mile asphalt oval was dubious behavior indeed. The saving grace was that I got to see some high-quality super stock racing at one of the best facilities in the Far West if not the country.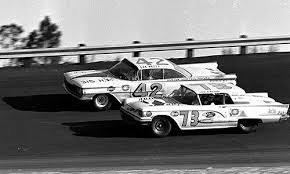 It should be noted that skid-plate racing on a little bitty track counts the same in my trackchasing totals as a visit to the Indy 500, the Daytona 500 or Monaco. It's kind of like the votes in the House of Representatives…or not. A guy from a small county in Wyoming has the same impact (vote) as a person from the largest city in the country.
On the drive home over the famous "grapevine", which is treacherous during the winter I stopped for a bottle of Diet Mountain Dew and a bag of pork rinds. That would get me home.
Good evening from Bakersfield, California
Randy Lewis – 80 countries – 2,436 tracks.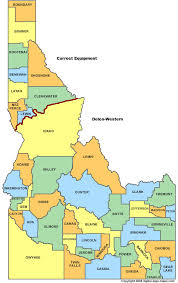 Idaho
The Gem state
On Friday evening I saw racing at my 21st lifetime track in the Gem state, yes, the Gem state.  I hold the #1 trackchasing ranking in Idaho.  I've seen 21 or more tracks in thirty different states.

California
The Golden state
On Saturday evening I saw racing at my 168th lifetime track in the Golden state, yes, the Golden state.  I hold the #1 trackchasing ranking in California. I've seen racing at more tracks in California than any other state.
Thanks for reading about my trackchasing,
Randy Lewis
World's #1 Trackchaser
Peoria Old Timers Racing Club (P.O.R.C.) Hall of Fame Member
Idaho sayings:   "Are you planning on attending Treefort?"
We aren't talking about spending time in a small wooden house built in a tree. Treefort Music Festival is an epic five day music festival that takes place in Boise, Idaho every March. You can expect a lot of Idahoans to be suffering from what we call a "Treefort hangover" the week following the festival.
California sayings:  NorCal and SoCal
Californians don't refer to their state as California and definitely not as "Cali", but instead break it up the only way it should be divided: NorCal and SoCal.
QUICK FACTS
LIFETIME TRACKCHASER COMPARISONS 
The threemost important trackchasing comparisons to me are:
Total lifetime tracks seen
Total "trackchasing countries" seen
Lifetime National Geographic Diversity results
Total Lifetime Tracks
There are no trackchasers currently within 645 tracks of my lifetime total.  Don't blame me.
Randy Lewis, San Clemente, California – 2,436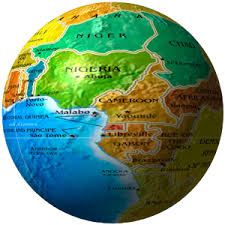 Total Trackchasing Countries
There are no trackchasers currently within 25 countries of my lifetime total. 
Randy Lewis, San Clemente, California – 80
Current lifetime National Geographic Diversity results
Randy Lewis, San Clemente, California – 4.14
That's all folks!  Official end of the RLR – Randy Lewis Racing Trackchaser Report
Click on the link below to see the video production from the racing action today.
Racing from Black Canyon Speedway
.
.
Racing on the inner oval at Kern County Raceway Park
Click on the link below for a photo album from today's trackchasing day.  You can view the album slide by slide or click on the "slide show" icon for a self-guided tour of today's trackchasing adventure.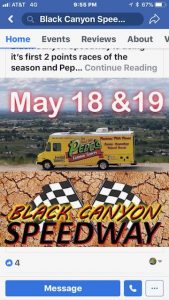 A big day in Boise and the surrounding Idaho area!
.
.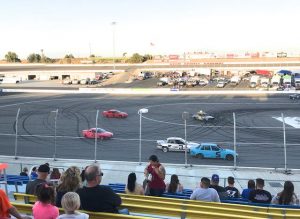 Squeezing one more track from the Golden state landscape