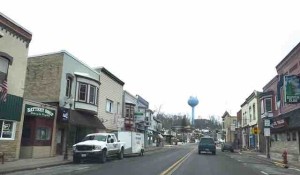 Greetings from Montello, Wisconsin
.
.
From the travels and adventures of the 
"World's #1 Trackchaser"
.
.

Lake Puckaway Ice Track
Ice oval
Lifetime Track #2,192
The EventVideo PlusPhotos
THE EVENT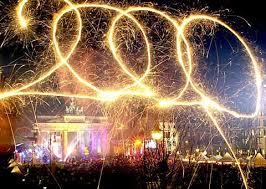 Today's undertaking was just one of more than 2,000 trips that have taken me up, down and around the long and dusty trackchasing trail. If you would like to see where I've been and experience those adventures here's the link:
If you've got a question, comment or whatever please leave it at the bottom of this report.  It's very easy to do.  I'll try my best to respond.  Thanks!
ON THE WAY TO THE RACES
SUNDAY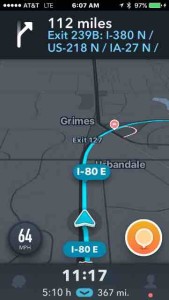 11 hours; 2 hours; worth it?
I wasn't all that much looking forward to leaving Des Moines and driving 5 1/2 hours up to Montello, Wisconsin for today's ice race. I knew that once I saw two hours or so of ice racing I would face that same 5 1/2 hour drive back to Des Moines.
It's just hard enough.
However, as I have told you more than one time in the past, if this was easy gobs of people would be vying for the World's #1 Trackchasing title. It's just hard enough and inconvenient enough and expensive enough that not that all many people are dying to do it.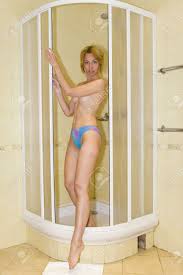 Too much information?
I am normally a morning shower person. Carol is an evening shower person. That means that for most of our married life we have not been in the shower together. Too much information?
Nevertheless with an early 5:45 a.m. wake up call I did not take a shower today. I figured I was going to be in the car for 11 hours. At the ice races I would be all bundled up for another two or three hours. I wasn't going to see anybody I knew. Who did I need to impress with cleanliness and freshness?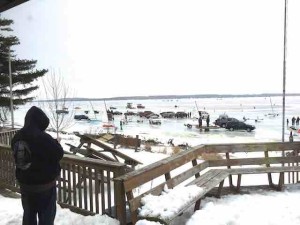 My first ice race of 2016.
I had gathered together all of my ice racing gear for this trip. It had all been strategically placed in one giant container since last winter. Every year for the past 10 years or so I have been adding one thing or another to my ice racing arsenal. This year's edition is mainly a set of quality goggles. When it's 10 below zero and the wind is blowing at 25 miles an hour goggles can come in handy. 
I had ordered my goggles from the REI outfitters retail group. Actually I went online and ordered about eight pairs of goggles all with varying prices and attributes. When they arrived at my home I tried them all on. Then I selected the pair I liked and returned the others.
REI has a full return policy with no questions asked. They are a very customer friendly group to deal with. However, I don't think you're going to get too many bargain prices from them. They have to make it up somewhere after working with customers like me!
It would be warm for ice racing.
The high temperature in Montello today was projected to be 33°. There would be winds at approximately 7 MPH. Those are actually pretty benign ice racing conditions. Even though I brought long underwear and a few extra other cold-weather protectors I didn't bring all my winter gear with me to the ice races today. If all else failed I could retreat to my car or the Good Old Days Inn that overlooked the ice racing in Montello.
How much ice is needed to race on a frozen lake?
Most ice racing groups race on frozen lakes. Some lakes I passed didn't have any ice.  Lakes normally need a minimum of 12 inches of ice and some require more for ice racing to take place. Usually they race out in front of a tavern/bar/restaurant that is located on shore. After the races all of the ice racers go to the tavern and have food and drink and celebrate their achievements.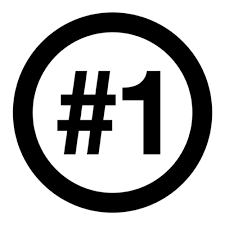 World's #1 Ice Trackchaser!
Today I would be seeing racing at my 72nd ice racing track. I've seen those 72 events in 16 countries, states and provinces. That gives me a record-setting 88 ice racing points.  No one has seen racing at as many different venues or at as broad a scope of geographical locales as I have. I would like to keep it that way.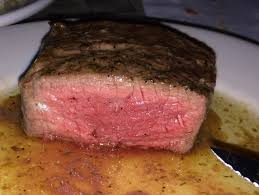 Mason City, home to one of my all-time favorite steakhouses.
On the drive up to Montello I drove through Mason City, Iowa. Mason City is home to the Northwestern Steakhouse. It's one of my favorite steakhouses in the entire country. I'll be passing through Mason City later on tonight at about 6-7 p.m. I may just have to stop at the Northwestern Steakhouse for dinner.
On the drive up I used my unlimited AT&T data plan to listen to SiriusXM satellite radio. The Toyota Avalon has an iPhone 6 connector, which broadcasts the programs over the car's audio system. I also entertained myself by listening to Apple generated podcasts such as American Marketplace and Code breaker.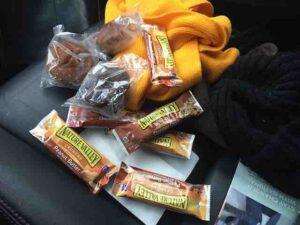 Grab and go.
I dined on an Extended Stay America "grab and go" breakfast. That consisted mainly of Natures Valley peanut butter granola bars. I was saving myself for a potential big lunch at Mike and Cathy's Good Old Days Inn.
I don't have a gasoline sponsor.
My second gasoline fill up of the trip was done at the Flying J Truck Stop. I paid $1.73 a gallon for fuel and found out that I'm getting 27.6 miles per gallon for the first 700 miles or so of the trip. The Toyota Avalon doesn't that get that many miles per tank. However I can live with the fuel economy especially at today's low gasoline prices. The Avalon is a very nice car to take on long trips. The heated seats are just what the doctor ordered for this winter time trackchasing adventure.
THE RACING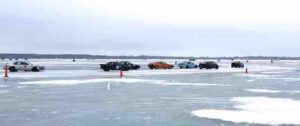 Lake Puckaway Ice Track – Montello, Wisconsin
It's never good to get that "queasy" feeling.
I arrived at Lake Puckaway in Montello, Wisconsin at Mike and Cathy's Good Old Days restaurant and bar at 12:02 p.m. Racing was scheduled to begin at 12 noon but it did not. They started closer to 12:30 p.m. I was happy to be only two minutes beyond the scheduled starting time considering I had just made an early morning 5 ½ hour drive.
I must say I had a rather queasy feeling as I approached Mike and Cathy's. The whole scene looked really similar to a couple places where I've seen ice racing in the past. I certainly didn't want to make an 11 hour round-trip drive and end up at a racing location I had already visited.
You are correct. I can't argue the point.
If you're saying to yourself, "Randy many of the tracks you visit are "really similar"". That would be a fairly accurate assessment. Lots of Wisconsin ice tracks are situated on the ice in front of a land-based rural Wisconsin bar and restaurant.
I had seen an ice track with a Montello, Wisconsin address previously. Their location, on Buffalo Lake, was about 13 miles from Lake Puckaway. I investigated a little further. Much to my relief this was a brand-new trackchasing location.
The state of Wisconsin must have more small town family bars than any other state I have ever seen. They win this contest hands down.
No, I wasn't from around here.
I walked into the bar and no one seemed to notice my presence. I didn't see anyone else wearing black and red Nike athletic shoes. Most of the people I noticed were heavily tattooed and had their "shit-kicking" boots on…and the men did too. O.K., I'm kidding….about the tattoos. It's winter time.
A great place for lunch.
These little bars serve good food. I figured I would sit down, have a nice lunch, and watch the beginning of the racing program from indoors.
The temperature at about 25° was moderate for ice racing. There wasn't much wind. Later on when I did get on the ice I was surprised at how chilly it was even though the wind chill today was 55° warmer than last weekend's 30° below zero spectacle.
The first ice racing for Lake Puckaway this year.
This was the first ice racing weekend of the 2016 racing season for the Lake Puck-A-Way Ice Racing Club. Yes, that's how the club spells "Puckaway".
They had missed two or three weekends earlier in January. Now they will probably be able to race until the end of February or so. I must tell you I was not impressed with their updating of the club's Facebook page. If I were running the railroad I would post something nearly every day during the ice racing season to keep fans informed.
Ice race viewing indoors style.
There was already a good crowd of people enjoying their lunch on the enclosed patio of the restaurant. From here there was a great view of where the racing would take place. I grabbed a table for two in the second row from the window and perused the menu.
Congratulations.
This little restaurant was going to celebrate their 16th anniversary under the same ownership on February 6, 2016. That was a good sign for a good lunch.
I was surprised at how extensive the menu was. They offered steaks all the way up to the 25–35 dollar price range. There was a wide variety of sandwiches on the menu as well. I passed on the senior special of a quarter pound hamburger, fries and dessert for just $4.95.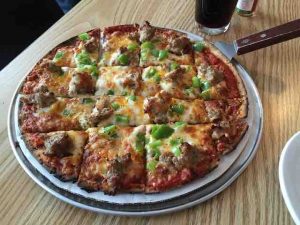 Instead I went for the 12 inch pizza topped with Italian sausage and green peppers. I toyed with the idea of the 16-inch pizza but figured if I got that I would end up eating it all.
This track was countable.
The racers took the green flag while I was munching on the very delicious Italian delicacy. You'll see a video from the indoor view of today's racing action. I continued to enjoy my pizza that had some of the largest pieces of Italian sausage I had ever seen. I saved two pieces for breakfast tomorrow morning. We'll see if they last all the way back to the hotel after my five hour + return trip to Des Moines.
Staying inside is not what ice-racing is supposed to be about.
I could have stayed in the warmth of the restaurant watching the day's ice racing activity in total. What kind of trackchasing man would do that?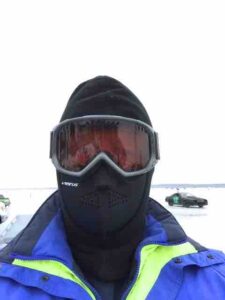 The fun of being a ninja.
Following my delicious lunch I walked back to my car. There I changed from a mild-mannered Clark Kent appearance into my trackchasing ninja outfit. Yes, I know I am mixing metaphors.
Off went the red and black Nike athletic shoes. They were replaced by my own version of shit kicking boots acquired in a heavily marked down sale at REI. Then came my ninja stocking cap and REI ski goggles.
Expecting the warmer temperatures of today I left several key ingredients of my ice racing winter apparel program back at the hotel. I didn't bring my long underwear. I didn't bring my tall wool socks. I didn't bring my additional head gear or my 10-year supply of hand and toe warmers.
Glare ice. Watch out for that.
From the restaurant I could see that a major portion of the frozen lake was what I would call "glare" ice. Think of the last cocktail you had at the Ritz-Carlton. Do you recall the ice cubes in your glass being almost perfectly clear? That's what Lake Puckaway was like today. I could see people having a difficult time navigating the slick as snot surface. About the only thing I don't have in my ice racing arsenal is a pair of "cleats". Do they make those for size 14 shit-kicking boots?
Little or no amenities.
It wasn't long before I was standing out on the ice. Ice racing tracks are traditionally low on amenities. There was no announcer. There was no PA system. As far as I can tell there were no toilets on the ice. Ice racing is not for the pampered or unprepared.
There is a secret to walking on a frozen lake. If possible you need to walk on the patches of snow, which in all likelihood will be on the lake in some places. Snow gives you excellent traction. Ice gives you almost no traction.

The ice track.
Today's oval ICE track was about 1/3-mile in length. The Lake Puck-A-Way Ice Racing Club offers three classes of raising. All of the racing is done by lower level lower cost stock cars.
Two of the classes are reserved for men. The third class is exclusively for women.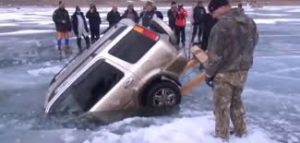 Check out the rules. Consult your attorney with questions and lawsuit proposals.
It was interesting reading the rules, some 28–30 of them, in place with this club. Drivers can have a passenger if they like. However female drivers cannot have a male passenger. I'm sure a gender equity attorney could have a field day with the Lake Puck-A-Way Ice Racing Club.
No helmets? Kidding right? Nope.
I have now seen racing at 2,192 different tracks. I have seen racing at 72 tracks that race on ice. Only three tracks in all of my trackchasing history allow drivers to race without helmets. Today's racing was one of those three. Some drivers wore a helmet but most did not. It was the same situation with passengers. I suspect an injury liability lawyer would have a field day with this as well.
What are the two reasons that allow a driver to leave his car during the race? You'll never guess this.
I did read about one rule that I have never ever seen before. If a car became disabled the driver can only get out of the car if one of two conditions exist. They can get out of the car if it is on fire or if it is sinking. Talk about extremes!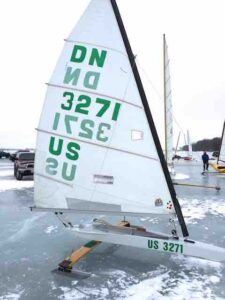 The lake is not just for ice racers.
As in most ice racing situations there were other winter enthusiasts out on the lake enjoying their particular hobby as well. Further out on the frozen surface I could see ice fishermen doing their thing. There were also several wind surfers. That's probably not the correct term for them.
Imagine a huge sail like you would see on a sailboat attached to an ultra-light small metal triangular frame where the pilot could sit. Although it wasn't very windy today I suspect these little things could go 30-40 miles or more across the ice in a strong wind.
All during the ice racing the bar and restaurant was packed on the inside and several people stood outdoors watching the racing as well. I suspect this kind of activity really drives up the business for the on shore bar and restaurant. That's good for everybody.
I stayed for a bit more than two hours of the racing. Without an announcer the entertainment value for me was diminished. I would love to of known which class was racing, what kind of car they were driving, the driver's home town etc. etc.
Rubber to ice racing.
Most ice racing clubs require a minimum of 12 inches of ice thickness in order to race. Some clubs need more of that. Today all the cars were racing with non-studded "rubber to ice" tires. This type of ice racing doesn't tear up the track very much.
When I exited the track I thought to myself, "I'm going to drive 11 hours round-trip to see today's racing". Did I think anyone else had driven that far see what I saw? No, I did not.
AFTER THE RACES
A little short on sleep.
Over the past two nights I have not gotten my usual eight hours of sleep. My wake up call had come early this morning. I could not stop for a snooze on the drive up this morning for fear of arriving late. However about an hour after leaving the track I pulled over at a local truck stop. There I napped for more of an hour. I had the rest of the afternoon and most of the night to make the 5 ½-hour drive back to my hotel in Des Moines. Tomorrow's flight doesn't leave until 3 p.m. from Omaha. I should be able to sleep in to a reasonable hour on Monday morning.
Not this time but next time for sure.
I toyed with the idea of stopping by the famous Northwestern Steakhouse in Mason city, Iowa for dinner, or supper if you're from the Midwest. However my pizza was so large for lunch that stopping at a steakhouse was not going to be calorically prudent.
By the time I got back to the hotel I had driven my rental car almost 1,400 miles. That was all part of the grand plan. I would also need to fill up with gasoline for the second time today.
If you play with fire you might get burnt.
With my fuel gauge showing just 25 miles of driving left before I ran out of gas I bypassed a Quik Trip service station at the last minute. I figured that surely there would be another gas station in the net 25 miles. Wrong and I don't know who Shirley is. 
With just one mile remaining on my fuel gauge I drove into the small town of Lewiston, Minnesota. My GPS told me they had a gas station. I was hoping it was still open on a Sunday night.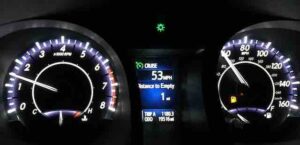 Nothing is ever as easy as you think it will be.
You might think if you drove into a small place like Lewiston, Minnesota with a population of 1,591 that it would not be that difficult to find a gas station. However I couldn't find it. I couldn't be driving all over town with just one-mile of gas in the tank right? I stopped at a local tavern.
Steven Spielberg….check this out.
If you are a movie producer or director and need some stereotypical "fill in" roles for what small town folks are like I recommend you stop in Lewiston, Minnesota. Just walk into the bar on a Sunday night and your casting director will be able to get everyone they need for your film.
In the bar I was given directions to the gas station. It was only four blocks away but I probably would not have found it that quickly on my own. I paid a $1.69 for fuel and wandered on in to see what they had to eat.
Convenience store cuisine.
I exited with a cheese filled hotdog and a bratwurst. These were had for just a dollar 29 each. If I were at Angels Stadium I would have paid eight dollars apiece for these convenience store delicacies. I doubt the Angels fare would have been as good as what I got tonight.
In some ways trackchasing is easier for me and in some cases it is not.
I'm going to guess that today's racing in Montello, Wisconsin ended at about 3 p.m. or so. If all goes well I will get back to San Clemente at about midnight Wisconsin time on Monday night. That means I won't be home for about 31 hours following the last checkered flag for today's racing.
I sometimes think that people who follow my hobby might overlook what it takes to just get home following the conclusion of the racing. I have a lot of patience for travel. During the trip I have a good deal of entertainment/information choices. I use these to make the trip seem less arduous.
It really isn't difficult for me but it is somewhat time-consuming. I am very fortunate to have such a talented and understanding wife as Carol. Of course she is invited to go on every trip. She ends up accepting about 50% of my invitations. It's just that the trips that she does accept more often than not are not related to trackchasing. That's O.K. I have found this to be true, "He who travels fastest travels alone."
MONDAY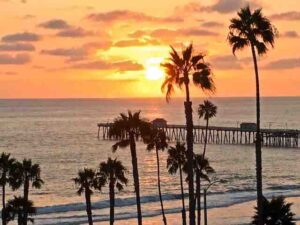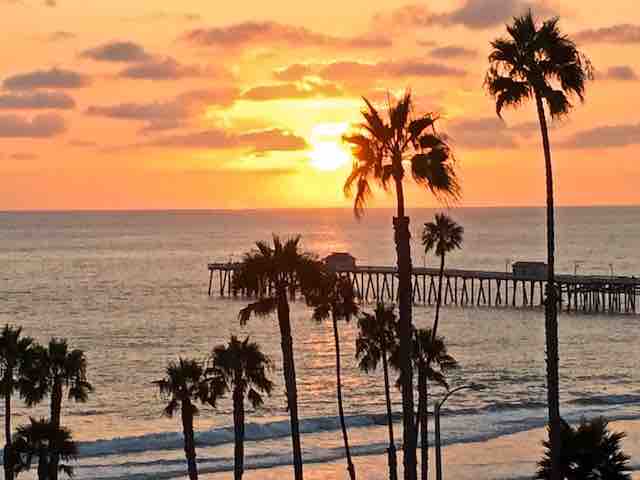 What am I thinking when the final checkered flag falls?
When the final checkered flag falls on the last race of the trip I have one thought. I want to get home as fast as I can. I come on these trips to see things I've never seen before. However, the places I visit are not home. When I have seen and done all there is to see and do it is time to go home.
And so I would make my way from Omaha, Nebraska back to our modest seaside cottage in the sleepy little seaside village of San Clemente. That is home.
However, isn't there always a "however" in life? My flight wasn't leaving Omaha until 3 p.m. Was there one more experience I could have before I hopped on that plane?
Thanks Steve.
I have a good friend, Steve Tomasek, who grew up in Omaha. I texted him. "Where's you favorite place for lunch in Omaha," I asked. Steve came back quickly with three different choices. I picked the Upstream Brewing Company from his list located in downtown Omaha.
There are some second tier cities that are underrated in my opinion. Portland, Oregon is one. Cincinnati, Ohio might be another. I would add Omaha to that list. There's a lot going on in Omaha. The downtown is very active with lots of good restaurants.
Downtown Omaha.
The Upstream Brewing Company was not hard to find. It's downtown on 11th Street. When I arrived I was surprised to see a huge building less than a block from my restaurant that had been destroyed by fire. The building, at 11th and Howard Streets suffered a gas explosion just ten days ago. It was a total loss.
The streets nearby were closed but that wasn't going to affect today's lunch. The Upstream Brewing Company carries just a 3.5 star Yelp! rating. After dining there I would have given it a 4-star plus review.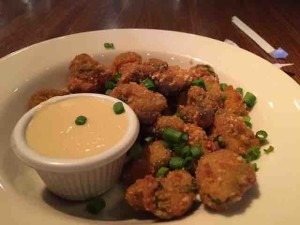 The service was well above average. I dined on fried pickles (above) as an appetizer. My entrée was the jambalaya. Often times jambalaya can be on the dry side. This was moist, hot and tasty. I even took half of it to go as a nice treat for my airplane ride upcoming. No, I did not see Warren Buffett.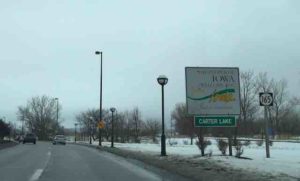 Say what?
Downtown Omaha is just a 2.5-mile drive from the Omaha Airport. Eppley field is located in Omaha, Nebraska. However, on the short drive from downtown to the airport drivers pass through Iowa. Nope. I can't explain it.
I love to multi-task. I like doing two or three things at once. I have found I can get a good deal of exercise while I'm at the airport. I love to walk. I love to walk fast. There are lots of people walking fast in the airport. They're late; they need to catch a plane or whatever. There is a lot of room to walk in most airports. Today I put in a good 27 minutes of walking about as fast as I could go. I'll couple that with the 18-minute walk from the terminal at LAX to my parking garage. That will give me the 45 minutes of aerobic exercise that I seek on most days.
Today I flew from Omaha to Seattle and then onto Los Angeles. I pulled into the driveway at about 10 p.m. That would be midnight Montello, Wisconsin time. That's right. I was getting home about 34 hours after I had left yesterday's ice racing track.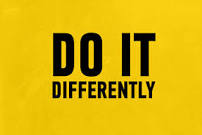 I do it differently.
I'm sure that a very long time ago, if you've been reading my Trackchaser Reports for very long, you have discovered I don't really trackchase like everyone else. For most of my nearly 2,200 track visits I get home about a day after the last race finishes up. Others get home a few hours after their last race. I like the additional challenge of living so far from the tracks and still seeing so many of them. I have so many advantages over my fellow competitors that it only seems fair for me to do this from such a remote location as San Clemente, California.
Good night.

Wisconsin
The Badger state
This afternoon I saw my 81st lifetime track in the Badger state, yes the Badger state. I've seen 81 or more tracks in nine different states.
Thanks for reading about my trackchasing,
Randy Lewis
World's #1 Trackchaser
Peoria Old Timers Racing Club (P.O.R.C.) Hall of Fame Member
Wisconsin sayings: Real Quick
When you hear Wisconsin folks ask you for a favor and then add "real quick" or "really quick" to the end of it, we aren't talking about speed. We're simply trying to make it seem like the favor is no big deal.
For instance, someone might ask, "Can you stop at da store real quick before you come home? I got a meatloaf in da oven."
QUICK FACTS
AIRPLANE
Los Angeles, CA (LAX) – Seattle, WA (SEA) – 958 miles
Seattle, WA (SEA) – Omaha, NE (OMA) – 1,365 miles
RENTAL CAR #1
Eppley Field (OMA) – trip begins
Des Moines, IA
Kansas City, MO
Montello, WI
Eppley Field (OMA) – trip ends – 1,549 miles
AIRPLANE
Omaha, NE (OMA) – Seattle, WA (SEA) – 1,365 miles
Seattle, WA (SEA) – Los Angeles, CA (LAX) – 958 miles
Total air miles – 4,646 (4 flights)
Total rental car miles – 1,549 (1 car)
Total miles traveled on this trip – 6,195 miles 
TRACK ADMISSION PRICES:
Jacobson Exhibition Center – $8
Hale Arena – $20
Lake Puckaway Ice track – no charge
Total racetrack admissions for the trip – $28
LIFETIME TRACKCHASER COMPARISONS 
The three most important trackchasing comparisons to me are:
Total lifetime tracks seen
Total "trackchasing countries" seen
Lifetime National Geographic Diversity results
Total Lifetime Tracks
There are no trackchasers currently within 525 tracks of my lifetime total. Don't blame me.
Randy Lewis, San Clemente, California – 2,192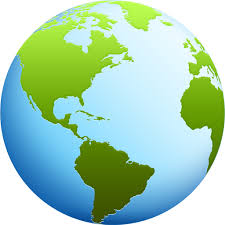 Total Trackchasing Countries
There are no trackchasers currently within 10 countries of my lifetime total.
Randy Lewis, San Clemente, California – 70
Current lifetime National Geographic Diversity results
Randy Lewis, San Clemente, California – 4.47
That's all folks! Official end of the RLR – Randy Lewis Racing Trackchaser Report
Click on the link below to see the "Video Plus" production from the racing action today.
Click on the link below for a photo album from today's trackchasing day.  You can view the album slide by slide or click on the "slide show" icon for a self-guided tour of today's trackchasing adventure.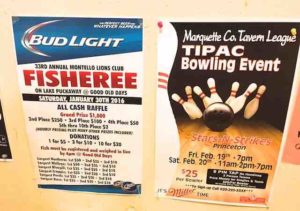 A trip through Wisconsin in the middle of winter