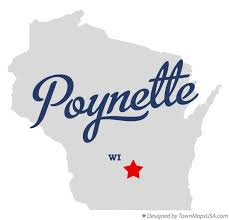 Greetings from Poynette, Wisconsin
.
.
From the travels and adventures of the 
"World's #1 Trackchaser"
.
.
Lake Wisconsin Ice Track  
Ice oval
 Lifetime Track #2,524
.
.
Lake Wisconsin Ice Track  
Ice road course (TT)
 Lifetime Track #2,525
The EventVideo PlusPhotos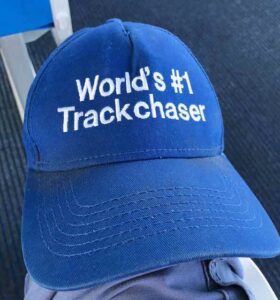 THE EVENT
I am a "trackchaser". I trackchase. Before you discovered my site had you ever heard of trackchasing? Maybe not? So….what the heck is trackchasing? Sit back, take a read and you'll be an expert on my hobby of trackchasing when you're finished.
Here's my best explanation.
Trackchasing is a three-pronged hobby. I'm a racing fan. I love to travel. I love to analyze opportunities to get the most out of everything while saving time and money.
Trackchasing fills the need for all of the above. The racing part of my trackchasing has me trying to see wheel to wheel auto racing at as many different racetracks as I can all over the world. Yes, all over the world. So far things are going pretty well. As this is written, I've seen racing in 82 countries at more than 2,500 tracks. As a matter of fact, I've seen racing at more tracks than anyone else in the world.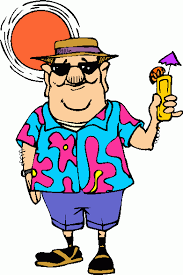 Equally important to me are the things I get to see and experience over the "long and dusty trackchasing trail". I call these adventures "Trackchasing Tourist Attractions". You won't want to miss my "Trackchasing Tourist Attractions" page. Here's the link:  Trackchasing Tourist Attractions or my "Sports Spectating Resume" page, Sports Spectating Resume on my website at www.randylewis.org.
I live in southern California. That's probably the most inconvenient location in the country for seeing tracks in the U.S. Most of the racetracks in the U.S. are located well over 1,000 miles from where I live. As a matter of fact, my average trip covers 5,000 miles and more. I take 35-40 of those trips each season. In any given year I will travel well over 200,000 miles, rent more than 50 cars, and stay in more than 150 hotel rooms.
I get the chance to meet people all over the world. With trackchasing trips to 82 countries and counting just getting the chance to experience so many other cultures, spend time in their homes and meet their friends is a huge reward for being in this hobby. I am indebted to several of these folks for their help and friendship.
It's takes a good deal of planning to do the above and not spend my entire retirement portfolio. I enjoy the challenge, the travel and every other aspect of "trackchasing". In reality, my trackchasing hobby is a lot like being with the carnival. I breeze into town, stay a little while and then head on down the road.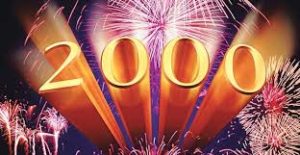 Today's adventure was one more of the 2,000 trips that have taken me up, down and around the proverbial long and dusty trackchasing trail.  If you would like to see where I've been and experience those adventures here's the link:
If you've got a question, comment or whatever please leave it at the bottom of this report.  It's very easy to do.  Or you can visit me on Facebook.  Thanks!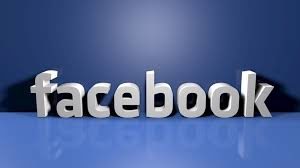 FOREWORD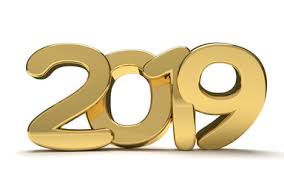 Saturday, January 26, 2019.
My 2019 trackchasing season is shaping up to be one of my best ever ice racetrack years. Today I would end up seeing my fifth and sixth ice tracks of the year and we're only in late January. Right now the weather is looking very good for me to possibly set a record with ice tracks in a single year.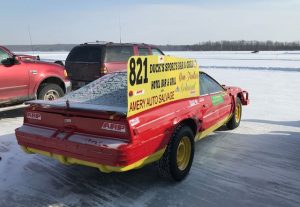 I had a really good day on the ice with the Staples Lake ice racing group, Hardwater Racers on Staples Lake. They race cars  on, wait for it, Staples Lake in Comstock, Wisconsin. I left their races in the late afternoon today. I needed to make a four-hour drive down to Madison, Wisconsin.
While I was driving south to Madison my sister Becky and her husband Bob were driving north from their home in northern Illinois to Madison. We were going to meet up at the Sheraton hotel in downtown Madison. That planned out plan worked out very well.
Once we were all checked in at the Sheraton it was time for dinner. As it was now approaching 8 p.m. none of us felt like braving the cold and going outside for dinner. I do not like to eat evening meals in hotels. I believe the hotel's core competency is renting rooms and not making food.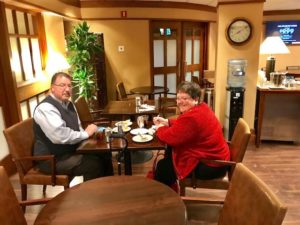 We ended up using my Platinum Elite priority status with the Sheraton to eat in the Sheraton executive lounge. Of course. the Sheridan provides a full sponsorship for me and my guests in their lounges. We dined on barbecue and twice baked potatoes at no charge whatsoever. We could've stayed in the lounge all night and talked and had food and drink. That was a great benefit for choosing the Sheraton in Madison for our meeting point.

Sunday, January 27, 2019.
Today I expected to see racing on both an oval ice track and "TT" or road course ice track. This would bring my lifetime ice track total to 96. Will I reach the ice racing century mark in 2019? I think there's a good chance.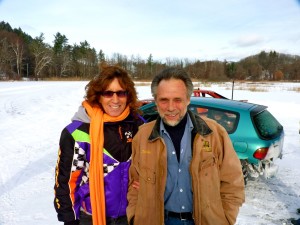 Although I might have I can't remember ever seeing an oval and a road course ice race on one lake on the same day. In Vermont (thanks Linda & Dickie) I did see ice racing on a figure 8 track as well as an oval track on the same day. That was a great day on Puffer's Pond!
I have now seen racing at more than 2,500 racetracks in total. With the pace being set by nearest fellow competitors it would take them nearly 15 years to catch up. Since I've seen that many tracks I'm always thinking that I must be running out of the new tracks to see in the future.
You should know that the Randy Lewis Racing Research Department goes out of their way to find tracks here, there and everywhere. They do a great job. One would think that their canvassing is so complete that after a while they could never find any new tracks. Not true.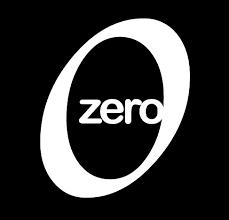 After today I will have seen racing on six different ice tracks. How many of those did I even know about as recently as one year ago? The answer is ZERO! That's right. One year ago when I was going ice racing in 2018 I had never heard of  any of these tracks I've been to this year. I find that amazing. Of course my research makes it super easy for my fellow competitors to follow in my footsteps. They just need to read my Trackchaser Reports.  While they are talking about tracks that could be seen I'm seeing them.
Becky, Bob and I had breakfast in the Sheraton executive lounge. They had a wide range of foods including bacon, eggs and sausage as well as fruits, cereals. yogurts and breads. Again, no charge for this threesome breakfast.
It was only going to be a 40-minute drive from the hotel up to the Lake Wisconsin ice racing facility in Poynette, Wisconsin. When I have people come along with me to watch the races I always want them to have a good time. I would prefer the drive to get to the track isn't too long. I would hope that the dust wouldn't be a negative and the show would run efficiently. Those are my hopes and wishes when I go trackchasing by myself. However, when my friends and relatives come along I REALLY want those things to happen so everyone has a good time.
We would need to drive two cars today up to the track. When the races were finished I had a four-hour drive north to Minneapolis. Becky and Bob had a two-hour drive south to their home. Today I arrived at Lake Wisconsin a few minutes before they did.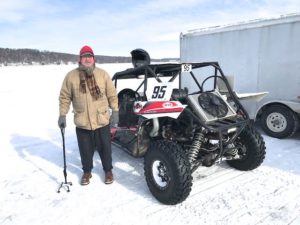 I drove the National Car Rental Racing Toyota Camry onto the ice. I did a quick check of the pit/paddock area. What I saw was concerning. There were several bike and quad entries. However, during my initial investigation I only saw one UTV. Not good.
This was actually doubly bad. I've shown up at racing venues in the past, about five times actually, when one or no countable racing machines had come to race. That was disappointing. However, today I stood to add TWO tracks to my lifetime list. If one or fewer UTVs came to race today I would miss out on two new track opportunities.
The weather was going to be coolish. Today they would be racing with a temperature of about 0°. Nevertheless, we were lucky on two fronts. First, we were lucky there was very little wind. Secondly we were fortunate that we were dealing with people from Wisconsin. I was pretty sure that people from Wisconsin could handle a little bit of ice racing in 0° temperatures. That's why they call it ICE racing. They would not be cancelling because of cold weather.
THE RACING
Lake Wisconsin Ice Track – Poynette, Wisconsin
When Becky and Bob arrived we immediately went into Remi's Thirsty Moose bar. Remi's overlooks Lake Wisconsin. Wisconsin has about a million of these little bars. I think it's safe to say that Wisconsin has more bars per capita than any other state and probably by a factor of a few. Wisconsin folks are drinkers. They enjoy a cold one. Have I seen anyplace that can match Wisconsin's brewsi adoration? Yes, I have. Zimbabwe. They like to drink their alcohol down there as well.
It was especially fun talking to Remi's bartender. She couldn't for the life of me understand why I would go to Saudi Arabia to see an auto race. What did that tell me? She's not ready to become an international trackchaser! We went on to discuss the life women have there and the idea of public executions being held for all to see. I could tell the mental gears were running wild in her head. Was she going to run out a book a trip to Saudi Arabia? Maybe not just yet but she was at least exposed to some new ideas. I sense she liked that part of our conversation.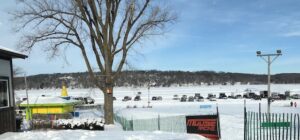 There were lots of large clean "picture" windows at Remi's. From a distance of about 150 yards we could see today's racers practicing on both the oval track and the TT course. I watched them closely. A smile returned to my face. I was now seeing THREE UTV racers on the track. When I could see everyone heading to what I believed to be the drivers' meeting Bob and I left the bar so that we could sit in on the meeting as well.
Mike Hoksch runs the Southern Wisconsin Ice Racing Association (SWIRA). As far as I can tell they race exclusively on Lake Wisconsin. Mike and I had talked on the phone a couple of weeks ago. Since then we've stayed in touch via Facebook. He was happy to know that a Californian was going to be visiting their racing operation. I was just as happy to be there.
Mike went over the race procedures with his competitors. He began the meeting by saying that this type of racing is dangerous and that anybody who wanted to get a refund should say so now and they could do that. I've heard this little spiel in front of several UTV woods races. I'm wondering if it's a requirement from the insurance company?
He went onto to explain that each racer would have a heat race and then a feature event on the oval track to begin with. Then they would break for lunch and come back and run the same program on the TT course. I can't recall ever seeing an ice racing group have lunch in the middle of the program.
This morning's program featured 25 races. The UTV's heat was race #12. Their feature was race #24. Mike stressed that everyone needed to be ready to race when it was their turn. I'm here to tell you they were!
So what is a "TT" course? First, from a trackchasing point of view a TT course is a road course. The term "TT" comes from the motorcycle world. Bikes race on TT courses. TT stands for "Tourist Trophy".
Becky stayed indoors to watch the races. It was much more comfortable in there. Bob and I went back-and-forth between the bar and the frozen lake. It was a pretty long walk. I didn't see any portable toilets on the lake. If you needed that service you were going to have to walk up to Remi's.
Mike, the promoter, asked me if I would like to ride along with one of the side by side racers. Does a bear $h*t in the woods? Of course I wanted to do a ride along. However, I hadn't brought my helmet. As a matter of fact, I don't even own a helmet. I used to have a Ducati 250 motorcycle when I was in college. Truth be told I can't remember if I ever owned a helmet or not. Having that Ducati was about 50 years ago! When I go my first car, a 1955 Pontiac Chieftain, we had to INSTALL seat belts in the car. Yep. I was a teenager back in the Pony Express days.
Mike asked me what size helmet I wore. I thought for a moment. People over the years have told me that I have a "big head". I simply told Mike that my size was "big". He told me that wouldn't be a problem. He would send from the track over to his house to pick up a helmet for me.
Say what?  Have I ever told you that people in the Midwest are nice. They're really nice. I'm going to go out in a limb….not really, and tell you that no other trackchaser has ever done a ride along where the promoter went out of his way to send someone to his house to pick up a helmet for them. Sorry, it just doesn't happen.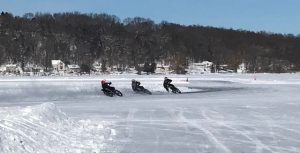 Today's racing included races for bikes, quads and side-by-side machines. As you know bikes and quads do not count by rule in the hobby of trackchasing. Side-by-side's do. Please don't complain about the rules to me. I didn't make the rules. I only play by them.
I think I've now seen racing where side-by-sides were the main trackchasing countable class at more than 100 tracks. I introduced the SXS group to the hobby of trackchasing. Now my fellow competitors are frantically trying to catch up in this category as is often the case.
Today it turned out that there were three side-by-side racing competitors. Those three drivers would have one heat race on the oval and then a feature. In the afternoon they would have those two races on the TT course. There was one driver who showed up in a "hopped up" side-by-side machine. His car had super studded tires. They would let him run alone as an exhibition entry but they were not interested in having lots of cars and drivers with such extreme studded rubber. Studs tear up the track too much.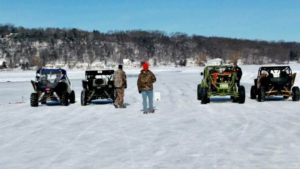 The first side-by-side race on the oval track would be the 12th event of the day. The first side-by-side race on the TT track would be the 24th event of the day. That meant I would be staying for at least 24 races in order to see racing that would allow me to count Lake Wisconsin as an oval track and a TT track. I was thrilled with that opportunity.
A young man by the name of Anthony was recruited by Mike the promoter to haul my 6'3" frame around the track. Anthony was more than willing and a very friendly fellow. I was anxious to get some good video footage of these two tracks to share with you.
It seemed as if race number 12 came up just a little bit sooner than I was expecting. I was in a rush to get my helmet on, find my gloves and get situated for my first ride of the day. While I was doing that I mistakenly left my phone in the car. Damn! By the time I was buckled into the side-by-side machine it was too late to get the phone. For this race I went as a passenger but not as a photographer.
Bob, my brother-in-law (left with Anthony), was trying to get some photos and video from the pit area while I did my ride. Unfortunately his Android phone froze up. What was my advice for him? Get an iPhone! However, in the spirit of full disclosure, my iPhone has frozen up on occasion at the ice races. A strong wind coupled with cold temperatures will take down an iPhone quickly. I was once riding in a nighttime UTV race in Iowa. When the green flag dropped my iPhone froze up in 42 seconds! The wind wasn't bad today.
It didn't take long for race # 24 to present itself. This race had the UTVs racing on the TT track or road course. I made sure I had my phone with me this time!
The ride over the road course was fast and wild. There were only three competitors. I can only imagine what it would've been like if there had been a dozen and we had started somewhere in the middle of the pack. This was a fun ride. The part of my face that wasn't covered and my left hand which was holding my iPhone without a glove took the brunt of the damage. The ice dust felt like needles hitting my face and hand. I was able to get in a couple of laps of video footage and then that left hand had to go in a pocket.
I have probably raced myself about 10 times. I would guess that I have ridden along with other racers about the same amount or maybe a little more. I'm really appreciative of the chance to do this. Thanks very much to Anthony for taking another 200++ pounds along for the ride. Special thanks to promoter Mike for making arrangements to have it all happen. I had a blast. I think lots of people are going to get a better insight into what this type of racing is really like by watching the videos that I'll be sharing. Thank you Anthony and Mike.
The SWIRA group had run off 25 races in about two hours. They didn't mess around. When the last competitor left the ice from the previous race they were starting the next one within five or 10 seconds. You can't beat that. They didn't have any slack in their race program at all.
When my last ride along was finished it was time for me to head to the airport in Minneapolis. If I hurried I could beat an approaching snowstorm and possibly get on a flight back to Los Angeles. The flight I was standing by was wide open and leaving at 6:20 p.m. That would put me into Los Angeles at about 8:30 p.m.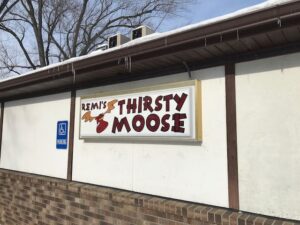 That meant there was a good chance that I would be pulling into the driveway at about midnight Poynette, Wisconsin time. I suspected that everyone at the ice track today as well as at Remi's Thirsty Moose would be able to make it home tonight before midnight. That might give you some indication about how unusual my behavior really is.
AFTER THE RACES
When Bob and I got back to the bar Becky was just beginning to order lunch. By now the bar was jampacked. It was really going to get crowded when all of the racers went up to the bar for lunch. I can't exactly recall, despite seeing ice racing at 96 ice tracks, a single time the ice racing group broke up in the middle of the program to go have lunch. Normally when the last race of the day is finished everyone goes into the bar for some food and adult beverages. That's usually when the awards are presented to the day's winners and everyone else gets to explain why they didn't win.
I would be driving nearly four hours from today's ice racing up to the Minneapolis-St. Paul International Airport. As I drove along I began to shed my ice racing gear and put it in my suitcase. I wanted to have all of that done by the time I pulled into the airport.
Of course I would need to refuel as well. Gas is selling for about $2.05 a gallon. That's about a buck and a half or so less than what we're paying in California right now. Of course it's not 0° in California either. By the time I got my rental car back to the airport it needed a wash!
I did land at LAX before 9 p.m. The other flight I had considered taking left MSP more than two hour late because of the snowstorm.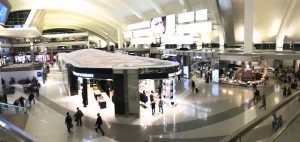 I had just enough time and energy to head over to P.F. Chang's in terminal 4. There I picked up some Chinese takeaway for Carol and me compliments of Chase Sapphire Reserve.
This had been an excellent trackchasing trip. Getting to ride in an ice racing stock car was a true highlight. Getting to ride in a road course UTV race was outstanding. Great people at both tracks seen during the weekend. It was a special bonus to see racing at two track on Lake Wisconsin. Finally, it was extra special that my sister Becky and her husband Bob could enjoy the ice racing.
Good afternoon from Lake Wisconsin in Poynette, Wisconsin.
Randy Lewis – 81 countries – 2,525 tracks.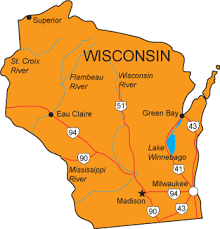 Wisconsin
The Badger state
This morning and afternoon I saw racing at my 89th and 90th lifetime tracks in the Badger state, yes, the Badger state.  I hold the #4 trackchasing ranking in Wisconsin.  I've seen 90 or more tracks in eight different states.
Thanks for reading about my trackchasing,
Randy Lewis
World's #1 Trackchaser
Peoria Old Timers Racing Club (P.O.R.C.) Hall of Fame Member
Wisconsin sayings:  "Come here real quick."
"Quick" by itself is not quick enough. Yous gots to be "real quick."
QUICK FACTS
LIFETIME TRACKCHASER COMPARISONS 
The threemost important trackchasing comparisons to me are:
Total lifetime tracks seen
Total "trackchasing countries" seen
Lifetime National Geographic Diversity results
Total Lifetime Tracks
There are no trackchasers currently within 690 tracks of my lifetime total.  Don't blame me.
Randy Lewis, San Clemente, California – 2,525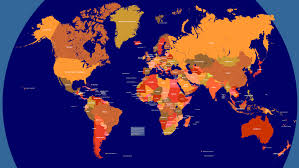 Total Trackchasing Countries
The nearest trackchasing competitor has seen racing in 30 fewer countries compared to my lifetime total. 
Randy Lewis, San Clemente, California – 82
Current lifetime National Geographic Diversity results
Randy Lewis, San Clemente, California – 4.14
That's all folks!  Official end of the RLR – Randy Lewis Racing Trackchaser Report
Click on the link below to see the video production from the racing action today.
Click on the link below for a photo album from today's trackchasing day.  You can view the album slide by slide or click on the "slide show" icon for a self-guided tour of today's trackchasing adventure.
Hanging out in a small town Wisconsin bar on a very cold ice racing day