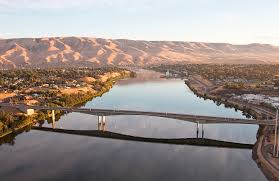 Greetings from Lewiston, Idaho
.
.
From the travels and adventures of the 
"World's #1 Trackchaser"
.
.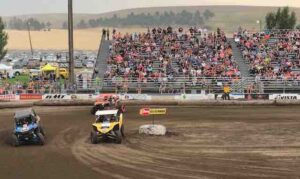 Lewiston Roundup
Dirt oval
Lifetime Track #2,362
.
.
Lewiston Roundup
Dirt figure 8
Lifetime Track #2,363
The EventVideo PlusPhotos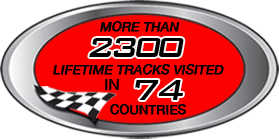 THE EVENT
I have had the opportunity to follow my trackchasing hobby all over the world. As this is written I have seen racing in 74 countries. My lifetime track total exceeds 2,300. Each and every year I will trackchase in 25-30 states.
At track #1,040 I moved into the "World's #1 Trackchasing" spot. Here's the funny thing about that. I was perfectly content to remain in about seventh place in the worldwide trackchasing standings. Then I had rotator cuff surgery, which knocked me out of golf for about six months. With no golf and time on my hands I turned up my trackchasing by a notch or two. I discovered I liked MORE trackchasing and LESS golf. It didn't take all that long to move up to the top of the world trackchasing standings at that point.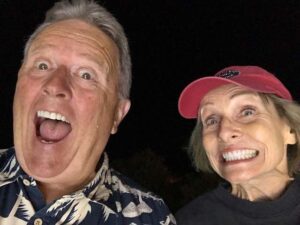 It's always fun to have Carol come along on one of these trips. She has seen nearly 600 racetracks. Tonight we encountered a very special surprise. As we were driving through town we saw a sign advertising tonight's racing. There was a smaller sign overlaying the bigger sign. It read, "UTV races". That would mean something special for this already special trip.
My hobby is not only about racing. Trackchasing for me centers around three things. The racing part is pretty obvious. However of equal importance is the logistics of trackchasing and the opportunity to see the world.
I live in Southern California. The vast majority of tracks are located in the Midwest and East. It takes a good deal of logistical planning to get from where I live to where the tracks are. For the past 15 years I have traveled about 175 nights each and every year. Surprisingly to some, more than half of those overnights were not part of trackchasing.
Then there's the travel just for the fun of seeing new things. You won't want to miss my "Trackchasing Tourist Attractions" page or my "Sports Spectating Resume" page on my website at www.randylewis.org. That will give you some understanding on how important seeing the world is with my hobby.
Today's adventure was one more of the 2,000 trips that have taken me up, down and around the long and dusty trackchasing trail. If you would like to see where I've been and experience those adventures here's the link: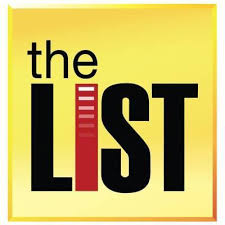 If you've got a question, comment or whatever please leave it at the bottom of this report.  It's very easy to do.  Or you can visit me on Facebook.  Thanks!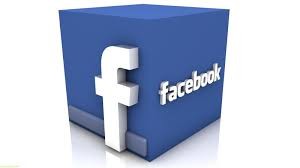 FOREWORD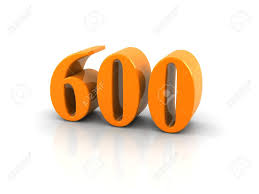 Did you know that Carol has seen nearly 600 racetracks in her time? Not very many people can lay claim to an accomplishment like that. Carol was planning to pad her totals on this northwest trackchasing trip.
When Carol comes along I try to make sure that everything is just a little "better" than when I'm traveling by myself. We'll stay at nice hotels. We won't drive as long as I would if I were on my own. We will stop and eat at better restaurants. Yes, Carol gets upgraded and she brings me along to enjoy the trip.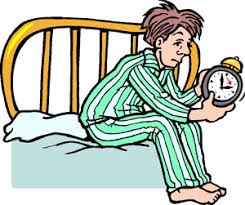 THURSDAY
We would be leaving the house at 3:20 a.m. on Friday morning. That's early but we've done it before many times. That being the case we went to bed at 8:30 p.m. We NEVER do that but it seemed prudent this time.
FRIDAY
As promised we were out the door at 3:21 a.m. You might imagine there's no traffic on the massive Los Angeles freeways at that time of day. We pulled into LAX about an hour later and this trip was officially begun.
I dropped Carol off at the terminal door with her bags. I gave her instructions to clear security and go to our airline gate. Then I drove our car back to the airport parking garage and made the one-mile walk back to the LAX and terminal 6. My gentlemanly approach to Carol's overall enjoyment and convenience never ends!
This has been an uncommonly good summer for standby airline travel. I'm not really sure why that would be the case. It looks as if overall travel in airports is up this summer. Nevertheless, it is mid-August and I haven't had any major problems with my airline travel.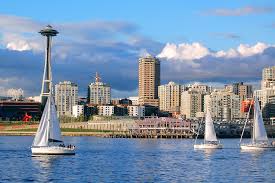 This morning we had planned for a nonstop flight to Seattle, Washington. Our flight was tight but we had all day to get there. If we didn't make the original plane I figured we'd make it sooner or later.
However, while standing in the security line I learned that our flight to Seattle had been delayed by an hour and a half. It was scheduled for 6 a.m. but wouldn't leave now until 7:30 a.m.
That being the case I went to Plan B. I can turn these travel ships on a dime. That's what gives me such a big advantage over my fellow competitors.
While in the security line I both listed and confirmed a tentative reservation on a flight to Portland, Oregon. By the time I cleared security I was adding standby boarding passes into my Apple wallet on my iPhone. Yes, I really am the only Trackchasers can turn on a dime.

The flight to Portland had a few open seats and we got a couple. Soon we were landing at the Portland International Airport, one of my all-time favorite airports in the entire country.
It looked as if flights into Seattle (where we still wanted to go) were being delayed from all locations not just Los Angeles. That being the case we went over to the Alaska Lounge and relaxed. We had breakfast on the house. If you're going to travel this is the way to do it.
In the back of my mind I knew we could actually do this trip from Portland with rental cars and everything else that will be part of this trip if we had too. However, Seattle was a little bit more convenient. That being the case we soon found ourselves on a flight from Portland to Seattle and everything was pretty much back on schedule.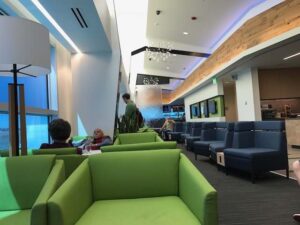 Once in Seattle we went to the new Alaska Lounge in Terminal C. There we relaxed, had lunch and I want to work while Carol enjoyed the ambience of the club.
My first item on my business chore list was to get us a hotel for the evening. Of course I went to my Priceline resource and shopped around.
I wanted to stay in Tacoma, Washington. Tacoma is to Seattle what St. Paul is to Minneapolis. Tacoma would be an excellent location for tonight if we could get a good place to stay.
Priceline was only offering six hotels in the general area. Every one of those hotels was going for $150 or more per night except one. It was a three-star highly rated hotel for $88 including tax.
I would end up using my special proprietary method to get the very best price on this overnight stay. Of course you can go on my website and find out exactly how I do that. My website is my way of sharing all of my travel secrets.
Tonight we would be staying at the Courtyard by Marriott in downtown Tacoma. The hotel is right across the street from the Tacoma Art Museum. The hotel's best nightly rate selling online was for $220. As you know my motto is, "I want to buy good stuff cheap".
Now I needed to get a rental car. In the pre-planning stages for this trip I had checked with Costco travel. They sometimes offer very low rates on rental cars. Not this time. They wanted $700 for a six-day car rental in Seattle, Washington.
I was quite pleased when I contacted the National Car Rental Company. They've been a long time sponsor of Randy Lewis Racing. For this trip they came through with a great price on a super rental car. Their rate would be less than half of what Costco was charging.
I'm not a big fan of the Seattle–Tacoma International Airport rental car logistical plan. We had to wait in a line of more than 50 people to board a bus. The bus took us to a remote rental car facility. It was a lot easier in Seattle when you just walked across the bridge to get your car.
As a National Car Rental "Executive Elite" member of their frequent renter program I pretty much get my choice of any car on the lot. We weren't going to be driving that far on this trip, just about 1,400 miles over six days. That not really much when you consider that with a three-day rental last week I drove nearly 2,000 miles.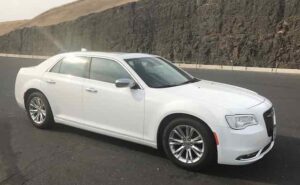 Nevertheless, I wanted to get a good road car. I did just that. I selected a glacier white Chrysler 300. This is a great road car for this trip. It will give us about 30 miles per gallon. All the cars I get are low mileage. That way I don't have to worry about them breaking down. The Chrysler 300 does not have a pristine reliability record. However, I can count on it to be reliable when the odometer is at less than 10,000 miles.
Now we just have to drive to Tacoma, a distance of about 25 miles from the SeaTac airport. There we checked into the Courtyard by Marriott located in an excellent selection of downtown Tacoma for sightseeing.
Recall I had paid $88 for our room night at the Marriott in Tacoma. Their best rate for a regular room at the hotel was $220 a night. I am a "platinum elite" member of the Marriott frequent stay program. Actually I made lifetime platinum elite and do not need to re-qualify every year. That might give you some idea about how many Marriott hotels I have stayed in!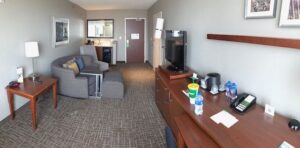 Even when I buy my hotels at steeply discounted prices on Priceline and I get a Marriott property I'm going to tell them about my "status". That information does not transfer into the Marriott system from a Priceline booking. Today a little rapport building with the front desk clerk and personal persuasion got us upgraded to a two-room suite. We would only be here for one night. However, for me it was the principle of the thing to see if I could get us upgraded.
I had checked TripAdvisor for "things to do" in Tacoma. I always do that when I'm traveling. The #2 item on that list was America's Car Museum. This museum is located right next-door to the Tacoma Dome if you're familiar with that facility. The car museum would be our first stop for touring this afternoon.
Parking for the car museum was five bucks. The senior rate, discounted by two dollars, was $16 per person for general admission. The museum, pricewise, wasn't getting off to a very good start with me. Yes, I thought things were a little pricey.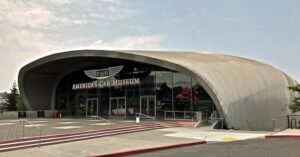 However, my tune soon changed when I walked into the place. First of all the museum is an architectural masterpiece. The wood beamed walls support a truly huge structure. Many of the concrete floors were built at angles. You won't see that in very many buildings.
However, people come here to see the cars. Lemay has lots of cars. They are very cool cars. The cars come from all eras. I've seen a lot of the very top automobile museums in the United States and the world for that matter. Today's Lemay – America's Car Museum easily qualifies for a top 10 ranking in that group.
Back at the Marriott hotel we took a late afternoon nap for about an hour. You have to pace yourself on these trips if you want to enjoy them to the fullest. Remember we had left her house at 3:21 a.m. this morning.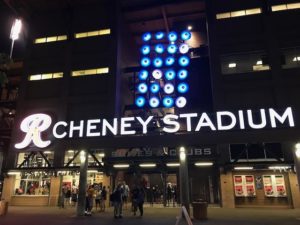 Next up on the evening's agenda was a sporting trip. We will be visiting the Cheney Stadium to see the Pacific Coast League Tacoma Rainiers host the Reno Aces.
Before we go much further I must share something with you. I commonly say to Carol that when she comes along on a trip there "Isn't much 'track' in her trackchasing." That simply means we do lots of other stuff than just watching races.
You should know that I am a huge sports fan. I have been all of my life. If you have the time check out my "sports spectating resume" on my website at the www.randylewis.org. Here's the link: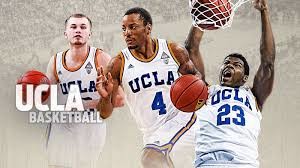 Baseball is only one of the sports that I have enjoyed over time. I pitched in a little league All-Star game as part of the Little League World Series worldwide tournament. We lost in an early around but at least I can say I played in the tournament.
I've seen the Little League World Series played in Williamsport, Pennsylvania. I've been to the College World Series in Omaha, Nebraska. I've seen Major League Baseball World Series games in St. Louis, Oakland in New York. I've seen a game in every active major-league baseball park through 2016. I've seen major league baseball played in Nagoya, Japan. I've seen baseball games at several minor league venues. I guess you can say I've pretty much been around the world watching the very best that baseball has to offer.
Tonight's stadium was built in 1960. The seating capacity is 6,500. That's small. It's actually the smallest baseball stadium of any AAA major-league affiliated baseball program. The Raniers are a farm team for the very nearby Seattle Mariners.
I don't know how people can afford to go to minor-league baseball games. Believe it or not they cost so much more than a major-league game. Carol and I are fans of the Los Angeles Angels of Anaheim. We were actually season-ticket holders back in 1979. Folks that's 82 games!
At an Angels' game we pay five dollars to park. Tonight Tacoma was charging $10 to park. We took an Uber car ride from the hotel to the park instead.
We typically pay $5-10 for a ticket to an Angels' baseball game. Tonight the cheapest tickets on sale went for $12.50. At the park tonight, for 30 bucks, we got a Polish dog, a bag of kettle corn and two beers. Refreshments are not cheap at minor-league baseball games.
Tonight they had a sellout crowd. It was the last "Fireworks Friday" of the season. As you probably know the minor-league baseball season ends about September 1. The major league teams play about a month longer before the playoffs come for the best teams.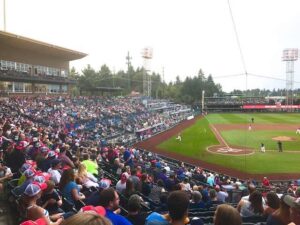 We had good seats not that far from the field even though we were just a couple rows from the top in this small ballpark. The seating capacity at Angels Stadium is about 44,000. The 6,500th best seat tonight would be about the 15% best seat at Angels Stadium!
The Raniers beat the Reno Aces tonight 6-2. I would have to classify the action as a "typical" baseball game. There is a significant difference in the quality of play in the minor leagues, even in AAA, compared to the major leagues. However, having the opportunity to visit someplace for the very first time appeals to me in whatever activity I'm doing. We had a good time. When the fireworks were over we grabbed another Uber ride back to the hotel. We had capped off a very complete day of travel and touring.  
FRIDAY
Power walking is my favorite exercise of choice. I go at a pace of about 4-4.25 MPH. I normally power walk for a minimum of one hour. I was up early this morning for a power walk around downtown Tacoma.
Walking through the city as compared to driving is a lot like walking the golf course rather than riding a golf cart. You just get to see and experience so much more than if you were going by at a faster pace.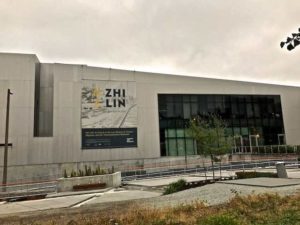 So many of the TripAdvisor Tacoma highlights were located near our hotel. Just across the street was the Tacoma Art Museum. My walk took me past Union Station, an old train station that is now a courthouse. Attached to that building was the Washington History Museum. I walked over the glass bridge past the Museum of Glass. I walked down to the waterfront that was home to a huge marina with all of the boats moored for the summer. The Children's Museum was next to our hotel. What a fantastic location.
When I was finished it was time for breakfast. When I'm looking for breakfast in a city that I'm not familiar with the first thing I do is go to Yelp. That will get me the recommendations of people who have tried all of the eateries located in my area.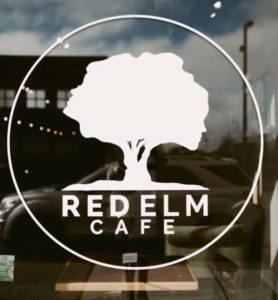 Using Yelp I found the Red Hill Café. It was located just a mile from the hotel in a perfect location. I've been on a low-carb eating plan for four months. It was time for a change. I was ready to enter the real world again.
It was time for Carol and me to check out of the hotel. It had been a short stay but we did enjoy our suite. Now we are headed for a different "sweet" at the Red Hill Café.
The Red Hill Cafe was the type of "hippie" place that you might find in downtown San Francisco or maybe Portland. Service was friendly and the prices were extremely low. A large tasty waffle smothered in strawberry sauce and whipped cream was just $3.75. A waffle dog, somewhat similar to a corndog, was only $2.75. They accepted Apple Pay. Our bill of only 15 bucks was a great value for the breakfast we had. Without something like Yelp we never find a place like this and our trip becomes much more mundane. 
Now it was time for trackchasing. Trackchasing is the real reason these trips originate. However, as you can see we do our very best to seek out all of the best local attractions. Since I retired 15 years ago I estimate I've made about 600 of these trips worldwide. You can only imagine all the stuff that we've seen and all of the places that we've eaten during that time.
Today we were headed to Lewiston, Idaho. It was going to be a 330-mile one-way drive toward the east. My Waze GPS system estimated that we would be on the road for about 5 1/2 hours. Off we went.
Virtually all of our drive today would take place in the state of Washington. With just 10 miles to go on our drive we crossed in the state of Idaho.
The Lewis and Clark exploring expedition is a big deal around here. Lewiston, Idaho and Clarkston, Washington are Twin Cities separated only by their state's border. That was pretty cool.
Lewiston is a pretty big town by Idaho standards. They have nearly 32,000 people. Lewiston was the first capital of the Idaho territory. Of course you know when Idaho first became a state right? The answer appears at the bottom of this report.
When Carol comes on these trips she loves to send postcards to the youngsters in our extended family. She shops for the postcards and then writes her messages in the car as we drive along on our trips. It's important to her where we mail them from. We had to use our GPS system to find the local post office in Lewiston today to get an Idaho postmark.
Tonight racing at the Lewiston Roundup was to begin at 6 p.m. As we drove through the city of Lewiston we noticed a sign advertising the event.
There was something most interesting about this yellow and black sign. It had a smaller sign plastered across its tip that read, "UTV races". Folks, I am trained to look for and recognize clues that could enhance my trackchasing production.
I had just seen such a clue. "UTV races!" What could that possibly mean? It could mean that we were going to see an extra track configuration tonight.
I was counting on seeing figure 8 racing which does count for my trackchasing totals and demolition derby, which does not. I don't think anyone has ever recorded seeing a figure 8 UTV race.
That pretty much told me that if they were going to have a UTV race that it would not be on a figure 8 track. That left only ovals and road courses as likely options for the UTVs. If the UTV race was a "traditional" race all of the competitors would start at the same time and race around an oval or over a road course. I couldn't wait to see how this was going to pan out.
Lewiston has a county fairgrounds in town. However, this was not where tonight's racing would take place. The races were scheduled to be run at the "Lewiston Roundup" which is a rodeo ground.
Rodeos are big in the Northwest. They are bigger than figure 8 racing but probably not as big as demolition derby depending upon the location.
THE RACING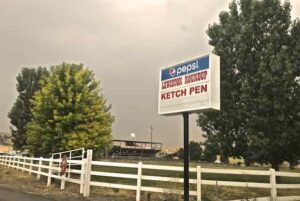 Lewiston Roundup – Lewiston, Idaho
We pulled into the Roundup grounds about a half hour before starting time. The line to get into the parking area was two lanes wide and backed up by 10-15 cars. Tonight's parking charge was five dollars per car.
Today we had driven more than five hours to get here. I told Carol this was going to be the longest driving day of our six-day trip. It was also going to be the warmest. Today's temperature reached 99°. It was in the lower to mid 80s my race time.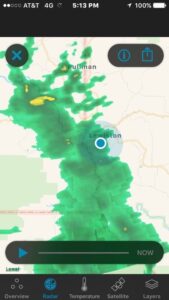 Rain was in the area as well. This made me want to act fast. We quickly bought our $16 per person general admission tickets.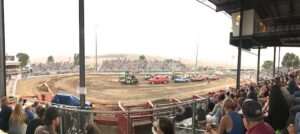 There was grandstand seating around nearly the entire arena. Only one section had a roof covering the seating area. With the potential for rain I hurried Carol along so that we could get a seat under that shelter.
It did rain but it didn't rain all that much. We might have been more comfortable sitting in some of the other open air, open seating areas. Tonight we took the safe route and stuck it out in that "wet-free" section until the very last portion of the demolition derby program.
I'm happy to report the program started on time at 6 p.m. When we arrived at 5:30 they already had about 10 of the cars inside the dirt arena for their version of the best-looking car contest. They had a set of criteria and the drivers and owners voted on who the winner would be. I had never seen that approach.
Then they had a parade of sorts where every driver who would be participating tonight drove his car or truck into the arena. They were rewarded with the applause of a couple thousand fans in the grandstands. The announcer told us the racing purse was in the neighborhood of $10,000. I looked around. Somebody was making some money tonight especially with the parking charge.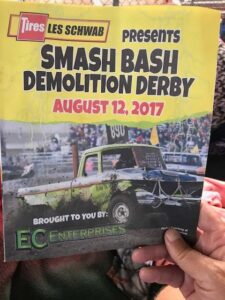 The group offered up a very nice complementary race program. There were a lot of ads in it but they also had a complete driver roster, program schedule and race results history dating all the way back until 1991.
They've been having figure 8 races at the Lewiston Roundup for the past 26 years! Who knew? I might have to bring up this glaring omission on our part to the Randy Lewis Racing research department.
This group has been racing for 26 years with figure 8 and demolition derby. In the last few years they've been having these events twice a year in the spring and later summer. However, tonight was the very first UTV race that they've ever had. Were we lucky or what?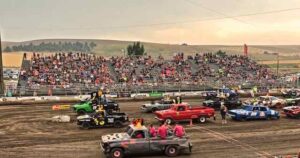 The dirt arena itself was large by demolition derby standards. They did have two tractor tires that would be used as markers for the figure 8 race. Those tires were not very far apart. I'm going to guess maybe 35-40 yards separated them. That made for a pretty small figure 8 racing course.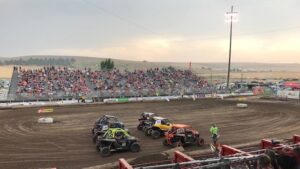 It's pretty obvious that two tractor tires set up for a figure 8 configuration can always be used as markers for an oval track! Those tire markers would NOT be used for figure 8 for the first event hitting the track tonight. They brought out six UTV racing machines and drivers. They started from a dead start and raced for what the announcer described as 14 laps in a counterclockwise direction on this dirt oval speedway. Lifetime track #2,362 was in the books!
Following the UTV races four different classes of figure 8 racers began their competition. By 6:31 p.m. Carol and I had each added two tracks to our lifetime and Idaho state totals. The UTVs made it official for the oval track. The big V-8 junks cars were the first countable class we saw on the figure 8 track. At this rate how can other trackchasing couples have any chance of remaining competitive in the race to 3,000 tracks?
Tonight there were two classes of figure 8 cars, big and small. There were two classes of figure 8 pick up trucks, full-sized and small. The big cars brought about 15 entries. The full-sized pick up trucks had about a dozen. The other two classes had only 4-6 racers.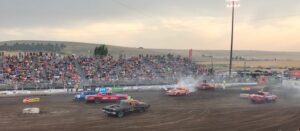 The track was a little small for figure 8 racing. The dirt track was dry and the cars could pick up some speed. When they got into the turns they often ran into each other blocking the track until they could get untangled. I wouldn't call this the best figure 8 racing I've ever seen. The races were extremely short. I never count of the laps but they might've been only three or four for each race. One of the figure 8 car feature events ran nonstop and only took about 90 seconds.
When all of the oval and figure 8 heat racing and feature racing was complete they took an intermission. It lasted longer than I wanted it to. I'm going to guess the intermission was for 30 minutes or so.
We were looking at a three-hour drive over rural winding two-lane roads to get to our hotel this evening in Kennewick, Washington. I wanted to see some of the demolition derby but I didn't want to wait all night to do it.
The demolition derby activity was the MAIN event in tonight's race program. I believe there were four classes of demolition derby cars and trucks. Pretty much every one of the figure 8 competitors brought their machine out to demo.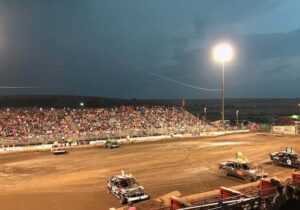 We watched two derby classes from our original seating position in the covered grandstand. Then we moved down to one of the turns to watch the 12-truck feature. They had a lot of action and a lot of hitting. The crowd loved it.
There were several portable concessionaires on the grounds. They were selling everything from ice cream to pizza in a wood-fired oven to standard cheeseburgers and hot dogs and the like.   They did offer something that I don't see very often.
They offered a couple of family packs. They were very good values. We bought one. For $18 we got two cheeseburgers, two hotdogs, four drinks and four packages of chips. The retail value of everything we bought, had they been purchased by themselves, was $27. They gave us a nice savings and we left the track with food and drink to be used later.
AFTER THE RACES
It was a dark and desolate drive out of Lewiston, Idaho over to Kennewick, Washington. We drove through Dayton, Washington during this late night ride. I had seen racing there at the Columbia County Fairgrounds just a few weeks ago.
I'm really seeing a lot of trackchasing events at venues that I have just discovered or that I didn't really know much about in the past. I never really knew that the Lewiston Roundup arena hosted figure 8 racing. Over the next few days Carol and I hope to visit three county Fairgrounds in Washington. If that works out we will add four tracks apiece to our lifetime resumes. I didn't know any of these Washington tracks existed until a couple of months ago!
I often wonder just how many tracks can be out there, after I have spent a lot of time searching for all of them, that I don't know about today. I've been thinking that for a few years. They just keep popping up.
Good evening from Lewiston, Idaho.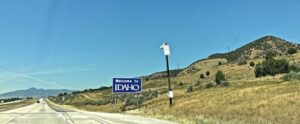 Idaho
The Gem state
This evening I saw my 19th and 20th lifetime tracks in the Gem state, yes the Gem state. I hold the #1 trackchasing spot in Idaho as I do in 24 total states. My states leading total of 20 tracks now more than doubles the output of my nearest fellow competitor, Allan Brown. Allan has seen nine Idaho tracks. A "doubling" of state trackchasing totals is a rare event. It only exists now in Idaho and Montana (Randy Lewis – 15, Allan Brown 7). There's a chance the state of Washington will join this group by the end of this trip!
Thanks for reading about my trackchasing,
Randy Lewis
World's #1 Trackchaser
Peoria Old Timers Racing Club (P.O.R.C.) Hall of Fame Member
Idaho doings: North and South
What it means everywhere else: The Northern and Southern states in the Eastern U.S., divided by the Mason Dixon line, accents, and preference over how sweet one likes their iced tea. 
 
What it means in Idaho: The northern and southern sections of the state, divide by the Coeur d'Alene river, how one tills their land, and the preference of just how red one's politics get.
QUICK FACTS
LIFETIME TRACKCHASER COMPARISONS 
The three most important trackchasing comparisons to me are:
Total lifetime tracks seen
Total "trackchasing countries" seen
Lifetime National Geographic Diversity results
Total Lifetime Tracks
There are no trackchasers currently within 600 tracks of my lifetime total. Don't blame me.
Randy Lewis, San Clemente, California – 2,363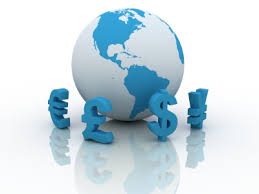 Total Trackchasing Countries
There are no trackchasers currently within 20 countries of my lifetime total.
Randy Lewis, San Clemente, California – 74
Current lifetime National Geographic Diversity results
Randy Lewis, San Clemente, California – 4.37
Idaho became a state, the nation's 43rd, on July 3,1890. And now you know just a little bit more about the rest of the story!
That's all folks! Official end of the RLR – Randy Lewis Racing Trackchaser Report
Click on the link below to see the video production from the racing action today.
Click on the link below for a photo album from today's trackchasing day.  You can view the album slide by slide or click on the "slide show" icon for a self-guided tour of today's trackchasing adventure.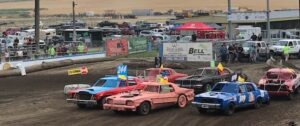 Racing from way out in Idaho. Pretty unusual scenery in the gem state.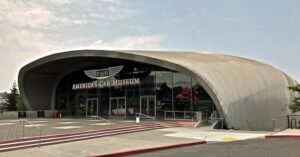 You've got a free ticket to "America's Car Museum" Come on in and look around