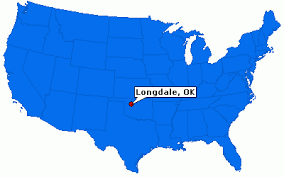 Greetings from Longdale, Oklahoma
From the travels and adventures of the 
"World's #1 Trackchaser"

Longdale Speedway – Dirt Oval
Lifetime Track #2,074
The EventVideosPhotos
BEFORE THE RACES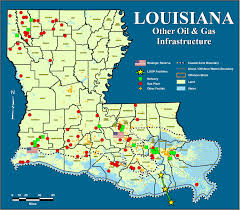 Busy. Busy. Busy….and it's not even the peak season for trackchasing.
I woke up this morning in Bossier City, Louisiana. After the races I overnighted in Dallas, Texas. Then I spent another night visiting daughter, son-in-law and those super duper grandbabies in Austin, Texas. After six days and five nights on the road it was time to head back to San Clemente. In just three days we were leaving for 10 days in Maui, Hawaii to escape the pressures and tribulations of living in retirement along the California coast line.
Oh really?
Longdale, Oklahoma is a town of only 262 residents in Blaine County. Possibly someone with Wikipedia is having a little fun with this passage, "As Longdale continues to grow throughout the 21st century the city is being overflowed with many successful businesses. Longdale's growing population had become a concern. The population of Longdale had grown to over 100 people and the housing can not keep up with the major climb in population." Some 18% of the town's population is Native American.
Mind you I never forget how fortunate I am to be able to travel with my trackchasing hobby as I do. By retiring early I've had a chance to do and see so much more than if I had stayed in the workforce longer. Good planning creates good luck.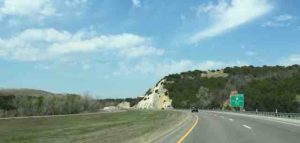 Out the door and up the long and dusty trackchasing trail.
This morning I was out the door, in Bossier City at a leisurely 9:12 a.m. I happened to notice that I had driven my rental car 930 miles during the first two days since picking it up in Dallas.
Recall that last night I trackchased in Leesville, Louisiana. After the races I drove two hours north to the greater Shreveport area. I made that drive so today's drive wouldn't be as long. Since Ed Esser is no longer part of the trackchasing hobby, on an active basis, I drive more miles and fly more miles than any other trackchaser.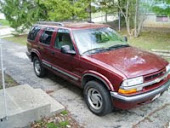 I could never had done this.
As I recall one year Ed drove 91,000 miles. He did it all in a Chevy Blazer not the most fuel efficient vehicle on the road. Ed had a couple of Blazers. He got rid of one of them with 845,000 miles on the odometer!
No, I don't imagine Ed's Chevy Blazer set any fuel economy records. I would have to guess that gas cost about $0.15 per mile when he drove those 91,000 miles. That's about $15,000 a year in gasoline expense! If I had Ed's money I would throw mine away.
Buck up complainers.
I sometimes hear trackchasers bemoaning the fact that gas prices are high. Within the United States, on a relative basis, that feeling could be true. Paying more than four dollars for gasoline is high compared to when gasoline cost half that much as it has recently.
Here's the funny thing but both amuses and frustrates me. Some trackchasers have a hard time telling the truth or at least putting the truth in writing. I have heard people mention high United States gas prices. 
However, I have NEVER seen or heard of a trackchasers curtailing his trackchasing activity because of fuel prices. Regardless of the price of gasoline a trackchaser will still get in his car and drive on down the long and dusty trackchasing trail. If that is the case, and it is, why complain about high gas prices? It doesn't matter if gas is five dollars a gallon or two dollars a gallon the high-profile trackchasers will not be impeded by that expense.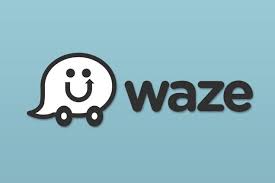 Waze rocks!
Once in my rental car the first thing I did was plug in today's destination, Longdale Oklahoma. I use the Waze GPS system. My iPhone six instantly spit back a distance of 489 miles. Without stops Waze told me that I would be driving seven hours and 12 minutes. I had nine hours to make the trip. What was I going to do with nearly 2 hours of "free" time?
I would have to stop for gasoline once. I would also likely stop for breakfast and lunch. I eat almost all of my meals in the car. As you can see from my travel schedule I rarely have time for leisurely dining in a sit-down restaurant.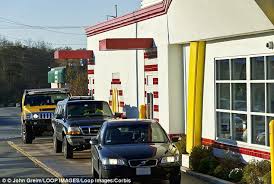 Everybody lives life a little differently.
I remember trackchasing with Belgium's Roland Vanden Eynde about 10 years ago in Europe. I nearly had to put a gun to his head to get him to use a fast food drive-through for the very first time in his life. Later he was kind enough to allow me to drink a soft drink in his car but no eating.
I rarely drive my own car on trackchasing trips. When I have to I hate it. I know I am damaging a very valuable asset in doing so. However I do not mind using up an asset provided by the National Car Rental Company.
My current rental car had about 2,800 miles on it when I picked it up. That's the good thing about being a VIP member of the National Car Rental Emerald Club. It would be very unusual for me to get a car with more than 5-10,000 miles on it. That almost never happens.
I was going to have my rental car on this trip for three days. I expected to put approximately 1,700 miles on the odometer during that time. Most rental car companies sell cars in their fleet when they get up to about 20,000 miles. Some cars are sold sooner. If everyone drove their rental car as much as I do, 1,700 miles in three days, they would be turning a brand-new rental car back to the resale market in about a month!
I actually enjoy driving. How could I not and have a hobby like I do? Of course my iPhone helps me pass the time. I'm actually dictating this note as I drive westward on Interstate 20 towards Dallas.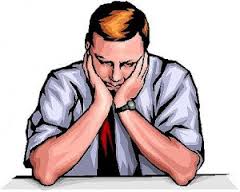 If you don't have an iPhone your life cannot possibly be complete.
There's something rather funny about the above headline. The people who are affected the MOST by not having an iPhone THINK they are affected the LEAST. If they only knew.
I've got about 100 apps on my phone that can be viewed as needed. Some are critical to the navigation of each trip such as my GPS program. Others are informational such as Google search for race track information, Yahoo mail and the like. Others are more entertaining such as USA today and Yahoo Sports. I'll even check the solar production of my environmentally friendly electrical power system at home. Once in a while I will even use my iPhone 6… Oh my gosh!…as a telephone! However that rarely happens. My iPhone is primarily a computer. Yes, I guess it also happens to be a telephone.
Doubles!
I was going to be picking up six racetracks on this three-day trackchasing trip. On Friday I had a day/night double. On Saturday I had a day/afternoon/night combination double. I don't do trackchasing triples.
Saturday's morning/afternoon racing would be classified as a day/night double. Then Saturday's afternoon/evening tracks would be classified as my second day/night double of the day. I started doing it this way a long time ago and never felt the need to change. This manner of counting trackchasing doubles has been consistent over time. Make sense?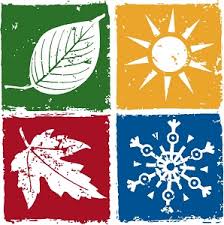 It's important to understand the impact of seasonality.
One of the interesting things about my trackchasing is its seasonality. I grew up selling seasonal products. I started my business career as a salesperson for the Vicks line of cough and cold products. I'm sure you recognize the brand names of Vicks Vapor Rub, Vicks Nyquil and Vicks cough drops. Obviously those products sell much better during the "cough and cold" winter selling season. Later we would acquire the Bain de Soleil sun care product line. That line of products had the opposite seasonality cough and cold products. It sold best in the summer obviously.
Here's how trackchasing seasonality works in my hobby. January and February are almost exclusively reserved for ice racing. In March and April I will navigate southward where tracks are beginning to open up for their annual racing season. Then in late April and early May the remainder of the tracks north of a line from Atlanta to Oklahoma City begin to open up.
The regularly scheduled oval racetracks that were my bread-and-butter when I first started doing this will run a season from roughly May 1 through the end of September. Some tracks will start a little earlier and some will run a little later but I would say most tracks have a five-month window of activity.
The month of July and the first couple of weeks of August is county fair season. Most county fairs operate in July. It is the once a year junk car events that attracts me to county fairs. I've been to well over 300 county fairs for trackchasing.
In September and October, historically, tracks have offered their season ending specials. These are normally longer distance races with larger purses. Often times in the Midwest and East the weather is beginning to get quite chilly by October.
By November most outdoor racing has shut down. I might find a few locations still operating in the south east or the Southwest. In December there is almost no racing. Of course I'm talking The United States. I have ventured down to New Zealand and Australia a few times for racing during their summer and our winter. I once flew down to Australia on a Thursday and came back on Monday. That was quite the trip!
So there you have it. That's the trackchasing seasonality of a hobby I enjoy so much.
Three days. Three states. Six tracks.
This weekend I am trackchasing in late March. My schedule calls for stops in Texas, Louisiana and Oklahoma. Going trackchasing in late March in these areas can be challenging with the weather.
It would not be unusual to experience cold and damp weather. On the other hand early-season tornadoes could be a problem as well.
On this particular weekend the weather is divine. I have blue skies, no rain in the forecast and temperatures from 65-75°. That's really my favorite temperature range, which is why I live in San Clemente, California.

How does 25 cents per pound sound for fuel?
Yes I will drive about 1,700 miles in three days. However, I will see six tracks in 72 hours. I can't beat that for productivity. Gas is relatively cheap. I'll pay about seven cents a mile or $.25 a pound for fuel whichever way you want to look at it.
A little later in this trip I'll be listening to the NCAA basketball games on satellite radio. If Duke and Louisville can win their elite eight games I will be looking good for my basketball pool. If not then not. Let's go Blue Devils and Cardinals.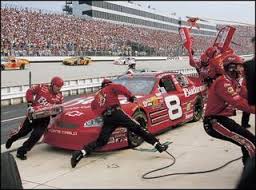 Learning by watching NASCAR pit stops.
When I'm out on the trackchasing road I like to drive my rental car until there are only drops of fuel left in the tank. Then when I do stop for gas I like to fill the tank until it's 101% full. This is the same strategy used in NASCAR. They want to spend as little time on pit road as possible. I want to spend as little time stopped at a gas station as I can.
I am amazed that so many of my trackchasing trips come down to the end just like the racing in NASCAR does. It always seems as if I have 290 miles of fuel left but it's 300 miles to the airport. I would guess that three out of every four trips I take ends up in a situation like this.
I've told you many times that I prefer the Hyundai Sonata. I love its fuel economy at more than 35 MPG. The Sonata, from the National Car Rental Company, almost always comes with satellite radio. When you're in the car as much as I am, frequently in the middle of nowhere, satellite radio provides the entertainment. With the Sonata's fuel economy I can get 600 miles to the tank. That means fewer fuel stops on each one of my trips.
Today I had to "stretch" my fuel just a little bit farther than I wanted. However as soon as I got inside my fuel window and saw a Subway sandwich shop I stopped for gas.
So what's a "fuel window"?
If you're not a racing fan you may not know what the term "fuel window" means. I can get 600 miles to each tank of fuel. Once I get within 600 miles of my destination I'm inside my "fuel window"! Once I'm inside that window I can fill up whenever and it will get me to the airport. Once near the airport I find one final fueling spot and then it's time to jump on a jet airplane.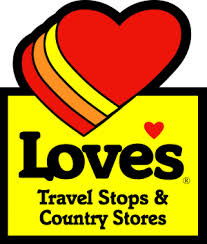 It's better to give than receive.
Today I refueled at a Loves truck stop. I like stopping at truck stops. If I have time I'll stop to look at all of the unusual and often practical products being offered. I love giving gifts from big to small to my friends and family from places like this.
Later in this trip I'll be stopping in Austin, Texas to visit our daughter Kristy, her husband James and those twin grandbabies Astrid and Mitch.
Happy birthday!
One of the main reasons for this visit is to celebrate Kristy's birthday. Of course I would need to bring along a present, acquired at the Loves truck stop in this case, for her. That present will be a brightly colored pink sundress. I can tell you about it now because by the time this hits print Kristy will already have received her gift.
Of course if I were giving Kristy a present I thought that maybe I should give the rest of the family one too. I picked up Texas themed shirts for James, Astrid and Mitch.
After I checked out I started thinking. I thought Carol would look lovely in the sundress that I got for Kristy. Therefore I went back in and bought one for her. Yes, I love giving gifts to others. All I want in return is a big smile on their face when they see what they got   My next truck stop stop of the day yielded a jar of peach salsa to add to the gift array.
Having a great life is based upon a series of small wins every day, every month and every year.
I love using Waze GPS app. Son J.J. turned me onto it. Today while traveling north on interstate 35 Waze recommended I get off onto the frontage road. That puzzled me. However by now I know that I must follow the directions from my GPS even if it tells me to begin driving across the Pacific Ocean toward Maui, Hawaii!
Off I went onto the frontage road that was paralleling I-35 north. Soon I saw why Waze had given me this recommendation. Traffic was nearly stopped on the interstate for a couple of miles. However I was cruising past at 65 M.P.H! Waze probably saved me a good 10-20 minutes.  Yes managing technology is the way to go if you want to make your life more streamlined, efficient and just downright easier. Who wouldn't want to do that?
THE RACING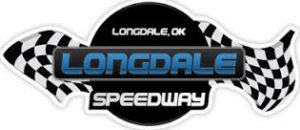 Longdale Speedway – Longdale, Oklahoma
It was nice to meet nice promoters at the racetrack.
Recall I woke up this morning near Shreveport, Louisiana. It was going to be nearly 400 miles up to Lawndale Oklahoma. Racing on this Sunday night was scheduled to begin at 6 p.m. I arrived into the pit area at 5:52 p.m. How's that for logistical planning?
I was anxious to visit the Longdale Speedway. This track had been open for a little more than a year. A newly built track doesn't stay on my radar screen nowadays long before I darken their doors…..even it is more than 1,300 miles from my home.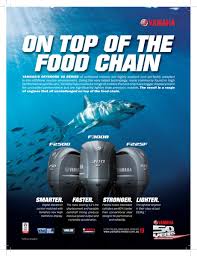 It pays to go to the top of the food chain.
I had called the track manager, Phil Vines, the day before to confirm tonight's Sunday racing details. On this particular weekend the Longdale Speedway was having a separate racing program on both Saturday and Sunday. That seemed like a good promotional idea since very few tracks in the area have opened up for racing this season.
In talking with Phil he told me a little bit of background on how the speedway was recently developed. By the way there are very few new oval tracks being built in America at this time. The main expansion of oval tracks in the U.S. was in the 50s and 60s.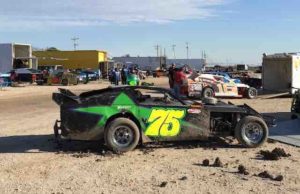 This started out as a practice track.
I was told that the Longdale Speedway began as a "practice" track. Apparently the owner wanted to have a place where he could practice racing his modified stock-car. One thing led to another and this very nicely constructed new speedway was built in just three months.
Often times I talk with a promoter in advance of the racing. When they hear about my trackchasing background they frequently offer me a complementary admission. Phil was nice enough to do that for tonight's racing.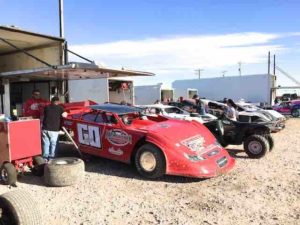 Home sweet home.
This is a little bit like a guest coming to your house from a long way away. Are you going to charge them for dinner? Not likely. Additionally when someone has a national and even international presence in your industry it's a good idea to put your best face forward. It just makes good sense to treat the media and other influential people in the business well.
Awash with racecars.
Phil told me he had 68 cars show up for a free Friday night racing practice this weekend. Then on Saturday 120 cars were in the pits spread over eight classes. In today's world that is beyond an excellent turnout.
You will find very few racetracks running a regular program on a Sunday night. I'll bet there are not 20 tracks, maybe not ten, that race regularly on Sunday nights during non-holiday periods in our country.
Having a Sunday night race when the kids are still in school can be a tough sell. The adults have to go back to work on Monday morning and the kids have to get to school. Tonight that translated to a smaller crowd in the grandstand of maybe 200 people.
However the promoter had promised there would be about 100 cars in the pits. Phil told me that he would be having eight classes on the racing agenda tonight, which he knew was too many. Some one hundred race cars can generate a good deal of pit pass sales.
Phil told me he had a "responsibility" to his racers to get them someplace to race and compete with their machines. I could understand that from a promoter/racer point of view.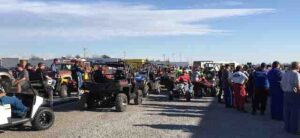 I had arrived a few minutes before the 6 p.m. starting time. I listened in on the drivers meeting for a few minutes. Then I introduced myself to Phil. He thanked me for coming and told me I had the run of the place.
Managing by wandering around.
I spent the next few minutes wandering the pit area. You will be able to seeing photos of a good sampling of the cars that were racing tonight from my Picasso photo album.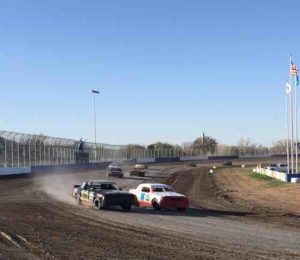 I was happy to see the program starting on time. That's always a plus. For the first few races I stationed myself just outside of turns one behind the crash wall. I got some good close-up video clips from there. This probably wasn't the safest place to stand but I felt I needed to make that commitment for your viewing enjoyment.
At about 4 p.m. the temperature in Oklahoma was in the low 80s. At race time tonight the temperature dropped to about 70. There was also a stiff wind blowing westward directly into the grandstands.
With this being a newly constructed track I was pleased to see that the sun sat behind the grandstands. One of my bigger pet peeves I have is when the grandstand faces directly into the setting sun. Although tonight's wind was blowing strongly in the grandstand I was told that the wind does not normally blow in that direction. By about 8 p.m. the wind had stopped. That was a very good thing.
I love to meet the people running the racetrack.
When I first met Phil he told me to go up and introduce myself to the track announcer and other track officials in the announcing tower. When the heat races and "B" features were finished the track went to intermission. It was at this time that I went up and introduced myself to everyone.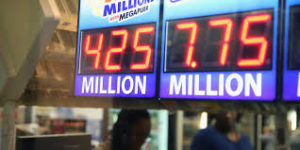 Millions. That's right. Millions!
Like any good host they were happy to have a visitor with my racing experience in the building. It wasn't long before the track announcer and I were talking about the hobby of trackchasing. I estimate my trackchasing interviews both live at the racetrack and in the media (newspaper, radio and TV) have introduced literally millions of people to the trackchasing hobby. I don't think any other trackchaser has shared the news of trackchasing with as many as just one percent as I have. I wish they did but sadly that is not the case. This is one of my prouder achievements in trackchasing.
Let's go feature racing.
Following intermission the the track went back to racing. There would be eight "A" feature races. After the racing I needed to make a four and ½-hour drive down to Dallas from Longdale after I left the track. That being the case I could only stay for 4 feature events.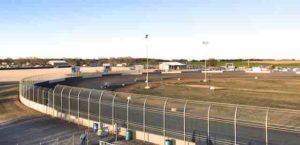 The Longdale Speedway looked like a half-mile to me. The website says it's a "big 3/8-mile" dirt oval. It is slightly banked. As befits a quality new track they have good lighting, a stout PA system and a well-informed announcer.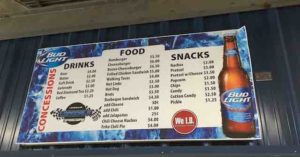 The large aluminum grandstand is comfortable for the crowd. The concession area is located underneath the stands. I grabbed a quick bratwurst and bottle of water for $5.50. They also featured a souvenir booth selling T-shirts, hats and the like. By the way the track announcer was kind enough to give me a beautiful blue T-shirt sporting the Longdale speedway track logo following our interview. Thanks.
Fewer car; fewer laps.
A couple of the classes that I saw a race had less than 10 cars in their feature events. The feature race distances were all 15 laps as far as I could tell. As a fan I felt they could've run a couple of the races that had fewer cars for maybe 10 laps rather than 15. Of course I'm sure the racers appreciated the extra track time.
I really would've loved to seen the modified feature race. However as you have come to know now if you have read many of my Trackchaser Reports I want to see people and things as much as I can when I'm thousands of miles away from home.
AFTER THE RACES
It was time to boogey.
As it was I left a little bit past 9 p.m. I had three hours of fun at the Longdale Speedway. Now I had a 4 ½-hour drive to Dallas. I would get four hours of sleep in my DFW airport hotel.
My Monday morning wake up call came at 7 a.m. I had to quickly run over to the Dallas airport to exchange rental cars. In point of fact I kept the same car I just exchanged contracts.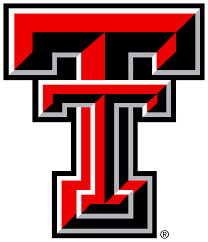 Breakfast with a friend.
My Monday morning would feature breakfast with former P&Ger Russ Ingram. Russ lives in Dallas. He and I try to get together whenever we can match our travel schedules. That's difficult because Russ and his wife travel about as much as Carol and I do. In talking to Russ he had me enthused about joining him in Las Vegas for a March madness basketball betting trip next year. That sounds like fun.
Following breakfast the plan was to drive down to Austin, Texas. That's a three-hour drive. I ended up turning my one rental car (two contracts) in with 1,919 miles on the odometer.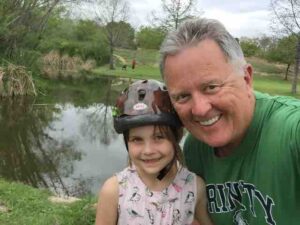 I love my family.
My purpose in going to Austin was to see daughter Kristy and her family. My plan was all set up so that I would be there when the twin grandbabies got out of kindergarten class in mid afternoon. When they did get out of school Astrid and I went to the park so she could ride her bike. Later we all went out to dinner.
I'll spend the evening with the Peters family in a pre-celebration of Kristy's birthday. Then on Tuesday I'll hop on a jet plane bound for Los Angeles. Early Friday morning Carol and I will be winging our way over to Maui Hawaii for our annual spring vacation in the 50th state.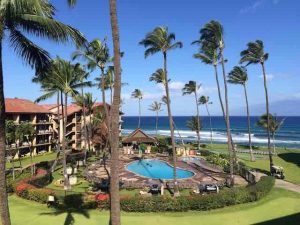 I always use some of the time in Maui to just gaze out onto the blue Pacific Ocean. The weather will be beautiful as it always is in Maui.
I will use this week to do some additional trackchasing research. Since we are always in Maui in early April most of the weekly scheduled tracks have not begun racing for the year. I'll research their schedules so that later in the year I can mix-and-match a schedule that makes my trackchasing efforts as productive as possible. 
I like to keep moving.
Once back on the mainland I'll be home for a couple days, then out on the trackchasing trail for five days before going directly to Las Vegas for a four-day golf outing. Then I might immediately head to a Far West trackchasing weekend opportunity. Yes I know my retirement itinerary looks challenging. Obviously it's really a lot of fun… or I wouldn't do it.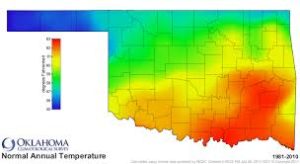 Oklahoma
The Sooner state
This evening I saw my 32nd lifetime track in the Sooner state, yes the Sooner state. Oklahoma is one of the many states where I hold a #1 trackchasing ranking.
Thanks for reading about my trackchasing,
Randy Lewis
World's #1 Trackchaser
Peoria Old Timers Racing Club (P.O.R.C.) Hall of Fame Member
Oklahoma sayings: "Do what?" is Okie for "Can you repeat that?"
QUICK FACTS
AIRPLANE
Los Angeles, CA (LAX) – Dallas, TX (DFW) – 1,235 miles
RENTAL CAR #1
Dallas-Ft. Worth International Airport – trip begins
Jacksonville, TX
Corley, TX
Ft. Wayne, TX
Jacksonville, TX
Leesville, LA
Dallas-Ft. Worth International Airport – trip ends – 1,681 miles
RENTAL CAR #2
Dallas-Ft. Worth International Airport – trip begins
Austin-Bergstrom International Airport – trip ends – 238 miles
AIRPLANE
Austin, TX (AUS) – Los Angeles, CA (LAX) – 1,241 miles
Total air miles – 2,476 (2 flights)
Total rental car miles – 1,919 (2 cars)
Total miles traveled on this trip – 4,395 miles 
TRACK ADMISSION PRICES:
Mud Creek Off-Road Park – oval – Press Pass
Timberline Speedway – $10
Texas Motor Speedway – Ft. Worth, TX – No charge
Mud Creek Off-Road Park – dirt road course – Press Pass
Leesville 171 Speedway – $10
Longdale Speedway – Complimentary pit pass
Total racetrack admissions for the trip – $20
LIFETIME TRACKCHASER COMPARISONS 
The three most important trackchasing comparisons to me are:
Total lifetime tracks seen
Total "trackchasing countries" seen
Lifetime National Geographic Diversity results
Total Lifetime Tracks
There are no trackchasers currently within 450 tracks of my lifetime total. Don't blame me.
Randy Lewis, San Clemente, California – 2,074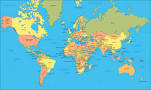 Total Trackchasing Countries
There are no trackchasers currently within 10 countries of my lifetime total.
Randy Lewis, San Clemente, California – 70
Current lifetime National Geographic Diversity results
Randy Lewis, San Clemente, California – 4.88
That's all folks! Official end of the RLR – Randy Lewis Racing Trackchaser Report
Longdale Speedway….the full movie!
Longdale Speedway…..the movie trailer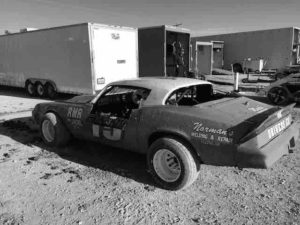 Click on the link below to see today's trackchasing photo album 
Let's see what there was to see during my trackchasing day in Oklahoma