Greetings from first North Salem, Indiana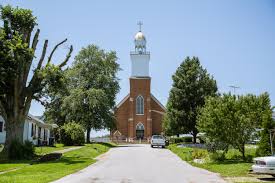 and then Montgomery, Indiana
.
.
From the travels and adventures of the 
"World's #1 Trackchaser"
The EventVideo PlusPhotos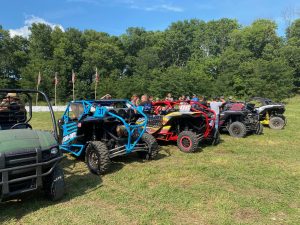 Walnut Creek
Dirt road course
 Lifetime Track #2,639
.
.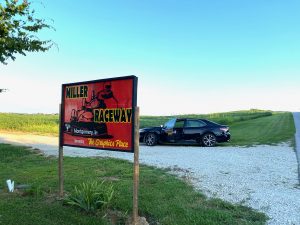 Miller Raceway
Dirt oval
Lifetime Track #2,640
THE EVENT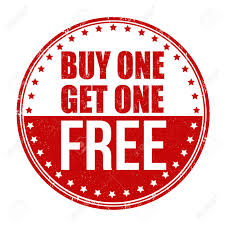 Editor's note: From time to time I see racing at two tracks in one day. Sometimes one track is visited during the afternoon and the other at night. That was the case today. This Trackchaser Report combines my trackchasing experiences from the Walnut Creek UTV show and the go-kart racing from the Miller Raceway into one report. You're getting two shows for the price of one!
I AM A TRACKCHASER.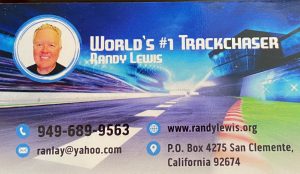 My name is Randy Lewis. I live in a modest seaside cottage in the sleepy little village by the sea, San Clemente, California. I am a "trackchaser". I trackchase. Have you ever in your life heard of "trackchasing"? I didn't think so. 
Trackchasing for me is all about three things. First, I'm interested in seeing an auto race. Secondly, I want to take some time to see the local attractions of wherever I might be visiting. Finally, I want to create a logistical plan that allows me to accomplish the two points mentioned above without depleting my retirement account. That's trackchasing for me.
Am I truly serious about trackchasing? I think so. I've seen an auto race in 85 countries at more than 2,660 different tracks. Does that sound serious to you?
I've been able to see the world doing this. If you're interested in exactly what I've been able to experience all around the U.S. and the world I recommend you click on this link.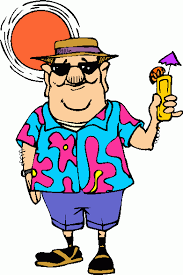 Trackchasing Tourist Attractions
Trackchasing can be an expensive hobby. One of my fellow competitors was said, "When Randy stops trackchasing we know he will have run out of money". Folks, I have been retired for nearly 20 years and have not earned a single dime working. I'm still trackchasing!
After each and every event that I attend I post a YouTube video, a SmugMug photo album and a very detailed Trackchaser Report about the experience on my website at www.randylewis.org. I guess people find what I share interesting. My website gets more than 20,000 views every month.
Because I have seen racing in 85 countries at this point I am considered the World's #1 Trackchaser. That's good enough for me. Now I encourage you to drop down a few spaces and read about today's trackchasing adventure. As you discover what went on at this track just think about the idea that I've done this more than 2,600 times. I don't mind admitting I am addicted to the hobby of trackchasing.
If you're interested in looking back and seeing where I've been the following link is for you.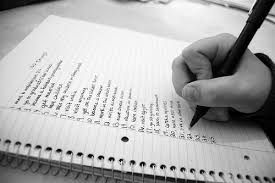 If you've got a question, comment or whatever please leave it at the bottom of this report.  It's very easy to do.  Or you can visit me on Facebook.  Thanks!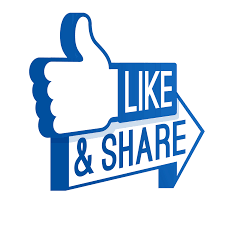 FOREWORD
Saturday, August 15, 2020.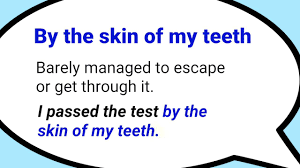 I know you've all heard the phrase, "by the skin of your teeth". If you made it by the skin of your teeth then you barely made it. Today I barely made it but I wasn't too concerned because even though I barely made it I was pretty sure I would make it. That's different than not knowing for sure if you will make it by the skin of your teeth.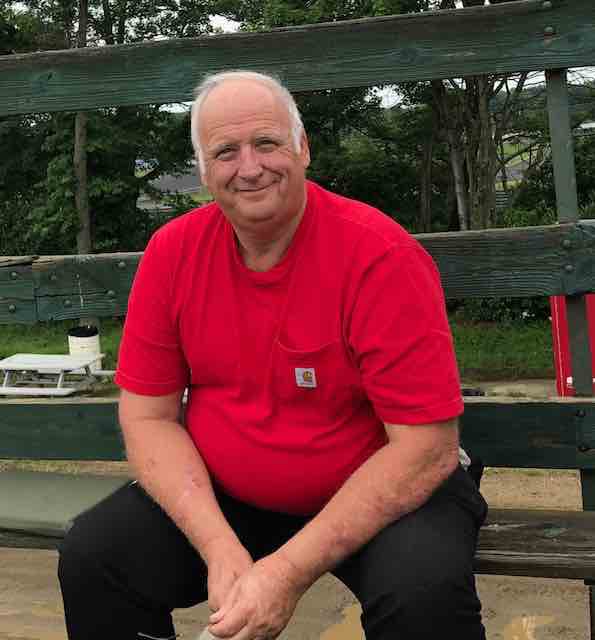 I woke up this morning in Orefield, Pennsylvania at the home of my buddy Paul Weisel. He was nice enough to provide me accommodations after he and our joint friend Bing Metz went to the junk car races at an unlikely place called Lorah's Pig Farm. Folks, I'm not creative enough to make this stuff up.
I hopped on a jet airplane in Philadelphia bound for Indianapolis, Indiana. I don't have my own private jet but the airline system that I work with is just about as good. I definitely couldn't do this without the help of airplanes and, of course, my sponsors.
Today I was planning to see my first trackchasing double of the 2020 trackchasing season. If you have followed my trackchasing for very long you know that trackchasing doubles are the lifeblood of my new track production.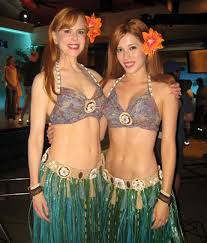 By the way, trackchasing doubles are simply when, in a single day, I happen to see two new tracks and not just one. There are several different kinds of trackchasing doubles. I won't bore you with those details now.
I would like to tell you that this. With the date being in the middle of August right now the fact that I am seeing my first trackchasing double of the year is a very unusual occurrence. There are a few reasons why my doubles are down to almost nothing.
First of all, I've seen just about every racetrack in the United States and Canada. I don't have a lot of tracks that I can see nowadays that are close to each other geographically. Proximity is pretty much a requirement for a trackchasing double. Additionally, the coronavirus hasn't helped. I don't really know what has been helped by the coronavirus with the possible exception of my being able to get on airplanes just a little bit easier.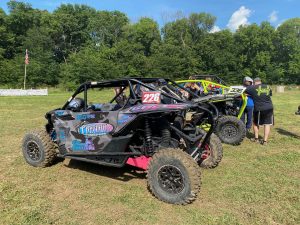 My first stop today would be at Walnut Creek located in North Salem, Indiana. The Midwest Cross Country group, which sponsors and sanctions motorcycle, ATV and UTV racing, was having an event there.
This group essentially rents out farmland for their racing. I guess that makes it nice for trackchasers. Usually, this group has about ten events each year. Maybe six or seven of those will be at new farm locations that I've never been to.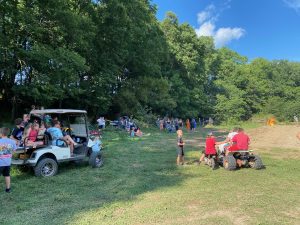 Most of their shows are run over courses that are heavily wooded. Yep. The actual race course runs through these woods. No, these events are not very similar to the Daytona 500. Obviously, the woods make it very difficult for the spectator to see the racing.
I got to be honest with you. There are times when I think that the founders of the hobby of trackchasing, yes the people who established the rules of trackchasing, must have been smoking something funny when they sat down in their smoke-filled room and hammered out the "guidelines" which morphed into the "rules".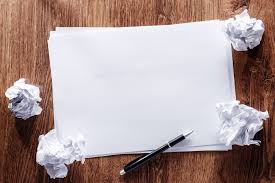 If I had a blank sheet of paper I wouldn't have come up with more than half of the crazy rules these guys did. Then I would have come up with a few things that I thought were important that they didn't even mention. So if I am critical of the rules process why do I follow the rules?
Really, there's a very simple answer to that question. If I want to compare my trackchasing results to my fellow trackchasing competitors or if that competitor wants to compare his or her trackchasing totals to mine we need to be comparing apples to apples. Comparing apples to oranges just wouldn't work.
Just about every trackchaser I know started out as a racechaser. As a racechaser they enjoyed the races, had a lot of fun but didn't really give any thought one way or the other if they were visiting a new track or not. Each of these people had their own unique version of how they counted a race or track.
There was even one eastern-based group that recognized the people who had seen the most races in a year not tracks. With this group, the fan had to see a "feature" race.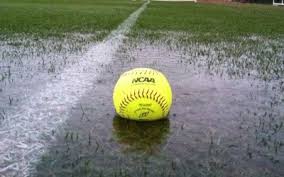 I thought that was weird on several levels. What if the fan sat through five hours of racing before the feature was run and the event was rained out before the "big" race? What if it was a two-day show with only heats races on day one and the fan came to the track on day one?
Their weirdest rule was this. A fan could leave the race early, without seeing a feature race, if….wait for it…they had to go to work! Say what? What if I had a medical emergency? Could I leave early? What if my daughter was having her once a year piano recitable? Could I leave early? What if I just got bored out of my mind and didn't want to stay until the feature race? Could I leave early? You get the point. I went to school and got a good job. I never had to work on race nights. Should I be penalized for doing my homework and getting a day job?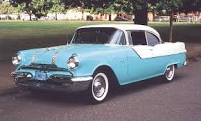 For me counting a race was super simple. If I left my house and hopped into my 1955 Pontiac Chieftain and drove over to the races I had "been to the races". It didn't matter if they rained out during time trials or from one season to the next if they changed the race surface from asphalt to dirt or they added an inner oval or a corkscrew or chicane. If I went to the races and entered the track property I had "been to the races".
If I went to the races and got myself on the grounds of the speedway then I had "been to the races". At that point, I added the track. I was already 50 years of age when I had seen about 400 tracks. To me 400 tracks seemed like a pretty good total.
It was about this time that a fellow by the name of Guy Smith published in a racing paper somewhere the idea that he was interested in meeting up with people, not literally, who had seen a large number of tracks. He asked that anybody who was reading his message send him their track list. When he got it he would add that person to the group of "trackchasers". Almost all of these people lived in Pennsylvania or New York or some other eastern location. Yep. If you are thinking, "Were these trackchasers sort of like the Amish"? Yes, they were.
Being a pretty well-organized individual I had a very detailed and specific list of every track I had seen. I got all of my information together and went down to the local copy store and made some copies. Then I mailed it off to Mr. Smith's address yes, the address where he had asked everyone to send their track list.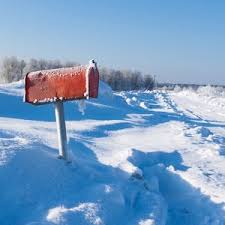 At the time I was living in a cold-weather climate. Our mailbox was located just down the street. Each afternoon come spring rains, the blizzards of the Midwest, the heat and humidity of our summers or the crisp fall air I went down to the mailbox and waited. The postman normally came by about 3 p.m. Why did I do this? I was waiting for a reply from Mr. Guy Smith. Sadly, I never got one. I never got an explanation. I never got a rejection letter or an approval letter. I didn't get nothing. They should've told me that dealing with Mr. Smith was a poor choice.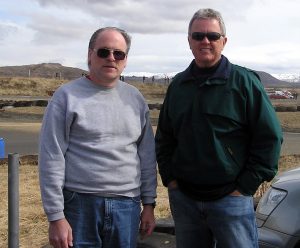 It wasn't until much later that I ran into the trackchasing commissioner. His name was Will White. I didn't run into Mr. White personally but rather randomly on the Internet. I was doing some research for a trackchasing trip to the United Kingdom. Will White was lurking. He came out of the shadows. Mr. White was much more hospitable than Mr. Smith. Will White convinced me to join his trackchasing group and to become a member of his trackchasing email forum. I was the second person ever to join his forum.
I'm going to try to cut to the chase here. I hope you appreciate that. A few select few years later Mr. White was unceremoniously dumped from his trackchaser commissioner position. They brought in a figurehead in the form of a fellow by name of Andy Ritter. Andy lasted only a couple of months. He was a good guy but he was no match for the political hierarchy also known as the soft and rancid underbelly of trackchasing.
Soon Mr. Smith, who had organized and propagated the original "guidelines" for trackchasing which morphed into the trackchasing rules was the group's figurehead and czar. These rules would cause great heartache among the group.
At the time the World's #1 Trackchaser, Rick Schneider, would resign his position over rule's interpretations. Alan Brown would propose a new rule and then demand the voter ballots be returned to him because he didn't trust the commissioner. Nice guy P.J. Hollebrand (above left) would have his reputation smeared my Mr. Smith is a cheating scandal. Mr. White would be deposed as trackchaser commissioner. Many of the trackchasers just "kept their head down" to avoid their own personal demise. All Paul Weisel could do was chuckle to himself. Even my international trackchasing friends would ask me, "what is up with the trackchasing group". Yes, this is the long and sordid history of the group that Guy Smith began. Wouldn't you know it? Who's the trackchasing commissioner today? Yep. It's the same guy who asked me to send in my track list and never did anything with it, Guy Smith. As you might have guessed I resigned from this group many many years ago. It was a major mistake to have even joined but I don't blame Will White for asking me to become part of the group. He was just trying to be a nice guy.
I must tell you that for several years during my official association with the trackchasing group I blocked Mr. Smith's email contributions. I just couldn't stand the basic BS he was pushing at all times. Then for a short time, I unbanned him. Then I realized what a poor choice that was and resigned from his group about a decade ago. Even when I resigned he didn't live up to his promises.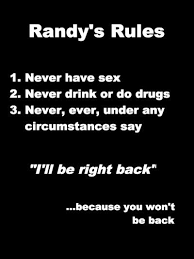 This is a long story to tell you that I find most or least many of the trackchasing rules to be totally out to lunch. There are a series of "Randy Rules" which have been added to the rulebook to try to slow down my trackchasing. The last thing these "Amish-like" people wanted was a Californian running roughshod over their hobby.
Sometimes I discovered a gray area in the rules that benefited me. The trackchasing hierarchy would see that happen and do their best to close up the loophole. Actually, the "Randy Rules" only served to motivate me to see more and more tracks. It is true. Several trackchasers have told me this. The Pennsylvania political trackchasing hierarchy can't stand having someone from California at the top of their list. They can't stand it but they can't do anything about it either.
So what does all of the above have to do with the price of eggs in Denmark and what I was doing today with trackchasing? That's a good question. Sit down for a quick moment and I'll tell you what's up.
Today I showed up specifically for the UTV racing in North Salem, Indiana. Trackchasing rules have long banned motorcycle racing and ATV racing. Both of those classes draw tremendous amounts of participants. Should trackchasing be following the most important factions and the most popular in motorsports?
The only class that "counts" with the Midwest Cross Country sanctioning body for trackchasing is their class of UTV racers. The only reason I was at this event today was to see the UTV race. I opened my money clip and laid down $15 on a very hot and humid Indiana summer day. I also watched some motorcycle racing. I knew at 5 o'clock or around 5 o'clock the UTVs would begin their event.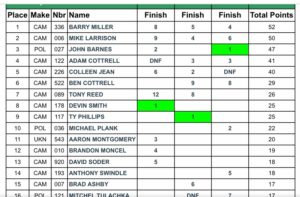 Today there were four UTV classifications competing. They would all be in their own class' race. The UTV classes were mainly segregated by engine size and driver experience.
This is off-road racing. This is not desert off-road racing because there is no desert in Indiana. Desert off-road racing is very popular in the far west especially in the deserts of California.
Did you know that one of the "Randy Rules" involves desert off-road racing? Yep. That's true. California has more than its share of racing in the desert. Oftentimes these events draw 200-300 competitors.
Desert off-road racing is such a popular and professional endeavor that sometimes teams have helicopters that follow their car or truck around a course. Sometimes a desert course can be 50 miles long. The helicopter is there to identify problems and provide solutions in the form of support and parts and the like. The racing rigs these people use to get their racing machines to the races are some of the best and most expensive in all of motor sports.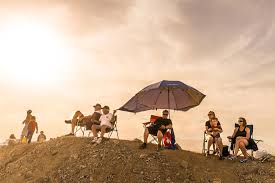 Do you think that with my living in California I would be seeing all kinds of desert off-road racing events? Yep. That's what I thought anyway at one point in time. But it wasn't to be. The trackchasing political hierarchy stepped in and put their knee on my neck.
Why wouldn't the people in Pennsylvania who started trackchasing just be happy for me? Why wouldn't they be happy that I discovered a new form of motorsports and was willing to spend my time out of the desert enjoying it? If you have to ask that question you don't understand the mindset of the trackchasing Amish.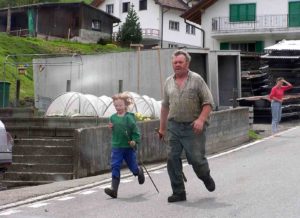 You see trackchasing is a counting hobby. It is a competitive hobby. A fellow by the name of Guy Smith will be the first one to tell you that he doesn't think trackchasing is a competitive hobby. When a farmer tells you he's down to his last dollar you had best hold onto your wallet!
Trackchasing is a VERY competitive hobby. If it wasn't competitive then rules wouldn't be pulled out of the thin air to stop others from seeing tracks. If trackchasing wasn't a competitive hobby then long-time trackchasers would not be accused in public of cheating and adding tracks that they had never really seen. Trust me. Trackchasing is a VERY competitive hobby.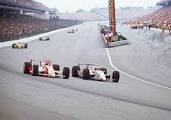 Racing out in the California desert is not like pulling Into the Indianapolis Motor Speedway for the Indy 500. There are no paved race surfaces in desert off-road racing. Why? It's the freaking desert.
It doesn't really matter what the terrain of the desert is. The desert off-road racer simply drives over it. Often times the off-road desert's starting point is only one or two car widths wide. In situations like that some 200-300 competitors cannot start the race at the same time. It is common with desert off-road racing to start only one or two cars at once. When I say "cars" I might also mean trucks or buggies, UTVs or whatever shows up for a desert race.
It's common for a desert off-road race to start two competitors and then wait for 15-30 seconds to start another two and then do that until all 300 competitors are out of the track racing. No, they don't do it that way at the Rockford Speedway! It wouldn't be fair to compare one competitor's results, who started 15 minutes ahead of someone else, to the driver who started the race later. Then how DO they compare results? They use "lowest elapsed time". This means that the driver with the lowest elapsed time in their particular class is the winner of that event at a desert off-road race.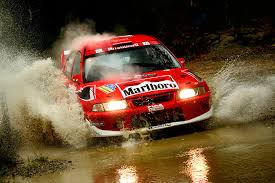 One of the most popular forms of motorsports in the world is rally racing. Rally racing is similar to desert off-road racing in the sense that these are timed events. Rally racing also draws a large number of competitors. They often race on a very narrow course. Not every entry can start at the same time.
So….what happened when the trackchasing political hierarchy noticed (it didn't take them long) that I was enjoying one of the most popular forms of motorsports, desert off-road racing? They immediately went to work and passed a rule that all cars and trucks in these desert off-road racing events would have to start the race at the same time in order to be a "countable track". That effectively "outlawed" desert off-road racing as a countable trackchasing endeavor.
Did it matter that desert off-road racing is one of the more popular forms of motorsports on TV? Did it matter that these events often attract upwards of 300 competitors? Did it matter that desert off-road racing machines are some of the most expensive and technically advanced race machines on the planet? No….it did not. Were the desert off-road racing organizers going to try to start all 300 of their competitors at the same time simply to satisfy the rules of trackchasing? Er….no they were not.
If you get nothing out of this explanation other than this then just reading the above will be a benefit. Trackchasing is a VERY competitive hobby. When the rules makers see themselves being put at a competitive disadvantage they take action.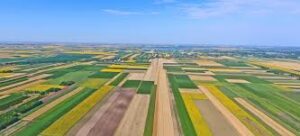 So….exactly why would this Pennsylvania dominated group of trackchasing founding fathers and sympathizers implement a rule like this? Wouldn't that prevent them from seeing desert off-road races? Yes, it would. However, there aren't any desert off-road racing events in Pennsylvania. For the most part they only happen in California and other far western states. They were implementing a "Randy Rule". Was that unusual? No, it was not. There are several "Randy Rules".
Off-road UTV racing has become very popular all over the country not just in the west. Now if a trackchaser goes to an event like was being promoted today by the Midwest Cross Country group they have to make sure that all of the racers start the race at the same time. This has to be a major hassle for any trackchaser in the country who simply wants to pursue his or her hobby on a bright and sunny Sunday afternoon.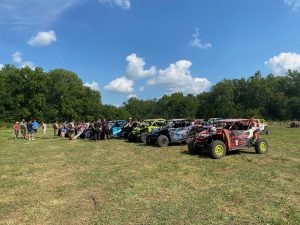 Today there were four different classes of UTVs competing. As luck would have it only one of these four classes met Trackchasers "guidelines". The other three divisions failed for two different reasons.
The first group of pro-1000 competitors came with 10 entries. However, for lots of UTV off-road courses, ten entries are simply too many to start at one time. Often times the racers takeoff from a "gate" that might be only two or three cars widths wide. Other times the beginning of the track might allow 6-7 racers but not more to begin the race on the front row.
Today one driver suggested to the promoter that he divide the group of ten into two groups of five. Each of the two groups (all in the same race division) would leave the starting line thirty seconds apart. Despite this type of start this race was NOT going to be a timed event. Why? First, they might not have had any timing equipment to make the race winner be determined solely by elapsed time. Secondly, I think the racers concluded that a 30-advantage at the beginning of a one-hour race was not a big deal. This starting procedure was not all that dissimilar to when the F1 stock car drivers are handicapped by nearly a full lap at the start of one of their races in the United Kingdom.
It turned out that the second class of UTVs only had one entry in that particular class. There's a trackchasing rule to cover this event as well. One entry does not make a race. That's what the trackchasing rules say. This is despite several go-kart national rules stating that when only one entry shows up he or she can run the laps in their race and be credited with a feature "win".
Then a third division of UTVs was ready to take the green flag. Alas, there was only one UTV racer in that class. This class was not going to be able to count either. That meant that the first three classes of UTV racers at the Midwest Cross Country event today in North Salem, Indiana did not meet trackchasing rules. Oh my. The Midwest Cross Country people thought they were having a UTV motorsports race event today. According to trackchasing's founding fathers….they were not.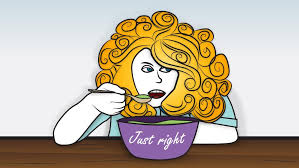 Luckily, for me, the "900" division brought six competitors. That was not too few and it was not too many. This race was sort of like the Goldilocks children's story where the porridge was not too hot and it was not too cold. The 900s all took the green flag at the same time. The 900s had met the required elements of the Randy Rule and this track was in the books.
Today's racing was being done primarily in a heavily wooded area. "Woods" UTV racing is not all that stimulating for the race fan. Why? Because some 80-90% of the course is done "in the woods". During the summertime the trees have leaves. That means when the UTV racers disappear into the woods you don't see them for another 10-15 minutes!
The woods aspect of UTV racing dramatically diminishes the enjoyment from a fan's point of view. Sometimes I walk out into the woods for a close look. That can be interesting. Very few fans do that.  I actually went out into the woods with the Midwest CC group in Indiana a couple of summers ago. After getting my first ever case of poison ivy I regretted that decision!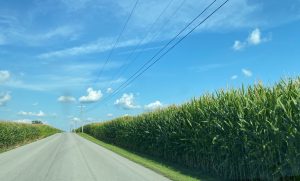 When I had seen more of the UTV racing than I could possibly enjoy in a single afternoon it was time to head to this evening's racing action. Indiana grows some tall corn! I was going down to the Miller Raceway Park in Montgomery, Indiana. However if I wasn't careful I could be affected by another somewhat stringent, arbitrary, some might say insane trackchasing rule.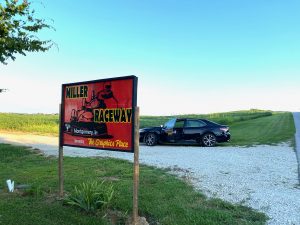 Miller Raceway Park has been in operation for six years. They are a "kart" track. Go-kart racing is a popular form of motorsports. Famous drivers like Jeff Gordon and Tony Stewart began their stellar racing careers in "karts".
Wouldn't you know it? Trackchasing's founding fathers turned thumbs down on counting go-karts! Geez. Didn't these guys want to allow any kind of racing that they personally didn't care for? Were they that selfish? I know some of these people. I could answer the above questions for you. Do I think that many of the trackchasing rules are just plain dumb?
Several years ago there were a couple of proposals that talked about adding go-kart racing to the acceptable list of motorsport forms approved by trackchasing's political hierarchy. Each of these proposals was a little bit different.
One proposal talked about by Paul Weisel was simply to come up with a second list for trackchasers who wanted to see go-kart racing. If a trackchaser saw a race at a go-kart track he or she could simply add it to their "secondary track list". Of course, that proposal appealed to absolutely no one. Who wants to visit a track that doesn't count on their primary trackchasing list? Nobody!
At another point in time, a proposal was made to count go-kart racing as a regular trackchasing class of car. By the way when I say "go-kart racing" I'm talking about flat kart racing. Someone, I can't remember who proposed that we begin to count flat kart racing.
Of course, Mr. Smith was in charge of tallying the votes. Voters (those trackchasers who had seen racing at more than 400 tracks were eligible to vote) had 30 days to cast their ballots. As the votes came in Mr. Smith had the opportunity to take a look at how each person had voted. That didn't sound on the up and up. Mr. Smith could then manipulate the vote by knowing how others had voted and then directing people in his family to vote appropriately. Mr. Smith was able to manage the voting outcome in the opposite direction of what Mr. Smith was outwardly supporting. He did this to get the "win" he was looking for all along but was not politically popular. Yes, we are examining the soft underbelly of trackchasing's sordid hierarchy.
Do I support counting flat karts in 2020? No, I don't think so. This would have been the right thing to do from day one. However this isn't day one. The lion's share of the people who began the hobby of trackchasing have now retired or nearly retired.
I don't think it would be a good idea for new trackchasers to come in and "pad their totals" with hundreds of flat kart tracks when the original trackchasers didn't have that option. It would sort of be like moving in the fences by 100 feet at major-league ballparks. No, at this point in time I don't support counting flat karts even though it should have been done a long time ago.
So what did this flat cart situation that I have taken some time to describe to you have to do with my visit to the Millard Raceway Park? Well, it turns out that almost all of the go-kart racers at Miller race flat karts. Trackchasing rules do allow for the counting of caged winged or non-winged karts. These are most commonly called senior champ karts.
If I go to a go-kart racing event 150 karts show up but they are all flat carts I cannot count the track. However, if I go to a go-kart race and 5 karts show up and two of them are caged karts I can count that track. Does that make sense? I don't think so.
My research told me that senior champ karts do show up periodically at Miller Raceway Park but not always. I couldn't risk driving all the way to southern Indiana and then finding out that only flat karts were racing. In that case, I couldn't count the track. I just couldn't risk that.
I asked the Randy Lewis Racing research department if they could help me. They thought they could. RLR uses some proprietary methods which cannot be explained in this newsletter (prying eyes you know). RLR could make sure that if I visited the Miller Raceway Park there would be at least two senior champs at the track.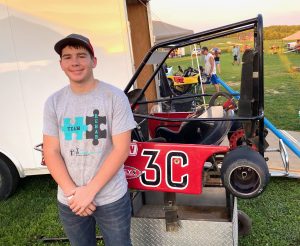 It wasn't long before Randy Lewis Racing research department director of operations put me in contact with a fellow by the name of Jacob Cummins. Jacob was a senior champ kart racer from Indiana. Once I got in touch with Jacob I knew I was on the right track. He really helped me out a lot.
Back on July 25 (three weeks ago) based upon what Jacob was telling me I was headed to the Miller County Raceway Park. Jacob and his car owner were bringing two senior champs to the speedway. However, just 24 hours before that race I learned that the car owner had changed his mind. Jacob was nice enough to give me a heads up so I didn't make a wasted trip.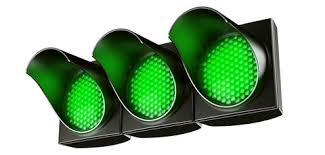 Now a few weeks later I was back in touch with Jacob Cummins. He was giving me the green light. His car owner was back in business and he and a fellow driver were going to compete head to head in the senior champ kart division. With that information, I was able to confirm that I would be making a trip tonight to Miller Raceway Park. No other trackchaser had ever recorded a countable race here.
It was going to be a two-hour and 21-minute drive from this afternoon's UTV racing down to Miller. With the 5 p.m. UTV start I couldn't get down to Miller until after 8 p.m.  Not a problem. When I arrived I hadn't missed a single race event. Hot laps were complete. The track was watered. Now they were waiting for the moisture to soak in.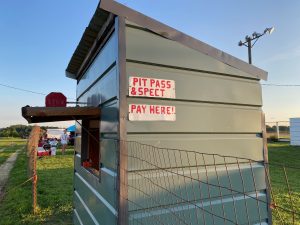 I had a choice between a five-dollar general admission ticket and a $10 pit pass. I chose the pit pass. On the way in I spent a few minutes talking to the parents of the track owner. They were pleased as punch to have someone come all the way from California to see racing in their tiny town of Montgomery, Indiana.
The first thing I did once I got into the pit area was to track down Jacob Cummins. I knew he was driving the senior champ kart number 3C. As a matter of fact he also drives a flat kart with the same number.
It wasn't long before I was shaking Jacob's hand, despite the coronavirus ban on such things, and getting the lowdown on his racing background. Surprising to me was this was going to be only Jacob's second-ever senior champ kart drive. He and his buddy drove two identically prepared senior champ karts. There were the only two senior champ karts in the field tonight.
As Jacob and I talked I was able to meet his mother, girlfriend as well as the Miller Raceway Park track owner. They were all really nice people and made me feel very comfortable visiting their home state of Indiana.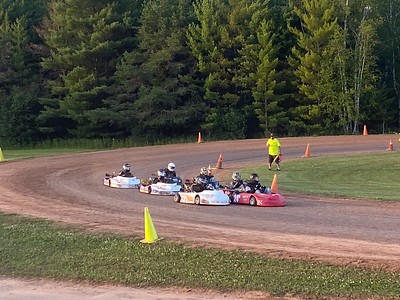 However, when I began to explain that flat karts "don't count" I felt like I always do. I felt bad. I felt like I was dishonoring all of the flat kart owners and drivers and fans in the pit area tonight. I always preface my explanation of the trackchaser flat kart rule situation with the statement that, "I didn't make the rules".
Jacob's mother showed up front and center on this one and said, "You need to change those rules". Of course, she was right. However despite being the World's #1 Trackchaser I don't have the power to do that. I just feel so bad when I have to tell fans and promoters and racers that the division they hold so dear to their heart is being disrespected by trackchasing's founding fathers. I just hate it.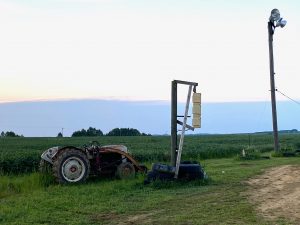 While I was meeting with all of these folks we were waiting for the track watering to soak in. They didn't have any equipment to run the track in so we waited. The first race at the track tonight went off at about 8:45 p.m. The track is essentially located in a series of farm pastures. I noticed that I was one of the few people wearing shorts. I also realized that I was being bitten by mosquitoes like I always am in situations like this.
I was impressed by the track surface of the small 1/10-mile or so dirt oval kart track. They had really nice banking in the turns. The carts got around at speeds that were impressive. There was no dust. The track surface was smooth.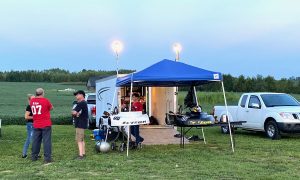 There were about 30-40 karts in the pit Area. Like I say all of the racers were flat karts except for two. I watched the races from turn number three and then along the main straight. Tonight each driver was competing in one heat race and a feature event.
From what I could tell only one racing division had enough entries to warrant more than one heat race. That being the case and because there were only two senior champ karts I elected to watch a complete set of heat races and bypass the feature events. This meant that I could see every driver at the track race tonight.
Even with that strategy, it was about 10 p.m. when I left the Miller Raceway Park. I had more than a two-hour drive up to Indianapolis. Then tomorrow morning I would be boarding a flight from Indianapolis at an early hour.
I was impressed with several things during my visit to Miller Raceway Park. First of all, I can't thank the young man Jacob Cummins enough. I'll bet we messaged back-and-forth 30-40 times getting all of the details of this event squared away. He was very helpful. Thanks, Jacob.
Of course, I met a lot of nice people associated with Jacob's race team and the Miller track ownership. The racing was excellent. I don't know what it was I was expecting but I think the racing was better than what I was expecting. These cars could really get around the track at high-speeds.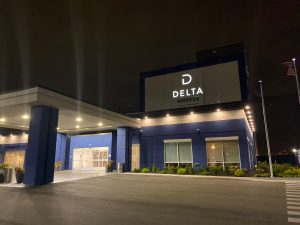 I got back to my hotel at about nearly 1 a.m. That's about the time I got a message from Jacob telling me that he ran second in the senior champ kart division but won the main event in the much more competitive medium pro kart division. To do that he would've had to race about 10 competitors. The medium pros were the fastest class at the track tonight. Well done Jacob.
That's about it from Montgomery, Indiana. I didn't mean to bend your ear about some of the extraneous issues but it's important if you're interested in this hobby to know the "backstory" and all.
Good night from the Miller Raceway Park in Montgomery, Indiana.
Randy Lewis – 85 countries – 2,640 tracks.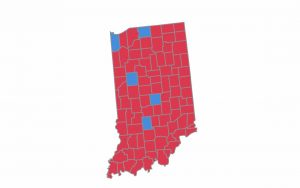 Indiana
The Hoosier State
This afternoon and evening I saw racing at my 123rd and 124th-lifetime tracks in the Hoosier State, yes, the Hoosier State.  I hold the #2 trackchasing ranking in Indiana and am gaining fast on the #1 position. Indiana ranks #3, amongst all the states, in tracks seen for me in the U.S.
Here's a link to my all-time Indiana state trackchasing list. I have made 80 separate trips to Indiana seeing these tracks.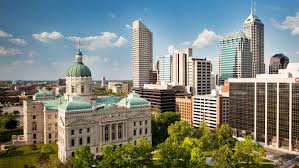 Thanks for reading about my trackchasing,
Randy Lewis
World's #1 Trackchaser
Peoria Old Timers Racing Club (P.O.R.C.) Hall of Fame Member
Indiana sayings: I'm headed to Naptown.
Nope, this doesn't mean we're on our way to take a nap. It's a nickname for Indianapolis.
JUST THE FACTS
LIFETIME TRACKCHASER COMPARISONS 
The three most important trackchasing comparisons to me are:
Total lifetime tracks seen
Total "trackchasing countries" seen
Lifetime National Geographic Diversity results
Total Lifetime Tracks
There are no trackchasers currently within 780 tracks of my lifetime total.  Don't blame me.
Randy Lewis, San Clemente, California – 2,640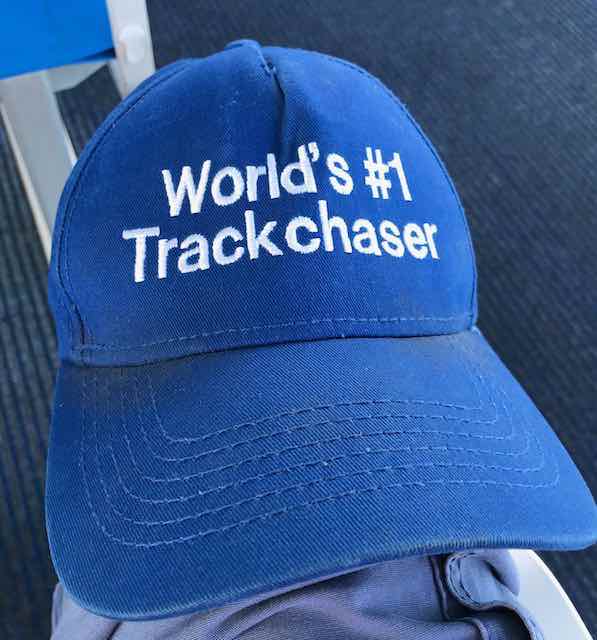 Total Trackchasing Countries
My nearest trackchasing competitor, a native of Belgium, has seen racing in more than 30 fewer countries compared to my lifetime total. 
Randy Lewis, San Clemente, California – 85
Current lifetime National Geographic Diversity results
Randy Lewis, San Clemente, California – 3.96
That's all folks!  Official end of the RLR – Randy Lewis Racing Trackchaser Report
Click on the link below to see the video production from the racing action today.
UTV racing action from North Salem, Indiana
Go-karts! Racing next to a bean field
Click on the link below for a photo album from today's trackchasing day.  You can view the album slide by slide or click on the "slide show" icon for a self-guided tour of today's trackchasing adventure.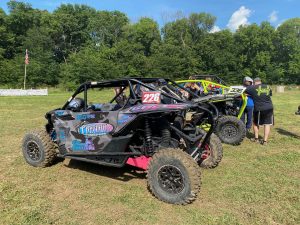 UTV racing from Indiana….the trip from A-Z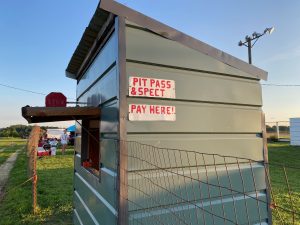 The first trackchasing visit by anyone to the tiny Miller Raceway