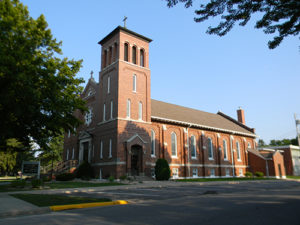 Greetings from Osage, Iowa
.
.
From the travels and adventures of the 
"World's #1 Trackchaser"
.
.
Mitchell County Fairgrounds
Dirt oval
 Lifetime Track #2,571
The EventVideo PlusPhotos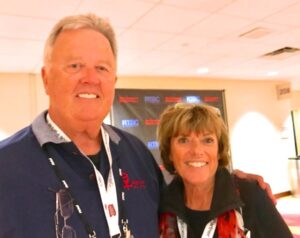 THE EVENT
I am a "trackchaser". I trackchase. Before you discovered my site had you ever heard of trackchasing? Maybe not? So….what the heck is trackchasing? Sit back, take a read and you'll be an expert on my hobby of trackchasing when you're finished.
Here's my best explanation.
Trackchasing is a three-pronged hobby. I'm a racing fan. I love to travel. I love to analyze opportunities to get the most out of everything while saving time and money.
Trackchasing fills the need for all of the above. The racing part of my trackchasing has me trying to see wheel to wheel auto racing at as many different racetracks as I can all over the world. Yes, all over the world. So far things are going pretty well. As this is written, I've seen racing in 85 countries at more than 2,500 tracks. As a matter of fact, I've seen racing at more tracks than anyone else in the world.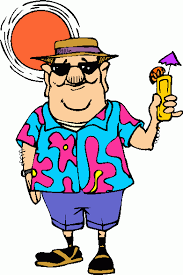 Equally important to me are the things I get to see and experience over the "long and dusty trackchasing trail". I call these adventures "Trackchasing Tourist Attractions". You won't want to miss my "Trackchasing Tourist Attractions" page. Here's the link:  Trackchasing Tourist Attractions or my "Sports Spectating Resume" page, Sports Spectating Resume on my website at www.randylewis.org.
I live in southern California. That's probably the most inconvenient location in the country for seeing tracks in the U.S. Most of the racetracks in the U.S. are located well over 1,000 miles from where I live. As a matter of fact, my average trip covers 5,000 miles and more. I take 35-40 of those trips each season. In any given year I will travel well over 200,000 miles, rent more than 50 cars, and stay in more than 150 hotel rooms.
I get the chance to meet people all over the world. With trackchasing trips to 85 countries and counting just getting the chance to experience so many other cultures, spend time in their homes and meet their friends is a huge reward for being in this hobby. I am indebted to several of these folks for their help and friendship.
It's takes a good deal of planning to do the above and not spend my entire retirement portfolio. I enjoy the challenge, the travel and every other aspect of "trackchasing". In reality, my trackchasing hobby is a lot like being with the carnival. I breeze into town, stay a little while and then head on down the road.
Today's adventure was one more of the 2,000 trips that have taken me up, down and around the proverbial long and dusty trackchasing trail.  If you would like to see where I've been and experience those adventures here's the link: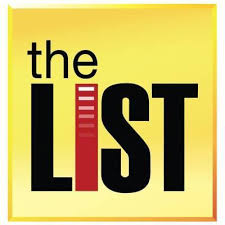 If you've got a question, comment or whatever please leave it at the bottom of this report.  It's very easy to do.  Or you can visit me on Facebook.  Thanks!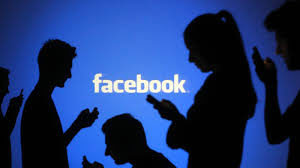 FOREWORD
Friday, August 2, 2019.
 I woke up this morning in Arlington Heights, Illinois. I was planning to trackchase this evening in Osage, Iowa. Then I would motor on to the Marriott hotel in Cedar Rapids, Iowa for the evening. 
 Yes, tonight I would be trackchasing at the Mitchell County Fairgrounds in Osage. This would not be my first visit to the fairgrounds. Back in 2007 I went to a figure 8 race there. That was my 1,225th lifetime track.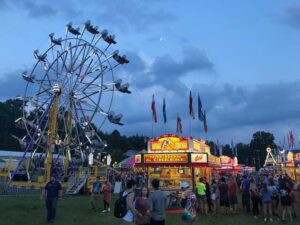 I've seen auto racing of some sort at more than 500 county and state fairs. To be honest with you I don't remember the details of every one of those events. Those more than 500 County fair race states are interwoven into trackchaser visits to nearly 2,600 tracks. 
 I didn't begin writing my famous Trackchaser Reports until I had seen about 430 tracks. However, I always tried to write a 10-20 word description of my experience whether or not I wrote a TR or not. 
 This is what I had to say about my visit to the Mitchell County fairgrounds all the way back in 2007.
"Small fair but with big F8 turnout with high banks of Iowa black dirt"
If you'd like to see my full Trackchasers Report, which also included a stop to see racing at the Iowa Speedway road course, from Mitchell County in 2007 here's the link:
Mitchell County Fairgrounds – Figure 8 Racing – 2007
 Tonight's racing wasn't scheduled to begin until 7 p.m. I was leaving my hotel at 11 a.m. I had enough time to exercise and to add a Trackchasing Tourist Attraction to my lifetime list. 
 I have a daily goal of trying to power walk more than 4 miles. This morning I would knock off a little more than 2 miles before I left the motel. Then during the day I would add another fraction of a mile here and there until I reached and surpassed my goal. It's amazing what a person can do when they set a goal.
 Last night I stayed at the Motel 6 in Arlington Heights, Illinois. I have stayed in Motel 6 properties literally hundreds of times. I always thought of the Arlington Heights property as being one of the best in the chain.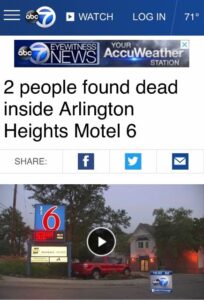 Then last night while searching for the motel's phone number I found a newspaper and TV report about the Motel 6 in Arlington Heights. It appeared that two people had been found dead in the motel! Initially I misread the date of those deaths as just a couple of weeks ago in July, 2019. In point of fact, that crime occurred in July, 2015. That did leave me feeling just a little bit worried about my overnight stay in the motel. 
 When I checked in at 1 a.m. I asked the clerk about the situation. Initially she feigned amnesia. Finally, she admitted, , "Yes, a guy did murder his girlfriend". She didn't want to say much more. 
 I still think of this particular Motel 6 as being a superior property within the Motel 6 chain. It's located in a well-kept modern office complex area. The hotel is bright and well lit. The room comes with a flat screen TV on the wall. For a Motel 6 it's definitely one of their best properties. I will stay there again. I just hope I don't get the room where the tragedy took place!
 One of the highlights of my trackchasing hobby is being able to see local sites and attractions of wherever I am visiting. I would hate to have only memories of racetracks when I am no longer involved with trackchasing. That's why I go out of my way to search out those sometimes popular and at other times unique and offbeat local sights and sounds. 
 I knew that I would be traveling through a couple of medium-sized cities in Rockford, Illinois and Madison, Wisconsin today. I did some searching about the "top things to do and see" in those places. That's when I discovered a special opportunity just outside of Madison. 
 Did you know that the National Mustard Museum is in Middleton, Wisconsin a suburb of Madison? I didn't know that until today. I love mustard. I figured I might even love a visit to the National Mustard Museum. 
 I only had about 45 minutes for the visit but I figured I could handle a mustard museum in that amount of time. The museum itself is located in a pleasant looking downtown area in the small town of Middleton. I found a place to park. Then I got in 6/10 of a mile of power walking as I edged toward my daily goal of 4 miles. 
 There is no admission for the National Mustard Museum. It turns out that the building has two floors. In the basement level is the museum itself. They've got a lot of information and a lot of bottles and packages of mustard in the museum. They even had a film about muster seeds and the history of mustard. Educational films are one of the best aspects from my point of  do you when I tour a museum. 
 The museum had a very impressive display of mustards that were produced in each of our 50 American states. I'll bet they had 25 packages of mustard or more from each state. Next time I'm going through Madison I'll check things out even more closely. 
 On the top floor of the museum building is essentially a gift shop. There they offer everything, "mustard". In a way the mustard museum is a lot like going to the SPAM museum. That reminds me that Spam and mustard, which I don't think I've ever had together, might be a very good combination. I like each of them individually. 
 At the mustard museum they have several baskets of pretzel sticks. Visitors are invited to take a pretzel stick, using a set of tongs of course, and dip each stick in several samples of mustard. They are figuring if you like the taste of one or more you might take home a bottle or jar. 
 I was a little concerned when I used a tong and placed about 10 pretzel sticks in my hand. Then from my germy hand I dipped those sticks into an open jar of mustard that of been used by other people probably just like I was doing it.
Then I saw a younger man next to me simply reach his hand into the pretzel stick basket and grab a few sticks without using the tongs at all. I had to overlook the potential for a germ fest the best I could and simply focus on the unusual tastes of garlic mustard and dill mustard and honey mustard and lots more. 
 Then I discovered a genial fellow who was manning the "mustard tasting bar". I hung out there and he started asking me questions. What kind of mustard did I like? I told him that I like spicy mustards and sweet mustards. Then he went to his stash of mustard selections, which could've easily been more than 100 different flavors and types. He began to offer me samples. I liked some and I didn't like others as you might imagine.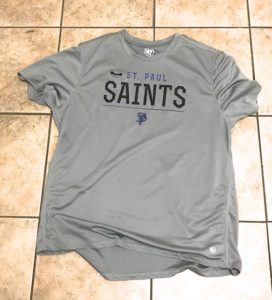 I was wearing my recently acquired St. Paul Saints baseball T-shirt. It's a "dry fit" shirt. It's a long story about why my shirt ended up on the floor (above). The mustard master asked me if I was from Saint Paul. When I told him I was from San Clemente he told me he had inherited a house in San Clemente. Then as we continued to talk he and I began to in various ways. 
 When I think back on our conversation I can't say for sure that he offered up anything unique other than simply responding to my comments. If I had told him that I lived in Annapolis, Maryland it wouldn't have taken all that much for him to simply say, "Oh ya, I inherited the house in Annapolis". After I left the store I began to wonder about that conversation. 
 I really wanted to take a jar or two of mustard with me today. However TSA security at the airport would never allow me to take that in my carry-on luggage. I really didn't want to check any of my bags and be separated from them just for the purpose of transporting a couple of jars of mustard. That's when it dawned on me. They must SHIP the mustard home for their customers. They did and they do. 
 With the shipping being somewhat reasonable, about $10 for a $100 order, I went about selecting some mustard. Their "house" brand was a sweet honey mustard that was at the same time spicy. Those jars sold for six dollars each. A three-pack went for $16.99. I went with a three-pack. 
Then I selected a dill garlic mustard and made a few other choices as well. I ended up with 10 jars and bottles to ship and took another sweet and spicy honey mustard with me for the road. Carol will be surprised when that box arrives!
THE RACING
Mitchell County Fairgrounds – Osage, Iowa
 From the National Mustard Museum near Madison, Wisconsin it was going to be 197-mile drive down to Osage, Iowa. This would not be my first trackchasing visit to Osage. 
 All the way back on July 14, 2007 I had visited the Mitchell County Fairgrounds to see their figure 8 racing. That figure 8 track was my 1,225th lifetime track to see. Earlier in the day I had seen the Rolex GT sports cars race on the road course at the Iowa Speedway in Newton, Iowa.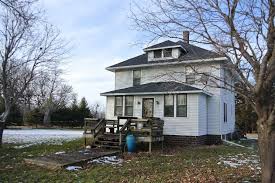 Osage, Iowa is a small farm town.  Osage has a population of about 4,000 people and is the county seat of Mitchell county. It's located on the northern border of Iowa leading into Minnesota. 
 Tonight's event was being promoted by the Gunderson Racing LLC group. I've seen several of their promotions. Their somewhat unique claim to fame with this type of racing is that they primarily race figure 8s but also run a cruiser division on an oval track. 
 I'm sure that just about every fan in attendance tonight had showed up to see the figure 8 racing. I came for the racing on the oval track. You see the trackchasing rules allow trackchasers to count racing on three different types of configurations. Those are ovals, road courses and figure 8 tracks. 
 Certainly I would enjoy the figure 8 racing. The Gunderson group always gets large car counts spread over four or five figure 8 racing classes.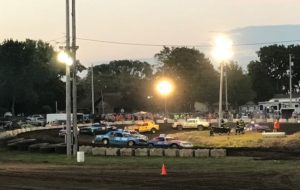 However, when the cruisers hit the oval track and the green flag fell I would be seeing my 2,571st track. Yes, it had been more than 1,500 new track visits since I had darkened the door of the Mitchell County Fairgrounds. 
 Tonight's general admission price was $15. I guess $15 is the new, "$10" for seeing county fair motorsports events. 
 I enjoyed all of the racing tonight. I sat in the top row of the grandstand in what would be the oval track's turn number one. There was one minor drawback to watching the racing tonight. 
 The actual racetrack is a LONG way from the grandstand. I'm going to estimate that it is the better part of 100 yards. I would have preferred to have been able to sit closer to the racing but it was what it was. 
 I won't take a lot of time to tell you about the actual racing itself. Your best bet with that is to watch my YouTube video and take a look at the pictures in my SmugMug photo album. You'll get some very close up views of the Detroit iron that showed up tonight. I will tell you this. It was another good night of figure 8 and cruiser racing promoted by Gunderson Racing.
AFTER THE RACES
 Tonight I was staying overnight, "local". What did local mean? I had a reservation at the Marriott Hotel in Cedar Rapids, Iowa. Cedar Rapids was only down the road some 125 miles. In my word world that is local. 
 That being the case I took some time to walk around the pit area when the races were finished. Most of the cars were loaded up on their trailers. They don't really use enclosed race trailers in this type of racing. Drivers don't come all that far to race and they don't have all that big of a racing budget. 
 When I got back to my car after a very complete tour of the pit area I still had about a half a mile to walk to reach my daily goal of 4 miles. Here I was as the clock was beginning to see midnight in the distance walking around a fairly deserted fairgrounds. It was all good.
 Good evening, once again, from the Mitchell County Fairgrounds in Osage, Iowa.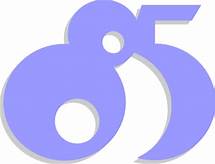 Randy Lewis – 85 countries – 2,571 tracks.
Iowa
The Hawkeye State
This evening I saw racing at my 118th lifetime track in the Hawkeye state, yes, the Hawkeye state.  I hold the #1 trackchasing ranking in Iowa.  I've seen 118 or more tracks in three different states.
Thanks for reading about my trackchasing,
Randy Lewis
World's #1 Trackchaser
Peoria Old Timers Racing Club (P.O.R.C.) Hall of Fame Member
Stuff from Iowa:  Iowans Know It's Fun To Sit On Ice All Day
No really! Iowans know the joy of carving a hole in the ice, then sitting there with your thoughts or a few beers and some friends and spending the day ice fishing. Some of the best spots are Big Spirit Lake and Clear Lake.
QUICK FACTS
LIFETIME TRACKCHASER COMPARISONS 
The threemost important trackchasing comparisons to me are:
Total lifetime tracks seen
Total "trackchasing countries" seen
Lifetime National Geographic Diversity results
Total Lifetime Tracks
There are no trackchasers currently within 715 tracks of my lifetime total.  Don't blame me.
Randy Lewis, San Clemente, California – 2,571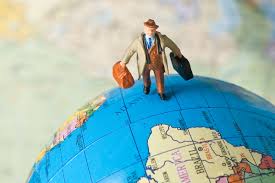 Total Trackchasing Countries
The nearest trackchasing competitor has seen racing in 30 fewer countries compared to my lifetime total. 
Randy Lewis, San Clemente, California – 85
Current lifetime National Geographic Diversity results
Randy Lewis, San Clemente, California – 4.14
That's all folks!  Official end of the RLR – Randy Lewis Racing Trackchaser Report
Click on the link below to see the video production from the racing action today.
Click on the link below for a photo album from today's trackchasing day.  You can view the album slide by slide or click on the "slide show" icon for a self-guided tour of today's trackchasing adventure.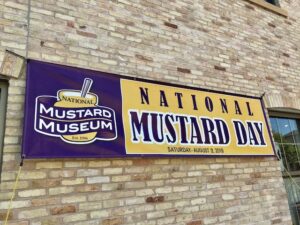 A visit to the National Mustard Museum and then some Iowa cruiser racing!