.

Greetings from Bloomington, Indiana
,
.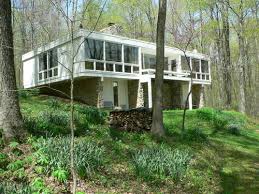 and earlier in the day from Paragon, Indiana.
.
.
From the travels and adventures of the 
"World's #1 Trackchaser"
.
.
Monroe County Fairgrounds
Dirt oval
 Lifetime Track #2,385
.
.
Chimney Ridge
Dirt road course
 Lifetime Track #2,384
.
.
The EventVideo PlusPhotos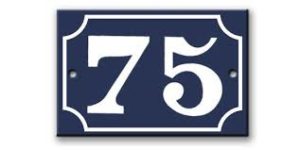 THE EVENT
I have had the opportunity to follow my trackchasing hobby all over the world.  As this is written I have seen racing in 75 countries.  My lifetime track total is nearly 2,400.  Long ago I wrapped up seeing racing in every American state.
Some eleven years ago I moved into the "World's #1 Trackchasing" spot.  Of course, that's if that title is awarded to the person who has seen the most lifetime tracks.  Frankly, I don't think it should be.   Maybe "Most Prolific Trackchaser" is a better description.
Anyway my trackchasing totals exceeded all others more than 1,300 tracks ago.  Different trackchasers including Rick Schneider, Ed Esser and now Guy Smith have held the second spot behind my trackchasing results.
The trackchasing leadership has always had a difficult time managing the "politics" of trackchasing.  Even the leaders have been toppled by trackchasing politics. When Mr. Schneider dropped out over a dispute Ed Esser became the #2 ranked trackchaser.  Sadly, just four days after Ed and I went trackchasing together in Canada he passed away.  This moved Guy Smith into the #2 spot.  Since the year 2000 I've seen nearly 900 tracks more than Mr. Smith.  Currently my advantage over trackchasing's #2 exceeds 600 tracks.
I would lobby that the "World's #1 Trackchaser" title should go to the person who has seen racing in the most countries.  For the longest time the real "World's #1 Trackchaser" was Roland Vanden Eynde of Belgium.  He was closely followed by Will White of Pennsylvania.
I never had all that much interest in international trackchasing.  I was nearly 40 years old when I saw my first track outside of the U.S., in Canada.  I never thought international trackchasing was worth the expense or the hassle.
When I gained an airline sponsorship all of that changed.  Now I have seen racing in 75 countries and toured the world in more than 90 countries.  Long ago I passed up Mr. Vanden Eynde for the true "World's #1 Trackchaser" title.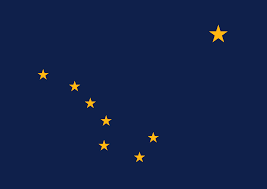 I am often amazed at the hospitality a race promoter will show a trackchaser like myself after only meeting via a brief conversation on the phone.  Check out my Kodiak Island Raceway (AK) Trackchaser Report to see one of the best and most unusual.  Here's the link:
Kodiak Island Raceway….a most unusual and fun trip!
Tonight's promoter John Byrd took matters into his own hands when it came to scaring up some senior champ karts.  I didn't ask him to do what he did.  He just decided to be creative because he wanted to support a "guy from California who was interested in coming to my track".  Thank you John!
My hobby is not only about racing.  Yes, that is one part of it.  However of equal importance are the logistics of trackchasing and the opportunity to see the world.
I live in Southern California.  The vast majority of tracks are located in the Midwest and East.  It takes a good deal of logistical planning to get from where I live to where the tracks are.  For the past 15 years I have traveled about 175 nights each and every year.  Surprisingly to some, more than half of those overnights were not part of trackchasing.
Then there's the travel just for the fun of seeing new things.  You won't want to miss my "Trackchasing Tourist Attractions" page or my "Sports Spectating Resume" page on my website at www.randylewis.org.  That will give you some understanding on how important seeing the world and just "seeing stuff" is with my hobby.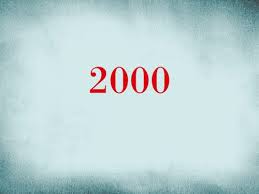 Today's adventure was one more of the 2,000 trips that have taken me up, down and around the long and dusty trackchasing trail.  If you would like to see where I've been and experience those adventures here's the link:
If you've got a question, comment or whatever please leave it at the bottom of this report.  It's very easy to do.  Or you can visit me on Facebook.  Thanks!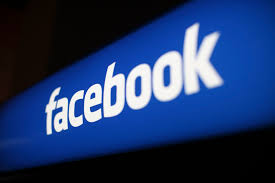 FOREWORD
I woke up this morning in Atlanta, Georgia.  My first agenda item of the day was to get my rental car returned.  Then I hopped on a plane to Chicago, Illinois.  Pretty simple stuff huh?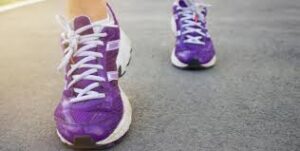 You probably know by now that I have a goal of exercising aerobically 250 times each year.  Most of the time that means power walking at least 4 miles a day for an hour or longer.  Sometimes I do 45 minutes on an elliptical trainer as a substitute.  I've met this goal for the last couple of years but it isn't easy with my lifestyle.
This morning I arrived in the airport with about 45 minutes to spare.  I took advantage of that opportunity to get in a 1.8-mile walk.  Then when I landed in Chicago I kept power walking until my iPhone pedometer showed 3.6 miles.  Later in the day I'll pass four miles easily.  I guess if you set a goal and you want to achieve it bad enough you'll figure out a way.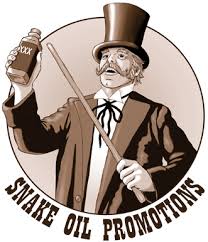 There would be no trackchasing for me today.  Why?  What if my interests were so diversified that I just couldn't possibly take the time to go trackchasing on one of these trips?  You're kidding right?  You must've been reading track reports from some other trackchaser.  They would lead you to believe they actually didn't visit a new track because they had such a strong interest in some other activity.  I didn't go trackchasing today because I couldn't find a new track anywhere in the country that was racing that I had not already visited.  Why can't other trackchasers just say it that way?  Why do snake oil salesmen sell snake oil?  We all know they would step over their dead grandmother's body to see a new track if they could.  Ya, come on!
This all being the case I went over to the American Airlines Admirals Club.  I'm a member.  I spent the next five hours "grazing" on their various breakfast and lunch food offerings.
I also watched a movie on my laptop computer.  I did all kinds of research for future trips.  I communicated with several people from around the world on a wide variety of topics.  Some conversations were financially oriented.  Some were racing oriented.  Some were tourist fixated.  I do a lot of preplanning for just about anything that I encounter.  I find that I get better results that way.
In late afternoon it was time to get my rental car.  I was going to be renting a car from Chicago's O'Hare airport for two days.  I contacted my long-time trackchasing rental car sponsor National Car Rental.
The price they offered me was a bit disappointing.  They were looking for $140 to rent a car for two days.  That wasn't going to work if I had any other options.

That's when I contacted Costco Travel.  About one time out of three Costco has a lower price than National.  Today they gave me a two-day rental from Alamo for only $59.  By just having a little bit of knowledge and being able to shop around I had saved $80.  That was an eighty-dollar saving over the currently competitive market price for a rental car in Chicago offered by National.
I've rented from Alamo before in Chicago.  It seems as if much of the Alamo staff at O'Hare airport must have graduated from a used car salesmanship program.  They really go after you for buying the extra insurance, paying for an upgrade in car class, buying gasoline, a GPS unit or a toll transponder.  I know they must sell to a lot of rookies.  I've rented well over 2,000 cars in my lifetime.  I declined every one of their offerings.
However, once outside I ran into a very helpful Alamo employee.  He was willing to give me an SUV upgrade at no extra charge because he was "long" on SUVs.  Some people might have found that offer appealing.  Not me.  I was going to be driving 600-700 miles in the two days I had the car.  I didn't need a car that gave me 20 miles per gallon.
The young man understood my point of you.  I'm sure he faced similar financial challenges in his daily life. He directed me over to the full-sized car section of the lot.  There I had my choice between a Nissan Altima, Toyota Camry and Chevy Impala.  There were two Camrys.  He recommended I take the 2018 model over the 2017 model.  I accepted his advice and thanked him very much for it.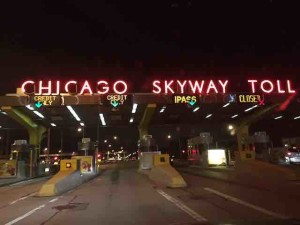 The greater Chicagoland area is landmine field for tolls.  They have been since I first started driving in Chicago in the late 60s.  I was ready for them this time though.  A couple of weeks ago I had ordered and received an Illinois Tollway transponder.
Did you know that in Illinois people who pay their tolls in cash must pay twice the rate of those who are passing by with a toll transponder?  Yes, it's true.  I guess that's one way to motivate people to get a transponder.
I would be using my Waze GPS system to direct me out into the Chicago suburbs where my sister Becky and her husband Bob live. I would stay with them tonight.
When I use Waze I often figure the time and mileage using tollways vs. using free roads.  Tonight's hour and a half drive would only take 20 minutes longer using the "no tolls" option.  I didn't exactly know what the tolls would be from the airport to out to the suburbs.  I was thinking they would be in there $5-7 range.
Let's say the tolls would have been six dollars.  I figured I could "work" for 20 minutes and earn six dollars.  At that rate I would be earning an $18 hourly rate tax-free.  For a retiree who hasn't earned a dime in the last 15 1/2 years having a job that paid 18 bucks an hour wasn't bad.
I stopped for a snack at McDonald's to hold me off before tonight's dinner.  That's when I paid, for the first time ever, the newly enacted Cook County "large beverage" surcharge.  Yep my large Diet Coke (light ice) cost me an extra twenty-three cents from McDonald's because of this tax.  The government doesn't think you should be buying large sodas even the diet variety.  So what do you think of that?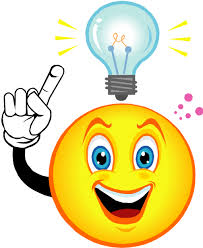 Let's pause for a second.  Take a look at what I've written above.  I am always trying to get maximum efficiency and maximum convenience all at an affordable price.  In order to make that happen I have to have systems in place.  In just a few hours I was able to use a lot of the systems that benefit me virtually each and every day.  Maybe something I've done today will allow you to pick up a good idea for your own use.
In the late afternoon I was pulling into DeKalb, Illinois. Of course, if you're a big time football fan you know that DeKalb is home to Northern Illinois University recent participants in the Orange bowl!
I'm proud to say I am a graduate of NIU, in four years by the way.  I worked in Caterpillar Tractor Company factories and also as a dormitory resident assistant to pay for school.  When I graduated I had zero college debt, which was a very good thing.  Unfortunately I had a low military draft number, which wasn't as good.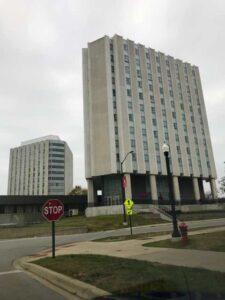 Tonight I took a quick drive through part of the campus.  The above photo will show you the dormitory where I lived for three years, one as a student and two as a resident advisor.
Next I was off to meet up with my sister Becky and her husband Bob.  We always enjoy "visiting".  That's what they call it back here.
We had to take a break from visiting to have some "supper".  That's what they call it back here.  I was able to successfully fend off Becky's desire to eat in a 2.5-star Yelp rated eatery.  No one should ever eat in a 2.5-star rated place.  We settled on a place that I helped them discover on one of my recent visits.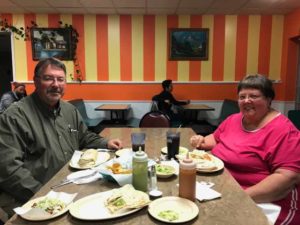 The Tacos Salsas y Carnitas Mexican restaurant is very close to their home.  It's Yelp rating comes in at 4 stars.  It's a very informal down-home place where they're playing Spanish language TV shows on the one and only TV that is primarily reserved for the employees themselves.  You probably shouldn't eat at a Mexican restaurant that doesn't have their one and only TV tune to a Spanish language channel.  You just shouldn't.
Later on that evening I shared a little bit of my knowledge about how to buy vacation lodging in the best and most cost-effective way.  Becky and Bob are hoping to go to Florida soon.  Maybe they'll be able to take advantage of some of the things we talked about tonight.  Thank you Becky and Bob for your hospitality!
SATURDAY
I woke up to a very rainy day in DeKalb, Illinois. Having spent the first 23 years of my life in Illinois I know this is not uncommon.  Frankly, it's one of the reasons that I insisted upon a transfer back to sunny California in 1983.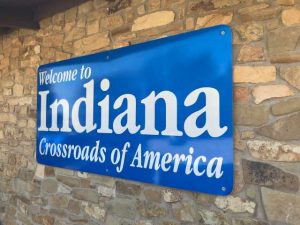 I was headed down to the greater Indianapolis, Indiana area today.  The one-way driving distance was going to be somewhere around 300 miles.
I checked my Waze GPS system.  I was trying to see what the difference in time and mileage would be between taking the tollways that dominate the Chicagoland area or taking free public roads.
The difference wasn't that great.  By taking the free roads it would take about 20 minutes longer and maybe add 20 miles to my driving distance.  That wasn't bad at all given the time and distance I needed to cover.  I chose the free roads.
Driving through Chicago, which I've done a million times, is not the easiest thing to do.  It's not really hard.  It's just congested and time-consuming.  I don't really like congested and time-consuming.
I have spent a lot of time in all 50 states.  From a great deal of experience I can tell you that I find Chicago and Boston to be the worst cities to navigate through quickly and efficiently.  Of course Pittsburgh has the absolute worst roads but then I don't think of Pittsburgh as being a big city the way I do Chicago and Boston.
I don't put Los Angeles in this category.  The reason is because I don't spend very much time in traffic in Los Angeles.  I don't have to drive through the areas or during the time of day where and when Los Angeles has its worst traffic.  That's right.  For me I don't think of Southern California as having much traffic at all because of when and where I travel.
I had originally planned to go trackchasing in Kentucky today.  However when an opportunity came up to get a "trackchasing double" in Indiana I couldn't pass it up.
There was something somewhat unbelievable about today's double.  Just a couple of days ago I hadn't had either of these tracks on my radar screen.  If you knew the amount of research that comes out of the Randy Lewis Racing research department you would find that statement flabbergasting.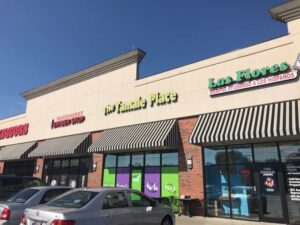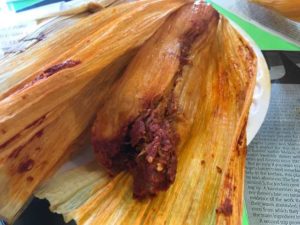 By the way when I passed through Indianapolis I couldn't resist stopping at "The Tamale Place".  If you like tamales you'll like this place.  They even have a special chocolate flavored tamale for dessert!
THE RACING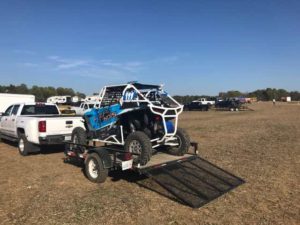 Chimney Ridge – Paragon, Indiana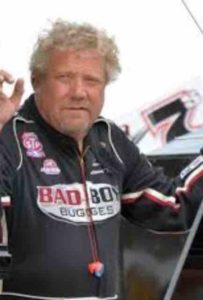 The first part of my double would be down in Paragon, Indiana.  No I wasn't going to the well-known Paragon Speedway.  I had already been there.  Back on a Wednesday night, August 18, 1982, I saw Steve Kinser win a World of Outlaws feature there.  The night before I had racechased at the Grundy County Speedway up in Morris, Illinois.  Jim Sauter won the main.  The Paragon Speedway was my 119th lifetime track to see.  The number "119" was also my platoon number during boot camp with the United States Marines.
I would be going out into the farmland of central Indiana.  There I planned to see a Midwest Cross Country Racing UTV event.  These folks race about a dozen times year.  I've seen several of their shows and expect to see more in the future.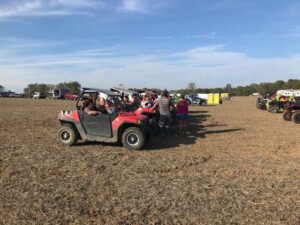 From the very first Midwest Cross Country Racing show that I attended I developed a really good contact with the group.  We've texted back and forth many times.  I've got to say this gal is the most efficient texter, and the quickest, that I've ever encountered in racing anywhere in the world.  I hadn't texted her in probably nearly a year.  This week I sent a text regarding today's race.  She was back to me within a minute!  Well done.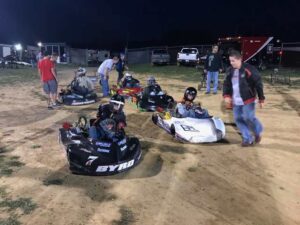 The evening part of my trackchasing double was a bit more unusual in how it came about.  Tonight I hoped to see racing at the Monroe County Fairgrounds in Bloomington, Indiana.  You know that the Kinser racing clan put Bloomington on the map along with that big guy in the red sweater.  No, I'm not talking about Santa Claus.
During any given trackchasing week I will talk to a dozen or more racing promoters.  Sometimes our conversations are very brief.  At other times I've been known to spend more than an hour talking to a promoter.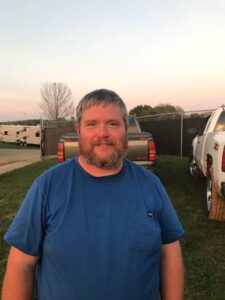 Several days ago I got in touch with John Byrd.  He runs the racing program at the Monroe County Fairgrounds in Bloomington.  They race karts there.  This was the first year they've raced at this fairgrounds.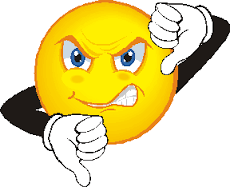 As you know trackchasing's founding fathers turned double thumbs down on the idea of counting racing with "flat" go-karts.  In hindsight I think that was a horrendous decision.  That comment probably doesn't go far enough.  They just missed the boat on this one.
Do I think go-karts should be added at this stage? No, probably not.  There are just too many go-kart tracks out there.  If go-karts were added now it would diminish the results of the pioneering trackchasers. Most no longer pursue the hobby.  Yes, most of the original top 10 have effectively stopped trackchasing.
Additionally it would give me a major advantage.  If any new class of cars were added to the existing rules I would see more of that newly added class than anyone else.  How do I know that?  It has already happened with figure 8 racing and now UTV racing.  I think trackchasing's political hierarchy understands that situation fully.  No, if you were a fellow competitor of mine you wouldn't have any interest whatsoever in adding go-karts at this stage.
Essentially the primary type of "small car" that is accepted by trackchasing rules is a caged kart driven by an adult.  Those can come in the form of senior champs mostly or outlaw carts or micro sprints or the like.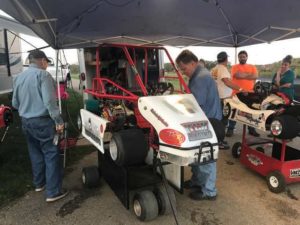 So let's get back to my conversation with promoter John Byrd.  When I talked to him on the phone I asked what type of kart racing program he was running.  He told me that it was almost all flat carts.  I asked him if senior champ kart were part of his program.  John told me a few had come this year to race but it was not common for them to show up.
I told him a little bit about my trackchasing as well as trackchasing's view of flat kart racing.  John listened intently.
I've got to be painfully honest with you.  I just hate telling go-kart racing promoters that trackchasing's founding fathers puked all over flat kart racing.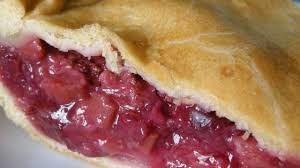 Imagine going over to your elderly aunt's house.  She's won the state championship in rhubarb pie baking for nine years in a row.  You show up for Sunday dinner and tell her that you only eat pumpkin and lemon meringue pie.  You absolutely hate rhubarb pie and won't eat it.  How would that make your aunt feel?
I pretty much have to explain the trackchasing rules to each kart promoter that I talk with.  If I didn't they would expect me to show up for their flat kart racing show.  As you know most trackchasers wouldn't walk across the street to return to a racing show that wasn't near their home….or to see a flat kart racing program.  If it don't count they don't go.  No I can't be dishonest with the promoters I talk to. They're just too nice of a group of people to mistreat.
John and I soon hung up the phone.  He told me that if he heard of any champ karts that might be coming to his track this weekend he'd let me know.  I've heard that kind of statement before.  Frankly, I didn't expect to hear back from John about racing this weekend.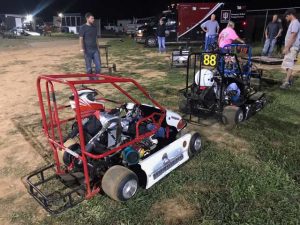 That being the case I was more than surprised when I got a phone call from John Byrd a couple of days ago. He told me he had been trying to figure out how to get some senior champ karts to race this weekend at the Monroe County Fairgrounds.  As you might imagine I don't get phone calls like this.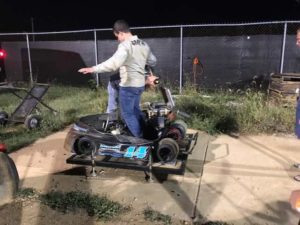 You should know that I NEVER EVER ask a promoter to put on a special show just for my benefit.  I consider that to be 100% unethical.  That's manipulating the system in a way that the system does not need to be manipulated.
Some time ago a few trackchasers had gone to a racing promoter in Pennsylvania.  They asked him if he would consider having one of his classes, that normally races on an oval track, race on a specially prepared road course.
They would pay him and his drivers, in various forms of "sponsorship", to have such an event.  This race came off and everyone patted themselves on the back for such a new track "discovery".
I would never participate in such an unsavory activity. A few eastern-based trackchasers have paid a promoter to run a show for their benefit (two or three times and maybe more?) now.  In my opinion it's just not in the spirit of trackchasing to have someone create an artificial opportunity.
I've been to well over 400 county fairs.  I've seen more than 300 figure 8 tracks, almost all of which were at county fairs.
These county fair racing shows are about as informal and down home as you can possibly get.  The entire "track" consists of a dirt area with two tractor tires placed in the dirt about 40 yards apart.  The figure 8 "race" has the cars running around these two simple tractor tires in a figure 8 configuration.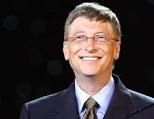 I have been accused of being the "Bill Gates" of trackchasing.  Why Bill Gates?  Yes, maybe I should get that label because of my technology skills.  In reality it's been bantered about because of the financial prowess of Bill Gates.  He's still the richest man in the world.
A financial profile or a net worth statement has never been required from anyone in the hobby of trackchasing that I am aware of.  I do know this.  When Carol and I were married nearly 45 years ago the total cost of our wedding was $500.  We paid for our entire wedding.  We had to borrow $200 from the bank to do it!  Does that sound like I could ever be the Bill Gates of trackchasing?
Nevertheless, let's say that I had an extra $20 bill or maybe even a $100 bill.  I can tend to be a fairly persuasive individual.  Do you think I could "persuade" (wink!) a county fair figure 8 racing group to run a five-lap "oval" race around the very same tractor tires that they use for their figure 8 race?
I'm going to tell you this right now.  A $100 bill, to create an oval track race at a county fair for five laps, is a very doable idea.  I would imagine I could have done that 100 times or more.
It just sickens me when people don't respect and adhere to the rules of trackchasing.  Paying promoters to run a race that they weren't planning to run is simply unethical behavior.  People who can't be counted upon to live by the rules of life can't be counted upon.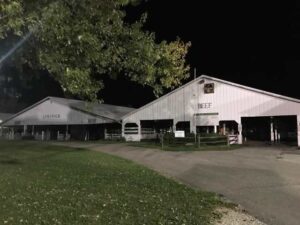 Let's get back to my conversation with John Byrd. John is known at the "Birdman" on Facebook messenger.  John had given me another call.  What he told me sounded almost unbelievable.
Since I had talked last to John he had come up with the idea to get some senior champs to show up at the Monroe County Fairgrounds.  He told me that he had found a sponsor to pay the purse for the senior champs.  Additionally he would waive the entire entry fee for this class.  He had four signed up for sure and was expecting more.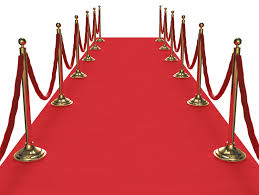 Folks, I've been doing this trackchasing thing for sometime.  I have run into a lot of racetrack promoters who have showered me with the upmost hospitality.  They have rolled out the red carpet when I came to see their racing operation.
I can't ever recall a situation where someone like John Byrd from the Monroe County Fairgrounds had stepped up to the plate in this fashion.  I told John that I was most appreciative of what he had done.  There was no way I could go trackchasing in Kentucky tonight.  That was my original plan.  In a heartbeat I changed my trackchasing map to take me over to Bloomington, Indiana.  I'm just glad I hadn't made any commitment to the promoter in Kentucky!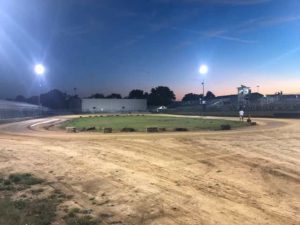 Now if you ever look back on my visit to this track and wonder "How did Randy ever end up seeing senior champ karts in Bloomington, Indiana" you'll know the backstory.  I will tell you more about my actual experience at the Monroe County Fairgrounds just a little bit later in this Trackchasers Report.
For the afternoon portion of today's trackchasing double I pulled into Chimney Ridge, a racecourse located in Paragon, Indiana.  I was more than an hour early for the 5 p.m. UTV race start.
I paid the customary $15 admission charge.  This would allow me to go pretty much anywhere I wanted in the spectator area, the racing paddock and out into the woods course if I so desired.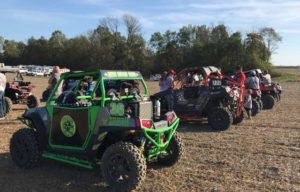 There are several UTV sanctioning bodies across the country.  As you might expect most are in the Midwest and the east.  There's got to be a good 25-30, or more, states racing UTVs nowadays.
Each year the UTV sanctioning bodies find new farms and such to hold their events.  This is not dissimilar to autocross racing in Belgium and the Netherlands.  One year a track is at a farm on one side of the road.  The next year the track might be at the same farm on the opposite side of the road.  These are definitely all temporary dirt road courses.
When I arrived the motorcycles were having their event.  I used this time to walk at a fast pace over the very soggy spongy grounds of what was probably was a cornfield a month or two ago.  This way I could get in the better part of my 4 mile power walk while I was "watching" the races.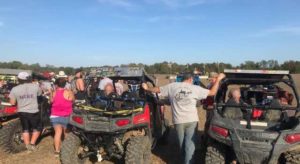 Today they had an announcer.  He did an excellent job of commentating on the motorcycle racing.  It turned out that the announcer himself was actually going to be in the UTV race.  It was a pleasure to hear an announcer over a decent PA system describing the action.
Soon about twenty UTV racers lined up in the starting area at Chimney Ridge.  The announcer told everyone that the course was five miles long.  The UTVs made up three rows.  They were separated by class.
Each row went off on its own green flag.  They used a dead engine start.  That's common in this form of UTV racing.  I'm not really sure why they see a need to do it that way.  This is really more of a participant sport than a spectator sport.  Nevertheless, fans were watching the races from some pretty unusual spots.
I guess you could divide the racecourse in the two sections.  The first section would be the space where spectators could actually see the machines in action. The second part of the track would be out of the woods where the UTV racers were totally out of sight from the fans.  I'm going to guess 70-80% of the racetrack and maybe even more was in the woods. That doesn't make for a great spectator experience but I'm sure it's fun for the drivers.
Once again I walked all over the open space at Chimney Ridge.  I easily surpassed my 4-mile goal for walking.  I got to see some close-up UTV race action.  However, on a 5-mile course twenty competitors get strung out pretty easily.
I was happy to have another Midwestern Cross Country Racing series event in the books.  These folks are very reliable.  They always have plenty of UTV racers.  They start pretty close to on time at each race.  That's really all that a trackchaser can expect.
Soon I was exiting Paragon, Indiana and heading over toward nearby Bloomington, Indiana.  I would hate to have attempted to make that drive without a GPS unit.  This part of Indiana as well as all of southern Indiana is extremely rural.  You're talking small-town's folks who live in locations that are well off the beaten path.
During my drive I was very much surprised to come across a series of about thirty cars pulled off to the side of the highway.  It really wasn't a highway.  It was a rural two-lane road.  What could have attracted all of these cars?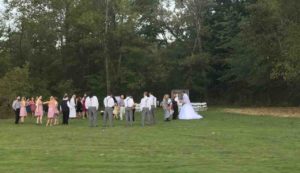 You will never guess!  It was a wedding!  I think I arrived about four minutes after the ceremony was completed.  They had people standing out in the road directing traffic like myself.  I could see the bride in her bright white gown on her very special day.  Congratulations and good luck to the lucky couple.  You just never know what you're going to see up and down the long and dusty trackchasing trail.
THE RACING

Monroe County Fairgrounds – Bloomington, Indiana
I pulled into the Monroe County Fairgrounds in Bloomington, Indiana a few minutes before 7 p.m.  The driving distance between Chimney Ridge and the fairgrounds was probably about 35 miles.
I hadn't missed anything.  They were still packing the track.  I could immediately see there were several senior champ karts in the pits.  The senior champ karts don't race at the Monroe County Fairgrounds all that much.  As you've already read there was a special program for them happening tonight.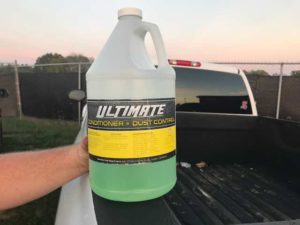 I soon found John Byrd.  When I first looked for him he was piloting a pickup truck and packing the track.  I would learn that he had applied a special liquid to the track tonight.  As the promoter he was attempting to keep the dust down and give the drivers a little more grip.  He told me he put about 25 ounces of this liquid in 2,000 gallons of water.  Even that small amount made the track slicker than he was expecting.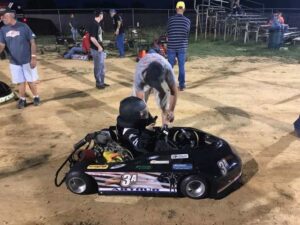 He called for all of the karts to come out and pack for a while.  There were about fifty go-karts in the pits tonight.  Only about a dozen came out to run the track in.  Drivers often are not very cooperative when asked for help.  I don't exactly understand that.  When they pack the track they help themselves.
I was soon introducing myself to John Byrd.  He was very happy that someone from California had taken the time to single out his racing operation and come see it.  Although John was happy that I had come to see him I was probably happier that he is been so generous with his promotion of the senior champ kart class.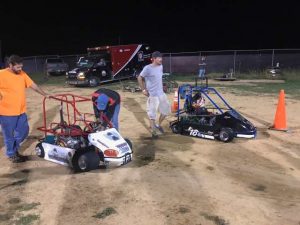 He told me, that in order to encourage the senior champ drivers to show up, he had eliminated their entry fee.  He was also offering $100 to win and $50 for second.  John had come up with a special sponsorship to help offset the expense of the senior champs.  Wow!  Now that's a promoter who supports trackchasing!
In total there were eight classes of karts racing tonight.  Two of the kart classes had enough entries to have two heat races.  The racing actually started between 7:30-8 p.m.  By about 9 o'clock the ten heat races were finished.
At that point the track went to a 15-minute intermission.  I spent some time talking to John Byrd up in the announcing tower.  Yes he was the race promoter and also the track announcer tonight.  He told me it was going to be tight getting finished before the 10 p.m. curfew.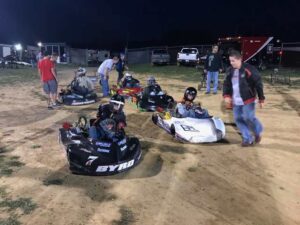 I was able to get a series of close-up photographs and videos of the action in the pits as well as on the track.  Some of the flat kart racing was well above average.  You won't want to miss my video as well as my SmugMug photo album.  You'll see what go-karts look like close up.
At intermission I headed for the exits.  I wasn't sure with the curfew if they would get the senior champ feature race in or not.  There were just four senior champs.  I had seen the same guys race in the heat race that would appear in the feature event.  That was good enough for me.
I did talk to one of the senior champ kart drivers.  He told me about another track somewhat nearby where they race senior champs.  I had never heard of this race venue.  It is amazing how many tracks are out there doing their thing that have escaped the notice of the Randy Lewis Racing research department.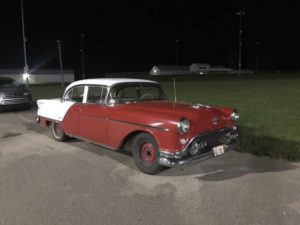 I met some nice people tonight including a fellow by the name of Steve.  He handles some of the corner flagman duties.  It's always fun to meet local people and hear their stories.  That's probably a highlight of several of my track visits.  This is especially true for tracks a long way from where I live.
AFTER THE RACES
I had to make the better part of a 300-mile drive following tonight's races.  It was going to take more than four hours to get myself up to Chicago's O'Hare International Airport.  If I drove straight through I would get into Chicago at a little past 1 a.m.  I needed to be at the airport by 8 a.m.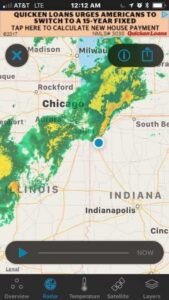 I didn't think there would be enough time to justify getting a hotel.  I ended up deciding to sleep at a highway rest area at exit #231 off of Interstate 65 in Indiana.  I would be able to get a good five hours of rest.  It was mid-October.  I was surprised at how warm it was.  Tonight's temperature easily allowed for shorts and T-shirts.  Although the temps were comfortable a major thunderstorm came over in the middle of the night.  It was night hearing the rain bounce off the roof of my "Hotel Rental Car".
This had been an excellent day of Indiana trackchasing.  Whenever you can get a day/night trackchasing double in mid-October, after you've seen as many tracks as I have, you're doing pretty well.  I'm closing the gap on Indiana trackchasing leader Roger Ferrell at a rapid pace.  Roger's going to have to start seeing UTV racing or he might have to contend with me for his state title.
SUNDAY
I got a good five hours of sleep in the highway rest area near Roselawn, Indiana off of interstate 65.  I estimate that I've slept overnight in airports or highway rest areas about 25 nights this year.  I only do it when I have to but it seems like I have to more and more given the distance from one racetrack to another and then on to the airport.
When I woke up I was still 80 miles from the airport.  I had factored in the time needed to stop for one final gas fill up, get the rental car returned and still arrive at the airport with plenty of time to clear airport security.
It rained most of the night.  It's kind of funny that when I woke up yesterday morning in DeKalb, Illinois it was raining.  The weather forecast for northern Illinois called for rain all weekend.  However, both of my central Indiana races had run under a perfect forecast with gorgeous weather, cloudless skies and temperatures of 80° in the middle of October.  I would call that more than fortunate.
Despite the rainy weather it would be easy to get through Chicago on the way to the airport this morning.  There wouldn't be any traffic at 6 a.m. on a Sunday morning.  I always wonder at this somewhat strange hour for highway driving why other people are on the road.  They can't all be trackchasers right?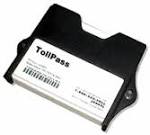 I had my Illinois toll pass electronics transponder available if I needed it.  I didn't need it.  I had my Waze GPS system set to "no toll" roads for the entire trip.  I'm guessing I saved about $20 in tolls.  I think I drove about 40 miles out of my way during the entire trip to avoid tolls.  That's not bad considering I drove nearly 700 miles in total with my rental car.  The extra driving probably cost me about three dollars in extra gasoline expense.  My Waze GPS app pays for itself especially when it doesn't cost anything!
I can't believe I was able to get a full-sized rental car from Alamo in Chicago for two days for $59.  National Car Rental wanted to charge me three times that much as their very best rate.  Chicago is normally one of the more expensive rental car markets.
I would be standing by for a 9 a.m. flight back to Los Angeles this morning.  The flight was tight.  If I didn't make it there were lots of other choices.  Sunday is one of the most difficult times to fly standby from Chicago to Los Angeles but I was confident.
I'll do my best to get a little bit of power walking in while I wait for my plane or planes.  Then I'll add another mile once I land in Los Angeles getting back to my parking garage.  If I still need some distance to meet and exceed my 4-mile goal I'll do it when I get home.  Having a goal is a perfect motivator for getting in four miles or more of walking exercise every day.
It had been a good trip.  I dodged a weather bullet.  I was able to see my sister and her husband, a true trip highlight.  Finally, I was able to add three new tracks as the 2017 trackchasing season winds down.  I did all of that and only drove rental cars about 900 miles over three days.  All of the above constitutes a successful trackchasing trip for me.
I really needed to get home today.  We are having out-of-state guests coming to visit tomorrow evening. Then I'll have a couple of days at home with Carol before we head out on a very long international trip.  If all goes well I could be adding trackchasing country #76 and maybe even more.  You just never know what I'm up to.
Good afternoon from first Paragon, Indiana and then good evening from Bloomington, Indiana home of the Hoosiers.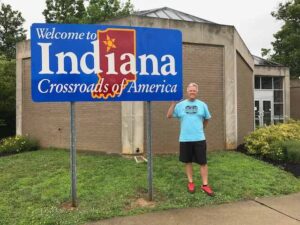 Indiana
The Hoosier state
This afternoon and evening I saw my 112th and 113th lifetime tracks in the Hoosier state yes the Hoosier state.  I hold a #1 trackchasing ranking in 24 other states but not in Indiana…..yet.
Thanks for reading about my trackchasing,
Randy Lewis
World's #1 Trackchaser
Peoria Old Timers Racing Club (P.O.R.C.) Hall of Fame Member
Indiana sayings:  Beach…. When you see the word beach, you probably think about looking out at the beautiful blue ocean while feeling the warm sand between your toes. In Indiana, we consider a lake with some sand wrapped around it to be a pretty nice beach.
QUICK FACTS
LIFETIME TRACKCHASER COMPARISONS 
The three most important trackchasing comparisons to me are:
Total lifetime tracks seen
Total "trackchasing countries" seen
Lifetime National Geographic Diversity results
Total Lifetime Tracks
There are no trackchasers currently within 600 tracks of my lifetime total.  Don't blame me.
Randy Lewis, San Clemente, California – 2,385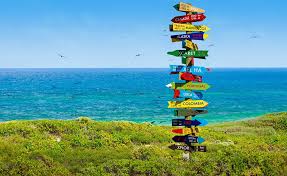 Total Trackchasing Countries
There are no trackchasers currently within 20 countries of my lifetime total. 
Randy Lewis, San Clemente, California – 75
Current lifetime National Geographic Diversity results
Randy Lewis, San Clemente, California – 4.37
That's all folks!  Official end of the RLR – Randy Lewis Racing Trackchaser Report
Click on the link below to see the video production from the racing action today.
Racing from the Monroe County Fairgrounds
.
.
Racing from Chimney Ridge
Click on the link below for a photo album from today's trackchasing day.  You can view the album slide by slide or click on the "slide show" icon for a self-guided tour of today's trackchasing adventure.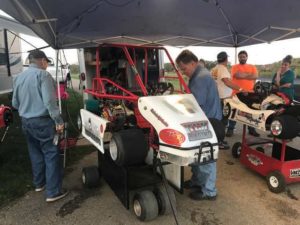 A special night of senior champ kart racing at the Monroe County Fairgrounds
.
.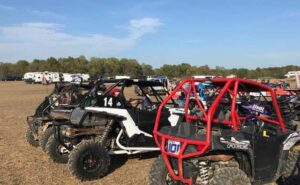 More Indiana UTV racing.  I've seen a lot of it.