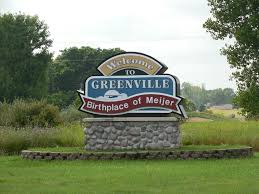 Greetings from Greenville, Michigan
.
.
From the travels and adventures of the 
"World's #1 Trackchaser"
.
.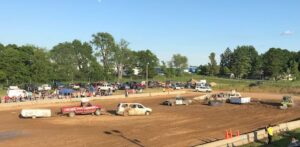 Montcalm 4-H County Fairgrounds
Dirt figure 8
 Lifetime Track #2,457
.
.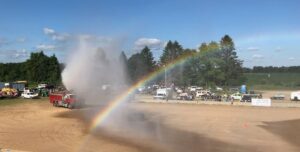 Montcalm 4-H County Fairgrounds
Dirt oval
 Lifetime Track #2,458
The EventVideo PlusPhotos

THE EVENT
I am a "trackchaser". So, what the heck is that? I get that question from racing and non-racing people all the time. This is a difficult question to answer. Why? Because after I do my best to respond people say, "I've never heard of such a thing"!
Here's my best answer.
I'm a racing fan. I love to travel. I love to analyze opportunities to get the most out of everything while saving time and money.
Trackchasing fills the need for all of the above. The racing part of my trackchasing has me trying to see wheel to wheel auto racing at as many different racetracks as I can all over the world. Yes, all over the world. So far things are going pretty well. I've seen racing at nearly 2,500 tracks in 80 countries. As a matter of fact, I've seen racing at more tracks than anyone else in the world.
Equally important to me are the things I get to see and experience over the "long and dusty trackchasing trail". I call these adventures "Trackchasing Tourist Attractions". You won't want to miss my "Trackchasing Tourist Attractions" page. Here's the link:  Trackchasing Tourist Attractions or my "Sports Spectating Resume" page, Sports Spectating Resume on my website at www.randylewis.org.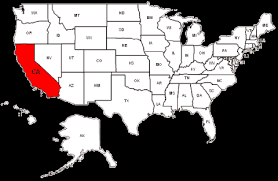 I live in southern California. Most of the racetracks in the U.S. are located well over 1,000 miles from where I live. As a matter of fact, my average trip covers 5,000 miles and more. I take 35-40 of those trips each season. In any given year I will travel well over 200,000 miles, rent more than 50 cars, and stay in more than 150 hotel rooms.
I get the chance to meet people all over the world. With trips to 80 countries and counting just getting the chance to experience so many other cultures, spend times in their homes and meet their friends is a huge reward for being in this hobby. I am indebted to several of these folks for their help and friendship.
It's takes a good deal of planning to do the above and not spend my entire retirement portfolio. I enjoy the challenge, the travel and every other aspect of "trackchasing". In reality, my trackchasing hobby is a lot like being with the carnival. I breeze into town, stay a little while and then head on down the road.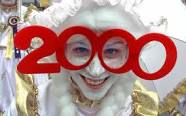 Today's adventure was one more of the 2,000 trips that have taken me up, down and around the long and dusty trackchasing trail. If you would like to see where I've been and experience those adventures here's the link:
If you've got a question, comment or whatever please leave it at the bottom of this report.  It's very easy to do.  Or you can visit me on Facebook.  Thanks!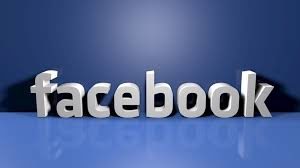 FOREWORD
Sunday, June 24, 2018.
I woke up this morning in a suburb of Grand Rapids, Michigan. This was the first morning since I left our modest seaside cottage five days ago that I was able to sleep in to a reasonable hour. Yes, I slept in, relaxed and didn't check out until the hotel's official check out time of 11 a.m. It felt good.
When I got out to the hotel parking lot I noticed that it was raining lightly. It rains a lot of Michigan. I wasn't concerned about the rain affecting the races tonight. The group I was going to watch races almost rain or shine. This rain wasn't that bad. It was actually predicted to stop later in the day.
I really wanted to go to the number one tourist attraction, as rated by tripadvisor.com, in Grand Rapids. I'm talking about the Frederik Meijer Gardens & Sculpture Park. However, I figured with rainy weather a visit to a botanical garden wasn't the best choice.
I was only an hour and a half from tonight's racing in Greenville, Michigan. I had an entire afternoon to kill. What could I do? I decided to go to a movie.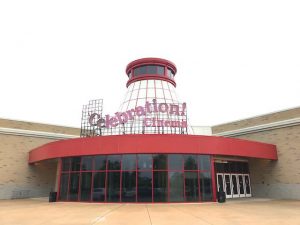 With my MoviePass subscription I can go to a different movie every day of the month and only be charged seven dollars. There was no way I could pass up a deal like that. Since I saw my first movie with this program in November, 2017 I've seen 22 movies using MoviePass. That's about three a month for a cost of seven dollars. This is a fantastic program. I hope it stays in business for very long time.
I chose the movie titled Ocean's 8. The movie is sort of a female take off on the famous movie series starring George Clooney and Brad Pitt and the like, Ocean's Eleven. In this instance I've got to vote for the male version.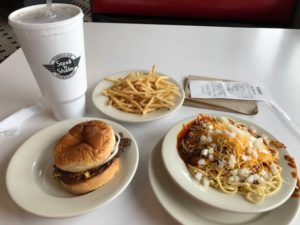 It was now past 3 p.m. I hadn't eaten anything all day. It was just my luck there was a Steak 'n Shake next to the movie theater. As a young boy and later a teenager I grew up on Steak 'n Shake. I went with the chili five-way, a double cheeseburger and French fries heavily salted. It was all washed down by a couple of 32 ounce Diet Coke with cherry syrup drinks. I very much enjoyed this meal!
From there I headed directly over to the Montcalm 4-H County Fairgrounds. The fairgrounds is located in Greenville, Michigan. They were starting the race program tonight at 5 p.m. I guess they were starting a little bit earlier than normal because tomorrow is a workday. I'm glad they did.
Tonight's event was being promoted by Unique Motorsports. I've seen several of their shows over the years. Nevertheless, I had never seen the kind of racing they were advertising in the fair program tonight.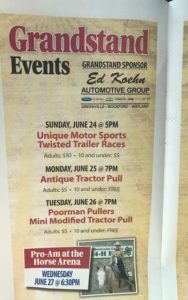 The program description simply said, "Twisted Trailer Racing". What the heck was that? I didn't even know for sure if Twisted Trailer Racing was going to meet trackchasing's somewhat stringent and often times seemingly arbitrary rules. I was willing to give the show a try though.
I wasn't too pleased with the five-dollar parking charge. It was nothing against the Montcalm 4-H County Fair. I don't like to pay for parking anytime I go to the races. When I go to huge events promoted by NASCAR I always get free parking. Five bucks to park at a little county fair? I hope they used my parking fee for some good use.
They were charging $10 to get into the fairgrounds arena. I sort of felt like I got it for free tonight. Well, I did pay $10. However, the money came from my green plastic folder where I stuff excess one dollar bills so they don't jam up my money clip. Overtime I will accumulate well over $50 in singles this way. I've decided to start spending them so I don't have to carry them around.
The fairgrounds website told me they would start the racing at 5 p.m. However, due to some confusion in communication the Unique Motorsports people thought the show was going to start at six. They compromised and began the program at 5:30 p.m.
The weather was excellent especially compared with the forecast. Three or four days ago it seemed as if we might be watching these races in the rain. Then things cleared up and passed through. The temperature was in the low 70s with a breeze rolling into the grandstand that almost required a jacket but not quite. During the middle of the show it was all blue skies.
A fellow by the name of Jim runs Unique Motorsports. He also handles the announcing chores. He seems like a reasonable guy, throws in a little bit of humor and gives a good description of what's going to come for the rest of the night. I like that. He's big on saying "Let's put your hands together" for whatever driver or activity he is supporting at the moment.
THE RACING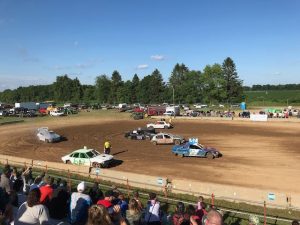 Montcalm 4-H County Fairgrounds – Greenville, Michigan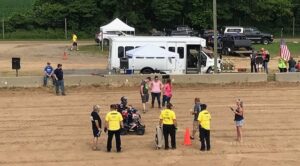 They started the show with a power wheels competition. If you're not familiar with that term it's basically kids aged 3-9 driving their battery powered tricycles and mini cars around the track. Tonight they raced on an oval. Sometimes they have a demo derby. I've got to tell you I'm not a big fan of the power wheels competition.
Like I said I really had no idea what they were doing with tonight's program. As I sat in the top row of a very sparsely populated grandstand I would come to find out the details.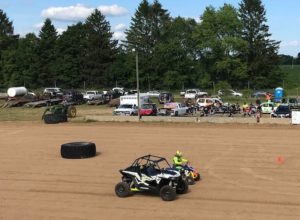 The first adult racing action was for ATVs and UTVs. They were going to race on an oval track around two tractor tires. The only problem was the car count. Only one ATV showed up and one UTV. If there had been at least two UTVs racing I would've been able to count an oval track in Greenville, Michigan tonight. I missed it by one competitor.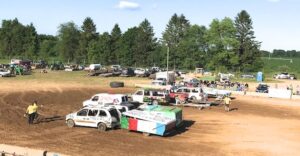 They had a class of about eight cars and trucks that were the pit area with trailers hitched up to them. These would be the competitors participating in the "Twisted Trailer Racing".
The first event for them tonight was single car/truck time trials. I must tell you it after seeing racing at nearly 2,500 tracks I have never seen cars and trucks pulling trailers and being time trialed. If I see 10,000 racetracks I'm pretty sure I'll be seeing something for the first time at almost every event.
I was certainly hoping that tonight's Twisted Trailer Racing did not solely consist of drivers pulling trailers and time trialing for a single lap. However, the sun was about ready to shine brightly on the World's #1 Trackchaser. That was a good thing.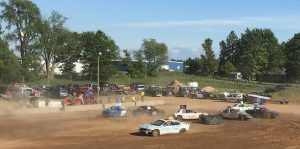 The next event on the agenda was figure 8 racing for small four-cylinder powered racecars. There were eight of them. What made tonight's figure 8 course somewhat unique, pun intended, was the distance between the two tractor tire markers. I'm going to guess it was a good 75 yards and maybe more. That made for a big figure 8 track.
They took some time to water down the track. This would slow down the racing speeds and make things safer. The small cars had a 15-lap feature event. These cars would race only one time today. There wasn't a ton of action. The racing wasn't nearly as good as what I had seen last night at the Marion County Fairgrounds.
Surprisingly, the guy who won the four-cylinder feature race last night could only muster a second place finish today. I guess his car wasn't set up for the long straightaways. This second place driver was unique. He gave the fans three handsprings as he exited his car. That was impressive.
I've got to give Unique Motorsports an "A" for creativity tonight. Following the one car trailer time trials they came up with another event that I had never seen in my life. They lined up all eight entries of cars and trucks with trailers attached side-by-side.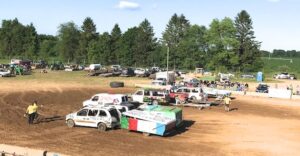 They were going to have a race amongst these eight competitors with everyone backing up their car/truck and trailer combinations a distance of about 50 yards to the finish line. They all took the green flag at the same time and obviously one of the drivers reached to the finish line first.
This created a dilemma for me and any other trackchaser who might have been in the grandstands. I saw lots of people going to their phones to get a refresher course on the trackchasing rules. We had just seen competitors race from one point in a straight line to another fixed point. They all started racing at the same time with a green flag and the race was concluded with a checkered flag.
Here's what the trackchasing rules have to say about the definition of a "track". After you read these rules I know what you will be thinking. How big are the legal bills paid by the trackchasing group in order to get these types of legal opinions?

TRACKS
"All permanent and temporary tracks are countable, as long as the racing activity viewed meets the minimum requirements for type of vehicle, event, class and any other pertinent category. Examples of tracks include (but are not limited to) ovals, road courses, airports, public roads and streets, parking areas, field tracks, indoor arenas, frozen bodies of water, figure eight courses, offroad courses, etc.
Any racing event that is limited to less than three simultaneous starters does not count. Examples include (but are not limited to) drag races, hill climbs, mud bogs, monster truck events, solos, rallies, North American style autocross and rallycross, etc.
Tracks that change between a paved surface and a dirt surface can be counted once for each surface. Changes between different types of pavement (asphalt, concrete, etc.) or different types of dirt (dirt, clay, shale, grass, gravel, etc.) surfaces only count once. Ice tracks formed over an existing paved or dirt track can not be counted as an additional track, but they can be used to count the track once. Ice tracks held on a body of water are countable. European style rallycross courses, and other tracks which consist of alternating sections of paved and dirt surfaces, can be counted as a second track if part or all of it is also used as a completely paved or dirt track.
Multiple tracks of the same type (types being divided into ovals, road courses and figure eights), located at the same facility, are countable under the following conditions: connected ovals or figure eights are separately countable only if they exist and are active at the same time; disconnected, permanent ovals or figure eights (located on separate areas of the facility) are separately countable whether or not they exist at the same time; all temporary tracks of the same type are only separately countable if they physically exist and are active at the same time, even if they are located on different parts of the property (moving a temporary track during the course of the day does not constitute a new track), with the following exception, tracks located inside different buildings on the same property can be counted separately; all tracks falling under the road course category are only separately countable if they are not connected or if they meet the change of surface rule, with the following exception, one permanent and one temporary road course which share a minority of common surface may be counted twice. Just changing a track's name does not count as a separate track.
Any track that is composed entirely of the apron of another track (ie: no part of it is physically separated) can not be counted as a second track (ex: Lake Erie).
Tracks run in a multiple oval configuration (one lap consists of two or more complete ovals) can not be counted in addition to the track or tracks that comprise it. Examples of these tracks include (but are not limited to) 'double O's, flagpole races, etc.
Any racing event in which the shape of the course is not predetermined, and/or may change from lap to lap, can not be used to count a track. These events include, but are not limited to, Hound & Hare events."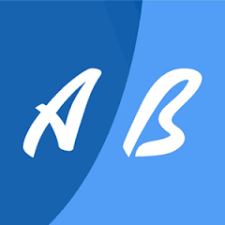 As I read this I don't see anything that prohibits a race from point A to point B. This wasn't really a drag race. It had eight competitors. There's never been a drag race in the history of mankind that had eight competitors. I couldn't call this track an oval, a figure 8 course or even a road course. It was just a straight course. However, as you can see the rules don't prohibit this kind of racing. Since I am my own commissioner I would have to make a ruling on this later in the day.
You should know that people in the position of trackchasing commissioner have had a difficult time in the past with their rulings. Sometimes a competitor would get so upset with a ruling they threw in the towel. Sometimes the commissioner would get booted or resign and/or be totally disgusted.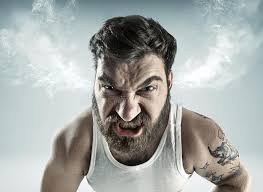 Two of the leading trackchasers had severe heartburn when it came to dealing with trackchaser commissioners. Rick Schneider was so upset that he stopped reporting his tracks several years ago when he held the position of world's leading trackchaser, if you award that title to someone who has seen the most tracks. Frankly, I think that title goes to the person who seen racing in the most countries. Remember, it's the WORLD'S #1 Trackchaser.
Then Alan Brown got crosswise with the commissioner. He proposed a rule. I can't even remember what his recommendation was about. Nevertheless, he insisted on having the ballots returned to him because he didn't trust the commissioner. That does sound a little bit like having the wolf in charge of the henhouse. Can you imagine if Al Gore had all of the Florida ballots returned to him for counting? Do you think he would have lost the election to George Bush in the year 2000?
Then there was poor trackchasing commissioner Andy Ritter. To tell you the truth Andy is one of the best guys I've ever met in the hobby of trackchasing. However, when he tried to establish a footprint and make some rulings the trackchasing hierarchy asked for his head. Soon he was unemployed and out of a job in the hobby of trackchasing. It took him well over a decade to resurface and then with a very low profile.
Next we come to former trackchasing commissioner Will White. I've got to say that Will was easily the most conscientious individual to have held the position. I frequently didn't agree with Commissioner White's rulings. I knew he never intentionally ruled against me. I also knew that he was unduly influenced by fellow Pennsylvania Trackchasers. Finally, Commissioner White resigned in disgust.
We now have Commissioner Smith in the position. Commissioner Smith is also the person who came up with the original rules/guidelines in the trackchasing hobby. He also saw what happened Andy Ritter and stood by without a word of support. I think he might've been part of the problem. Now, Mr. Smith won't make a ruling on anything for fear of bending somebody out of shape. So effectively there really isn't a trackchasing commissioner at all these days. Commissioner Smith is of the opinion that everybody gets a participation trophy. It's hard to get anyone to argue with that.
Back to the racing….the trackchasing rules and how they applied to the track situation would have to wait. Tonight the announcer told us that points were being awarded to the trailer drivers for each of the events they participated in. It was a "3, 2, 1" points scoring system for the top three finishers. The first event was the time trials. The second event was the "straight" race. Notably, the trailer drivers were not finished tonight. Not by a long shot.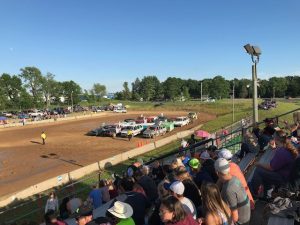 Jim the track announcer told everyone that the trailer racers were going to race five laps in a circle and then five laps on the figure 8 track. He almost made it sound as if this was going to be one continuous event. If that happened it would be another rules dilemma.
In all my years of trackchasing I have never seen a race start out with the cars competing for a few laps on an oval and then continuing straight on without stopping for another few laps on the figure 8 track. If that was the way it was going to be, I had already predetermined that I would have to count that as racing on a road course.
Jim had not told the crowd the cars would race four laps on the oval. Then they would "stop", line up again and have four laps of racing on the figure 8 track. Wow! Did the fact that now the cars were going to stop and change configurations affect the countability of the track.? I continue to listen intently for a clue as to how all of this was going to work.
Finally I decided I would simply have to watch the event and see how it turned out. The cars and trucks pulling trailers took off for their four-lap race around the oval track. The oval was marked by two tractor tires that the cars raced around to create the oval track turns. When the four laps were finished the flagman waved dual flags, the red and the checkered flag. I still didn't know if this was an "interim" stop between what was an oval track race and a figure 8 track race.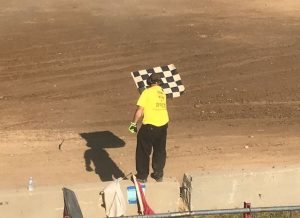 The next comments from the announcer cleared things up dramatically. He told the crowd that the top three finishers in the oval race had earned their "3,2,1" points to determine tonight's overall trailer championship. That told me that in no uncertain terms the four-lap oval track race for the trailers was a countable trackchasing event. Then the trailer entries got their act together and started from a dead start for four laps on a figure 8 track.
I had come to the track tonight not knowing what was going to happen with "Twisted Trailer Racing". I had paid five dollars to park for this unknown opportunity. I guess my patience was rewarded by being able to count two tracks tonight at the Montcalm 4-H County Fairgrounds.
From time to time I will "steal one" in a situation like what I saw tonight. It doesn't happen often but it does happen once in a while. I will tell you this. My trackchasing numbers go up about twice as fast when they have two tracks running at one location….but then you probably already knew that!
AFTER THE RACES
Following the races I headed over to Detroit, Michigan. When I got to Detroit I was going to have another decision to make. I could either fly home to Los Angeles tomorrow or risk going back to Iowa for a race that was rescheduled from last Wednesday until tomorrow night, Monday.
I had tried to attend a racing show at the Butler County Fairgrounds in Allison, Iowa last Wednesday night. As a matter fact, I flew overnight from Los Angeles on Tuesday night in order to make that show. The weather forecast was generally good. However things turned sour in the late afternoon and the show ended up being washed out. I was disappointed in that one.
The weather forecast for tomorrow night was iffy. It really all depended upon exactly when the rain would come in. Racing was scheduled to begin at 7:30 p.m. The rain, with a 60% and more probability, would begin at 9 p.m. That's tight.
On my drive over to Detroit I continually checked the weather forecast, the car rental car availability and flight availabilities of getting first over to Iowa and then back to Southern California by Tuesday night. I figured I was already out here. The incremental expense of trying for Iowa wasn't going to cost me all that much more. I was probably going to give it a shot.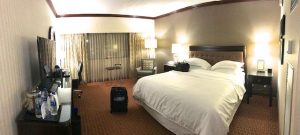 I had a beautiful Sheridan hotel reserved for this evening at the Detroit Metro Airport. With Priceline I paid $66 for the hotel when the best online rate was $116. There was also a very good chance that when I checked in, based upon my platinum status, they would give me all kinds of freebies to include a room upgrade complimentary breakfast and the like.
Because I had such an early morning flight I could only sleep for 4-5 hours in such a nice hotel. It was hardly worth it. I didn't exactly know that when I made the hotel reservation. Would I try to go to Iowa tomorrow morning or head back to SoCal? Tune into my next report to find out.
Good night from Greenville, Michigan.
Randy Lewis – 80 countries – 2,458 tracks.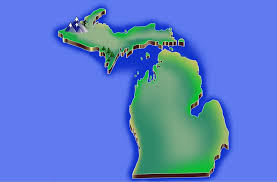 Michigan
The Wolverine state
This evening I saw racing at my 125thand 126th lifetime tracks in the Wolverine state, yes, the Wolverine state.  I hold the #4 trackchasing ranking in Michigan.  I've seen 126 or more tracks in two different states.
Thanks for reading about my trackchasing,
Randy Lewis
World's #1 Trackchaser
Peoria Old Timers Racing Club (P.O.R.C.) Hall of Fame Member
Michigan sayings:  "My grandma is a troll."
Hey, that's no way to talk about your grandmother! Oh, you're from Michigan? It all makes sense now. Here in the Great Lakes State, a "troll" is someone who lives in the Lower Peninsula — "under" the Mackinac Bridge. Chances are good that your grandma actually IS a "troll!"
QUICK FACTS
LIFETIME TRACKCHASER COMPARISONS 
The threemost important trackchasing comparisons to me are:
Total lifetime tracks seen
Total "trackchasing countries" seen
Lifetime National Geographic Diversity results
Total Lifetime Tracks
There are no trackchasers currently within 655 tracks of my lifetime total.  Don't blame me.
Randy Lewis, San Clemente, California – 2,458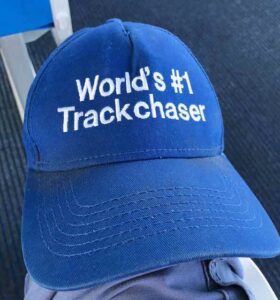 Total Trackchasing Countries
There are no trackchasers currently within 25 countries of my lifetime total. 
Randy Lewis, San Clemente, California – 80
Current lifetime National Geographic Diversity results
Randy Lewis, San Clemente, California – 4.14
That's all folks!  Official end of the RLR – Randy Lewis Racing Trackchaser Report
Click on the link below to see the video production from the racing action today.
Click on the link below for a photo album from today's trackchasing day.  You can view the album slide by slide or click on the "slide show" icon for a self-guided tour of today's trackchasing adventure.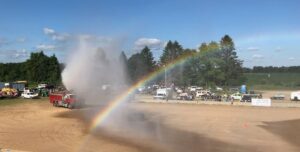 See the firetruck create a rainbow and twisted trailer racing