Greetings from Turin, Italy
Museo Nazionale dell'Automobile
[su_tabs style="1″]
[su_tab title="Highlights"]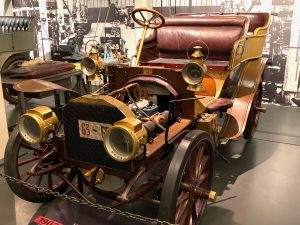 One of the best automobile museums I have ever visited. The Museo Nazionale dell'Automobile is as much art museum as auto museum.
I had a free day after seeing an ice race in Pragelato, Italy. I was staying in Turin, Italy. Wouldn't you know it? Turin has one of the very best auto museums in the world. I was all over that. There is a lot of flying and driving with my hobby. However, the racetrack visit only takes a few hours out of my day, usually at night. This allows me to see the local sights and attractions of whatever area I am visiting.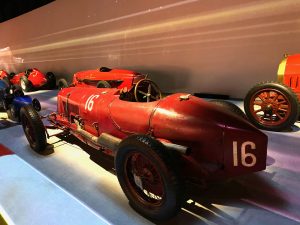 On this day, January 7, 2020, I had done a little bit of a Google search. I had a rental car. All of that meant that I could easily spend much of my day at Museo Nazionale dell'Automobile.  Parking was just across the street. I met a guy who acted as if he was managing the parking lot. He told me it would be five euros to park. In hindsight, I'm not really sure he worked for the parking lot or was just a homeless guy! Nevertheless, five euros seemed like a reasonable rate to park so close to the museum.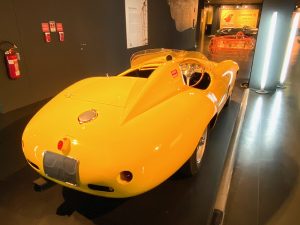 I checked with Wikipedia. They had a good-looking summary of this museum. I thought I would share it with you. I love Wikipedia.
The Museo Nazionale dell'Automobile (The National Automobile Museum), founded by Carlo Biscaretti di Ruffia, is an automobile museum in Turin, northern Italy. The museum has a collection of almost 200 cars among eighty automobile brands representing eight countries (Italy, France, Great Britain, Germany, Netherlands, Spain, United States of America, Poland). The museum is situated in a building dating from 1960, and it has three floors. After restructuring in 2011 the museum is open again, and its exhibition area has been expanded from 11,000 square metres (120,000 sq ft) to 19,000 square metres (200,000 sq ft). The museum also has its own library, documentation centre, bookshop and auditorium.
Collection
The museum's collection includes the first Italian cars, a Bernardi from 1896 and a Fiat from 1899, a Rolls Royce Silver Ghost from 1914, and racing cars by Ferrari and Alfa Romeo. Also included are for instance an 1893 Benz Victoria, an 1894 Peugeot, a 1904 Oldsmobile, the 1907 Itala from the Peking to Paris race, a 1913 De Dion-Bouton, a 1916 Ford T and the 1929 Isotta Fraschini Tipo 8A that starred in Sunset Boulevard.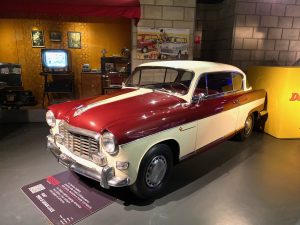 If you can make your way to Italy and are anywhere close to Turin I highly recommend a stop here. You'll have fun. Give yourself enough time. Eat a pizza at some local place nearby. You'll have a good time.
[/su_tab]
[su_tab title="Photos"]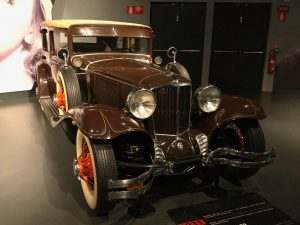 Click on the link below for a photo album from today's visit to the Museo Nazionale dell'Automobile.  Double click on a photo to begin the slide show or watch the photos at your own pace.  Hover over a photo to read the caption.
Museo Nazionale dellAutomobil – Turin, Italy
[/su_tab]
[/su_tabs]