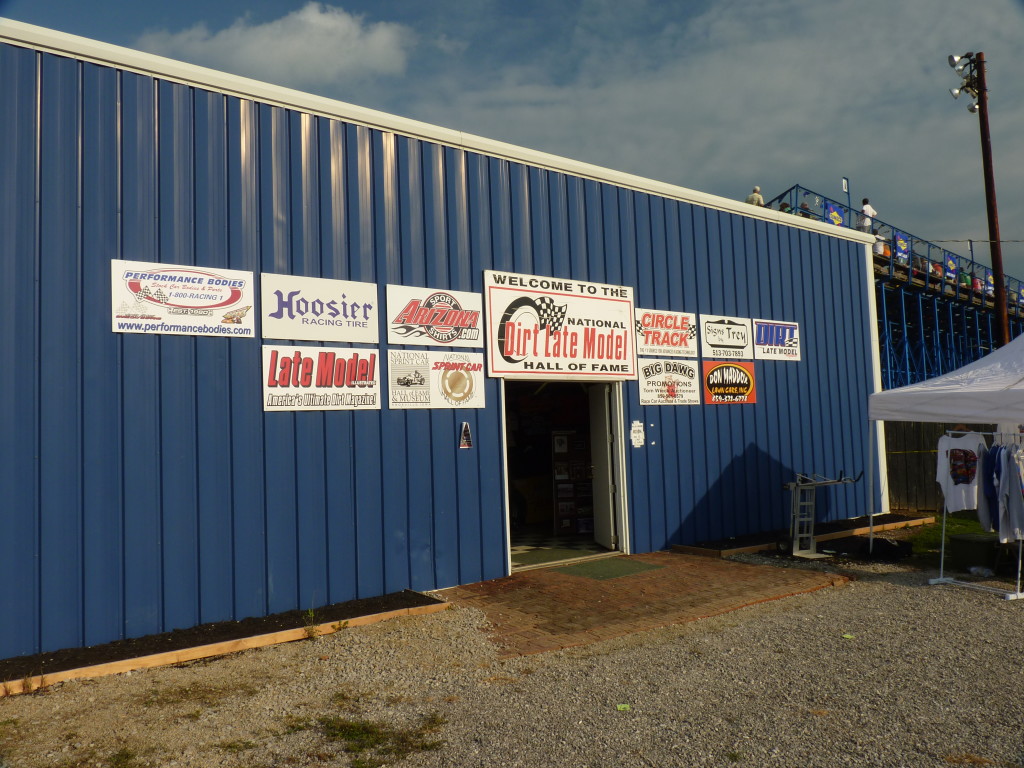 Greetings from Union, Kentucky
.
From the travels and adventures of the 
"World's #1 Trackchaser"
.
National Dirt Track Late Model Hall of Fame
Induction Ceremony
.
Don't miss the videos!! 
HighlightsThe DetailsAttractionsRace ReviewVideosPhotosQuick Facts
Tonight we would see one of the biggest "attractions" of the season…………….more in "Attractions".
Darrell Dake, after devoting a lifetime to short track auto racing, was being recognized for his efforts tonight…………….more in "Attractions".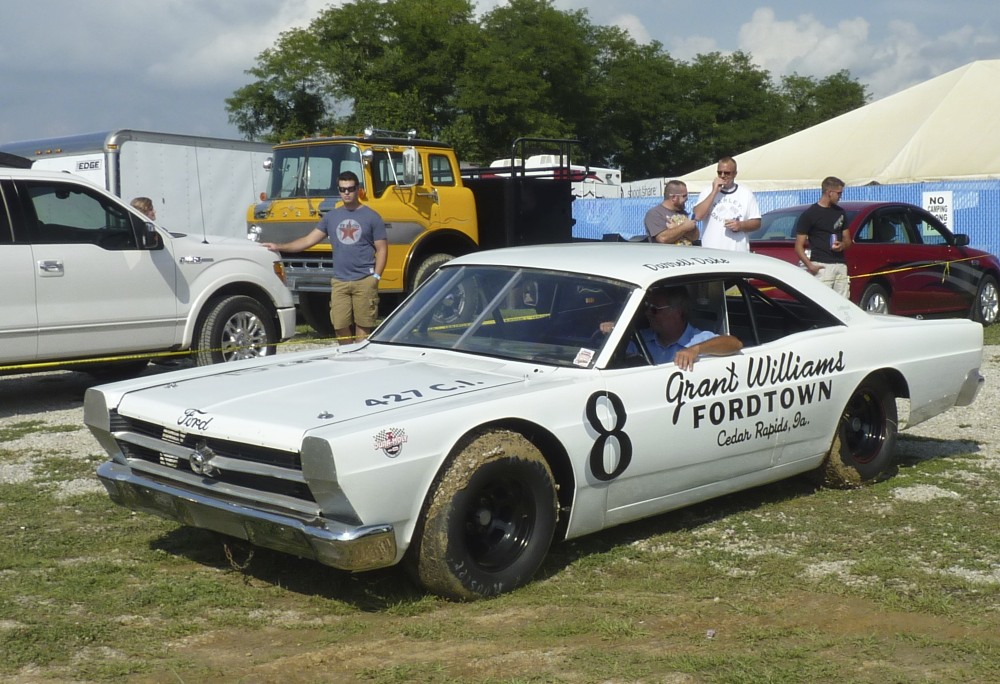 Friends and fans brought photos, model cars and even a replica racer from Darrell's winning days in the 60s for tonight's special event……………more in "Attractions".
There was a race tonight too.  One word to describe the racing?  Disappointing……………..more in "Race Review"
Just biding our time before the big event.
We woke up this morning in Sharonville, Ohio.  We went to bed in the same hotel for a second consecutive night in Sharonville.  This is what today looked like.
We would just relax today so we could save our energy for tonight's big National Dirt Late Model Hall of Fame induction ceremony.  I'm at the beginning of a 27 straight day trackchasing trip.  During that trip, I would end up seeing 26 new tracks.  However, in reality, the entire 27 days was really built around just ONE DAY of racing activity.  What day was that?  Today was a day I have been waiting for for years.  Today my all-time favorite driver, Darrell Dake, was being inducted into the National Dirt Late Model Hall of Fame.
We spent much of the afternoon at the "Newport on the Levee" lifestyle center on Third Street in Newport, Kentucky.  Wow!  What a place.  It was so crowded it took forever to find a place in their 2,000 stall parking garage!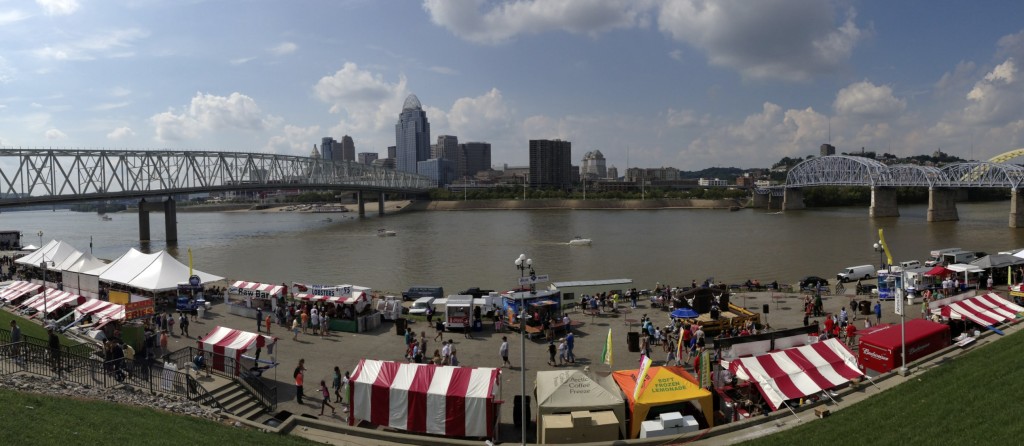 As a self-described "lifestyle center" the Newport on the Levee focuses more on entertainment than being a retail hub.  There are tons of restaurants and a 20 screen AMC movie theatre complex.  The center also overlooks the Ohio River and all of downtown Cincinnati, Ohio.  We caught a movie and stayed out of the oppressive heat.   Then it was off to the Florence Speedway.  We'll be back to this place.
TRACKCHASING TOURIST ATTRACTION
I very much enjoy the racing when I go on trackchasing trips.  However, I am not the type of person who would feel the trip was complete if I simply left home, went to the race and came back home.
I do a good deal of traveling.  I want to do my best to see the local area when I come for a visit.  There are usually unusual attractions that one area is noted for more than any other locale.  I want to see those places.  I want to touch them and feel them.  When I leave an area, I want to have memories of these special places that I call Trackchasing Tourist Attractions.  I will remember those experiences long after the checkered flag has fallen on whatever race I have seen that day.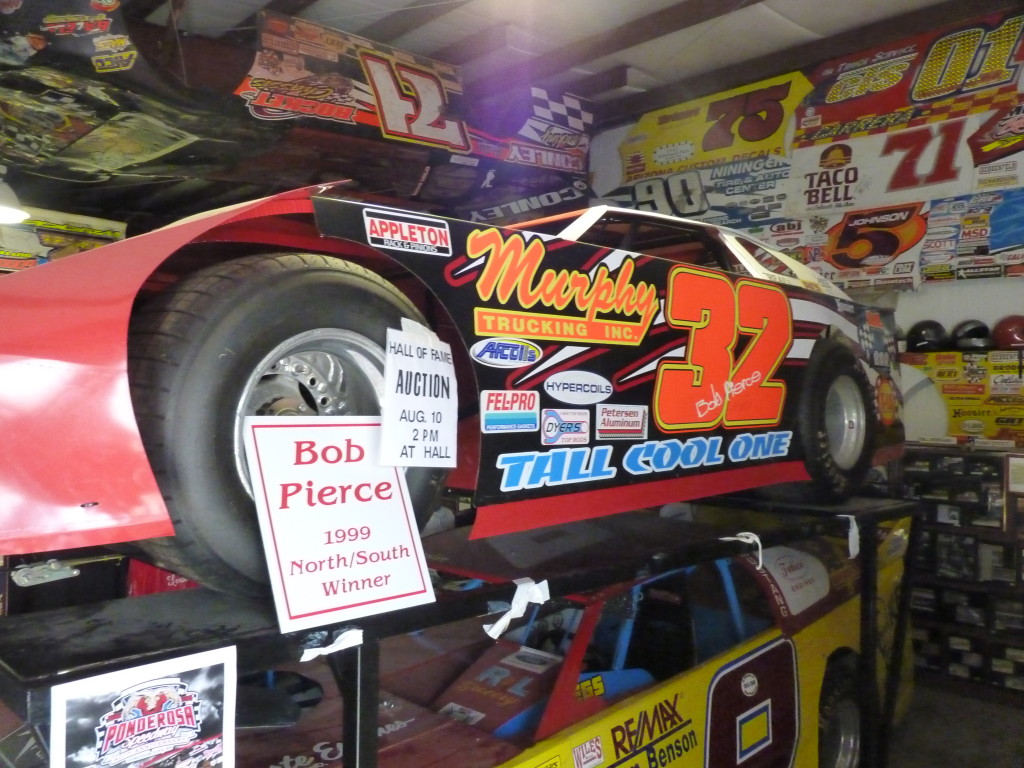 National Dirt Late Model Hall of Fame Induction Ceremony – Union, Kentucky
What could be more special?
I would think there's nothing more special than being recognized by your peers and those who have followed your contributions in whatever field of endeavor you have chosen.  There must be thousands of Halls of Fame honoring just about any activity you can imagine.
A very special place.
Tonight Carol and I were attending the National Dirt Late Model Hall of Fame induction ceremony.  The name tells you a good deal about this hall of fame.  We're talking about the best race car drivers in the United States who have raced late model stock cars on dirt tracks.  Can you imagine all of the men and woman who have taken a turn at the wheel of stock cars like this since the beginning?  It wouldn't be a stretch to say there have been more than a million such drivers.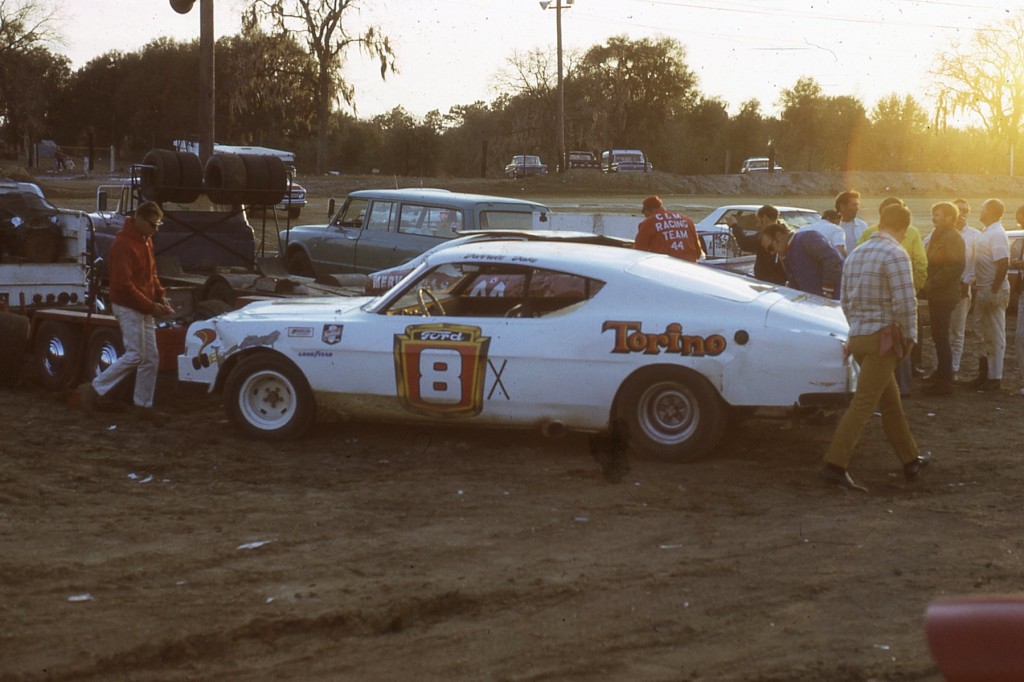 What made this so special, and was the reason we were here, is that Darrell Dake my all-time favorite driver was being inducted into the HoF.  It was about time!  I guess everyone thinks THEIR favorite driver should have been recognized yesterday.
Halls of Fame must have a difficult time funding their efforts.  Most have a permanent building, lots of items on display and a few people who maintain the entire operation.  HoFs are sustained financially from admissions and contributions from the fans of their activity.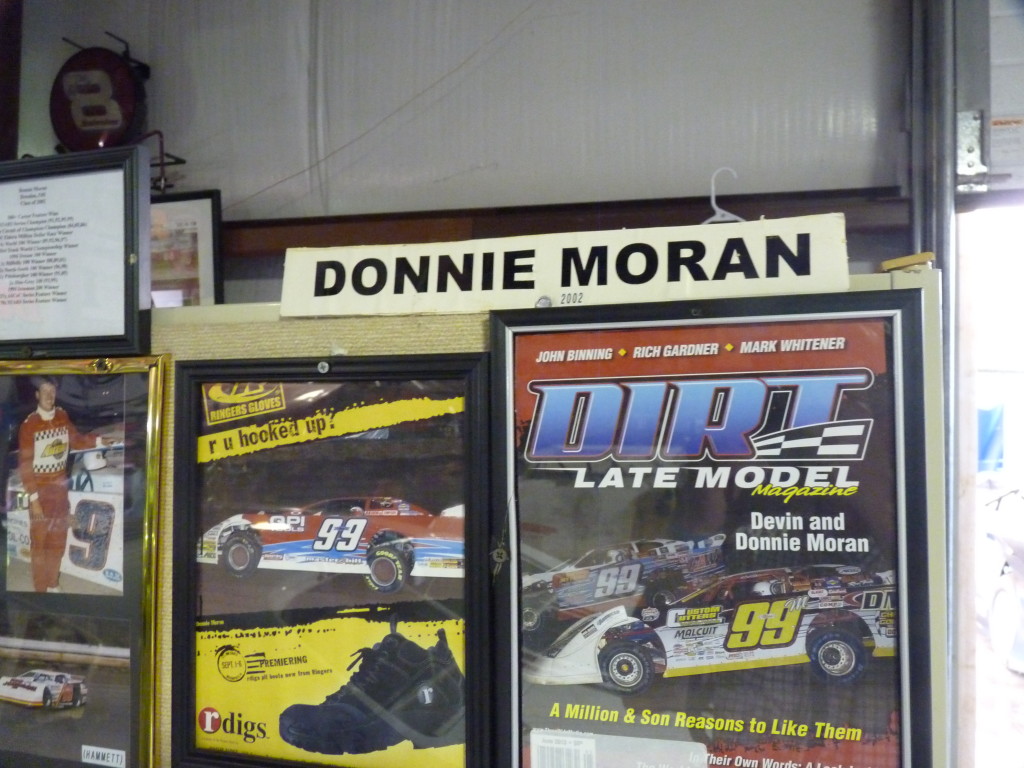 The National Dirt Late Model Hall of Fame building is smallish.  It's located just beyond turn four of the Florence Speedway in Union, Kentucky.  Every driver who has been enshrined has a small section of the building devoted to their accomplishments.  There are photos and lists of major race wins and the like for each driver.  There are also actual late model race cars on display.  I only wish the place was bigger but that would take a major financial contribution from some source.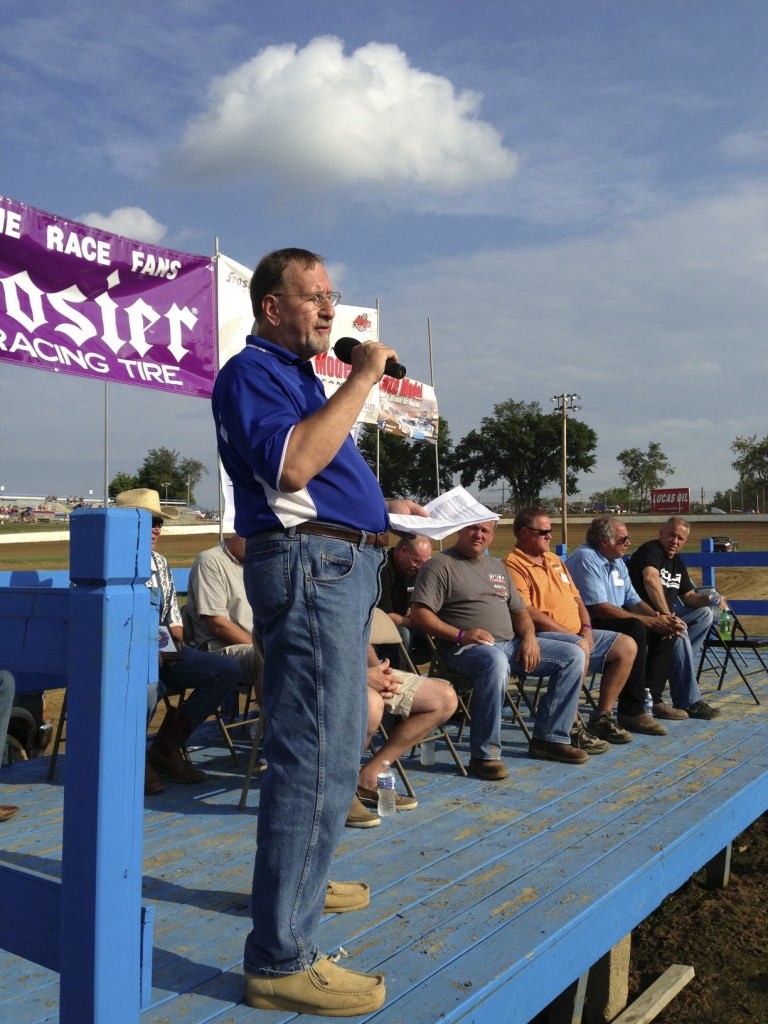 Bob Markos a key player in tonight's induction ceremony.
I have been friends with Bob Markos the Induction Director for the NDLMHoF for several years.  I can't exactly recall how we first came in contact with each other.  If I had to guess I would say I probably contacted him and asked why Darrell Dake wasn't in the HoF before now!
I know that Bob has told me over the years that the "voters" decide who gets into the hall.  That's fine.  I asked Bob who the "voters" were.  Of course, Bob told me, that wouldn't be fair to disclose.  I could see his point but in the movie business, Oscar award voters are lobbied from all sources seeking their support.  I was more than willing to lobby NDLMHoF voters is that was kosher.  Bob said it wasn't.
Nevertheless, I would get messages from time to time from voters who WERE Darrell Dake fans telling me Darrell had come close in the voting and, I believe it might have been last year, had missed making it by a single vote.  I waited.  When Darrell WAS voted in I would come from California to enjoy the occasion.  Carol would as well.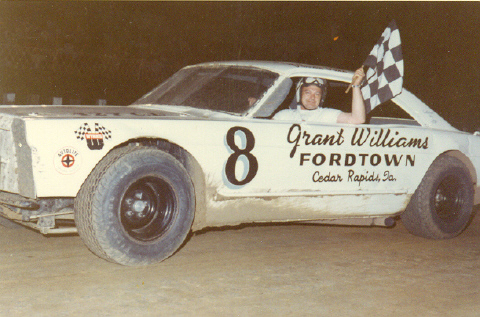 Don't miss my tribute to Darrell Dake.
I know that many of you have visited my website at www.randylewis.org.  Behind the "Tributes" tab I have a major section devoted to the racing career of Darrell Dake.  This link will get you there, https://randylewis.org/darrell-dake/.
I get messages every day from race fans commenting and seeking more information about one aspect of racing or another.  Of all the subjects that could be covered which do you think has generated the most interest?  Questions and comments about Darrell Dake!  It's not even close.




My history with "Double D".
I first started following Darrell Dake's racing career when he raced at the Sterling Speedbowl and Davenport Speedway in Illinois and Iowa respectively.  He was racing a 1962 Ford convertible at the time, which would have been about 1965.  Darrell was winning everything.  I was 16 years old.
To date, I have seen racing at 1,882 different tracks.  Let's say the average track at every location I have visited had 50 drivers.  That means I've seen nearly 100,000 people race.  In any group, there can only be one "#1".  That #1 for me has been Darrell Dake.
I was able to meet Darrell on several occasions, always at a racetrack.  Darrell was soft-spoken and well-respected.  Although I didn't realize it at the time he built all his own stuff and operated on a limited racing budget.  He was also a full-time racer whose primary income came from racing.
Darrell passed away in 2007 just short of his 80th birthday.  That meant that when I first saw him racing he would have been in his late 30s at the peak of his career.  He gave "big-time" racing a shot by racing in the 1960 and 1961 Daytona 500s.  One of his special moments at Daytona was finishing fourth in one of the 125-mile qualifiers.  Who finished fifth?  Lee Petty!  Darrell was also a leader in the original IMCA stock car racing, a circuit that traveled all over the Midwest.  However, he was most successful and made most of his fans racing on the dirt ovals of Iowa and Illinois.
Tonight was the night.
Tonight Darrell was being inducted into the HoF with Kentucky runner Eddie Carrier Sr., Arkansas veteran Bill Frye, Indiana driving star John Gill and Minnesota touring pro Willy Kraft.  The ceremony took place before the main North-South 100 racing program commented on below.  Bob Markos had asked that I be part of the ceremony.  I was thrilled to do that.
I was allowed to speak to the crowd about my "history" following Darrell Dake.  I gave a mostly impromptu talk about the highlights of watching Darrell Dake race stock cars.

A special tribute by one of Darrell's long-time friends.
Later in the program, Darrell's long-time friend Keith Simmons presented Darrell's name for official induction into the HoF.  Keith has been the long-time promoter of several Iowa dirt speedways.
Keith had also been instrumental in constructing a "replica" car of Darrell's 1966 Ford Fairlane.  I saw that car when I visited one of Keith's tracks (Farley Speedway) a few years ago.  Today Keith hauled that car all the way from Iowa to Kentucky for tonight's special event.  The replica car made a wonderful addition to the evening.  Following the ceremony, Keith drove the car slowly around the track for the crowd to admire.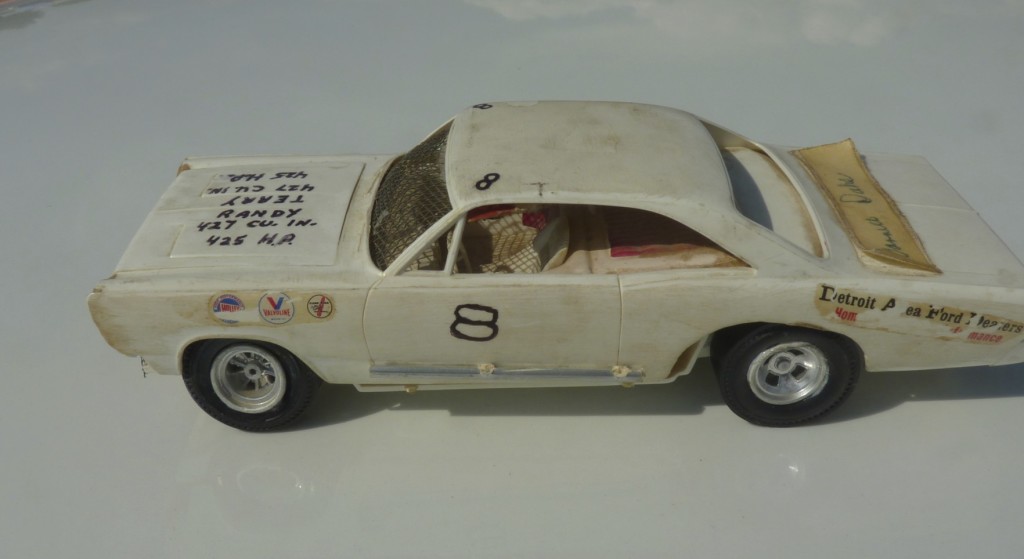 Randy Hasbrook, a huge Darrell Dake fan came a long way for the celebration.
Also on hand was another major Darrell Dake fan in Randy Hasbrook.  I've had so many people tell me they were huge fans of "Double D".  Randy Hasbrook is certainly one of those people.  He brought photographs and model cars of Darrell's racers.  I was excited about tonight and so was he.
I was hoping Darrell's wife, Laverle would make it tonight.  Unfortunately, the length of the trip was more than she wanted to try.  I know that she misses her husband very much and is most proud of his enshrinement into the HoF.
Over the years I've been in contact with Vern Naley one of Darrel's pit crew.  I asked Vern what some of his best memories of being connected to the Darrell Dake racing team were.  He was short and to the point.  "We just liked going all over and winning races".  There's a major key to that statement.  The really good racers don't just go to the track to race.  They go to the track to win!
As mentioned below the actual racing wasn't much tonight.  I didn't come to the Florence Speedway to see the racing.  I came to be part of the induction of Darrell Dake into the National Dirt Late Model Hall of Fame.
Thank you.
I offer major thanks to Bob Markos for everything he did to support this effort.  It was great to meet Randy Hasbrook and hear his stories about Darrell Dake.  Meeting and talking to Keith Simmons was fun.  He had a lot of interesting things to say about the short track race promotion business.  Thanks to Keith for going out of his way to bring Darrell's replica car to the track tonight.  Overall, this was one of the very best (maybe the best?) attractions on my 2013 season.



But wait.  There's more!   
I wanted to tell you a little bit more about the National Dirt Late Model Hall of Fame.  The Hall of Fame was begun in 2000.  For drivers to be considered for induction into the HoF at least some of their driving career must have been achieved in 1965 and later.  Of course, they could have driven prior to that year as well.  Each year some nine inductees are recognized in three different categories.  Those categories are for drivers, contributors and a sportsman award.


Drivers must be retired or have 30 years of driving experience in the sport.  Normally, six drivers are elected to the hall each year.  The contributor category comes from others attached to the sport including promoters, car owners, crew chiefs, media types, etc.  This category provides two inductees.  Lastly, the Sportsman award inducts one current driver.


Did you know that Iowa (where I think the best dirt late model racing comes from) has several of its drivers in the NDLMHoF?  Who are they?


Johnny Johnson – Car Owner – '03
Ed Sanger – Driver – '04
Verlin Eaker – Driver – '07
Gary Webb – Driver – '08
Ernie Derr – Driver – 10
Ronnie Weedon – Driver – '10
Ramo Stott – Driver – '11
Darrell Dake – Driver – '13
Kenny Walton – Driver – '14
The National Dirt Late Model Hall of Fame has an excellent website.  Check it out at:
Remember organizations like this can only make the product they offer, i.e., building space, displays and the like based upon revenue generated.  If you would like to sponsor any of their efforts contact them at:
3811 Berryleaf Court
 Riverside, OH 45424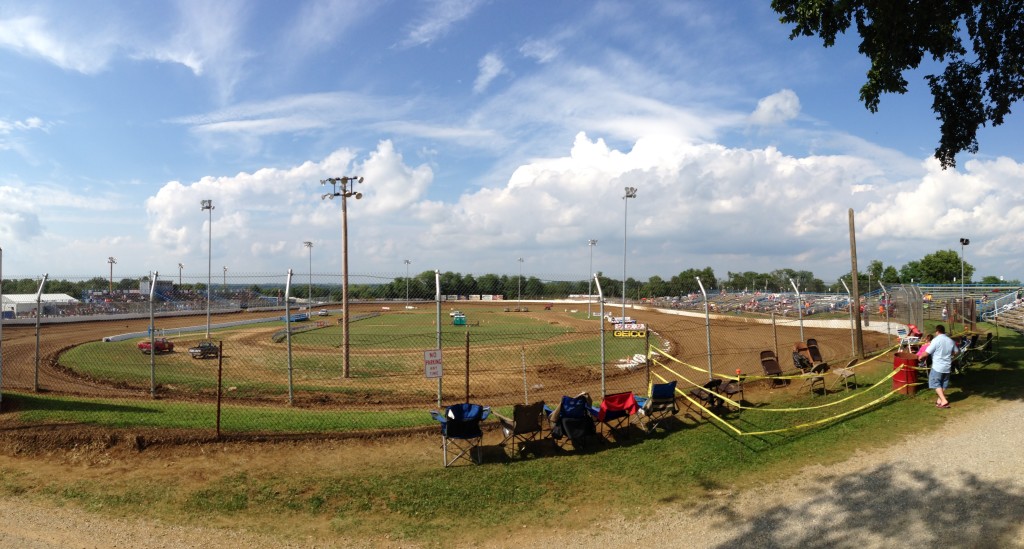 FLORENCE SPEEDWAY – UNION, KENTUCKY
Tonight was one of the biggest shows all year.
Tonight's racing was a special event for late models.  The race was called the "North/South 100".  This is one of the top five or ten late model racing events that will be held all year in the U.S.  It paid $50,000 U.S. to win.
I didn't come to Union, Kentucky for this race, however.  I came here because the Dirt Late Model Hall of Fame has their headquarters here.  Their building is located just off turn four of the speedway.
One word to describe the racing tonight?  Disappointing.
Alas, I must tell you I was majorly disappointed in the racing activity tonight.  Some of my issues with the event were the track's responsibility and some were not.
First of all, it was hot and humid.  It was oppressively hot and humid.  I can't blame the Florence Speedway for that.  However, sitting for hours on a wooden board in temperatures reaching near 90 degrees (all night!) with humidity to match isn't that comfortable.
This was a BIG event.  The place was jam-packed with primarily a male audience.  That is the case for most major short track racing dates.  This type of race is for the SERIOUS dirt late model racing fan.  That's code for "men" in most cases.
Fans had been coming to this event for well over twenty years.  I was a rookie for the North-South race.  That meant that, unlike Eldora Speedway where I am a veteran, I didn't know my way around.  That translated into a parking spot way out in the "back forty" if you know what I mean.  When the race ended we would be lucky to get out of the track property for an hour and maybe longer.  That was assuming we could FIND out car in the huge dark parking lot.
Sorry, I tell it like it is.  I'm not beholding to anyone.
When I visited the track in 2011 it was a dust bowl.  I am not affiliated with any racing group, sanctioning body or media outlet.  I don't have any "special interests" to satisfy.  What does that really mean?  I don't have anybody to suck up too.  If a track was a "dust bowl" I will tell you it was.  I will never go out of my way to criticize any track or person.  However, "if the shoe fits…." I will tell what I saw.  You can decide if that influences you or not.
While I was down in the pit area preparing for my participation in the Hall of Fame induction ceremonies Randy Hasbrook and Carol headed off to find some seats in the grandstand.  Most of the seats were reserved.  Only the lower less desirable seats remained.  This meant we would be sitting in the third row of the very last grandstand going into turn one.
I don't sit in the front row when I go to the movies and I don't sit down low when I go to the races.  Unfortunately, given the circumstances, Randy (Hasbrook) and Carol had no choice.  They had to take what was left.
Pretty much everything I've told you so far is not the fault of the track.  The weather was uncomfortable, we had a terrible parking spot and our seat location to watch the racing was not very good.
The other stuff wasn't the track's responsibility; this stuff was.
Now I'm going to tell you some things about the racing activity that WAS the responsibility of the track.  I've been to the biggest late model and sprint car events over at the Eldora Speedway in Rossburg, Ohio.  Their events are on a par, and even bigger, than tonight's North-South 100.  At Eldora, the starting time is 7 p.m.  If it's not raining cats and dogs (or hasn't) you can go to the bank knowing the first heat will pull out of the pits at 7 p.m. on the dot.  If you're not early you're late.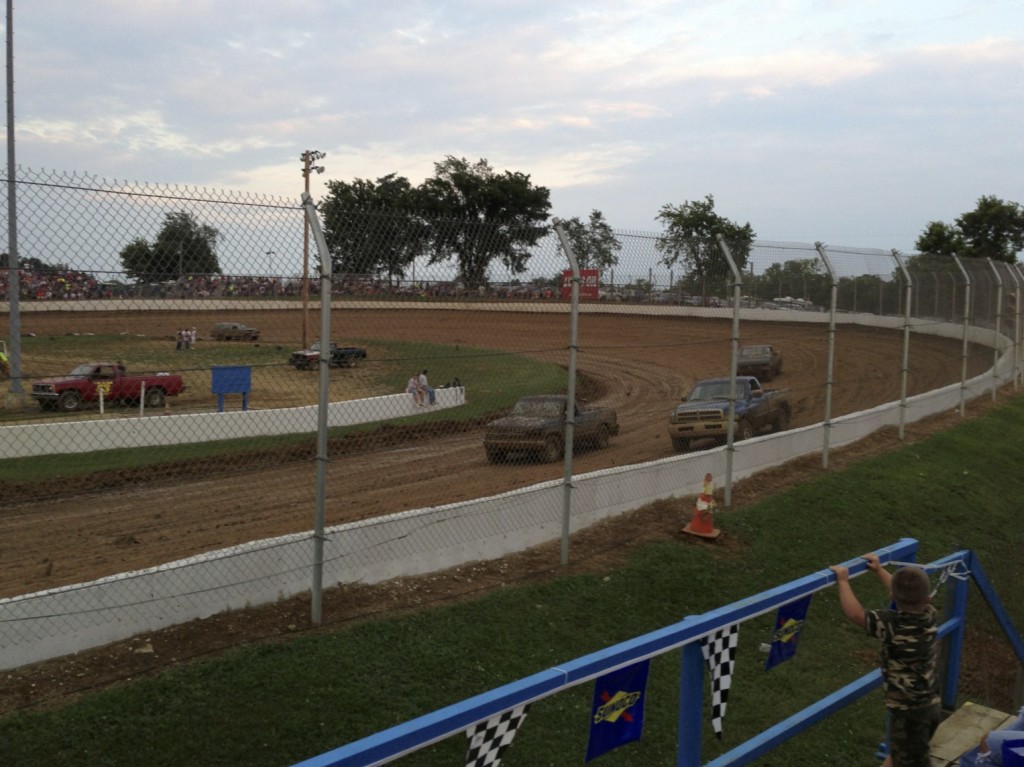 I'm not exactly sure what the official start time was for the race tonight.  I do know one thing.  The first heat took the green flag at 8:55 p.m.  I don't think they planned on starting the first heat that late.  The track prep people had overwatered the dirt track.  This wasn't the first time!  Then they "ran it in" with too few vehicles.  This resulted in it taking forever to get the track race-ready.
To run a good program they should have had the track ready for the first heat to pull onto the track at 7 p.m.  They were nearly two hours behind in my book!
Lots of short tracks could do worse than to follow NASCAR.
I know that lots of short track racing fans are "NASCAR haters".  They are always saying how much better short track racing is than NASCAR.  Folks, I love short track racing, especially on dirt.  I absolutely love it.  However, lots and maybe most short track dirt racing is NOT better than NASCAR Sprint Cup racing nowadays.  Maybe that's why short track racing is getting crowds of just 200-300 people at the MAJORITY of dirt tracks I visit.  A light crowd with NASCAR would be 50,000 fans or so.  NASCAR's TV contract calls for BILLIONS (that's millions with a "B") to be paid to them.  At least if you go to a NASCAR race it will start on time.
One groove is absolutely no fun.
Tonight's track started out as moist and tacky.  That was a good thing.  However, it was a one-groove track.  No passing is no fun.  Watch a NASCAR Sprint Cup race.  There is passing throughout the field.  When a fast car pits for tires and gas they can come back onto the track and pass the entire field in 20 laps.
In tonight's heat racing I'm pretty sure they inverted four cars in each race based upon the time trial results.  The winner of the first heat would get spot #1 in the 100-lap feature.  Heat winner number two got the second spot in the feature and so on for the six late model heats.  Heats featured about 12 cars racing for ten laps.
Just ridiculous with a capital "R".
During the six heats, we watched I saw only one pass for position (not counting when cars spun out on their own or dropped out) in the top three spots.  The top three in each heat transferred to the feature.
The "one-groove" was at the top.  No one could pass any competitive driver running the top groove.  When you start the fast cars in the front and have a one-groove racetrack you have a recipe for "fan disaster".
During the last couple of heats, it began to get a little dustier as the track began to dry out.  It was at this time (a little past 10 p.m.) that I made the executive decision to pack up Carol and our belongings and head for the exits.  I come to the races to be entertained.  Carol had been sitting in the grandstands (patiently I might add) from 5:30 p.m. until past 10 p.m.  Folks, that's four and one-half hours.  What sporting event do you know (basketball, football, baseball, hockey, lacrosse, badminton, squash or tidily-winks) that takes four and one-half hours to complete?  The answer is NONE!!!
However, we had not watched this complete dirt late model event from start to finish in four and one-half hours.  We had seen only six heat races!  Oh my.
You're kidding, right?
What time did this event take the final checkered flag?  According to a text message from Randy Hasbrook, the checkered flag flew at 1:45 a.m.  He also added the winner led flag to flag in the 100-lap feature event.  O.K., short track dirt fans.  Let's answer this question.  When there were no weather delays when was the last time a NASCAR Sprint Cup race went nearly seven hours from the planned start time to the finish AND the winner led every lap.  I love dirt track racing but it can have some significant entertainment challenges when the event comes off like it did tonight.
Let me be clear on one point.  Promoters don't go out of their way to disappoint their fans.  However, there's a lot of truth in the adage "You only get one chance to make a good first impression".  I wasn't listening to the track communications on my scanner.  I'm sure the track officials were trying to run off an entertaining and efficient program.  They just didn't.
In every dark cloud there is a silver lining.
Were there any positives?  Yes!  The concession stand was fantastic.  I bought two Bud Lites, two bottled waters, a PowerAde, two HUGE double cheeseburgers and a large bag of peanuts for just under twenty bucks.  That was the highlight of the night.
As I said earlier, I didn't come for tonight's racing.  I'm glad of that.  I came to watch and participate in the induction of my all-time favorite driver Darrell Dake into the NDLMH0F.  I came to meet friends who were just as happy to be here to celebrate Darrell's career as I was.  The racing could have taken twenty hours to complete (and it just about did!) and it would not have diminished the thrill of being here for the National Dirt Hall of Fame festivities.
STATE COMPARISONS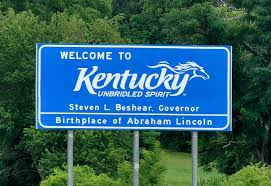 Kentucky
The Blue Grass State
I was visiting the Florence Speedway for my third time tonight.  I first came here back in the 70s when the track was known as the "Northern Kentucky Speedway".  I recorded its location as Unlow, Kentucky then.  However, they say the track is in Union, Kentucky today.  The track hasn't move but maybe some city limits have.
By the way, prior to 1980 I never thought to record the dates for the race events I was attending.  Therefore, my first 71 tracks (previously reported at 72 tracks) that were seen before 1980 are estimated in the order they were seen.  The estimate is pretty accurate but I have no way of knowing the exact order in which these tracks were seen.  Nevertheless, the Florence Speedway is known as my 33rd-lifetime track.  That goes back a long way considering as this is written I have seen 1,882-lifetime tracks.
Thanks for reading about my trackchasing,
Randy Lewis
World's #1 Trackchaser
Peoria Old Timers Racing Club (P.O.R.C.) Hall of Fame Member
Kentucky sayings:  Millions of people, 15 last names
QUICK FACTS


AIRPLANE
Los Angeles, CA (LAX) – Chicago, IL (ORD) – 1,745 miles
Chicago, IL (ORD) – Detroit, MI (DTW) – 234 miles
RENTAL CAR #1
Detroit Metro Airport – trip begins
Belleville, MI
Butler, PA
Urbana, OH
Union, KY
TRACK ADMISSION PRICES:
Wayne County Fairgrounds – $10
Butler Farm Show – $12 (not trackchasing expense)
Champaign County Fairgrounds – $12
Florence Speedway – Complimentary admission
LIFETIME TRACKCHASER COMPARISONS 
The three most important trackchasing comparisons to me are:
Total lifetime tracks seen
Total "trackchasing countries" seen
Lifetime National Geographic Diversity results
Total Lifetime Tracks
There are no trackchasers currently within 350 tracks of my lifetime total.  Don't blame me.
1.  Randy Lewis, San Clemente, California – 1,882
Total Trackchasing Countries
There are no trackchasers currently within 10 countries of my lifetime total.
1.  Randy Lewis, San Clemente, California – 65
Current lifetime National Geographic Diversity results
1.  Randy Lewis, San Clemente, California – 5.10
That's all folks!  Official end of the RLR – Randy Lewis Racing Trackchaser Report