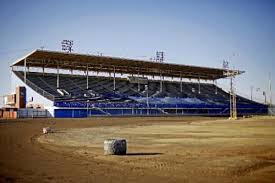 Greetings from Oklahoma City Fair Speedway
From the travels and adventures of the "World's #1 Trackchaser"



Oklahoma City Fair Speedway –  Track #165
First Oklahoma visit – 1987.
I have only been to the Oklahoma City Fair Speedway one time.  That was on a Sunday afternoon March 22, 1987.  I was there for a World of Outlaws sprint car race.  The track was my first new track of 1987.  In fact, I only saw seven tracks for the first time during the entire year.  These were the "family years".  At the time our kids were 9, 11 and 13.  I spent most of my weekends with the family either coaching youth sports teams or watching the games.  Those years seemed to go by quickly.


I did manage to go to 26 races that year.  I was really more of a "racechaser" at the time.  I went to Ascot several times, Phoenix International, Manzanita, The Long Beach Grand Prix, Kokomo, Hawkeye Downs, Santa Fe, Baylands, Santa Maria and North Wilkesboro to name a few.  If you can only go to 26 races in a year and you hit those tracks plus more you've had a good year.  Sometimes when I see results like these I wonder how I ever started trackchasing in lieu of racechasing.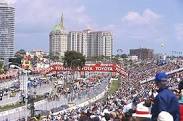 Mentioning the Long Beach Grand Prix brings back a most fond memory.  It wasn't about the racing however.  Carol and I were quests at the track of American Airlines.  I was flying American a lot back then.  We were given the "V.I.P." treatment at the track.  Then American announced they were going to have a contest for their guests.  The individual who could come closest to picking the average winning speed would win a prize.  Folks, we were not talking about a t-shirt or coffee mug for the grand prize.
The grand prize winner would receive round-trip airfare and a week's hotel to…..(drum roll please) Zurich, Switzerland!  I quickly went out and bought a program.  The program listed the previous average speeds of the winner for the past ten years or so.  The range was somewhat narrow in the 87-92 M.P.H. range.  I put Carol's pick at 87 and me at 92 M.P.H.  There were only about ten people in the contest.  All of their picks were written on a board for everyone to see.  Some folks thought the winning speed would be 50 M.P.H. and others 130 M.P.H.  I don't think anyone but us was even in the ballpark.
As you might imagine we won.  Yep!  First, we get an all-day free outing to a beautiful event like the Long Beach Grand Prix.  Then we end up winning a trip for two to Europe!  Of course, I had the gall to ask if we might be able to upgrade to first class.  You never know unless you ask.  We couldn't but we had a fantastic time anyway.
Oops.  Back to Oklahoma City.  I was seeing a lot of World of Outlaws sprint car races back in the 80s.  Of the 26 races I saw in 1987 (not all of them WOO Sprints) Steve Kinser won seven of them.  On this day in Oklahoma City Bobby Davis Jr. would win in the #6 sprinter.  I also saw Davis win at Santa Fe and Santa Maria that year as well.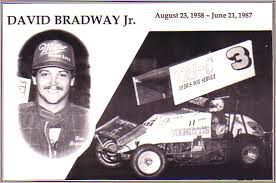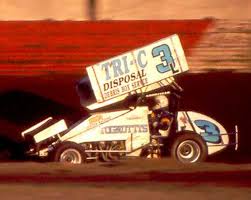 I don't have a lot of remembrances from that Sunday afternoon race.  However, I do remember moving around on the track during introductions.  That kept me close to the drivers and pit crews.  I remember seeing Dave Bradway Jr. a driver from California.  I had seen Dave win a feature event toward the end of the 1985 season at Ascot Park.  Dave was trying to make a name for himself on the national scene in sprint cars.  A month after Oklahoma City he won a World of Outlaws Mini Golf Cup feature event in Chico, California.  Sadly, in June, 1987 Dave died in a sprint car crash at the Skagit Speedway in Washington.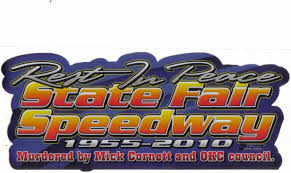 The speedway seemed to have an inner oval as well as their larger oval track that I ended up seeing.  In 2010 the track was closed after being around for some 55 years.  One blogger wrote these less than complimentary words about the situation:


"The state fairgrounds has likely seen its last motor race because $400,000 in electrical repairs must immediately be made before racing could be safely conducted next season, Oklahoma City Mayor Mick Cornett said Monday night…


State Fair Speedway completed its 55th season of racing last summer. The decision was made long ago that it would remain open as long as racing could be safely conducted, but no more capital dollars would be invested in it, Cornett said.


"The track has served us well for 50 years, but it's not the best place for racing the next 50 years," Cornett said.


"The decision has long been made we were not going to invest more capital dollars in the track because of the wishes of the neighborhoods around it."


Track promoter Lanny Edwards is not being offered a renewal on his lease. Edwards thinks the electrical issues are a smokescreen.


"They have dreamed all of this up in my opinion," Edwards said. "They've been trying to get rid of that grandstand for quite some time. I think it's a bad deal that they are doing the racing community this way."


Edwards contends State Fair Board officials and city leaders simply want to abolish State Fair Speedway and replace it with something more profitable.


If you have a mullet, seven teeth and a KATT sticker on your Camaro, I guess this is pretty sad news.  Otherwise, who really cares?


I think I went to the races at the fairgrounds once.  It was about as exciting as watching NewsNow 53 reruns all day.  The only difference is that when you finish watching NewsNow 53, you don't smell like dirt, cigarettes and Busch Light.


That being said, I will miss the sounds of the races.  I live a good four miles from the Fairgrounds, and on Saturday nights, I could still hear the cars racing from the backyard patio.  I'll miss those oddly peaceful sounds.  I'll also miss telling European fashion models that the sounds were from one of Steve Lackmeyer's rambunctious motorcycle gangs, and that they should all just drink more and spend the night in the safety and comfort of my peaceful home.


Let me tell you, Steve Lackmeyer and motorcycle gangs sure do scare people."



You might have remembrances about the Oklahoma City Fair Speedway.  If so, please feel free to share in the comments section below.  If you have any photos from back in the day, send them to me at Ranlay@yahoo.com.  I'll try to include them here.