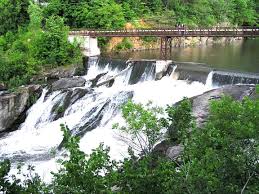 Greetings from Redwood Falls, Minnesota
From the travels and adventures of the 
"World's #1 Trackchaser"
The Event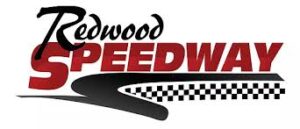 Redwood Speedway
Dirt inner oval
 Lifetime track #656
.
.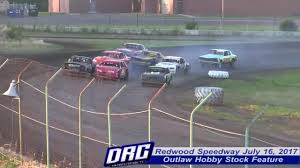 Redwood Speedway
Dirt outer oval
 Lifetime track #657
Reprinted with permission from my Sunday, July 20, 2003, Trackchaser Report. 
THE CLASSIC TRACKCHASER REPORT


Editor's note: This is a CLASSIC Trackchaser Report. What the heck does "Classic" mean? It's simply a Trackchaser Report that comes from my trackchasing archives. Typically these will be stories from tracks I visited five years or ten years or more ago.
For whatever reason (usually not enough time) this trackchasing adventure didn't get posted to my website when I first made the track visit. Often a classic TR will not have a video and/or photo album attached. I didn't begin producing my YouTube videos until 2009 (YouTube channel: RANLAY). I didn't begin writing a complete Trackchaser Report until I had seen about 425 tracks. This was during the 2000 trackchasing season. Photo albums were sort of hit or miss during the early years of my trackchasing. Additionally, if you see a website link know that link worked when the TR was originally written. Will it work now? Your guess is as good as mine! Nevertheless, this CLASSIC Trackchaser Report has finally bubbled to the surface and is now available for everyone to see at www.randylewis.org. I hope you enjoy it.
I AM A TRACKCHASER.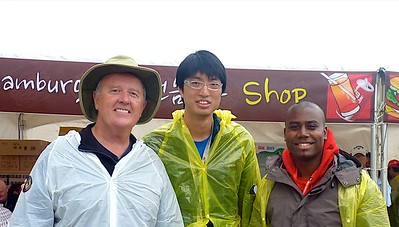 My name is Randy Lewis (above with a couple of my buddies at the World F1 race in South Korea). I hail from the sleepy little village by the sea, San Clemente, California. I am a "trackchaser". I trackchase. Have you ever in your life heard of "trackchasing"? I didn't think so. 
I live in southern California. That's probably the most inconvenient location in the country for seeing tracks in the U.S. Most of the racetracks in the U.S. are located well over 1,000 miles from where I live. My average trip covers 5,000 miles and more. I take 35-40 of those trips each season. In any given year I will travel well over 200,000 miles, rent more than 50 cars, and stay in more than 150 hotel rooms. 
I get the chance to meet people from all over the world. With trackchasing trips to 85 countries and counting just getting the chance to experience so many unique cultures, spend time in the homes of my friends and meet so many people is a huge reward for being in this hobby. I am indebted to several of these folks for their help and friendship.
Once you begin researching my trip itineraries from my website, yes you will want to do that, you will be surprised. One day I'll be in Tucson, the next in maybe Tuscaloosa and the following day in Syracuse. I do that kind of thing all the time. Figuring out the logistics of a trip like that is as much fun for me as watching a figure 8 race.
Now you know a little bit about my trackchasing addiction. When you receive one of my Trackchaser Reports or find one on my website at www.randylewis.org I hope you will take the time to imagine in your mind what it took to make this trip from SoCal and understand the fun I had doing it.
There you have it. That's trackchasing…the way I do it. Do others trackchase? Absolutely. Do they share their experiences? Sorry. They don't. If you want to see the true "essence" of trackchasing you've come to the right place.
Today's adventure was one more of the 2,000 trips that have taken me up, down and around the proverbial long and dusty trackchasing trail.  If you would like to see where I've been and experience those adventures here's the link: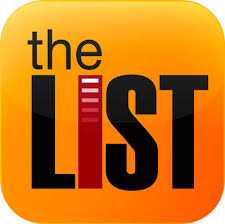 If you've got a question, comment or whatever please leave it at the bottom of this report.  It's very easy to do.  Or you can visit me on Facebook.  Thanks!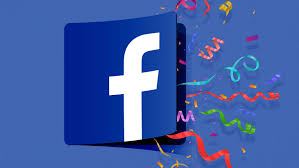 FOREWORD
Sunday, July 20, 2003.
Greetings from Redwood Falls, Minnesota,
PEOPLE/TRAVEL NEWS
Today is the tenth and final day of my trip.  For the first time in the trip the weather began to be a factor.  I stayed closed to the weather.com site.  I had about 10 Sunday night choices under consideration based upon the area weather forecasts.  I could go in just about any direction but had to bear in mind the need to get back to the Minneapolis airport for an early Monday afternoon flight.
The closest choice was the figure 8 race in Hampton, Iowa.  The night before at Nordic, Andy Sivi said that was his number one choice.  I wanted to wait until the last minute to make my decision.  I requested and received a late checkout (12 noon) at the Super 8 in Cresco.  This later checkout also allowed me to see the final day of play at the British Open.  I'm sad to report that my favorite, Tiger Woods, did not win.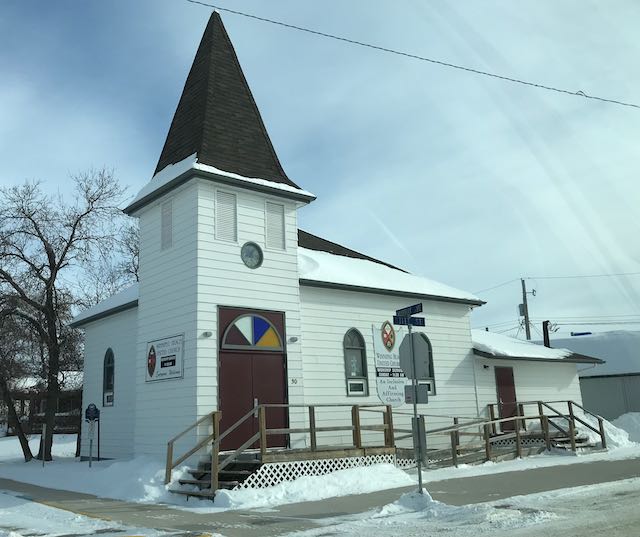 It also allowed me to hear the story on how the hotel checkout woman convinced her husband and children to go to church even though she had to work Sundays.  Yes, it's not hard to get an Iowan to tell you their life story, which of course I find interesting.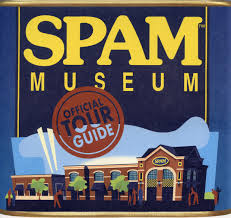 When I left the hotel it was raining.  I drove up toward Austin, Minnesota (also past the Spam Museum but didn't take the time to stop) before I had to make the final decision.  I made a phone to Carol at home and she helped give me the latest weather.com forecast.  She said the Waterloo, Iowa area was surrounded by "greenie beanies".  That's her way of saying the area was receiving significant precipitation.  Yes, after 31 years I've learned to translate her words into meaningful English.  This rainfall was also very near where the figure 8 Hampton, Iowa races were.  Andy, I hope you were successful somewhere on Sunday.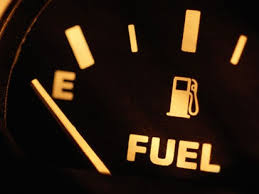 Speaking of Andy, he and I were comparing our gasoline fill-up strategies.  Being a conservative CPA, Andy says as soon as his tank gets below one-half he starts looking to fill-up.  On the other hand I don't even CONSIDER gas until the little orange gas pump light goes on.  For the next 20 miles following the light's appearance, I will consider gasoline replenishment.  At about 30 miles past the light going on my plan is tinged, only on the outer edges, with minor concern.  At 40 miles past I've reached major mental panic and this is not a good time for Carol to ask any dumb questions.  At 50 miles past the light I'm beside myself with panic and Carol should not ask ANY questions.  Fortunately, for everyone involved we've never reached the 50 mile stage.  After I get the gas I forget all about the panic that had set in.  At that point I'm pleased as punch that I've minimized my overall number of stops for gas.
This San Clemente based forecast convinced me to stay with my original plan of Redwood Falls, Minnesota.  The backup would be Watertown, South Dakota which is about two hours beyond Redwood Falls.  I chose a mid-afternoon Chinese buffet for a late lunch. Why is it in virtually every case a Chinese buffet restaurant is not nearly as good as a Chinese restaurant that does not offer a buffet? Have you experienced this?  
I took the exit for Redwood Falls.  I got about a mile down the road and made a u-turn for Watertown, South Dakota.  I thought it might be best to save Redwood Falls for a future trip to the Minneapolis area.  After the first u-turn I drove a half mile and made ANOTHER u-turn which put me back on course for Redwood Falls. I was having a hard time deciding which direction to head. I really hate getting rained out.  The overall driving distance would 3-4 hours less with my trackchasing in Redwood compared to going to South Dakota.  I would be rewarded for my decision.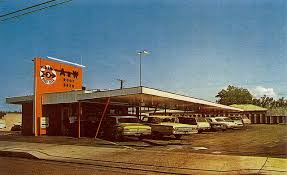 The drive through rural Minnesota brought me upon an A&W Root Beer stand (commonly called a restaurant today!).  They offered curb service.  Do you remember the term "curbies"?  Where I grew up Steak n' Shake offered curb service with curbies who would run out to your car to take your order.  The Steak n' Shake was called the beefer (it's a hamburger restaurant).  We would be "Cruisin' the beefer".  Yes, it all happened, but it was a LONG time ago.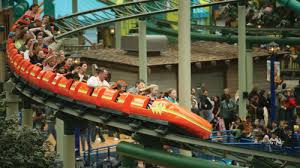 Editor's note:  I flew home from Minneapolis on Monday afternoon.  Before I went to the airport I made a visit to the Mall of America (MOA).  It's only two miles from the airport.  This was my second trip to this huge mall and it's a tourist attraction all in itself.  They have an amusement park inside the mall and a couple hundred retail stores.  It looks very unusual to see people riding roller coasters inside a shopping mall at 10 a.m. on a Monday morning.
When the MOA first opened Carol and I flew out with another couple, the Hammer and his lady, to experience the "shopping phenomenon".  We went with our "rich friends".  The wife of the other couple felt a little chilly once we were in the mall.  Rather than go back to the car for her jacket she bought a $500 leather coat to keep her warm.  During the same shopping trip our male friend bought a $1,350 one-foot high iron wire sculpture of a rocking horse because his partner was into "that cowboy stuff".  All the while I was spending about 30 minutes having my credit card rejected for a $29 purchase.  Money's a lot like playing golf.  There's always someone you can beat and there's always someone who can beat you! 
This 13 track visit in 10 days went 100% according to plan.  The weather was spectacular, the racing was well above average and Carol's company for seven days made the trip a lot more fun.  Rarely, does a trip go this well (how about never!).  If this plane doesn't crash it will be the perfect trip.
Rental car mileage when I entered these states/provinces during the trip:
Minneapolis, Minnesota Airport pickup – 0
North Dakota – 262
Saskatchewan, Canada – 762
North Dakota – 821
Montana – 909 (just to dip our toe in the Big Sky state)
North Dakota – 929
Minnesota – 1,554
Iowa – 1,983
Minnesota – 2,344
Minneapolis, Minnesota Airport return – 2,709
RACING NEWS:
When I entered the Redwood Speedway, after paying my $7 admission fee, I was in shock and awe to see they had two perfectly prepared dirt ovals.  The outer oval was one-half mile in length.  The inner oval shared a front stretch with the outer oval and was about one-fifth of a mile.  Did any of the trackchasers know that Redwood Speedway had two countable tracks?
Actually the racing on the inner oval straightaway took place on what some might call the "apron" of the larger oval.  I would be getting a "double" tonight.  This made for 13 countable tracks in just 10 days. 
With the help of my son who has a degree in mathematics at UCLA I determined the odds of having no rainouts at twelve different venues.  If the probability of a track being rained out in July is 20% then the odds of having no rainouts at 12 locations is just 6.9% (that's 80% to the 12thpower).  This weather achievement was not made by just going to track's where the weather forecast looked good.  I went to the 12 venues I had scheduled weeks in advance with no deviation.
The Redwood inner oval was my 656th track and the outer oval was my 657th lifetime track.  At intermission I seriously entertained the thought of driving out to Watertown, South Dakota to try to catch one of their features which would have given me back-to-back triples.  Unfortunately, (probably fortunately) my Rand McNally software indicated it would take two and one-half hours to get there. 
I'm been giving some serious thought to renting a helicopter next year to increase my doubles and triples.  If Ed Esser does not get a job by then I will rent the chopper.  It's all up to you, Ed.  If you want to see me spend my entire 30 year retirement fund in just three years trying to keep up your torrid trackchasing pace I will.
RENTAL CAR UPDATE:  
The National Rental Car Racing Toyota Camry was an excellent choice.
That's all the news that's fit to print from San Clemente where the women are strong, the men are good-looking, all of the children are above average, I'm retired and everyday seems like Saturday except the day the fat paper arrives, that must be Sunday.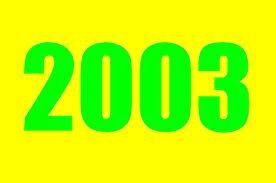 New racetracks visited in 2003
Penton Raceway, Lafayette, Alabama, April 4
Heart O' Dixie (oval), Sayre, Alabama, April 5
Heart O' Dixie (figure 8), Sayre, Alabama, April 5
Virginia International Raceway, Alton, Virginia, April 27
Bowman Gray Stadium, Winston Salem, North Carolina, April 27
Oak Level Speedway, Oak Level, Virginia, April 28
Elko Speedway (3/8 mile oval), Elko, Minnesota, May 23
Elko Speedway (1/4 mile oval), Elko, Minnesota, May 23
Elko Speedway (figure 8), Elko, Minnesota, May 23
Deer Creek Speedway, Spring Valley, Minnesota, May 24
Dodge County Speedway, Kasson, Minnesota, May 25
Trollhaugen Ski Area, Dresser, Wisconsin, May 26
Eagle Valley Speedway, Jim Falls, Wisconsin, May 26
Path Valley Speedway, Spring Run, Pennsylvania, June 6
Gambler's Raceway Park, Clearfield, Pennsylvania, June 8
Speedway 95, Hermon, Maine, June 11
Beech Ridge Motor Speedway, Scarborough, Maine, June 12
Wiscasset Raceway, Wiscasset, Maine, June 13
Riverhead Raceway (oval), Riverhead, Long Island, New York, June 14
Riverhead Raceway (figure 8), Riverhead, Long Island, New York, June 14
Muddy Acres Raceway, Enfield, New York, June 15
New Egypt Speedway, New Egypt, New Jersey, June 17
Fergus Falls Raceway, Fergus Falls, Minnesota, July 11
Jamestown Speedway, Jamestown, North Dakota, July 12
Nodak Speedway, Minot, North Dakota, July 13
Estevan Motor Speedway, Estevan, Saskatchewan, Canada, July 14
Williston-Basin Speedway, Williston, North Dakota, July 15
Southwest Speedway, Dickinson, North Dakota, July 16
Dakota Speedway, Bismarck, North Dakota, July 17
Cresco Speedway, Cresco, Iowa, July 18
Jones County Fairgrounds, Monticello, Iowa, July 19
Echo Valley Speedway, West Union, Iowa, July 19
Nordic Speedway, Decorah, Iowa, July 19
Redwood Speedway (1/5 mile oval) Redwood Falls, Minnesota, July 20
Redwood Speedway (1/2 mile oval) Redwood Falls, Minnesota, July 20
Planned new racetracks for 2003
| | | | | |
| --- | --- | --- | --- | --- |
| FRI | 1-Aug | Figure 8s | Chowchilla Speedway – F8 | Chowchilla, CA |
| SAT | 2-Aug | Figure 8s | Willow Springs Spdwy – F8 | Rosamond, CA |
| FRI | 15-Aug | Regular program | Hawthorne Centennial Speedway | Hawthorne, NV |
| SAT | 16-Aug | Outlaw Karts | Thunderbowl Speedway | Carson City, NV |
| SAT | 16-Aug | Figure 8s | Champion Speedway | Carson City, NV |
| FRI | 22-Aug | Regular program | Winnemucca Regional Raceway | Winnemucca, NV |
| SAT | 23-Aug | Regular program | Battle Mountain Speedway | Battle Mountain, NV |
| FRI | 29-Aug | Figure 8s | Antelope County Frgrds | Lancaster, CA |
| FRI | 7-Nov | SCRA Sprints | Perris Auto Speedway** | Perris, CA |
| SAT | 8-Nov | Special | Irwindale Speedway** | Irwindale, CA |

 
 
 
 
You might have remembrances about this track.  If so, please feel free to share your memories in the comments section below.  If you have any photos from back in the day, send them to me at Ranlay@yahoo.com.  I'll try to include them here.
Thanks for reading about my trackchasing,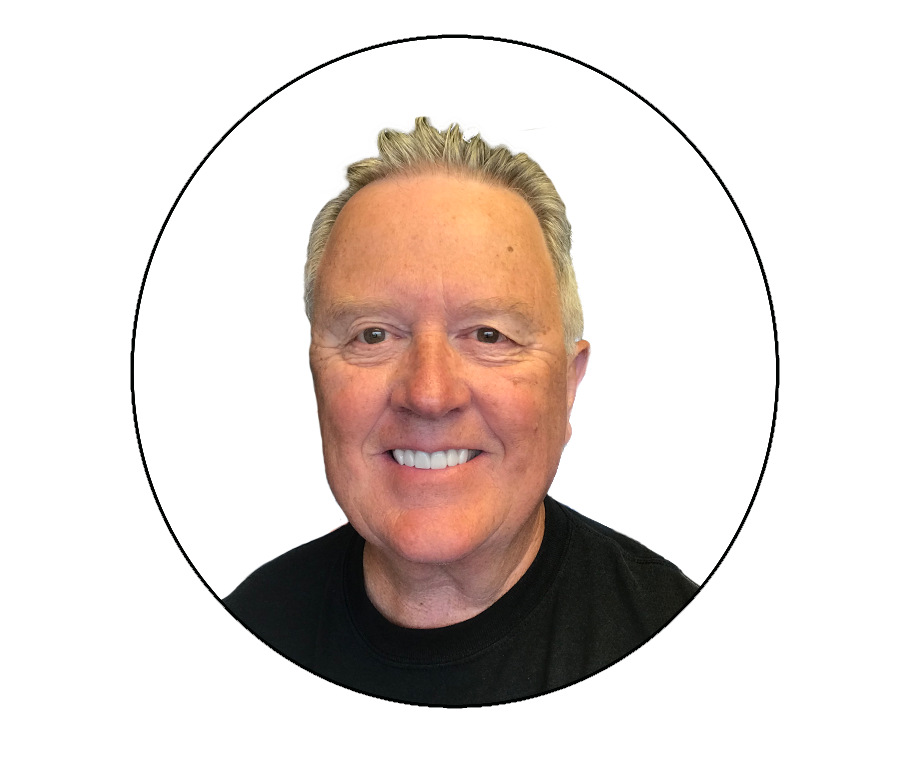 Randy Lewis
World's #1 Trackchaser
Peoria Old Timers Racing Club (P.O.R.C.) Hall of Fame Member
That's all folks!  Official end of the RLR – Randy Lewis Racing Trackchaser Report