Greetings from Columbus, Ohio
From the travels and adventures of the "World's #1 Trackchaser"
Track #1,826
HighlightsSpecial ReportThe PlanThe TripThe ExperienceAttractionsRace ReviewVideosPhotosQuick Facts
THE KEYS TO THE TRIP
When was the last time you drove 606 miles overnight?…………….more in "The Plan".
I most enjoy the problem-solving aspect of trackchasing………………more in "The Plan".
There are always people out there willing to help…………..details in "The Highlights".
RLR – RANDY LEWIS RACING SPECIAL REPORT
My special reports are meant to be "critical thinking" pieces on the state of trackchasing.  Sometimes they are just "news" items.  At other times they are just plain fun.  The topics won't always directly relate to trackchasing.
April Fool's! 
I had a lot of fun writing and sending my April Fool's note to my complete Trackchaser Report distribution list as well as to the Procter & Gamble conference.  In total, my message went out to over 3,000 people.
I was surprised at how many people took the time to respond to my note.  I was also appreciative of all the friends and even people I had never met who expressed concern about Carol's and my "plight".  In my message I had asked if people were "fooled".  Below I've included some of the most interesting responses.
The readers respond.
That was the only April Fools e-mail I got all day and you got me good I didn't suspect a thing!  good job!!!!
Very cool…..
You got me hook, line and sinker.
BUT…….if you are sent to Folsom prison sometime in the future, I would visit you at least once a year.  My brother lives in Sacramento, which would make it easy.
Yes. I was going to send some money to help. But not now.
Nope!  Long ago I learned to read the last paragraph of any message sent on or just before 4/1.
Once bitten, twice shy. You got me with the air marshal so I recognized this as BS from the start. I will not be believing anything from you around April 1.
I hope you get to hear Johnny Cash play the Folsom Prison Blues in person.  I hear they also have conjugal visits for those lonely moments.  In between the moments don't drop the soap in the group shower.  Good Luck.
Randy – You are a riot!!!  I read a couple paragraphs then said WHAT!!!!  THIS HAS TO BE A JOKE!!!!  I looked at the date on your email and laughed out loud!  Glad you are only "sentenced" to live at the Beach!!!
I hope the IRS doesn't see this message and think that maybe you weren't making a joke and decide to audit you for the last 50 years. :-)
You SOB!
HEY thanks for the shocking jolt!  You are the second one to get me today!
Did not believe a word of it as I know the financial mind involved.  And the rich just get richer.
I am so very sorry and will keep you and your wife in my prayers.
Well Done Mr. Lewis!……..Always a pleasure to hear from you  :)
Good one, Randy.  And I was feeling so sorry for you….
Outside of this obvious issue with the IRS, we hope everything else is going well for you and Carol.  Of course, following your raceploints by email has pretty much confirmed you're leading a great life.
i told the local children i've hidden their easter eggs after 2 hours of not finding them i shouted april fools
Yep, You Got Me  !!! 
You got me big time! I was converting dollars to Swedish krona and was horrified at the amount of money you owed the IRS. And thinking of poor Carol…Your email was the first thing I read this morning and I was not awake enough to forget the date. I will remember this for a long time :-)
Thanks for a very good laugh.
You…you…rascal, you! I should never answer the phone or open an email on this day of the year. I'm going home now and lock the frickin' door. (Yes, you got me!)
Not funny,  Randy.  I was brought to tears.   Didn't even think of the date.
This is not a good April fools joke!  Anything we can do to help let me know. I live 30 min. from Folsom and be glad to visit.  Daughter-In-Law works in the Dentist office there.
Ha…. I just read the bottom of your email. Guess you're happy you got at least one person. I might add that I'm really gullible.
LaNell J  So happy this wasn't true!!!!!! Woohoo
Wow! What a story.
Yes and I'm glad you did, I was really upset over the news and wondered how a really smart guy like you would do such a thing.
If that was the first thing I read today, you would have gotten me good, but I have already been gotten today, so For the rest of the day, I mistrust everything, even myself.
Well done, I read it out loud to my wife, but, as S. Baldwin said, there is lots of truth in Jest.
Yes, indeed.  Though I initially wondered why one would post such a confession, the content was so well written that I got sucked into it.
Well done.
Good one Randy – you had me going.
Hi Randy, you almost gave me a heart attack. I felt so bad for you and Carol. Glad it's not true. Hope you are doing  well.
Yes you did but I'm so glad it is a joke!!!!!  But don't do it again!!!!!
Now THAT was funny!!!
You're leaving the air marshal program was still fresh in my mind so not easily had this time but still pretty good.
Thank goodness it's April Fools.  My prayer before I saw the PS was answered by your PS.
Nope.
April 1 strikes again. Folsom Prison was the clue.
No, I figured it was one of the frequent hacked account/spam messages that we have seen lately  :)  Good one though!
No, I knew you were much too smart to do it.  However, I also assume that if you were going to "miss guide" the IRS you would be smart enough to make it work.  Enjoy your "track chasing".  Every kid should have a hobby.
Good one.  Plus I learned a new term, trackchasing.  Hope Carol appreciates your sense of humor…
I read the first two paragraphs and stopped.  April fools day to you too.  By the way I won the powerball jackpot this past weekend.
You had me "hooked" for about 2/3 of the message and I guessed it for sure when you said you were going to Folsom.
Nicely done Randy…..
You got me…….I was trying to figure out why you would share such personal business in pngeezers!
I was also thinking about my charitable deductions!  Shame on you!
Almost.
i fell for it hook, line & sinker!!  SO happy it was a joke!!  well played Randy, well played!
I hate to admit it, Randy, but yes, you just about had me.  I blame the fact that I read your email before I had had my first cup of coffee, so my brain wasn't hitting on all cylinders yet.
You got me but I must say it just wasn't adding up!!!
That was mean.  Glad to hear you're a free man. Although, I couldn't help but think to myself the reality that more and more good hard working Americans face the reality of your story every day. Some valid, some not. Without getting too heavily involved in a political discussion.  You got me.
I got almost to the end before I realized it was an April Fool's joke!  What about those TrackChaser fans from foreign countries that have never heard of April Fool's Day?  They are still trying to understand what this is all about.
And here I was ready to send you a contribution!  You are GOOD!
I simply needed to drive 606 miles overnight. 
Some of my plans look easier to accomplish when I'm sitting in front of my computer at my home in sunny San Clemente, California.  In point of fact, THIS trip looked a bit easier to accomplish than it actually was.
Today, and last night I would be moving from Rapid City, South Dakota to Columbus, Ohio.  There were no direct flights between these two cities.  There were no connecting flights that would get me to Columbus, Ohio by Saturday's start time at 2 p.m. either.
The driving distance would have been 1,259 miles.  Google Maps told me that would be 19 hours of driving.  From the time the Rapid City event ended until the time the Columbus racing was to begin was just 15 hours.  I would also lose two hours to time zone changes (Rapid City-Mountain time, Columbus-Eastern time) leaving me just 13 hours to move from South Dakota to Ohio.  How could I make this work?
I enjoy the 'problem-solving' aspect of trackchasing.
My trackchasing challenge is to solve problems like this.  When you think about it the trackchasing problem-solving process is nearly identical to the workplace problem-solving process.  It's just that people who "work" really do it for money, not the joy of problem-solving.  I trackchase for fun.  I don't get paid.  I enjoy the problem-solving process involved in trackchasing a good deal.  See the difference?  I'm not going to say that I don't work because I don't need the money.  Can you imagine what the "Dreaded East Coast Trackchasers" would say if I admitted I don't work because I don't need the money?
I found the solution for today's logistical dilemma.  I would drive part of the way.  I would fly the rest of the way.  A drawback to this plan was that I wouldn't have any time for any real sleep from Friday to Saturday.  I didn't care for that aspect of the trip but it was what needed to be done to make this trip a reality.
Don't try this at home. 
I woke up this morning in a Minnesota highway rest stop.  I didn't get any real sleep but just a short series of quick naps.  I went to bed in Buffalo, New York.  This is what today looked like.
The driving distance was 606 miles from Rapid City, South Dakota to the Minneapolis-St. Paul International Airport.  Google Maps said the driving time would be about 8 hours and 45 minutes.  After completing that drive they were pretty much right on the money.
Butch Knouse accompanied me from Rapid City to as far as Mitchell, South Dakota.  That's where he got off and headed for home.  He reached his front door at 3 a.m.  At 3 a.m. I was still happily driving across Interstate 90 at 80 M.P.H.  Yes, I don't disagree.  This can be a crazy hobby.
My Minneapolis to Columbus flight would be leaving at 10:30 a.m.  I had to return my rental car and clear airport security by 9:30 a.m.  I lost an hour due to time zone changes from Rapid City to Minneapolis.  All of this gave me enough time for about two 12-minute power naps and one leisurely 30-minute snooze.  Each time I was awakened by my iPhone "old car horn" alarm that told me it was time to get back to my driving.
Don't try this at home either.
Folks, I do not recommend this for other people.  In fact, lots of other people don't recommend this for me.  Nevertheless, my iPhone allowed me to keep up with my email and texting as I drove.  I was also able to get my sports scores and read most of US Today by the time I got to Minneapolis.
The flying distance from Minneapolis to Columbus was 519 miles.  Luckily, today's racetrack was only about 15 miles from the Port Columbus International Airport.
After the races…..
No rest for the weary.
No, there is no rest for the weary.  Following this afternoon's races, I had another long drive.  This was a 328-mile drive (5 hours, 13 minutes) from Columbus up to Buffalo, New York.  The drive was made a little more challenging considering it spit snow during the entire drive.  The highway salt trucks did a nice job of keeping the roads clear.
At this stage in my trackchasing career just getting from point A to point B is the biggest challenge.  However, I'm still up for it!
There are always people out there willing to help.
I was looking forward to coming to today's races for another reason.  The Young Guns racing series would be part of the race program.  Young Guns organizes races for three different classes of champ karts.  Recall that champ karts are similar to flat karts but have a full-sized roll cage attached to the chassis.  Some folks see them as smaller versions of sprint cars and midgets.
Some time ago, I needed to confirm that "trackchasing countable" racers would be racing at a track in Ohio.  I did some searching and came upon a young man named Kyle Dager.  Kyle is a young racer with the Young Guns racing group.  He's very much into social media and has his own website at http://kyledagerracing.webs.com.
Kyle was quick to get back to me about the racing in Ohio.  We corresponded a time or two.  I learned he would be racing today and he was.  You'll be able to see his junior champ kart racer (black #11) in my YouTube films.
I was happy to meet Kyle in person.  He's been racing about four years now.  Kyle and his family hail from Ft. Wayne, Indiana.  Kyle's dad is the car's crew chief and the one that gets his hands dirty!  It was nice meeting these folks.  I wish Kyle and his dad the very best for this year's racing season.  I wouldn't be surprised if I run into them again this year.
ONE CANNOT LIVE WELL OR SLEEP WELL IF ONE HAS NOT DINED WELL
Waffle House – Somewhere along Interstate 71 
I try to limit my Waffle House visits to just one per trip.  Some of the geography I cover is bereft of Waffle Houses.  How could someone live in an area like that?
O'NEIL BUILDING AT THE OHIO STATE FAIRGROUNDS – COLUMBUS, OHIO
When is the weather the worst in the Midwest? 
It was a rotten weather day in Ohio.  Some folks think the Midwestern winter weather is the worst.  Some think those hot, humid and still days are even more uncomfortable.  I happen to think the March/April "spring" days can be the most difficult days of the year weather-wise.  You're thinking spring should be here any day and it's cold, windy and rainy.  The wind is the worst.  It makes the cold "cold".  Today is was about 20 degrees with strong winds and snow showers.
I pulled into a large series of buildings at the Ohio Expo Center.  The Ohio Expo Center is home to the Ohio State Fair.  Parking was $5 U.S.  I was looking for the O'Neil Building.  At the very back of the center, I found it.  I actually had to ask a guy where the buildings entrance was as it was not obvious.
Was it colder inside or outside of the O'Neil Building?
I asked the fellow if the building was heated.  He paused and said, "It's a little warmer inside.  No maybe it's about the same.  Heck now that I'm outside maybe it's warmer outside!  I'm going to the car to get my wife's long johns for her".  What he told me said a lot.  It was probably better that Carol had not driven 600 miles AFTER last night's races to get here!
Once inside, after I had paid for my $15 U.S. pit pass I noticed two things.  First, the building was huge with 78,000 square feet.  Secondly, it was cold although probably not as cold as it was outside however it was close.  My timing was impeccable.  Just as I opened the door the national anthem was playing.  Then as if on cue the first race of the day hit the track, the senior champ karts.  This was the only "trackchasing countable" class racing today.  Their main feature would begin the day.  During the first five minutes, I was in the building the track was countable.  That was a nice reward for my long drive here.
Today's event was at the top of Roger Ferrell's activity agenda.
I fully expected to see trackchaser Roger Ferrell here today.  It was the same feeling I would get when I hit a track, usually in the Midwest, and expected to run into Ed Esser.  These things are eerily predictable.  Of course, I did spot Roger on the far side of the track.
I snuck up behind him as he was watching a race.  As his vision turned toward turn three he spotted me.  After an initial "start" by Roger, he regained his normally stoic composure.  Yep, that's Roger.
He was just back from seeing 12 new tracks in Florida over the space of 16 days.  Roger had never trackchased in Florida before and the "pickins were easy" for his long trip.  Roger's a Midwestern boy, as I am.  However, he appears, despite strong denials, to have "affiliations" with those "Dreaded East Coast Trackchasers".  These affiliations prevent me from fully sharing information with Roger.  Nevertheless, we hung out and enjoyed today's racing.
Coke syrup?
The track today was a flat concrete oval about 1/8-mile in length.  The surface might have had some "Coke syrup" applied.  There was a huge amount of rubber build-up in the turns almost creating a "berm".
The program started right on time with three feature events.  Then they went to heat races for the 15 or so classes.  One race followed another.  This was a most efficient racing program.
There was an announcer, mainly to tell everyone what race was coming next, but it was difficult to hear since the karts were so loud.  A portable trailer supplied the concessions although I was not in the market for food and drink during my two-hour stay at the track.
In hindsight not the best of calls?
I spent much of my time just roaming the pit area.  The large building was jammed with racing karts.  In hindsight, I have no idea why trackchasing's "Founding Fathers" did not include karts as a countable class of racing to begin with.  Kart racing and the equipment karters use are far superior to more than half of the classes we do count.
STATE COMPARISONS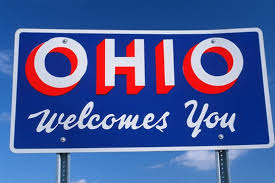 Ohio
The Buckeye State
This evening I saw my 66th-lifetime track in the Buckeye state, yes the Buckeye state.  I am most surprised that more than ten trackchasers have seen more venues in Ohio than me.  However, Ohio is right next door to Pennsylvania where a number of "regional" trackchasers reside.  I guess I went to Ohio's most famous track, the Eldora Speedway too often (35 times).  However, I really wouldn't trade a single "racechasing" event at Eldora for an extra new track.
Thanks for reading about my trackchasing,
Randy Lewis
World's #1 Trackchaser
Peoria Old Timers Racing Club (P.O.R.C.) Hall of Fame Member
Ohio sayings:  Don't judge us by Cleveland.
TRAVEL DETAILS
AIRPLANE
Los Angeles, CA (LAX) – Minneapolis, MN (MSP) – 1,535 miles
RENTAL CAR #1
Minneapolis-St. Paul International Airport – trip begins
Rapid City, SD
Minneapolis-St. Paul International Airport – 1,165 miles
AIRPLANE
Minneapolis, MN (MSP) – Columbus, OH (CMH) – 519 miles
RENTAL CAR #2
Port Columbus International Airport – trip begins
Columbus, OH
TRACK ADMISSION PRICES:
Rushmore Civic Center – $28 (includes $6 pit pass)
O'Neil Building – $15 (includes pit pass) 
LIFETIME TRACKCHASER COMPARISONS 
The three most important trackchasing comparisons to me are:
Total lifetime tracks seen
Total "trackchasing countries" seen
Lifetime National Geographic Diversity results
Total Lifetime Tracks
There are no trackchasers currently within 300 tracks of my lifetime total.  Don't blame me.
1.  Randy Lewis, San Clemente, California – 1,826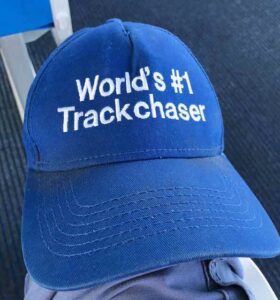 Total Trackchasing Countries
There are no trackchasers currently within 10 countries of my lifetime total.
1.  Randy Lewis, San Clemente, California – 64
Current lifetime National Geographic Diversity results
1.  Randy Lewis, San Clemente, California – 5.08
That's all folks!  Official end of the RLR – Randy Lewis Racing Trackchaser Report