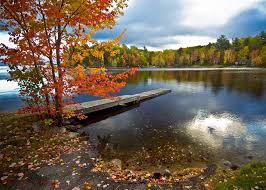 Greetings from Oxford, Maine
.
.
From the travels and adventures of the 
"World's #1 Trackchaser"
.
.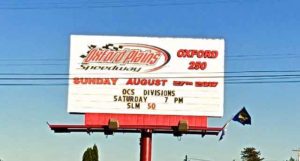 Oxford Plains Speedway
Asphalt figure 8
Lifetime Track #2,322
The EventVideo PlusPhotos
THE EVENT
I have had the opportunity to follow my trackchasing hobby all over the world. As this is written I have seen racing in 74 countries. My lifetime track total exceeds 2,300. Each and every year I will trackchase in 25-30 states. At track #1,040 I moved into the "World's #1 Trackchasing" spot.
I love trackchasing in New England. I like the state of Maine very much as well. I first came to the Oxford Plains Speedway in 1986. I brought Carol back here for the first time in 2009. Tonight I showed up especially for the figure 8 racing.
My hobby is not only about racing. Trackchasing for me centers around three things. The racing part is pretty obvious. However of equal importance is the logistics of trackchasing and the opportunity to see the world.
I live in Southern California. The vast majority of tracks are located in the Midwest and East. It takes a good deal of logistical planning to get from where I live to where the tracks are. For the past 15 years I have traveled about 175 nights each and every year. Surprisingly to some, more than half of those overnights were not part of trackchasing.
Then there's the travel just for the fun of seeing new things. You won't want to miss my "Trackchasing Tourist Attractions" page or my "Sports Spectating Resume" page on my website at www.randylewis.org. That will give you some understanding on how important seeing the world is with my hobby.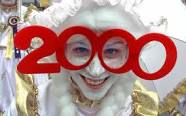 Today's adventure was one more of the 2,000 trips that have taken me up, down and around the long and dusty trackchasing trail. If you would like to see where I've been and experience those adventures here's the link:
If you've got a question, comment or whatever please leave it at the bottom of this report.  It's very easy to do.  Or you can visit me on Facebook.  Thanks!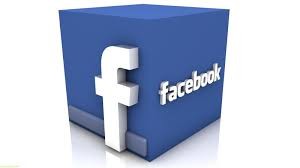 ON THE WAY TO THE RACES
I left last night's racing Amarillo, Texas at about 8:10 p.m. Following the Lone Star state racing I drove for a little bit more than five hours down to the Dallas-Fort Worth International Airport.
At about 1:30 a.m. I pulled into a Texas Highway rest area. The plan was to sleep for two hours. However, after only about one hour I felt the urge to continue to drive. I don't know if the "Watch out for rattlesnakes" warning sign in the rest area had anything to do with that or not.
I arrived at DFW airport rental car center at about 3:30 a.m. I had some time for one more overnight "nap". They have some nice soft leather chairs there. In the past I've actually overnighted in this spot. It's quiet and relatively comfortable.
Last night In Austin I spent two full hours checking on flight opportunities that would get me to Oxford, Maine by Saturday afternoon. I think I explored every combination there was that could get from Dallas to somewhere that wouldn't be too far away from the Oxford Plains Speedway.
However, there was a major change in demand for the flights that I had looked at. My best option ended up being to buy a ticket from Dallas to Philadelphia and take my chances on a standby basis from there. The Dallas to Philadelphia flight, that I had planned on standing by for, was overbooked by more than 20 passengers. I never would have made that flight.
I arrived into Philly at about 10 a.m. My connecting flight was not departing until nearly 1 p.m. I'm a big fan of the Philadelphia airport. It's great for power walking. Before I boarded my flight toward Maine I had covered more than 3 miles.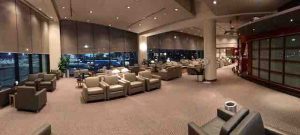 As a member of the Alaskan Airlines Alaska lounge private club program I also have access to the American Airlines Admirals Clubs worldwide. That's a fantastic perk. I absolutely love it.
The Admirals Club in Philadelphia airport is one of the best that I've seen. It's absolutely huge, quiet and comfortable. When I'm not eating low-carb it's a great place to snack as well.
That's one of the things I noticed walking through the airport today. About 90-95% of all of the food offerings are high in sugar and carbohydrates. Why is that? I guess one of the reasons is because meat is so expensive that consumers prefer the comfort foods laced with sugar. Most of the time I do too!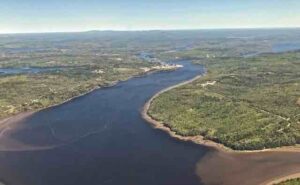 The flight to Bangor was going to be an excellent choice.  The scenery flying into Maine was gorgeous.  I had already made a reservation at the Courtyard by Marriott Hotel in Bangor. That was risky considering I didn't know for sure if I was even going to get up to Maine today.
I have a strong history with the Oxford Plains Speedway. My first appearance, in 1986, was one of my most anticipated trackchasing trips ever. I was there for the famous "Oxford 250". Big name NASCAR drivers were there including names like Bobby Allison and Harry Gant. I even had a press pass.
As it turned out they had major weather problems that weekend. They never did get a race in. To put it mildly I was bummed. However, time has passed. That was more than thirty years ago. A lot of rental cars have passed under the bridge since then.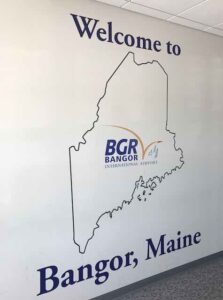 Today I arrived into the Bangor airport aka "BGR" on time at about 2:30 p.m. The airport is small and quaint. I've got a good racing buddy who works for the TSA in Bangor. Another TSA agent told me they only get about "Nine or ten daily flights" into BGR.
The Avis Rental Car Company had come in with a bid that was about 50% less than my long-term rental car sponsor National Car Rental. I like to be loyal but I like to get a good deal as well. I went with Avis.
The car choices with Avis are nearly as good as they are with National given my preferred status with the latter group. Today the Avis rep wanted to set me up with an F-150 pick up truck. No thanks. I was going to be driving more than 700 miles. I didn't want to do that in a pick up truck.
I think my response to what she thought was a generous offer of a rental pick up truck might have been misconstrued. Her idea of what was good for me was not my idea of what was good for me. I ended up with a Mitsubishi Lancer four-door sedan.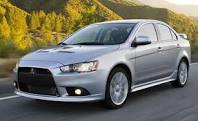 No offense to anyone owns a Lancer but it's a step down or more from the rental cars I'm used to having. Nevertheless, I was off. I was trackchasing in New England. My first stop was the Bangor Courtyard by Marriott.
My mantra has always been that I want to buy good stuff cheap. I'm not really interested in buying cheap stuff cheap. I would be staying in Bangor for two nights.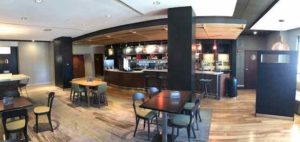 Hotels in New England are expensive. Hotels all over the northeast are expensive. The best online rate from the Marriott website for where I was staying came in at about $175 including taxes. That's a pretty expensive rate for my budget. However with Priceline.com I got this hotel for just $75 a night. That was a 62% savings! That's how you buy good stuff cheap.
The Oxford Plains Speedway was going to be a little bit mlore than a two-hour drive from where I was staying in Bangor.  The scenery was "New England beautiful".  The funny thing about that was that I passed the 95 Speedway just 5 miles south of Bangor on the way to Oxford. It was a beautiful night for racing and the 95 Speedway was ready to go. I could have just gone there and enjoyed a nice evening of Maine stock car racing
However, I had come all this way with the express purpose of seeing the figure 8 race configuration at the Oxford Plains Speedway. They only run the figure eights at this track about six times a year.
I was just happy that I could fit it in with yesterday's adventure to Amarillo, Texas and tomorrow's yet unshared Canadian trackchasing effort. This trip was providing lots of diverse geography and good weather everywhere to boot. It's not always easy to get great weather in Maine.
THE RACING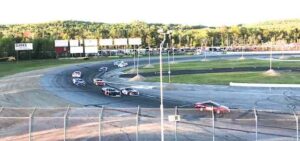 Oxford Plains Speedway – Oxford, Maine
I pulled into the parking lot of the Oxford Plains Speedway about 10 minutes ahead of race time at 6:50 p.m. I'm pretty good about showing up on time.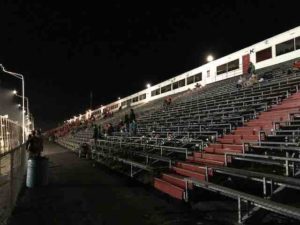 This is a short track. Nevertheless, they have tons of grandstand seating because they have at least one huge event every summer, the Oxford 250. I need to get back for that race someday after failing to see it during my 1986 visit.
Road course racing traditionally stays on a tight daily race itinerary. Short track oval racing does not. However, that is not the case with the Oxford Plains Speedway. Their website provides the schedule of events from the time the gates open until the feature racing complete.
Tonight there would be four classes of stock car racing and the figure 8 group. Each of the stock car classes would run heat races. Then after intermission the figure 8 group would run a 15-lap feature. That would be followed by more than 150 laps of stock car feature racing on the oval track.
There are certain tracks in the United States that just "get it". Oxford Plains is one of those tracks. Whenever there is a high quality facility that "gets it" they've got a very good chance of ranking in my top 40 tracks of the country. Oxford Plains Speedway is in that group.
Oxford Plains seems to do all of the little things well. Their PA system was stout. It was almost too loud. Their announcer was "old-school" meaning that he was enthusiastic, entertaining and informative. You could tell he had been practicing his craft for a long time.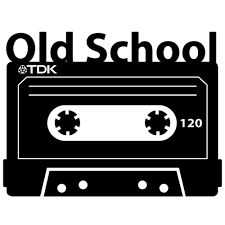 By the way I typically don't think all that much of people who are "old school". What does "old school" often mean to me? Stubborn. Unwilling to adapt. Not capable of keeping up with the times. Nope. I don't ride a horse anymore. Carol let me get a car. "Old school" ain't good in my humble option….most of the time.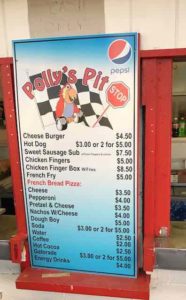 The track has a very extensive concessions menu for food and drink. They even offer the notable fried dough option, which is big in the East and in New England.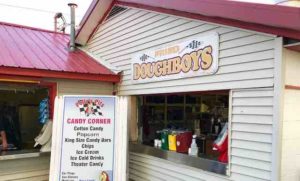 The only thing I bought was a bottle of Diet Mountain Dew. It was a little higher priced than I expected at three bucks, especially for a short track. I did see that they were selling two hot dogs for for five bucks. That's a lot better than the Baron Speedway where one hotdog cost you a fiver.
I grabbed a seat in the top row of the huge monstrous grandstand. The cars are all pitted beyond the half-mile asphalt oval's backstretch. The show began promptly at 7 p.m. just like the website had promised.
All of the cars racing tonight looked to be in really good shape. That's with the possible exception of the figure 8 cars. The body panels were straight, the paint jobs were colorful and most cars were adorned with multiple sponsorships.
Each of the stock-car classes ran two heat races with the exception of the super late models. They had three heats. As mentioned the figure 8 cars didn't run any heat races at all.
This made for about nine heat races before the track went to intermission at 7:50 p.m. The heats provided lots of close racing and battles for the lead. There were probably only two or three yellow flags during the night's heat races. I've been to a lot of tracks that have two or three or more caution flags in the each heat race and for every heat race!
The track took a reasonable intermission. It was in the 10-15-minute range tops. If a track is going to take an intermission I think 10-15 minutes is a very reasonable length. It gives people time to get up, go to the bathroom, stretch their legs and possibly buy a concession item or two.
I'm going to guess that tonight's crowd was in the range of 400-500 people. I'm not very experienced at guessing crowd sizes. However, I'll go with the four or five hundred folks. Following intermission the first feature race was for the figure 8 cars. There were nine of them. Most of them had flashing yellow lights on the roofs. I don't see that very often.
The figure 8 cars would race for 15 laps. There really wasn't much action at the "X". A couple of drivers did speed through there at a fast clip just missing their fellow competitors. Nevertheless, it was an entertaining race. Don't miss the video.
I am closing in on 300 lifetime figure 8 tracks. I don't know if I'll make it this year but there's a reasonable chance. My figure 8 totals best all other trackchasers even though I got a very late start in seeing figure 8 racing competition.
There were four classes of stock cars competing tonight. These included the Allen's coffee flavored brandy sponsored street stocks, modifieds, super late models and bandits mini-stock type race class.
The street stocks and modifieds had about 15 cars in each of their classes. There were 23 super late models and 25 bandits. Those were all decent car counts.
All of this made for some above average feature racing. There were only three or four yellow flags in each of the features. I would estimate there were less than 10 yellow flags all evening. That included nine heat races and five feature races.
The track was excellent for side-by-side racing. On a few occasions three and sometimes even four cars went through the turns or raced down the straightaway side-by-side. I was surprised the cars raced this close together and did not create lots of yellow flags delays.
After each feature race the announcer came down onto the track and interviewed the first, second and third place finishers. This easily took five and approaching 10 minutes for each feature race. You might think that that would make the program run long. Nope.
They had started on time at 7 p.m. They had nearly 100 cars in the pits. They offered nine heat races. The feature race included more than 150 laps of racing. A lot of places with a race program of that sort would get over at midnight…..or later.
The Oxford Plains Speedway completed their entire program including the very last interview in two hours and 37 minutes! That was beyond amazing. If you read through my report again and look at the highlights of tonight's visit you'll see why I am so positive about this track. With full confidence I can say they "get it".
AFTER THE RACES
I have averaged about four hours of sleep over the last three nights. Yes, I had grabbed a little bit of sleep on the airplanes that I've been flying on this weekend as well. Nevertheless I was starting to get somewhat fatigued.
I wasn't that thrilled with the first half of my 120-mile drive back to Bangor. That route took me on winding two lane roads. I was expecting to see a moose at any moment! Nevertheless I made it back to Interstate 95 and ultimately back to the hotel at a little past midnight.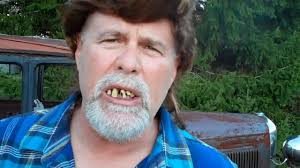 It is a true statement that my fellow competitors have a hard time matching the results that I deliver weekend and week out, year in and year out. That's really to be expected.
I live in Southern California. Friday night's race this weekend was in a very off-the-wall not close to anything location of Amarillo, Texas. Then I went trackchasing the very next evening n an equally off the beaten path location in Maine. Does that "say" something? Yep. It probably says I'm crazy!
I'll finish up my trackchasing weekend tomorrow in the province of New Brunswick, Canada. If you've been following my trackchasing for very long you know that I've been doing this weekend and week out for many many years. I guess that's why I've seen more than 2,300 racetracks, which is nearly 600 tracks more than my nearest fellow competitor.
Good evening from Oxford, Maine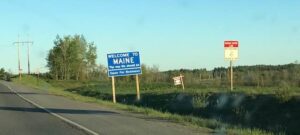 Maine
The Pine Tree state
This evening I saw my 13th lifetime track in the Pine Tree state, yes the Pine Tree state. I've seen 13 or more tracks in 38 separate states. Even I find that stat pretty impressive!
Thanks for reading about my trackchasing,
Randy Lewis
World's #1 Trackchaser
Peoria Old Timers Racing Club (P.O.R.C.) Hall of Fame Member
Maine sayings: Mainers don't say "I don't know"…they say "hard tellin' not knowin'."
QUICK FACTS
LIFETIME TRACKCHASER COMPARISONS 
The three most important trackchasing comparisons to me are:
Total lifetime tracks seen
Total "trackchasing countries" seen
Lifetime National Geographic Diversity results
Total Lifetime Tracks
There are no trackchasers currently within 585 tracks of my lifetime total. Don't blame me.
Randy Lewis, San Clemente, California – 2,322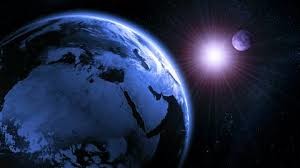 Total Trackchasing Countries
There are no trackchasers currently within 20 countries of my lifetime total.
Randy Lewis, San Clemente, California – 74
Current lifetime National Geographic Diversity results
Randy Lewis, San Clemente, California – 4.37
That's all folks! Official end of the RLR – Randy Lewis Racing Trackchaser Report
Click on the link below to see the video production from the racing action today.
Click on the link below for a photo album from today's trackchasing day.  You can view the album slide by slide or click on the "slide show" icon for a self-guided tour of today's trackchasing adventure.
Maine! Figure 8 racing and more.