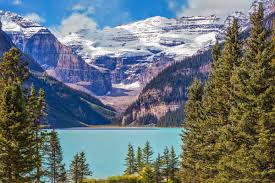 Greetings from British Columbia and a three-track trip
Prince George, BC
Quesnel, BC
Williams Lake, BC
.
.
From the travels and adventures of the 
"World's #1 Trackchaser"
.
.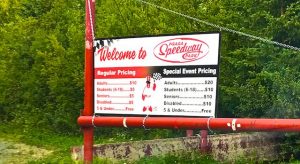 P.G.A.R.A. Raceway Park
Asphalt oval
 Lifetime Track #2,580
.
.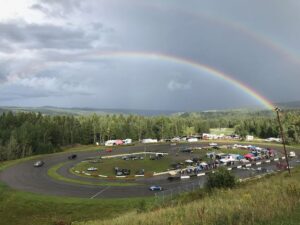 Gold Pan Speedway
Asphalt oval
 Lifetime Track #2,581
.
.
Thunder Mountain Speedway
Asphalt oval
 Lifetime Track #2,582
The EventVideo PlusPhotos
THE EVENT
My name is Randy Lewis. I live in San Clemente, California. I am a "trackchaser". I trackchase. Before you discovered my site had you ever heard of trackchasing? Maybe not? So….what the heck is trackchasing? Sit back, take a read and you'll be an expert on my hobby of trackchasing when you're finished.
Here's my best explanation on what trackchasing is to me.
Trackchasing is a three-pronged hobby. I'm a racing fan. I love to travel. I love to analyze opportunities to get the most out of everything while saving time and money.
Trackchasing fills the need for all of the above. The racing part of my trackchasing has me trying to see wheel to wheel auto racing at as many different racetracks as I can all over the world. Yes, all over the world. So far things are going pretty well. As this is written, I've seen racing in 85 countries at more than 2,500 tracks. As a matter of fact, I've seen racing at more tracks than anyone else in the world.
Equally important to me are the things I get to see and experience over the "long and dusty trackchasing trail". I call these adventures "Trackchasing Tourist Attractions". You won't want to miss my "Trackchasing Tourist Attractions" page. Here's the link:  Trackchasing Tourist Attractions or my "Sports Spectating Resume" page, Sports Spectating Resume on my website at www.randylewis.org.
I live in southern California. That's probably the most inconvenient location in the country for seeing tracks in the U.S. Most of the racetracks in the U.S. are located well over 1,000 miles from where I live. As a matter of fact, my average trip covers 5,000 miles and more. I take 35-40 of those trips each season. In any given year I will travel well over 200,000 miles, rent more than 50 cars, and stay in more than 150 hotel rooms.
I get the chance to meet people all over the world. With trackchasing trips to 85 countries and counting just getting the chance to experience so many other cultures, spend time in their homes and meet their friends is a huge reward for being in this hobby. I am indebted to several of these folks for their help and friendship.
It takes a good deal of planning to do the above and not spend my entire retirement portfolio. I enjoy the challenge, the travel and every other aspect of "trackchasing". In reality, my trackchasing hobby is a lot like being with the carnival. I breeze into town, stay a little while and then head on down the road.
I've tried to tell you what the trackchasing hobby is to me. Now I will show you what trackchasing is to me in pictures and music. If you watch just one YouTube video this year, this is the one to watch.
You will see how a simple trackchasing trip takes me a long way from my environment in California and most importantly not just in miles. My hobby is about seeing and experiencing the things that most folks walk right past. Check this out. It might just make your day.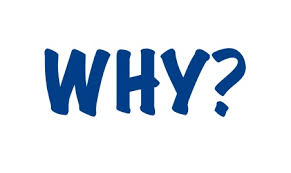 Trackchasing….this is exactly why I do it
Today's adventure was one more of the 2,000 trips that have taken me up, down and around the proverbial long and dusty trackchasing trail.  If you would like to see where I've been and experience those adventures here's the link: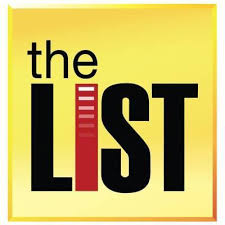 If you've got a question, comment or whatever please leave it at the bottom of this report.  It's very easy to do.  Or you can visit me on Facebook.  Thanks!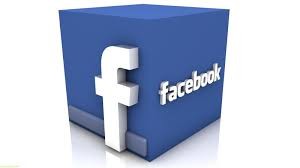 FOREWORD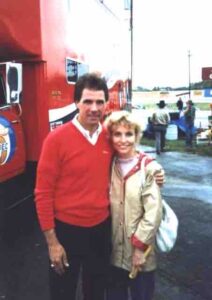 Tuesday, August 20, 2019.
Carol (above with Darrell Waltrip) and I are embarking on a six-day trackchasing adventure to British Columbia, Canada.  Carol, the World's #3 Trackchaser, has a streak of international trackchasing going at this point. Up to now every one of her new tracks in 2019 has been in a foreign country. Here's where she's been so far this year.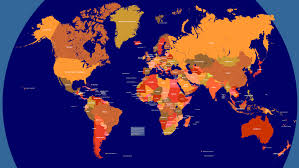 Autocross Zlatica – Podgorica, Montenegro
Autodromo di Vallelunga – Vallelunga, Italy
Crabbs Raceway – Crabbs, Antigua and Barbuda
Fuji Speedway – Oyama, Japan
This trip would begin with a simple airplane ride to Seattle, Washington. Today our flight was leaving at 1:30 p.m. We left our modest seaside cottage in the sleepy little village of San Clemente at 9 a.m. Why would we leave four and a half hours early for a 65-mile ride to the airport? Let me explain. 
We have a lot of trackchasing sponsors. One of our best sponsors is a company called Priority Pass.  We get Priority Pass with our association with our Chase Visa Sapphire Reserve credit card. 
In a nutshell, here is our Priority Pass works. PP is associated with more than 1,200 airport lounges and airport restaurants located all over the world. Priority Pass comes along at no extra charge with the Chase Visa Sapphire Reserve credit card that we have. 
The Priority Pass benefits are outstanding. Whenever we are in an airport we can stop at one of the PP restaurants and lounges. There is no charge for a lounge visit. We have access to unlimited food and drinks in these lounges. At the restaurants we receive a $28-$30 per person credit. If our bill is less than that we eat for free. 
I am trying to meet a goal that I set when we first got Priority Pass. In one year I want to get $10,000 in "free stuff". That free stuff will come in the form of airport lounge visits, airport restaurants and the points we earn from our credit card for future travel. 
I am 10 1/2 months into the program. So far I have earned approximately $8,500. It's going to be a real stretch to get that number up to 10,000 but if I don't make it I will certainly come close.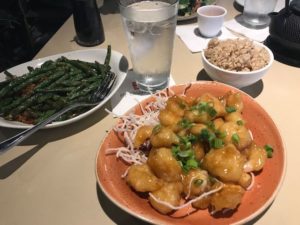 Today the plan was to first stop at the Virgin Atlantic Clubhouse, a private airport lounge in terminal two at LAX. Then we would move over to PF Chang's and order $60 worth of food from there. Finally, we would make a stop in terminal six at the Point The Way Café. This restaurant has only recently been added to the Priority Pass program. Our food credit there for the two of us would amount to $58. I conservatively value each airline club visit at $20 even though getting a daily pass if you were not a member of the club would come at a cost of $50-$75 per person. 
I have learned as I have traveled over the long and dusty trackchasing trail that not every advance plan comes to fruition. Today we had a major traffic problem caused by an 18-wheeler accident on the 405 freeway. As time frittered away in traffic the original plan of visiting three Priority Pass locations shrunk to one.  Nevertheless, we were able to have a nice lunch at P.F. Chang's with service from one of my favorite waitresses, Fabiola. 
The flight from Los Angeles to Seattle was uneventful. I have taken that flight hundreds of times. Once we landed at the SeaTac International Airport we had two more airline clubs to visit.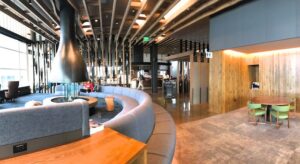 I am a member of the Alaska Airlines Lounge club. They just opened a fabulous new lounge in terminal N at SeaTac. I hadn't had a chance to visit. Carol and I dropped in today to find a magnificent loft-like private airline lounge. Don't miss the pictures on this one. 
From there we hustled on down to the Club at SEA in terminal A. This club is part of the Priority Pass program. We stopped in there for a quick snack before continuing our journey. I don't know if I'll make $10,000 in "free stuff" but it's been fun trying. 
It seems as if the SeaTac International Airport operates at "overcapacity' a good deal of the time. The place is showing its age. They get a lot of passengers through there. 
SeaTac has an offsite rental car center. I'm not a big fan of those but it seems like the idea is becoming more and more popular with airport management. Today the line to get on the bus for the ride out to the rental car center had to be 50 people or more long. 
The capacity for the bus to the rental car center was about 30 people. You can only imagine what putting 50 people on a 30-person bus was like when everyone had a couple of large pieces of luggage. It was tight! 
We were renting a car today from National Car Rental. Not all National Car Rental locations across the country or the world for that matter are the same in terms of service and quality. Seattle has always been at the top of the list. If I ask for a certain brand of car they'll do their best to find it and almost always do. 
My two favorite rental cars right now are the Toyota Camry and the Chrysler 300. I sort of like the Nissan Altima and Maxima models as well. We were going to be gone for six days on this trip and driving more than 1,000 miles. I needed a good comfortable rental car that also got good gas mileage. Canadian fuel prices are high and we didn't want to get a gas guzzler. 
I was in a little bit of a rush and "settled" on a Ford Fusion hybrid. The upside of the Fusion is that it gets about 42 miles a gallon with the hybrid version. The downside is the car is just a little tight and somewhat chintzy in a few areas. I would have been better off with a Toyota Camry.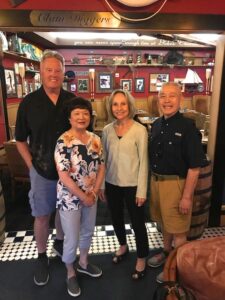 Tonight we were having dinner with a couple of our very long-time friends, Ron & Barbara Asahara. I first began working with Ron more than 40 years ago. We last worked together in the late 80s. Nevertheless, after all of those ensuing years, we have stayed in touch. 
Carol and I hadn't seen Barbara in more than 30 years. Nevertheless, as soon as we sat down to dinner with them at Duke's Seafood and Chowder in the Westfield Southcenter shopping center near the airport it seemed as if we had just seen Ron and Barbara just last month. 
We had a great time talking and laughing and telling stories of yesteryear. Ron and Barbara are a great couple and it was a joy to see them. They even presented us with a "goodie bag" full of treats that we could enjoy over the rest of the trip. 
Following dinner, Carol and I headed north up to Abbotsford, British Columbia, Canada. I wanted to get across the Canadian border tonight so tomorrow's drive up to Prince George, British Columbia would be easier. Clearing the border at night took less than three minutes. The Canadian border control agent was polite yet stern. His eyes never left mine as he asked me a series of questions. Once we had passed muster we motored into Canada. 
When Carol comes along on the trip I stay in better places. Why is that? Simply because I want Carol to have a good time. I can't expect her to stay in some of the lower class hotels that I have at times.
I had used Priceline to reserve a room at the Coast Suites Hotel in Abbotsford, BC. They had a rating of 8+. That meant that for that particular class of hotel it would be a good place to stay. It was.
Wednesday, July 21, 2019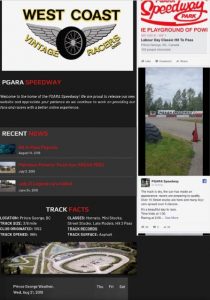 Today was race day in British Columbia. That's right! It's on Wednesday! This wasn't a once a year county fair race or anything like that. The PGARA Speedway Park was having a rare mid-week race hosting the West Coast Vintage Racers group. 
The WCVR organization races all over the northwest as well as in British Columbia. Tonight they were beginning the first night of a three-race visit to British Columbia spread over four days. 
We were a long way from Prince George, British Columbia, home of the PGARA Raceway Park track. When we woke up this morning in Abbotsford, British Columbia we still had a 714-km to drive to make it to the track. From where we started this trip with our rental car the driving distance from Seattle, Washington to Prince George, British Columbia was around 560 miles. 
The drive was rather uneventful. I guess if someone were making this drive for the first time they would consider it very scenic. Of course, it is. However, I've made this drive into British Columbia some fifteen separate times to trackchase. For most of the day, the weather was overcast with temperatures in the high 70s. 
Whenever we go on trips like this we are obviously using our GPS. Not only is a GPS system valuable for directions but it's also important to have an idea of when you expect to arrive. We knew that today's drive would take eight hours and we had 11 hours before tonight's racing was scheduled to begin. That gave us plenty of time to relax along the way.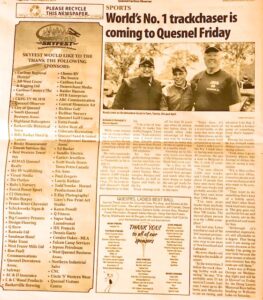 During the drive, I got a message from Ronan O'Doherty, the sports reporter for the Quesnel Caribou Observer newspaper. Ronan was calling to do a quick interview. He wanted to do an interview about my trackchasing hobby. I was happy to answer his questions and even, at his request, send along a photo. The story was expected to appear in the newspaper on Friday morning just in advance of the racing at Gold Pan Speedway in Quesnel. 
At 5 p.m. we pulled into the parking lot at the Four Points by Sheraton hotel. Yes, when Carol comes along I get upgraded! We will be staying here for two nights. We were given an upgraded king deluxe room as well as complimentary breakfast for two. Our breakfast was a $30 value each day. I am treated very well by the Sheraton/Marriott hotel chain as a titanium elite member of their frequent stay program. 
Right next door to the hotel was a Vietnamese restaurant, the Thanh Vu Restaurant. Thanh Vu came with a four-star Yelp rating. That was all I needed to know. We simply walked from the hotel to the restaurant, a distance of about 50 yards, and dined on spicy red curry seafood as well as calamari and prawn appetizers.
THE RACING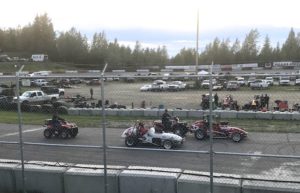 PGARA Speedway Park – Prince George, British Columbia
From there it was less than a 10-mile drive to the edge of Prince George where the PGARA Speedway Park was located. The club that runs the races here has been in operation since 1950. The track is been at this location since 1964. That's 55 years! 
Right now one Canadian dollar is only worth about 75 American cents. That means all of the prices that we see in Canada can be discounted by 25%. That's a nice savings. However, I have found that Canadian prices are generally higher than in the U.S. To me, the 25% discount gets my expense down to about what it would be in the U.S. but not always.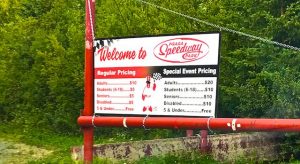 The track had some signs with stated admission prices on the short road into the track. These signs told us that adults would pay $10 for a regular show and $20 for a special show. Initially, that seemed expensive. 
However, when you consider that we were getting a 25% discount and that seniors were being charged half of those prices the ticket prices turned out to be a real bargain. I thought we would be paying $10 per person as seniors. The ticket seller told me that tonight's charge was only $10 Canadian for both of us. I clarified that fact with her so as not to shortchange her. It was true. We were essentially each paying five dollars Canadian or about $3.75 U.S. for tonight's race program. That was a bargain!
The track announcer gave me one of the briefest trackchaser mentions I think I've ever received. Then Carol and I sat down in the top row of a very well used grandstand. I guess it's hard to get things painted up this way. 
We both agreed that tonight was a very unusual racing program. For some reason, it just seemed "disjointed".  They started almost on time at 7 p.m. First, they sang the American national anthem and then the Canadian anthem.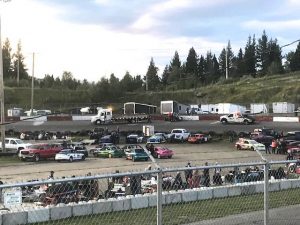 I couldn't tell if three or four classes of regular stock cars raced tonight. I know they raced hornets, mini-stocks and street stocks. I just don't know if the youth class was one and the same as the hornets or not.
Car counts from those regular divisions were small. There were 10 hornets, five mini-stocks and six street stocks. Luckily, there were a couple of dozen West Coast Vintage Racer sprint cars. I think on a regular night of racing at PGARA they might offer a couple of other divisions of stock cars racing.
The track was a slightly banked 3/8-mile oval. Unfortunately, the grandstand faced into a setting sun. The PA system was strong and almost too loud. There's a fine line here. The drawback to a "too loud" sound system is that you can't hear to talk to the family and friends you came to the track with.
Whenever the announcer wasn't talking he turned on recorded music of all genres. The problem was that he didn't really talk all that much. That meant that there was unrelenting and unstoppable loud music playing probably 75% of the time. It made even chatting with my partner sitting next to me difficult. 
Tonight's racing program consisted of dashes, heat races and feature events. I didn't think there was any need for the dashes. With 24 sprint cars, they ran four sprint cars in a series of six dashes. The stock cars ran three dashes. That made for nine dash events. Too much!
We had arrived at a few minutes before the 7 p.m. start time. It would have been nice to watch the racing from our car in the elevated positions located above the turns of the oval track. We arrived too late for that. Temperatures would drop into the 50s tonight.
The highlight of the night was easily the racing done by the West Coast Vintage Racers. It can be questionable as to whether or not some vintage race groups actually "race". These guys do! 
We could see several of the sprint car drivers fishtailing at speed out of the turns. They often raced side-by-side through the turns. I kept expecting them to have a major accident but they never did. As mentioned the sprints ran six dash events and three heats for 24 sprinters. 
With such small car counts, the stock car racing wasn't much. They did have one spectacular accident where a female driver ran down the backstretch and hit a fixed barrier of some sort. Her car came to a stop immediately. She must have been driving 50-60 mph at the point of impact. That had to be a hard hit in a car that might have not had the best of safety equipment.
The track was reasonably efficient at running the races. They had a few accidents here and there that required tow trucks. It's just that the nine dashes really delayed the program. Then in the hornet feature, one of the driver's engines puked all over the track. It took them forever to clean that up. It took the better part of an hour!
By the time it got dark we had left the grandstand. I drove our rental car down by the fence of turn one. We could stand outside the car and watch the racing. When they were racing we could stay inside the car and avoid the cold weather. That was a great plan as we waited patiently for the track crew to clean up the hornet blown engine mess. Even that plan couldn't last forever as the delay seemed to last forever.
I really wanted to see the sprint car feature. The heat races for that group had been good. However at 10:30 p.m., after nearly four hours at the track and 3 1/2 hours after starting time, we gave up. They were still working on cleaning up the track and we had no idea how much longer that would take.
A racing program with only 20 stock cars spread over three classes and twenty-four vintage sprint cars should not be running three and a half hours later with only one feature completed. That is especially true on a Wednesday night. People still work on Thursday mornings right?
In this part of the country, I suspected that many fans drove an hour or more to get to the races. A program that might end around midnight would get those people home pretty late on a work night. I was disappointed in that part of tonight's racing. 
Nevertheless, there were a number of positives as I thought about tonight's race program. Heck, we got in for $3.75 U.S. per person. On top of that, we were treated to a 24-car vintage sprint car program with the West Coast Vintage Racers. At one point the rain forecast for tonight was 40% and they did get rain this afternoon. However, there was no wet stuff for us tonight.  Unfortunately, there is still a 40% chance of rain for each of the two tracks we had planned for later in the trip. 
It was nice having only a 10-minute drive back to the hotel. We had driven about 500 miles today and slept soundly in our upscale Sheraton Hotel. 
Good evening from the PGARA Speedway Park in Prince George, British Columbia, Canada. We'll see you tomorrow as we have all day to tour the area. 
Thursday, August  22, 2019
Today was an off-day from trackchasing. This is a six-day trip with four days being devoted to trackchasing and touring. The other two days are travel days for this trip. 
I like a three-track trip with a day in the middle open for touring. This would give us a little bit of a break from racing and the travel distances required to get from track to track. That's exactly what we did with touring today in and around Prince George, British Columbia. 
I always consult TripAdvisor to see what the top touring ideas are for the area I'm visiting. This is a fast and easy way to see what the highlights are that might be available for a quick visit. I did that today for Prince George.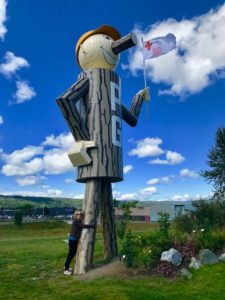 We had time for two Trackchasing Tourist Attractions. The first was a visit to "Mr. PG". This is a large wooden and metal statue. You won't want to miss the photo of this one. It didn't take long to see.  Mr. PG (Prince George!) was easy to find. Some folks on TripAdvisor liked it and others didn't think a lot of the visit. Carol didn't think much of this particular TTA. 
From there we drove about a half-hour out of Prince George to a place called the Huble Homestead Historic Site. This place was really out in the boonies. It was probably about four miles off the hard road.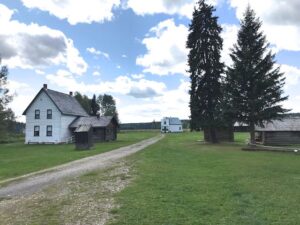 The Huble home allows visitors to get a sense of what living on the British Columbia Prairie was like in 1915. There are several outbuildings as well as the farmhouse where the local family resided more than 100 years ago. Carol and I both felt this was well worth the visit. While we were there there were only a couple of other people touring the site.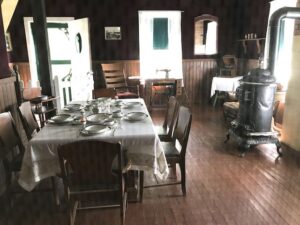 Folks are allowed to roam around at their leisure or they can take a guided tour. There's really no charge for admission but a donation is likely expected. Don't miss the photos from this one. It was most interesting. 
From there we went back to the hotel and relaxed for a bit before going out for the evening. We decided on catching a movie. I love going to movie theatres in foreign countries although Canada is barely a "foreign" country. We saw the movie, "Good Boys" It was a story about three boys in the sixth grade and the adventures they encounter as they move from kids to adults. We liked it. 
After the movie I used Yelp to find us a good Indian restaurant. We really like Indian food but it doesn't seem like that genre is available all that often. We like spicy food. It seems as if Indian restaurants never make their food quite as spicy as we would like. However, that is a fine line as well. If the food gets too hot it's almost inedible.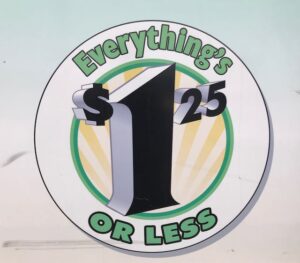 From dinner, we walked across the shopping center parking lot to a Dollar Tree store. The sign read that nothing was priced higher than a dollar and a quarter Canadian. At home, we shop at a "99 cent only" store. They have some 98 cent stores around as well. I wouldn't shop in a 98-cent store. What kind of quality could they have? A dollar and a quarter Canadian is only $0.94 in U.S. money so we were getting a discount! 
I can't go through a dollar store without buying just a few things. Tonight we selected a laundry bag, deodorant, coffee mug and some vanilla wafer cookies amongst other things. 
Today had been a good day. We have two full days remaining on this trip. Each evening we hope to see a race. The weather forecast for Friday isn't great. For Saturday it is improving. We'll see how all that goes. 
Friday, August 23, 2019 
Today is my grandfather's birthday. If he was still living he would be 116 years old! My grandfather was a great guy and I loved him very much. 
This was a pretty laid-back trackchasing day as foreign trackchasing days go. We were staying at the Four Points by Sheraton in Prince George, British Columbia. We had a late checkout of 3 p.m. today. Other than my four miles of power walking we pretty much just relaxed in our room. 
It was spitting rain most of the morning with temperatures at about 60°. The only saving grace to that was the hope that tonight's weather forecast for Quesnel would live up to expectations and not rain! Quesnel was located about an hour and a half south of Prince George. After looking at the weather radar it seemed as if Prince George might get wet but not Quesnel. Maybe this was just wishful thinking on our part.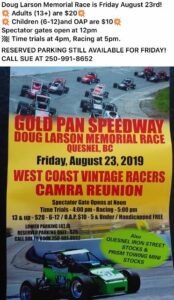 Tonight we were trackchasing at the Gold Pan Speedway in Quesnel, British Columbia, Canada. Gold Pan would be my 22nd track where I've seen racing in British Columbia.  Tonight I would be seeing my 174th track in Canada and my 2,581st track worldwide. Yes, I've been busy.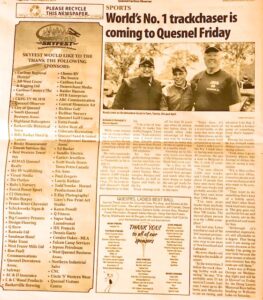 When we pulled into the small city of Quesnel our first stop was at the Quesnel Caribou Observer newspaper office. They had done a story on our BC trackchasing visit in this morning's paper. The Observer reporter Ronan O'Doherty told us we could stop by for a couple of complimentary copies of the newspaper. That was very nice of Ronan to make that offer. The photo they used for this article included a couple of my buddies from Tunisia when I visited there.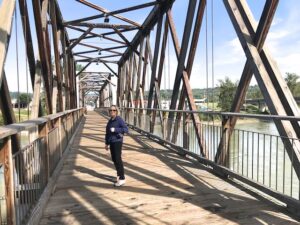 Next, I took Carol on a hike across the old Fraser Bridge. I had done that hike last summer. What we saw was a bit concerning. Behind us were nice blue skies with white puffy clouds. Ahead of us to the west were some dark and ominous rain clouds. The bad weather appeared to be moving in our direction. 
Tonight we were staying at the Quality Inn in Quesnel. There seemed to be a lot of motels in the area. The Quality Inn carried one of the best customer ratings of anything that I had seen. We got a good deal with that motel on Priceline. The Quality Inn was going to meet our needs very well.
THE RACING
Gold Pan Speedway – Quesnel, British Columbia 
From there it was out to the racetrack. We met up with some friendly young women who were selling tickets to the races tonight. Both Carol and I would be admitted under the senior citizen rate program, which was just $20 Canadian and included tickets for the both of us. 
We drove down a steep muddy hill until we reached the section where people would be watching the races from their cars. I didn't know if these spaces were reserved or not. A huge sign said they were. However, I operate on the principle that it's better to ask for forgiveness than approval. We found a space high over the track and parked there.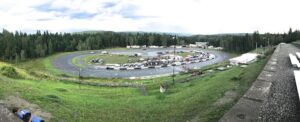 Racing was scheduled to begin at 5 p.m. with time trials at 4 p.m. We pulled into our parking spot at about 4:30 p.m. The rain forecast at that time was supposed to be only about 10%. That's when it started raining lightly! 
For a while, things on the weather front did not look good. However, weather moves in and it moves out fast in this part of Canada. It wasn't too long until most of the rain had passed by and blue skies were headed our way from the southwest. At that point in time they brought out a few wreckers pulling large tractor tires and other civilian vehicles to dry the track. 
The Gold Pan Speedway does not have any lights. I was told the races needed to be finished by 8:30 p.m. to avoid darkness. That didn't seem like it would be a problem considering the classes that were racing tonight. 
The popular and well supported West Coast Vintage Racers group was in town. A couple of nights ago in Prince George brought 24 sprint cars to the track. They had about that same amount tonight.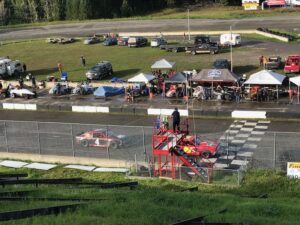 There were two stock car support classes racing at Gold Pan this evening. There were six mini-stocks and three street stocks. That wasn't much of a support class but it was what they had.
With the rain having stopped the track was dry enough to put out the few stock cars that were on hand. We were going to see some racing. Once those two stock car classes ran their heat races the Gold Pan Speedway was "in the books".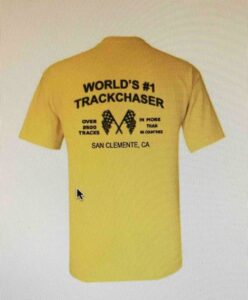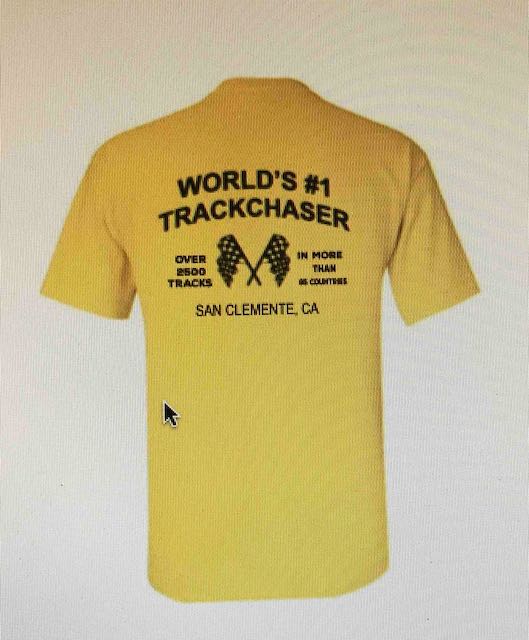 Carol and I were standing next to the concession stand watching these races. That's when the track announcer noticed my "World's #1 Trackchaser" t-shirt. Those shirts are hard not to notice!
It seems that he had read the Quesnel Observer newspaper this morning and seen the article about our trackchasing. He began to announce some of the details from the newspaper story. 
When he finished Carol and I stopped by to say hello. It was nice to see an announcer showing this much interest in our hobby. He shared with us some background information about the Gold Pan Speedway including the details of the track's opening back in 1972. They were only charging $1.75 Canadian for general admission tickets back in those days! 
We first became aware of the special three nights of racing by the West Coast Vintage Racers group a couple of months ago. That info about the racing in British Columbia came from a Facebook friend of mine by the name of Stu Howse. 
Tonight it looked as if the weather had moved on. We wouldn't have any more worries about rain tonight whatsoever. Unfortunately, that wasn't exactly true. 
In Prince George two nights ago the West Coast Vintage Racer sprint car group ran six dashes, three heat races and their feature. Tonight with the rain and the lack of track lighting at the Gold Pan Speedway the program was going to be adjusted.
Tonight the rain had come just when they were finishing up qualifying for the sprint cars. After the rain delay, they decided they would not run any dashes. I was all for that. It looked to me like they were going to run two 13-car heat races and then later on a feature race.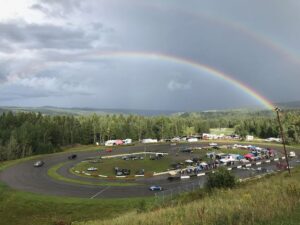 Normally there are very few benefits that come from seeing rain at a racetrack. However, tonight the rain created a double rainbow, one of the more beautiful rainbows at any track I've seen. You won't want to miss the photo.  You won't have too! 
I must have been sleeping when the announcer explained what the program was REALLY going to be like! The sprinters ran two races with 13 cars in each race. Then the stock cars came out to run their feature race with both divisions combined due to the small car counts in each individual category. 
It was now about 7:30 p.m. We still had another hour of daylight. The spectator cars parked where we were at the elevated hillside grandstand didn't move a bit. Everyone was waiting for the sprint car feature. 
It was right at this time that a few campers and trucks came into the infield from outside pulling trailers. That seemed a little bit strange. Unbeknownst to us what we thought were two 13-car heat races were actually two 13-car feature events! I don't know where I missed that point. I didn't hear it over the PA system.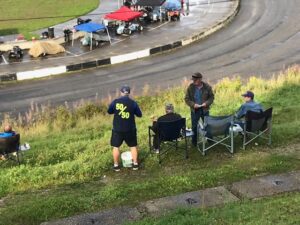 It was also at this point that it began to spit rain just a little bit. Things were just a little bit confusing. I talked to some of my spectating neighbors. They were thinking the feature race was coming up as well. It wasn't. Oh well, there's always a race at Thunder Mountain Speedway tomorrow night. 
At that point, we hopped in the National Car Rental Racing Ford Fusion and drove our car down into the pit area. This was where the fun for the night was going to begin. The first person we met was Stu Howse.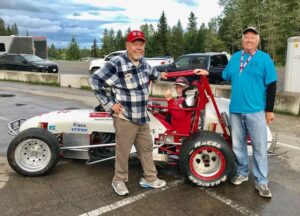 Stu (above left) is one of several people who ordered one of my 2019 "World's #1 Trackchaser" t-shirts. Stu was able to give us a lot of interesting information about tonight's racing with the WCVR group. 
It's always nice to finally meet someone that I had been talking to and who had helped me out like Stu had. Stu had a special keepsake for me. It was a lanyard from the Calgary Speedway that closed about a dozen years ago. Thank you, Stu. That's a great remembrance of our trip.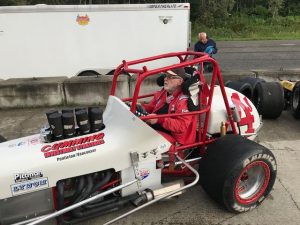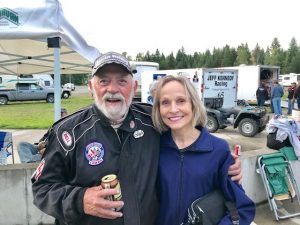 Stu is a former racer. Tonight he introduced us to several of the drivers who were racing. Stu works on the pit crew of the #4J sprinter driven by Al Levien (above top) another Facebook friend of mine. We also got to meet an 84-year-old driver, Ralph Monhay (above bottom) who ran at the front of the pack in several races.
We were taking pictures of all the racecars and meeting lots of new people when a woman walked by. Her name was Maureen Cook. She seems to run most things at WCVR!!  We had a nice chat with Maureen. She ended up giving us two beautiful West Coast Vintage Racers hats. We will wear them proudly. 
We made our way around the entire track and infield before getting our picture taken in front of the Gold Pan Speedway sign. Gold Pan has been at this location since 1972. Even the guy who volunteered to take a photo of us chatted with Carol and me for nearly 10 minutes. Canadian people are very friendly. 
From there Carol and I headed back to the hotel. However, we did have to stop at Tim Horton's because if you come to Canada you have to stop at Tim Horton's. For the first time ever I had a "white" hot chocolate. I guess it sort of tasted like warm milk. 
For some reason, the racing at the PGARA Speedway Park and at the Gold Pan Speedway seemed a little bit "disjointed". Here's why. 
At the Prince George located track on Wednesday night I think they ran too many races given the delays that they would encounter. All of that ended up in us not seeing the 40-lap 24-car sprint car feature race. Then at the Gold Pan Speedway, it seemed as if they almost ran too few races albeit because of the weather. We still hadn't seen all of the sprint cars race in one big event.
The highlight tonight was easily meeting all of the new friends from the West Coast Vintage Racers group. Tomorrow night we will follow this group one more time. The weather forecast looks decent. I just hope we get a chance to see all of the sprint cars racing at the same time. 
Good evening Quesnel, British Columbia, Canada. 
Saturday, August 24, 2019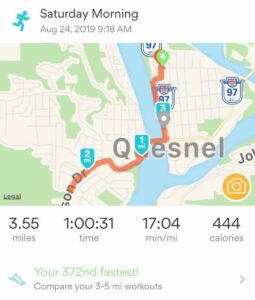 I began my morning power walk this morning along the Fraser River. I had a chance to walk across the old Frazer bridge which is a previous Trackchasing Tourist Attraction. The weather was cool and clear. The city of Quesnel does seem to have a lot of homeless down on their luck type of folks roaming around. It was interesting passing small groups of these people on my power walk.  We all exchanged good morning greetings and went about our business. 
Today Carol and I had a major Trackchasing Tourist Attraction planned. We were heading out to "Barkerville". This was going to be about an hour and a half one-way drive on winding two-lane roads. For most of the way, there was no Internet service or cellular service whatsoever. It rained most of the way. 
We were lucky when the rain stopped just as we pulled into the parking lot. At that point, the sun came out as well. Given the weather conditions and the limited time, we had to make a last-minute decision. Should we give up on the Barkerville visit or go on inside Barkerville? Since we had made such a commitment to get here we decided to go forward.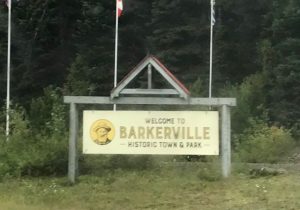 I thought Wikipedia described "Barkerville" better than I could. This is what they had to say.
History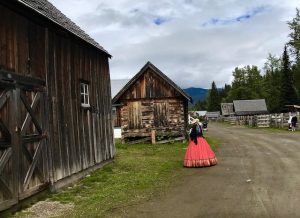 "Barkerville is situated on the western edge of the Cariboo Mountains in British Columbia. It was named after Billy Barker from Cambridgeshire, England, who was among those who first struck gold at the location in 1861. His claim was the richest and the most famous.
Barkerville was built up almost overnight, and was a case of "growth via word of mouth". It grew as fast as word of Barker's strike spread. His claim would eventually yield 37,500 ounces (1,065 kg/2,350 lb) of gold.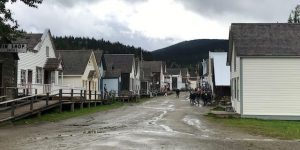 At first, the town consisted only of makeshift cabins and tents. By the mid-1860s, however, Barkerville had a population of approximately 5,000, 3,000 of whom were Chinese operated by Kwong Lee Company of Victoria. Even though its population was transient and largely dependent on mining, Barkerville was becoming more of a real community. It had several general stores and boarding houses, a drugstore that also sold newspapers and cigars, a barbershop that cut women's as well as men's hair, the "Wake-Up Jake Restaurant and Coffee Salon", a theatre (the Theatre Royal), and a literary society (the Cariboo Literary Society). 
Horse racing and prizefighting were common entertainments. Among the so-called "sober set," church services were extremely well attended. The general stores were the most profitable of the merchants. As they had the only source of food, the store owners could increase the price of food and supplies. In the height of the gold rush, the stores sold flour for as high as $1.25 per pound. Beans, meat, and dried fruit were sold for a dollar a pound. But as the gold rush ended, the stores went bankrupt and finally out of business.
People of Chinese descent were an important part of Barkerville's life for almost a hundred years. They established a number of businesses, including the Kwong Lee Company, a general store that sold groceries, clothing, hardware, and mining tools. The company had stores in other parts of British Columbia, but the Barkerville store was one of the most impressive in town. The Chinese community also built cabins (for Chinese miners, who saved money by sharing four or five to a cabin) and Tai Ping (the "Peace Room"), the equivalent of a modern nursing home.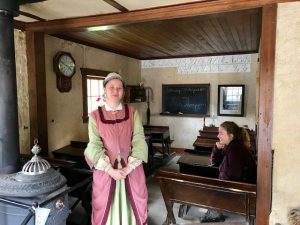 On September 16, 1868, Barkerville was destroyed by a fire that spread quickly through the wooden buildings. Rebuilding began immediately, and at an impressive pace. Within six weeks, ninety buildings had been rebuilt. Boardwalks were improved, and the narrow and winding main street was widened and straightened. By 1880, there were enough children in the area to build the Barkerville School. It had thirteen pupils and one piece of school equipment—a chalkboard. Even so, Barkerville's population was declining by the end of the 19th century and it eventually had only a few people as residents. It had a revival in the 1930s when the Great Depression caused widespread unemployment, and the price of gold skyrocketed. But as the depression turned for the better, Barkerville declined to a very small village.
Barkerville Historic Town and Park
In 1957, the government of British Columbia decided that the town should be restored and operated as a tourist attraction. Today, Barkerville appears as it did in its heyday and is referred to as Barkerville Historic Town and Park. The history of each building has been researched and documented. No residents remain; they were either bought out or moved to New Barkerville during the restoration of the site.
In 2008, Barkerville's Chee Kung Tong Building was designated a National Historic Sites of Canada. The two-story board and batten structure was completed in 1877 and originally used by the Chee Kung Tong organization, a benevolent association for recent arrivals. It is representative of the community building among immigrant Chinese labourers and merchants in new settlements throughout Canada."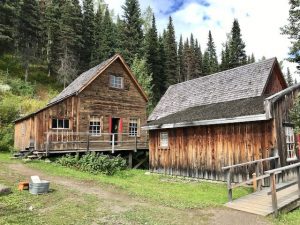 We had a fun time during our somewhat brief two-hour visit. The admission charge is good for two days of visiting Barkerville. We had a cursory look at almost all of the buildings. We also had a nice Chinese lunch. It doesn't take all that much imagination to think you truly were dropped from a time machine back into the gold rush days.
From our Barkerville TTA, we had to take the same winding two-lane road back to Quesnel and then go south from there to Williams Lake, British Columbia. Williams Lake was home to the Thunder Mountain Speedway. 
This had been a unique trackchasing trip. The weather staggered us but didn't knock us out. Anytime there is an opportunity to see three British Columba permanent oval tracks in four days we have to go for it. When other trackchasers read this they will get excited about planning their own trips.
THE RACING
Thunder Mountain Speedway – Williams Lake, British Columbia
I had a bit of a difficult time finding the exact location of the Thunder Mountain Speedway. I checked the track's Facebook page. I attempted to check their website which didn't seem to be operating. I never did find the track's location on any social media sources or by calling the one number that was listed for the track on their website. 
How did I figure out where the track was located? I did it the old-fashioned way. I did it the way I did this stuff back in the 80s and early 90s. When we stopped to get gas in Williams Lake I asked the young man working at the cash register inside the convenience store. He gave me excellent directions to the track. 
I'll share just a couple of comments about finding tracks. As I said it was common for me to ask for directions at convenience stores. It often surprised me when people, in a small town, working at a gas station had absolutely NO IDEA where the racetrack was located when it was located sometimes within blocks of their store. Their response would be, "I'm not from around here". What? I'm not from around here! I often wondered how far these people were willing to drive for a minimum wage job if they "weren't from around here".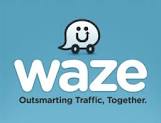 I was the first trackchaser to fully implement technology into the trackchasing hobby. I was the first to have a portable GPS machine. I was the first to begin using my phone as a GPS unit. I was the first to have a trackchasing website. I was the first to have a smartphone. All of these "firsts" would translate to several new tracks every year that could be reached simply because I was using technology for information power when others didn't have that information.
When I'm on the long and dusty trackchasing trail I usually check my email every 5-10 minutes. Just recently a leading trackchaser didn't check his email during an entire 250-mile drive. When he arrived he learned the race had been canceled. Had he been checking his email frequently this long drive could have been aborted.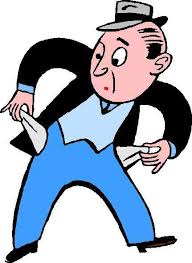 Some people think that technology costs money. They have very outdated equipment. What these folks don't understand is that TECHNOLOGY SAVES MONEY! However, if a person thinks that technology costs too much money they will never really "get it". I feel badly about that.
I was lucky to work for a large corporation that required the adoption of tech as a condition of employment. Even at a big company with generally progressive thinking like Procter & Gamble, there were still people who couldn't quite come onboard the technology bandwagon. Of course, I've gotten a lot of tech help from our son J.J. and the Apple Inc.
I would love to eat at the tracks that we visit. It's just that I've been disappointed so many times by the short track racing industry and the concessions they offer. Some tracks are excellent in this category. More often than not the offerings leave something to be desired. 

That being the case we stopped at McDonald's and went through the drive-through. However, just as we were doing that a strong rainstorm came through. The rain was so heavy that with the window lowered as we placed our order in the drive-through lane I couldn't continue with the order! I simply drove around to the other side of the building where we could lower our window without being drowned and finished up our order. I've never had that happen before. 
The rainy and cloudy weather really rolls into these areas in British Columbia quickly. The bad weather can leave just as fast as well. I guess that's a good thing. 
The track was located about 10 minutes from where we were eating at McDonald's. With the amount of rain that had come down, I figured we would be in a for a long track drying delay.
That's why I was surprised when we pulled into the track to see the West Coast Vintage Racer sprint cars already hot lapping. That was rather amazing since the track was only 10 minutes from where we were eating at McDonald's. Yes, amazing!
As seniors, we paid $20 Canadian for spectator admission for the two of us. That came out to about $7.50 U.S. per person. Very reasonable. 
There really were no official grandstands at the Thunder Mountain Speedway. Fans simply drove their cars into the terraced viewing area for cars or brought along lawn chairs. Because we flew into British Columbia we didn't have any access to lawn chairs.
We simply stayed in our car when they weren't racing tonight and when the races were ready to go we stepped outside the car and watched. It was nice being able to get back into the car between races because the temperature was only about 60° with some wind.
It was difficult to hear the announcer from our position. When I roamed around the track I heard the PA much better down toward turn two compared to where we were watching closer to the start/finish line. 
I had met the track announcer last night at Gold Pan Speedway. Tonight he gave Carol and me a nice "trackchaser mention", which we always appreciate. This fellow had a great voice for track announcing. I would have liked it if he had talked a little bit more because when he did speak he had lots of interesting and entertaining things to say. 
Just like last night, the race program had to be altered because of the weather. Races were scheduled to begin at 5 p.m. However, the rain delay moved the program back nearly an hour. That was minorly concerning to us because we have a four-hour drive to make after tonight's races. 
Carol and I both breathed a collective sigh of relief when the two stock car divisions pulled out of the pit area and onto the track to run their heat races. One group had only three cars. The second group had six entries. These were almost identical car counts for the stock car divisions for the previous two nights where we've seen racing here in British Columbia. 
We really came tonight to see the West Coast Vintage Racers and their 25 or so vintage sprint cars. However, when those two stock car heats were finished this track was countable. If it rained now, which we hoped it would not, we would still be able to count the track. 
The sprint cars ran three hot lap sessions. The flagman gave them a lot of laps. I'm going to guess each group practiced for 10 laps. 
On the first night of this trip, we saw the sprint cars at the PGARA Speedway Park where they ran dashes, heat races and features. Last night they ran only an "A" and "B" main event because of the weather. 
Tonight the weather was almost identical to last night when it rained off and on. This evening the program was shortened again. Tonight the sprinters ran what I think was a "B" main for about 15 cars and then an "A" main for about 15 cars. I often say, "Don't miss the video". Why? Because you shouldn't miss the video! 
With limited announcements, it was somewhat difficult to fully understand how the program was being run. It didn't seem like the race program at the speedway was fully completed even after the final checkered flag flew. It was only about 7:30 p.m. at that point. 
They did run a six-lap feature for the stock cars after the sprint cars were finished running. Nevertheless, even when that race was finished it didn't seem like the sprint cars were packing up to leave. I wondered if they still had some more racing to do. 
We stopped by the pit area and talked to one of the West Coast Vintage Racers representatives. He told us that yes indeed the feature race was finished. He said that the weather had cleared up better than the promoter expected. That race promoter was now debating whether or not they might have the sprint cars run a couple more exhibition or heat races. The rep didn't know for sure how that was going to turn out. 
Given the fact that we had seen a feature and that we had a long drive to make to get ourselves down to Boston Bar, British Columbia we elected to leave the track. It was only 7:15 p.m. They hadn't started racing until 6 p.m. Now on a Saturday night the regular program was wrapped up at such an early hour. 
AFTER THE RACES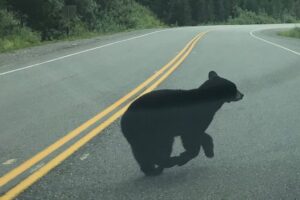 Most of the drive down to our hotel in southern British Columbia was over winding mountainous roads. The only wild animal we saw on this trip was a small black bear, who ran out in front of us. Most of that ride was done in the dark. We did stop at a Dairy Queen and bought a couple of small Blizzard's to celebrate our British Columbia trackchasing success. It something good happens it's always nice to celebrate!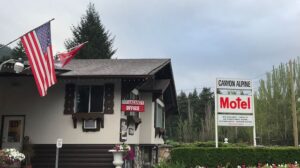 We pulled into the Canyon Alpine Motel in Boston bar at 11:15 p.m. That was a little bit earlier than we had planned. We needed to be on the road tomorrow by 8 a.m. and over to the Seattle airport by 12 noon tomorrow. If we can do that we might have a shot of making a flight a little bit later. Flights on Sunday from Seattle to Los Angeles are tight. We will do the best we can to make one of them.
Yes, the weather has hassled us on this trip but never once been a major factor. We got in some excellent Trackchasing Tourist Attractions. We also got a chance to see some really good vintage sprint car racing at three different permanent asphalt oval tracks in British Columbia. 
The season is winding down. Being so far north up in Canada even though it is only late August you can feel the chill in the air. That signifies that fall is coming. Winter won't be far behind. I've still got a few weekends planned for trackchasing.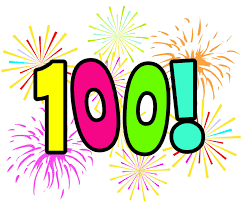 I won't see 100 tracks in 2019 like I have done in almost every year since I retired in 2002. I have no problem with that. I may still travel more than 160 nights for the year given all of the time spent vacationing that didn't have anything to do with auto racing. It's been an excellent year so far. 
Good evening from the Thunder Mountain Speedway in Williams Lake, British Columbia.
Sunday, August 25, 2019 
We woke up in the Canyon Alpine Motel in Boston Bar, British Columbia, Canada. This was a 1950s style Hotel. I hadn't stayed in one of these for a very long time although I used to. Our room was large. It did take a while to get the hot water but all was generally good. What does a hotel like this cost in today's world? $92 U.S. I'll bet when they first opened room rates were less than five bucks! 
This morning it was raining. It was cold. It was foggy. It was not a good weather day. It didn't matter. The touring and trackchasing portion of our trip was finished. 
We were now headed back to our modest seaside cottage in the sleepy little village of San Clemente, California. It was going to take some traveling to make that happen. We would need to drive four hours to the Seattle-Tacoma International Airport. During that drive, we would cross the international border.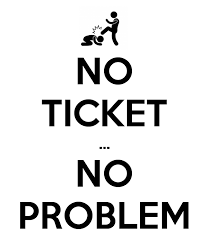 We would arrive at the airport without an airline ticket. We were trying to fly home on Sunday probably the busiest travel day of the week. Of course, we are traveling at the end of the summer as people are wrapping up their vacation and getting their kids back to school. We are also flying on the Seattle to Los Angeles route, one of the more popular airplane itineraries in the country. 
Nevertheless, we are adventure travelers. I like to travel on the edge and Carol is willing to go along. Our plan was to get home today. There were no guarantees of that. Rarely in life are there guarantees and if you do get a guarantee you're probably paying a price for that guarantee. I prefer to be an adventuresome traveler and take along the World's #3 Trackchaser as my trusty travel companion. 
There is one thing that puts a smile on my face. It's when people tell me they would love to be able to do what I do with travel and trackchasing. Maybe they would. However, I think very few people realize what it takes to do this. Let me give you an example. 
This morning Carol and I woke up in our little world which, today was the town of Boston Bar, British Columbia. We were looking at a four-hour drive through the mountains on winding two-lane roads. We would cross the border at Abbotsford, British Columbia. Once in the states, we would continue on until we got to the Seattle-Tacoma International Airport. 
A good deal of the time Carol and I fly on "standby". This means if there is an open seat on the plane and we have the most seniority of all standby passengers we can get that airplane seat for ourselves. Today that plan worked out about half as well as I was expecting. 
When they moved down the standby list to where our names were listed there was only one seat left on the plane. Carol and I had already planned on that eventuality. I put her on the plane and simply said, "When you land I will have texted you with whatever the plan is for me getting back to Southern California". That's how we roll. I wouldn't do it any other way. 
Would you feel comfortable putting your spouse or significant other on a 1,000-mile airplane ride while you stayed behind? Welcome to my world. People know me here. 
As soon as the door shut on Carol's airplane and taxied away I made a beeline for the Alaska Lounge. There I grabbed a couple of cookies and made arrangements to try to fly standby on another airline. It was Sunday afternoon. The airport was very busy. By some stroke of good fortune just 40 minutes later I was making my way down to Los Angeles on another airline. We were fortunate. I could've bounced around on the standby lists for the rest of the day. 
I ended up meeting Carol in the Korean Airlines Lounge at LAX. There we hatched a plan for the rest of the day. You walked next-door and ordered $60 of food from P.F. Chang's. They are a trackchasing sponsor of ours. With that sponsorship, there is no cost to us. 
Then we walked over to terminal six. We stopped at the Point The Way Café. We hoped to have dinner there. However, their Priority Pass machine wasn't working. That meant we wouldn't be able to use our sponsorship. With that in mind, we walked over to terminal one, cleared security and enjoyed a nice dinner at Rock & Brews, another Priority Pass sponsor.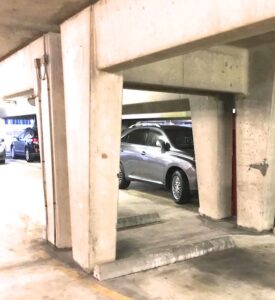 From there we walked back to our parking garage. We have a great sponsorship with LAX World Parking. We've had that sponsorship for more than 10 years. Our parking garage is located about 20 minutes walking from the LAX terminals. I always make that walk. Normally Carol rides the bus. Tonight we both walked. 
We had left our motel up in Boston Bar, British Columbia this morning at 7:30 a.m. Now we were just 65 miles from home. We motored down the 405 freeway, which is 14 lanes wide most of the way. Just 15 miles from home we encountered an accident that slowed traffic to a stop for a few minutes. Finally, we were back in business and pulled into the driveway of our modest seaside cottage in the sleepy little village of San Clemente at about 10:30 p.m. 
It had been a long day. We've been gone for six days. This was a very successful trip. We met new friends. We saw racing at three more permanent paved ovals up in British Columbia. We had some excellent Trackchasing Tourist Attractions. We ate good food. We exercised. It was a good trip. 
Good day and good evening for British Columbia, Canada.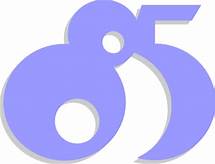 Randy Lewis – 85 countries – 2,582 tracks.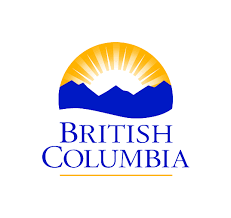 British Columbia
The Beautiful British Columbia province
On this trip I saw racing at my 21st, 22nd and 23rd-lifetime tracks in the Beautiful British Columbia province, yes the Beautiful British Columbia province.  I hold the #1 trackchasing ranking in British Columbia as I do in four of the ten Canadian provinces.  I've seen 23 or more tracks in two different provinces.
Thanks for reading about my trackchasing,
Randy Lewis
World's #1 Trackchaser
Peoria Old Timers Racing Club (P.O.R.C.) Hall of Fame Member
British Columbia sayings: "Oh my god it's sooooo hot outside."
This is usually said anytime the sun is even remotely visible, or when it hits 20 degrees outside.
QUICK FACTS
LIFETIME TRACKCHASER COMPARISONS 
The three most important trackchasing comparisons to me are:
Total lifetime tracks seen
Total "trackchasing countries" seen
Lifetime National Geographic Diversity results
Total Lifetime Tracks
There are no trackchasers currently within 720 tracks of my lifetime total.  Don't blame me.
Randy Lewis, San Clemente, California – 2,582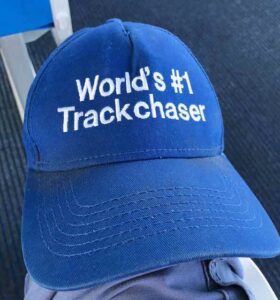 Total Trackchasing Countries
The nearest trackchasing competitor has seen racing in 30 fewer countries compared to my lifetime total. 
Randy Lewis, San Clemente, California – 85
Current lifetime National Geographic Diversity results
Randy Lewis, San Clemente, California – 4.14
That's all folks!  Official end of the RLR – Randy Lewis Racing Trackchaser Report
Click on the link below to see the video production from the racing action today.
West Coast Vintage Racers from P.G.A.R.A. Speedway Park 
.
.
West Coast Vintage Racers from the Gold Pan Speedway
.
.
West Coast Vintage Racers from the Thunder Mountain Speedway
Click on the link below for a photo album from today's trackchasing day.  You can view the album slide by slide or click on the "slide show" icon for a self-guided tour of today's trackchasing adventure.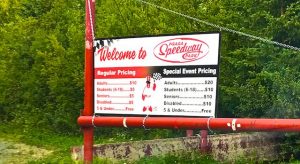 The trip to British Columbia begins with the P.G.A.R.A. Speedway Park our first racing stop
.
.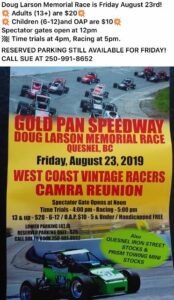 A couple of Trackchasing Tourist Attractions and BC racetrack number two for the trip…the Gold Pan Speedway
.
. 
The BC trip wrapped up with a visit to "Barkerville" and a final night of West Coast Vintage Racer sprint car racing at the Thunder Mountain Speedway