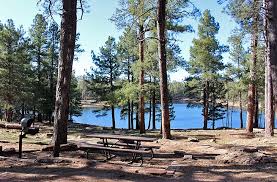 Greetings from Payson, Arizona
.
.
From the travels and adventures of the 
"World's #1 Trackchaser"
.
.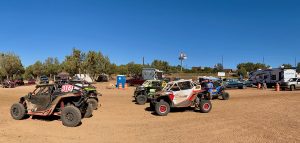 Payson Events Center
Dirt road course
 Lifetime Track #2,591
The EventVideo PlusPhotos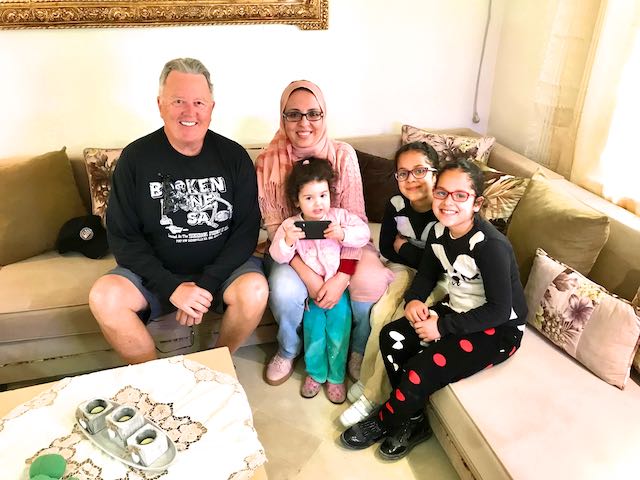 THE EVENT
My name is Randy Lewis (above with Asma and her children in Tunis, Tunisia). I live in San Clemente, California. I am a "trackchaser". I trackchase. Before you discovered my site had you ever heard of trackchasing? Maybe not? So….what the heck is trackchasing? Sit back, take a read and you'll be an expert on my hobby of trackchasing when you're finished.
Here's my best explanation on what trackchasing is to me.
Trackchasing is a three-pronged hobby. I'm a racing fan. I love to travel. I love to analyze opportunities to get the most out of everything while saving time and money.
Trackchasing fills the need for all of the above. The racing part of my trackchasing has me trying to see wheel to wheel auto racing at as many different racetracks as I can all over the world. Yes, all over the world. So far things are going pretty well. As this is written, I've seen racing in 85 countries at more than 2,500 tracks. As a matter of fact, I've seen racing at more tracks than anyone else in the world.
Equally important to me are the things I get to see and experience over the "long and dusty trackchasing trail". I call these adventures "Trackchasing Tourist Attractions". You won't want to miss my "Trackchasing Tourist Attractions" page. Here's the link:  Trackchasing Tourist Attractions or my "Sports Spectating Resume" page, Sports Spectating Resume on my website at www.randylewis.org.
I live in southern California. That's probably the most inconvenient location in the country for seeing tracks in the U.S. Most of the racetracks in the U.S. are located well over 1,000 miles from where I live. As a matter of fact, my average trip covers 5,000 miles and more. I take 35-40 of those trips each season. In any given year I will travel well over 200,000 miles, rent more than 50 cars, and stay in more than 150 hotel rooms.
I get the chance to meet people all over the world. With trackchasing trips to 85 countries and counting just getting the chance to experience so many other cultures, spend time in their homes and meet their friends is a huge reward for being in this hobby. I am indebted to several of these folks for their help and friendship.
It takes a good deal of planning to do the above and not spend my entire retirement portfolio. I enjoy the challenge, the travel and every other aspect of "trackchasing". In reality, my trackchasing hobby is a lot like being with the carnival. I breeze into town, stay a little while and then head on down the road.
I've tried to tell you what the trackchasing hobby is to me. Now I will show you what trackchasing is to me in pictures and music. If you watch just one YouTube video this year, this is the one to watch.
You will see how a simple trackchasing trip takes me a long way from my environment in California and most importantly not just in miles. My hobby is about seeing and experiencing the things that most folks walk right past. Check this out. It might just make your day.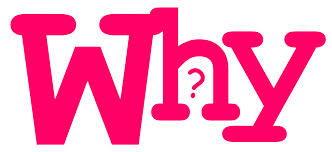 Trackchasing….this is exactly why I do it
Today's adventure was one more of the 2,000 trips that have taken me up, down and around the proverbial long and dusty trackchasing trail.  If you would like to see where I've been and experience those adventures here's the link: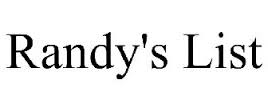 If you've got a question, comment or whatever please leave it at the bottom of this report.  It's very easy to do.  Or you can visit me on Facebook.  Thanks!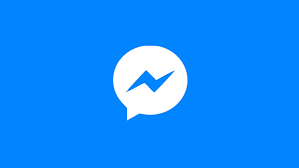 FOREWORD
Sunday, October 6, 2019.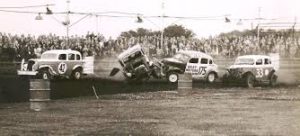 I must admit that I had some concerns about whether or not this weekend's trackchasing trip made sense. The hobby of trackchasing began decades ago. Racing fans in those days trackchased all over the country essentially seeing one type of racing. That racing was done by stock cars and open-wheeled cars racing on permanent oval tracks.
Like most things in life "stuff" has definitely changed over the past 50 years. The hobby of trackchasing would be no exception. Today trackchasers see racing on figure 8 tracks and road courses (mostly temporary). That's about as far from the little dirt and asphalt quarter-mile ovals of yesteryear as you can get.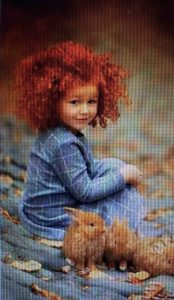 In Europe, and most other countries that do not have English as their primary language, road course racing is the order of the day. I would say that most road course fans actually look down on oval track racing as a red-headed stepsister.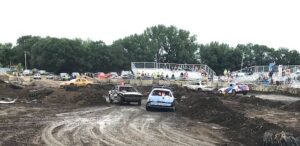 When I say that today trackchasers see racing on "road courses" I am NOT talking about Nurburgring, Spa or Le Mans. Heck, most trackchasers couldn't tell you what COUNTRY those tracks are located in. I'm talking about temporary road courses often outlined by a series of orange cones at a county fair as likely as not.
In some people's minds, county fair racing on these temporary road courses and figure 8 tracks is questionable in terms of the quality of racing created. Some would say, "Is this REALLY racing?" People say the rules of trackchasing are lax.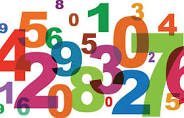 So, why do people (trackchasers) take their time to see racing on these very informal, temporary and likely not to be here next year or five years from now tracks? Because trackchasing is a counting hobby. People want to add tracks to their lifetime totals. After a while, they abandon their true racing roots and become wedded to the "count".
I certainly am not immune to this disease. I'm sure that I've seen racing on more temporary makeshift "track configurations" than anybody else. I helped spread this disease.
How exactly did I do that? I started going to UTV races, almost all on temporary tracks and quite frequently in the woods. Talk about being a disrupter!
Of course, as soon as I began following UTV racing lots of other trackchasers did as well. Why? The main reason is that trackchasing is a very competitive hobby. If I were adding new tracks one after another at these UTV woods courses, others who weren't doing that would fall further and further behind.
In my heart of hearts, I believe the trackchasing hierarchy would love to have banned UTV racing from the get-go. But, how could they? The UTV "car" had a steering wheel and four wheels. In many ways, it wasn't that fair off from being what most folks think of as a car. These UTV "cars" were racing on tracks that would count if a pickup truck was using that track.
There was no way they could ban UTV racing even if that guy from California was kicking their butt with UTV racing. Yep. I was seeing UTV racing. That meant THEY had to begin seeing UTV racing. However, there was some sanity to the situation. In reality, only the most competitive trackchasers routinely chose to spend their Saturdays and Sundays following UTV "cars" through the woods.
I guess the best I can do is offer my most sincere apologies to members of the trackchasing community and those who observe it. I don't think most trackchasers were really too enthused to count racing beyond permanent ovals and permanent road courses.
If one were to take a look at the track lists over the past 3-5 years of the people at the top of the trackchasing hierarchy I think traditional race fans would be aghast. One would notice that the leading trackchasers, in so many cases, have seen almost all of the permanent tracks in their area. That's right. For those who follow more of a regional trackchasing approach, those chasers have seen most of the permanent oval and road course tracks in their geographical driving circle. They have nothing left to see when it comes to permanent tracks.
I believe the hobby should never have excluded things like drag racing, motorcycle racing and go-kart racing. Most of that type of racing is much more professional, entertaining and competitive that the racing people are watching out at many (most?) temporary venues.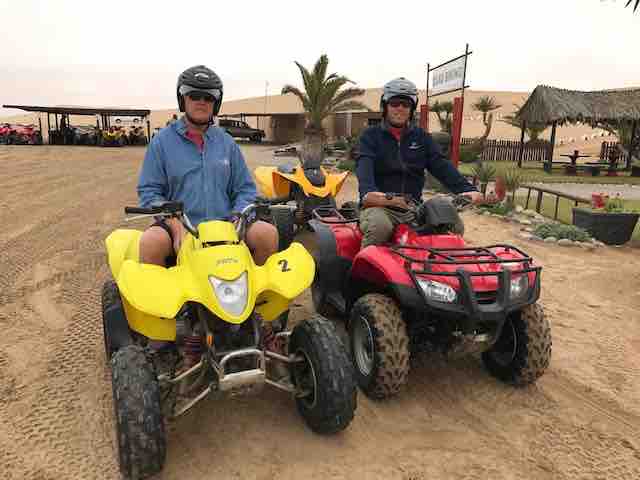 Now let's get back to the topic of UTV racing. Why does the UTV machine count in trackchasing? The two main reasons are that the machine has four tires and a steering wheel. Other racing machines such as quads (above – that's me and my son Jim riding quads in Namibia) and the like have four tires but they have a motorcycle-style handlebar rather than a steering wheel. Remember, motorcycle racing is not allowed in trackchasing.
Often times a UTV race is not very spectator friendly. That is especially true with UTV races that include a "woods" course. Most woods UTV racing has the competitors completely out of sight for 80-90% of an entire racing lap. Would you go to a basketball game if 80% of the action was blocked from your view? Even the UTV racing that doesn't involve being in the woods often allows the spectator very little visibility of the actual racing itself. Folks, this type of racing is a long way from what I experienced at the Peoria Speedway as a boy.
Nevertheless, I made the commitment today to travel to Arizona to see some UTV racing. Why did I do that? Actually I had several reasons.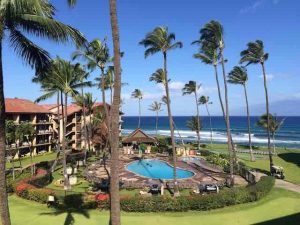 Carol and I had spent the last two weekends in Maui, Hawaii. We had a nice time as we always do but that vacation took me away from trackchasing for a couple of weeks. Another reason was those, "Pesky Eckels". By "Pesky Eckels" I mean fellow competitors Bruce & Pat Eckel.
They are my nearest fellow competitors in the trackchasing world in the state of Arizona. I've got to give them credit. They saw almost all of their Arizona tracks when they lived in Pennsylvania. Good for them.
They also did something that no other trackchaser has ever been able to do in the history of trackchasing. I have a #1 trackchasing ranking in 26 different states in the United States and a first-place ranking in several provinces in Canada as well. No trackchaser has ever surpassed my trackchasing totals in any of these locations where I have a number one ranking, except once.
Those "Pesky Eckels" caught me sleeping. I wasn't putting much focus on Arizona. Few trackchasers ever set foot in the Far West and when they do they don't stay long. In the meantime, I was trackchasing all over the world. What do I mean by all over the world? I've seen racing in 85 different countries.
The Eckels recognized an opportunity. They started seeing an Arizona track here and an Arizona track there. I looked up one morning and saw that their Arizona totals had surpassed mine by one Grand Canyon state track. I didn't like that! That was concerning. What if others thought they could do the same thing?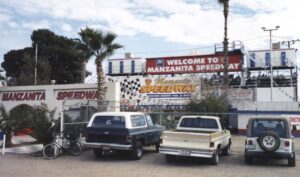 I certainly have the utmost respect for Bruce & Pat Eckel and their trackchasing. However, I wasn't going to be able to let them maintain the #1 position in Arizona. For gosh sakes, Carol and I called Arizona are home for a year back in '74. Manzanita Speedway (above) was our home track.
Soon I was putting a focus on Arizona and adding track after track. It wasn't long before the Eckel's started fading into the desert in my trackchasing rearview mirror. After today's successful Arizona trackchasing visit my state total stands at 42. Where are the "Pesky Eckels" in Arizona now? If my information is correct their totals stand at 32. Case closed. Bruce & Pat, please accept my apologies. I didn't want to make examples out of you guys. However, I had to send a message to future interloper wannabees.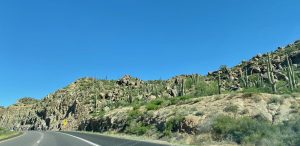 Yes, today I was trackchasing in Payson, Arizona. Payson is some 466 miles from our modest seaside cottage in the sleepy little village of San Clemente. Often times I've driven over from California to Arizona for these kinds of races. Not this time.
I would fly to Arizona but it wouldn't be a "straight shot". Today's racing took place on Sunday, October 6, 2019. On Saturday afternoon, the day before the race, Carol and I hopped in the MFunds sponsored Lexus RX 350 and headed up to the Rose Bowl in Pasadena, California.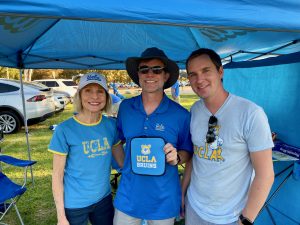 We would join our son J.J. and his great friend Dustin for a tailgating party. That would be followed by a night of college football at one of the most historic venues in the world. I'm talking about the Rose Bowl! We had a great time. We dined on four pounds of high-quality ground beef and imported beer. Everyone had a fun time as we always do.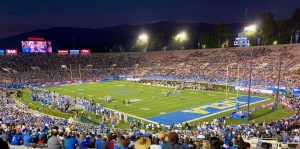 After the game, Carol drove straight home from the Rose Bowl in my Salvation Army-sponsored Lexus RX 350. Yes, there were two Lexus RX 350s transporting us on today's sport journey. Then I rode with J.J. and Dustin back to their house in their brand new Tesla 3. When we got home J.J. gave me a demonstration of their new TV. Pretty fantastic.
From there I grabbed a quick six hours of sleep from midnight to 6 a.m. When we woke up J.J. rode with me to LAX. He was flying to Fort Lauderdale, Florida today. I had a quick breakfast at Rock & Brews, one of my trackchasing food sponsors at LAX, and then caught a quick one-hour flight or to Phoenix, Arizona.

The UTV racing at the Payson Events Center was scheduled to begin at 2:30 p.m. The AZOP off-road racing group was promoting today's events. I've seen racing at several of their event locations.
The rental car center at the Sky Harbor International Airport in Phoenix is about a 10-minute drive from the airport. I don't like that at all. I prefer renting a car and walking from the airplane terminal to the rental car center. That makes it a lot easier and more time-efficient when I return the car as well. Nevertheless, I picked up my National Car Rental Racing Nissan Altima and was off to the races as they say.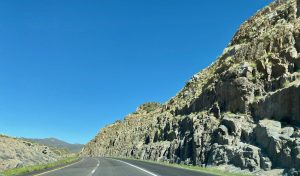 It was only about an 85-mile drive from Phoenix up to Payson. The scenery was unusual for the U.S. with lots of rolling desert and cactus. Payson sits at an elevation of more than 5,000 feet.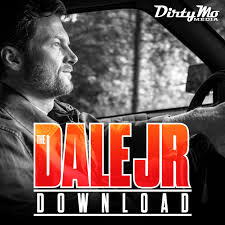 On the drive up to the track, I listened to several podcasts. One of my favorites is the "Dale Jr. Download". This podcast features former NASCAR driver Dale Earnhardt Jr. interviewing mostly racing personalities. Today's guest was Rick Hendrick, owner of Hendrick Motor Sports. It was fun to hear how both Rick and Junior were linked from so many years ago. Yep. This is my favorite podcast right now.
THE RACING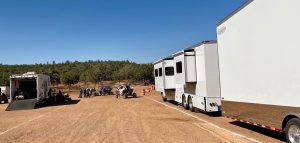 Payson Events Center – Payson, Arizona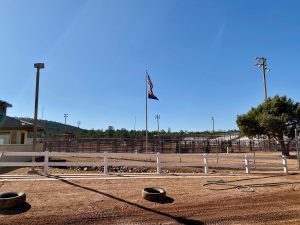 Today's event was being held at the Payson Events Center. This looked to be primarily a rodeo grounds with several sets of fairly large grandstands. A small bit of today's racecourse actually entered the rodeo grounds where the UTVs raced for 15 or 20 seconds before exiting out into the rolling hills that surrounded the actual rodeo area itself.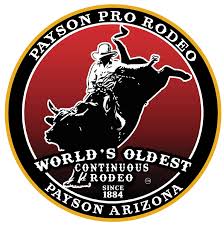 Payson, Arizona is home to the world's oldest continuous rodeo. Their very first rodeo was held in 1884! Additionally, they've held cockfights and, "chicken pulling" contests here. Chicken pulling? That's where a foul is buried in the street with only its head and neck sticking out. A rider would thunder by at a full gallop, lean down and jerk the unfortunate bird flopping from the dirt. That would've been a sight to see! Somehow I'm thinking that stuff isn't allowed anymore.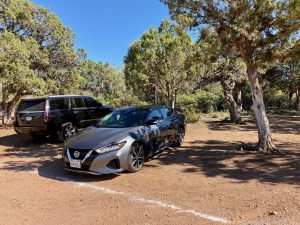 I paid my $10 admission, which would allow me to walk all over the grounds. Since I was nearly 3 hours early for the 2:30 p.m. UTV starting time I parked the National Car Rental Racing Nissan Altima under a shade tree. There were not many such options.
Since I had very little sleep last night after the UCLA football game and an early morning flight I took a nap for about an hour in the car. I let the engine run so I could use the air conditioning. It was a warm cloudless blue-sky day with temperatures reaching nearly 90°.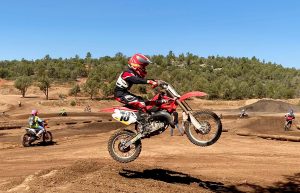 I watched a little bit of the motorcycle racing and virtually none of the quad racing. The paddock area, if you will, was jammed with large campers and race machine haulers. Today's racing machines being motorcycles, quads and UTVs probably took up less than 5% of the parking space with all of these huge RV rigs.
Where I parked I could see three UTVs waiting to race. Because it was so warm I didn't walk through the paddock very much. I figured if I could see three UTVs right in front of me there must be a lot of them competing today. That would not be the case.
When those three UTV racers began to move toward the starting line I did as well. What I found was just a little bit surprising.
I guess you could say the AZOP race promotion team is the premier off-road series in Arizona and one of the leading groups in Arizona, Nevada and California. I have had a little difficulty getting good actionable advance information from this group. The information was so sketchy a few years ago that I showed up at a racetrack in Arizona and they weren't having the kind of racing I needed to see. That shook my confidence some.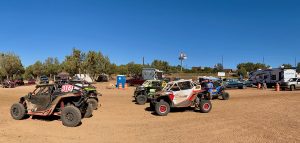 I was very much surprised when only seven UTV racers pulled up to the starting line. It looked as if they were only starting three racers in each row. That meant the starting grid looked like 3-3-1.
AZOP runs several different classes of UTVs. They have the UTV 170cc and UTV 570cc groups. I believe those classes, with smaller engines, are limited to children. By children I mean people 17 years of age and younger. Don't even get me started on trackchasing's rule around young people. It's ageism!
AZOP has several classes open to adults based upon the engine size of the UTV racer. Those groups are 700cc, 800cc, 850cc, 900cc, 1000cc, turbo and pro.
Another trackchaser showed up at Payson yesterday. His report simply stated there were 12 UTV racers competing. I wonder if he even looked at what classes those 12 UTV racers were part of? It's entirely possible if the racers were limited to three per row, that what he saw was not a countable trackchasing race.
The combinations that could make 12 UTV racers NOT countable, in rows of three, are almost endless. Let's say that all 12 were in one class. At three per row with each row starting separately that's not countable. Let's say there were 12 racers over two classes. That wouldn't be countable either. Do you get my point?
Today the green flag was shown to the first three racers and they took off. In another 15-20 seconds, the green flag fell for the second row and the same thing happened for the loan racer in the third row. When that happened I had no real confirmation that what I had just seen was a countable race.
When I got back to the airport I had to look at my videos and my photos to see which car numbers had been in the race. Then I compared those car numbers to the historical results for 2019 with AZOP racing. I recommend you look at my video as well….but then I always recommend you watch my YouTube videos!
This is what I found out. In the first row there was one pro competitor and two unlimited turbo competitors. With only that information that would not make this race countable. The third row had three 1000cc non-turbo competitors and the third and final row had one 1000cc non-turbo competitor. What did all this mean?
The 1000cc non-turbo class did not count because all four racers didn't start the race at the same time. The one and only pro racer probably wouldn't count either, although it might under the Randy Lewis track #1,000 result.
The one and only class that truly did count were the two unlimited turbos who started in the first row. They were the only unlimited turbos racing today. They both started at the same time. That meant this was a countable track. With that I breathe a sigh of relief!
You might be asking yourself, "Randy, what's up with all of this starting procedure stuff? You're a trackchaser. Were you part of this complicated mess?" Er…..yes, I was involved but I am not responsible. I'm sure the concerned reader can search my website and figure out what happened lo those many years ago.
The trackchasing "newbies" likely have no idea why there is a requirement that all competitors in a single class must start at the same time. As a matter of fact, I wouldn't be surprised if some trackchasers ever concern themselves with these details. Twelve UTVs is twelve UTVs, right?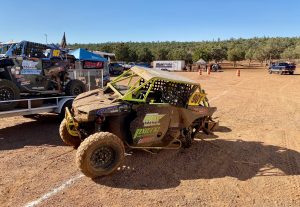 Today's race had a time limit of 50 minutes. Either two or three of the seven original racers didn't finish. I was right on top of a couple of pitstops. Another UTV racer broke an axle and was towed back to the pits with only three wheels attached.
I walked all over the area that was generally open to spectators. Spectators? There weren't many. I didn't notice a single person watching today who looked as if they weren't attached to a race team….except me. When the quad and motorcycle race teams were finished they headed out of the paddock toward home. With only seven UTV teams still competing the population of drivers, crew people and "fan" was very limited.
AFTER THE RACES

When the race was over I headed back to Phoenix. I must admit I seriously questioned whether coming over here today was a good idea. After seeing only seven racers compete and thinking about the effort and the time and the money that it took to make this happen I really wondered about what I was doing.
The first flight I could make from Phoenix over to Los Angeles departed on this Sunday night at about 7 p.m. There are several airplane routes across America that are very difficult for a standby flyer on a Sunday night. These are those city combinations where people leave their home city for a short weekend trip and then come back on Sunday night so they can go to work on Monday.
One of those routes is in the Los Angeles-Phoenix air corridor. Fortunately in Southern California, we have SEVEN different airports within an hour's drive or so of my house. That would include LAX, San Diego, Orange County, Ontario, Long Beach, Tijuana and Burbank. That's a lot of airline service isn't it.
I first started using the Phoenix airport back in 1974 when we lived in Phoenix for one year. It's pretty hard to believe that that was 45 years ago. No, it's not hard to believe. It's impossible to believe!
The Phoenix airport now is one of the most spread out, maybe the most spread out, of any airport in the United States. The walking distances between one terminal and the next terminal are long and time-consuming. In virtually every case you have to leave security in one terminal and clear security again to get into the next terminal.
I was considering flights on American Airlines, Southwest Airlines, United Airlines, and Delta Airlines. I was considering flights from Phoenix to all six Los Angeles airports. That's a lot of combinations and a lot of walking.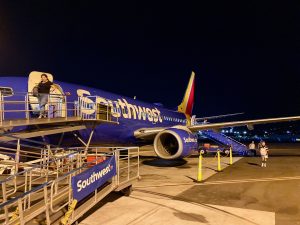 When certain options were closed because of no seat availability or flight loads that looked to be impossible for me to make the flight I finally settled on the Phoenix to Burbank route. I got one of the last one or two seats on that flight. If I hadn't made that plane I likely would've been shut out for the entire night.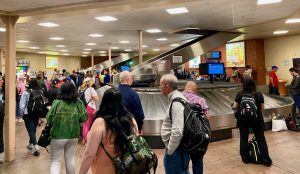 I landed in the very rustic 1950s style Bob Hope Burbank airport. Burbank's baggage claim area is outside! Their baggage claim area is about as big as our modest seaside cottage. That's the same way it was at the Orange County Airport when we first moved to California in the 70s and 80s.
There was one situation I would need to deal with upon my landing in Burbank. The Carol Lewis owned and MFunds sponsored Lexus RX 350 was parked at LAX! That meant that I would have to get some transportation from Burbank over LAX.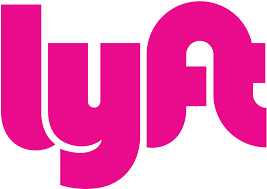 For the first time ever I used the Lyft rideshare service. I've probably used Uber 100 times. However, I had some coupons for a 25% discount with Lyft, which motivated me to take them tonight. There must have been well over 100 people at 10 o'clock at night in Burbank's airport waiting for their shared ride. This is a tech-savvy population. Ridesharing is second nature to everyone around this area.
I wonder how many of my fellow competitors have ever taken Uber or Lyft as part of their trackchasing transportation plan? I'm afraid if I guessed zero I might be correct. I'll just say very few people have ever done such a thing. For me it's pretty much second nature.
My Lyft driver didn't speak very much English if any at all. No problem. In the backseat of his Toyota Prius, I simply put my Bose headphones on and listened to an iTunes movie on my MacBook Pro.
By the time I rounded up my car at LAX and drove 65 miles back to our modest seaside cottage it was nearly 1 a.m. Had I made the right call in trying to trackchase today in Arizona? Well, on the one hand, it did put those "Pesky Eckels" one track further behind in the Grand Canyon state. However, they haven't been doing much in Arizona for a long time so I probably didn't need to expand my lead with this trip.
Good afternoon from Payson, Arizona and the Payson Events Center.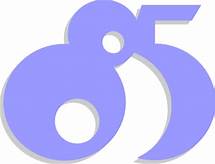 Randy Lewis – 85 countries – 2,591 tracks.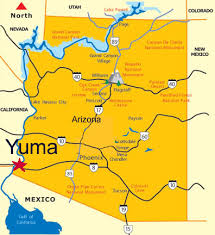 Arizona
The Grand Canyon state
This afternoon I saw racing at my 42nd-lifetime track in the Grand Canyon state, yes, the Grand Canyon state.  I hold the #1 trackchasing ranking in Arizona. The "Pesky Eckels", Bruce and Pat, sit in a tie for second.  I've seen 42 or more tracks in seventeen different states. No trackchaser can match that stat.
Thanks for reading about my trackchasing,
Randy Lewis
World's #1 Trackchaser
Peoria Old Timers Racing Club (P.O.R.C.) Hall of Fame Member
Arizona sayings:  A rich man's New Mexico

QUICK FACTS
LIFETIME TRACKCHASER COMPARISONS 
The three most important trackchasing comparisons to me are:
Total lifetime tracks seen
Total "trackchasing countries" seen
Lifetime National Geographic Diversity results
Total Lifetime Tracks
There are no trackchasers currently within 720 tracks of my lifetime total.  Don't blame me.
Randy Lewis, San Clemente, California – 2,591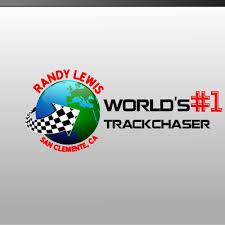 Total Trackchasing Countries
The nearest trackchasing competitor has seen racing in 30 fewer countries compared to my lifetime total. 
Randy Lewis, San Clemente, California – 85
Current lifetime National Geographic Diversity results
Randy Lewis, San Clemente, California – 4.14
That's all folks!  Official end of the RLR – Randy Lewis Racing Trackchaser Report
Click on the link below to see the video production from the racing action today.
Click on the link below for a photo album from today's trackchasing day.  You can view the album slide by slide or click on the "slide show" icon for a self-guided tour of today's trackchasing adventure.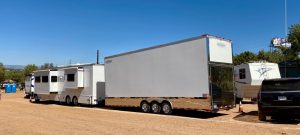 A quick trip to Arizona and back home that night