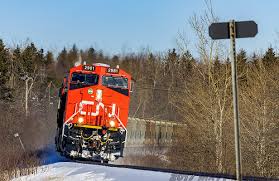 Greetings from River Glade, New Brunswick, Canada
.
.
From the travels and adventures of the 
"World's #1 Trackchaser"
.
.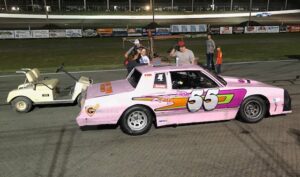 Petty International Raceway
Asphalt oval
 Lifetime Track #2,469
The EventVideo PlusPhotos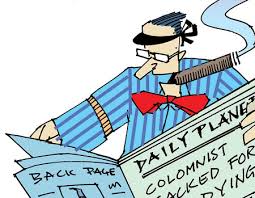 Editor's note:
Our visit to the Petty International Raceway was the first of four tracks in Canada that we visited during our trip. Each track will have its own photo album showing our experience at the track. A separate photo album (found by clicking the photos tab) will cover all non-racing activities, and there were lots of them, during the trip.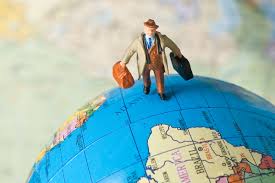 THE EVENT
I am a "trackchaser". So, what the heck is that? I get that question from racing and non-racing people all the time. This is a difficult question to answer. Why? Because after I do my best to respond people still say, "I've never heard of such a thing"!
Here's my best explanation.
Trackchasing is a three-pronged hobby. I'm a racing fan. I love to travel. I love to analyze opportunities to get the most out of everything while saving time and money.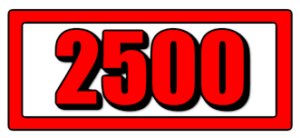 Trackchasing fills the need for all of the above. The racing part of my trackchasing has me trying to see wheel to wheel auto racing at as many different racetracks as I can all over the world. Yes, all over the world. So far things are going pretty well. I've seen racing at nearly 2,500 tracks in 80 countries. As a matter of fact, I've seen racing at more tracks than anyone else in the world.
Equally important to me are the things I get to see and experience over the "long and dusty trackchasing trail". I call these adventures "Trackchasing Tourist Attractions". You won't want to miss my "Trackchasing Tourist Attractions" page. Here's the link:  Trackchasing Tourist Attractions or my "Sports Spectating Resume" page, Sports Spectating Resume on my website at www.randylewis.org.
I live in southern California. Most of the racetracks in the U.S. are located well over 1,000 miles from where I live. As a matter of fact, my average trip covers 5,000 miles and more. I take 35-40 of those trips each season. In any given year I will travel well over 200,000 miles, rent more than 50 cars, and stay in more than 150 hotel rooms.
I get the chance to meet people all over the world. With trips to 80 countries and counting just getting the chance to experience so many other cultures, spend times in their homes and meet their friends is a huge reward for being in this hobby. I am indebted to several of these folks for their help and friendship.
It's takes a good deal of planning to do the above and not spend my entire retirement portfolio. I enjoy the challenge, the travel and every other aspect of "trackchasing". In reality, my trackchasing hobby is a lot like being with the carnival. I breeze into town, stay a little while and then head on down the road.
Today's adventure was one more of the 2,000 trips that have taken me up, down and around the proverbial long and dusty trackchasing trail.  If you would like to see where I've been and experience those adventures here's the link: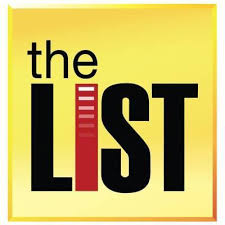 If you've got a question, comment or whatever please leave it at the bottom of this report.  It's very easy to do.  Or you can visit me on Facebook.  Thanks!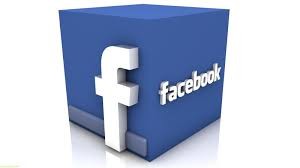 FOREWORD
Thursday, July 19, 2018.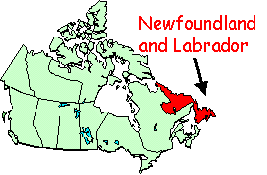 The trackchasing purpose of this trip is simple. We need to see a race in the Canadian province of Newfoundland and Labrador.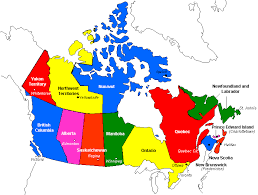 Canada has 10 provinces. Of course, you know that America has 50 states. Carol and I have each seen racing in all 50 of the United States. Coming into this trip she has seeing racing in eight Canadian provinces and I have seen racing in nine.
Early in our 13-day trip we hope to knock off Prince Edward Island for Carol. That would be her ninth Canadian trackchasing province. That track has quite a history with us. I'll explain it to you later.
Toward the end of this two-week trip we have two different opportunities to see racing in Newfoundland and Labrador. We have a history with Newfoundland as well.
To begin this trip we hopped on a simple Los Angeles to Boston flight. However, the 5 ½-hour flight did seem like it took forever. We had to fly around bad weather. Nevertheless, we arrived into Boston's Logan International Airport at nearly 1 a.m. We boarded the big blue rental car bus. Soon we were safely ensconced in our Quality Inn hotel room in Revere, Massachusetts by 2 a.m.
Friday, July 20, 2018.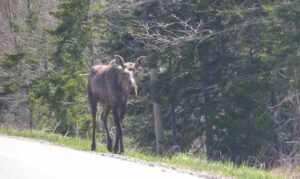 Today would likely be our toughest travel day of the trip. With little overnight sleep we had a 7 ½-hour drive up to River Glade, New Brunswick. On the way up we would pass from Massachusetts through New Hampshire and Maine before entering Canada. In Maine we began to see "moose on highway" signs.
Our trajectory was mainly northbound during our morning drive. With an eastern rising sun that meant Carol was roasting in the front passenger seat while I was cool as a cucumber in the shade of the western facing driver's seat. Sometimes life just works out that way.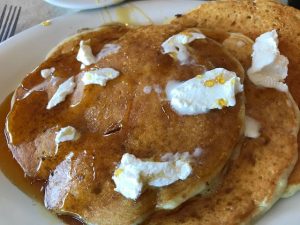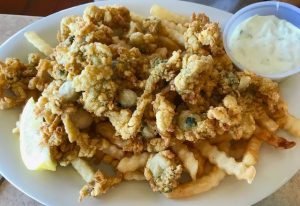 On our drive up to Canada today we stopped at one of my favorite spots, Dysart's Truck Stop in Bangor, Maine. These trips are meant to be fun and eating fun foods is part of a fun trip. Carol and I dined on a fried clam dinner and pancakes, quite an unusual combination. For some unknown reason I passed on their famous cinnamon rolls.
We've got a good rental car for this trip. We're going to be doing quite a bit of driving. Last night at the Boston airport I selected a Toyota Camry. I've been renting these frequently of late. I expect to get 35 miles per gallon or maybe even more.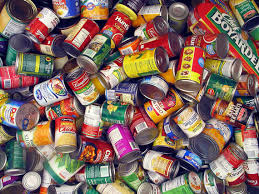 Tonight we are trackchasing at the Petty International Raceway. They have a special promotion going on. If you bring some food supplies for their local food bank you get in for just $10 Canadian. We stopped at a local Dollar Tree store and picked up several cans of food. It was a great value for us. I think it'll be a great value for the people who get our donation.
We also stopped in Houlton, Maine. There we filled up with U.S. gas. Gasoline normally costs about a dollar a gallon less in the U.S. than it does in Canada. Today we paid $2.91 after having driven about 350 miles. I calculate that we will have to pay for two tanks of gas while we're in Canada. Then I hope to be on fumes when we re-enter the United States and get more gas in northern Maine.
THE RACING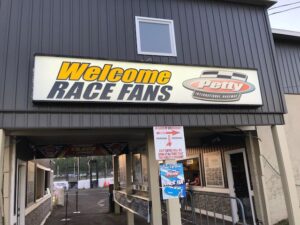 Petty International Raceway – River Glade, New Brunswick, Canada
We pulled into the Petty International Raceway just as the national anthem was beginning to play. This was perfect timing for a 7:30 p.m. racing start.
General admission tonight for those who brought food for the track's food bank was just $10 Canadian or about $7.50 U.S. I couldn't tell exactly what the admission price was for those who came without any donations.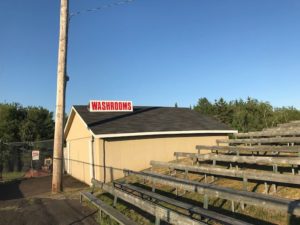 Before we could do anything else we made a stop at the "washroom". It wasn't the most conveniently located washroom I've ever seen. It sat down at the far end of turn one. It was marked by a huge sign that read, "WASHROOMS", so you couldn't miss it.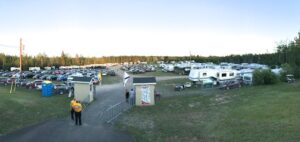 I was surprised by how many large campers were in the parking lot. I haven't seen that many campers at a short track in years. It reminded me of the days that we used to camp out during the Rockford Nationals, a big race in September in my home state of Illinois. We did that many times often with some very cool weather.

This is what the PIR website told me about the track's history.
"The track first opened on October 9, 1983 and operated until September 23, 2000. It was owned and operated by Jerry Campbell. The track hosted weekly racing and special event including supermodifieds and MASCAR. With ample seating, parking, and a fast oval, the facility was widely regarded as one of the finest in Eastern Canada.
A totally renovated facility was re-opened June 4, 2011 after being purchased in the fall of 2010 by Brett Benoit, Craig McFetridge, and Wayne Smith. Ironically, Smith, a multi-time Maritime pro stock champion was the last driver to win at Petty (September 23, 2000). The track's configuration is a ¼-mile asphalt oval."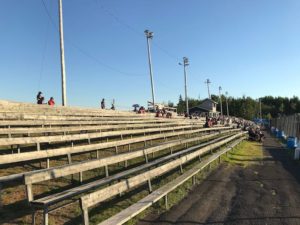 Tonight, fans sat in a wooden grandstand seating area where the seat boards were just a couple feet off the ground. The seats also had backrests. The seats weren't painted. I'm sure they take a beating during the New Brunswick winters. The track can seat a lot of fans. With tonight being day one of a two-day show the crowd was a little bit smaller than what I think they'll have tomorrow night.
The track had a great PA system. As a matter fact the track announcer asked me to come up and say a few words to the crowd about trackchasing at intermission. It never ceases to amaze me how these folks know that I am in attendance.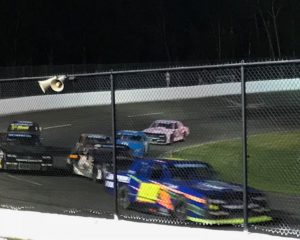 They were only three classes racing tonight. The car count was small. Nevertheless, the track did a great job of making the cars they did have seem as if the fields were much bigger.
The most powerful division was the street stocks. They ran two 50-lap features. The street stocks only had about 10 cars but the racing was very competitive. That can be the case if the first three or four are racing for the lead and there are battles throughout the pack.
The mini stocks had 14 cars and ran two 40-lap features. They inverted the field in the second race from how the cars finished in the first 40-lapper. The street stocks did the same thing with their two 50-lap main events.
The quarter-mile high-banked oval is not easy to pass on but there was still a reasonable amount of passing. What I found impressive was there was very little bumping to get around. Drivers were patient. Sooner or later they would get an advantage on the car they were trying to pass.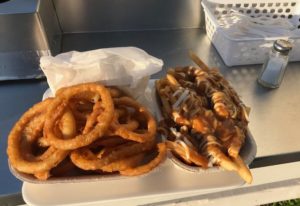 Carol and I had our dinner at the track. We dined on poutine, onion rings and a hamburger. We downed it all with some ice-cold canned Coors Light beers. They sold for $4.50 Canadian each.
The track was very efficient in how they ran their program. When one race was finished the next race was pulling out onto the track. The series of heat races lasted the better part of an hour. The track took a 15-minute intermission. Then they had five feature races which included a 15-lap event for a rookie class. I think every driver in that rookie class might have been a female. A nice touch was interviewing the top three drivers after each main event.
Carol was impressed with how well the lady drivers did tonight. I was too. I couldn't recall that many women drivers finishing on the podium probably ever. The announcer was a young man who I'm sure is still learning his craft. He did a good job.
AFTER THE RACES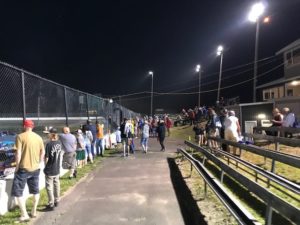 The entire show wrapped up by 10 p.m. I think tomorrow's racing program at Petty International is going to include several different classes of racers. I know the pro stocks will be featured.
Following the races we had an easy 15-minute drive over to the Coastal Inn located in Sackville, New Brunswick. We'll be staying there for a couple of nights. This trip is off to a rousing beginning.
Good evening from Petty International Raceway in River Glade, New Brunswick, Canada.
Randy Lewis – 80 countries – 2,469 tracks.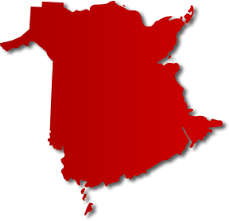 New Brunswick
The Picture province
This evening I saw racing at my 6th lifetime track in the Picture province, yes, the Picture province. I've seen six or more tracks in seven of the ten Canadian provinces. No other trackchaser comes remotely close to that stat!
Thanks for reading about my trackchasing,
Randy Lewis
World's #1 Trackchaser
Peoria Old Timers Racing Club (P.O.R.C.) Hall of Fame Member
New Brunswick sayings:  Scribbler
Another regional term is "scribbler," which many people from Atlantic Canada will immediately recognize as meaning a notebook.
QUICK FACTS
LIFETIME TRACKCHASER COMPARISONS 
The threemost important trackchasing comparisons to me are:
Total lifetime tracks seen
Total "trackchasing countries" seen
Lifetime National Geographic Diversity results
Total Lifetime Tracks
There are no trackchasers currently within 655 tracks of my lifetime total.  Don't blame me.
Randy Lewis, San Clemente, California – 2,469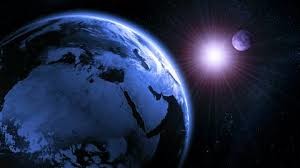 Total Trackchasing Countries
There are no trackchasers currently within 25 countries of my lifetime total. 
Randy Lewis, San Clemente, California – 80
Current lifetime National Geographic Diversity results
Randy Lewis, San Clemente, California – 4.14
That's all folks!  Official end of the RLR – Randy Lewis Racing Trackchaser Report
Click on the link below to see the video production from the racing action today.
Click on the link below for a photo album from today's trackchasing day.  You can view the album slide by slide or click on the "slide show" icon for a self-guided tour of today's trackchasing adventure.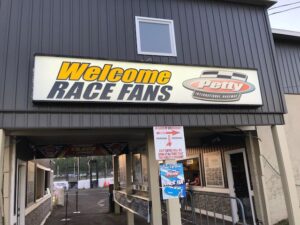 The first track visit at the beginning of our mega Eastern Canada trackchasing tour – Petty International Raceway