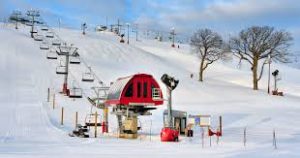 Greetings from Wilmot (Twin Falls?), Wisconsin
.
.
From the travels and adventures of the 
"World's #1 Trackchaser"
.
.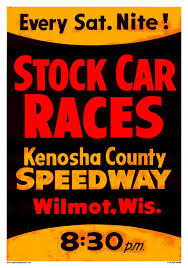 Kenosha County Speedway
Dirt oval
 Lifetime Track #9
.
.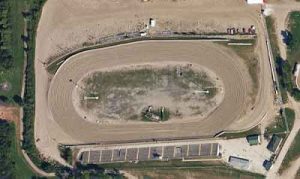 Wilmot Speedway
Dirt oval
 Lifetime Track #120
.
.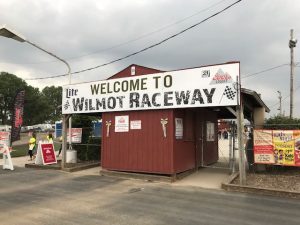 Wilmot Raceway
Dirt road course
 Lifetime Track #2,482
The EventVideo PlusPhotos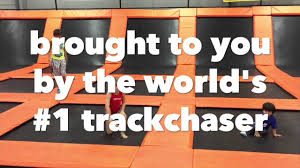 THE EVENT
I am a "trackchaser". So, what the heck is that? I get that question from racing and non-racing people all the time. This is a difficult question to answer. Why? Because after I do my best to respond people still say, "I've never heard of such a thing"!
Here's my best explanation.
Trackchasing is a three-pronged hobby. I'm a racing fan. I love to travel. I love to analyze opportunities to get the most out of everything while saving time and money.
Trackchasing fills the need for all of the above. The racing part of my trackchasing has me trying to see wheel to wheel auto racing at as many different racetracks as I can all over the world. Yes, all over the world. So far things are going pretty well. I've seen racing at nearly 2,500 tracks in 80 countries. As a matter of fact, I've seen racing at more tracks than anyone else in the world.
Equally important to me are the things I get to see and experience over the "long and dusty trackchasing trail". I call these adventures "Trackchasing Tourist Attractions". You won't want to miss my "Trackchasing Tourist Attractions" page. Here's the link:  Trackchasing Tourist Attractions or my "Sports Spectating Resume" page, Sports Spectating Resume on my website at www.randylewis.org.
I live in southern California. Most of the racetracks in the U.S. are located well over 1,000 miles from where I live. As a matter of fact, my average trip covers 5,000 miles and more. I take 35-40 of those trips each season. In any given year I will travel well over 200,000 miles, rent more than 50 cars, and stay in more than 150 hotel rooms.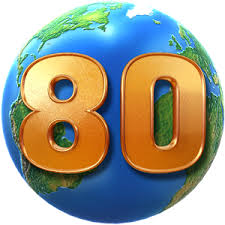 I get the chance to meet people all over the world. With trips to 80 countries and counting just getting the chance to experience so many other cultures, spend times in their homes and meet their friends is a huge reward for being in this hobby. I am indebted to several of these folks for their help and friendship.
It's takes a good deal of planning to do the above and not spend my entire retirement portfolio. I enjoy the challenge, the travel and every other aspect of "trackchasing". In reality, my trackchasing hobby is a lot like being with the carnival. I breeze into town, stay a little while and then head on down the road.
Today's adventure was one more of the 2,000 trips that have taken me up, down and around the proverbial long and dusty trackchasing trail.  If you would like to see where I've been and experience those adventures here's the link: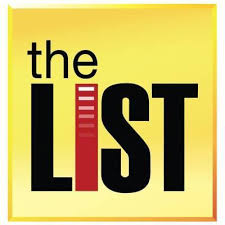 If you've got a question, comment or whatever please leave it at the bottom of this report.  It's very easy to do.  Or you can visit me on Facebook.  Thanks!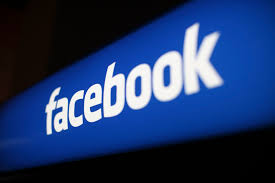 FOREWORD
Monday, August 13, 2018.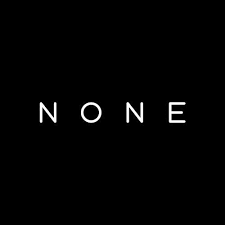 It is rare to find me on the road on one of these trackchasing trips when I don't have a new track to see. On Sunday afternoon I had trackchased in Iron River, Wisconsin. I wasn't sure I could get back to Southern California on Sunday night. If I couldn't do that I would have to fly back home on Monday.
The problem with that plan was that I had a new trip scheduled for the Midwest on Wednesday, Thursday, Friday, Saturday and Sunday. It wouldn't make much sense to fly back to SoCal on Monday and then have a hard time getting back to the Midwest for a Wednesday night race. I elected to stay out on the road on both Monday and Tuesday with no new track visits scheduled.
When I am on one of these trips and I don't have a new track visit on the agenda it's for one simple reason. I couldn't find any tracks that were racing that I hadn't already seen. It's really a simple as that.
When that is the case why can't all trackchasers simply call a spade a spade. Don't try to BS us with the idea that they've discovered some other interesting hobby that trumps trackchasing. Please!
However, I could visit family. I grew up in Illinois but have lived in California for most of the last 40 years. Much of my family still lives back in the Midwest.
This morning I woke up in Superior, Wisconsin. It would be a quick, O.K. maybe not so quick, seven-hour drivedown to northern Illinois. There I would visit my sister Becky and her husband Bob. They just moved into their new house. I would be one of their very first houseguests.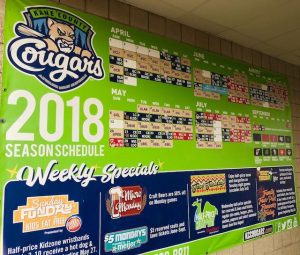 I got down there just in time to take them out for an evening of entertainment. We headed over to Geneva, Illinois. That's where the class A Kane County Cougars play baseball during the summer. The cougars are part of the Arizona Diamondbacks farm system. Tonight they were playing the Burlington Bees, an affiliate of our Los Angeles Angels of Anaheim franchise.
We had a good time watching the game on a very warm and humid night. The Kane County Cougars have a nice, modern baseball stadium. Parking was $10. Tickets were part of a low Monday night special promotion at five dollars each. The cost of refreshments, both food and drink, were about what I pay at a major-league ballpark. You don't save any money going to a minor league game! We often pay only five dollars for our Angels baseball tickets in Southern California.
I've seen my share of minor league baseball. Class A is pretty much the entry level for the minors. In reading the game program I noticed that many of the players on the team tonight were very low round draft choices or unrestricted free agents. I didn't see any players on the team that had been drafted in the first 10-15 rounds of the major league baseball draft.
The play was sloppy. The pitchers struggled to throw 90 mile an hour fastballs. There were very few hits to the outfield. Those that did get out that far didn't come anywhere close to going out of the park. Yes, there is a huge difference between class A baseball and the majors. There's even a huge difference between AAA baseball and the majors. Nevertheless, my sister Becky, her husband Bob and I had a fun night at the 'ol ballpark.
Tuesday, August 14, 2018.
I had a nice breakfast with Becky and Bob. It was good seeing them and I'm glad they have completed their move into their house and become relatively well settled after only five weeks. Bob was even wearing one of my Randy Lewis Racing trackchasing t-shirts. After breakfast I headed into downtown Chicago.
As a child the only real "vacation" that we ever took was a one-day driving trip from East Peoria, Illinois up to Wrigley Field in Chicago. We would leave very early in the morning. We would arrive for the 1 p.m. day game at Wrigley Field featuring the Chicago Cubs and whoever their opponent might be on that particular trip. Back then Wrigley Field ONLY played day games. There were no lights. There were only eight teams in the National League back then and there was no interleague play. Yes, times change.
Those were fun trips. I would ride up with my grandfather and we would normally meet up with my Uncle Francis, who was married to my grandmother's sister, Edna. They lived in Bradley, Illinois although we always called it Kankakee. I remember those trips fondly. We probably did them from about the age of five or six through my early teens.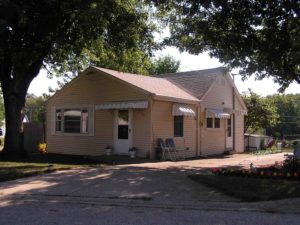 We didn't have very much money back then. I lived next-door to my grandparents until I was 15 years old. My grandfather had built our house in 1937. You can check out that house on Zillow.com. The address is 411 Doering, East Peoria Illinois. To this day, some 80 years after the house was built it is only worth about $50,000 U.S.
I had not seen a day game at Wrigley Field in many years. Going to college at Northern Illinois University in Dekalb, Illinois allowed us to get into Chicago and to  Wrigley Field a few times each season while I was going to school. Those were fun times.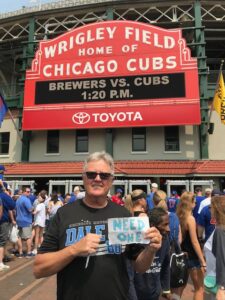 Today the Cubs were playing the Milwaukee Brewers. Both of these teams are battling for the lead in their division of the National League. You might recall the Milwaukee Brewers originally started in the American League.
Wrigley Field has been in operation since 1914. They've held a lot of major sports and political events here. For years the NFL's Chicago Bears played their home games here. The Cubs are the only tenant at Wrigley nowadays.
Wrigley field is one of the smaller ball parks in the majors. They only seat about 41,000 fans. The Cubs franchise is a lot like the Red Sox baseball organization. They both have been in the same place for a long time. They are adored by their fans and tickets are hard to come by.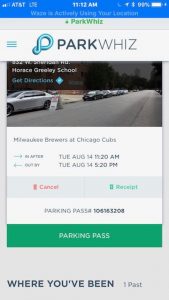 Like Fenway Park, Wrigley field is located in a residential area. Parking can be expensive. I went on "ParkWhiz.com" and found parking for only $19. As I sat in the stands today I heard the fellow behind me say that he paid $60 to park today.
The game's starting time was 1:20 p.m. My parking area was about five blocks from Wrigley Field. I got to the park only about 20 minutes before game time. However, I came well prepared.
I had my "NEED ONE" sign. That little sign saved me tons of money. Today I bought a ticket from a scalper for 20 bucks.
I don't normally like to buy from scalpers. They are professionals. As professional as they need to make a profit. I don't want to support their business model because it comes at the expense of my business model!
Most scalpers are black. Why do I say that? Because they are. There were a couple of white scalpers offering tickets today.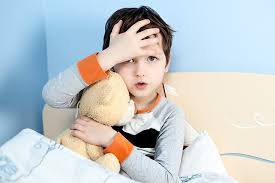 One white scalper, a young man probably in his 20s, looked at my sign. He told me my sign made me look like I was a five-year-old. Really? Five year olds carry "Need One" signs? I'll bet my sign has gotten me into more events than this fellow has seen in his entire lifetime. He would only make such a comment because I was competing with him. I told him that my sign has been very effective. If he only knew.
I had been displaying my sign for less than five minutes but there was not a lot of activity from "civilians". Most scalpers just kept on walking when they insisted I tell them what I would pay for a ticket and my response was 20 bucks. The scalper that I bought the ticket from today wasn't put off by my $20 offer. He came back with a $25 counter. I replied 20 bucks was my top and he timidly gave me a ticket in section 514 for a well-worn $20 bill. He even reminded me that I had dropped my "Need One" sign while I was getting the twenty out for him. Thank you for that!
I was doing pretty well. I had paid 19 bucks to park. I was now being admitted to the stadium for $20. As a matter fact, when I walked in the ticket scanning folks were a little bit busy. They never even scanned my ticket. I could've passed the ticket to someone on the outside and they could have walked in on that ticket.

As I mentioned Wrigley Field is a very old stadium. They have a lot of overhangs. People have to sit under those overhangs. In those seats they don't even have the option of seeing a ball batted into the air. In my opinion those are absolutely terrible seats and some of them are very expensive.
My seat in section 514 was at the top of the stadium. There was also a huge pole eight rows in front of me blocking some of my view of the pitcher. That wasn't going to work. Plus I was in a section seating lots of Milwaukee Brewer fans. I could tell from only the first inning that they were going to be pretty obnoxious.
I view my ticket's actual seat location as only a recommendation by the management. I had checked out section 514, row eight, seat 101 and concluded this was not where I wanted to watch the game today. I used my eagle eyes to see which seats in section 400 were open.
I found a seat in section 400 just five rows from the front rail. It was pretty close to home plate and gave me an excellent view of the action. This was also a "foul balls" seat although none came exactly in my section today.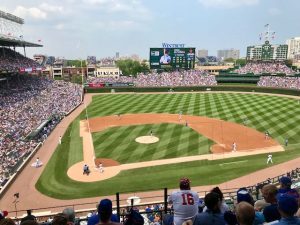 I sat on the aisle. The seat next to me was open. This gave me lots of wiggle room. However, there was a little kid about eight or ten years old kept kicking the back of my seat. I felt a little self-conscious to turn around and ask his grandfather to make the kid stop kicking my seat when I was in a seat that really wasn't even my own. However, I am not usually very shy and the grandfather was most apologetic. He told me he would watch after his grandson.
A couple of innings later some late arrivals came and pushed the grandfather and his grandson and the rest of their party out of those seats to some others across the aisle. Here I had been self-conscious about asking them to behave better and they weren't even in the right seats!
I can tell you that I had absolutely no interest in either the Cubs or the Brewers. I grew up Yankees fan as a kid. Then during college I enjoyed the Cubs. However, after moving to California in the mid-70s the Angels have been my team and remain so today.
It was hot, about 90° and humid. The flags were blowing strongly in off of Lake Michigan. The radio broadcaster told me that the water temperature in Lake Michigan was a very high 81° today. None of that breeze reached me at my location near home plate.
I had met my objective of getting back to Wrigley Field. I've got to be honest with you. It wasn't as good as I remembered it. It's an old rundown stadium. I don't have any interest in the Cubs. Like they say you can't go back home.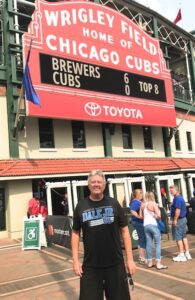 When I left the ballpark at the beginning of the eighth-inning I walked across the street to take a look at souvenirs. I was looking for a Wrigley Field shirt and found one. You'll see me wearing it from track to track in the future.
On the drive out of Wrigley field toward Wisconsin I tried to see if I might be able to use my MoviePass tonight. However, they've been having some technical problems lately and I couldn't use that benefit. I pulled to the side of the road and grabbed a Priceline.com Extended Stay America hotel up in Gurnee, Illinois.
Early this morning I had done a one hour, four-mile plus power walk in heavy heat and humidity. That gave me one exercise credit for the day. Then all the walking from my parking spot to Wrigley Field and back and such plus another mile and a half once I got to the hotel tonight got me another 4 miles and one more credit. The temperature had been in the low 90s today with lots of heat and humidity. Nevertheless, I got in eight miles of walking and felt pretty good about that.
Wednesday, August 15, 2018.
This morning I woke up in Gurnee, Illinois. I'm coming off of two days of being on the road without any trackchasing activity. That is most unusual. I probably won't do that once a year in most seasons.
However, this time it made some sense. I was trying to bridge first a four-day and then a five-day weekend together. By staying in the Midwest for a couple of extra days I was able to save about 4,000 miles of flying. An added extra benefit was being able to see my family and make a revisit to Wrigley Field, a boy a treasure.
Once in a while when I'm on these trips I'll stop in a store and do some shopping. I don't do any shopping at home. I don't shop for anything. Today I was looking for a cheap umbrella or possibly a rain poncho. Tonight's racing had a very bad rain forecast. If I were at a traditional oval track that wouldn't be a problem. If it rained they would cancel the program and I wouldn't get wet. These guys told me they raced rain or shine. I knew if it rained hard I would be stuck in the grandstand and would probably need some protection.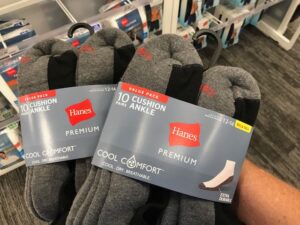 I stopped at a Dollar Tree store but the manager told me that one customer had just purchased all of her umbrellas! Nevertheless, I did some more shopping in their store and also at a nearby Target. I couldn't buy too much because the luggage I was carrying was already jampacked when I began this trip. Nevertheless, I could buy some socks!
It just turned out that I was staying near the Gurnee Mills Shopping Center. This is one of the largest shopping centers in the state. This was going to benefit me in two ways today.
It was hot, at least 90°, and very humid. That weather would not have supported good power walking conditions. No problem. I would simply move over to the air-conditioned shopping center and get in my four miles of walking today.
Of course, the Gurnee Mills Shopping Center had a movie theater. Of course, I had my MoviePass membership card with me. Seeing a movie would fill in my afternoon nicely since tonight's racing activity was only an hour from shopping mall.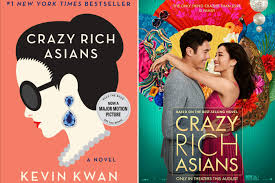 I picked the movie "Crazy Rich Asians". That doesn't seem to be very complementary movie title does it? As a matter fact, I didn't think it was a very apropos title for this film either. Crazy Rich Asians is a romantic comedy and I enjoyed it very much. Nearly 2 thumbs up from me. Crazy Rich Asians has been the #1 movie at the box office for three weeks in a row!
From there I was headed over to the Kenosha County Fairgrounds in Wilmot, Wisconsin. I was here to see UTV racing on a dirt road course.
Like many places I visit now days I have a history with the area. The Kenosha County Speedway in Wilmot, Wisconsin was my lifetime track #9all the way back in the early 70s. That track ran from 1952-1972.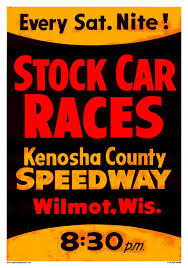 Then they changed locations to where they race now. I've visited the "new" Wilmot Speedway in 1982. It opened in 1973 as a replacement for the Kenosha County Speedway. Wilmot was lifetime track number 320. Now I was returning to the scene of the crime some 36 years later and nearly 50 years after my visit to the Kenosha County Speedway!
THE RACING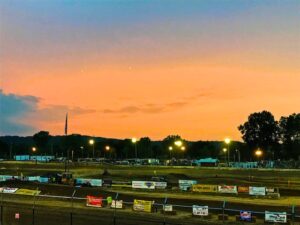 Wilmot Raceway – Wilmot, Wisconsin
The fairgrounds website clearly showed that practice would begin tonight at 5:30 p.m. with racing to start at 6:30 p.m. That was a good thing. Rain was forecasted to come in somewhere between seven and 8:30 p.m. I really needed the show to start on time.
As you can imagine it did not. I pulled into the parking lot not far from the track itself at 5:30 p.m. I didn't hear the sounds of engines. That meant they were not practicing. It was hot and humid and heavy rain was showing on the radar just west of the speedway.
At 6:30 p.m. I bought my grandstand ticket. It was only seven dollars. The ticket gave me admission to the races and the county fair. There was no charge for parking. All the economics of this track visit were more than reasonable.
A business mentor of mine taught me that if you are "not early you are late." I try to stick with that thought as much as possible. I expect others in my life to do the same thing.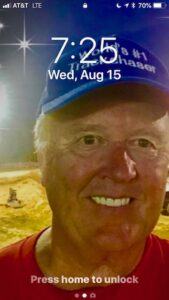 You probably know where I'm going with this. They did not start on time. With threatening weather just off to the west and a full grandstand of people they started nearly an hour late. Why in the world would they do that? There was no obvious reason that I could see. The track was ready. The fans were in the stands. The announcer used several delaying tactics but the point was made. They were starting late on a bad weather day. They didn't begin until nearly an hour past the advertised time.
Tonight's program would be run over a dirt road course. The traditional dirt oval at the Wilmot Speedway is a quarter-mile track. Some might call it a three-eighths mile track.

I won't go into much detail trying to describe the shape of tonight's road course. Your best bet is to take a look at my YouTube video. I will simply say this. They started on the front stretch at the main starting line of the regular oval. They did some lefts and rights and jumps inside the oval and actually raced outside the oval as well. It was a long course and took the racers more than one minute to complete.
Tonight they were racing ATVs and UTVs. The UTVs were the only trackchasing countable class. Of course they raced the ATVs first. That, and an approaching weather forecast that carried both yellow and red radar, was not a recipe for fantastic trackchasing success.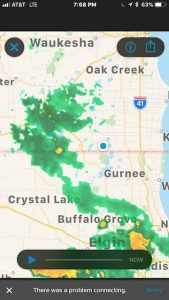 Nevertheless, the rain held off until I was able to see all three classes of adult UTV racing compete. Each class started 6-8 competitors. The races were for six or eight laps or so.
Whenever you can go to a UTV racing show where you can see all of the competitors racing all of the time from one vantage point you're doing good. UTV racing that heads off into the woods isn't very spectator friendly. I'll go to those shows but only to "pad my totals".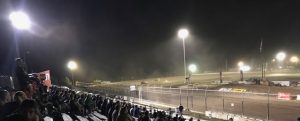 Tonight all of the ATVs and UTVs would race one heat race and one feature. Mind you I had arrived at the track at 5:30 p.m. They were scheduled to start racing at 6:30 p.m. They didn't start racing until 7:30 p.m. The final UTV heat race finished at 9:30 p.m. Then the track went to intermission.
I had no idea how long intermission was going to last. Let's say it would go on for 30 minutes. If the feature racing took as long to run as the heat racing, and it would likely take longer, the program would end at midnight. What business does a race promotion have that was supposed to start at 6:30 p.m. ending at midnight? The answer? None!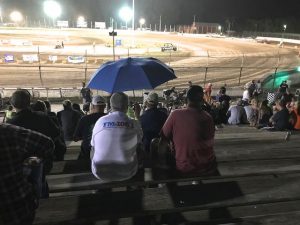 Toward the end of the UTV racing it began to sprinkle. It wasn't raining very hard but several fans did put up their umbrellas. Weenies! I bid farewell to the folks I have been conversing with this evening. They were a man and wife and their adult daughter. These were a friendly group. They were pretty impressed that I come all the way from California to see UTV racing at the Wilmot Speedway. If they only knew.
AFTER THE RACES
From the track I headed over to La Crosse, Wisconsin. It was going to be a 3 ½-hour drive. I wouldn't get there until a little past 1 a.m. However, La Crosse would position me well for tomorrow's county fair racing activity in Owatonna, Minnesota.
I do not have much patience for promotions that start late when rain is imminent. When the racing started tonight the grandstands were packed and the grandstands were large. By the time the last heat race was completed the grandstand was probably half full. Fans were beginning to leave in droves. Nope. I have no idea what the race promotion team was thinking tonight.
Good night from Wilmot, Wisconsin although my phone's GPS system said we were in Twin Lakes, Wisconsin. Go figure.
Randy Lewis – 80 countries – 2,482 tracks.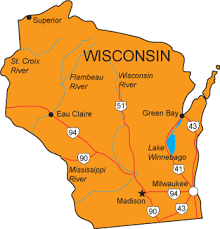 Wisconsin
The Badger state
This evening I saw racing at my 87th lifetime track in the Badger state, yes, the Badger state.  I hold the #4 trackchasing ranking in Wisconsin behind three Wisconsin natives. I've seen 87 or more tracks in eight different states.
Thanks for reading about my trackchasing,
Randy Lewis
World's #1 Trackchaser
Peoria Old Timers Racing Club (P.O.R.C.) Hall of Fame Member
Wisconsin sayings:  "For Cripes Sakes!"
Polite Wisconsinites went ahead and tamed down "For Christ's Sake" and replaced it with a friendlier version.
"For cripes sakes Glenda, where's my brat and brewski?"
Endearing, isn't it?
QUICK FACTS
LIFETIME TRACKCHASER COMPARISONS 
The threemost important trackchasing comparisons to me are:
Total lifetime tracks seen
Total "trackchasing countries" seen
Lifetime National Geographic Diversity results
Total Lifetime Tracks
There are no trackchasers currently within 665 tracks of my lifetime total.  Don't blame me.
Randy Lewis, San Clemente, California – 2,482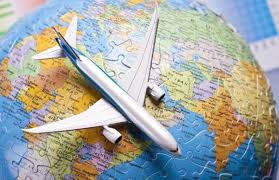 Total Trackchasing Countries
There are no trackchasers currently within 25 countries of my lifetime total. 
Randy Lewis, San Clemente, California – 80
Current lifetime National Geographic Diversity results
Randy Lewis, San Clemente, California – 4.14
That's all folks!  Official end of the RLR – Randy Lewis Racing Trackchaser Report
Click on the link below to see the video production from the racing action today.
Click on the link below for a photo album from today's trackchasing day.  You can view the album slide by slide or click on the "slide show" icon for a self-guided tour of today's trackchasing adventure.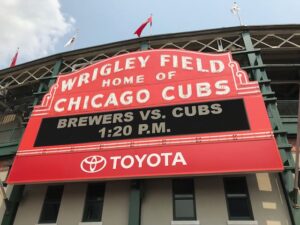 Baseball, baseball and then some SXS racing from the Wilmot Raceway