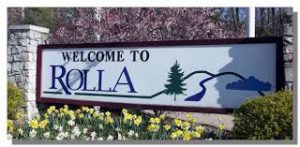 Greetings from Rolla, Missouri
.
.
From the travels and adventures of the 
"World's #1 Trackchaser"
.
.
Phelps County Fairgrounds
Dirt figure 8
Lifetime Track #2,359
The EventVideo PlusPhotos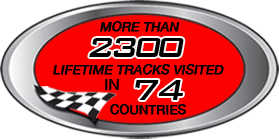 THE EVENT
I have had the opportunity to follow my trackchasing hobby all over the world. As this is written I have seen racing in 74 countries. My lifetime track total exceeds 2,300. Each and every year I will trackchase in 25-30 states.
At track #1,040 I moved into the "World's #1 Trackchasing" spot. Here's the funny thing about that. I was perfectly content to remain in about seventh place in the worldwide trackchasing standings. Then I had rotator cuff surgery, which knocked me out of golf for about six months. With no golf and time on my hands I turned up my trackchasing by a notch or two. I discovered I liked MORE trackchasing and LESS golf. It didn't take all that long to move up to the top of the world trackchasing standings at that point.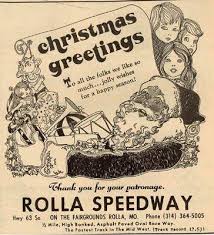 You've all read about the boxer who stayed on too long and ended up a shadow of his former self. That's kind of how I felt at the Phelps County Fairgrounds. The racing here used to be at what was called the "Rolla Speedway". The 30-degree banked asphalt oval can still be seen although it's in rough shape. It opened in 1971 and was closed less than five years later. Noise complaints! Dick Trickle, Larry Phillips and a young Kenny Schrader raced there. I never made it to the Rolla Speedway….but tonight I was seeing a dirt figure 8 race on what used to be the start/finish line of the short-lived Rolla Speedway. It was sort of sad.
My hobby is not only about racing. Trackchasing for me centers around three things. The racing part is pretty obvious. However of equal importance is the logistics of trackchasing and the opportunity to see the world.
I live in Southern California. The vast majority of tracks are located in the Midwest and East. It takes a good deal of logistical planning to get from where I live to where the tracks are. For the past 15 years I have traveled about 175 nights each and every year. Surprisingly to some, more than half of those overnights were not part of trackchasing.
Then there's the travel just for the fun of seeing new things. You won't want to miss my "Trackchasing Tourist Attractions" page or my "Sports Spectating Resume" page on my website at www.randylewis.org. That will give you some understanding on how important seeing the world is with my hobby.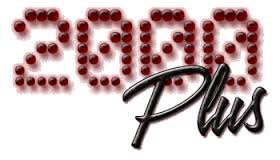 Today's adventure was one more of the 2,000 trips that have taken me up, down and around the long and dusty trackchasing trail. If you would like to see where I've been and experience those adventures here's the link:
If you've got a question, comment or whatever please leave it at the bottom of this report.  It's very easy to do.  Or you can visit me on Facebook.  Thanks!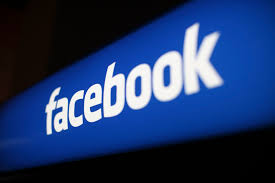 FOREWORD
THURSDAY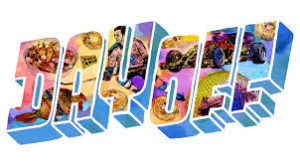 I rarely have an off day when I'm out on the long and dusty trackchasing trail. I try to schedule my travel as efficiently as possible. Trackchasing requires that I be away from home. I just don't want to be gone any longer than it takes to meet my trackchasing plans.
However, during the middle of this week I was "bridging" a trackchasing trip from last week with a weekend trip just up coming. I started this particular adventure with racing in Idaho, Montana and Alberta, Canada last Friday Saturday and Sunday.
Monday was a travel day. I used it to get me back to the Midwest from way up in Canada. Tuesday and Wednesday would include county fair racing in Missouri and Indiana. Today, Thursday would be an off day. Then tomorrow I return to the trackchasing trail with events on Friday, Saturday and Sunday before returning home on Monday morning.
I won't have all that much time at home when I do return. Carol and I will soon to packing for a weeklong trackchasing trip. We use that trip to continue to solidify our stranglehold on the position of "Worlds #1 trackchasing couple.
This morning I found myself in Bloomington, Indiana. You likely know that Bloomington is home to the University of Indiana and Steve Kinser. Believe it or not I think I saw Steve driving a convertible in downtown Bloomington last night although I'm not 100% certain.

Last night I stayed at the Hampton Inn in Bloomington. The Hampton Inn is a much nicer chain that it used to be. The rooms were going for $124 a night plus tax to the general public. Can you imagine paying nearly $150 for a Hampton Inn in Bloomington, Indiana when nothing special is going on? Of course with Priceline I paid $53 plus tax. Nah, I don't pay retail.
I packed just enough clothes so that I could make one laundromat run in the middle of this trip to keep me in clean clothes. I am not very experienced with doing my own laundry. Frankly, I would like to keep it that way.
I used Yelp, what else, to find a good local place to do my laundry. The laundromat was about a 15-minute walk from the hotel. I am nothing if not a multi-tasker.
Some people, including Carol, seem to think that multitasking means doing a poor job at whatever it is you're doing multiple times. I couldn't disagree more. Most tasks in life do not have to be done perfectly. Anyone who wants to do things perfectly, in my opinion, is wasting their time. I go out of my way not to waste time.
I would end up walking a total of 3 miles over to the laundromat and during the time my clothes were washing and back from the laundromat. Of course while I was doing that I was listening to a podcast on my iPhone and taking photos for your later viewing enjoyment.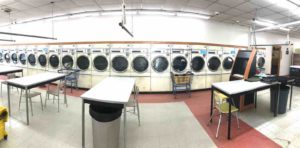 I keep a packet of quarters in my briefcase primarily for parking meters. I don't use them very often. However they came in handy today. Washing my clothes cost me $2.75 U.S. Fifteen minutes of driving time was just $0.75. I thought that was more than reasonable. Soon I was back to the hotel and onto my Trackchasing Tourist Attraction adventures of the day.
First stop? Indiana University! I've never been a big fan of IU or Bobby Knight. However, that would not stop me from visiting this famous campus.
I have toured a lot of college campuses in my time. When I do I try to cover four major aspects of the experience. I will take a complete driving tour of the campus to get an overview of what I am about to see. Then I will want to see the inside of the basketball arena and the interior of the football stadium. Finally, if I like the campus and the school has never beaten either Northern Illinois University (Carol's and my alma mater) or UCLA (where our three kids all graduated from) in any major contest I might buy a souvenir t-shirt. I didn't have any interest in an IU shirt!
During the summer there usually isn't a lot of activity on a college campus. The students don't return until late August or early September from their summer break. That was the case today.
The Indiana University Hoosiers play their football games at Memorial Stadium. It was a beautiful but warm summer day and the football team was practicing on a field nearby and outside the stadium. The stadium was locked up tight.
I asked a maintenance man if he knew how I could get in to see the field. He told me that if he had a key he would let me in but alas he did not. I thanked him and kept looking for a way to get into the stadium. I found one! I'm a little slow on giving up on an idea when I'm really interested! It was a large good-looking football palace. Memorial Stadium is known as the "Rock". It opened in 1960 and seats about 53,000 fans.
Next up and just across the parking lot was the famous Assembly Hall. Both arenas share the same parking area. On one side of the stadium the basketball arena was completely locked up. However, on the other side I struck gold.
I found a "greeter". He was sitting at a desk. I snuck up behind him and seemed to startle the man. I could read his mind. He was saying to himself, "How the heck did you get in here"? I was responding with my own interior thought to his question, "Sir, it's what I do".
Soon I was introducing myself to "Bob". In about a minute we had bonded. We both knew a lot about Indiana and UCLA basketball and were in the same age range. Soon thereafter Bob was giving me the cook's tour of the venerable Assembly Hall first opened in the 70s and later updated to its current state.
The official name of this facility is the Simon Skjodt Assembly Hall. Ya, that was the first time I learned that too. Indiana University has won five NCAA championships in basketball. They area a "basketball" school. They are normally one of the "weak sisters" (no gender bias intended) of the Big Ten football conference.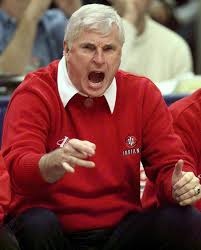 Their basketball coach for decades and the man who won some of those bball championships was Bobby Knight. Knight moved over from the Army West Point basketball job to coach the Hoosiers. He was replaced at Army by current Duke University basketball coach Mike Krzyzewski.
I once saw Bobby Knight in the Hartford, Connecticut airport. He was up there to do ESPN work. I was on the same rental car bus as the Chicago Bears' Mike Ditka in Hartford once as well! Yes, I'm a big sports fan and have seen the biggest games and contests in virtually all sports in the U.S. Check out my "sports spectating resume" page on my website at www.randlyewis.org. If you're a sports fan I think you will get a kick out it.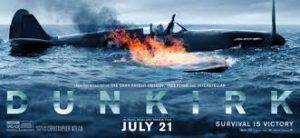 From my tour of Indiana University I headed over to a local movie theater. Carol and I go to the movies all the time. With it being so warm in Indiana spending a couple of hours in a cool air-conditioned theater would work out just fine. I saw the film "Dunkirk". It came with some pretty high viewer ratings. I was not a big fan of this feature. Nevertheless, it filled in the gap between doing my laundry and tonight's upcoming Trackchasing Tourist Attraction.
When I got out of the movies I checked my phone messages. There was good news. It looks like we might be refinancing our home mortgage. We've had our property in San Clemente for 17 years. During that time, despite being retired since 2002, we have refinanced our mortgage many times. I continue to be amazed that after being retired for so long with no work income I can still get these loans. By the way I feel STRONGLY that older retirees should NEVER pay off their mortgages.
It turned out that I had to run over to FedEx office to take care of some of the refinancing details. It's pretty amazing how so much business can be done electronically nowadays. It took me about a half hour to get everything copied, printed, scanned and then emailed over to the bank.
By the time I wrapped up my business it was too late for me to get down to Louisville, Kentucky for the Louisville Bats minor-league baseball game against the Toledo Mud Hens. I didn't miss it by much but there was no reason to drive two hours down to Louisville and arrive in the third inning.
As it was I would simply head from Bloomington, Indiana down to where my Priceline generated hotel was in Evansville, Indiana. Evansville was a great location to spend the night if I were leaving from Louisville (after a minor league baseball game) and headed over to tomorrow's luncheon appointment in St. Louis. However, coming from Bloomington now it was a little bit out-of-the-way after NOT going to Louisville.
I was once again reminded that making a Priceline non-refundable room reservation more than a few hours in advance is often a bad idea. I live a lifestyle with very few restrictions or requirements. Why? I don't like restrictions or requirements. Don't worry. I set up my life that way.
I do know this. Whenever I set a luncheon appointment with any of my far-flung friends or make arrangements to meet up with people here or there or wherever something in my most flexible plans change and it becomes more inconvenient to meet these commitments.
However, I can tell you this. I am nothing if not a person who honors his commitments. Sometimes I make a plan with someone and then discover that meeting becomes a less workable or less profitable idea as the meeting time comes closer. Nevertheless, if I made a commitment to someone I keep it. I like doing life that way.
I pulled into Evansville, Indiana at about 7:30 p.m. My paternal grandparents used to live in Evansville. The first ever vacation I ever remember taking was a bus ride, on a very hot day, down to Evansville. We didn't have very many vacations (virtually none) as a kid.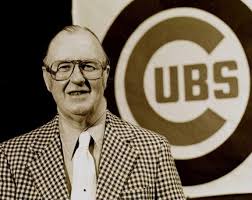 The big trip for me, as a kid was to take a ride up in the morning to see the Cubs play at Wrigley Field. I went with my grandfather. The Cubs played in the daytime. After the game we grabbed a sack full of White Castle hamburgers and were home well before midnight.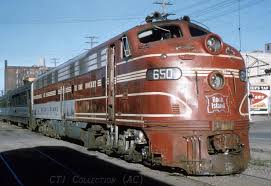 During the winter I would often get to accompany by grandparents up to Chicago. We rode the "rocket" train for a weekend at a bowling tournament in the windy city. We did this once a year. Maybe the lack of grand vacations is why I love travel so much now. It's been fun as the sole "breadwinner" for virtually our entire married life to provide and Carol and our three children to travel the world.
FRIDAY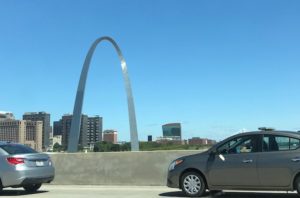 Virtually every one of my days on the long and dusty trackchasing trail involves a good deal of driving. Today was no exception. I would begin with a three-hour drive from Evansville, Indiana over to St. Louis, Missouri.
I am lucky to have a broad range of friends located all over the country as well as all over the world. Most all of my friends and I have something in common. What would that be? We have broken bread together.
Yep. "Let's do lunch" is a common phrase in my vocabulary. You can also get to know your friends pretty well by playing a round of golf with them. I would suggest that if you haven't had a meal with a person or played golf with them they are merely acquaintances.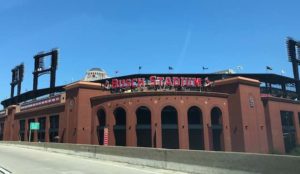 Today I would be having lunch with an old buddy of mine, Ron Otto. Ron is still working. He owns his own sales brokerage company. However, from hearing him talk it sounds like he's going to be retiring pretty soon. I say good for him. Working requires too much of having to abide by someone else's agenda.  By the way, Ron's a big St. Louis Cardinals fan as are just about every one of the residents of St. Louis.
Ron and I have known each other and worked together for more than 40 years. Now that I've been retired he and I have lunch a time or two each year whenever I'm breezing by St. Louis, which seems to be fairly often.
We went next-door from his office to a nice enough sit down restaurant. I'm not eating bread, desserts or pasta. It's pretty bit much just meat, cheese and eggs for me.
I asked the waiter if he could whip up a "double cheeseburger" for me. Initially he looked a little concerned. HIS look concerned ME. I'm not a fan of folks who can't adapt on the fly. After I explained that I simply wanted two hamburger patties with no sides and slathered in mustard and onions he agreed that he could do that.
I must tell you that I was a little surprised when I went to pick up the check. The waiter charged me $12 for the one hamburger patty, which I must admit was good-sized. I suspect that the entire hamburger patty lunch with sides etc. sold for 12 bucks. However, it was a little "much" when I noticed a second hamburger also came with a $12 charge. Effectively he was charging me $24 for two very good-sized hamburger patties. OMG. Nevertheless, it was good having lunch with Ron.
Next up was a two-hour drive from St. Louis over to Rolla, Missouri. It was mid afternoon. I was soon attracted to a large billboard advertising Meramac Caverns. I'm pretty sure that Carol and I had been here one other time. However I had a few minutes and I figured I might stop in again.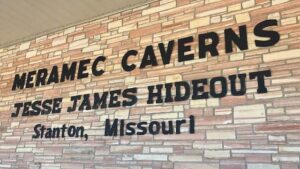 I was able to save three dollars off the $21 admission price by showing my certification of military service card. I haven't use that much in the past but I think I'll keep it with me for situations just like this.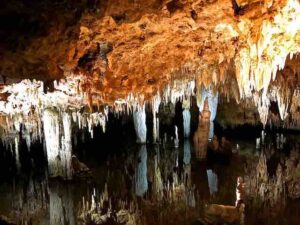 Today's tour lasted about an hour and a half. I would guess there were 30-40 people in our tour group. Meramac Caverns is actually owned by a private individual. Although the tour guides dress up as if they are national park employees this is a private organization. It has nothing to do with state or federal government.
It stays a very cool 60° year-round inside the cave. We were able to see some huge and beautiful stalactites and stalagmites. Our guide told us the recent flood of a couple of months ago brought waters into the cave that were higher than 10-15 feet in most places. That sounded pretty amazing.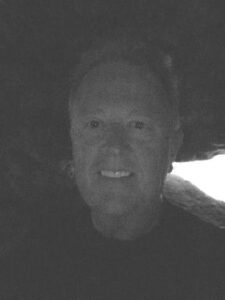 From the Meramac Caverns in Stanton, Missouri, I finished up the ride over to Rolla, Missouri. I did a little Yelp searching and found the Los Arcos Mexican Food and Tequila Bar restaurant. There I dined on my favorite dish queso fundido con chorizo.
THE RACING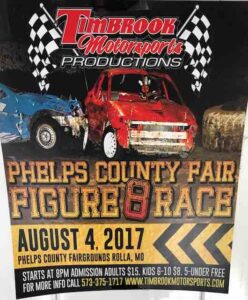 Phelps County Fairgrounds – Rolla, Missouri
I was thinking tonight's racing at the Phelps County Fairgrounds in Rolla started at 7 p.m. I was incorrect. The actual starting time was 8 p.m.
This gave me plenty of time to explore the relatively small fairgrounds. As a matter of fact, I used the extra hour to finish off my four-mile power walk for the day. It's always good when you have a little free time and you can actually put it to some good use if properly motivated.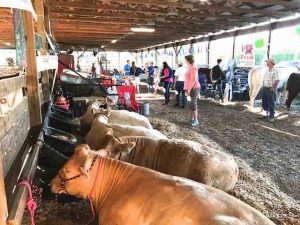 I took quick tour through the animal barns. I always do that at county fairs. Today I chatted up a local cattle rancher. I told him I was a city slicker and he seemed to agree with that assessment. We talked about farming and the beef industry for several minutes.
I learned that right now he's getting about $1.15 per pound for a 1,200-pound steer. His calves (cows) will generate a newborn calf once a year beginning at age two all the way through about age twelve. If he can get 10 cows from one calf he's happy.
He did surprise me by stating that a farmer/rancher has to have about 5 acres of land per cow in order to have enough grass for the animal to eat.  Doesn't that seem like a lot of land just to support one head of cattle? My newfound friend tonight had about 500 head that he was managing plus their offspring.
I'm pretty good at talking "country". I grew up in a small town with a lot of blue-collar people who were from farming and rural backgrounds. I think that's where I get my ability to have good conversations with country people. Of course, my corporate background at a Fortune 500 firm trained me to be able to talk to CEOs and Vice Presidents equally as well.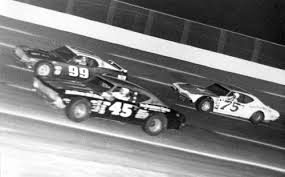 I was most surprised to find something at the Phelps County Fairgrounds that I never ever expected to see. The fairgrounds was home to an oval racetrack that had long since gone out of business. This wasn't just any race rack. It was the Rolla Speedway.
The Rollo Speedway was a 1/2 mile-asphalt track that was banked 30° in the turns. Back in the 80s the track played host to some of the biggest short track asphalt racing events anywhere. Those race attracted ASA drivers such as Dick Trickle, Rusty Wallace and Mark Martin.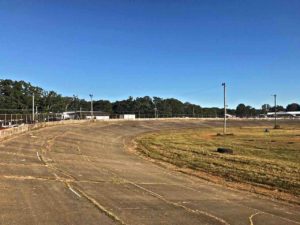 Now that track had gone to seed. Tonight's dirt figure 8 course and demolition derby ring actually was placed directly over what would have been the front straightaway of the old Rollo Speedway. I never made it to the Rolla Speedway during its heyday or anytime else when they were running on the oval track. That is definitely my loss. Can you imagine this? They held big stock car events in front of sellout crowds. Now years later the entire oval track is a decrepit memory of itself and hosting a dirt figure 8 track where victory lane used to be? That's sort of sad to think about. 
I was happy to see they would begin by starting on time tonight at 8 p.m. I soon found out there were 22 figure 8 cars in the pit area. These cars were racing in heat races, two consolation events and a feature.
They started 5-7 cars in each heat race. The top two in each heat transferred to the feature event. Ultimately there were 11 cars racing in the A main.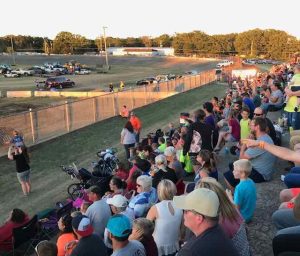 Tonight's race sanctioning body was the Timbrook Motorsports Production group. I got to tell you I'm partial to J&B Promotions for figure 8 racing down in this part of the country. Nevertheless, tonight's show was a good one.  They had a good crowd on hand.
Tonight I was seeing my 299th lifetime figure 8 racing venue. The lion's share of those race locations have been at county fairs. I think I'm pretty qualified to tell you what I'm going to tell you.
There is "big car" figure 8 racing and there is a "small car" figure 8 racing. Big cars would generally be those powered by V-8 engines. The small cars use four-cylinder motors as their power plant.
I would say the states of Nebraska, Iowa and Michigan offer the best big car F8 racing. As a matter fact the state of Iowa has several permanent figure 8 racing facilities that are used only for figure 8 racing. There are very few states that have tracks that are used exclusively for figure 8 racing outside of Iowa.
On the small car figure 8 racing front I'm going to have to say the state of Missouri has the very best racing. Pennsylvania probably comes in a close second but I'm going to give the nod to Missouri. Most of the major figure 8 racing shows in Missouri are promoted by J&B promotions now owned exclusively by my buddy Gary Jones.
From what I could tell, after listening to the announcer and talking to folks sitting around me tonight, this was the first ever figure 8 race at the Phelps County Fairgrounds. I am proud to say that I have been the first trackchaser to visit more "inaugural" tracks, compared to my fellow competitors, by a large margin. It all comes down to how much quality research can be done in advance of attending and discovering these tracks.
Tonight the general admission sign told me that an adult ticket would cost me $15. However when I got up to the pay window I noticed seniors, 65 years and older, were being admitted for just eight bucks. That was a nice savings. I told the ticket sellers that even though I didn't look 65 years old I was prepared to prove it if necessary. They accepted me on my word. 
Even though they took a couple of 20-minute intermissions the show still wrapped up by about 10 p.m. You won't want to miss the photographs and video from tonight's show. That's always going to be your best bet for getting a good understanding about what the event looked like.
AFTER THE RACES
When the races were finished I made the long hike around to the other side of the half-mile oval track to where I was parked. When I'm out in the Midwest or East I normally give Carol a call after the races. The time in California is usually two or three hours earlier than where I've at.
However on the drive out of Rolla up toward Jefferson City, Missouri our phone connection was spotty. We worked with it the best we could. We finally had to confirm our affection for each other and agree to talk to next evening. Carol will be joining me on a long trackchasing trip very soon. I'm looking forward to that.
Tonight I would be staying at the Fairfield Inn by Marriott in Jefferson City, Missouri. Of course I used Priceline to get the very best price at the hotel tonight. I paid just $48 plus tax for the night. The "regular" customer, who shopped for the very best online rate, was paying nearly twice that much. There must be a reason I can afford this year after year!
Good night from Rolla, Missouri.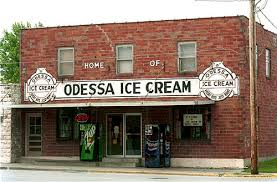 Missouri
The Show Me state
This evening I saw my 63rd lifetime track in the Show Me state, yes the Show Me state. I hold the #2 trackchasing spot in Missouri. I'm just five tracks behind Ed Esser. Maybe some day!
Thanks for reading about my trackchasing,
Randy Lewis
World's #1 Trackchaser
Peoria Old Timers Racing Club (P.O.R.C.) Hall of Fame Member
Missouri sayings: Burnt end
What it means everywhere else: Side effect of sitting too close to the fire. 
What it means in Missouri: The most flavorful pieces of smoked brisket, a true delicacy of Kansas City barbecue.
QUICK FACTS
LIFETIME TRACKCHASER COMPARISONS 
The three most important trackchasing comparisons to me are:
Total lifetime tracks seen
Total "trackchasing countries" seen
Lifetime National Geographic Diversity results
Total Lifetime Tracks
There are no trackchasers currently within 600 tracks of my lifetime total. Don't blame me.
Randy Lewis, San Clemente, California – 2,359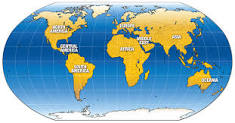 Total Trackchasing Countries
There are no trackchasers currently within 20 countries of my lifetime total.
Randy Lewis, San Clemente, California – 74
Current lifetime National Geographic Diversity results
Randy Lewis, San Clemente, California – 4.37
That's all folks! Official end of the RLR – Randy Lewis Racing Trackchaser Report
Click on the link below to see the video production from the racing action today.
Click on the link below for a photo album from today's trackchasing day.  You can view the album slide by slide or click on the "slide show" icon for a self-guided tour of today's trackchasing adventure.
Show me state touring, racing and eating