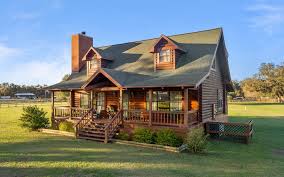 Greetings from Bushnell, Florida
.
.
From the travels and adventures of the 
"World's #1 Trackchaser"
.
.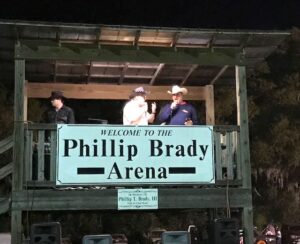 Phillip Brady Arena @ the Sumter County Fairgrounds
Dirt figure 8
 Lifetime Track #2,533
The EventVideo PlusPhotos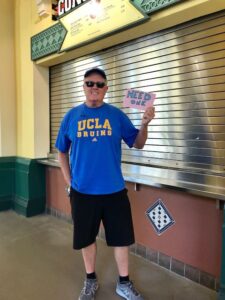 THE EVENT
I am a "trackchaser". I trackchase. Before you discovered my site had you ever heard of trackchasing? Maybe not? So….what the heck is trackchasing? Sit back, take a read and you'll be an expert on my hobby of trackchasing when you're finished.
Here's my best explanation.
Trackchasing is a three-pronged hobby. I'm a racing fan. I love to travel. I love to analyze opportunities to get the most out of everything while saving time and money.
Trackchasing fills the need for all of the above. The racing part of my trackchasing has me trying to see wheel to wheel auto racing at as many different racetracks as I can all over the world. Yes, all over the world. So far things are going pretty well. As this is written, I've seen racing in 82 countries at more than 2,500 tracks. As a matter of fact, I've seen racing at more tracks than anyone else in the world.
Equally important to me are the things I get to see and experience over the "long and dusty trackchasing trail". I call these adventures "Trackchasing Tourist Attractions". You won't want to miss my "Trackchasing Tourist Attractions" page. Here's the link:  Trackchasing Tourist Attractions or my "Sports Spectating Resume" page, Sports Spectating Resume on my website at www.randylewis.org.
I live in southern California. That's probably the most inconvenient location in the country for seeing tracks in the U.S. Most of the racetracks in the U.S. are located well over 1,000 miles from where I live. As a matter of fact, my average trip covers 5,000 miles and more. I take 35-40 of those trips each season. In any given year I will travel well over 200,000 miles, rent more than 50 cars, and stay in more than 150 hotel rooms.
I get the chance to meet people all over the world. With trackchasing trips to 82 countries and counting just getting the chance to experience so many other cultures, spend time in their homes and meet their friends is a huge reward for being in this hobby. I am indebted to several of these folks for their help and friendship.
It's takes a good deal of planning to do the above and not spend my entire retirement portfolio. I enjoy the challenge, the travel and every other aspect of "trackchasing". In reality, my trackchasing hobby is a lot like being with the carnival. I breeze into town, stay a little while and then head on down the road.
Today's adventure was one more of the 2,000 trips that have taken me up, down and around the proverbial long and dusty trackchasing trail.  If you would like to see where I've been and experience those adventures here's the link: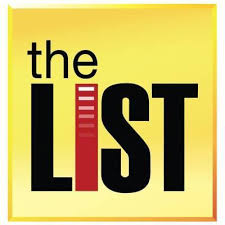 If you've got a question, comment or whatever please leave it at the bottom of this report.  It's very easy to do.  Or you can visit me on Facebook.  Thanks!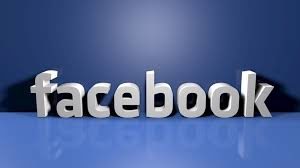 FOREWORD
Thursday, February 28, 2019.
Obviously, I have a very unusual hobby. People just don't do what I do the way I do it. That's OK. I can still have a good time and you can have fun reading about my adventures.
This was going to be a very unusual trip. I would be going in all different directions. My trackchasing season was transitioning from the ice racing world to the warmer weather world. I do that each March.
I'm always telling you that logistics is so important with my trackchasing. It's as important as any other element of the hobby that I can think of. My reading glasses and my iPhone are absolute 100% necessities. Logistics is right there with them.
Of course, Carol and I have a personal and family life outside of trackchasing. If you only read my Trackchaser Reports or watch my videos you might not understand that. But it's true we do lots of stuff that doesn't have anything to do with trackchasing.
This trackchasing trip would begin on Thursday afternoon. Carol and I were each going to drive our cars some 65 miles in heavy Los Angeles afternoon traffic up to the airport at LAX. Why would we do that? It was all about logistics.
When this trip was finished I needed to have my car at my airport parking garage at LAX. However, when today was finished I would be going in one direction and Carol would be going in another. That being the case we dropped my car at the airport and parked it. Then Carol picked me up and we made a quick stop at the Tom Bradley International Terminal. I needed to pick some up some Chinese food for Carol to eat later on from P.F. Changs. Who goes to the airport for Chinese takeout? I told you I do things a bit differently than most. With the sweet smells of beef with broccoli wafting through the car's interior we motored up to the campus of UCLA only about 12 miles north of LAX.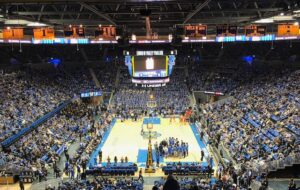 Tonight the UCLA basketball team was having their final home game of the season. They were playing their arch rival, the University of Southern California Trojans. If you are UCLA fan you strongly dislike the Trojans. If you are usc fan you can't stand the UCLA Bruins. Of course the UCLA Bruins fans are better educated, have better haircuts and are just all-around good people. I can't say that for the lowly Trojans.
Tonight Carol and I would be joining our son J.J. and three of his college fraternity friends at a place called the Boiled Crab. It was a Cajun Creole place the kind I love. Nevertheless, we had never eaten at the Boiled Crab in Westwood although they have locations all over Southern California.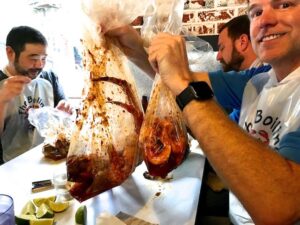 This was a most unique restaurant. They serve things like crawfish and shrimp that needed to be peeled and andouille sausage and the like. Whatever we ordered came in a large plastic bag. Each diner simply reached into their own bag and went to work. The crabs were a little bit difficult to eat. The shrimp were time-consuming to peel. Nevertheless, it was all delicious.
During dinner we talked about the state of UCLA sports and lots of other things. It's always good to get together with J.J. and especially fun to meet with his friends who are all graduates of UCLA some with post graduate degrees from other fine universities. Nice, smart folks.
From the Boiled Crab we headed up to the legendary Pauley Pavilion. Pauley is home to the UCLA Bruins basketball team and their 11 national championships.
The basketball game was exciting. The game was close throughout. The contest ended up going into overtime before UCLA prevailed over those lowly trojans 93-88. The arena was sold out for the first time this year. Everyone coming to the game got a complementary blue and gold UCLA T-shirt. It was a fun night.
From the basketball game we hopped in Carol's car, with me driving, and headed to LAX. I would be boarding an overnight flight from Los Angeles to Orlando, Florida. For this trip I would not be using my traditional airline sponsorship. The flights were just too tight. I ended up withdrawing some Delta frequent flyer miles to pay for my ticket. Later, I would learn that none of the standbys made the flight. If that had happened to me I would have missed out on the Florida trackchasing portion of this trip.
Friday – March 1, 2019.
Where did January and February go? On all seven of the last seven weekends of those two months I went trackchasing on the ice. During each of those seven trips I flew into Minneapolis and sometimes beyond. Even though this trip would begin in Florida for the eighth straight weekend I would fly into Minneapolis-St. Paul, the Twin Cities later in the trip.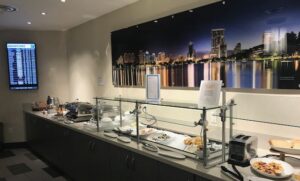 Today I landed at the Orlando International Airport at just past 6 a.m. It was probably too early to get a hotel. I had another alternative. I would use my Priority Pass sponsorship to go into the private airline club called "The Club at MCO". I had never been to this club. It was nice.
Airline clubs provide three things to the world traveler. First, the club is a quiet private place that almost seems like another world compared to the hustle and bustle of a typical airline terminal. The furnishings are first-rate. The club is quiet and usually not very crowded. Amenities like free Wi-Fi, meeting rooms and business services are available.  
Additionally, these clubs provide free food and drink. It seems as if the food is getting better all the time. It's normally served buffet style again at no charge. Drinks, including alcoholic drinks, are all available on a complimentary basis. Today, I chowed down on some bacon and scrambled eggs. I'm eating a low-carb meal program right now. The Club at MCO food hit the spot.
Since it was so early in the morning and I had flown overnight I ended up sleeping for about three hours. When I woke up I had some work to do. There is almost always logistical work to do during these trips.
First, I needed a hotel for this afternoon and evening. I wasn't going to have a lot of time to use the hotel but it didn't make much sense to try to sleep overnight in my car the night after I had flown overnight on an airplane.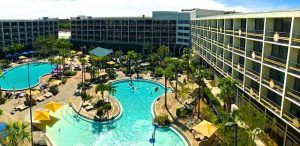 Soon I was making arrangements to stay at a large Sheraton Hotel property right next to Disney World. The hotel was only a few miles from the airport and very close to this afternoon's Trackchasing Tourist Attraction.
TRACKCHASING TOURIST ATTRACTIONS
Right now it's spring training time for the nation's (and Canada of course) major-league baseball teams. I had done some advance research online. I found out that the Atlanta Braves would be hosting the Toronto Blue Jays at Champion Stadium on the grounds of Disney World. The ballpark is part of a huge ESPN sponsored athletic complex. I believe they have a basketball arena, tennis facilities and of course baseball fields for spring training.
Since my hotel was so close to the ballpark I decided to check into the Sheraton quickly and try to get about a 40-minute nap. Priceline had given me a steaming hot deal of just $67 plus tax for a standard room at this hotel. That was a significant discount off of the regular price that most tourists were paying. Over the next week prices were as high as $179 a night.
When I checked in I casually mentioned to the desk clerk about my priority status with the Sheraton frequent stay program. This "status" comes from all of the years I stayed in Marriott hotels and Sheraton hotels during my business career as well as during my retirement. I have the frequent stay status of "platinum elite". This goes a long way in helping me get the best deal at Sheridan and Marriott properties even when I'm using a third party reservation agent like Priceline.
Recall I had paid $67 U.S. for my room plus tax. Today the front desk clerk gave me an upgrade to a king suite. That was nice. Then she agreed to waive the $19 nightly hotel parking charge. She wasn't done yet. She also knocked off the $11 resort fee. Then she came up with a $16 breakfast coupon for tomorrow morning's breakfast buffet. I would need to check out before the breakfast restaurant opened but it was the thought that counted. Yes, I guess you could say I got a pretty good deal. I almost got a king suite at this luxury hotel for free!
Now I needed to go over to the major-league baseball game. However, I didn't have a ticket. These games are very popular with snowbirds. Snowbirds are folks vacationing and wintering in the warm weather of Florida compared to the cold climates from which they come.
I am a professional when it comes to buying and selling tickets to major sporting events. You could surmise that fact by reading the posts on my website. Today I had my, "Need One" sign with me. That meant I was going to have some "ticket buying" success today.
As crowds of people left the parking lot and headed to the stadium they passed by me and my sign. Soon I had three males stopping to say hello. They had some extra tickets. This threesome looked to be a grandfather, son and grandson.
The son was about 30 years old. He had the tickets and he took control of the conversation. The young man told me the kind of seat location he had. That worked for me. Then I asked him how much he wanted for his ticket. This is crunch time in the process. It is not a time to blink?
Then the fellow's dad jumped into the conversation quickly. Yep, grandad wanted to add something to the negotiation. He piped in by saying, "10 bucks". I was about ready to tell him what scalpers all across the nation would say, "Get the hell out of my deal!" It is, poor etiquette for anyone to interrupt a buyer and seller in the midst of this type of negotiation. In New York you can get knifed for doing something like this. However, this was Florida. East coast people try to tone down their abrasiveness when they come to Florida!
The son ignored his father and simply handed me the ticket. "No charge", he said. "Have a good time". I thanked him for his generosity. I would say that on four or five occasions out of my last eight or nine transactions I've simply been given a ticket. I didn't even have to negotiate the price.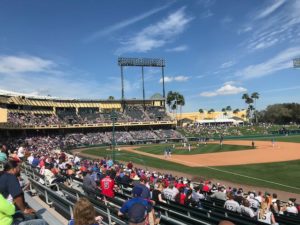 I walked into the Champion Stadium on a very warm first day of March afternoon. The temperature was in the high 80s. Despite what things had looked like watching the crowds leave the parking lot, the stadium was only about half full. I quickly grabbed a tall cool Bud Lite draft beer and a package of peanuts. I went out toward right field. There I sat down in the open bleachers with the sun was at my back.
Is what I do with tickets really that difficult? To me it isn't. Then why doesn't nearly everyone do it? I guess most folks simply fear rejection. My approach to life has always been, "It's better to ask for forgiveness than approval".
Soon I found myself conversing with a Canadian man who was down in Florida for a few weeks from his native Winnipeg, Manitoba. We talked about all manner of things. Somewhat surprisingly, we both knew a common person up in Manitoba. That would be Red River Co-op Speedway promoter, Blair Bodley. As a matter fact I had breakfast with Blair only a week ago. Folks, it truly is a small world.
I always ask Canadians what they think about their national health care plan. There is a certain segment of U.S. society that are constantly being brainwashed into thinking that foreign country health care isn't much good compared to the U.S. I have asked well over 50 Canadians about their health plan. I'm here to tell you that 100% of the Canadians have told me they love their plan. Don't believe that? Ask a Canadian.
Toward the end of the game I wandered into the souvenir store. I hadn't paid anything for my ticket. I have chosen to park in the free parking lot rather than the $10 parking lot, which was only a few yards closer to the stadium. I felt that I was "ahead" at this game. Whenever I think I'm ahead of the game I'm more than willing to reinvest my savings into something that's fun or entertaining. I bought a 2019 spring training souvenir T-shirt. I don't save money with my techniques in order to keep the money. I take the money I save by being clever and buy stuff that is more worthwhile to me that whatever I first saved the money on. Make sense?
It had been a fun day at the old ball park. Whenever I have a few spare hours between racetracks, travel and sleeping I'll stop at something local, something that will be memorable. I met all of those standards today.
THE RACING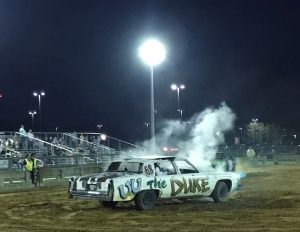 Phillip Brady Arena @ the Sumter County Fairgrounds – Bushnell, Florida
Now, we get to today's racing! From everything that I've told you so far you might get the impression that racing is actually a somewhat small part of the entire trackchasing hobby. Sometimes it is.
Today I was going to visit the Sumter County Fairgrounds in Bushnell, Florida. I was planning for a "trackchasing double" at tonight's event.
Before I go any further let me tell you, that to me, trackchasing is a people experience. The thrill of meeting new people surpasses the thrill of seeing another figure 8 race. I've seen more than 300 of those. I hadn't ever met many of the people I would meet tonight.
No other trackchaser really goes after trackchasing the way I do. They are content to walk into the arena, stay to themselves and then leave. I've got to believe their trackchasing experience is much different, I didn't say worse, than mine. O.K., who am I kidding? Their experience is worse!
Back in 2008 my stepfather (above right) and I went to the Sumter County Motorsport Park in Bushnell to see some kart and open-wheel racing. There they raced on a permanent dirt oval. Sumpter County was my #1,399th lifetime track to see at the time. They just missed being a "century" track. That honor went to the Kemper Arena in Kansas City, Missouri, track #1,400, a week later.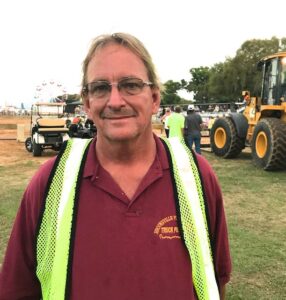 I also had a link with tonight's racing promoter, Richard Klimas. Richard and I first met a couple of years ago at the Hernando County Fairgrounds. He was just getting started with figure 8 racing as a promoter. I think back then that might have been his first figure 8 promotion. Richard's been promoting a lot of demolition derbies for some time.
Like at so many tracks I was the first person to discover that a small fairgrounds in Central Florida had trackchasing countable racing. It wasn't long before others were coming down to see the racing in Brooksville, Florida. That's just fine. That's why I share the information the way I do. I'll see the track first, check it out and make sure it's worthwhile for followers. Then when those followers flock to my website to see what I had to say about the racing visit they can decide if they want to come down and do exactly what I did… AFTER I did it. Folks, that's how it works.
I had learned that Richard was branching out. When I saw him at the Hernando fair he told me that was his plan. He wanted to get more cars and drivers and take the show all over Florida. He's beginning to do that. Good for him!
It's important not to burn bridges with my racing contacts. Of course, not burning bridges is an important thing to remember in life as well. Even when you don't think you're going to need to cross back over a bridge you've already traveled past you likely will. Remember, what I am sharing here are pearls. All you need to do to benefit is to bend down and pick up the pearl!
About ten days ago I gave Richard a call. He remembered me from a couple of years ago. Back then based upon our initial phone call he had given me a press pass. He told me that once again he would be more than happy to make sure I didn't pay anything to get into the fair. I would have VIP/press privileges. I've met a lot of nice people in racing. Richard is definitely one of those people.
Tonight I showed up a few minutes in front of the scheduled 6:30 p.m. starting time. I simply mentioned at the ticket window that Richard had approved my visit. I was given a nod and a wink and strolled on through the entry gate.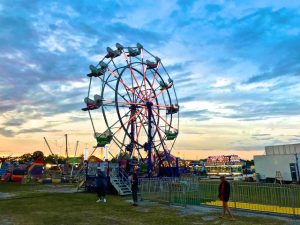 Tonight was a beautiful weather night for racing. The temperature was falling fast from its high in the 80s today. I was still quite comfortable wearing shorts and a T-shirt which are my normal attire more than 98% of the time in my life.
I was immediately taken aback by the large number of cars in the pit area. There had to be 15-20 racing in tonight's figure 8 event. Most of those cars would participate in the demolition derby, which would be the motor sports highlight of the Sumter County Fairgrounds tomorrow night.
It didn't take me long to find Richard. He was expecting me. He introduced me to more than a dozen people who were either assisting with the show, or actually driving in the events. Again, nice folks.
The show featured two lively announcers over a quality PA system. It's always a good thing to entertain the crowd with a good sound system and decent announcers.
I stayed close to Richard for much of the evening in the pit area tonight. I was able to hear how the program was going to develop. Ultimately they would have four figure 8 races. Two of those were for small cars and two for big cars.
They had another unique event on the card tonight. I had seen the same thing back in 2017 at the Hernando County Fairgrounds. This was called a "reverse" race. As the name implies the cars raced in reverse around a temporary dirt oval track.

Trackchasing rules don't say anything about whether the cars need to drive forward or drive backwards. They simply need to race on an oval, road course or figure 8 configuration. Would tonight's "reverse" racing on the oval count as a new track just like it did back in 2017 at the Hernando County fair?
What did the trackchasing rules have to say about this situation? I had already seen racing on a permanent oval track in 2008. That permanent track had been removed and was no longer in existence for tonight's entertainment. Indeed, where did tonight's oval track program fall in the maze of sometimes frightening trackchasing rules?
This was the section of rules regarding the counting of tracks that exist within the trackchasing rules. As you will come to find out tonight's situation was covered by any of these rules.
"Multiple tracks of the same type (types being divided into ovals, road courses and figure eights), located at the same facility, are countable under the following conditions:
Connected ovals or figure eights are separately countable only if they exist and are active at the same time;
Disconnected, permanent ovals or figure eights (located on separate areas of the facility) are separately countable whether or not they exist at the same time;
All temporary tracks of the same type are only separately countable if they physically exist and are active at the same time, even if they are located on different parts of the property (moving a temporary track during the course of the day does not constitute a new track), with the following exception, tracks located inside different buildings on the same property can be counted separately"
Let's look at point #1. It talks about CONNECTED ovals. The oval track I saw in 2008 was about 1/5-mile in length. You can see what that track looked like on YouTube. Tonight's track was small. The oval configuration had the cars racing around two tractor tires about 30-40 yards apart. Tonight's track would easily fit inside the oval track from 2008.
Now we go to point #2. It talks about DISCONNECTED ovals. Yes, these were disconnected ovals. However, point #2 is talking about PERMANENT tracks. Tonight's oval track was not a permanent track. Therefore point #2 does not apply to tonight's oval track configuration.
Point #3 to all TEMPORARY tracks. The track I saw was a permanent oval at the time. It was not a temporary track. Therefore point #3 does not cover tonight's situation.
Net, net none of the current rules apply to tonight's situation. What I was dealing with were two disconnected ovals, one of which was permanent when I saw it (2008) and the other of which was temporary when I saw it (2019.
The rules tell the reader what does count and what does not count. What happens when the situation I encountered is not covered by the existing rules? Well, if you're the trackchasing commissioner you hurry up and write a "Randy Rule". It's been done several times.
I am confident the existing rules do not disallow my 2008 and 2019 oval experience. At the same time those rules do not allow it either. I'll give the rules makers a break this time. Since what I have seen is NOT described as countable, even though it is also not described as uncountable, I will give the rules makers a pass and not add this track to my lifetime list. I'm not always this nice but I'm in a good mood.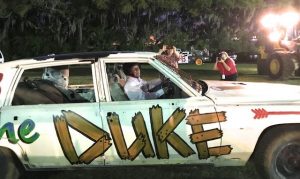 This evening's race promotion was unique in one regard. A local contractor who went by the nickname of "Duke" was the main sponsor tonight. He had authorized the building of most of the cars that would compete this weekend.
The Duke runs the T&D family of companies. If you would like to learn more about this fine construction firm you might like to check out this video.
Tonight as Richard, the promoter, scanned over the field he told me that this car cost $100 and that one cost $75 on the one over there was $200. He and his staff had gone to work preparing the cars for tonight's racing. Several of them had snazzy paint jobs.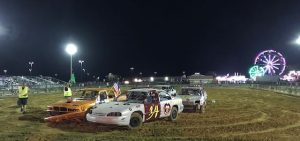 Quite a few of the drivers were actually employees of the many companies that the Duke owned, primarily in the construction field. I was told that he builds 2000 pools a month! His companies pour a lot of concrete. I'll bet he's been to the World of Concrete convention in Las Vegas. That's a big one.
Not only did Duke sponsor and make cars available to many of the racers tonight he also competed in the events. He drove in the small car race and the big car race. I'm pretty sure he drove in the reverse race. He told me he had done stuff like this 40 years ago but it was even more fun tonight. Duke was a nice guy and very generous. When the entire event was finished he took to the PA system and thanked the crowd for coming out. He told them that bigger and better things were coming tomorrow night with the demolition derby.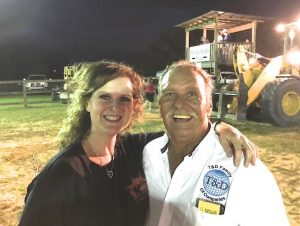 Tonight I also met a young lady by the name of Tonya. She works in the medical field with her day job. She's working on her PhD in psychology. However, on this evening she was an enthusiastic volunteer for the fairgrounds racing show. She loves it. It was fun meeting Tonya. The picture above is of Tonya and the Duke.
As always your best bet is to take a look at my videos and photo albums for the racing action. I like to tell you about the daily activities outside of the racing activity in my reports. I would just as soon you look at the videos and photos to see what the racing itself was like. I hope you like it that way.
Seeing two tracks race tonight had been great even though only one was added to my trackchasing totals. I reinforced my ranking as the #1 trackchaser in the Sunshine state.
Nevertheless, what was the real highlight of my visit? It was great getting to meet up with Richard Klimas again. I love to see race promoters trying new things. I really enjoyed being able to meet all of the central Florida local people. Duke, tonight's contracting sponsor, was having fun. He was rewarding many of the people who worked for him. Tonya was an example of a person just doing something for the pure fun of it. In reality all of these people were doing something for other people and that's always a good thing. Yep. Real nice new friends.
Last night I had flown overnight from Los Angeles to Orlando. I took a couple of naps during the day but a couple of naps is not the same as sleeping eight hours in a bed. Tonight I would go to bed at about 11 p.m. local time. My wake-up call would come at 4 a.m. eastern time. I have lots to do tomorrow morning notwithstanding a flight to Minneapolis to begin a weekend of ice trackchasing.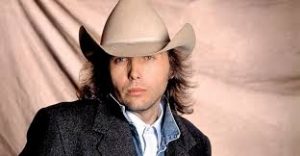 AFTER THE RACES
Tonight after talking to a young fan with the lights going down all around the fairgrounds I trudged off into the darkness. It was just like Dwight Yoakum had done many many years ago at the El Centro County fair down Mexico way in California after meeting with a fan. The night's performance was finished. My carnival act was moving on down the road as well.
I did have one more stop to make on the way back to the hotel. I would need to gas up the National Car Rental Racing Toyota. I stopped in a very small town rural convenient store.
I had to convince the lady working in the store that I was good for the gas. I needed her to let me go out to fill up my car and then come back and buy some snacks so that I would only make one charge rather than two which she might have preferred. She reminded me in her Middle Eastern dialect that "You won't forget to come back in will you"? No, I wouldn't. I don't roll that way.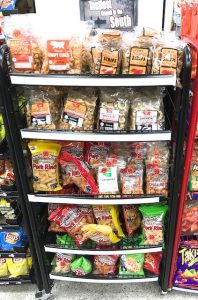 California and Florida are both warm weather states. So which is better? Well when I left LAX I looked all over the airport for a package of pork rinds. There were none to be found. Apparently, Californians don't eat pork rinds. Tonight, the Florida convenience store had an entire wire display of nearly 10 different brands and types of pork rinds or "chitlins" as they're called down this way. What does that tell me? Florida is better!
Good evening from the Sumter County Fairgrounds in Bushnell, Florida where I saw figure 8 racing on dirt followed by oval racing on dirt.
Randy Lewis – 82 countries – 2,533 tracks.

Florida
The Sunshine state
This evening I saw racing at my 73rdlifetime track in the Sunshine state, yes, the Sunshine state.  I hold the #1 trackchasing ranking in Florida.  I've seen 73 or more tracks in eleven different states. None of my fellow competitors comes close to matching that stat.
Thanks for reading about my trackchasing,
Randy Lewis
World's #1 Trackchaser
Peoria Old Timers Racing Club (P.O.R.C.) Hall of Fame Member
Florida sayings:  Florida: Where even the sand is wrinkly
QUICK FACTS
LIFETIME TRACKCHASER COMPARISONS 
The threemost important trackchasing comparisons to me are:
Total lifetime tracks seen
Total "trackchasing countries" seen
Lifetime National Geographic Diversity results
Total Lifetime Tracks
There are no trackchasers currently within 700 tracks of my lifetime total.  Don't blame me.
Randy Lewis, San Clemente, California – 2,533
Total Trackchasing Countries
The nearest trackchasing competitor has seen racing in 30 fewer countries compared to my lifetime total. 
Randy Lewis, San Clemente, California – 82
Current lifetime National Geographic Diversity results
Randy Lewis, San Clemente, California – 4.14
That's all folks!  Official end of the RLR – Randy Lewis Racing Trackchaser Report
Click on the link below to see the video production from the racing action today.
Click on the link below for a photo album from today's trackchasing day.  You can view the album slide by slide or click on the "slide show" icon for a self-guided tour of today's trackchasing adventure.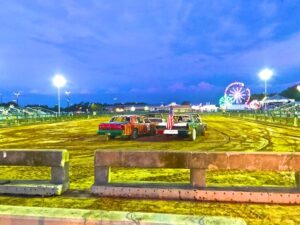 It was a full day of just about everything down Florida way