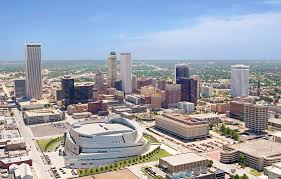 Greetings from Tulsa, Oklahoma
.
.
From the travels and adventures of the 
"World's #1 Trackchaser"
.
.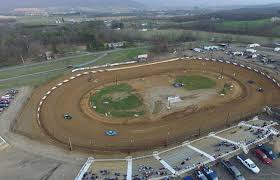 Port City Raceway
Dirt oval
 Lifetime Track #826
Reprinted with permission from my April 2, 2005 Trackchaser Report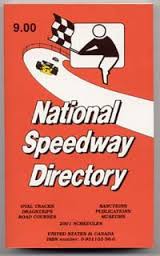 Our #2 trackchaser, Allan Brown, is the publisher of the paperback book, the National Speedway Directory. This book lists oval and road course tracks in the U.S. and Canada and is used by traveling race fans. Here is what Allan had to say about racetrack websites:
"Who'd ever thought that within ten years of the web becoming popular that 86% of the US and Canadian tracks would have websites. (Editor's note: Allan, I remember one race fan telling you several years ago that most racetracks were going to have websites). Of the 1,430 tracks we list in the 2005 directory, only 199 of them do not have websites. Oval tracks rank the lowest on the totem pole with 85%, as 97% of road courses have websites, and 88% of dragstrips have websites.
That doesn't mean every website is worthwhile. We found that only about 1/2 the websites had telephone numbers listed. Less than a 1/4 of them have regular addresses to mail something to them. Keeping the websites updated is the biggest problem. Probably 25% of them still have 2004 info on them.
It seems like every time management changes the website stays with the former. We had dozens of websites change from .com to .net, .org or .us this year. Of the 993 U.S. ovals we list 95 of them changed management. Forty-nine of the U.S. oval tracks changed names since the last edition of the Directory.
Each of these websites can be viewed at Allan's website: http://www.speedwaysonline.com/
PEOPLE/TRAVEL NEWS
First and most important is to wish daughter, Kristy, a very happy birthday today, April 2. Happy birthday, Kris. We are very proud of our attorney daughter and wish her a very special day. Of our three children, Kristy is probably the biggest race fan. Our last race together was at the Irwindale Speedway.
I had a casual drive today, up from North Texas into Northeastern Oklahoma. There were several Indian casinos in sight. I think I may stop in and try my luck on the return trip back to Dallas on Sunday night.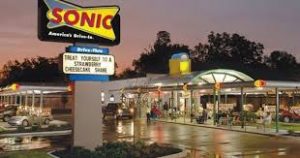 I did stop at a Sonic Drive-in on trackchaser Andy Ritter's recommendation to try a watermelon cream slush. Andy, very good! Lunch, on the other hand, was a bit of a disappointment. I saw several huge billboards along the interstate that read, "Robertson's Ham Sandwiches". I've never seen a billboard exclusively advertising ham sandwiches so I had to stop.
When I did stop, I had a choice of a medium, large or king size ham sandwich. I chose the large sandwich for $3.25. The counterman reached over and threw down a very small looking pre-made sandwich wrapped in a clear cellophane bag. The sandwich bread was simply two pieces of white bread with a small amount of ham and cheese. Wow! What if this guy had to compete with delis in Los Angeles or New York? The cream slush lasted a lot longer than this flimsy ham sandwich. George, where do you think this Robertson ham sandwich store was located? Ryan, Oklahoma!
My travels took me through Norman, Oklahoma. This city is home to the University of Oklahoma. As is my habit, I like to tour college campuses. I usually am looking for three locations; the basketball arena, the football stadium and the book store (souvenir t-shirt). Everyone has to have their educational priorities!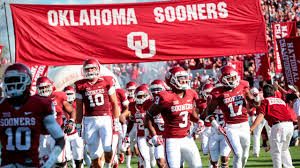 The basketball arena was locked. I did just miss a Oklahoma football scrimmage that would have allowed me admission to the stadium. When I got there the players were just coming out of the locker room following the practice. The bookstore yielded no t-shirt purchase since my at home inventory of shirts is now past 75 and storage is at a premium. I need a special looking shirt to activate my spring loaded Master Card.
Spring is springing in Oklahoma. The leaves are just starting to pop out with a definite feel of spring in the air. This is one of my favorite times of the year to trackchase for the beauty but not always because of spring's unstable weather. Fortunately, the weather forecast for this weekend is for 0% chance of rain. I have never been rained out with this type of rain forecast.
Remember, animals are our friends, but they won't pick you up at the airport.
RACE TRACK NEWS:
PORT CITY RACEWAY #826– TULSA, OKLAHOMA
The Port City Raceway is my 7th lifetime track to see in Oklahoma. I began the trip ranked 9th in Oklahoma and should finish the trip ranked 6th. That will help with National Geographic Diversity points. Tonight is the first half of my first blended double of the year. Recall that the classic definition of a blended double is seeing about the same amount of racing at two different tracks, time-wise, while limiting the driving time between the two tracks to a minimum. The racing at each track should be a minimum of one hour or hopefully more. For a double to qualify as a blended double the driving time between the two tracks MUST be less than the racing time at each track.
In the plan, this looked like a good blended double opportunity. At the beginning of the night, it looked like a bad blended double try and by the end of the evening; it proved to be a successful opportunity.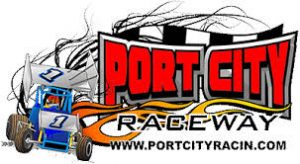 The Port City Raceway website offered somewhat limited trackchaser information. The site indicated that racing would begin at 7 p.m. The second track in my double, the Outlaw Motor Speedway in Oktaha, Oklahoma, told me over the phone they would began countable racing at 7:30 p.m. With this schedule, it would be best to start out at Port City. Microsoft Streets and Trips told me the tracks were 57.1 miles apart.
I arrived at Port City at 6:15 p.m. to find a piercing setting sun to be shining directly into the eyes of the few patrons in their small grandstand. I decided to find some food. I have a new culinary strategy for 2005. If I can get a decent restaurant meal before I get to the track I will. I'm trying to avoid "race track generic" food such as hamburgers, hot dogs, nachos, etc. I was successful and found a Chinese restaurant that served fried rice that tasted like it had been fried over an open campfire. Hey, we're in Oklahoma. It could happen.
I was back at the track for the scheduled start time. The woman at the ticket window told me they were running behind schedule. Rather than waste my time sitting on a board, I decided to buy a pit pass. General admission was $7 and a pit pass was $20. That didn't seem like a great value, but, hey, the kids are doing well and giving them a bigger inheritance would just create dependency. I also spent three bucks on an overpriced program. It was of copy machine quality with lots of ads, although it did provide the track's season long list of race dates and driver names (no hometowns) and numbers.
They had a ton of what they called micro-sprints. I would have called them mini-sprints. There were seven classes with number of heats in ( ). 100cc (1), three quarter restricted (2), sportsman (2), A class (3), non-wing (4), multis (2) and one other class that I didn't get the name of. All of the classes except the 100cc raced with 600cc engines.
Tonight was the first night of the season. The announcer said the track's management had brought it new clay over the winter. That material proved somewhat difficult to work with and the first countable race did not begin until 7:50 p.m., 50 minutes after the promised start time.
The surface was muddy even after more than an hours worth of hot laps. I sat in the turn one pit grandstand. It was six rows high and steeply pitched. I sat in the last row about 15 feet off the ground and 30 feet from the track. Even in this position, I was getting mud from the track. It was a great place to take pictures from.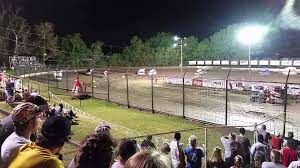 Heat races were a bit long at 10 laps each. The track reminded me a bit of Airport Speedway in Delaware only not nearly as well run. I listened to the track communication over the radio. If every fan in attendance could have a radio, they would probably have a totally different perception of what was happening. Think of having a radio as the same thing as watching them prepare and cook your food in a restaurant. Sometimes that might be a good idea and sometimes it might not.
There were two significant flips during the heat races. One flip sent the flying racecar between 15-20 feet into the air. That was a tough one. The second flip of note was less spectacular. Nevertheless, when the car came to rest, the first corner man to the scene advised over the track radios that, "he's out; he's unconscious get the ambulance out here." I was sitting just 50 feet from the ambulance. They took their sweet time getting the ambulance started and driving the 100 yards to where the lifeless driver was strapped into his racing machine.
The driver remained unconscious for 2-3 minutes. When the he regained consciousness, they pushed him off and THEY LET HIM RACE!! That's why people like Kristy will have long and profitable careers ahead of them.
At 9:20 p.m., two hours and twenty minutes after the scheduled start time and one hour and 30 minutes after the first race began I headed south. I had seen more than 100 cars in 14 races competing in 140 laps of action on the small one-sixth mile tacky dirt oval. The announcer was beginning to talk about trophy dashes. If you're going to run that many heat races for seven classes, you don't need trophy dashes in addition to some B features and then seven main events.
I've come to think that if the heat race averages a couple of yellow flags each 10 laps then the 20-lap feature is simply going to be like combining two heat races. You're now likely to get 3-4 yellow flags and with more cars in the features, maybe 5-6 yellow flags. I wish more tracks would go to a "features only" format. After I watch 2-3 hours of preliminary races, I'm in no mood to sit through another couple hours of feature races. Can't any tracks get their program finished in 2-3 hours total? Movies are 1 ½-2 hours, basketball is 2 hours long and football and baseball about 3-3 ½ hours long. Anything over the 3-3 ½ hour range is getting way to long.
I will say the track cleanup people did the best they could to keep the show moving. Four wheelers with hooks were used to tow disabled racers off the track. They even enforced a rule against drivers trying to intentionally cause a yellow flag. When a driver pulled to the track's edge after a spin to cause a yellow, they sent him to the pits. That's a good idea.
It was now time to drive 57.1 miles to the Outlaw Motor Speedway. With a late start, a blended double was in some distinct jeopardy.
RACE TRACK FOOD:
Didn't buy any track food and forgot to even look at the menu.
RENTAL CAR UPDATE:
I am driving the National Rental Car Racing Chevy Impala. Not only are they charging me just $15.95 a day, they've given me a nearly new car with just 497 miles on the odometer when I picked it up at the Dallas Airport. National is going to have to spend a few extra minutes wiping up the peanut shells from the luxurious leather interior.
LIFETIME TRACKCHASER STANDINGS UPDATE:
The battle for positions that could change in the near future is as follows:
5. Guy Smith – 949
6. Jack Erdman -869
7. Randy Lewis 826
8. P.J. Hollebrand – 804
9. John Moore – 787
10. Ed Esser – 751
2005 TRACKCHASER STANDINGS
1. Ed Esser – 23
2. Randy Lewis – 17
3. P.J. Hollebrand – 16
CUMULATIVE DRIVING DISTANCES:
Dallas-Ft. Worth International Airport, Fort Worth, Texas – trip begins
Boyd, Texas – 91 miles
Tulsa, Oklahoma – 477 miles
TRACK ADMSSION PRICES:
Boyd Raceway – $8
Port City Raceway – $20 (includes pit pass)
Thanks for reading about my trackchasing,
Randy Lewis
The #1 trackchaser living west of the Mississippi
That's all the news that's fit to print from San Clemente where the women are strong, the men are good-looking, all of the children are above average and the real estate prices are way above average.
Planned new racetracks
(on the last day of each racing trip I will post my tentative plans for my next trip)
April 2 – Outlaw Motor Speedway, Oktaha, Oklahoma
April 3 – Hallet Motor Racing Circuit, Jennings, Oklahoma
April 3 – JRP Speedway, Tulsa, Oklahoma
April 9 – Charlotte County Speedway – F8, Punta Gorda, Florida
Racetracks visited in 2005 (** not the first time to visit this track)
810. Sungold Stadium aka Premier Speedway, Warrnambool, Victoria, Australia, January 1
811. Freedom Hall – Oval – Louisville, Kentucky, January 15
812. Freedom Hall – Figure 8 – Louisville, Kentucky, January 15
813. Southern Illinois Center, DuQuoin, Illinois, January 16
814. Golden Aisles Speedway, Waynesville, Georgia, February 25
815. Zephyrhills Antique Racecar Track, Zephyrhills, Florida, February 26
816. Dirt Devil's Speedway, Land O' Lakes, Florida, February 26
817. Ringwood Raceway, Ringwood, England, March 25
818. Birmingham Wheels, Birmingham, England, March 26
819. Boiling Hills Farm, Sleaford, England, March 27
820. Snetterton Circuit, Snetterton, England, March 27
** Great Yarmouth Stadium (oval), Yarmouth, England, March 27
821. Great Yarmouth Stadium (Figure 8), Yarmouth, England, March 27
822. The Grove Farm, Monkland, England, March 28
823. Grimley Raceway, Grimley, England, March 28
824. Castle Combe Circuit, Castle Combe, England, March 28
825. Boyd Raceway, Boyd, Texas, April 1
826. Port City Raceway, Tulsa, Oklahoma, April 2