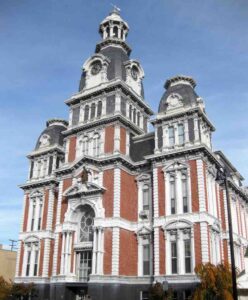 Greetings from Van Wert, Ohio
.
.
From the travels and adventures of the "World's #1 Trackchaser"
 .
.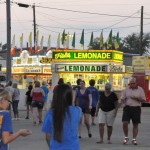 Van Wert Fairgrounds
Dirt oval
  Track #889
Highlights
GREETINGS FROM VAN WERT, OHIO AND THEN FT. WAYNE, INDIANA,
AND THE READERS RESPOND:
Just this past week, Jim S. from Ponte Vedra Beach, Florida wrote the somewhat prophetic, "Not sure how they haven't found you in a ditch somewhere yet, congratulations on your fortitude to roll up this many miles. I think I've said this once or twice before, you're nuts! 
I had no idea that Jim's fear would be realized so soon.  It didn't happen exactly as he was imagining, but it happened.
PEOPLE/TRAVEL NEWS
Today may have been the roughest day, health wise, that I have ever had in trackchasing.  Recall that yesterday, Thursday, I had driven 371 miles from Coldwater, Michigan to Wisconsin Dells, Wisconsin for their stock car special. 
Earlier on that day I had stopped for lunch at Hardee's where the service and food were sub-par.  I believe I picked up a case of food poisoning there.  I was starting to feel bad on the way to Dells Speedway and I mentioned this to fellow trackchaser, Gordy Killian.
However, in trackchasing they say the "show must go on". I left Dells Motor Speedway at 10 p.m. That would be 11 p.m. Eastern time and I needed to be at the Van Wert County Fairgrounds in Van Wert, Ohio by 10 a.m. the next morning.  That gave me 11 hours to drive the 453 miles from Wisconsin Dells to Van Wert.  My mapping software told me that would be about 7 hours of hard driving and four hours of napping.  I almost never try an overnight drive like this and do not recommend it to anyone, especially when they are not feeling well.
During the first couple of hours of the drive I began to experience extreme chills followed by hot sweating spells.  I was somewhat concerned about crossing from Illinois to Indiana just east of Chicago because of road construction.  I had heard they close down some of the road at night and every minute I was slowed down because of construction would mean one less minute of sleep.  Fortunately, I sailed through this area without any delays at all.
I wish I could say it was equally good sailing with regard to my self-diagnosed food poisoning.  In addition to chills and fever I was now starting to experience extreme nausea and diarrhea.   I do not when is a good time to have human fluids trying to leave both the north and south ends of your bodily freeway, but it is definitely not on a 453-mile overnight drive.
Conditions were getting bad when I noticed a toll road highway sign signaling a travel plaza (rest area) just 10 miles ahead. Surely I could make it that far. I couldn't.  Just five miles from the plaza, I had to pull over.  I had contemplated throwing up into my extra-large Burger King plastic cup, but throwing up and driving 70 M.P.H. at the same time required more coordination that I had at the moment.
I parked the car on the side of the toll road. Traffic was relatively light as it was 3 a.m.  I turned off the car's automatic headlights. This was no time to draw attention to myself.  I took a couple of steps away from the highway and immediately slid down a hill and into a ditch.  
As I lay on my back facing the heavens, I knew something wasn't right (duh!).  I was feeling dizzy, nauseated and that lovely feeling of diorama remained.  I could only get the dizziness feeling to go away when I lay perfectly still.  Here I was at three o'clock in the morning, lying in a ditch in Gary, Indiana. You need to understand that this is not part of my normal lifestyle.  I hope it is not of yours as well.
I had three thoughts as I stared up at the stars. First, I fully expected a highway patrol officer to come by at any minute.  I was sure they would think I was drunk. I had not had any alcoholic beverages at all.  Secondly, I thought that if I stayed in the ditch for too long the boys of Gary, Indiana might come by and relieve me of my rental car. They do that kind of stuff in Gary. 
The "Pick your own part" concept was invented by the boys of Gary, Indiana.  Thirdly, I was worried that I might not be able to scale the hills to get back to the car without risk of walking out into oncoming traffic as I was in such a dizzy state.
It was more comfortable to just lay there and look at the stars.  Everything seemed to hurt a bit less that way.  I don't know how long I lay in the ditch.  Finally, I got enough energy together to make it back to the car.  I drove the next few miles to the travel plaza and used their facilities and their parking lot as a make shift hotel. 
I used my cell phone's alarm to let me nap for 20-40 minutes every hour and one-half or so.  When I was driving, the miles seemed to pass ever so slowly.  I would look at the odometer and then drive for a while and look down at the odometer.  Sometimes only a mile had passed between odometer readings.
I don't really know how I made it.  It was 453 miles from the Dells Motor Speedway parking lot to the property of the Van Wert County Fairgrounds.  I arrived at 9:53 a.m., seven minutes ahead of schedule. The Antique Auto Racing Association program was about to start at 10 a.m.  Details of the racing are in the 'Race Track News' section.
My major tourist activity of the day was to visit the boyhood home of California racechaser/trackchaser Ron Rodda.  Ron grew up in Ossian, Indiana.  When Ron saw that I would be going to a race in Ft. Wayne he sent me details on his hometown.  The highlight was a visit to 210 Metts, Ron's boyhood home.  Although the place is more than 60 years old, it still looks to be in good shape.  It's just a block off the main drag in what today is a small town and must have been even smaller 50 years ago.
The second major highlight was a visit to the Heyerly's Baking Company.  I'm not sure if Ron was offering a Ron Rodda's Racing Money Back Guarantee or not but I stopped in.  This is a unique bakery.  Unfortunately, with my current health condition baked goods didn't hold any short-term appeal.  However, I'm always counting on better days ahead and purchased one honey bun and a cinnamon knot.  I hope that I will be able to return to good health before they get stale.
I took photos of Ron's home and the bakery. I asked the woman in the store if she remembered Mr. Rodda.  She thought for a while and then a twinkle came into her eye.  "Yes, I remember the boy", she said.  I believe I was talking to Barbara Young ("That was my name then"). "Tell him I said hi", Barbara requested. Someday, I will get these photos on the website.
I found a hotel in Ft. Wayne at about 3 p.m. I was not feeling well.  I lay down on the bed and fell asleep and did not wake up until 8 p.m.  I debated on whether to go to Baer Field at all.  I always lose that debate with my trackchasing self and stumbled out of the hotel room and made an appearance at the track.
I was still sick with nausea and diarrhea. When the Super 8 Motel checks the condition of room 120, I don't think they will be inviting me back anytime soon.
RACE TRACK NEWS:
VAN WERT COUNTY FAIRGROUNDS, VAN WERT, OHIO – TRACK #889
This speedway brings my Ohio state total to 36 tracks.  I am now ranked 13thin the Buckeye state.  Norm Wagner leads the state of Ohio with 100 tracks.  I have 30 countable tracks in the state still to see, of which about 17 tracks race on a weekly basis.
I have never felt worse at a racetrack in my life.  I entered the fairgrounds this morning and found a spot just beyond turns one and two next to a livestock barn to park.  I was only 20-30 yards from the racecars. 
Normally, at a race like today, with so many antique race cars, I would take several kilobytes worth of photos.  I did not take one photo.  I did not get out of the car the entire time I was at the fairgrounds. I must admit that I slept through some of the racing.
There has been some question whether antique cars really race competitively.  I posed that question to the Antique Auto Racing Association's secretary in a phone call a couple of weeks before today's race.  He could have not been any more adamant in declaring they were RACING.  I told him about trackchaser requirements and he became even more adamant. 
When I saw the first race I agreed with him. The cars lined up in a two per row race format and there was a good deal of side-by-side racing.  I'm sorry I will have no photos to post from this event. The old-time covered wooden grandstand was a classic.  The open wheeled racecars without cages (they are banned with this group) were also elements of days gone by.
For those interested I will include this blurb from the AARA website, which I found interesting.
"In the late nineteen sixties recently retired midget and sprint car drivers and owners began to wonder what they would do now that they were no longer racing.   If you were a retired baseball player or golfer, there were old-timers or senior's events to participate in.   A group loosely organized by R. K. "Dick" McKee of Columbiana, Ohio began to think about creating a group for retired racers.   This eventually became an association founded by McKee, Jim Ash of Wisconsin, and Bob Blake of Columbiana.   Dick and Jim started contacting everyone they knew who had old racecars and Bob, a newspaper editor, put together press releases and other advertising for an inaugural event.
The first event was held in August of 1973 at the Carrolton, Ohio fairgrounds, and the group called itself The Half-Mile Dirt Track Racing Exhibition Association.   The event ran for two days and drew a huge crowd of old race fans, restored and hot rod car folks, and the just plain curious.   Despite the fact that the race cars that showed up were few and were not really ready for the nearly continuous running that the event required, the event was a success and was repeated the next year.
The name of the group was more than a mouthful and it was decided that the name would be changed to the Antique Auto Racing Association.   It was further decided that only Midgets, Big Cars, and Two Man cars of 1949 or older be eligible to run with the association, and that racing would be on fairgrounds tracks.   This was done so that the group could recreate open wheel; dirt track racing as it was in the 1920s, 30s, and 40s.   The association would rent fairgrounds and put on the races themselves, something it still does today.
Currently, there are over a hundred vintage oval track organizations in this country.   The AARA was the first and is still putting on shows once a month in the summer in Ohio and Michigan, as well as participating in events in several other states.  
Usually about thirty or more cars appear at each event.   These will be Big cars, known as Sprint Cars today, Midgets, and Speedsters.   All the cars are correct for the pre 1950 time frame, there are no roll cages, fuel cells, wings, fat tires, etc.    If you have ever seen old racing movies on TV, such as "To Please a Lady" or "The Big Wheel", you have seen cars like those that the AARA runs.   The group puts on a complete three division racing show with specialty races, heat races, and feature races, trying to keep the experience just as you would have seen it years ago!   We even occasionally recapture the show biz buzz of the old time county fair with a performance by "The Masked Marvel" who drives a racecar blindfolded! 
No one knows what the future will bring.   All forms of motor sports are feeling an insurance price pinch right now, other forms of entertainment such as TV and shopping malls are taking dollars away from racing, and the AARA members and their race cars are getting older!   Remember that our newest car was built over fifty years ago!    Most of the drivers were too!   NOW is the time to get to one of the Antique Auto Racing Association events! 
When asked a few years ago at the AARA 30th Anniversary Celebration if he ever thought the group would still be around in thirty years Dick McKee, the only founder still active in the association, said; "We didn't even know if there was going to be old time racing when we started!   None of us foresaw that this thing would last ten years, let alone thirty!"
The AARA is a superb group of people from all walks of life, brought together by a common interest in old time racing.   Check the schedule for an event nearest you, or join up and be part of the oldest vintage oval track racing group in America!"
RACE TRACK NEWS:
BAER FIELD – 3/8M OVAL, FT. WAYNE, INDIANA – TRACK #890
This speedway brings my Indiana state total to 43 tracks.  I am now ranked 13thin the Hoosier state.  Roger Ferrell leads the state of Indiana with 94 tracks.  I have 36 countable tracks in the state still to see, of which about 7 tracks race on a weekly basis.
I did not feel well.  I arrived at the track at about 9 p.m.  I was hoping to catch a feature race and call it a night. The track was at intermission. The evening was also cooling off which made my chills and fever condition all the worst.  I resorted to wearing my blue jeans for the only time during the entire trip.
The track was not going to cooperate with my medical related trackchasing plan.  The announcer chatted some more.  I did not have the energy to even submit a trackchaser press release, that's how bad I was feeling. 
Soon the track started their spectator one on one drags.  Although this non-countable event was entertaining, I wanted to see just one race. Then following the drags, which were won by a very clean looking 1999 BMW 535, they followed with a rather average, but long, fireworks show.  I was about to keel over from hypothermia and I wasn't even in the water.
Finally, they got to some racing.  I watched a very entertaining mini-stock and then late model feature on the three-eights mile oval.  I was told by track management that the three-eights mile oval began in 1999.  I had been to the half-mile track back in the early 80s to see Dick Trickle and Butch Miller fight it out in an Artgo or ASA show.  Tonight's racing was very good.
Baer Field also had a paved flat unattached oval inside the three-eights mile oval.  Maybe I'll make another return visit someday.
Toward the end of the late model feature I noticed Belgium's Roland Vanden Eynde walking toward the bottom row and center of the grandstands. Since I didn't feel well and thought I would be seeing him the next day at Gingerman (my mistake), I did not call my presence to his attention.  Sorry, Roland, hope you had a great trip to the United States.
I headed back to my hotel and debated on canceling part of the next day's trip.  I decided to sleep on it and see how I felt.
RENTAL CAR UPDATE:
The message on my dash console had now changed from "Change Oil Soon", to "Replace tires soon".  Hopefully I can nurse the National Rental Car Racing Chevy Malibu for a bit longer.  
LIFETIME TRACKCHASER STANDINGS UPDATE:
These trackchasers are within 100 tracks (plus or minus) of my current trackchaser total.
Any Sivi, Clairton, Pennsylvania – 977
Guy Smith, Effort, Pennsylvania – 969
Gordon Killian, Sinking Spring, Pennsylvania – 968
Randy Lewis, San Clemente, California – 890
Jack Erdmann, DePere, Wisconsin – 872
P.J. Hollebrand, Webster, New York – 817
John Moore, Knoxville, Tennessee – 795
Ed Esser, Madison, Wisconsin – 788 (courtesy note, please try to keep up. If you fall more than 100 tracks behind for a period of greater than seven days, Trackchaser Report bylaws will force me to remove your name from this list)
2005 TRACKCHASER STANDINGS
Randy Lewis, San Clemente, California – 81
Ed Esser, Madison, Wisconsin – 60
Roland Vanden Eynde, Vilvoorde, Belgium – 39
CUMULATIVE DRIVING DISTANCES:
Chicago O'Hare Airport – trip begins
Marshfield, Wisconsin – 288 miles
Menomonie, Wisconsin – 537 miles
Winnipeg, Manitoba, Canada – 1,767 kilometers
Grand Forks, North Dakota – 1,327 miles
Beaver Dam, Wisconsin – 1,960 miles
Jefferson, Wisconsin – 2, 005 miles
Plover, Wisconsin – 2,171 miles
Antigo, Wisconsin – 2,826 miles
Sturgeon Bay, Wisconsin – 2,974 miles
Luxemburg, Wisconsin – 3,023 miles
Unity, Wisconsin – 3,326 miles
Crandon, Wisconsin – 3,521 miles
Tomahawk, Wisconsin – 3,576 miles
Three Lakes, Wisconsin – 3,619 miles
Shelbyville, Indiana – 4,276 miles
North Vernon, Indiana – 4,369 miles
Paducah, Kentucky – 4,709 miles
Crystal, Michigan – 5,364 miles
Wisconsin Dells, Wisconsin – 5,891 miles
Van Wert, Ohio – 6,344 miles
Ft. Wayne, Indiana – 6,514 miles
Total trip air travel – 3,472 miles
TRACK ADMSSION PRICES:
Marshfield Super Speedway – Free
Red Cedar Speedway – $12
Victory Lane Speedway – $20 Canadian
River Cities Speedway – I'm bringing you in for free!
Raceway @ Powercom Park – $9
Jefferson Speedway – $9
Golden Sands Speedway – $10
Langlade County Speedway – $12
Thunderhill Raceway – $12
Luxemburg Speedway – $12
Monster Hall Raceway – $10
Crandon International Off-Road Course – $15
Pepsi Raceway Park – $10
TNT Speedway – $9
Shelby County Speedway -$8
Jennings County Fairgrounds – $8
Paducah International Raceway – $20
Crystal Motor Speedway – $5
Dells Motor Speedway – $12
Van Wert County Fairgrounds – Free
Baer Field – $12
Thanks for reading about my trackchasing,
Randy Lewis
Trackchasing's #1 trackchaser of the 21stcentury
I'm not as good as I once was, but I as good once, as I ever was.
Planned new racetracks (on the last day of each racing trip I will post my tentative plans for my next trip)
July 2 – Gingerman Raceway, South Haven, Michigan
July 2 – Thunder Valley Motorsports, Jones, Michigan
July 2 – New Paris Speedway, New Paris, Indiana
July 3 – Durand Downtown Circuit, Durand, Illinois
 
Racetracks visited in 2005 (** not the first time to visit this track)
Sungold Stadium aka Premier Speedway, Warrnambool, Victoria, Australia, January 1
Freedom Hall – Oval – Louisville, Kentucky, January 15
Freedom Hall – Figure 8 – Louisville, Kentucky, January 15
Southern Illinois Center, DuQuoin, Illinois, January 16
Golden Aisles Speedway, Waynesville, Georgia, February 25
Zephyrhills Antique Racecar Track, Zephyrhills, Florida, February 26
Dirt Devil's Speedway, Land O' Lakes, Florida, February 26
Ringwood Raceway, Ringwood, England, March 25
Birmingham Wheels, Birmingham, England, March 26
Boiling Hills Farm, Sleaford, England, March 27
Snetterton Circuit, Snetterton, England, March 27
**     Great Yarmouth Stadium (oval), Yarmouth, England, March 27
Great Yarmouth Stadium (Figure 8), Yarmouth, England, March 27
The Grove Farm, Monkland, England, March 28
Grimley Raceway, Grimley, England, March 28
Castle Combe Circuit, Castle Combe, England, March 28
Boyd Raceway, Boyd, Texas, April 1
Port City Raceway, Tulsa, Oklahoma, April 2
Outlaw Motor Speedway, Oktaha, Oklahoma, April 2
Hallett Motor Racing Circuit, Jennings, Oklahoma, April 3
JPR Speedway, Tulsa, Oklahoma, April 3
Charlotte County Speedway – Figure 8, Punta Gorda, Florida, April 9
CORA Speedway, Dixon, California, April 16
Reno-Fernley Raceway – Road Course, Fernley, Nevada, April 17
Lakeside Speedway, Kansas City, Kansas, April 22
Salina Speedway, Salina, Kansas, April 23
Jetmore Motorplex, Jetmore, Kansas, April 24
Oberlin Speedway, Oberlin, Kansas, April 24
USA Race Track, Tucson, Arizona, April 30
Tucson Raceway Park (inner oval), Tucson, Arizona, April 30
Driesum Race Track, Driesum, Netherlands, May 5
Autosportsdadion de Polderputten, Ter Apel, Netherlands, May 5
Bellekouter Autocross – oval, Affligem, Belgium, May 8
Bellekouter Autocross – road course, Affligem, Belgium, May 8
Circuit de Croix-En-Ternois, Saint-Pol sur-Ternoise, France May 8
Nurburgring, Nurburg, Germany, May 13
Lopik – oval, Lopik, Netherlands, May 14
Lopik – road course, Lopik, Netherlands, May 14
Ten Boer Autocross, Ten Boer, Netherlands, May 14
Rennplatz "Casper Gerd", Rutenbrock, Germany, May 15
Zuidwolde Autocross, Zuidwolde, Netherlands, May 15
Midland Speedway Circuit, Lelystad, Netherlands, May 15
Aalten Autocross, Aalten, Netherlands, May 16
Circuit de Peel International Speedway, Venray, Netherlands, May 16
U.S. 30 Speedway – permanent inner oval, Columbus, Nebraska, May 26
Hitchcock County Speedway, Culbertson Nebraska, May 27
Pikes Peak International Raceway, Fountain, Colorado, May 28
Colorado National Speedway – asphalt oval, Dacono, Colorado, May 28
Colorado National Speedway – figure 8, Dacono, Colorado, May 28
Rocky Mountain National Speedway – figure 8, Commerce City, Colorado, May 28
Broken Bow Wilderness Park – figure 8, Fullerton, Nebraska, May 29
Casino Speedway, Watertown, South Dakota, May 29
Sioux Speedway, Sioux Center, Iowa, May 30
Madison Speedway, Madison, Minnesota, May 30
Hawkeye Downs, Cedar Rapids, Iowa, June 3
Autobahn Country Club – North Course, Joliet, Illinois, June 4
Shadyhill Speedway, Medaryville, Indiana, June 4
Pottawattamie County Fairgrounds, Avoca, Iowa, June 5
Dawson County Speedway, Lexington, Nebraska, June 5
Marshfield Super Speedway, Marshfield, Wisconsin, June 14
Red Cedar Speedway, Menomonie, Wisconsin, June 15
Victory Lane Speedway, Winnipeg, Manitoba, Canada, June 16
River Cities Speedway, Grand Forks, North Dakota, June 17
Raceway @ Powercom Park, Beaver Dam, Wisconsin, June 18
Jefferson Speedway, Jefferson, Wisconsin – outer oval, June 18
Jefferson Speedway, Jefferson, Wisconsin – inner oval, June 18
Golden Sands Speedway, Plover, Wisconsin –June 19
Langlade County Speedway, Antigo, Wisconsin – June 21
Thunderhill Raceway, Sturgeon Bay, Wisconsin – June 22
Luxemburg Speedway, Luxemburg, Wisconsin – June 23
Monster Hall Raceway, Unity, Wisconsin – June 24
Crandon International Off-Road Course, Crandon, Wisconsin – June 25
Pepsi Raceway Park, Tomahawk, Wisconsin – June 25
TNT Speedway, Three Lakes, Wisconsin – June 25
Shelby County Speedway – permanent oval, Shelbyville, Indiana – June 26
Shelby County Speedway – temporary oval, Shelbyville, Indiana – June 26
Jennings County Fairgrounds, North Vernon, Indiana – June 27
Paducah International Speedway, Paducah, Kentucky – June 28
Crystal Motor Speedway, Crystal, Michigan – June 29
Dells Motor Speedway, Wisconsin Dells, Wisconsin – June 30
Van Wert County Fairgrounds, Van Wert, Ohio – July 1
Baer Field – 3/8 mile oval, Ft. Wayne, Indiana – July 1