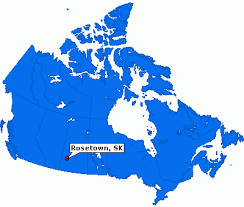 Greetings from Rosetown, Saskatchewan, Canada
.
.
From the travels and adventures of the 
"World's #1 Trackchaser"
.
.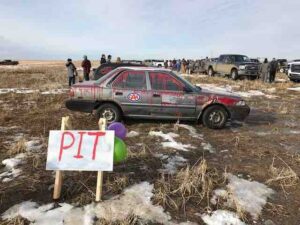 Rosetown Ice Race
Ice road course
Lifetime Track #2,298
The EventVideo PlusPhotos
THE EVENT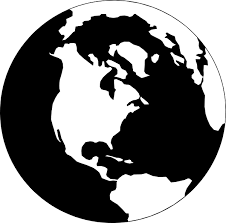 My trackchasing hobby takes me all over the world. Each year I will visit 25-30 American states and several foreign countries.  Long ago I moved into the #1 trackchasing position in both the number of different racetracks seen as well as the number of countries where I've seen racing.  
During my media interviews and discussions with friends and fans they often ask, "When did you start trackchasing?"
Yes, that's a question I get frequently. I never know how to answer it. I started out as a "racechaser". I went to the very best tracks where my favorite drivers were racing.
Somewhere along the line I decided I liked seeing a race at a track for the FIRST time rather than the TENTH time. As I went along I learned I liked the CHASE as much or more than the RACE. By the time I started trackchasing more than racechasing I was hundreds of tracks behind the leading trackchasers most of whom started in their 20s. Here's a list of the number of tracks I had seen by a certain age:
Age 5 – 1 track
Age 30 – 71 tracks
Age 40 – 180 tracks
Age 50 – 404 tracks
Age 60 – 1,517 tracks
Age 68 (today – still a kid) – 2,298 tracks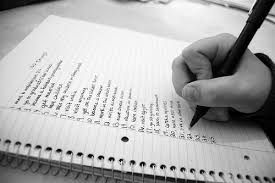 Today's adventure was one more of the 2,000 trips that have taken me up, down and around the long and dusty trackchasing trail. If you would like to see where I've been and experience those adventures here's the link: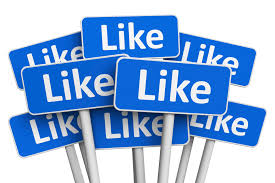 If you've got a question, comment or whatever please leave it at the bottom of this report.  It's very easy to do.  Or you can visit me on Facebook.  Thanks!
ON THE WAY TO THE RACES

FOREWORD
January and February of each trackchasing year are almost totally dedicated to ice trackchasing. The ice racing season is short. In recent years it has been nearly nonexistent for some chasers because of the warmer than normal weather.
The staff at Randy Lewis Racing research department has discovered a whole host of new ice trackchasing venues this year. However, the warm temperatures haven't helped much.
Nevertheless, going into mid-February I had already seen three ice racing tracks. No one associated with the hobby elsewhere had seen more than one. By the end of the weekend I would have five. That's all the more surprising because coming into this weekend I had seen 79 ice racing tracks cumulatively. In trackchasing the more you have seen the harder it is to see more.
I was looking at this particular weekend to be the highlight of my entire ice trackchasing season of 2017. Why would I say that? I'll take a moment to explain.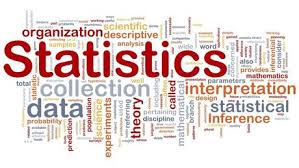 An important facet of trackchasing, for most people who do it, is trying to see something that no one else has ever seen, see it first or see it more often or all of the above. That's why they keep track of trackchasing stats.
As mentioned I had seen ice racing at 79 ice tracks in 16 states, provinces and countries. No other trackchaser, despite most living in cold weather climates, has seen ice racing in as many as half of the states, provinces or countries that I have visited for ice racing. That might put things in perspective for you.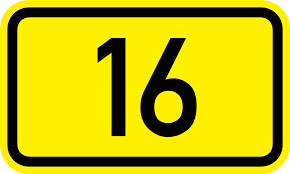 Here's my current list:
Alaska
Alberta, Canada
Andorra
British Columbia, Canada
Finland
Maine
Manitoba, Canada
Michigan
Minnesota
New Hampshire
New York
Ontario, Canada
Quebec, Canada
Russia
Vermont
Wisconsin
A couple of weeks ago I thought I might be able to add #17 to the above list. I went to Iowa. I didn't even know until this year that they even had ice racing in Iowa. I showed up. They had enough ice. The weather was cold enough. However, there were not enough competitors in the classes that are acceptable to trackchasing rules for me to count the track. I was bummed.
However, I still had a shot at getting #17 before the spring thaw came. I had been counting on this Saskatchewan track visit for the last couple of months. Yep. I was headed to the Canadian province of Saskatchewan.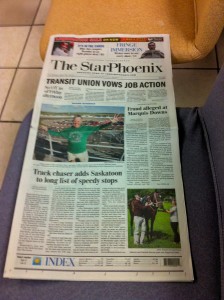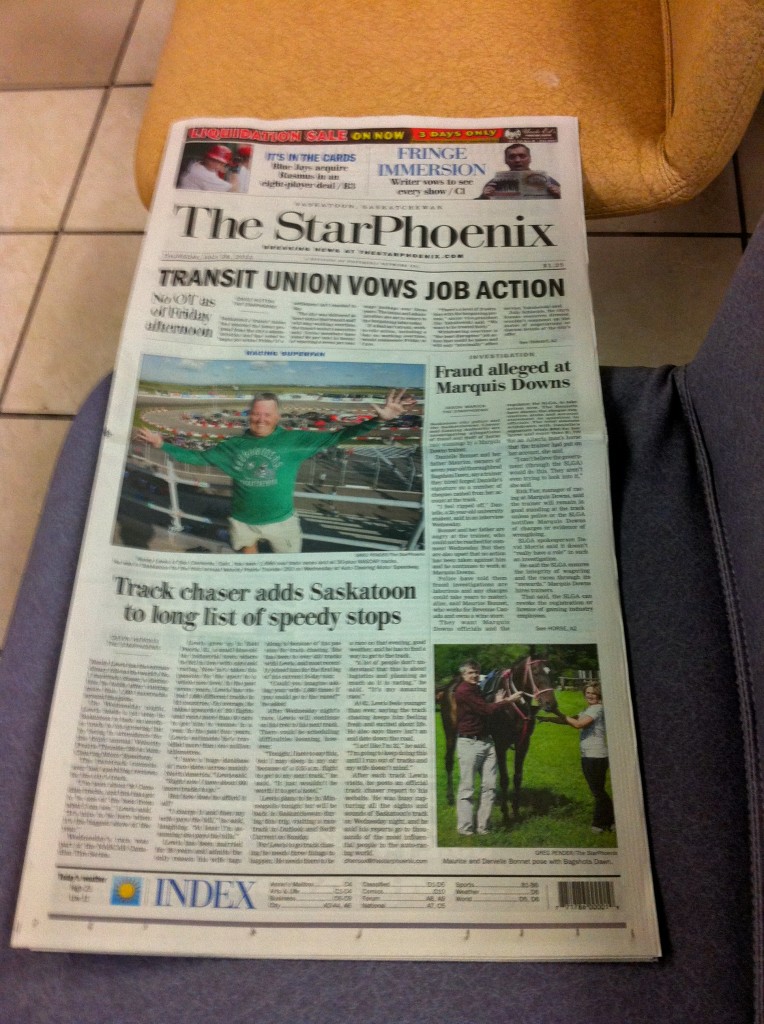 I had seen six tracks previously in Saskatchewan. My SK list follows. However, I had never seen any ice racing up there.
| | |
| --- | --- |
| Auto Clearing Speedway | Saskatoon |
| Estevan Motor Speedway | Estevan |
| Flatlanders Speedway | Kindersley |
| Outlook Stock Car Track | Outlook |
| Rosetown Ice Race (RC) | Rosetown |
| Speedy Creek Raceway | Swift Current |
I followed a group for years that competed on the ice in SK at a place called "the rat hole". However, a few years ago they stopped racing because of lack of local interest. That's why I was pleasantly surprised to run into a fellow by the name of Dillan Pelletier.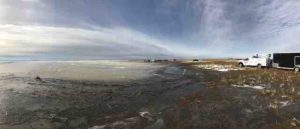 For the past couple of years Dillan had been organizing an ice race in his hometown of Rosetown, Saskatchewan. Most ice racing takes place on a frozen lake. In Rosetown they do it on what's called a slough (pronounced "slew").
A slough is not a lake. It's simply a body of water that accumulates in a low spot of a farm field. Today's slough was about 12-18 inches deep. There wasn't much chance of falling through the ice here! Rosetown's earlier winter weather made the water in that slough frozen solid.
By the way, here's an official definition of "slough".
"A slough is a wetland, usually a swamp or shallow lake, often a backwater to a larger body of water. Water tends to be stagnant or may flow slowly on a seasonal basis"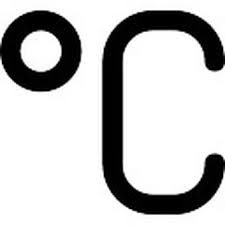 Rosetown has not been immune to warmer temperatures this winter. During the past week they've had high temperatures in the 40s and 50s Fahrenheit. By the way Canada goes with temperature readings on the Celcius scale.
Warm weather is not good for ice racing. Despite it all Dillan assured me they would be racing this Saturday. Based on Dillan's word, whom I had never met, I was coming to Saskatchewan! I was counting on Dillan.
If you have the time you might break out your Google Maps. Check out the location of Rosetown, Saskatchewan. It's not really all that close to any major airport. I could have flown into Regina, Saskatchewan but that would have involved a connection. Those are always risky especially in the winter and when it involves a foreign country. I would try to simplify the trip in one regard. I would fly into Minneapolis.
THURSDAY
I was really looking forward to this trip. I was pretty well assured of getting two ice tracks added to my list during the entire weekend. Up to now I have not been able to do that this year.
No trackchaser have ever recorded an ice racing visit to Saskatchewan. In fact no other trackchaser had ever seen more than two SK tracks of any kind.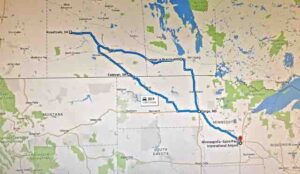 My travel itinerary was simple but time consuming. Today it took me two hours to get from my home to the Los Angeles International Airport in rush-hour traffic. Then I barely made a flight to Minneapolis. The flight was four hours in duration.
Once I landed in Minneapolis I needed to get a good rental car. It was going to be a ‪15-hour one-way drive from Minneapolis up to Rosetown, Saskatchewan. Yes, you read that correctly. Fifteen hours!
I had estimated the entire driving trip would cover 2,000 miles around the Canadian "loop" before returning to Minneapolis. I also figured I would spend $173 U.S. on gas. Later we'll see how close I came to that estimate.
Editor's note: My final tally was 2,117 miles on the rental car's odometer. That ended up costing me $147 U.S. in gas.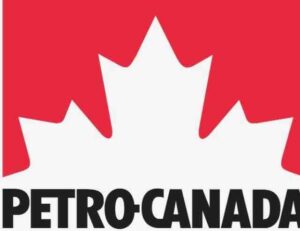 Canadian fuel is always more expensive than gasoline in the United States. That's probably a function of various taxes. It seems like it used to be a lot more expensive in Canada than the U.S. Here was my strategy for minimizing my gasoline expense.
Just before I entered Canada I would fill the tank to the brim in the U.S. Then I will try to bring the car back into the U.S. on fumes before I refill again in the states. That way I will buy as little Canadian fuel as possible. No offense to my Canadian friends of course!
I really wanted to get a Chrysler 300 rental car. Those are fantastic road cars. It would have been great to make a 2,000 mile drive over four days in one of those. However National Car Rental wanted a $60 upgrade fee and that didn't work for me. I ended up with a top-of-the-line Nissan Altima. It had leather seats and some other nice amenities. That car would work just fine.
I made a rookie mistake when getting off the airplane today. Remember I have flown virtually every week since the age of twenty-three. I took the wrong piece of luggage from the overhead bin. It wasn't until I got outside the plane that I saw that ‪my computer case wasn't going to hook onto the "new" wrong case. I returned to the gate. A fellow had my bag and was waiting for me to return his. I apologized profusely and we both went on our merry way.
I like to say that I am "comfortable with ambiguity". That simply means that I don't really need to have everything 100% buttoned up in order for me to keep moving on down the travel treadmill.
I had landed in Minneapolis ‪at about 6 p.m. Google Maps told me that Fargo, North Dakota was about four hours up the road. A stop in Fargo would be just fine. That would give me about an eleven-hour drive tomorrow, which would be very workable.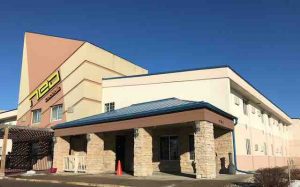 Knowing that the airport has free fast Wi-Fi I quickly went on Priceline.com. Using my Priceline proprietary methods I got the Red Lion Inn in Fargo for just $40 U.S. Their best regular online rate was $80 plus tax.
At every turn I try to spend my money wisely. Remember I retired 15 years ago and haven't had a company pension or any other work income in all that time. Carol and I live on our savings. We have to make it last.
I spent much of my time on the drive up to Fargo listening to a wide variety of podcasts. They are downloaded onto my iPhone. I am sure they will keep me entertained for what I expect to be about 40 hours of driving during this four-day weekend.
FRIDAY
I woke up this morning in the Red Lion Hotel in Fargo, North Dakota. As far as I know this hotel was not part of the Red Lion Hotel chain in the Northwest.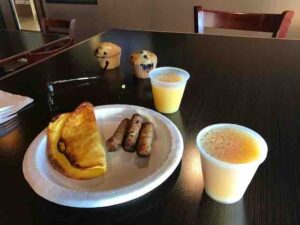 I'm not going to tell you that the Red Lion was a luxurious hotel. It wasn't. However my room did have a microwave oven and refrigerator. The hotel also served a complementary breakfast with hot food. I'll say this about the Red Lion. I'm glad I paid $40 for the room on Priceline and not their regular rate of $80 plus tax.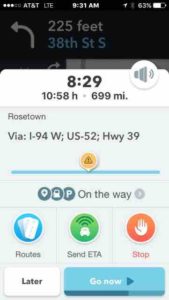 This morning I was looking at a simple 699-mile drive from Fargo up to Rosetown, Saskatchewan. That's not a problem for me. I love driving.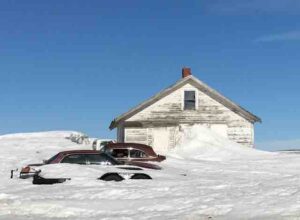 The scenery through North Dakota, then Manitoba and finally Saskatchewan was not expected to be exactly like driving through the Grand Canyon. That turned out to be an accurate assessment. Nevertheless, I would sit back in the National Car Rental Racing Nissan Altima and listen to podcasts, check my email, make phone calls, and tune into SiriusXM satellite radio.
In today's world I can use Bluetooth to connect my iPhone to the car's audio system. That makes it just as if I had satellite radio in the rental car without having to pay the six-dollar per day charge. It would be unlikely that I would use the car's own radio signal at all during my trip.
When I'm on these trackchasing a rental car drives I set my cruise control for 5 miles per hour over the speed limit. Even when I go through a small town I will set the speed control so that I don't lose track of things and go faster than I should. Knock on wood; I haven't had a speeding ticket since 2003 with this strategy. That's saying something for as much as I drive. Remember, a couple of years ago I drove more than 49,000 miles in a rental car in just 12 months.
My first major stop, about four hours up the road was in Minot, North Dakota. I would use Yelp to find a place to eat. As you may have noticed I travel a lot. I want to eat in the most unusual highly recommended places that I can. Of course, I'm not very familiar with the Minot.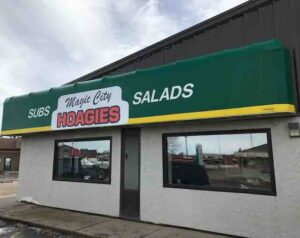 However the local people who use Yelp are. Based upon their recommendation I stopped at the Magic City Hoagies sandwich shop. It had garnered a four and one-half star Yelp rating.
By the way this luncheon stop was after I had picked up a bag of pork rinds and a bottle of Diet Mountain Dew as my midmorning snack! I must tell you that a 4.5-star star rating in Minot is probably not equivalent to a 4.5-star rating in a major city. You probably knew that.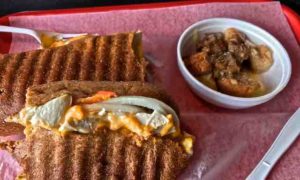 Nevertheless, my Philly cheesesteak chicken sandwich smothered in cheese whiz was tasty. It was also large enough to have the second half wrapped up for my dinner later tonight.
The other day Carol and I had some cinnamon bites in a Wisconsin dive bar. Today's bread pudding serving was very similar to that. Everybody makes bread putting a little differently and I seem to like it all.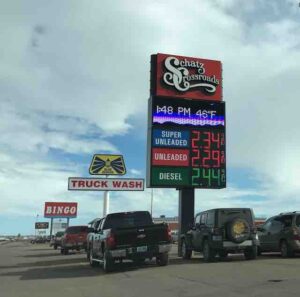 While I was in Minot I stopped at the Schatz Travel Center for gas. I'm not exactly sure of the relationship between this business and long-time World of Outlaws sprint car champion Donnie Schatz but I know there is one. They were selling his souvenir t-shirts inside.
My 2017 National Car Rental Racing Nissan Altima has an 18-gallon fuel tank. Today I put 17.6 gallons in it and probably could have put in even more. I have a strict policy of driving for as long as I can once the orange fuel light warning comes on. Everyone has policies in life right?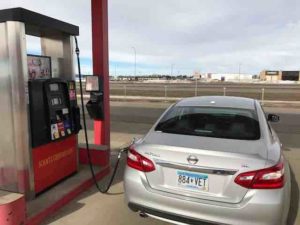 I filled up with gas at the travel center knowing that I still had about 80 miles to drive before crossing the Canadian border. I would stop one more time in North Dakota before I entered Canada to top off.
I did exactly that but I could only fit a little bit more than 2 gallons in the tank. However, with gas selling in North Dakota at $2.29 a gallon and for $2.77 in Canada I guess I saved a buck.
With all of the driving I'm going to be doing in Canada I will need to fill up the tank once there. Then I might need one more splash of gas to get me back to Pembina, North Dakota. I'll cross back into the United States there with the gas tank on fumes. My strategy is to buy as little fuel in Canada as possible.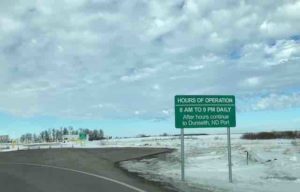 I entered Manitoba, Canada at the Northgate, North Dakota border checkpoint. This is a small border crossing. It was closing ‪today at 5 p.m. I came through about an hour before closing.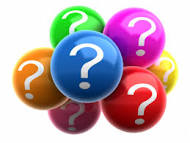 No other travelers were going into Canada through this border crossing while I was there. That gave the young woman border agent plenty of time to ask questions! She did too.
She asked me if I had been in Canada before. I told her I go to Canada 4-5 times a year or more. She asked me when I had last been in Canada. I had no earthly idea. I told her to check my website. No I didn't say that but I should have. Finally when she seemed tired of asking one more goofy question she wished me a good day and I passed into Canada.
Dillan Pelletier, this weekend's Rosetown race promoter and I have been in contact frequently for the past several weeks. He was most helpful. Dillan and I had talked on the phone a few times as well to finalize details.
Before I go any further I've got to give a shout-out to Jon De Roo. Jon's the fellow who originally got me in touch with Dillan. Folks, I can't say this often enough. I could not do this hobby at the level I do it without the help of so many people. Thanks Jon.
Dillan was very nice to invite me to stay at his home this evening. I would have loved to have done that. Here's the problem. It's the reason why I rarely travel with others, other than Carol, or meet up with others.
My travel is very unpredictable. Usually my travel requires the use of an airplane. However, before I can get on an airplane there has to be an extra seat for me as a standby passenger. What does that mean? I never know for sure if I'm going to get on the plane or not.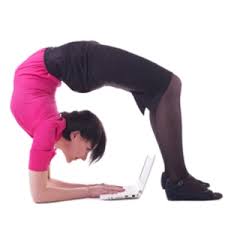 Very few people travel this way. I love it. It gives me 100% flexibility. As a person who is "comfortable with ambiguity" it is the perfect life style at this point in life. It has been for a long time. However, it's not so perfect for people who might be counting on meeting you at a certain time or place. I couldn't tell Dillan I would stay at his place and then not show up.
As it was I had to leave home early ‪on Thursday morning in order to make it up to Rosetown, Saskatchewan for Saturday's noon race. Even when I made the airplane that I planned on making on Thursday, the best I could do with staying in a hotel each night, was to get to Rosetown ‪at 11 p.m. on Friday night.
Dillan had messaged me earlier in the evening and invited me to come by the shop to say hello. However, with my late arrival time into Rosetown it just wasn't going to work this time.
During my Canadian drive I also messaged my buddy Jeffrey Plas. I met Jeffrey last summer when I visited the Souris Race Park in Manitoba. I had noticed that I was just 60 km from Souris. I sent a message to Jeffrey.
He replied with an offer to buy me lunch. That would have been nice but at that particular point I was turning west and he was located east. Next time Jeffrey!

I had used ‪Kayak.com to select a hotel in Rosetown a couple of days ago. The selection process didn't take much time. Kayak only listed one hotel and that was the Travelodge Rosetown.
I called them. I was told the rate was $107 Canadian plus tax. That sounded too high to me. I made an offer of $80 Canadian and they took it. Folks, it always pays to ask. But if you're going to ask you will have to do it the right way.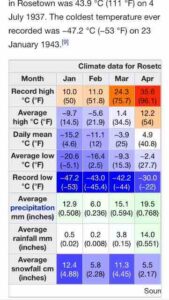 The high temperature for the past three or four days in Rosetown has been in the 50s. The average high temperature for February in Rosetown is 22°. What's up with that?  By the way the coldest temperature ever recorded in Rosetown was -53 degrees Fahrenheit or -47.2 Celsius!
Dillan had assured me that even though there was a lot of water on the ice racing track today that tonight's temperature of -6°C temps were going to make the track just perfect for tomorrow. Dillan is a promoter. Promoters are always optimistic. With his good attitude I went to bed for the first time ever in Rosetown, Saskatchewan.
SATURDAY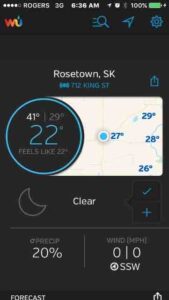 I woke up in the Travelodge Rosetown and immediately checked the outside ambient temperature. It was 22°. I hoped that the overnight below freezing temperatures were going to be enough to freeze some of the water so that we can get today's race in the books. Remember no trackchasers had ever successfully ice trackchasing in Saskatchewan.
The Travelodge was serving a "continental" breakfast. What does continental mean? No meat. Nevertheless I had some wheat toast, raisin bran and a glass of orange juice. I was ready to go trackchasing… Canadian style. Glad you're along for the trip.
I will see racing at several ice tracks in the first couple of months of 2017. However, the one I was looking forward to the most was going to happen today in Rosetown, Saskatchewan. Why was it going to be the most important ice track of the year?
The answer was simple. Trackchasers like to do new things. They like to see things before anyone else does and see more of them than anyone else does. Today I would be seeing an ice race for the very first time in the province of Saskatchewan. That's what made today's racing so significant to me.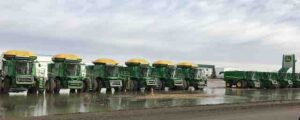 I took a brief spin around Rosetown itself. The town is small with about 2,300 residents. After doing some research I learned that that town was named after Mr. and Mr. Rose who came here back in 1905. The town has an A&W restaurant, a Ford new car dealer and a John Deere business among other things.
THE RACING

Rosetown Ice Race – Rosetown, Saskatchewan
Today's ice track was going to be unique to me in another sense as well. It was going to be the very first ice track that I had seen that met two requirements. First it wasn't being conducted on a frozen lake. Secondly it's ice and snow did not cover an existing race course.
One of the drivers told me that the maximum depth of the frozen water today was 18-19 inches. I would say that the entire area of the slough was about 200 yards square. It was plenty big enough for a course that Dillan described to me as being 0.83 miles in length. When he told me that one of his buddies chimed in with, "Did you just make that up?"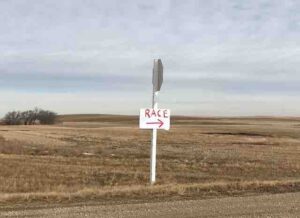 The track itself was pretty easy to find. I simply drove south of town and followed the signs until I reached the "Rosetown Ice Race". That is the official name of the track.
Lots of people who haven't followed my trackchasing hobby for very long may not know that I have seen races in about every circumstance that is humanly possible. I have seen several races in farm fields.
Pretty much all of the Belgium autocross racing is in a farm field of one sort or another. In Illinois I even saw a race once in bean field. Today's race was actually being conducted in a "lentils" field. Saskatchewan is noted for growing wheat but lentils is one of their cash crops as well. The track was located about 150 yards off the highway.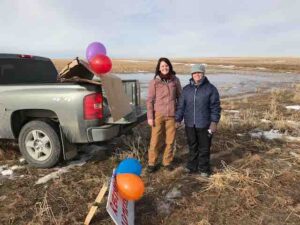 By the way the "highway" was really pretty much a gravel road. At the highway entrance to the track I approached the two young ladies selling admissions. The charge was $15 Canadian per carload. Today, for me, that meant $15 Canadian per person. That was fair enough. The price equated to about $10 US.
The road into the track from the highway was very muddy. I asked the girls what they thought about my taking the rental car into the pit area through the mud. One told me, "I think you can get in but I'm not sure you'll be able to get out".
I thought to myself. Getting in with the rental car wasn't much of a benefit if I couldn't get out. In hindsight I was very wise to park the car along the road rather than trying to get into what would become a muddy, slushy quagmire by the end of the day.
Two years ago Dillon got a bunch of friends together and they had an ice race pretty much on the spur of the moment. Last year they tried to do the same thing on a lake and had to cancel because of warm weather. This year was the first time Dillan was going with a "fully organized" program for his racers.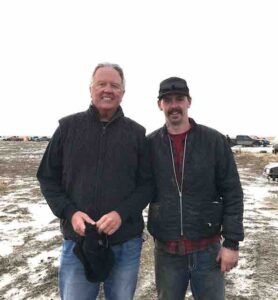 I would end up meeting Dillan and just about everyone in Dillan's extended family today. I met his girlfriend, his mother, his grandparents, his brother and several in-laws, cousins and other connected folks. One of the women handling the admissions area gave Dillan a call to tell his I was here. He brought his pick up truck out to meet me.
I had arrived ‪at 11:30 a.m. Racing was scheduled to begin ‪at 12 noon. Actually it began a little bit later than that. I ended up leaving the track ‪at 4 p.m. after all of the racing was completed.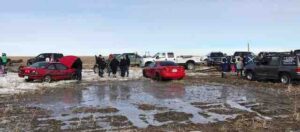 I believe there were 16 entries today. The program consisted of four heat races around the ice road course. Then there was the "King of the Ice" race for all of the top heat finishers in each class. This was followed by a free-for-all race open to any driver who could come up with a $10 entry fee. That final race was winner take all.
I spent a little time at the driver's meeting. Their Dillan explained how the program was going to go. He reminded the drivers that they wanted to avoid contact as much as possible. Any offending drivers would be disqualified. For the most part there wasn't a lot of contact. However a couple of drivers did get punted here and there.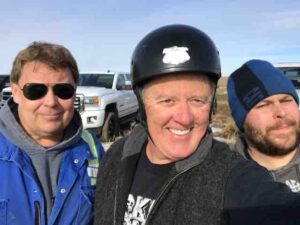 There were two major highlights that I took from my visit today. The first was that I got a chance to talk to several of the local residents and drivers. We had some great conversations during the time between races.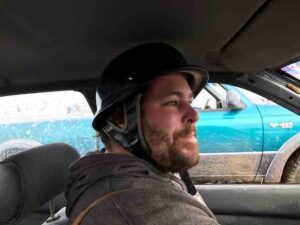 The second major highlight was being able to ride in the passenger seat with first Dillan and then Louis aka "Louie". Dillan was driving his BMW ice racer. I think this may have been the first BMW ice racing machine I've seen in North America. Louie was driving his trusty Toyota Corolla with about 450,000 km on the odometer. By the way none of the race cars had any roll cages today.
I spent a good deal of time talking to a fellow by the name of Travis. He and his father are farmers in the area. They were lending the lentils field for today's ice racing.
I'm a city slicker. More correctly I am probably a "suburban" slicker. I don't know the first thing about farming. It was interesting to listen to Travis tell me all about the lifestyle of a farmer in Rosetown.
Right now farm ground is going for about $3,000 an acre. I learned a little bit about "calving" and "yards". If you live in the U.S. you might think of your house as being built on a "lot". In Canada a lot is a "yard". Travis with a nice guy. He offered me a Bud Light and I accepted. Now I felt like a little bit more like one of the guys. I I was drinking a beer in the middle of the winter in Canada standing in a farm field.
I would encounter the father-son driving team of Don and Louie.  These guys were characters. Don was a farmer who had worked in the oil fields for years. Louie was a welder among other things. They were the friendliest bunch you could possibly imagine.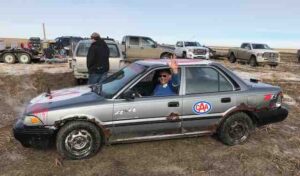 Don really wanted me to drive their CAA sponsored Toyota Corolla in one of the races. I would love to of done. However, I couldn't. This was likely the only ice race they would attend for the entire year. Don and his son Louie were already sharing the driving time as it was. I didn't want to take from their fun. At the same time I very much appreciated their offer. Don and Louie….. nice guys.  From the looks of their windshield it looked as if their little Toyota had been in the wars before today.
The track had some amenities that not all ice tracks have. By the way I was seeing racing on my 80th lifetime ice track today. Lots of people asked me what I thought of today's operation. I suspected that most of the fans and racers had never seen another ice track outside of Rosetown.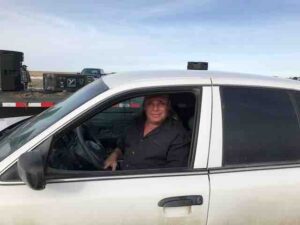 One of the really nice amenities at the ice races today was the track announcer. He did a really good job over a robust PA system. I took the time to go up and say hello. The announcer's name was Howard. He was broadcasting today's races from inside his car! Howard announces at the Kindersley track that I visited a couple of years ago. He told me he remembered from that visit and gave me a very nice trackchasing mention today.
I spent a good deal of time talking with Dillan's grandparents. Again, really nice folks who manage a ranch with about 600 cattle. They were interested in someone like me crazy enough to do what I do.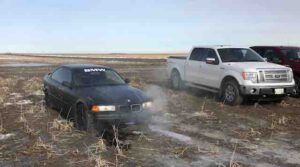 Dillan took me out in the first heat race where I could ride shotgun in his BMW. Unfortunately at the completion of the first lap we "through a belt". Dillan thought that maybe he had blown the engine. Ultimately he would be out for the rest of the day.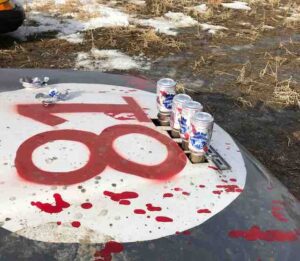 Whenever I meet drivers and car owners I like to ask them how they came up with their individual car number. Don and Louie's Toyota Corolla was car number "81". I asked them where they came up with the car number.
Of course Don, ever the jokester, could help me out with that question. He asked me what was the eighth letter of the alphabet. Before I could figure it out on my own he told me was "H". Then he asked what was the first letter of the alphabet? Of course that was the letter "A". That's spelled "HA". I still didn't have a clue. He told me "Hells angels"! Don and Louie are bikers.
I'm always up for just about everything.  Don and Louie even loaned me a retro biker or bucket style helmet for when I rode around in the two races that I participated in today. It's too bad that the video doesn't really capture the essence of being in one of these ice races. There's a lot of rough riding and sliding in ice racing. That was even more true in the Toyota Corolla that was racing without studs.
This was the first year they've ever ice races in this particular farm field. Last year they tried to do it on a lake. You never know, if they change the location next year, I might be able to get back to Rosetown. That would be great.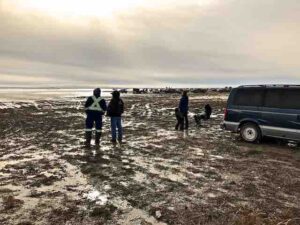 Please take a close look at the photo album and YouTube video. Those pieces will go a long way in showing you what the racing looked like. If you look closely you will see some really muddy, soggy, slushy conditions. I am one happy camper that I didn't try to bring the National Car Rental Racing Nissan Altima into that mess. I would've had to gotten towed out and then I would have to explain how the car got in such a muddy condition.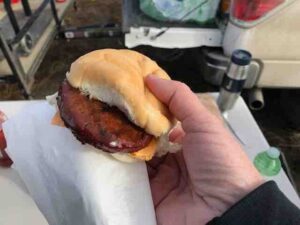 Dillan had spent a good amount of effort organizing this event. He had Porta potties on a trailer towed out into the farm field. There was a concession stand selling hamburgers and "pop" for five bucks. I had one of those combos. It wasn't long after the races were finished that I got a message from today's concessionaire, Duayne.
Today each driver paid $20 to enter their car in the races. There were some pretty heavy prize money awarded to the "King of the Ice" race podium finishers. First prize was $500, second place $‪200 with third place getting $100 in Canadian cash.
As a fan and an observer of the sport I'm not sure paying out cash prizes in these amounts is necessarily a good idea. This looks to be really grass roots ice racing. However, with purses of that magnitude it might move from fun too overly competitive. That's usually not a good thing for this type of racing in the long run. Who knows? We'll see how it all works out.
Overall it was a fantastic ice trackchasing day. I was able to see my first ever ice race in Saskatchewan. That was huge.
I got to ride shotgun in two races and had an offer to drive one of the cars in other races. Finally, a really big deal for me was being able to meet so many people and have the chance to talk to them for as long as I did. I'll remember that for a long time. Everyone I've ever run into in Canada has been more than nice.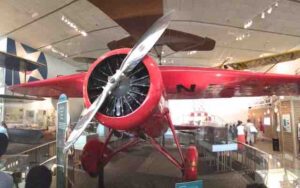 I almost forgot. In the middle of the racing program a pilot with a single engine airplane buzzed the pit area. He tilted his wing and came within 10 feet or so of several of the cars in the pits. I had never seen such a thing. I was asleep at the wheel with my video camera when the plane came through.
AFTER THE RACES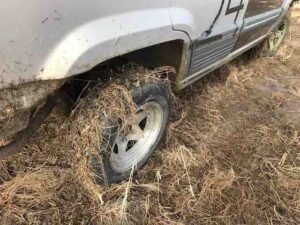 When I got back to the rental car I was reminded that my sized 14 REI boots were a muddy mess. I took them off before I got in the car and laid him in the back. It's going to be a challenge to get those things cleaned up.
On Thursday I had driven for a total of six hours and flown for four hours. On Friday I drove 11 hours. Following today's race I had an eight hour drive over to Portage la Prairie, Manitoba.
Yes, my trackchasing carnival was moving on down the road. I was changing Canadian provinces for a race in Manitoba sanctioned by the Winnipeg Sports Car Club. That was going to be fun as well. I would not likely have made it to the Manitoba race if I hadn't had a reason to come to Saskatchewan.
Good afternoon from Rosetown, Saskatchewan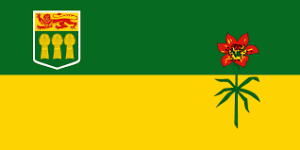 Saskatchewan
The Bread Basket of Canada province
This afternoon I saw my 7th lifetime track in the Bread Basket of Canada province, yes the Bread Basket of Canada province.
Thanks for reading about my trackchasing,
Randy Lewis
World's #1 Trackchaser
Peoria Old Timers Racing Club (P.O.R.C.) Hall of Fame Member
Saskatchewan sayings: A conversation from the corner gas station…
Brent: Want me to fill it up?
Man: Sure. You know I've never driven across Saskatchewan before.
Brent: Well, you still haven't really. About halfway to go yet.
Man: Sure is flat.
Brent: How do you mean?
Man: You know, flat. Nothing to see.
Brent: What do you mean, like topographically? Hey Hank, this guy says Saskatchewan is flat.
Hank: How do you mean?
Brent: Topographically, I guess. He says there's nothin' to see.
Hank: There's lots to see. There's nothin' to block your view.
Brent: There's lots to see. Nothin' to block your view. Like the mountains back there. They're uh… Well, what the hell? I could've sworn there was a big mountain range back there. Juttin' up into the sky all purple and majestic. I must be thinkin' of a postcard I saw or somethin'. Hey, it is kinda flat, thanks for pointin' that out.
Man: You guys always this sarcastic?
Brent: Nothin' else to do.
QUICK FACTS
LIFETIME TRACKCHASER COMPARISONS 
The three most important trackchasing comparisons to me are:
Total lifetime tracks seen
Total "trackchasing countries" seen
Lifetime National Geographic Diversity results
Total Lifetime Tracks
There are no trackchasers currently within 565 tracks of my lifetime total. Don't blame me.
Randy Lewis, San Clemente, California – 2,298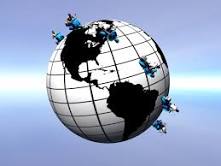 Total Trackchasing Countries
There are no trackchasers currently within 20 countries of my lifetime total.
Randy Lewis, San Clemente, California – 74
Current lifetime National Geographic Diversity results
Randy Lewis, San Clemente, California – 4.37
That's all folks! Official end of the RLR – Randy Lewis Racing Trackchaser Report
Click on the link below to see the video production from the racing action today.
Click on the link below for a photo album from today's trackchasing day.  You can view the album slide by slide or click on the "slide show" icon for a self-guided tour of today's trackchasing adventure.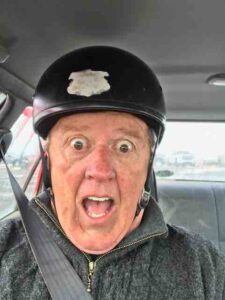 The big trip to Saskatchewan…..what it took to get there and beyond