Greetings from Amarillo, Texas
.
.
From the travels and adventures of the 
"World's #1 Trackchaser"
The EventVideo PlusPhotos
Route 66 Motor Speedway
Outer dirt oval
 Lifetime Track #2,618
THE EVENT
I AM A TRACKCHASER.
My name is Randy Lewis (above with Johnny Landers track promoter at the Boss Dirt Track Speedway in Lawton, Texas). I hail from the sleepy little village by the sea, San Clemente, California. I am a "trackchaser". I trackchase. Have you ever in your life heard of "trackchasing"? I didn't think so.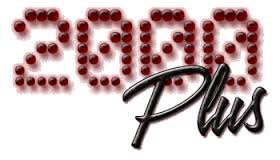 Today's adventure was one more of the 2,000 trips that have taken me up, down and around the proverbial long and dusty trackchasing trail.  If you would like to see where I've been and experience those adventures here's the link: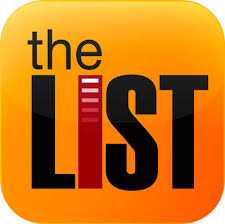 If you've got a question, comment or whatever please leave it at the bottom of this report.  It's very easy to do.  Or you can visit me on Facebook.  Thanks!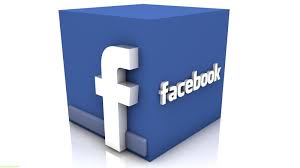 FOREWORD
Saturday, June 27, 2020.
A huge part of my trackchasing hobby is managing the logistical strategy. Typically that means I have to choose between two or three alternatives that are frequently located miles apart and begin and end at different times. Trackchasing is definitely a great, "mind puzzle".
On Friday night of this trip I stayed at a hotel in Lawton, Oklahoma. I had gotten up at 3 a.m. on Friday morning in San Clemente to get over to the Boss Dirt Track Speedway for their Friday night races. Sleeping in a hotel on Friday night felt good.
However, I couldn't sleep in too late. On Saturday morning I needed to get from Lawton, Oklahoma over to Amarillo, Texas. That's a driving distance of a little bit more than 200 miles.

I was headed to the Route 66 Motor Speedway in Amarillo for their races that began on Saturday evening at 7 p.m. However, if I wanted to get some Amarillo area touring in I would have to get over to Amarillo by early afternoon. That meant an earlier departure from the hotel than I expected. 
It was fun driving through the small towns of Oklahoma and Texas getting over to Amarillo. As I was leaving Lawton I saw gas prices as low as $1.65 a gallon. Those prices are amazing. People in California would be hard-pressed to find a price as low as three dollars a gallon right now.
It was interesting to observe the architecture driving through these rural small towns. Many of the downtown buildings were built at the turn of the century. I don't mean at the turn of the 20th-century but the turn of the 19th century!
It was interesting to drive past a prison location in Claude, Texas, home to the Armstrong County Jail. It was a sunny afternoon. One of the inmates was outside the prison fence mowing the grass with a power mower. He was being closely observed by a prison guard!
I did a little searching with my Roadside America smartphone app. I used some other travel search engines to find out what might be interesting to see over in Amarillo as well.
One of the touring opportunities that jumped out at me was a place called Bill's Backyard Classics Auto Museum. It's sort of seems like I might have stopped here years ago but I couldn't say for sure. When I called the museum I only got a recorded message and without any confirmation, I couldn't make a stop. Maybe they were closed because of COVID-19. Three days later I got a call back telling me they WERE open on Saturday but on weekends their phone messaging system effectively routes all of their calls to "after hours". You would think they would have corrected that problem long ago. Maybe I'll catch Bill's sometime later. I do plan to be in then part of Texas again this year.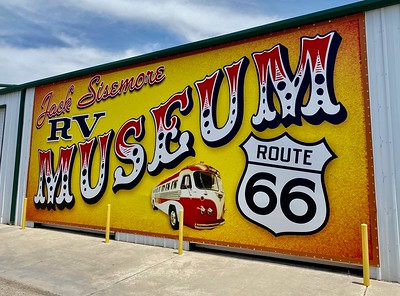 My next trackchasing tourist attraction was going to be Jack Sizemore's RV Museum. I gave them a call. I learned they were closing at 3 p.m. this afternoon. That fact moved them up in the queue. They would be my first stop in Amarillo.
This RV museum is a very unique, small and interesting free visit. The museum is actually part of an RV retail sales dealership. I walked in and explained my intentions. A young welcoming woman guided me to the back of the property where the museum is located.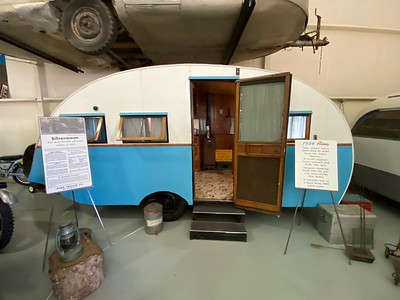 For much of the time, I was the only person inside the museum. I took pictures of just about everything they had on display. I was surprised and pleased that they allow their guests to walk inside most of these vintage travel trailers that are on display. They even have the first ever Airstream trailer ever built in their museum. This was definitely worth a stop. Note to Russ Ingram. You might want to skip my photo album from this venue. I don't want to ruin your experience should you decide to visit Jack Sizemore's RV Museum sometime soon.
I had to skip lunch in order to make the museum before closing time. Now I was starving. My first choice was going to be a Waffle House. I wanted to use my recently purchased $100 gift card. However, when I drove over to their location they were closed due to the coronavirus pandemic. Now I was about ready to faint from lack of food. For the second time on this trip, I hustled up a Whataburger location and enjoyed my "go-to" meal of a double cheeseburger, fries and Diet Coke.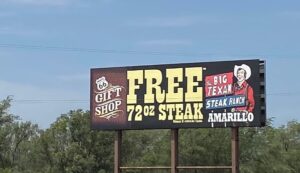 I really wanted to go to a restaurant called "The big Texan". For miles and miles along the interstate, they advertised the idea that if you can eat their 72-ounce steak within an hour you get it for free. Otherwise, it's $72. I didn't have any intention of trying to do that but a steak in Texas sounded good. I just didn't have time to take from my schedule this afternoon for that kind of meal experience. I hope to be in Amarillo again this year and will definitely eat at The Big Texan.
If you've ever been on my website and checked out the tab called "Trackchasing Tourist Attractions" you know that touring is a big part of my trackchasing effort. Today I was going to go out to a place in Amarillo that I had heard about and I think I had seen from a distance. It was called the "Cadillac Ranch".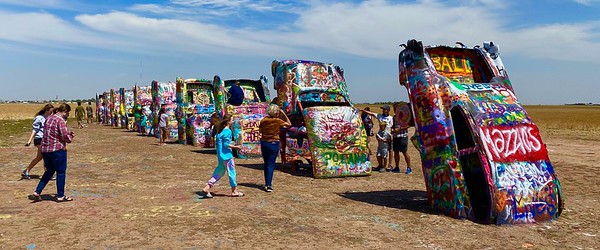 This is a place where back in 1974 they came up with a very creative idea to take 10 old Cadillacs and bury their front ends halfway into the ground. The back end of the car (with the tail fins!) would remain visible. This display is located about 100 to 150 yards off of the freeway.

Now the Cadillac Ranch is a big tourist attraction. Folks take cans of spray paint and go out and tag the shells of these old cars. Just like the RV museum, there was no charge to have this experience. Please don't miss the pictures of the Cadillac Ranch. I'm suspecting that some of the cars have 6 inches of spray paint on their bodies! I picked up a can of spray paint from the trash and did my own tagging. It was definitely a worthwhile visit.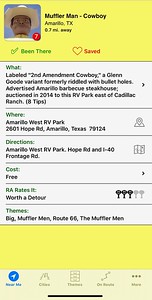 The Roadside America app has a lot of really small almost drive-by attractions. The first when I checked out today was called the "Muffler Man – Cowboy" in Amarillo. It was worth the three-minute stop.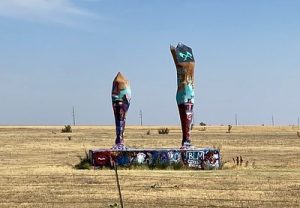 Then I couldn't pass up an attraction simply called "Huge Pair of Legs". Apparently this was inspired by similar set a big legs in the Egyptian desert. A fellow by the name of Stanley Marsh the third, who had commissioned the nearby Cadillac Ranch, paid a guy named Lightning McDuff to build the legs. Legend claims that the rest of the body was destroyed by jealous football players from Lubbock. I checked with my Texas Tech main man, Russ Ingram, (second mention in this report) about this. He pleaded ignorance to the legend.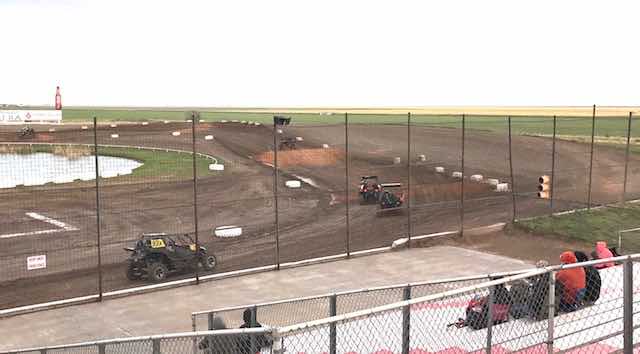 It is now time to head out to the racetrack. I had been to the Route 66 Motor Speedway in May 2017 to see a special UTV racing event held on an inner oval configuration. Therefore I kind of knew what the layout was on the speedway and where it was located.
What I didn't realize is that the temporary home of the Amarillo Area Motor Sports Hall of Fame Museum is located at the track. I stopped in there to see what they had on display. They had two race cars and lots of memorabilia in terms of framed pictures, trophies, race programs and the like.
I also took the time to talk to a couple of people who are directors of the museum. I'm glad I did! Our conversation was most interesting in the fact that they told me about a racetrack in Texas that I have never been too. I had never heard of this track and no one who contributes to the trackchasing census had ever reported on it either. I can't believe all trackchasing's collective group of people seems to miss so many tracks.
Then when I got home one of my FB friends put me in touch with a guy who told me about two MORE Texas tracks I could see. Of course, the trackchasing census has no information on these tracks either. Don't get me wrong. I think there is value in the trackchasing census. I'm just thankful for the people who continue to forward the census to me!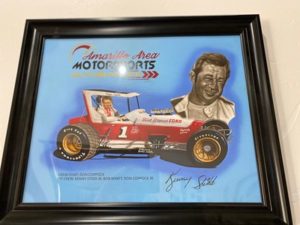 I learned that the Route 66 Motor Speedway has been in business for about almost 25 years. It was preceded by a track across town that operated only for a few years. In this part of the country, they had sprint cars that morphed into super modifieds and then back into sprint cars. Open-wheel racing in Texas and Oklahoma and even New Mexico for that matter has a strong history. Drivers such as A.J. Foyt, the Unser Brothers, Bobby and Al, Johnny Rutherford and Lloyd Ruby amongst others all came from the area.
There was a good crowd on hand despite the idea that the coronavirus seems to be picking up speed here in the Lone Star State. As a matter of fact, just yesterday the governor of Texas announced he was reinstating some of the limitations on businesses that could operate during COVID-19. He shut down all the bars yesterday. I also read a story saying that he had directed that all activities be limited to 100 people or less. Despite all of that the Facebook page of the Route 66 Motor Speedway continued to say they were racing and they were.
Tonight the general admission price for adults was 12 bucks. However, seniors got in for just $10. I dragged in a bottle of water from the car simply because I knew if I didn't drink it at the races I probably wouldn't drink it at all
The temperature at race time was nearly 100°. There was a strong wind of 20 miles an hour that constantly blew in from the south all night. Fortunately in my seating location down toward turn number one we didn't get any dust. The track did throw off some dirt which might have affected people at the other in the grandstand.
This track knows how to run a good race program. They had nearly 100 cars in the pits. There were two different classes of modifieds, a street stock division, some winged sprint cars and a crate late model division. In total, I think they had 13 heat races. Even when run efficiently that's a lot of heat races. I'm not sure it is a good entertainment model to have fans sit on a hard board for a couple of hours or more BEFORE the first main event comes onto the track. O.K., I'm sure that's not a good idea.
At intermission, they had a unique promotion. Tonight was customer appreciation night. All of the cars were brought out onto the front straightaway at intermission. The fans were allowed to leave the grandstand and go down onto the track and look at the cars up close and meet the drivers.
I stayed up in the grandstand and watched the entire affair. Probably 300 fans or so all bunched themselves up together to get through a small gateway one or two people at a time. There was absolutely no social distancing going on at this point whatsoever.
I also noticed that all kinds of people were shaking hands and hugging each other. It is amazing to see everyone's different reactions to the coronavirus pandemic. I think people are confused to some degree by the different messaging that has gone on during the last three or four months of the pandemic. They don't know what to believe and they don't understand, nor do I, what level of risk each different activity might bring. I hope we don't find out in a bad way.
I sat next to an interesting fellow. We chatted for much of the night. He lived in nearby Oklahoma about an hour's drive away. He told me he works at a methanol plant. Because of the coronavirus, he had been working from home for the last few months. He says when he gets his work done he can be found fishing at a nearby lake on most days.
He was pretty knowledgeable about the local racing and pointed out which drivers to watch in tonight's race program. Like most people, he was pretty amazed by my hobby. He just shook his head when he learned that I needed to make a five-hour drive after tonight's races down to Dallas in order to catch a 7 a.m. Sunday morning flight.
During the heat races, the track was very well organized. The had the next race ready to go after the previous race had just been completed. They were five classes racing in total tonight. The first feature of the night was the street stocks which started about 20 cars.
This had to be one of the best races I've seen all year. They had four cars battling for the lead throughout the entire race and only had one yellow flag. That's amazing on both counts. Don't miss the video.
It was getting a bit late considering I had to make the long drive down to Dallas. Racing had started at seven and now my iPhone timepiece told me it was approaching 10:30 p.m. I stayed for the modified feature. It was a good race as well. I was considering staying for the second modified feature except I encountered two problems which told me that it was time to head down to the Big D.
At the end of the first modified feature, after the checkered flag had flown, a driver spun out in turn #1 and was t-boned by a following driver. It looked like this mess was going to take some time to clean up. Then the announcer told the crowd that the nine-car winged sprint car feature was coming up next and not the "A" modified feature. After just two of the five features I made the executive decision that order for the purposes of my personal safety I needed to leave now.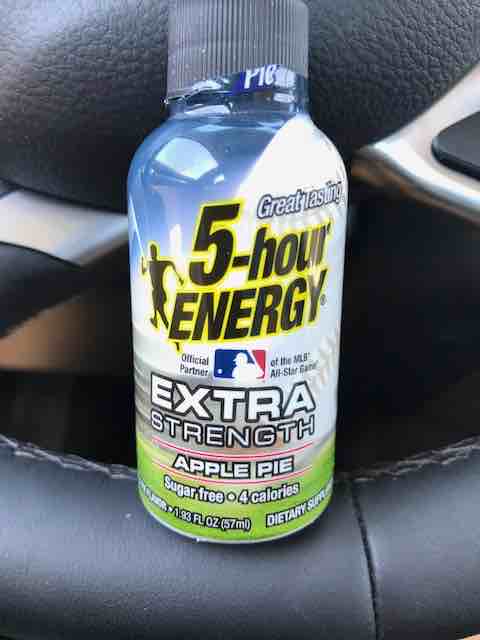 I probably use 5-Hour energy drink four or five times each season. I only use it when I have to drive for five hours or more overnight! The driving distance from Amarillo to DFW airport was about 340 miles. That's a pretty long overnight drive when you've been out in the hundred-degree heat with strong winds for several hours earlier in the day. However, for me 5-Hour energy drink works really well. It simply makes me feel "normal"!
During the drive, I had to stop for a late-night sandwich because I hadn't eaten any official dinner. I also needed to stop for gas twice and take the time to return the rental car at the offsite location at the DFW International Airport.
I was standing by for a flight on Sunday morning that would depart at 7 a.m. I got down into the airport area and got my car returned and squared away and cleared security by about 5 a.m. This gave me just enough time to get in a one-hour nap. I did a little bit of power walking so that when I walked onto the plane I already had 1.5 miles in the bag.
I must tell you that I used most of the three-hour plane ride to sleep. That helped a lot. I landed at the Los Angeles international airport at 7:53 a.m. on Sunday morning. I don't think there were too many people who watched the races in Amarillo last night who were in Los Angeles before 8 a.m. the next morning. That's just how I roll.
I knew that I wouldn't be worth much exercise once I got home. That being the case I went off on a walking tour of the LAX international terminal just to get the rest of my 4-mile requirement in the books. I've seen racing in 85 different countries. Most of those trips emanated from the international terminal at LAX.
Domestic travel has been impacted by the coronavirus a good deal. However, international travel has been decimated by the pandemic. LAX has a beautiful almost new international airline terminal. However, as I reconfirmed today by walking through the entire place there is almost no passenger traffic internationally now from Los Angeles at this point.
I made it back home with 4.1 miles in the powerwalking bank at just before 11 a.m. I spent the rest of the day watching the doubleheader NASCAR race from Pocono. Pocono is my least favorite track on the entire NASCAR schedule behind only Indianapolis. The Pocono weather is traditionally terrible. The one time we went there it was nearly 100° with humidity. When it's not hot like that they get all kinds of rain which causes lots of scheduling problems with their NASCAR events.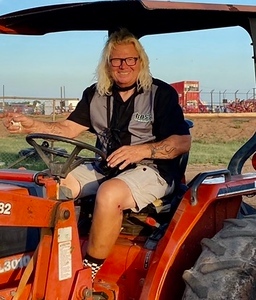 This has been another excellent trackchasing weekend. The hospitality provided me at the Boss Dirt Track Speedway in Lawton, Oklahoma headlined by Johnny Landers was simply outstanding. I met a lot of nice people. 
I consciously didn't mention to the management of the Route 66 Motor Speedway that I would be attending. I just wanted to go incognito for a while. Sometimes it's nice knowing I don't have to always be "on". Nevertheless, the trip to Amarillo was really good with all of the trackchasing tourist attractions. Then getting a chance to visit the Amarillo Racing Hall of Fame put a cherry on this particular trackchasing sundae. It was a good trip.
Good evening from Amarillo, Texas.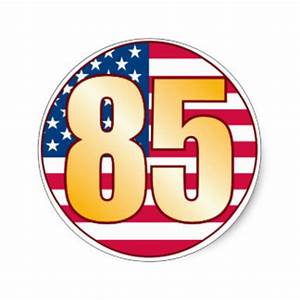 Randy Lewis – 85 countries – 2,618 tracks.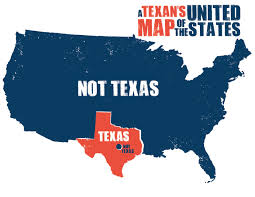 Texas
The Lone Star State
This evening I saw racing at my 84th-lifetime track in the Lone Star State, yes, the Lone Star State.  I hold the #1 trackchasing ranking in Texas. Texas ranks #10, amongst all the states, in tracks seen for me in the U.S.
Thanks for reading about my trackchasing,
Randy Lewis
World's #1 Trackchaser
Peoria Old Timers Racing Club (P.O.R.C.) Hall of Fame Member
Texas sayings: "Ready and rarin' to go."
Translation: "Excitedly ready to go."
Example: "Let's hope the quarterback for the team that I like is ready and rarin' to go for the big game tomorrow!"

JUST THE FACTS
LIFETIME TRACKCHASER COMPARISONS 
The three most important trackchasing comparisons to me are:
Total lifetime tracks seen
Total "trackchasing countries" seen
Lifetime National Geographic Diversity results
Total Lifetime Tracks
There are no trackchasers currently within 735 tracks of my lifetime total.  Don't blame me.
Randy Lewis, San Clemente, California – 2,618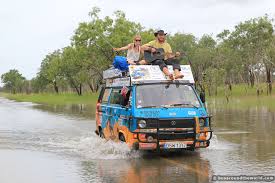 Total Trackchasing Countries
My nearest trackchasing competitor, a native of Belgium, has seen racing in more than 30 fewer countries compared to my lifetime total. 
Randy Lewis, San Clemente, California – 85
Current lifetime National Geographic Diversity results
Randy Lewis, San Clemente, California – 3.96
That's all folks!  Official end of the RLR – Randy Lewis Racing Trackchaser Report
Click on the link below to see the video production from the racing action today.
Click on the link below for a photo album from today's trackchasing day.  You can view the album slide by slide or click on the "slide show" icon for a self-guided tour of today's trackchasing adventure.