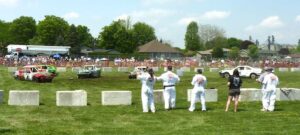 Thamesford Figure 8 Track
.
.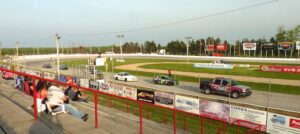 Sauble Speedway
.
.
Tracks #1,845 & #1,846
.
.
From the travels and adventures of the
"World's #1 Trackchaser"
Reprinted with permission from my May 19, 2013 Trackchaser Report. From time to time I see two tracks in a single day. Often times when that happens I will combine the two experiences into one Trackchasers Report. That is the case today.
Editor's note:
Just another couple of days til REALLY big news regarding my trackchasing hobby!  Will it change your life?  You'll decide that.  In the meantime enjoy your Fourth of July holiday if you live in the U.S.
The EventVideo PlusPhotos
THE PRESSURE WAS ON!
THE KEYS TO THE TRIP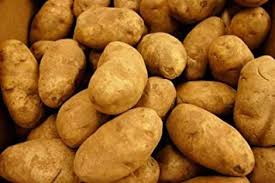 Jammin' taters…………….more in "The Plan".
Measure it, then achieve it……………..more in "The Trip"
I was going to the hospital…………..details in "The Trip".
GREETINGS FROM THAMESFORD, ONTARIO, CANADA AND THEN SAUBLE BEACH, ONTARIO, CANADA
WHO, WHAT, WHY AND WHERE
The Plan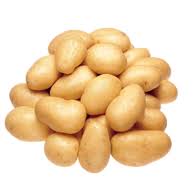 Jammin' taters.
Folks, I think you might have to agree…..I travel a little bit differently than most people. I employ strategies a little bit differently than most people.  Why do I do it that way?  Usually I'm just trying to figure out how to put ten pounds of taters in a bag that won't quite hold ten pounds of taters.  However, much of the fun in life is seeing how you can jam those taters in the bag.
What did all this mean?
Yes, what did all this mean?  Two things. I was trackchasing today on Sunday. I had to be "in hospital" on Tuesday morning for an operation.  That seemed like a pretty important commitment.  However, I would be attempting to fly standby on Monday to make that appointment.  Talk about doing things differently.  How many people fly standby on Monday when they have to be at the hospital Tuesday morning?
Secondly, I needed to employ my "efficiency/cost effectiveness" strategy for the second time on this trip.  As planned this worked out just fine.
Some questions for you.
After you complete your reading I'll ask a simple question or two of you.  Would YOU travel this way?  Do you know anyone who consistently travels this way?  Do you know anyone who gets as many taters in a bag as I do?  
The Trip
Measure it!
I woke up this morning in Mississauga, Ontario, Canada.  I went to bed (literally) in the Lester B. Pierson (Toronto) International Airport.  This is what today looked like.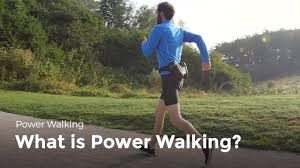 The first item on the agenda was my 45-minute powerwalk.  You know I'm trying to reach a yearlong goal in this area.  Yes, my goal is to exercise a minimum of three times for every day I trackchase.  Is this an aggressive goal?  Well, during the 2005 trackchasing season I went trackchasing on 121 days.  Had I had this exercise goal then I would need to exercise (aerobically for a minimum of 45 minutes) 363 times!  I don't expect to trackchase that much in 2013.  Luckily, I learned from the corporate world that "you get what you measure".  Want to do better in some aspect of your life?  Measure it!
My original plan was no longer a good plan.
My original plan, after sleeping in the Minneapolis airport on Thursday night, was to stay in the same Toronto hotel for three straight nights before heading home. However, when I found out I could add a fourth track to this trip that plan needed to be changed.  I try never to be wedded to just one plan.  Too often a better plan comes up and changes need to be made.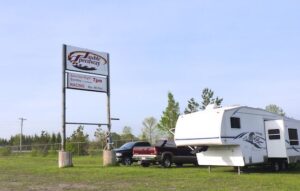 The fourth track of this trip started their racing program at 7 p.m.  The track, Sauble Speedway located in Sauble Beach, Ontario was a good three-hour drive from the Toronto airport on Sunday night.  The first leg of my international flight was leaving at 6:20 a.m. on Monday morning.  Do the math, I did. 
I love spending money; I just don't like wasting it.
Some folks don't like to waste money but they don't like to spend it either.  I don't subscribe to that theory at all. However, there was no good reason to pay for a night's lodging when I could only be in the room for 3-4 hours. 
That's where my NEW plan came in.  The National Rental Car location in Toronto closed at midnight and re-opened at 6 a.m. That schedule was perfect.  I would cruise into the rental car parking area (it's much safer there than out on the streets) after midnight.  I would recline my seat for 4-5 hours and be outta there before those late sleepers from National came to work!  I told you I do it a little differently than most.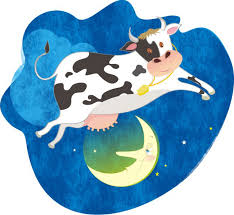 IF the cow jumped over the moon.
Now the Dreaded East Coast Trackchasers say they could match my achievements IF they were retired, IF they had more money, IF they had an airline sponsorship, IF…. IF…. IF…. Sorry folks, IF the cow jumped over the moon that would be something but it don't happen.
AFTER THE RACES…….
Time for another new plan.
Often times, my revised plan needs to be changed.  That's when I get into plan #3, #4, etc.  When I arrived just after midnight at the airport folks were still "doing stuff" in the National Rental Car area.  It would be inconvenient and not very inconspicuous to try to sleep in my car amongst this commotion.
The new plan was to turn my car in now.  I would them go into the Toronto airport and find a place to sleep.  During the drive I found that my standby flights to Charlotte (where I would be connecting to Los Angeles) were no longer wide open.  As a matter of fact, they were now "tight".  I would not be connecting in Charlotte.  The NEW plan called for me to connect through Denver on a flight that left at 8:30 a.m. more than two hours later than the original flight.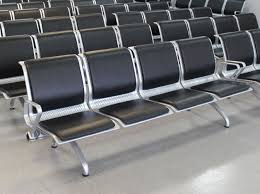 Sometimes having "no arms" is a good thing.
Terminal 1 at Toronto is a modern building.  However, it looked as if all of the seats had "arms".  Folks, if you ever want to sleep overnight in an airport "seats with arms" are a very bad thing.  You can't lay down on those things.
Knowledge can be found in the most unusual places.
However, I am trained to overcome minor obstacles like this.  My training calls for the help of experts.  Where was I going to find an "expert" at 1 a.m. in the morning in a nearly shutdown airport.  That would be easy.  I saw an older gentleman mopping the floor of an open elevator.  Tonight this janitor would be my "expert".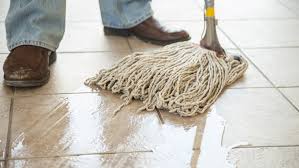 A simple and friendly "Hello" interrupted his mopping and was followed by "Where's the best place to sleep in the airport?".  He smiled. It looked as if he had played this expert role before.  He pointed down to the far end of the terminal.  "You need to go down to the lounge area in Section Q.  There are no arms on the seats down there" he told me. I looked where he was pointing. It was a hundred yard walk.  I thanked him and off I went.  I walked past several people who were trying to sleep while sitting up in a chair….with arms.  Couldn't these people figure out there was an expert in their midst?  He was the old man over in the corner with the mop.
Nirvana!
Once I reached the lounge Q area I found nirvana.  Minneapolis has been my favorite airport for overnight sleeping. Now Toronto has tied MSP for that top rating.  There were TONS of small seat sections (5-6 seats wide) that had no arms.  Some other savvy travelers had already chosen this idea. However, there was plenty of room for me.
I picked out a space near the windows.  From there I had a beautiful view of the Toronto lights.  Then I systematically used my computer's security cable to lock up all of my valuables.  I pulled out my Tempurpedic pillow, my racing seat cushion and my military field jacket. All of this was done to "feather my nest" so to speak.  For the next five hours I slept like a baby. 
MONDAY MORNING …….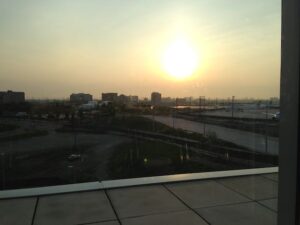 Let's clear up any confusion that may exist.
I awoke at a little past 6 a.m. to a beautiful Canadian sunrise.  It was Monday the last day of the four-day Canadian Victoria weekend.  Flights out of Toronto were wide open.  However, in virtually every connecting city flights back to Los Angeles were full.  This was of particular concern.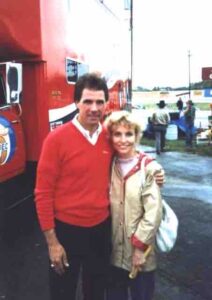 As mentioned earlier I had to be in hospital for an operation at 11 a.m. on Tuesday.  Let me clear up some possible confusion.  I was not needing to be in hospital for MY operation but for CAROL'S (above with D.W.) operation.  I never said it was my operation but I can see how you might have thought it was.
Nobody does it like I do and that's the way I like it.
Carol was going under the knife for shoulder rotator cuff surgery.  I was her driver for both before and after the hour-long procedure. It's one thing to try to fly standby back for your own operation.  It's another kettle of fish to be flying standby back for ANOTHER person's operation. The pressure was really on now.  I HAD to be home by 11 a.m. tomorrow.
It was good that I was no longer connecting in Charlotte.  If I got to Charlotte and couldn't make a flight there was no way I could drive to Los Angeles.  I needed to pick a connecting city where, if I couldn't make a flight from that city, I could at least try to drive home.  That city would be Denver, Colorado.  Flights from Toronto to Denver would be easy to make.  If I couldn't get out of Denver I could try to drive 1,000 miles overnight to get home in time.  Nope! Nobody does it like I do.
From Denver I had several options, other than Los Angeles, that I could fly too and then drive. I looked at San Diego, Orange County, Ontario, Santa Barbara, Bakersfield, Fresno, Oakland, San Jose, San Francisco, Sacramento, Phoenix, Tucson and Las Vegas.  Yes, I looked at the loads from my sponsoring airline from Denver to every one of those cities.  Don't worry.  It's what I do.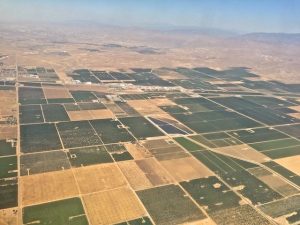 Bakersfield here I come!
Of course, LAX was my preferred location.  Why? That's where my car was parked! However, the flights to LAX didn't look good.  They didn't look very good at the other airports I checked out either.  There was one possibility that was better than the others.  Bakersfield! I could never recall flying to Bakersfield.  That doesn't mean I haven't done it.  It just means I can't recall it.
If I got to Bakersfield and couldn't make it any further I would rent a car and make the three-hour drive to LAX.  Then I could drop my rental car, pick up my car and drive another hour plus back home to San Clemente.  Did Carol need to know that all of this was going on in the background?  Maybe not.
Using technology to feed yourself.
I sent her a simple text message.  By the way I frequently text her.  I will even text her from my home office while she is upstairs in our house. Normally, that text pertains to my lunch order.
Today's text simply read, "Leaving Toronto for Denver now.  Could we do your operation in Denver if necessary?"  This was followed by a "smiley face".  You should know that Carol does not view things nearly as casually as I do.  She responded with……sorry public decorum does not allow me to pass that message along.
The experience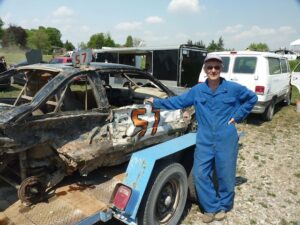 My friends come from all over the world.
I love meeting the people at the racetracks.  Here I was in a foreign country (that's what some people think Canada is) and I was running into friends everywhere I looked.  I met two of those people today.  The first was "Russ" the Thrill Show Productions announcer.  The second was Mr. Peter Becker (above) a Toronto area figure 8 racer.  Both of these folks were fun to catch up with.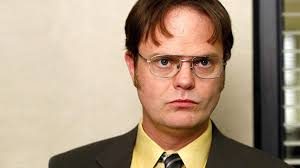 I tracked down Russ, who was with his girlfriend, as he was on the way to set up his announcing gig. I think Russ strongly resembles Rainn Wilson who plays "Dwight" on the Office sitcom.  Russ is an excellent announcer.  He provides a strong dose of humor in his work.  Every time we see each other he asks, "How many is it today". My answer was "1,845".  He and I have done some interviews and he always gives me a strong trackchaser mention.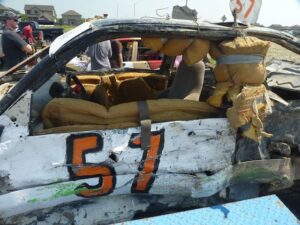 My all-time favorite figure 8 driver.
Mr. Peter Becker is the figure 8 driver of car #57.  Last year he drove car #56 and the year before that car #55.  I first met him when he was driving car #53.  Why a different car number every year?  You might have guessed by now that Peter (it simply says "Pete" above the driver's door) changes his number every year to match his age.
I've been to well over 200 figure 8 tracks.  No one else has seen that many.  I've probably seen well over 2,000 figure 8 racers.  I know the name of only ONE figure 8 driver.  That's Peter Becker.
When I first saw him race several years ago the crowd was cheering for his little beat up front wheel drive racer.  He kept coming from the back to win the races I was seeing.  I had to meet this guy.  When the races were over I went into the pit area and introduced myself.  Peter was a very friendly guy.  He was also most impressed with my trackchasing hobby.  A few times since then I've stopped by to renew acquaintances.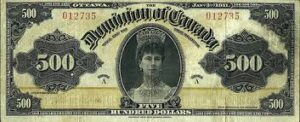 In today's races there were three figure 8 heats.  The winner of each heat transferred to the main event.  The second place finishers transferred to the consolation event with the winner of that race getting into the feature event. The feature winner would make $500 Canadian, a large sum for this kind of racing.
I was cheering for Peter in his heat race.  He got off to a slow start in his 15-lap heat.  From sixth place he methodically kept picking off one car and then another until he was up to second place.  The cars behind him seemed to be running into him much more often than what was normal. With six laps left he was passing for the lead.  He made it. Then he lost his right rear wheel! 
That's wasn't catastrophic since the front wheels power the car.  However a suspension piece in the front end broke as well.  He fell into second place.  Then another car t-boned him in one of the hardest hits of the day.  He was out. He would not race again today.  I was sad.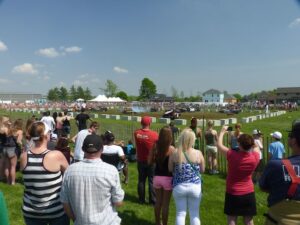 What a winning attitude.
Following the race when the wreckers came to clear debris I could see Peter giving a thumbs up to the drivers who had finished first and second.  From there I headed into the pits to say hello to him.  Many drivers would be pretty frustrated after what had happened in today's race but not Peter.
When I found him in the pit area he was a "one man" pit crew getting his car ready for the ride home.  His open-wheeled race trailer was pulled by an old white van.  Although I had not talked to Peter Becker in a couple of years he remembered me.
We talked about him changing his number each year to match his age.  He told me a little bit about his most very beat up racecar (please don't miss the pictures or the video of his race).  It was eight years old.  That's about 150 years old in "figure 8 car" years.  It looked as if it were held together by bailing wire.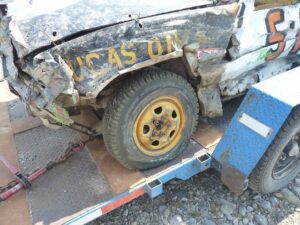 Going to the figure 8 graveyard?
"This car's been pretty good to me but today might be it's last race" he said.  I mentioned that $500 was a pretty good prize for this type of racing.  He agreed. "I've won four championships and about $8,000-10,000 in each of those years.  With one group I've even been paid to show up.  I guess they thought I was pretty big draw" he offered.  I had never heard of a figure 8 racer getting appearance money.   Some 99.9% of all racers lose money racing.  Can you imagine Peter Becker winning $40,000-50,000 dollars with a car that wasn't worth $500?  Maybe that's why Peter is the only figure 8 driver name than I know after all these races.
Thanks for stopping by.
As we said our good-byes Peter said, "Thanks for stopping by.  I'm really glad you did".  I gave him my racing business card and asked him if he used the internet.  He didn't.  "But my girlfriend does" he said.  I told him he was mentioned in several of my reports and his racing was even being shown on YouTube on the "RANLAY" channel.  He smiled.  I think he liked that.  So did I.
RACE REVIEW
THAMESFORD FIGURE 8 TRACK – THAMESFORD, ONTARIO, CANADA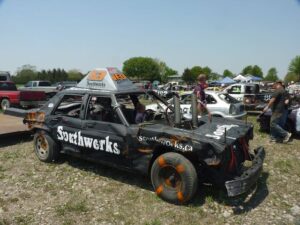 These folks do a nice job.
I always have a good time at the Thrill Show Productions (Canada's #1 Demolition Derby) events.  Today they had 52 cars with 19 of them racing in the figure 8 events.
There was a large crowd of local spectators on a very warm day (about 80 degrees). Admission was $8 Canadian and there was no charge for my pit pass wristband.  This gave me a great chance to get up close photos of the racing equipment and attend the driver's meeting.
Chris Skinner, part owner of TSP runs the meeting.  I keep hoping to see Willie Williams a TSP buddy of mine and also a co-owner of TSP.  However, he's always off on some exotic trip when I show up.
Figure 8 racing is not a demo derby.
Chris reminded the figure 8 competitors that this was going to be a race and not a demo derby. Anybody crashing into the driver's door would be disqualified.  The feature event would pay $500 to win.  I would say that most stock car features I will see this year don't pay that much. The figure 8 cars are some of the least expensive racers out there.  Getting $500 to win is a huge purse.  I don't know how much the entry fee is.
Today's racing surface was grass that would make most little league groundskeepers drool. Even toward the end of the event the grass was hanging in there.
You won't want to miss my videos of the figure 8 racing.  The demo derby was great too.  I'm a big fan of a properly run demo derby event.  I'm not alone.  Most of the fans come to see demo more so than figure 8. Thrill Show Productions does a great job of entertaining Canadian families.
SAUBLE SPEEDWAY – SAUBLE BEACH, ONTARIO, CANADA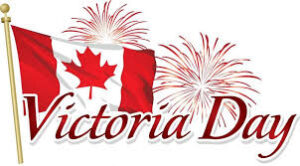 It's Victoria Day weekend.
I was playing "strategy" by seeing racing at the Sauble Speedway tonight.  They are a regular "Saturday" night track.  However, as their track sign says, "On long weekends" they race on Sunday.  This weekend, celebrating Victoria Day, was a "long" weekend.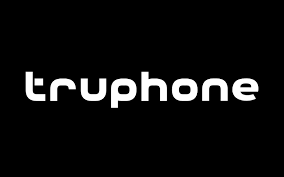 From their website I couldn't tell if they were racing in the afternoon or evening on this Sunday.  I tried the track office phone with still no definitive results.  Finally, using my "TruPhone" app I called the "track" phone.  Their recorded message could tell me what time the "back gate" opened but provided no information about the race's start time.
Is the racing business REALLY this hard?
How hard can this be?  Can't every track on this planet have a simple message that says something to the effect "We are racing Sunday, May 20. Racing begins at 7 p.m.  Admission is $10 for adults and kids are free".  That's less than twenty words.  Pretty simple ain't it?
Nevertheless, with the back gate opening at 3 p.m. I pretty much knew they were racing at night. It was a three-hour ride from this afternoon's figure 8 racing to the Sauble Speedway.  My Google Maps app directed me all over Canada's two lane roads. The speed limit was just 80 kilometers per hour or about 50 M.P.H.  I knew I would make it to time even with a stop for a Panini sandwich at Tim Horton's.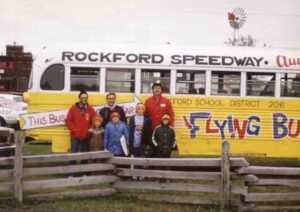 Think Rockford Speedway.
In some ways the Sauble Speedway reminded me of a favorite track, the Rockford Speedway. Most banked asphalt quarter-mile ovals do.  Even the pit setup looked like Rockford.
There were just three classes racing tonight.  The first, Junior Late Models, was a class for youngsters, those racers (youngsters) were despised by trackchasing's originators.  The two countable classes were the four-cylinder stock cars and full on late models.  Car counts were puny and about the same as the show in Clarington last night.

There were seven junior late models, nine four-cylinder stockers and eleven late models. Unlike last night they chose to split up the "tenish" car counts into two heat races for each class during the FIRST round of qualifying races.  That meant car counts of just 4-6 in the ten lap preliminary races.  That doesn't make for very interesting races.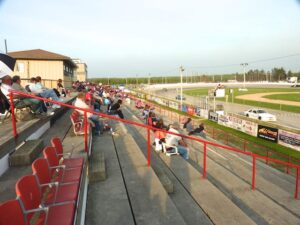 The concrete slab grandstands ran the length of the front straight.  A small crowd of 200 fans or so sat in those stands.  I garnered a folding chair seat made even more comfortable with my racing seat cushion.  It was a most comfortable evening with temps starting in the low 70s. The one drawback was the bugs and mosquitos.  Like usual I got bit more than my fair share.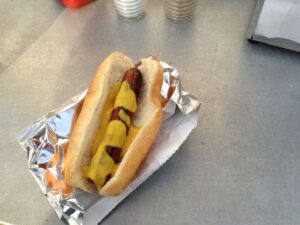 My personal pact.
I've made a pact with myself to try a concession item or two at each track I visit. Tonight that was a hot dog and bottle water costing $4.75 Canadian in total.  The hot dog was more than "smallish" with a diameter about equal to my thumb.  Although that was disappointing the watered down mustard wasn't a star performer either. Does the track operator really think he is fooling his customers with concessions like this?
Should I leave or stay?
After seeing 12 heat races I toyed with the idea of leaving.  The car counts last night and tonight were almost identical.  However, tonight 8-10 cars were racing on a quarter-mile track in the feature events.  Last night they were on a big half-mile track.  That made a huge difference.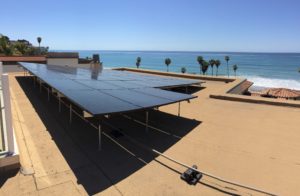 Does Sauble Speedway need solar?
I stayed and I'm glad I did.  All of the feature events were good.  Just ten cars, closely packed, can put on a good race on a quarter-mile track.  Just before the 30-lap late model feature began the front stretch track lights went out.  To be honest that wasn't much different than the lighting on the backstretch! It was about 9 p.m. and the sun had set several minutes ago.  The announcer played up the drama as to whether the checkered flag or darkness would end the race.
The front stretch track lights went out and were turned on a few times during the feature. Nevertheless, they got the whole show in.  There weren't many cars.  I suspect this track has had some big races during its history.  I was just happy to get four tracks in Ontario in three days.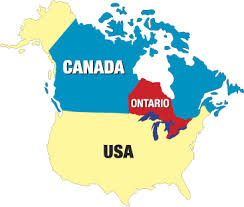 In the future I'll be mixing and matching my Ontario province tracks.
My multi-track days in Ontario are coming to an end about now.  There are only two regularly scheduled tracks remaining to see.  I'm just as likely to add those tracks to a Minneapolis or Detroit weekend trip as coming out of Toronto.
PROVINCE COMPARISONS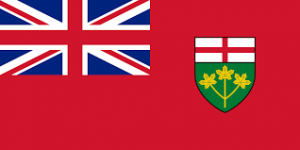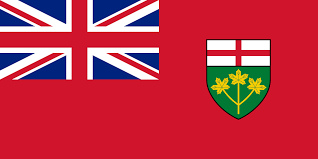 Ontario
The 'Province of Opportunity' Province
This afternoon and evening I saw my 54th and 55th lifetime tracks in the 'Province of Opportunity' province; yes the 'Province of Opportunity' province.
Thanks for reading about my trackchasing,
Randy Lewis
World's #1 Trackchaser
Peoria Old Timers Racing Club (P.O.R.C.) Hall of Fame Member
Ontario sayings: Jesus Murphy
TRAVEL DETAILS
AIRPLANE
Los Angeles, CA (LAX) – Minneapolis, MN (MSP) – 1,535 miles
Minneapolis, MN (MSP) – Toronto, Canada (YYZ) – 678 miles
RENTAL CAR #1
Lester B. Pierson (Toronto) International Airport – trip begins
Ohsweken, Ontario, Canada
Clarington, Ontario, Canada
Thamesford, Ontario, Canada
Sauble Beach, Ontario, Canada
Lester B. Pierson (Toronto) International Airport – 685 miles
AIRPLANE
Toronto, Canada (YYZ) – Denver, CO (DEN) – 1,313 miles
Denver, CO (DEN) – Bakersfield, CA (BFL) – 678 miles
Bakersfield, CA (BFL) – Los Angeles, CA (LAX) – 109 miles
Total air miles – 4,313 (5 flights)
Total rental car miles – 685 (1 car)
Total miles traveled on this trip – 4,998 miles 
TRACK ADMISSION PRICES:
Ohsweken Speedway – Complimentary admission
Canadian Tire Motorsports Park – $15 Canadian
Thamesford Fair – $8 Canadian
Sauble Speedway – $10 Canadian
Total racetrack admissions for the trip – $33 Canadian
LIFETIME TRACKCHASER COMPARISONS 
The three most important trackchasing comparisons to me are:
Total lifetime tracks seen
Total "trackchasing countries" seen
Lifetime National Geographic Diversity results
Total Lifetime Tracks
There are no trackchasers currently within 300 tracks of my lifetime total.  Don't blame me.
Randy Lewis, San Clemente, California – 1,846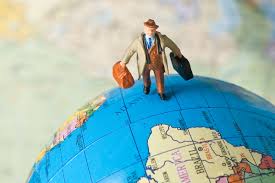 Total Trackchasing Countries
There are no trackchasers currently within 10 countries of my lifetime total. 
Randy Lewis, San Clemente, California – 65
Current lifetime National Geographic Diversity results
Randy Lewis, San Clemente, California – 5.10
That's all folks!  Official end of the RLR – Randy Lewis Racing Trackchaser Report
Click on the link below to see the video production from the racing action today.
Figure 8 racing action from Canada's #1 Demolition Derby….Thrill Show Productions 
.
.
Check out every nook and cranny of the Thamesford Fair and figure 8 racing show
.
.
Even seen racing at the Sauble Beach Speedway? You can now!
.
.
Wanna see this trip photo by photo in video form. Click the link. Yes, click the link.
Click on the link below for a photo album from today's trackchasing day.  You can view the album slide by slide or click on the "slide show" icon for a self-guided tour of today's trackchasing adventure.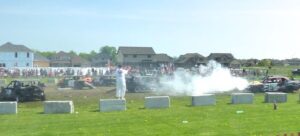 A day of figure 8 racing and demo at the Thamesford Fair
.
.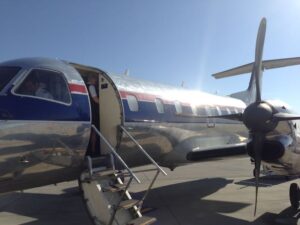 An evening at the Sauble Speedway and then the long slog home