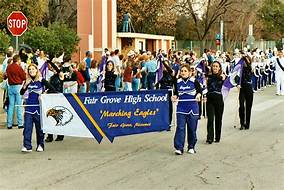 Greetings from Fair Grove, Missouri
.
.
From the travels and adventures of the 
"World's #1 Trackchaser"
.
.
Hillbilly Speedway
Dirt oval
 Lifetime Track #2,561
The EventVideo PlusPhotos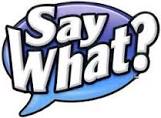 THE EVENT
I am a "trackchaser". I trackchase. Before you discovered my site had you ever heard of trackchasing? Maybe not? So….what the heck is trackchasing? Sit back, take a read and you'll be an expert on my hobby of trackchasing when you're finished.
Here's my best explanation.
Trackchasing is a three-pronged hobby. I'm a racing fan. I love to travel. I love to analyze opportunities to get the most out of everything while saving time and money.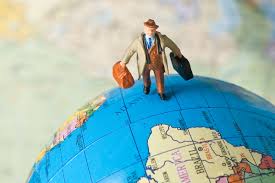 Trackchasing fills the need for all of the above. The racing part of my trackchasing has me trying to see wheel to wheel auto racing at as many different racetracks as I can all over the world. Yes, all over the world. So far things are going pretty well. As this is written, I've seen racing in 85 countries at more than 2,500 tracks. As a matter of fact, I've seen racing at more tracks than anyone else in the world.
Equally important to me are the things I get to see and experience over the "long and dusty trackchasing trail". I call these adventures "Trackchasing Tourist Attractions". You won't want to miss my "Trackchasing Tourist Attractions" page. Here's the link:  Trackchasing Tourist Attractions or my "Sports Spectating Resume" page, Sports Spectating Resume on my website at www.randylewis.org.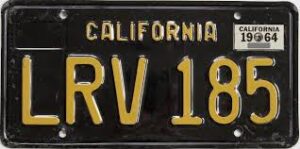 I live in southern California. That's probably the most inconvenient location in the country for seeing tracks in the U.S. Most of the racetracks in the U.S. are located well over 1,000 miles from where I live. As a matter of fact, my average trip covers 5,000 miles and more. I take 35-40 of those trips each season. In any given year I will travel well over 200,000 miles, rent more than 50 cars, and stay in more than 150 hotel rooms.
I get the chance to meet people all over the world. With trackchasing trips to 85 countries and counting just getting the chance to experience so many other cultures, spend time in their homes and meet their friends is a huge reward for being in this hobby. I am indebted to several of these folks for their help and friendship.
It's takes a good deal of planning to do the above and not spend my entire retirement portfolio. I enjoy the challenge, the travel and every other aspect of "trackchasing". In reality, my trackchasing hobby is a lot like being with the carnival. I breeze into town, stay a little while and then head on down the road.
Today's adventure was one more of the 2,000 trips that have taken me up, down and around the proverbial long and dusty trackchasing trail.  If you would like to see where I've been and experience those adventures here's the link: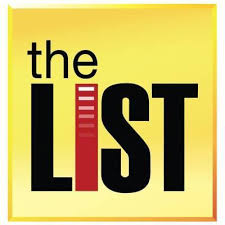 If you've got a question, comment or whatever please leave it at the bottom of this report.  It's very easy to do.  Or you can visit me on Facebook.  Thanks!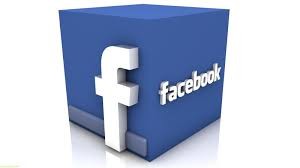 FOREWORD
Saturday, June 15, 2019.
I find it surprising that the Randy Lewis Racing research department can find so many tracks that no other trackchasers have ever been able to visit. Once again, that is the case tonight with the Hillbilly Speedway in Fair Grove, Missouri.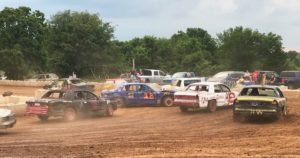 The Hillbilly Speedway it's now in its third season of operation. They feature bump n run racing with "po-boy" aka junk aka enduro type racecars. Yes, according to track promoter Franklin Hodges these are not junk cars or enduro cars they are "po-boy" cars.
Over the years I have met and developed relationships with several track promoters. This winter Franklin and I had several long telephone conversations. He's new to race promotion and trying to build up his track in both the car count and people count areas. With that he has a lot in common with other promoters who are trying to do the same thing.
My visit to the Hillbilly Speedway was the last track on this trackchasing trip. This has been a 10-day trackchasing trip that had a flight schedule that looked like this. I flew into and out of these airports.

San Francisco
Seattle
Anchorage
Seattle
Denver
Philadelphia
Minnesota
St. Louis
Los Angeles
I woke up this morning in Louisville, Kentucky. The distance from Louisville to Fair Grove, Missouri is 646 miles. My Waze GPS system told me the trip would take me about seven hours to cover driving. I would benefit from moving from the eastern time zone to the central time zone by getting an "hour back". That's always a good thing.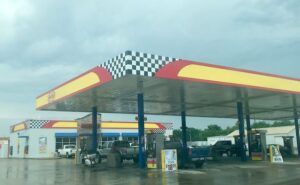 Here's something that I think is pretty funny about today's seven-hour drive. I have hundreds of hours of podcasts saved on my phone. I could listen to those podcasts or I could listen to commercial radio or satellite radio. During the entire time in the car I never turned on the radio for a single second. I spent that amount of time during the drive talking to people on the phone, checking weather updates and all kinds of other trackchasing/travel related activities. It was all phone work on so many topics. I was sitting in the driver's seat of my rental car driving down the freeway at 70 MPH. I can get pretty much get everything done in that atmosphere as if I were sitting in my office at the headquarters of Randy Lewis Racing back in San Clemente, California.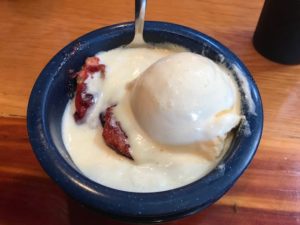 I never expected to visit Cuba on this trip…but I did. That's Cuba, Missouri! A highway sign advertised a BBQ restaurant called the "Missouri Hick". I hadn't eaten BBQ in a while. I stopped. The place was a bit touristy but served good food. The blackberry cobbler was really good. I'll likely comeback. Then I motored on toward Fair Grove, Missouri.
The weather forecast for Missouri wasn't great. Races were scheduled to begin at 6 p.m. At one point my Weather Underground app told me thundershowers were expected at 6:15 p.m. That was cutting it close. Weather Underground backed off the timing of the rain a little bit as time went on before finally saying the rain wouldn't come until after midnight.
The weather forecast was so bad that I actively considered going to the East Coast for Saturday and Sunday's trackchasing. However, Missouri is a special state for me right now as regards trackchasing.
Former fellow competitor and Wisconsin trackchaser Ed Esser saw 67 tracks in the state of Missouri. Sadly, Ed passed away a few years ago. At the time of Ed's passing I had seen only 49 Missouri tracks compared to his 67. Yes, I was a long way behind his totals in the Show Me state. It has taken me more than seven years to narrow the gap. I think I know this about Ed Esser. If he couldn't be the #1 trackchaser in Missouri I don't think he would mind if I was.
Tonight I would be seeing my 66th lifetime track in Missouri. Will anybody ever surpass my Missouri totals? I will say this. That would be difficult for a brand new trackchaser. There are only about 40 racetracks still operating in Missouri that offer wheel to wheel racing. Many of the tracks that I have seen in Missouri over the years no longer operate.
My drive from last night's hotel in Louisville over to the Hillbilly Speedway was uneventful. I had about 10 hours to cover seven hours' worth of driving. I stopped here and there for gas, food and to take a couple of 12-minute power naps. I arrived at the racetrack just a few minutes before starting time.
THE RACING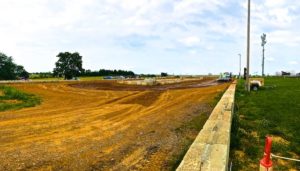 Hillbilly Speedway – Fair Grove, Missouri
The Hillbilly Speedway is located on some ground owned by Franklin Hodges. He's like a few promoters that I have known who just ended up building a racetrack in their own backyard so to speak. The first person I met at the speedway was a young lady by the name of Tammy. She was selling tickets to the event tonight. The price for general admission was a reasonable $10.
When I lowered my window to buy my ticket Tammy looked at me and asked, "Are you that guy….?" I looked at her and then I looked down at my shirt where my logo was located. It read, "World's #1 Trackchaser – San Clemente, California". Yes, I was that guy. Her response was "Franklin said to let you in for free so I hope you enjoy the races". Thank you Tammy. Thank you Franklin.
As soon as I parked the Avis Rental Car Racing Ford Fusion I began to search out Franklin. It didn't take me long to find him. It was nice meeting up with a fellow with whom I had spent so much time talking too on the phone over the past year.
Like most promoters Franklin was concerned about his car count and his fan count. The shaky weather forecast didn't help with the grandstand spectator population I'm sure. Tonight the weather just kept getting better and better compared to the forecast.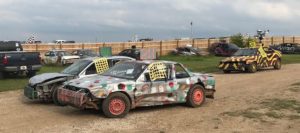 Three classes of racecars compete at the Hillbilly Speedway. The classes are divided by engine size. The classes are named: four cylinders, six cylinders and eight cylinders. Roll cages are not required.
Tonight there were three four-cylinder cars and four six-cylinder racing machines. Since the car counts were small those two classes would be combined tonight. There were 10 eight-cylinder racecars.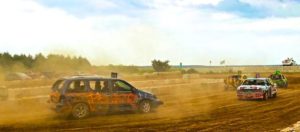 The dirt oval is rather short. I'm going to guess it's maybe 1/6 of a mile in length, but that's just a guess. The "oval" is paperclip shaped. The inner and outer safety barriers are huge concrete blocks. Over the years the track has actually been lengthened just a bit to provide for better racing.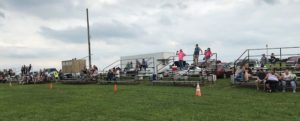 Fans have a couple of options for watching the races. On the front stretch they can sit in a series of small bleachers. On the backstretch fans sit in their cars or sit on their lawn chairs next to their cars and enjoy the race action.
They don't do time trials at this track. Thank goodness for that. The drivers draw for starting positions. Each driver competes in one heat race and then a feature event. That's a little bit less racing than other tracks and cars that are somewhat similar.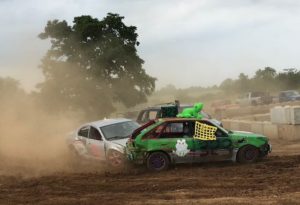 Tonight there was one heat race for the four and six cylinder entries combined. A new driver, just 10 years old, was competing in his first ever race. He did a real good job in the green "frog car" #323 (above). At the driver's meeting the other drivers were instructed to give the youngster a break if they could…but if he got in the way to take him out! The young fella got crossed up a time or too but overall did a good job and loved his first taste of racing. This was his form of real-life bumper cars.
The eight cylinder class ran two heat races with five competitors in each of those races. Then all 10 of them joined up for the 20-lap feature race. Franklin told me they don't like to run that many cars in one race because it's difficult to score.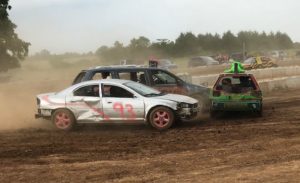 This is "bump n run" racing. Franklin wants his drivers to rub on each other, spin each other out and do a little banging to provide excitement for the crowd. Tonight they did exactly that.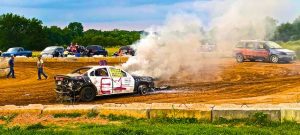 During the eight-cylinder feature a red flag was displayed when a car caught fire. It took the fire crew a little bit of time to get that fire put out. The driver was in no danger at any time. I think the fans in the stands enjoyed thered hotaction.
Franklin asked me if I had ever seen racing as basic as what his track offered. I fully agree that the Hillbilly Speedway is a rural racing operation.
However, they have some amenities that the really off the beaten path tracks don't have. Hillbilly has lights. They have a PA system with a track announcer that sounds very good. They have a water truck. They have a concession stand (above). They have bathrooms albeit of the Porta potty variety. So, although the Hillbilly Speedway has a number of basic operations there are other tracks that have a lot less.
The drivers pretty much race for their entry fees. When the night was over they all lined up near the announcing booth to collect their winnings. They don't race for a lot of money but then on the other hand they don't have a lot of money invested in their racecars. Remember, it's not always how much you make but how much you spend.
Being in the race promotion business is not for the faint hearted or the thin skin. It's a tough way to make a living. There are so many factors ,some out of the control of the promoter, that can influence the business in both good and bad ways.
Tonight some of Franklin's help didn't show up. It was really nice when a couple by the name of Jim and Vicki, owners of the nearby Bolivar Speedway, came over to help out. Jim handled the flagging duties. Vicki took care of scoring the races. I know Franklin was most appreciative of their support.
I trackchase so much differently than my fellow competitors. I don't want to oversimplify things but it seems like other trackchasers just show up, buy a ticket, sit in the grandstand and when the races are finished head on down the road. I don't really do it that way.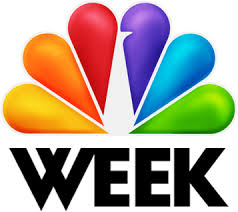 In most cases I will contact the track in advance of my visit. As a matter fact, when I told Franklin Hodges that I was coming to the Hillbilly Speedway what he do? He called the local TV station and invited them to come out to the track and interview me. They didn't come but it was the thought that counted. At intermission tonight I did a quick interview with the track announcer. I told the crowd just a little bit about my trackchasing. I also mentioned how lucky they were to have a place like Hillbilly Speedway to visit on Saturday nights for local racing.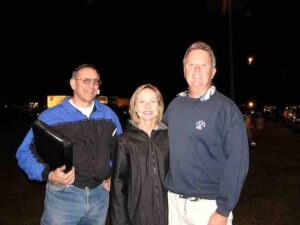 I told you that Ed Esser is the current trackchasing leader in the state of Missouri. Over the years Ed and I met up at more than 30 different racetracks all across the country. That's a pretty amazing total when you consider we were both going to tracks for first time visits. Each time Ed went to a track that I didn't go to that meant I would never see Ed at that location when I finally showed up there. The same was true when I visited a track before Ed ever made it there. Given that circumstance the idea that we could meet more than thirty time is a pretty amazing statistic.
At virtually every track we ever attended Ed and I sat together. Then when the races were over we would stand outside the racetrack under a streetlamp and bench race for a really long time. I remember sometimes we were still talking couple of hours after the races had ended even though when we left the parking lot we would both be driving in opposite directions, sometimes for very long distances.
That's what made what happened after the final checkered flag was thrown at 8 p.m. tonight just a little bit eerie as regards the long conversations that Ed and I used to have. From eight until about 9 o'clock Franklin as well as Jim and Vicki from Bolivar Speedway and I just sat around and shot the "racetrack promotion breeze". We talked about all of the challenges that come with race promotion. We talked about the various opportunities that were out there in order to build up their businesses. Other than the mosquitoes that were starting to bite at my ankles I really enjoyed the conversation.
Then Jim and Vicki had to move on down the road. For the next hour and a half Franklin and I talked racing and got to know each other even better. At one point in time he asked me if I would like anything to eat and drink. I told him I could go for a Diet Coke. Franklin went over to the locked up concession building, opened it up and came out with my drink and even offered me an ice cream. I told him that was a pretty cool place to go for a midnight snack!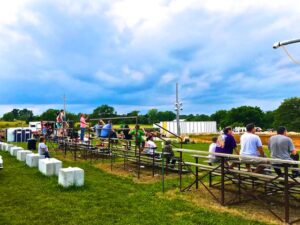 Mind you it was completely dark out at this point. We were essentially in a Missouri farm pasture….all by ourselves. Everyone else had long ago left the racetrack. I've done a lot of things in this hobby. I can't ever recall staying at the track with the track promoter in the dark in a farm pasture. I loved every minute!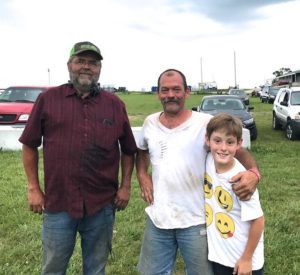 Franklin (above left with the ten-year old driver who was racing for the first time ever tonight and his grandfather) and I continued to talk about new ideas that might build up the Hillbilly Speedway car count and fan base. Franklin told me that I should consider buying a half interest in the track and help him implement some of these ideas we were talking about. That might have been a good idea ten or twenty years ago but that ship has sailed for me.
AFTER THE RACES
Finally at 10:30 p.m. I bid Franklin a final farewell. It was nice meeting my wintertime telephone friend and spending as much time together as we did. As I was waving good night and pulling out of the property I told him that I would see him again… when he ran a figure 8 race. He yelled back that if he ran a figure 8 race I had better show up!
I was leaving the track at 10:30 p.m. I had a 200-mile three-hour drive back to the St. Louis International Airport. Tomorrow morning's nonstop flight from St. Louis to Los Angeles was leaving at 6:45 a.m. I would need to return my rental car by 5:30 a.m.
I crunched all of those numbers. I would be able to get 2-3 hours of sleep in my car. That wasn't much but it was better than nothing. Off I went up Interstate 44.
Sunday, July 16, 2019.
HAPPY FATHER'S DAY!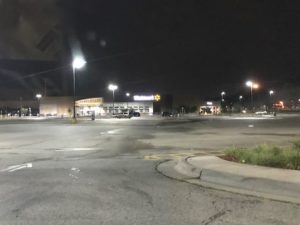 Yes, it's Father's Day! After last night's racing in Fair Grove, Missouri it was a two-hour drive to the greater St. Louis area. That gave me just two hours to sleep overnight in a Walmart parking lot. I don't trackchase like my fellow competitors.
I returned my rental car, a day early based upon the poor weather forecasts all over the Midwest. Today's four-hour flight from St. Louis to Los Angeles was leaving at 6:45 a.m. I had just enough time to stop in the St. Louis American Airlines Admirals Club for a toasted bagel. I slept from wheels up to touchdown on the flight. I don't trackchase like my fellow competitors.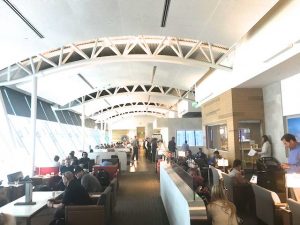 When I landed at LAX my first stop was to THEIR American Airlines Admirals Club. Why go there? All of the public restrooms at LAX had waiting lines. Yes, and this is after they remodeled terminal 4! LAX is a zoo but they do have fantastic service to everywhere around the world. I don't trackchase like my fellow competitors.
My NEXT stop was at terminal 2. In order to get to terminal 2 from terminal 4 I had to ride a shuttle bus but didn't have to leave airport security. I hate airports where all of the terminals are not connected in one security clearance. I went to terminal 2 so I could use the Virgin Atlantic Club airline lounge, which is part of my Priority Pass sponsorship. I don't trackchase like my fellow competitors.
While I relaxed with a piece of wheat toast covered in cream cheese and strawberry jam I made plans to get back home to San Clemente. My car wasn't parked in my airport sponsored parking garage as it usually is. Carol and I had been in Denver together earlier in the week celebrating her mother's 90thbirthday. When she returned from that trip she took my car home! I could have asked her to pick me up at LAX but that would be a 130-mile drive for her. She was more valuable doing chores at home! I made a reservation on my phone to take the FlyAway bus from LAX to the Los Angeles Union Station train depot and then a train from Union Station to San Clemente. Yes, to get home from the Hillbilly Speedway I would need to use a rental car, an airplane, a bus, a train and then my personal car when Carol picked me up at the San Clemente North train station. I don't trackchase like my fellow competitors.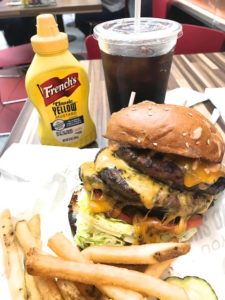 Soon I left the Virgin Airlines Clubhouse in terminal 2 for the Rock & Brews restaurant in terminal 1. That required me to clear security again, my second security clearance of the day. At Rock & Brews (their service is often spotty) I went with their triple cheeseburger (about a pound and a half of burger!) for an early lunch. What I didn't eat I could take home. I don't trackchase like my fellow competitors.
From terminal 1 following lunch I headed over to the Tom Bradley International Terminal (between terminals 3 and 4) to visit P.F. Changs. There is yet another Priority Pass sponsored eatery at Tom Bradley. I would pick up some lunch for Carol. I also needed to clear airport security for the third and final time for the day. That made three airline clubs, two restaurant visits and three airport security clearances all before 12 noon….plus a 4-hour flight! I don't trackchase like my fellow competitors.
There were several benefits to all of these stops. While I was doing what I was doing I was also covering more than my daily four miles of walking. At other downtimes I did work on my phone and/or computer that I would have to do at home if I hadn't done it now. I don't trackchase like my fellow competitors.

While I rode the bus, hung out in the historic Union Station train depot and took the train home I was also able to do work "remotely". I very much enjoy multi-tasking. When I did arrive home I fielded calls from the kids wishing me a Happy Father's Day. Then I laid down on our living room sofa and watched the last nine holes of the U.S. Open. I don't trackchase like my fellow competitors.
This trackchasing trip had been a good one. It included new track visits in California, Alaska, New Jersey, Indiana and Missouri. I even threw in a return visit to a high quality track in Wisconsin. I spent a fun two days with relatives and business friends from P&G that I don't see often in Denver. I slept overnight in my car or in an airplane for four nights. I don't like to do that but if I want to keep the schedule I do that is required. Then I ended up spending 2 ½ hours sitting in a farm pasture as the clock approached midnight in a small town in Missouri talking in the darkness with just the race promoter, Franklin Hodges and me. That conversation was one of the best parts of this adventure. I don't trackchase like my fellow competitors.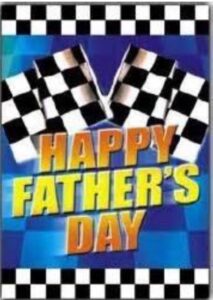 HAPPY FATHER'S DAY!

Good evening and good day from the Hillbilly Speedway in Fair Grove, Missouri.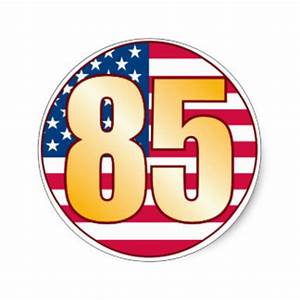 Randy Lewis – 85 countries – 2,561 tracks.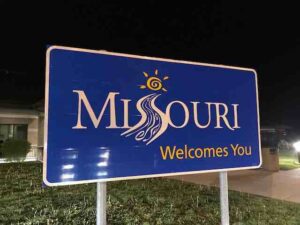 Missouri
The Show Me state
This evening I saw racing at my 66th lifetime track in the Show Me state, yes, the Show Me state.  I hold the #2 trackchasing ranking in Missouri.  I've seen 66 or more tracks in thirteen different states.
Thanks for reading about my trackchasing,
Randy Lewis
World's #1 Trackchaser
Peoria Old Timers Racing Club (P.O.R.C.) Hall of Fame Member
Missouri sayings: Your Federal Flood Relief Tax Dollars at Work
QUICK FACTS
LIFETIME TRACKCHASER COMPARISONS 
The three most important trackchasing comparisons to me are:
Total lifetime tracks seen
Total "trackchasing countries" seen
Lifetime National Geographic Diversity results
Total Lifetime Tracks
There are no trackchasers currently within 710 tracks of my lifetime total.  Don't blame me.
Randy Lewis, San Clemente, California – 2,561
Total Trackchasing Countries
The nearest trackchasing competitor has seen racing in 30 fewer countries compared to my lifetime total. 
Randy Lewis, San Clemente, California – 85
Current lifetime National Geographic Diversity results
Randy Lewis, San Clemente, California – 4.14
That's all folks!  Official end of the RLR – Randy Lewis Racing Trackchaser Report
Click on the link below to see the video production from the racing action today.
Click on the link below for a photo album from today's trackchasing day.  You can view the album slide by slide or click on the "slide show" icon for a self-guided tour of today's trackchasing adventure.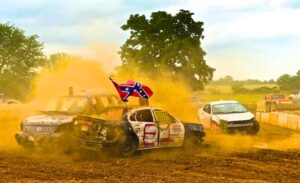 Bump n Run racing from the Hillbilly Speedway