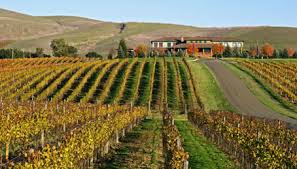 Greetings from Sonoma, California
.
.
From the travels and adventures of the 
"World's #1 Trackchaser"
.
.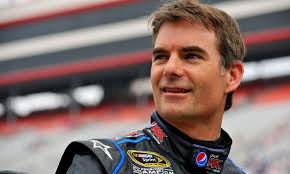 Sears Point Raceway – NASCAR configuration
Asphalt road course
Lifetime Track #340
.
.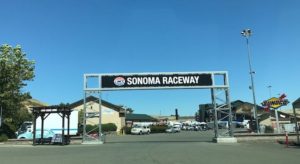 Sonoma Raceway – long configuration (2.52-miles)
Asphalt road course
Lifetime Track #2,336
The EventVideo PlusPhotos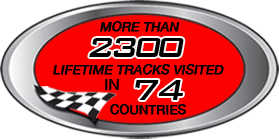 THE EVENT
I have had the opportunity to follow my trackchasing hobby all over the world. As this is written I have seen racing in 74 countries. My lifetime track total exceeds 2,300. Each and every year I will trackchase in 25-30 states. At track #1,040 I moved into the "World's #1 Trackchasing" spot.
I was not making my first stop in Sonoma in 2017. Back in 1998 Carol and I stopped at what was then known at the "Sears Point Raceway" to see the NASCAR Cup series race. My long-time favorite driver Jeff Gordon won that one. At the time Sears Point was my 340th lifetime track.
I didn't begin writing my famous Trackchaser Reports until about track #430. My one and only note about that visit was "The worst! Hard to get in. Can't see a thing". Yep. I guess I wasn't thrilled with the track in 1998.
My hobby is not only about racing. Trackchasing for me centers around three things. The racing part is pretty obvious. However of equal importance is the logistics of trackchasing and the opportunity to see the world.
I live in Southern California. The vast majority of tracks are located in the Midwest and East. It takes a good deal of logistical planning to get from where I live to where the tracks are. For the past 15 years I have traveled about 175 nights each and every year. Surprisingly to some, more than half of those overnights were not part of trackchasing.
Then there's the travel just for the fun of seeing new things. You won't want to miss my "Trackchasing Tourist Attractions" page or my "Sports Spectating Resume" page on my website at www.randylewis.org. That will give you some understanding on how important seeing the world is with my hobby.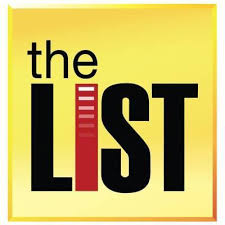 Today's adventure was one more of the 2,000 trips that have taken me up, down and around the long and dusty trackchasing trail. If you would like to see where I've been and experience those adventures here's the link:
If you've got a question, comment or whatever please leave it at the bottom of this report.  It's very easy to do.  Or you can visit me on Facebook.  Thanks!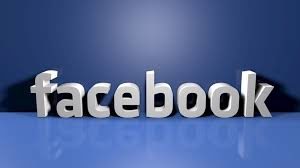 FOREWORD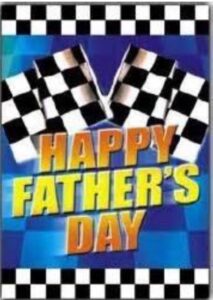 It's Father's Day! To celebrate I woke up in an Interstate 84 highway rest area near Hood River, Oregon. My alarm had summoned me at 4 a.m.
During my business career work commitments often interfered with birthdays, anniversaries and holidays.  That was no problem for the Lewis family. We operated like NASCAR does. We would celebrate the occasion on our next "clear day".
I should be home by tonight. Then on Tuesday Carol and I will begin a weeklong "Father's Day celebration". Carol treats me the very best (she always treats me well), on my birthday and Father's Day. We commonly celebrate birthdays and things like Mother's Day and Father's Day as a weeklong or longer celebration. If you haven't done that you should try it.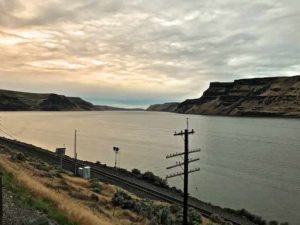 Just eight days ago I had slept in a highway rest area nine miles from where I woke up this morning. That seemed odd to me that they would have two rest areas that close together. And just like last week I needed to get up early so I could drive the remaining 65 miles to the Portland airport as well as gas up my rental car.
Today I was catching an early morning flight from Portland to San Francisco. If I made it, and I expected too, the afternoon's destination was the famous Sonoma Raceway.
This would not be my first visit to Sonoma. Back in 1998 I went there to see a NASCAR Cup race. Jeff Gordon entertained Carol and me with a win that afternoon. The Sears Point Raceway, it's name back then, was my 340th lifetime track.
Today I could add one more track to my lifetime list due to the often times generous rules offered up in the hobby of trackchasing. You should know that I do not personally endorse all of the rules. Nevertheless, I do my very best to adhere to each and every one of the rules.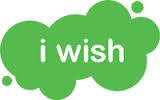 I wish every trackchaser did it that way but then I wish that people would stay out of the passing lane unless they're passing as well. You can only control your own behavior. You get to choose the reaction that you want to have based upon other's behavior.
The folks in the Randy Lewis Racing Research Department had discovered that the track that the NASCAR Cup drivers use is not exactly the same as what the road racers use when they come to Sonoma. In reality it's a very similar situation to what happens at Watkins Glen.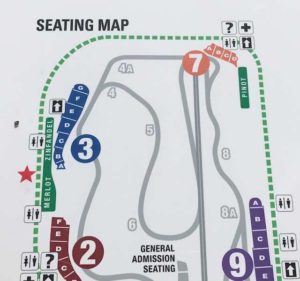 The Cup cars cut off a little bit of the track at Watkins Glen since the big stock cars have a hard time going from high straightaway speeds to very sharp sometimes more than 180° turns. That's pretty much how it works with Sonoma as well.  NASCAR doesn't use turns 4,5 and 6 but the racers from NASA racing did today. That little difference was what allowed me to separately count this 2.52-mile road course.
I landed at the San Francisco International Airport just before 9 a.m. I have not been to San Francisco in a long time. Why? I've seen pretty much every track in the immediate area.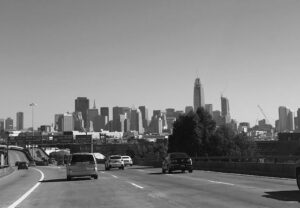 Nevertheless, I've been to San Francisco one million times. We came here for major sales meetings virtually every year if not more often. San Francisco, New Orleans and New York City are my favorite restaurant towns. This trip reminded me that I'll have to take Carol up here for a midweek overnight just to eat some great food and see Alcatraz again.
I rode the airport train out to the rental car facility. This is not the most convenient rental car pick up location by any means. I'll have to factor that in when I return. I'll be on crash and burn timing trying to get back home tonight.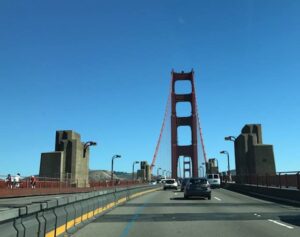 I quickly grabbed a Chrysler 300, which would easily navigate the 54-mile one-way trip up to Sonoma. I compared the no tolls versus toll route GPS options. The distance and time were virtually identical. The no toll option would take me through downtown San Francisco before crossing the famous Golden Gate Bridge.
Sunday morning traffic in San Francisco was light. Just about 10 miles from the Sonoma Raceway I consulted Yelp. I was looking for a Mexican restaurant where I could get my low-carb favorites, of eggs, cheese and meat. Mexican restaurants do that pretty well.
Yelp recommended Carmen's La Hacienda restaurant in Novato, California. It was four-star rated. That would fit the bill and it was nearly on the way to the track.
I was quickly served some melted cheese, chorizo sausage and avocado. On my low-carb eating plan I have room for a few chips and salsa. It was all good. I thanked my lucky stars for being able to use Yelp. I travel to so many "foreign" cities where I don't know the best local eateries. Yelp solves that problem.
I had driven my rental car all over Northern California, Southern Oregon and Washington before getting to San Francisco. I had covered 1,152 miles in the past two days. It was going to be a treat to drive just a bit over 100 miles to add one more track this afternoon.
THE RACING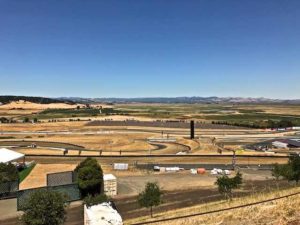 Sonoma Raceway – Sonoma, California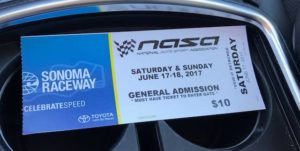 I pulled into the Sonoma Raceway about two hours before the first scheduled race. I paid my $10 general admission fee. That would allow me to roam all over the paddock grounds. I would see Sonoma from every possible angle.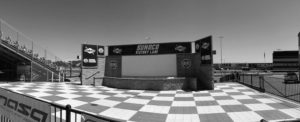 The primary advantage of road racing as a spectator is being able to travel all over the paddock to be up close and personal with the racing competitors. That's a much more difficult proposition with oval tracks and it can be expensive.
There's a big advantage to going to a big name track like the Sonoma Raceway, formerly called Sears Point Raceway, on an "off" weekend like this. If I had come during the NASCAR Monster Energy Cup weekend (that's next weekend!) access would be severely limited at the track.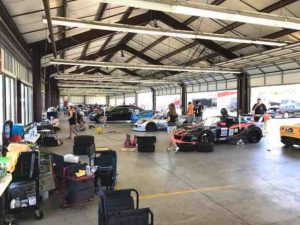 On the other hand, on a day like today, I could roam all over and explore to my heart's content. That's exactly what I did. I walked all over the track including the driver's lounge, the track's café and their enclosed garage area. The temperature was in the mid-90s. When I got tired of walking around I hopped in the National Car Rental Racing Chrysler 300. With my car I tried to explore as many different vantage points as I could.
I feel that as a spectator, watching road racing in person is a terrible entertainment experience. That's most true if all you want to see is the actual race on the track. Today's racecourse covers 2.52 miles. From any one location it was very difficult to see much of the track unless you like a view from a considerable distance. I don't. I'll take watching the races at a quarter-mile dirt track like the Peoria Speedway any day over these long permanent asphalt road courses.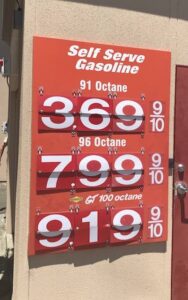 Your best bet, if you do not have a good understanding of what my experience was like today, is to look at my YouTube video and my SmugMug photo album. You'll see photos and videos from every nook and cranny of the Sonoma Raceway. I hope you enjoy it. I produced it just for you.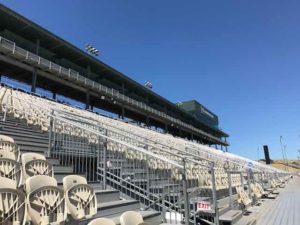 I did strike up a conversation with a fellow taking photographs today. He was easy to talk to and told me that he was going to be going to Germany on vacation very soon. He had already made arrangements to rent a car and take a few laps around the track at Nurburgring track. He and his wife would be stopping for 16 hours in Iceland on the way to Germany. I recommended they check out to the Blue Lagoon. It's a very cool hot water spring that's popular for people visiting Reykjavik.
AFTER THE RACES
Upon leaving I was making another one of my patented dashes back to the airport. This is a ritual that accompanies the very last track on any trackchasing trip that I take. Flying standby from San Francisco to Los Angeles on a Sunday night is only for the brave-hearted. I am brave-hearted.
It'd been a good trackchasing weekend. I started with a track that only appeared on my radar about a year ago in Yreka, California. I followed up the next night with a county fair type race in Dayton, Washington. That track only became known to me a few weeks ago. Finally today I saw the second variation of the Sonoma Raceway. I only found out about that additional configuration this winter. That means that about a year ago I didn't know that any of the three tracks that I saw this weekend even existed. I find that someone amazing.
Almost all the time I travel with my Waze GPS system with the "no tolls" indicator activated. However that wasn't going to work getting me back from Sonoma to the San Francisco International Airport. The no tolls route would increase my drive by more than 50 miles and my ETA by another hour or so.
I don't mind paying tolls. However, I don't like to get stuck on cashless toll roads when I don't have a transponder. That simply ends up with my rental car company billing me the charge of the toll PLUS their administrative fee. That fee can be as much as $10-15 per occurrence.
San Francisco has a lot of traffic. The road systems in and around Northern California aren't nearly as good as what we have in Southern California. That's especially true in Orange County. Parking in the city of San Francisco is also very expensive. It's not unusual to pay $50 a day to park there. Nevertheless, San Francisco is a much better touring city than Los Angeles. There's a lot to see and do in San Francisco. The food is great too. It's all just very expensive.
I made it to the airport. For a while it looked as if I wasn't going to be able to make a flight on Sunday evening from San Francisco back to Los Angeles. However, at the last minute my name was called and off I went to sunny Southern California.
It's been a good weekend. I will be home for just 36 hours. Then Carol and I will begin a nearly weeklong celebration of Father's Day. We hope to hit several tracks and see friends and relatives along the way.
As always, I'll keep you posted.
Good afternoon from Sonoma, California.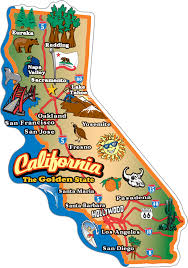 California
The Golden state
This afternoon I saw my 160th lifetime track in the Golden state, yes the Golden state. I hold the #1 trackchasing spot in California. I've seen more races in California than anyplace else.
Thanks for reading about my trackchasing,
Randy Lewis
World's #1 Trackchaser
Peoria Old Timers Racing Club (P.O.R.C.) Hall of Fame Member
California definitions: Never call it "Cali."
The only people who call it "Cali" aren't from California. It's not that anyone has to tell you not to say it, people just don't. I think it's a respect thing. It feels almost like calling your mother by her first name. I'm cringing just thinking about it.
QUICK FACTS
LIFETIME TRACKCHASER COMPARISONS 
The three most important trackchasing comparisons to me are:
Total lifetime tracks seen
Total "trackchasing countries" seen
Lifetime National Geographic Diversity results
Total Lifetime Tracks
There are no trackchasers currently within 595 tracks of my lifetime total. Don't blame me.
Randy Lewis, San Clemente, California – 2,336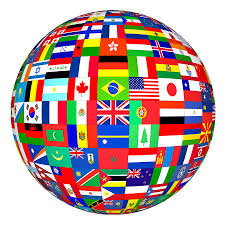 Total Trackchasing Countries
There are no trackchasers currently within 20 countries of my lifetime total.
Randy Lewis, San Clemente, California – 74
Current lifetime National Geographic Diversity results
Randy Lewis, San Clemente, California – 4.37
That's all folks! Official end of the RLR – Randy Lewis Racing Trackchaser Report
Click on the link below to see the video production from the racing action today.
Click on the link below for a photo album from today's trackchasing day.  You can view the album slide by slide or click on the "slide show" icon for a self-guided tour of today's trackchasing adventure.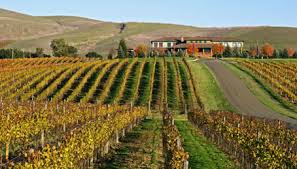 A trip to the wine country who wouldn't like that?