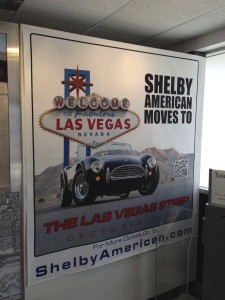 Greetings from the Shelby Museum  – Las Vegas, Nevada
From the travels and adventures of the 
"World's #1 Trackchaser"
HighlightsPhotos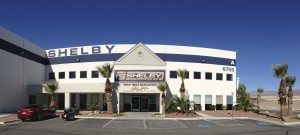 Shelby Museum – Las Vegas, Nevada
Worth a stop in you're in the area.
The Shelby Museum is located at the world headquarters of the Shelby American corporation in Las Vegas, Nevada. It's right across the street from the Las Vegas Motor Speedway.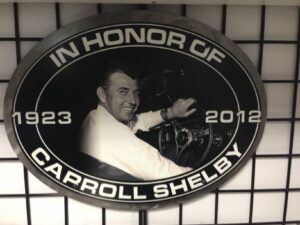 I was in luck. Today was Saturday. They do tours once a day, Monday-Saturday at 10:30 a.m. The tours are just 45 minutes long. Their schedule fit perfectly with what I had to do in Las Vegas businesswise and with tonight's trackchasing visit to Arizona.
What's the mission?
I've been to many automobile museums. This one was on the smaller side. However, my mission when on the trackchasing road is to "see stuff". I see more tracks than anybody else and I certainly take the time to see more Trackchasing Tourist Attractions" than anyone else. I will likely remember more from my visit to the Shelby Museum than the racetrack that would follow.

Here's what Wikipedia had to say about Carroll Shelby and his operation. Don't miss the pictures!
"Shelby American was founded by Carroll Shelby in 1962 to build and market high performance parts and modified cars for individuals. The company was based at Santa Fe Springs California (1962), Venice, California (1962–1967), Ionia, Michigan (1967–1968), Whittier, California (1986–1998) and Las Vegas, Nevada (since 1998). Some of the automobiles produced by Shelby American were the Ford Mustang-based Shelby GT350 and Shelby GT500. Shelby American also installed the engines of US-market examples of the legendary AC Cobra which was an AC Ace with a Ford V8.
The company was also highly involved with racing, with Shelby cars winning many races and the first title for an American constructor at the World Sportscar Championship in 1965. From 1965 to 1967, Shelby American also provided support to Ford for their successful campaign to win the 1966 24 Hours of Le Mans as historically the first American constructor ever with the mid-engined Ford GT 40's. With Shelby Daytona, Shelby became one of only three American constructors (along with Ford and Chevrolet) to win a title on the international scene at the FIA World Championships.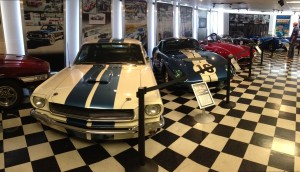 Shelby American moved in 1998 to Nevada becoming the first automobile manufacturer in Nevada and began production. The line included:
427 S/C Cobras
CSX1000-series Unknown-origin chassis and Aluminum Bodies (of modern production)
CSX4000-series Various Manufacturers, Fiberglass and Aluminum bodywork available
CSX6000-series Continuation of the CSX4000 Series
CSX7000-series 289 FIA Cobra Roadster
CSX8000-series 289 Street Car
CSX9000-series Cobra "Daytona" Coupe, Released in 2009.
In 2003, the company name was changed to "Carroll Shelby International, Inc." from "Shelby American" and it was taken public. Shelby Automobiles was also created as a subsidiary and manufacturing arm of the new company.
On December 15, 2009, Carroll Shelby International announced in a press release that Shelby Automobiles was being renamed to "Shelby American" in celebration of the 45th anniversary of 427 Cobra and GT350.
Please wait for photos to load.
Shelby Museum  – 2014