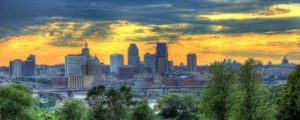 Greetings from Owatonna, Minnesota
.
.
From the travels and adventures of the 
"World's #1 Trackchaser"
.
.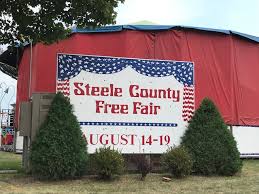 Steele County Fairgrounds
Dirt oval
 Lifetime Track #2,508
The Event
Reprinted with permission from my August 15, 2001 Trackchaser Report. 

THE CLASSIC TRACKCHASER REPORT
Editor's note: This is a CLASSIC Trackchaser Report. What the heck does "Classic" mean? It's simply a Trackchaser Report that comes from my trackchasing archives. For whatever reason (usually not enough time) it didn't get posted to my website when I first made the track visit. Often times a classic TR will not have a video and/or photo album attached. I didn't begin producing my YouTube videos until 2009 (YouTube channel: RANLAY). I didn't begin writing a complete Trackchaser Report until I had seen about 430 tracks. Photo albums were sort of hit or miss during the early years of my trackchasing. Additionally, if you see a website link know that link worked when the TR was originally written. Will it work now? Your guess is as good as mine! Nevertheless, this CLASSIC Trackchaser Report has finally bubbled to the surface and is now available for everyone to see at www.randylewis.org. I hope you enjoy it.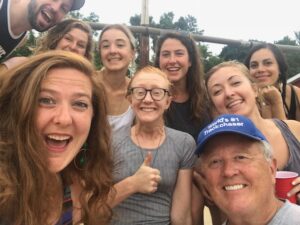 I AM A TRACKCHASER
My name is Randy Lewis. I live in San Clemente, California. I am a "trackchaser". I trackchase. Before you discovered my site had you ever heard of trackchasing? Maybe not? So….what the heck is trackchasing? Sit back, take a read and you'll be an expert on my hobby of trackchasing when you're finished.
Here's my best explanation.
Trackchasing is a three-pronged hobby. I'm a racing fan. I love to travel. I love to analyze opportunities to get the most out of everything while saving time and money.
Trackchasing fills the need for all of the above. The racing part of my trackchasing has me trying to see wheel to wheel auto racing at as many different racetracks as I can all over the world. Yes, all over the world. So far things are going pretty well. As this is written, I've seen racing in 85 countries at more than 2,500 tracks. As a matter of fact, I've seen racing at more tracks than anyone else in the world.
Equally important to me are the things I get to see and experience over the "long and dusty trackchasing trail". I call these adventures "Trackchasing Tourist Attractions". You won't want to miss my "Trackchasing Tourist Attractions" page. Here's the link:  Trackchasing Tourist Attractions  or my "Sports Spectating Resume" page, Sports Spectating Resume  on my website at www.randylewis.org.
I live in southern California. That's probably the most inconvenient location in the country for seeing tracks in the U.S. Most of the racetracks in the U.S. are located well over 1,000 miles from where I live. As a matter of fact, my average trip covers 5,000 miles and more. I take 35-40 of those trips each season. In any given year I will travel well over 200,000 miles, rent more than 50 cars, and stay in more than 150 hotel rooms.
I get the chance to meet people all over the world. With trackchasing trips to 85 countries and counting just getting the chance to experience so many other cultures, spend time in their homes and meet their friends is a huge reward for being in this hobby. I am indebted to several of these folks for their help and friendship.
It's takes a good deal of planning to do the above and not spend my entire retirement portfolio. I enjoy the challenge, the travel and every other aspect of "trackchasing". In reality, my trackchasing hobby is a lot like being with the carnival. I breeze into town, stay a little while and then head on down the road.
Today's adventure was one more of the 2,000 trips that have taken me up, down and around the proverbial long and dusty trackchasing trail.  If you would like to see where I've been and experience those adventures here's the link: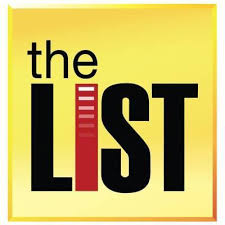 If you've got a question, comment or whatever please leave it at the bottom of this report.  It's very easy to do.  Or you can visit me on Facebook.  Thanks!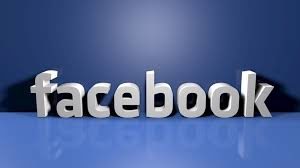 FOREWORD
Wednesday, August 15, 2001.
Greetings (I think!) from Owatonna, Minnesota,
TRAVEL/PEOPLE NEWS
Today's race trip started out early with a zero dark thirty wake-up call and drive to the airport.  The travel portion of the trip was uneventful other than watching some family dynamics in the Dallas airport.  A 50ish grandmother, a 30ish mother and her two sons (6 and 10) were sitting near me at lunch.  The mother went away for a few minutes and the boys started to act up with Grandma.  She got on their case and you could see they weren't happy with her.  About this time the mother comes back just as the 6 year old boy is having a temper tantrum with Grandma.  The kid slugs grandma.  Grandma gets bent and starts spanking the boy.  Then mom gets bent at grandma for spanking the boy and there is figure pointing and yelling.  Don't you just love it! 
When I entered the Steele County Fairgrounds I didn't think to take the name literally (Steele/steal).  Nevertheless, the big people news at the races was the apparent theft of my camera bag.  I say apparent because I always have more belief in people than I probably should.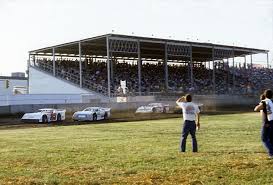 After the heat races a rain shower came and rained out the show.  I was sitting in a large aluminum grandstand with a cover.  As the announcer told the crowd the show was over they began to leave the grandstand area.  Before the rains came there were probably 1,500 people in the grandstands.  I waited for most to leave and then walked up to the top row to take some video of the fair activities that were going on.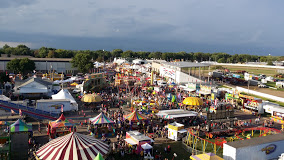 I left my seat cushion and camera bag where I had been sitting.  By now just 50-100 people were in the stands.  When I was taking the video of the fair behind the grandstand I wasn't more than 50 yards from my camera bag and couldn't have been gone for more than 2-3 minutes.  I was really shocked to see my seat cushion still sitting there but no camera bag and no 35mm camera (sorry Stan, we may not see any pictures from Pecatonica).  My announcer notes were also taken so this trackchaser won't be talked about on this trip.  MAYBE someone thought the camera bag had been left by mistake and they turned it in.  I can't believe someone from Minnesota would steal my stuff.  Minnesotans rank right up there with Iowans as the nicest people in the country.  If it was stolen I hope the guy needed it worse than I did.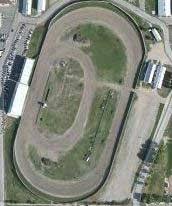 RACING NEWS
I had wanted to go to Owatonna for a long time.  Unfortunately, the racing wasn't too good.  The United State Modified Touring Series (USMTS) was the only class performing.  They had about 50 cars and ran five heats.  The track was damp and there was very little passing.  After the heats they worked on the track a little with graders.  Just as the graders pulled off the track it began to rain and that was the show.
The Steele County Fairgrounds is my 508th lifetime track.  It's a big ½-mile dirt oval with plenty of seating in aluminum grandstands.  About half of the grandstand is covered.  They allow racecar haulers in the pits and this blocks the view.  Fair parking across the street was $5 and admission to the races was $14.  Because of the rainout they will run tonight's two B mains and A main before the start of their 2nd night of USMTS fair races tomorrow night.  I won't be there (I don't have enough cameras!).
Restaurants of the day:  There were some VERY unique food items being sold at the fair.  How about 83 oz of fries for $8?  There were also fried pickles, batter fried cheese curds and a batter waffle corn dog.  Can you find finer cuisine anywhere else?
Weather:  The weather was cool.  It was only about 60 degrees and overcast.  The rain chances were predicted at 50% and they materialized.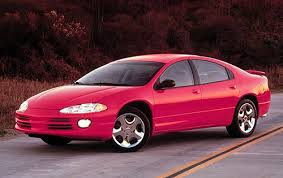 Rental Car mileage:  The National Rental Car racing Dodge Intrepid had 123 miles when I returned to the hotel.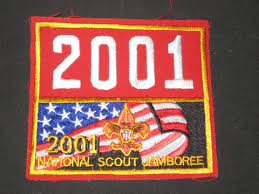 New racetracks visited in 2001*
*Websites where listed were working in 2001. Are they working now? Do you feel lucky? Give it a try.
Laughlin Event Center, Laughlin, NV (no web site)
Loc Moran, Mont Carmel, Quebec (http://www.grabnetworks.net/delta/)
Circuit Jacques Rainville, Vanier, Quebec (no web site)
Pauline Davis Pavilion, Red Bluff, CA (http://www.rboutlaws.com/)
The Pavilion at the Fairgrounds, Chico, CA (no web site)
Baton Rouge Raceway, Baker, LA (http://www.batonrougeraceway.com)
Mississippi Motorsports Park, Long Beach, MS (http://www.msmotorsportspark.com)
South Alabama Motor Speedway, Opp, AL (http://www.southalabamaspeedway.com)
Nashville Super Speedway, Smyrna, TN (http://www.nashvillesuperspeedway.com)
Beech Bend Raceway (oval track), Bowling Green, KY (http://www.beechbend.com)
Beech Bend Raceway (figure 8 track), Bowling Green, KY (http://www.beechbend.com)
Soggy Bottom Speedway, Morgantown, KY (http://www.soggybottomspeedway.com)
Buttonwillow Raceway Park, Buttonwillow, CA (http://www.buttonwillowraceway.com)
Speedway 90, Beaumont, TX (http://www.Speedway90Bmt.com)
105 Speedway, Cleveland, TX (http://www.105speedway.com/)
482   Savannah Speedway, Savannah, MO (no web site)
Winston Speedway, Winston, MO (no web site)
Stuart Speedway, Stuart, IA (http://www.midiowa.com/showtime/stuart.html)
Barberton Speedway, Barberton, OH (http://www.barbertonspeedway.com/)
Eriez Speedway, Erie, PA (http://www.statelineeriezspeedway.com/)
Anderson Dry Lake, Lucerne Valley, CA (http://hometown.aol.com/mdrracing/index.html)
Perris Auto Speedway-(figure 8 track), Perris, CA(http://www.perrisautospeedway.com/)
Dixie Motor Speedway – (figure 8 track), Birch Run, MI (http://www.dixiemotorspeedway.com)
Dixie Motor Speedway – (oval track), Birch Run, MI (http://www.dixiemotorspeedway.com)
Grand Prix of Cleveland, Cleveland, OH (http://www.imgmotorsports.com/)
492   Painesville Speedway – (oval track), Painesville, OH (http://members.tripod.com/pspeedway/)
493   Painesville Speedway – (figure 8 track), Painesville, OH (http://members.tripod.com/pspeedway/)
Angola Motor Speedway, Angola, IN (http://www.angolamotorspeedway.com/index.shtml)
Atlanta Motor Speedway, Hampton, GA (http://www.atlantamotorspeedway.com/)
Dixie Speedway, Woodstock, GA (http://www.dixiespeedway.com/)
Rome Speedway, Rome, GA (http://www.dixiespeedway.com/) Rome uses the same web site as Dixie Speedway.
Holland Speedway (oval), Holland, NY (http://www.hollandspeedway.com/)
Holland Speedway (figure 8 track), Holland, NY (http://www.hollandspeedway.com/)
Freedom Raceway, Delevan, NY (http://www.freedomraceway.com/)
Allegheny Mountain Raceway, La Mont, PA (http://www.amraceway.com/)
McKean County Raceway, East Smethport, PA (http://www.mckeancountyraceway.com/)
Bradford Speedway, Bradford, PA(http://www.bradfordspeedway.com/)
Ventura Raceway, Ventura, CA (http://www.venturaraceway.com/)
Winnebago County Speedway, Pecatonica, IL (no web site)
Boone County Fairgrounds, Belvidere, IL (http://www.boonecountyfair.com/index2.htm)
Slinger Super Speedway, Slinger, WI (http://www.slingersuperspeedway.com/)
Steele County Fairgrounds, Owatonna, MN (no web site)
That's all folks!  Official end of the RLR – Randy Lewis Racing Trackchaser Report