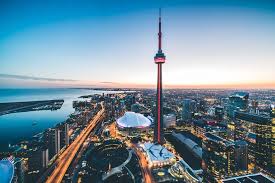 Greetings from Toronto, Ontario, Canada
.
.
From the travels and adventures of the 
"World's #1 Trackchaser"
.
.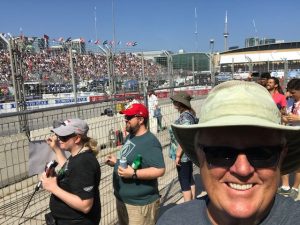 Streets of Toronto
Asphalt Street Circuit
 Lifetime Track #2,468
The EventVideo PlusPhotos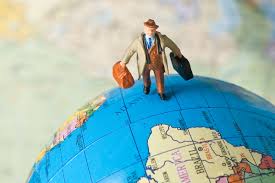 THE EVENT
I am a "trackchaser". So, what the heck is that? I get that question from racing and non-racing people all the time. This is a difficult question to answer. Why? Because after I do my best to respond people still say, "I've never heard of such a thing"!
Here's my best explanation.
Trackchasing is a three-pronged hobby. I'm a racing fan. I love to travel. I love to analyze opportunities to get the most out of everything while saving time and money.
Trackchasing fills the need for all of the above. The racing part of my trackchasing has me trying to see wheel to wheel auto racing at as many different racetracks as I can all over the world. Yes, all over the world. So far things are going pretty well. I've seen racing at nearly 2,500 tracks in 80 countries. As a matter of fact, I've seen racing at more tracks than anyone else in the world.
Equally important to me are the things I get to see and experience over the "long and dusty trackchasing trail". I call these adventures "Trackchasing Tourist Attractions". You won't want to miss my "Trackchasing Tourist Attractions" page. Here's the link:  Trackchasing Tourist Attractions or my "Sports Spectating Resume" page, Sports Spectating Resume on my website at www.randylewis.org.
I live in southern California. Most of the racetracks in the U.S. are located well over 1,000 miles from where I live. As a matter of fact, my average trip covers 5,000 miles and more. I take 35-40 of those trips each season. In any given year I will travel well over 200,000 miles, rent more than 50 cars, and stay in more than 150 hotel rooms.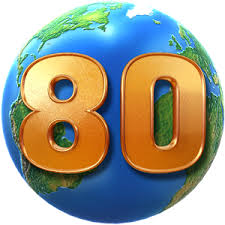 I get the chance to meet people all over the world. With trips to 80 countries and counting just getting the chance to experience so many other cultures, spend times in their homes and meet their friends is a huge reward for being in this hobby. I am indebted to several of these folks for their help and friendship.
It's takes a good deal of planning to do the above and not spend my entire retirement portfolio. I enjoy the challenge, the travel and every other aspect of "trackchasing". In reality, my trackchasing hobby is a lot like being with the carnival. I breeze into town, stay a little while and then head on down the road.
Today's adventure was one more of the 2,000 trips that have taken me up, down and around the proverbial long and dusty trackchasing trail.  If you would like to see where I've been and experience those adventures here's the link: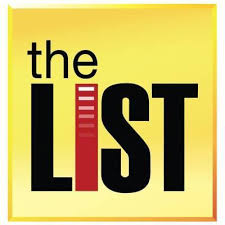 If you've got a question, comment or whatever please leave it at the bottom of this report.  It's very easy to do.  Or you can visit me on Facebook.  Thanks!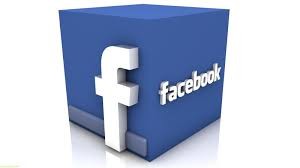 FOREWORD
Sunday, July 15, 2018.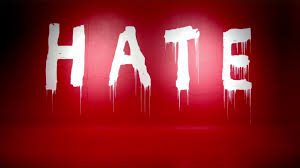 I don't like racing on city street courses. I'm not much of a fan of IndyCar racing either. I have seen the Indianapolis 500. I was pretty impressed with the Indy cars and their speed at the Texas Motor Speedway last year. Nevertheless, seeing Indy cars race on a street course is not at the top of my list for overall entertainment.
So with the above being said why was I going to the Streets of Toronto IndyCar race this afternoon? It's pretty simple really. I am a trackchaser. A trackchaser chases tracks. Sooner or later every track in the world appears on my radar screen.
When I left California last Sunday night on an overnight flight from Los Angeles to Nashville I had ZERO intention of going to Toronto today. It wasn't on my radar screen. It wasn't part of my schedule. I was going to be at a county fair in Indiana tonight. Then why wasn't I in the Hoosier state for a race this evening?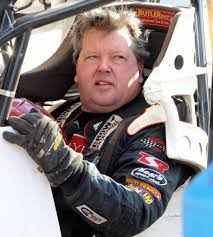 That's a pretty simple question to answer as well. The rain forecast in Danville, Indiana, home of sprint car star Danny Smith (above), had a very bad weather forecast. I beat the rain every day this week to get seven tracks in six days. I wasn't gonna let the weather mess up my perfect streak for this trip.
The weather forecast in Toronto was for hot and clear weather. It would not have mattered if it had rained. That probably would've been a good thing. A little rain would make for a cooler day. As it was the Indy cars were going to race rain or shine.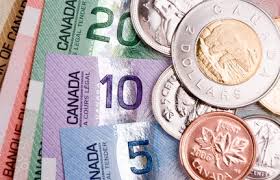 To further confirm that I had no initial interest in seeing IndyCar racing in Toronto on this trip I brought no Canadian currency with me. That could easily be corrected. I had my passport with me. I don't go anywhere without my passport or my laptop. It is rare that my passport and/or my laptop is more than 6 feet away from me at any point in time all year.
I had driven 2,903 miles with two rental cars during the first six days of this trip. I was going to add another five or six hundred today getting from Detroit over to Toronto and back. It's a good thing I like driving.
I'm staying at a Delta Hotels by Marriott property in Detroit for two nights. I had never ever heard of a "Delta Hotels by Marriott" brand name in my life. I've probably stayed at Marriott properties well over 1,000 nights. It turned out the Delta Hotels by Marriott is a chain born in Canada with 54 properties. It's a nice enough place. I had breakfast there this morning.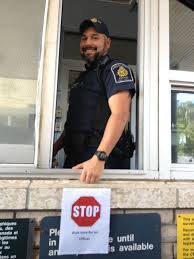 It was a pleasant four-hour drive over to Exhibition Place on the waterfront in Toronto this morning. There was absolutely zero back up at the Canadian border. The border agent asked me where I was going, where I lived and once I could answer those questions successfully I was allowed to pass.
I've seen racing at well over 150 racetracks in Canada. Normally when I know I'm going to visit Canada, Carol my international banker, gives me a cellophane bag stuffed full of Canadian currency for the trip. Since Canada wasn't part of the original plan I didn't have any contribution from her. I would need to get some currency.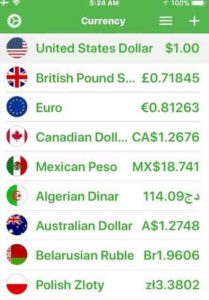 As soon as I cleared border control and got into Canada I found a currency office. I gave the lady one hundred dollars U.S. She multiplied that number by 1.26%. She took a dollar Canadian for herself and gave me back $126.50 Canadian. Fair enough.
I suspected that the IndyCar event, to be run over the Streets of Toronto, would be well attended. Tickets would be on the expensive side especially considering I had not paid more than $10 to see any of the seven races I had seen this week. Don't worry. Despite being unemployed for more than 16 years I had a handle on this.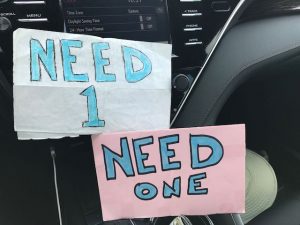 I would be using my classic "Need One" sign. That sign never fails me. In 99% of the cases I get a ticket offer within 60 seconds of displaying my sign. Often times the ticket is given to me for free and the rest of the time at deeply discounted prices. I wouldn't be surprised if I got a free ticket today. If I had to pay for the ticket I didn't expect to pay more than $20 Canadian. We'll see.
There was one positive about going to a street course race. I would likely meet my 4-mile daily walking goal. That's been difficult to do lately with all of the driving I've been doing.
In all likelihood I would be able to walk all over the grounds. I would peek my head in for a very limited view of the race track from time to time. I might be able to see the cars race past at a high speed for maybe 75 yards. That's not my idea of high entertainment race watching. However, if you know what to expect when you go to a street course race you'll probably have a good time.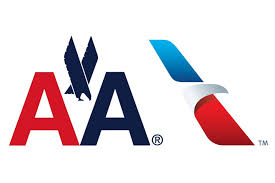 One of my very first street course viewing opportunities was at the Long Beach Grand Prix in 1987. Carol and I were the guests of American Airlines. They had a contest to see which of their guests could come closest to picking the average winning speed. There were prizes. We won.
What did we win? Was our reward an American Airlines T-shirt or coffee mug? No it was not. We won airfare for two and a week's hotel to Zürich, Switzerland. Yep. We did. That's better than a coffee mug right? We had a lot of fun on the trip. During the middle of that adventure we flew down to France and visited Monaco. That was a real cool trip and my most positive street course racing experience yet.
THE RACING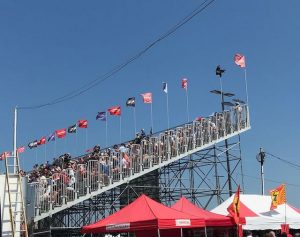 Streets of Toronto – Toronto, Ontario, Canada
It was going to be a hot and humid day in downtown Toronto Ontario, Canada today. I mean really hot and humid. That was despite the fact that the race course was within meters of Lake Ontario.
Parking for these city races is always a challenge. It was difficult to park on the streets in residential or even commercial areas because it looked as if local stickers were needed. I ended up paying $15 Canadian to park in a commercial lot.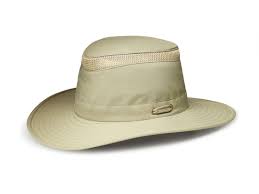 I put on my Canadian Tilley hat, which is insured against loss and guaranteed for life. I grabbed my "Need One" sign and went to work. It looked as if I was a good half-mile or more from where the race would be. Yes, I would be able to get a little exercise today.
As I got closer to the track I encountered a fellow on a bicycle. He was simultaneously asking if I needed a ticket or if I had a ticket I wanted to sell to him. What did that mean? It meant only one thing. He was a professional ticket scalper. He wasn't the race of a typical ticket scalper. However, I had to remind myself that I was in Canada.
I told him that in all honesty I really couldn't do business with him because he was a professional. I couldn't do business with him because his motive was profit. As a professional mine was as well. It was just that we were on opposite sides of the fence today. He understood.
Nevertheless at that point in time it was just him and me. No one else was anywhere near us. He couldn't just give up like that. He told me he had only one ticket and it was a $95 grandstand ticket. He asked me how much I was willing to pay to go to the race today. I told him about 20 bucks. That was not anywhere close to what he was willing to accept for his ticket.

The scalper had assessed the situation. He seemed like an astute individual. He looked at me and then he looked at my sign. He said to me, "You'll be OK. You know what you're doing. I see your sign. Just go down by the will call window. You'll find what you're looking for. By the way, you might want to put that sign in your pocket."
The last portion of his statement was a nod to local security. I understood what he was saying. He gave good advice. I would head down to the area where tickets were being sold and picked up at the Will Call window. That would be where the party of four that had become a party of three shortly before race time would be. Now that party of three would have an extra ticket. That was the group I was looking for, not a professional ticket scalper.
As I got closer to where the "action" was I did see a few scalpers doing some business with locals. These were obviously inexperienced ticket buyers if they were willing to deal with the scalpers.
I walked up close to where the actual event ticket center was. I was casually dangling my sign and a young woman who was with her daughter approached me. "I've got an extra ticket," she told me. We talked for a while. Different prices were bantered about.
Folks, this is exactly how the "dance" goes. I've done it hundreds of times. I'm an optimistic soul. At first, I asked the young woman if she meant that she wanted to give the ticket to me at no charge. No, that wasn't exactly what she meant. She told me she would sell her ticket for $20. Remember all prices I'm quoting to you in the section of my report are in Canadian dollars.
Twenty dollars Canadian wasn't a bad price. Tickets in either of the two tiered seating grandstands were $95 and $70 at the ticket office. The least expensive ticket that allowed entry into the entire event was a general admission ticket, without any seating, for $40. Yes the $20 price was reasonable but there was no way I could just accept it outright. I offered her $15. She turned me down and began to walk away. There were not all that many people selling tickets and there was no need to stand out in the sun any longer. I gave her $20 for her ticket which she had printed on her printer at home.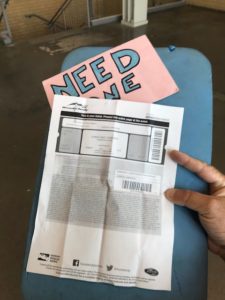 This did not appear to be the lady's first time around the block. She knew that the ticket she had printed at home was subject to be being of zero value if someone had presented a copy of that ticket for admission earlier today. We both knew that. She agreed to "walk in" with me to prove the ticket was good. It was. We made each other farewell. We had both benefited from this last-minute purchase.
Today's Street circuit was being held at Exhibition Place. This is what Wikipedia has to say about this venue.
"Exhibition Place is a publicly owned mixed-use district in Toronto, Ontario, Canada, located by the shoreline of Lake Ontario, just west of downtown. The 197-acre (80 ha) site includes exhibit, trade, and banquet centres, theatre and music buildings, monuments, parkland, sports facilities, and a number of civic, provincial, and national historic sites. The district's facilities are used year-round for exhibitions, trade shows, public and private functions, and sporting events.
From mid-August through Labour Day each year, the Canadian National Exhibition (CNE), from which the name Exhibition Place is derived, is held on the grounds. During the CNE, Exhibition Place encompasses 260 acres (1.1 km2), expanding to include nearby parks and parking lots. The CNE uses the buildings for exhibits on agriculture, food, arts and crafts, government and trade displays. For entertainment, the CNE provides a midway of rides and games, music concerts at the Bandshell, featured shows at the Coca-Cola Coliseum, and the Canadian International Air Show. The fair is one of the largest and most successful of its kind in North America and an important part of the culture of Toronto.
The buildings on the site date from the 1700s to recent years. Five buildings on the site (the Fire Hall/Police Station, Government Building, Horticulture Building, Music Building and Press Building), were designated a National Historic Site of Canada in 1988.[1][2] The grounds have seen a mix of protection for heritage buildings along with new development. The site was originally set aside for military purposes and gradually given over to exhibition purposes. One military building remains.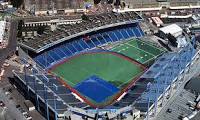 Exhibition Place was also home to Exhibition Stadium, which was built out of the fourth Grandstand by adding two extra wings of seats. The original grandstand had been constructed in the late 1800s and was re-modelled, replaced, or destroyed over the years. It served as home to the CFL's Toronto Argonauts between 1958 and 1988 and the Toronto Blue Jays (AL) between 1977 and 1989. The two teams left for SkyDome (now Rogers Centre) in 1989. After it lost many stadium concert tours to Rogers Centre, and many other outdoor concerts to the nearby Molson Amphitheatre at Ontario Place, its usefulness was at an end. The stadium was demolished in 1999 to serve as parking and allow a more sprawling midway. However, on October 26, 2005, the City of Toronto approved the construction of a 20,000 seat soccer stadium (BMO Field) on Exhibition Place land."
Before I go much further I will tell you that I am not an IndyCar expert, aficionado or fan of Indycar. I am definitely not a fan of street circuit racing. So, when you combine IndyCar racing on a street circuit I am not likely to enjoy that experience. Now with that disclaimer out of the way let's move on.
Despite only having a general admission ticket I could get into the paddock area. Today that paddock area was indoors. My tour was somewhat interesting although by the time I arrived all of the race cars were already outside in pre-grid.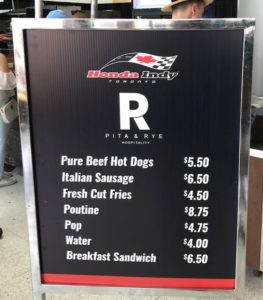 I am happy to tell you that food and drink refreshments were reasonably priced. That surprised me just a little bit but then Canadians are always pretty nice folks, eh?
It was extremely hot and humid even indoors. I was sweating profusely. The line to get a piece of pizza was long. I figured that rather than fight the line twice I would buy two pieces. Two pieces of their "super" pizza were large and tasty. They were only $6.25 each. I supplemented that with a bottle of water for four bucks. I would normally order a diet soda but I didn't want to become any more dehydrated than I already was. For a little bit more than $16 Canadian or maybe about 12 bucks U.S. I was good to go for the day.
On a hot and humid day like today a four-dollar bottled water wasn't going to cut it in the hydration area. However, I saw people filling their water bottles from drinking fountains. Once I was outside I saw several comfort stations that had 8-10 spickets for drinking water. People filled their water bottles there. I've been a lot of sporting events. I can't ever recall seeing such a hydration set up like they had today. Good on them. Very good on them.
Throughout the day I would come to have snippets of conversation with several people on several different topics. One guy gave me some good advice on where to watch the cars at their fastest point on the track. That was also a very shady spot. I essentially pitched a little camp underneath a bridge where I could lean back against a concrete wall. I sat on my foam rubber seat cushion in the dirt. There I was reasonably comfortable.
The advice I got was correct. The cars went by very fast. As a matter fact, from the time they came into view until they left my view about four or five seconds had elapsed. That was the situation as I walked around the entire track. I could see just a few seconds of the action from wherever I viewed. That's what I HATE about street course racing.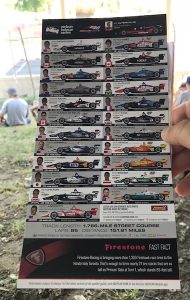 Before the race started one of the ushers handed me a nice multi-colored race lineup. I looked at the 23 starters. I think I recognized seven of the drivers by name. This little "program" told me that today's course was 1.78 miles in length. They would race for 85 laps and cover a bit more than 150 miles.
Several minutes before the green flag would drop I noticed a long line of people waiting for something. I inquired. The gentleman I was talking to seemed to think that he was in line to go on a grid walk. I asked him how he got a ticket for that. He told me he thought he got it when they ordered the tickets in advance. I'm guessing he didn't order the tickets in advance. He likely didn't pay for the tickets. When you don't pay for stuff you don't know nearly as much about the program as if you do.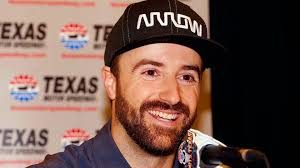 I just happened to be walking by the area where the drivers were being introduced to the crowd. The driver introductions were more for TV than the crowd but I was in the right spot. There were three Canadian drivers in the field including James Hinchcliffe. I think I remember Mr. Hinchcliffe being injured severely to the point of losing his life. Now he's back to racing. He seemed like a nice, outgoing guy. Good for him.
One beneficial outcome of watching a street course race is that if you are curious you can stick your nose in every nook and cranny of the entire facility. That's what I did today. As far as I could tell I saw the race course from every position that was open to fans in general. I even walked up into the grandstand briefly to see how that situation looked.
With the water refilling stations I think I had five bottles of water and maybe more. Five bottles of water for a total price of four dollars Canadian was actually a pretty good deal.
I did see at least two video boards. I'm sure there were more. They were large and offered a good view of the race action from the television broadcast feed. However, I didn't come to Toronto to watch this race from the video board. Nevertheless, I did record the television broadcast on my curved screen TV back home. I'll watch it later.
There was no worthwhile PA system at the track today. I couldn't see virtually anything. I had no idea about anything that was really going on in the race. That didn't bother me. I didn't really care. I'm not an IndyCar fan. I'm not a street course fan. I knew going in I wasn't going to be able to see a thing. That's just the way street course racing is.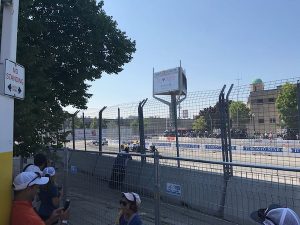 I stayed a little longer at one turn near the entrance to the pit area. That was kind of interesting. The cars rounded a bend and came through right past pit road. When they were at speed I could see them in my vision for five or six seconds. You take what you can get with street course racing.
Since I couldn't see anything how would I know when the race was finished? That was easy. When the sound of the 23 racing engines subsided and then totally ceased I knew the 85-lap race would be complete. When that was the case I headed back to my parking spot.
AFTER THE RACES
I must tell you that I sometimes have a little bit of trouble finding my car after a major sporting event. I once went to the Orange Bowl football game in Miami, Florida to watch my Northern Illinois University Huskies try to upset the Florida State Seminoles. I thought I had a good handle on where I parked my car. I didn't. An hour after the game I was still searching for it. I had to have one of the local attendants drive me around for several minutes in a golf cart trying to find my car! This was an embarrassing solution but effective.
Today I had a little bit of a hard time finding the parking lot where I parked as well. It was hot and humid. I had already covered six miles of walking at the track. That might seem like a lot of walking to do at one single race. However, it could have been more. I found myself sitting in areas for longer periods of time then I normally would because of the heat. I could've walked even further had it been a reasonable low temperature day.
When the engines had ceased and when I found my car in the parking lot it was nearly 6 p.m. I would be having a four-hour drive back over to Detroit, Michigan. I think I'm going to sleep in in the morning and take a little bit later flight. That's risky but I've been pushing the envelope quite a bit during the past week as regards sleep. I think I deserve another four or five hours of overnight sleep don't you?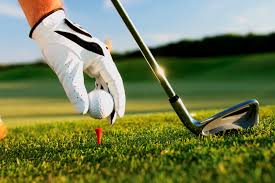 For nearly 20 years I was a country club golf member. I was a serious golfer. Sometimes on a very late afternoon/early evening on a Saturday or Sunday I would go out and practice at the club. I would work on my short game on the putting green.
On certain weekends our golf club would rent out the clubhouse to weddings. They even had a special place where the wedding could take place somewhat near the putting green. After the ceremony guests would retire to the clubhouse for the post-wedding celebration.
On those occasions I would be dressed in casual clothes working on my putting game. I would look over at the wedding party. I would thank my lucky stars that I wasn't part of that wedding and that I was practicing golf. They couldn't have paid me any money to be part of the wedding even as a guest. I was so thankful for my casual lifestyle.
I bring up these points as a metaphor. For the first six days of this trip I saw racing at our nation's local county fairs. That was the equivalent of being casually dressed and strolling around the putting green for an hour or two.
Today's street course was metaphorical equivalent of being involved in a wedding. I didn't really want to be there. I knew it wasn't going to be any fun. It was hot and humid and simply a place that if I were not a trackchaser I wouldn't come close to attending for any reason whatsoever. Give me a good race or any race for that matter at a county fair and it gets my attention hands down over watching a street course event.
This has been a very successful week. I landed in Nashville, Tennessee last Monday morning. That meant I had seven full days on the ground to see as many tracks as I could. I ended up seeing racing at seven different fairgrounds and the IndyCar race in Toronto. That gave me eight new tracks in my lifetime total of race tracks seen. That total now stands at 2,468.
I had to do a little driving to accomplish this feat. I rented two Toyota Camrys during the adventure and drove them in total a little bit more than 3,400 miles. Even for me that's a lot of driving in a single week.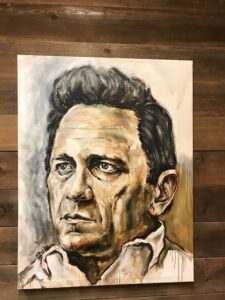 Despite all that driving I had time for three entertaining and highly recommended trackchasing tourist attractions. I started with the Lane Motor Museum. Then I moved onto the Johnny Cash Museum and finally the next day to the Country and Western Hall of Fame and Museum. All of the attractions were in Nashville.
If all goes well I hope to get home tomorrow, Monday. Then Thursday afternoon Carol and I will head out for a long awaited return trip to eastern Canada. If that trip goes as planned Carol and I will end up being able to say we have seen a race in every one of the 10 Canadian provinces. There are no guarantees about the weather so we'll just play it by ear.
Good afternoon from Toronto, Ontario, Canada.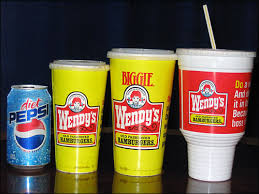 P.S. I would like to thank all of the fast food operators who provide sturdy plastic cups. When one drives more than 3,400 miles in a single week those cups can be a lifesaver. Follow?
MONDAY
The objective today with simple. I needed to get home. I needed to get home because in less than 72 hours Carol and I would be leaving for a two-week trip. Sometimes I have to rush home like this in order to be on time to leave home!
I slept in just a little bit later than normal. I hadn't gotten all that much sleep on this trip. Nevertheless, I caught a non-stop jet airplane from Detroit to Los Angeles in the early afternoon.
My assigned seat on the airplane was in the very last row at the window in a seat did not recline. Probably the only worst seat in the entire plane would be in the same row but a middle seat.
Sometimes when the outlook looks the bleakest good things happen. Today the middle seat was vacant. That was a good thing. Then a fellow sat down in the aisle seat who would soon become my friend.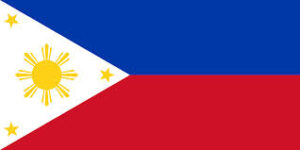 This fellow was a pilot for a major airline. He lives in the Philippines and is based for his flying job in Anchorage, Alaska. He grew up in Iowa. That's a strange combination of geographical circumstances isn't it?
Today's flight time would be nearly 5 hours. I chatted with this gentleman for the entire five hours! We swapped our travel stories and lots of other more intimate tales. I run into passengers like this about once or maybe twice year. When I do I know I've had a lucky day.
I was home in time for dinner with Trackchasing's First Mother. She has been planning for her upcoming trip and had all of her clothes laid out on the bedroom floor. She plans like that. I don't exactly do it that way. If you told me I had to leave the house in 10 minutes for London I could do it. Of course I can only do some of the things that I can do because of Trackchasing's First Mother.
The next time you hear from me it will be from outside of the United States. Well, when I think about it I guess I was outside of the United States when you heard from me this time!
Randy Lewis – 80 countries – 2,468 tracks.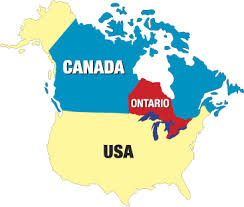 Ontario
The Yours to Discover province
This afternoon I saw racing at my 68th lifetime track in the Your to Discover province, yes, the Your to Discover province. I've seen racing at more tracks in Ontario than any other of the Canadian provinces.
Thanks for reading about my trackchasing,
Randy Lewis
World's #1 Trackchaser
Peoria Old Timers Racing Club (P.O.R.C.) Hall of Fame Member
Ontario sayings: "What are your plans for May Two-Four?"
The Victoria Day long weekend is called "May Two-Four"—ostensibly because May 24 is actually Victoria's birthday, but really because it marks the start of the summer beer drinking season. (You'll likely be drinking a two-four over the weekend.)
QUICK FACTS
LIFETIME TRACKCHASER COMPARISONS 
The threemost important trackchasing comparisons to me are:
Total lifetime tracks seen
Total "trackchasing countries" seen
Lifetime National Geographic Diversity results
Total Lifetime Tracks
There are no trackchasers currently within 655 tracks of my lifetime total.  Don't blame me.
Randy Lewis, San Clemente, California – 2,468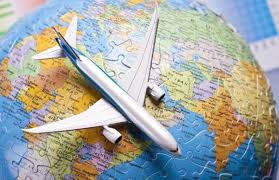 Total Trackchasing Countries
There are no trackchasers currently within 25 countries of my lifetime total. 
Randy Lewis, San Clemente, California – 80
Current lifetime National Geographic Diversity results
Randy Lewis, San Clemente, California – 4.14
That's all folks!  Official end of the RLR – Randy Lewis Racing Trackchaser Report
Click on the link below to see the video production from the racing action today.
Click on the link below for a photo album from today's trackchasing day.  You can view the album slide by slide or click on the "slide show" icon for a self-guided tour of today's trackchasing adventure.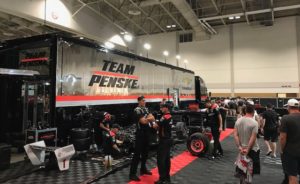 A day in the Streets of Toronto!