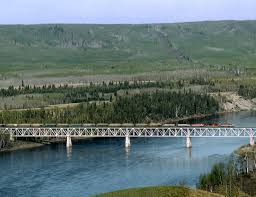 Greetings from Taylor, British Columbia, Canada 
.
.
From the travels and adventures of the 
"World's #1 Trackchaser"
.
.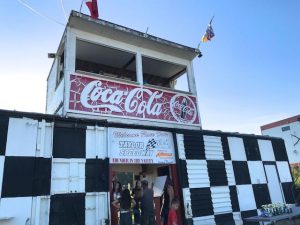 Taylor Speedway
Dirt oval
 Lifetime Track #2,477
The EventVideo PlusPhotos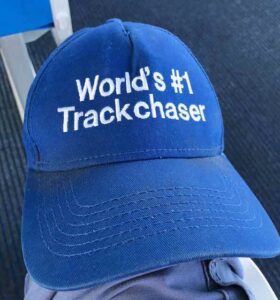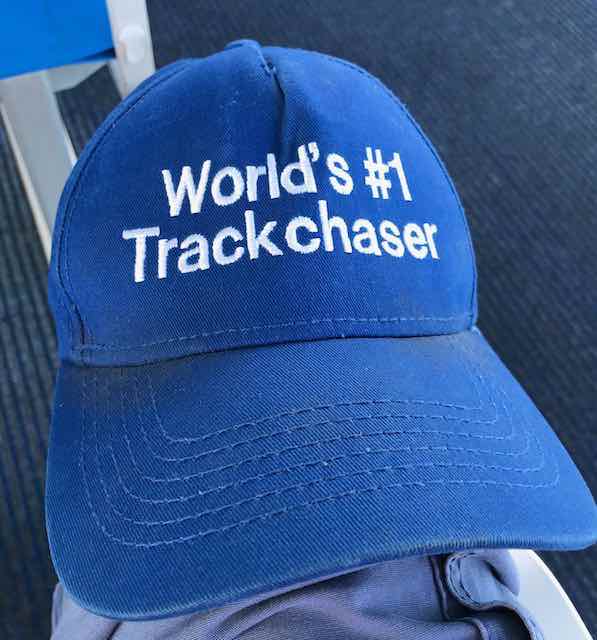 THE EVENT
I am a "trackchaser". So, what the heck is that? I get that question from racing and non-racing people all the time. This is a difficult question to answer. Why? Because after I do my best to respond people still say, "I've never heard of such a thing"!
Here's my best explanation.
Trackchasing is a three-pronged hobby. I'm a racing fan. I love to travel. I love to analyze opportunities to get the most out of everything while saving time and money.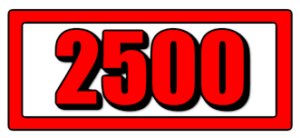 Trackchasing fills the need for all of the above. The racing part of my trackchasing has me trying to see wheel to wheel auto racing at as many different racetracks as I can all over the world. Yes, all over the world. So far things are going pretty well. I've seen racing at nearly 2,500 tracks in 80 countries. As a matter of fact, I've seen racing at more tracks than anyone else in the world.
Equally important to me are the things I get to see and experience over the "long and dusty trackchasing trail". I call these adventures "Trackchasing Tourist Attractions". You won't want to miss my "Trackchasing Tourist Attractions" page. Here's the link:  Trackchasing Tourist Attractions or my "Sports Spectating Resume" page, Sports Spectating Resume on my website at www.randylewis.org.
I live in southern California. Most of the racetracks in the U.S. are located well over 1,000 miles from where I live. As a matter of fact, my average trip covers 5,000 miles and more. I take 35-40 of those trips each season. In any given year I will travel well over 200,000 miles, rent more than 50 cars, and stay in more than 150 hotel rooms.
I get the chance to meet people all over the world. With trips to 80 countries and counting just getting the chance to experience so many other cultures, spend times in their homes and meet their friends is a huge reward for being in this hobby. I am indebted to several of these folks for their help and friendship.
It's takes a good deal of planning to do the above and not spend my entire retirement portfolio. I enjoy the challenge, the travel and every other aspect of "trackchasing". In reality, my trackchasing hobby is a lot like being with the carnival. I breeze into town, stay a little while and then head on down the road.
Today's adventure was one more of the 2,000 trips that have taken me up, down and around the proverbial long and dusty trackchasing trail.  If you would like to see where I've been and experience those adventures here's the link: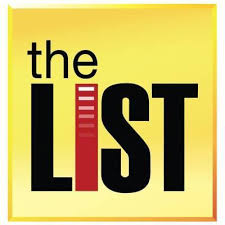 If you've got a question, comment or whatever please leave it at the bottom of this report.  It's very easy to do.  Or you can visit me on Facebook.  Thanks!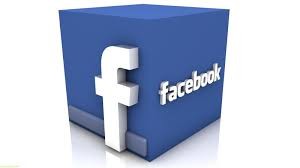 FOREWORD
Sunday, August 5, 2018.
Taylor Speedway is way up north in British Columbia. It has a 56° longitude location. Without checking, I think this may be as far north in Canada as I have ever been on a trackchasing trip.
I've had my eye on this track for years. They don't race that often. The Taylor Speedway is 829 miles north of Seattle, Washington. Most trips that would make sense for me would have me flying into Seattle and then driving north to Taylor, British Columbia.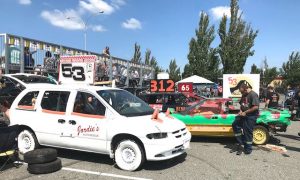 That would be a difficult drive to commit to if I were visiting only one track. That's why I was elated to find out about the figure 8 racing at the Abbotsford Agrifair in Abbotsford, BC. That event was being held on the same weekend when Taylor speedway would be racing.
This was a three-day holiday weekend in Canada. Monday was the legal holiday celebrating Victoria Day. That would make this trip very workable.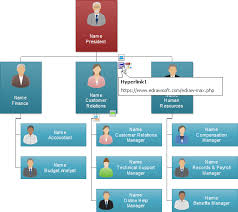 I always go to the top of the organization when I want to get information about a track that I might be visiting. I look at it like this. There's a reason these people lead their groups. That almost always means they're squared away, open to new ideas and willing to show off their organizational achievements to an outside visitor like me.
That being the case I contacted Kelly Hildebrand. He's the president of the Taylor Speedway group. We talked on the phone a couple of times before I pulled into the speedway tonight.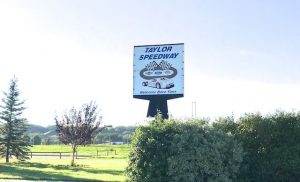 Kelly was very patient and graciously answered all the questions I had. When I got to the track, he was busy with his race director duties. Despite that he took the time to chat and give me some special opportunities for the photos and videos you'll be able to watch later.
With the Taylor Speedway being so far from my "home" airport on this trip, Seattle, everything had to be perfect for this trip to work. As you will come to find out, everything did work perfectly.
On this three-day Canadian holiday weekend, Taylor Speedway was racing at 7 p.m. on both Saturday and Sunday nights. They would come back with a 1 p.m. race on the holiday Monday.
I figured if the weather was iffy that having both Sunday and Monday as fallbacks I couldn't possibly miss seeing racing at the Taylor Speedway. As it turned out this was a spectacularly beautiful, warm, dry weekend up in British Columbia. That meant I would shoot for the races at Taylor on Sunday. That was a better option than Monday afternoon because I could get home a day earlier.
Most of the driving from Seattle up to Taylor, British Colombia was on two-lane highways. I couldn't drive much faster than 100-110 km an hour. Much of the driving was in the mountains. Most of it was on curvy roads. There wasn't much traffic but then again I couldn't make much time.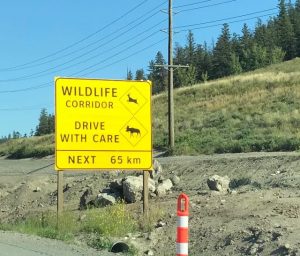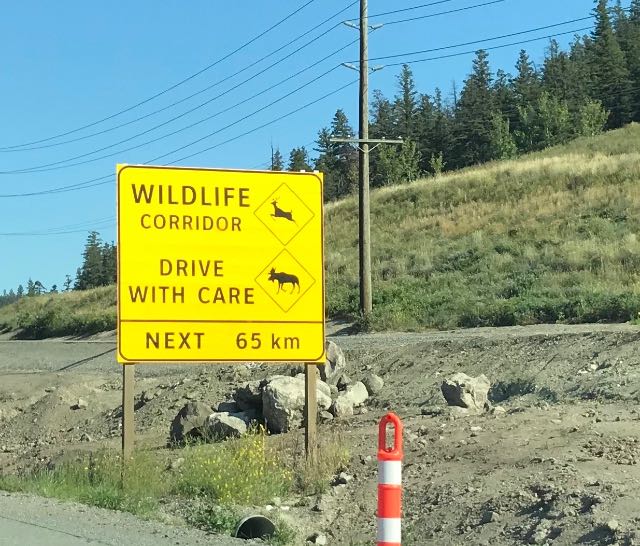 I was constantly being warned about the dangers of wild animals crossing the highway. Yes, they can be a hazard. Just a couple of years ago I ran into a possum in Iowa. That little critter tore out all of the under protection of my right front fender. Luckily, I got an auto body guy in the Ozarks to fix the entire thing for 90 bucks.
I was warned about dear, moose, bears and cows. I didn't see any of those animals. I did pass the remains of a gigantically huge black bear. He had been hit by a motor vehicle and was dead alongside the road. The bear had to be six feet tall and weighed in my estimation more than 300 pounds. He/she was huge. 
I had some problems with a mudslide on my drive up from the Abbotsford Agrifair to the Taylor Speedway. That made my drive today change from an expected seven hours to nine hours. It wasn't a deal-breaker. It was only a minor inconvenience.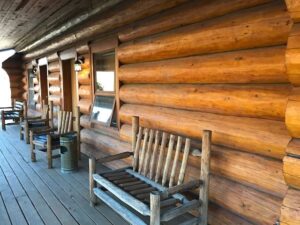 I woke up this morning in Cache Creek, British Columbia. As mentioned I was looking at a nine-hour drive up to the racetrack. Most folks would groan in desperation thinking about making a nine-hour drive.
I am not one of those folks. I have so much entertainment and information on my iPhone that I cannot get to it all done in only nine hours. I consider myself a professional driver. Each and every year I will drive rental cars 30,000-40,000 miles.
I've only had one accident. That was at night during a major snowstorm in Canada. I drove my rental car into a snowbank. At the time there appeared to be no damage. But then, about 50 km later, while trying to go up a very snowy hill in the middle of a small Quebec town the left front suspension collapsed. Overall, considering the millions of miles that I have driven with my trackchasing hobby I've got a pretty good track record.
The rest areas on these two-lane primary roads in British Columbia are not anything like you would find in the United States or the United Kingdom. By the way, I consider the United Kingdom "Welcome Centers" the best rest areas in any one given country. I love them.
On this trip the rest areas consisted of two very small "sheds" with one hole in each. They basically used the "sit and drop" method. At least the ones I stopped at had toilet paper!
Gasoline in this part of British Columbia is selling for about $1.45 Canadian per liter. That translates into about $4.15 U.S. per gallon.
The National Car Rental Racing Chrysler 300 is giving me about 30 miles per gallon. That's not bad considering I run the air conditioning 100% of the time and don't always drive 55 MPH. Nevertheless, I want to buy as little gas in Canada as possible. Canadian gas runs anywhere from a dollar to $1.50 a gallon more that the cost in the U.S. I guess that's the price of "free" healthcare.
I wanted to get a motel for tonight as far south of the Speedway as I felt comfortable driving after the races were finished. I flipped open my Booking.com smart phone app. That combined with my GPS told me that Country Squire Motor Inn would be a good location for me to stay tonight. Soon I found the Country Squire Motor Inn!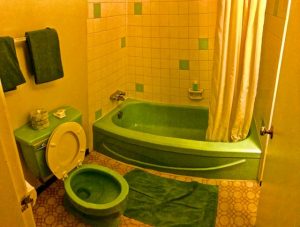 For just $89 Canadian, including tax, ($68 U.S.) I had a room in an older 1950s/60s two-story motel. The bathtub and toilet entertained me with a pleasant turquoise color. You don't see that much anymore. There's probably a reason.
Racing would begin tonight at 7 p.m. I pulled into the hotel at about 5 p.m. I still had an hour and 15 minute drive up to the racetrack. That being the case I took a short nap and got everything organized for my first ever visit to the Taylor Speedway.
Not knowing what the track's concession situation would be I elected to stop at the KFC in Fort St. John. Fort St. John is a somewhat major city located next to Taylor. I had a hankering for chicken strips and mashed potatoes and gravy. Most of that plan worked out until I noticed I was given no eating utensils for the mashed potatoes and gravy. I had to make do usually the skills I learned in Marine Corps boot camp.
THE RACING

Taylor Speedway – Taylor, British Columbia, Canada
I pulled into the Taylor Speedway at just before the 7 p.m. start time. Although I couldn't see the track surface from my parking position I could hear engines racing. They sounded like go kart engines. They were.
As I got to the top of the hill what did I see? There were caged karts racing on a small oval track located inside the bigger half-mile oval track. There were four racers. They got around the little track really well. Unfortunately, the drivers racing at the track were "age limited". Drivers 18 years of age and older were not permitted to race in this class. That meant I could not count the smaller oval track in my lifetime totals.
I proceeded to the ticket booth. Regular adult admission was $10 Canadian. However "seniors" would be paying only five dollars. The sign did not say what the age limit was for seniors. Nevertheless, I was pretty confident that I qualified for the reduced admission and handed over a five from my stash of Canadian currency.
Once inside the grounds I began to explore as I normally do. I noticed that the track had lighting. It was temporary lighting operated by generators. There were 14 portable light stations spread all around the racetrack.
Throughout the night I would talk to different individuals that were part of the Taylor Speedway. They were all very friendly and gave me lots of interesting information.
The Taylor Speedway only races four weekends a year. On most of those weekends, with this weekend being an exception, they race on both Saturday and Sunday afternoon. This weekend was the first night racing they've had since around 2007!
I was told the track opened in the early 90s. There was plenty of grandstand seating for the small crowd of about 150 people. Those in attendance sat in a wooden grandstand. Each wood plank was affixed to the ground. Most of the boards were either 2 x 12"s or 2' x 18"s.
The concession stand sold your basic racetrack fare of hamburgers, hotdogs, non-alcoholic drinks and ice cream. Prices were more than reasonable. The bathrooms were conveniently located and clean.
There were a couple of things that I found most unusual at the Taylor Speedway. I ordered a hotdog. I was asked if I wanted cheese with it. I can never turn down cheese. However, this was not a melted cheese situation as you might find with a chili cheese dog. They simply added a slice of American cheese to the hot dog and bun. In nearly 2,500 track visits I have never seen such a thing. Nevertheless, several of my Facebook friends seemed to think this type of cheese addition to a hotdog was quite normal. That made me think I might have abnormal Facebook friends.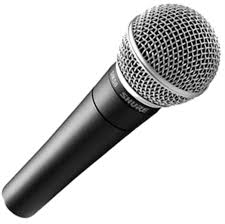 The other item that made the Taylor Speedway most unusual, and was a bigger deal to me, was that they had no announcer. It is common place for go-kart tracks and some amateur road racing not to have a commentator. However I'm not sure I've ever been to a full-scale oval track racing stock cars and/or sprint cars that didn't have an announcer. 
You commonly hear me say that I think the most important track employee, at least from a fan's point of you, is the track announcer. I inquired as to why the Taylor Speedway didn't have one.
I was given two reasons. First, they said no one really wanted to do that job. Secondly, it was mentioned that in the past the neighbors complained about the PA system from a "noise" point of view. As a dedicated race fan I can tell you the program is a lot less entertaining without an announcer.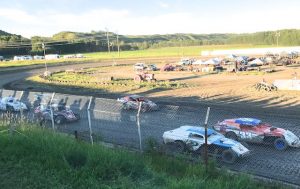 In addition to the go-kart racing, there were three classes of stock cars competing on the big track. Tonight there were five bombers. These were low-dollar stock cars. There were 10 cars in the "mini" class. Other places might call these mini stock racers. This was a class that was normally age limited with a top driving age of 16 years. However, tonight a couple of adults were racing with that group.
The headliner group was the IMCA modifieds. There were 12 of those. This weekend was a special event for the modifieds at Taylor Speedway. They normally have about eight cars in this division. Tonight a few travelers decided to drop in as well. 
I was just a little bit surprised to see and hear these racers did not compete for a financial purse. However, in a remotely populated area like Taylor, British Columbia that is not all that unusual. I did hear from a secret source that a $1,000 total purse was being offered for the modifieds. I won't reveal my source.
I am a race fan. I am not a racer although I have raced. I like track policies that favor the fan more so than those same policies that favor the racer.
I thought the yellow flag was displayed a little too quickly tonight. That's never a good idea for the fan. It IS a good idea for the racer. If a driver spins and a yellow flag is not displayed the driver must continue but now at a deficit of nearly a lap. Yellow flags are bad for fans and good for racers.
At intermission Kelly Hildebrand came over to the spectator side to meet with family and friends. At that point he and I got a chance to talk. He gave me lots of background information about the Taylor Speedway.
The track and all the land that surrounds is owned by the club. They've got about 50 members in the entire club but, as in most volunteer organizations, the real work is done by a handful or so of people. Kelly did tell me he tries to stay on the good side of city officials. I've got to believe that's a good thing for both the Taylor Speedway and the city of Taylor and surrounding areas.
Tonight each class ran two heats and a feature. The minis and the IMCA stock cars broke their classes up into groups of five and six for each of their heat race rounds. As a fan that was about one set of heats more than I would have preferred. I've never been much of a fan of heat racing. I am less of a fan of TWO heats and a feature. I absolutely abhor time trials.
It was at this point that the highlight of the night came my way. Kelly asked his flagman to let me stand on the flag stand for the start of the modified feature. What a view I had from up there. Special thanks to the flagman and his son for letting me "step into their office"! Do not miss the video!
The feature race action was the best racing of the night as is normally the case. By now it was dark. The 14 temporary light poles did a pretty good job of illuminating this track for the first time in more than a decade. They normally race during the day up here. 
The bombers and the minis ran each of their main events nonstop. There were about three caution flags for the modified future but the racing was good. The entire program wrapped up at about 10:30 p.m.
I walked out of the Taylor Speedway with a very satisfied feeling. I had just seen racing at the most northernmost location of any of the more than 150 Canadian tracks I have visited. It felt good to get that one in the books.
I'm sure the group has a lot of reasons to thank Kelly Hildebrand for the work he does as president of the club. It was probably a good idea that Kelly took the time to welcome me to his racetrack. This one report in the next year or so will be read by thousands of people. I see this as a very positive review for the Taylor Speedway. I recommend that folks take a vacation up to British Columbia and include a stop at the Taylor Speedway as part of their Canadian vacation. If they do I think folks will have a good time.
AFTER THE RACES
I was a little concerned about driving an hour and a half in the dark back from the speedway to my hotel. There were so many warning signs along the highway about wildlife. Additionally the bright lights on the Chrysler 300 are not the best. I'm happy to report I made it back to the Country Squire Motor Inn in fine shape.
It was now just a little past midnight. I set my alarm for 7:30 a.m. Tomorrow I needed to make a thirteen hour and thirty minute drive from Chetwynd to the Seattle airport. I had to return my car by no later than 8:15 a.m. on Tuesday morning. I had all day to drive 13 1/2 hours and figured I would relax along the way when I could.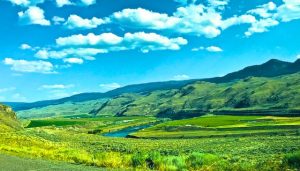 I've been on the road now for three weeks. Much of that time has been spent in Canada. I've learned the difference between their one-dollar coin and their "toonie", the two-dollar coin.
It's early August and I have now seen racing in eight of the 10 Canadian provinces. I'm only missing Quebec and Alberta. No trackchasers in the history of trackchasing, which dates back to nearly the middle of the 20th-century, has ever seen racing in every Canadian province in a single year. Maybe I will be the first. By the way, please don't miss my photo album from this trip. Tons of beautiful British Columbia scenery and more.
MONDAY
The drive back to SeaTac was long and uneventful. I did get the chance to stop at the Old Fraser River Bridge in Quesnel, B.C. They've got a racetrack in Quesnel. Maybe I'll see that bridge again! The Cornish Water Wheel is next to the bridge. It's pretty country up here in the summer.
I stopped to rest at the Britton Creek rest area. I was surprised to see they had several electric car charging stations. I grabbed a hot dog from the rest food truck and was on my way.
Crossing back into the U.S. was easy. It seems as if border crossings have gotten much quicker over the years. That's a good thing!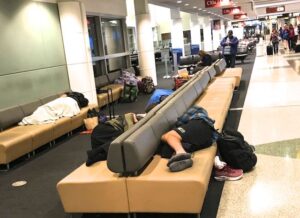 I would be sleeping overnight in the Seattle airport tonight. Lots of people do that you know. Sometimes I don't have much choice. It's really not so bad once you get used to it.
TUESDAY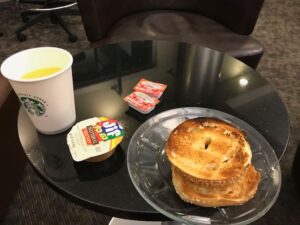 I had a quick breakfast in the Alaska Lounge. That's been a great perk and investment for me.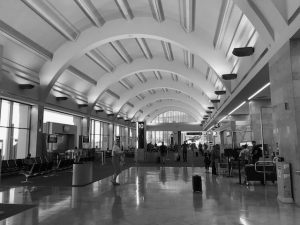 I flew back into the Orange County airport. I had to do that. Carol had been with me on the early part of this trip. When she returned to LAX she picked up my car. Without a car of my own at the airport now Carol motored up to get me at "John Wayne". My trip was finished. It was a grand success.
Randy Lewis – 80 countries – 2,477 tracks.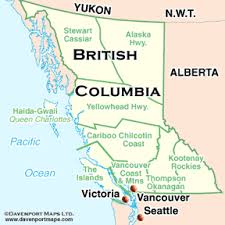 British Columbia
The "Beautiful British Columbia" province
This evening I saw racing at my 19th lifetime track in the "Beautiful British Columbia" province, yes, the "Beautiful British Columbia" province. I hold the #1 trackchasing ranking in BC.  I've seen 19 or more tracks in three different Canadian provinces.
Thanks for reading about my trackchasing,
Randy Lewis
World's #1 Trackchaser
Peoria Old Timers Racing Club (P.O.R.C.) Hall of Fame Member
British Columbia sayings: Hi-yu – refers to a party or gathering; literally means "many" (derived from Chinook jargon)
QUICK FACTS
LIFETIME TRACKCHASER COMPARISONS 
The threemost important trackchasing comparisons to me are:
Total lifetime tracks seen
Total "trackchasing countries" seen
Lifetime National Geographic Diversity results
Total Lifetime Tracks
There are no trackchasers currently within 655 tracks of my lifetime total.  Don't blame me.
Randy Lewis, San Clemente, California – 2,477
Total Trackchasing Countries
There are no trackchasers currently within 25 countries of my lifetime total. 
Randy Lewis, San Clemente, California – 80
Current lifetime National Geographic Diversity results
Randy Lewis, San Clemente, California – 4.14
That's all folks!  Official end of the RLR – Randy Lewis Racing Trackchaser Report
Click on the link below to see the video production from the racing action today.
Click on the link below for a photo album from today's trackchasing day.  You can view the album slide by slide or click on the "slide show" icon for a self-guided tour of today's trackchasing adventure.
One of the most beautiful trips of the year….British Columbia