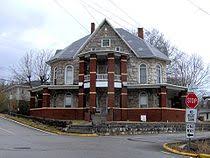 Greetings from Tazewell, Tennessee
From the travels and adventures of the 
"World's #1 Trackchaser"
The EventVideo PlusPhotos
Tazewell Speedway
Dirt oval
 Lifetime track #1,164
Reprinted with permission from my Sunday, March 18, 2007 Trackchaser Report. 
THE CLASSIC TRACKCHASER REPORT


Editor's note: This is a CLASSIC Trackchaser Report. What the heck does "Classic" mean? It's simply a Trackchaser Report that comes from my trackchasing archives. Typically these will be stories from tracks I visited five years or ten years or more ago.
For whatever reason (usually not enough time) this trackchasing adventure didn't get posted to my website when I first made the track visit. Often a classic TR will not have a video and/or photo album attached. I didn't begin producing my YouTube videos until 2009 (YouTube channel: RANLAY). I didn't begin writing a complete Trackchaser Report until I had seen about 425 tracks. This was during the 2000 trackchasing season. Photo albums were sort of hit or miss during the early years of my trackchasing. Additionally, if you see a website link know that link worked when the TR was originally written. Will it work now? Your guess is as good as mine! Nevertheless, this CLASSIC Trackchaser Report has finally bubbled to the surface and is now available for everyone to see at www.randylewis.org. I hope you enjoy it.
I AM A TRACKCHASER.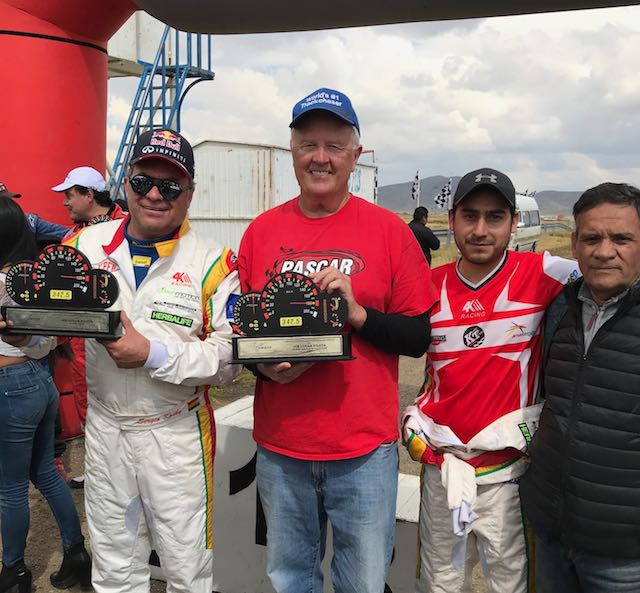 My name is Randy Lewis (above with some of my buddies from Bolivia – we're are more than a 14,000-foot elevation here!). I hail from the sleepy little village by the sea, San Clemente, California. I am a "trackchaser". I trackchase. Have you ever in your life heard of "trackchasing"? I didn't think so. 
I live in southern California. That's probably the most inconvenient location in the country for seeing tracks in the U.S. Most of the racetracks in the U.S. are located well over 1,000 miles from where I live. My average trip covers 5,000 miles and more. I take 35-40 of those trips each season. In any given year I will travel well over 200,000 miles, rent more than 50 cars, and stay in more than 150 hotel rooms. 
I get the chance to meet people from all over the world. With trackchasing trips to 85 countries and counting just getting the chance to experience so many unique cultures, spend time in the homes of my friends and meet so many people is a huge reward for being in this hobby. I am indebted to several of these folks for their help and friendship.
Once you begin researching my trip itineraries from my website, yes you will want to do that, you will be surprised. One day I'll be in Tucson, the next in maybe Tuscaloosa and the following day in Syracuse. I do that kind of thing all the time. Figuring out the logistics of a trip like that is as much fun for me as watching a figure 8 race.
Now you know a little bit about my trackchasing addiction. When you receive one of my Trackchaser Reports or find one on my website at www.randylewis.org I hope you will take the time to imagine in your mind what it took to make this trip from SoCal and understand the fun I had doing it.
There you have it. That's trackchasing…the way I do it. Do others trackchase? Absolutely. Do they share their experiences? Sorry. They don't. If you want to see the true "essence" of trackchasing you've come to the right place.
Today's adventure was one more of the 2,000 trips that have taken me up, down and around the proverbial long and dusty trackchasing trail.  If you would like to see where I've been and experience those adventures here's the link: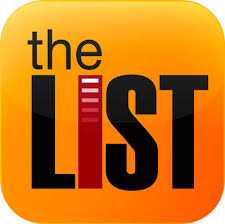 If you've got a question, comment or whatever please leave it at the bottom of this report.  It's very easy to do.  Or you can visit me on Facebook.  Thanks!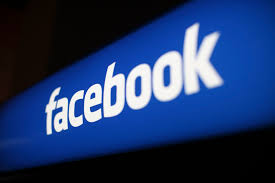 FOREWORD
Sunday, March 18, 2007.
Greetings from Tazewell, Tennessee
We woke up in Lavonia, Georgia and went to sleep in College Park, Georgia. This is what transpired today.
PEOPLE/STRATEGY/TRAVEL NEWS
The Strategy.
I was ready to deviate from my primary trackchasing strategy of trying to see as many different tracks as I possibly can.  Before we left on this trip, I asked Carol what she would like to do, trackchasing-wise today, Sunday.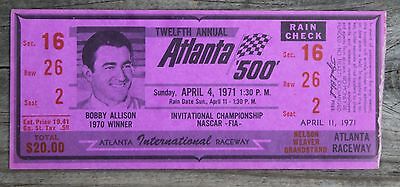 Would she like to go to the NASCAR Nextel Cup race in Atlanta or to a short track race in Tennessee?  I was secretly rooting for her to pick the NASCAR race.  She and I went to the "Atlanta 500" spring race back in 1971.  That was our first-ever NASCAR race. A.J. Foyt won. 
We were college students on spring break back then.  We still have the sunburn scars from a full day spent in the Georgia sun to remind us of our visit.  Another advantage of going to the Atlanta race was the driving time.  It would be only a 3-hour drive round-trip to Atlanta whereas the Tennessee short track would end up being about 10 hours of driving.
Which offer did she go with?  The Tennessee short track.  Carol's explanation was simple.  "I go on these trips to get new tracks."  O.K., heard, loud and clear.
The Trip
We had a pleasant Sunday morning drive up from Northern Georgia to the track in Tazewell, Tennessee.  What was unusual about this four-hour drive was that we drove through four separate states.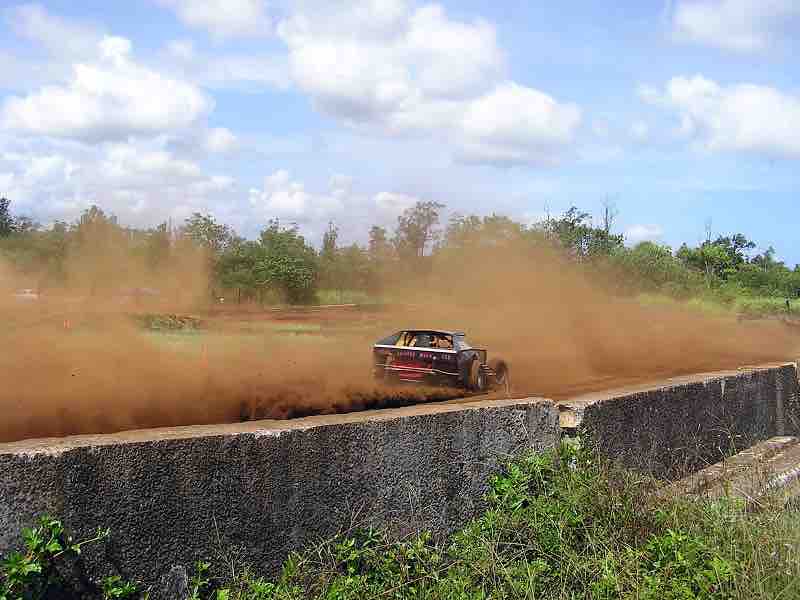 Of course, we started in Georgia.  "Dusty" our Garmin GPS unit directed us through first South Carolina and then North Carolina.  Our final stop was Tennessee.  I later came to find out the track is located only about 10 miles from Virginia!
The Tazewell Speedway is located out in the country.  When we were within five miles of the track or so, Dusty recommended a very rural looking road.  The road narrowed to just one asphalt lane that wound up and down and around the Tennessee countryside.  I told Carol that I was sure we were lost.  There was no way a racetrack could be accessed from a road like this one.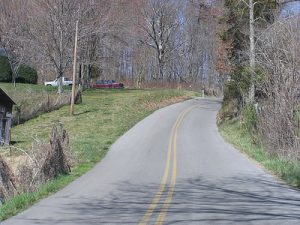 Wrong!  As if by divine intervention our one-lane road turned back into a two-lane road (albeit narrow) again and there was the Tazewell Speedway!  I was surprised.
At the end of the day, several fans left to head home.  We were among them.  When it came time to make the "phantom left" that would take us to our secret one-lane road, we turned.  Everyone else headed right.  Soon we were back on the one-lane road.  A little bit later we were on the main road back to Atlanta.  I continue to be amazed by technology.
The People
I have a number of people who help me with trackchasing when I visit their part of the country.  For that, I am most grateful.  Georgian Dale Terry was instrumental in our having a very successful Southeastern trackchasing weekend.  Thanks, Dale!
RACE TRACK STATS: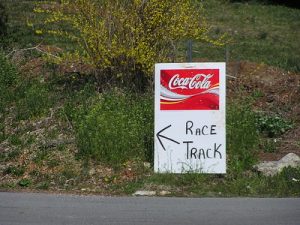 TAZEWELL SPEEDWAY, TAZEWELL, TENNESSEE – TRACK #1,164
This was my 14th track in the Volunteer state, home of the state bird, the Mockingbird.  I hold an 11th place state ranking just two tracks behind the racing Eckels who are tied for ninth place.  John Moore of Knoxville, Tennessee leads in his home state with 54 tracks.  Forty-seven worldwide trackchasers have seen at least one Tennessee track.
I gained only one NGD point (Texas) during this trip.  Of course, each track I see moves me a little closer to gaining a state ranking position.  I didn't make much NGD progress even though I saw five tracks in just three days.  I have now seen 26 tracks in 2007.  My closest NGD lifetime fellow competitor, Gordon Killian, has seen just five tracks in the same period.  Nevertheless, I have gained only 0.16 lifetime NGD points this year.  That shows how difficult it is to make any headway in this competition.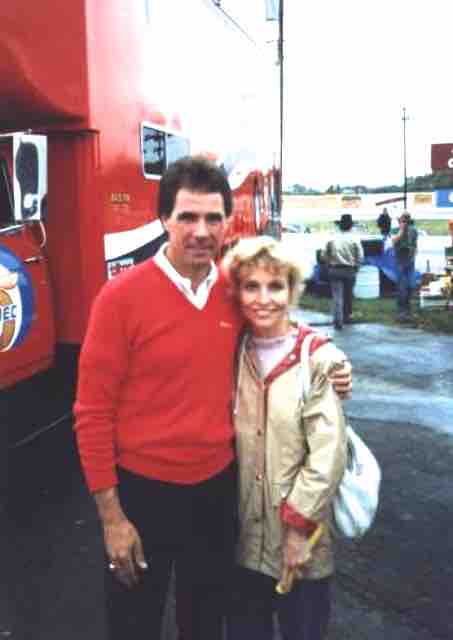 This was Carol's fourth Tennessee track to visit.  Her first-ever Tennessee track was seen back in 1982.  Back then, Carol and I saw Darrell Waltrip win a NASCAR Winston Cup race at the Nashville International Raceway.
RACE TRACK NEWS:
TAZEWELL SPEEDWAY
The Tazewell Speedway was my "signature" track in Tennessee.  Recall, I have designated one track in each state as a track I would most like to see.  The Winchester Speedway is my new signature track in the Volunteer State.
Coming into today, we had had a very successful trackchasing weekend.  On the other hand, we had had a very poor racechasing weekend.  At the World of Outlaws show in Houston, nobody passed anybody.  Our Saturday afternoon kart track had just three countable racers.  Our Saturday evening track has so many non-racing activities/delays on a very cold night that it was a major disappointment.
I know I say that I don't care too much about the racing as I go about chasing new tracks.  That is not exactly accurate.  I want to see good racing, it's just not a requirement.  On the other hand, this hobby would be dreadful if I saw bad racing all the time.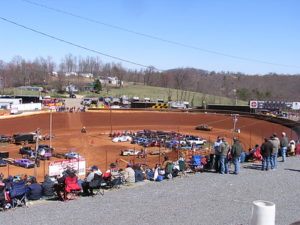 The Tazewell Speedway needed to save our racechasing weekend. Would it?  I'm going to say it did, but it looked doubtful for a while.
The website told me that "qualifying" was to begin at 2 p.m.  The track's answering machine only told us that the gates opened at 11 a.m.  That wasn't very helpful.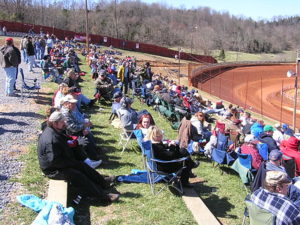 Although it was clear, it was cold.  The temperature was 41 degrees when we arrived at 2 p.m.  I was so hoping they had terrace viewing where spectators can watch the races from their cars. A few tracks in Tennessee feature that option.  Tazewell didn't!  A large crowd was on hand when we did arrive.  We had to park creatively just to get a spot.
We bought our tickets and went in to use the track's bathrooms.  They were still wheel packing the track.  Recall, it was now 2 p.m. and they were supposed to begin qualifying.  We decided to sit in the car while nothing was going on, rather than freeze like popsicles watching two old cars run around the track in a clockwise direction on the muddy track.  We spent the time listening to NCAA basketball games on the radio.
I had predetermined that our track departure time would be 6 p.m.  I figured if they started qualifying at 2 p.m. they might be finished by 3 p.m.  A 6 p.m. departure time would give us three hours of racing.  We were facing a five-hour drive back to Atlanta and a 7:15 a.m. Monday morning flight.  Leaving the track at 6 p.m. would give us five hours of sleep at tonight's motel.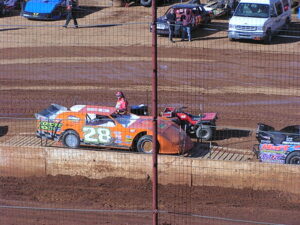 Well, they didn't start qualifying at 2 p.m. as they said they would.  They started HOT LAPPING at 3:14 p.m.  They started QUALIFYING (time trials) at 3:55 p.m.  They did not begin their first race until 4:48 p.m.  As you might imagine, I was very disappointed, especially given what we had already experienced this weekend.
The track has tons of seating.  Much of it is concrete benches attached to short poles built into the ground.  They have a scoreboard and lap counter.  This is a bright, red dirt track that became dry slick during hot laps and time trials.  They have a good P.A. and announcer. 
I will give the Tazewell Speedway some credit.  They picked up the pace after qualifying ended.  They ran 3-4 consie type races off in quick succession.  The first feature event of the day was for the 11 mini stocks.  They were scheduled for 15 laps or 15 minutes whichever came first. Fortunately, the laps came first.  The race began at 5:26 p.m. and wrapped up at 5:40 p.m.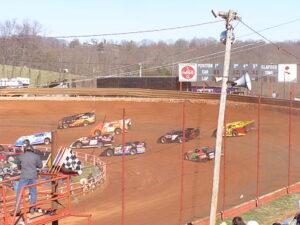 We were going to watch one more of the feature events and head for the hills.  I didn't want to do it that way, but San Clemente, California is a long way from Tazewell, Tennessee in more ways than one.  Fortunately, for us and nearly everyone else, the management elected to run the main class, the Super Late Models, next.  I had heard the Tazewell Speedway runs the main class near the beginning of the feature program.  Good for them!
The 26-car, 50-lap, $3,000 to win Super Late Model race lined up quickly.  It was fun to see so many cars on the reddish southern clay.  The track is also one of the most banked quarter-mile dirt ovals I have ever seen.  I would estimate the STRAIGHTS are banked at least 15 degrees.
There was not much passing for the top positions in the SLM main event.  The winner won from the first row.  However, the leaders were constantly passing lapped traffic.  The winner probably passed 50 cars or more during the race.  There were only three or four cautions.  That's not bad for such a large field over such a small track when the racing distance is 50 laps.  The race ended at 6:25 p.m. and we were leaving the parking lot at 6:30 p.m.  I guess we would get just 4 ½ hours of sleep tonight.
I've got to give a major shoutout to the Tazewell Speedway track management.  How many tracks with five classes run the premier classes feature second?  The answer is not very many.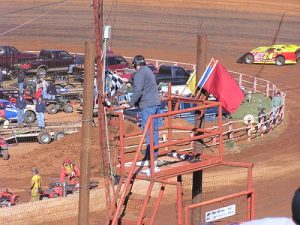 When the Super Late Model feature wrapped up, a significant number of folks headed for the exits.  They had seen what they had come to see.  It was now Sunday night and most of those fans probably have to go to work tomorrow.  Why can't more tracks do it this way?  Everyone knows that the fans that travel follow the big classes.  I have never known many people to drive 200 miles to watch the bombers or mini-stocks.  Let the people who came the furthest see their class race early in the program Mr. Promoter.  If you do, then you'll have a lot more of them come to visit.
CAROL'S COMMENTS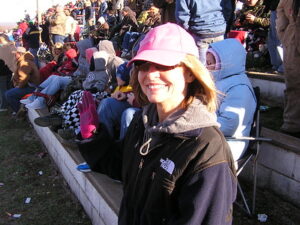 This is a down-home track.  The cars are fast.  I wasn't as cold as I thought I would be (it was 41 degrees.)   I liked the announcer.
WEATHER CONDITIONS
It was 41 degrees at 2 p.m. today at the Tazewell Speedway.  We layered up so that it didn't feel too bad.  We were fortunate that it was sunny and clear without too much wind.  The strange thing was that it was more than 80 degrees in Atlanta earlier in the week.
RENTAL CAR UPDATE:
We'll be driving the National Rental Car Racing Pontiac Grand Prix.  Carol shares the driving chores with me.  She's a very good driver.  When she drives, I write Trackchaser Reports.
Thursday total driving miles – 22
Friday total driving miles – 470
Saturday total driving miles – 210
Sunday total driving miles – 550
Monday total driving miles – 3
We covered 760 miles during this weekend's trip with the Atlanta rental car.  I paid an average fuel price of $2.32 giving me a 9.0 cent per mile fuel charge.  That's not bad considering I paid nearly a dollar more per gallon for premium fuel in San Clemente last week.  The Chevy Malibu provided a fuel mileage of 25.8 M.P.G.  The car cost 6.8 cents per mile to rent, all taxes included.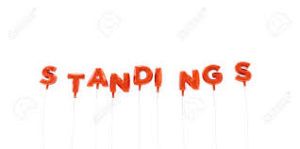 LIFETIME TRACKCHASER STANDINGS UPDATE:
These worldwide trackchasers are within 100 tracks (plus or minus) of my current trackchaser total.
Randy Lewis, San Clemente, California – 1,164
Allan Brown, Comstock Park, Michigan – 1,106 (-58)*
Guy Smith, Effort, Pennsylvania – 1,090 (-74)*
Rick Schneider – Bay Shore, New York – 1,067 (-97)*
Ed Esser, Madison, Wisconsin – 983 (-181)**
* Warning, you are within 50 tracks of being removed from this list. 
** Special exemption.
LIFETIME NATIONAL GEOGRAPHIC DIVERSITY STANDINGS
2007 (current thru 2/18/07)**
With gains in Idaho, New Mexico and Wisconsin, I have now erased a .08 deficit (four positions) and have a .06 lead (three positions.) 
Randy Lewis, San Clemente, California – 7.04
Gordon Killian, Sinking Springs, Pennsylvania – 7.10
Allan Brown, Comstock Park, Michigan – 7.55
**Until the end of the year, NGD rankings are unofficial.  Rankings are affected not only by the leader's activities but by other trackchasers impact on the leader's position. 
Other notables
These worldwide trackchasers are within 10 tracks (plus or minus) of Carol's current trackchaser total.
Carol Lewis, San Clemente, California – 309
Chris Economaki, Ridgewood, New Jersey – 302 (-7)
Gary Jacob, Turlock, California – 301 (-8)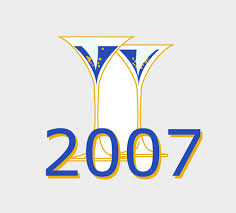 2007 TRACKCHASER STANDINGS
Randy Lewis, San Clemente, California – 26
Ed Esser, Madison, Wisconsin – 18
Mike Knappenberger, Reading, Pennsylvania – 15
Carol Lewis, San Clemente, California – 15
Guy Smith, Effort, Pennsylvania – 13
Rick Young, Maxville, Ontario, Canada – 8
Will White, Quakertown, Pennsylvania – 5
Gordon Killian, Sinking Spring, Pennsylvania – 5
Roger Ferrell, Majenica, Indiana – 5
Pam Smith, Effort, Pennsylvania – 4
Tracks have been reported by 27 different worldwide trackchasers this season.
Thanks for reading about my trackchasing,
Randy Lewis
#1 Trackchaser Living West of the Mississippi
God grant me the senility to forget the people I never liked, the good fortune to run into the ones that I do, and the eyesight to tell the difference.
CUMULATIVE TRAVEL DISTANCES:
AIRPLANE
Los Angeles, CA – New Orleans, LA – 1,668 miles
RENTAL CAR – NEW ORLEANS
Louis Armstrong International Airport – trip begins
Houston, TX – 457 miles*
George Bush International Airport – 495 miles – trip ends
* This is not always the direct mileage from the airport to the first stop as detours along the way may add to the stated mileage.
AIRPLANE
Houston, TX – Atlanta, GA – 687 miles
RENTAL CAR – ATLANTA
Hartsfield International Airport – trip begins
Chatsworth, GA – 113 miles*
Toccoa, GA – 240 miles
Tazewell, TN – 477 miles
Hartsfield International Airport – 760 miles – trip ends
AIRPLANE
Atlanta, GA – Los Angeles, CA – 1,940 miles
Total Air miles – 4,295 miles
Total auto and air miles traveled on this trip – 5,550 miles
TRACK ADMISSION PRICES:
Houston Raceway Park – $32
Houston Motorsports Park – Free
Dawgwood Speedway – $10
Toccoa Speedway – $12
Tazewell Speedway – $15
Total racetrack admissions for the trip – $69
UPCOMING TRACKCHASING PLANS
My 2007 season has gotten off to a fast start with 26 tracks seen so far in eleven states and two foreign countries.  I normally have an advantage over my fellow competitors when the summer months come around.  During June/July/August many tracks run during the week.  My retired status gives me some flexibility to see those mid-week tracks when my working fellow competitors cannot.  I figure if I can stay even or a little ahead in the 2007 rankings until June 1, then I can try to gain an advantage then.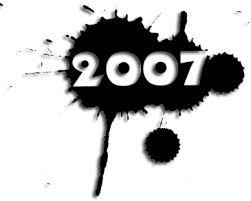 RACETRACKS VISITED IN 2007
(** not the first time to visit this track)
1,139.  Meremere Dirt Track Club, Meremere, New Zealand – January 1
1,140.  Meeanee Speedway, Hawkes Bay, New Zealand – January 1
1,141.  Top of the South Speedway, Richmond, New Zealand – January 2
1,142.  Woodford Glen Speedway, Christchurch, New Zealand – January 3
1,143.  Robertson Holden International Speedway, Palmerston North, New Zealand – January 5
1,144.  Taupo Motorsports Park, Taupo, North, New Zealand – January 6
1,145.  Waikaraka Park International Speedway, Auckland, New Zealand – January 6
1,146.  Angels Stadium of Anaheim (inner oval), Anaheim, California – January 6
1,147.  Angels Stadium of Anaheim (outer oval), Anaheim, California – January 6
1,148.  West Valley Speedway, Surprise, Arizona – January 14
1,149. Sandia Motorsports Park (road course), Albuquerque, New Mexico – January 28
1,150. Grand Prix De Lanaudiere, Lavaltrie, Quebec, Canada – February 3
1,151. Ste-Eulalie Ice Track, Eulalie, Quebec, Canada – February 4
1,152. St Guillaume, St Guillaume, Quebec, Canada – February 4
1,153. Caldwell Rodeo Arena, Caldwell, Idaho – February 10
1,154. Balsam Lake Ice Track, Balsam Lake, Wisconsin – February 18
1,155. Northeast Pond Ice Track, Milton, New Hampshire – February 24
1,156. Lee Pond Ice Track, Moultonborough, New Hampshire – February 25
1,157. New Hendry Country Speedway, Clewiston, Florida – March 3
1,158. Florida Sports Park, Naples, Florida – March 4
1,159. Honeoye Lake Ice Track – Road Course, Honeoye, New York – March 10
1,160. Houston Raceway Park, Baytown, Texas – March 16
1,161. Houston Motorsports Park, Houston, Texas – March 16
1,162. Dawgwood Speedway, Chatsworth, Georgia – March 17
1,163. Toccoa Speedway, Toccoa, Georgia – March 17
1,164. Tazewell Speedway, Tazewell, Tennessee – March 18
You might have remembrances about this track.  If so, please feel free to share your memories in the comments section below.  If you have any photos from back in the day, send them to me at Ranlay@yahoo.com.  I'll try to include them here.
That's all folks!  Official end of the RLR – Randy Lewis Racing Trackchaser Report
Click on the link below to see the video production from the racing action today.
This isn't my video but it will give you an idea of what the racing at the Tazewell Speedway looks like.
Click on the link below for a photo album from today's trackchasing day.  You can view the album slide by slide or click on the "slide show" icon for a self-guided tour of today's trackchasing adventure.
A Sunday afternoon of top-notch super late model racing…Tennessee style