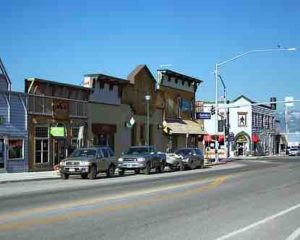 Greetings from Driggs, Idaho
.
.
From the travels and adventures of the 
"World's #1 Trackchaser"
.
.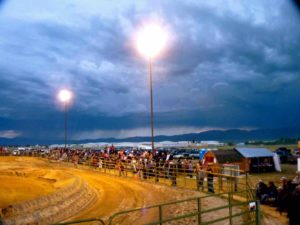 Teton County Fairgrounds
Dirt figure 8
Lifetime Track #1,697
The EventVideo PlusPhotos
THE EVENT

Today's undertaking was just one of more than 2,000 trips that have taken me up, down and around the long and dusty trackchasing trail. If you would like to see where I've been and experience those adventures here's the link:
If you've got a question, comment or whatever please leave it at the bottom of this report.  It's very easy to do.  Or you can visit me on Facebook.  Thanks!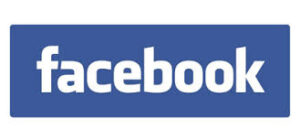 DAYS 1&2 – "30 HOURS AND BACK TO HOME" TRACKCHASING TOUR
Editor's note
All of my Trackchaser Reports are written within 24 hours or so of my seeing a racetrack. However, with the time it takes to travel from place to place I sometimes get behind in organizing and posting photos and videos. I don't worry too much about that as I'll get to as soon as I can. I will always post my reports in the exact chronological order that I saw each track.
However, there are times when I need to post current news despite the fact that I saw today's track a few weeks ago. Now is the time to do exactly that.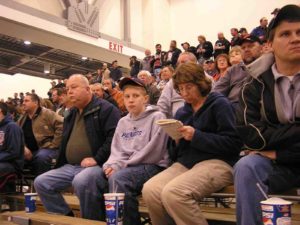 Today I learned via the Trackchaser forum of the untimely passing of friend and trackchaser John Osowski (above left). John passed away unexpectedly at the age of 62.
I first met John all the way back in 1998 at the Jacksonville Speedway. We met by happenstance. My step-dad, Bill had arrived at the track before I got there. By the time I showed up Bill had already struck up a friendship with John. I would soon meet John Osowski as well and we would correspond from time to time.
I never expected that it would be more than 1,000 tracks later until I would see John again. That was at a figure 8 race up in Highgate, Vermont in 2009. On that evening John and I sat together. We had lots to talk about. I will treasure walking out of the track with John telling me how proud he was of my trackchasing accomplishments.
Later in the year John gave me a phone call. We talked for well over an hour. He had lots of stories and opinions. We agreed to talk from time to time in the future. Unfortunately, we never did talk again.
John died at what most would consider an early age. Nevertheless, I have come to believe that God has a plan for all of us. I used to be sad with friends and family passed away. Now I look at it just a little bit differently. I am sad for their families. I am sad that I won't be able to see these friends and family on this side of the fence. However, as a believer I figure I'll catch up to John somewhere down the line. We'll get to bullshit with each other just like we did not all that long ago. In the meantime all of my family's sympathies go out to John's wife, Joellyn and the rest of the Osowski family.
TODAY'S HEADLINES
Still more great newspaper coverage …………..details in "The Plan".
Pocatello was not even a glimmer in our eye when the trip started……………..more in "The Trip".
These contacts with the local folks are the best. ………..details in "The People".
GREETINGS FROM DRIGGS, IDAHO
THE PLAN, THE TRIP, THE PEOPLE…AND A WHOLE LOT MORE
The Plan 
My trackchasing policies.
I have a fairly strict trackchasing travel policy. I rarely leave home on a plane to see just one track. I will drive from SoCal to see one track but I don't fly. Today Carol and I are boarding a plane to see just one new track. It wasn't meant to be that way but that's the way it turned out.
The plan began with the idea of seeing figure 8 racing in first Idaho and then another Far West state. Nobody in the history of trackchasing had even seen a figure 8 race in Idaho. That made it special.

Trackchasing…. a human interest story.
It was so special that the Teton County News newspaper in Driggs, Idaho, contacted me. They thought their readership would be most interested in a "human interest" story. Here was a fella who travels the world to pursue his hobby. In fact, he had gone to the ends of the earth (52 different countries) to has fun with his obsession.
Today that "fella" was visiting little Driggs, Idaho. Driggs has only 1,100 people. Despite its small size it's the county seat of Teton County. As the "county seat" it is home to the Teton County Fair. Wouldn't you know it? The Teton County Fair hosts figure 8 racing!
Never heard of trackchasing?
A few days ago I did a phone interview with Ms. Sheila Horne. Like most reporters from general interest newspapers she had never heard of trackchasing. You would be right if you asked, "What in the world were trackchasing's forefathers up too? Didn't they ever think to employ a public relations firm"?
Nevertheless, Shelia had a curiosity about what would drive the "World's #1 Trackchaser" to so many places just to see an auto race. Like the residents of Driggs, Idaho, you can find the answers to these questions.
I absolutely love bringing the news of the trackchasing hobby to the masses. I think I would have been a good evangelist. To me, the more people who know about my hobby the better.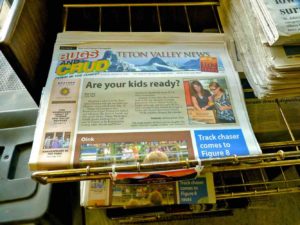 The story was wrapped up and published (online and also in print) on the Thursday before the Saturday county fair figure 8 race. It was at about this time that I learned the other figure 8 track (in an unnamed far western state) was not having their race on the next day, Sunday, as I had thought. They were racing on the same night as the folks in Driggs.  Want to read the story?  Here's the link:
Trackchaser comes to figure 8 races!
I don't always have perfect knowledge about my upcoming trips.
What was I to do? If I had known the Driggs race would be the only one I could see for the weekend, I would not have come. That's nothing against Driggs, Idaho. It's just that I am very efficient with my time and my expenses. Flying one thousand miles to see a single figure 8 race is neither efficient with either time or money.
However, I was COMMITTED to the folks in Driggs. They had already taken the time to publish my story in their newspaper. When I got to the fairgrounds they would probably want to interview me at the track. Brand new trackchasing fans in Eastern Idaho were waiting for their very first visit from a trackchaser. I couldn't let them down.
If you commit….then you are committed.
I am a very firm believer that commitments must be honored. The best way to practice that principle is to be careful with the commitments you do make. I don't like to make firm commitments in the trackchasing hobby. With my travel schedule there is just too much uncertainty. Whenever I do make a "tentative" commitment I make sure the person on the other end knows that I might not be able to make it due to circumstances beyond my control.
Despite the change in the two-day trackchasing plan I was committed to Driggs, Idaho. I would be there.
The Trip
We had no idea.
We woke up this morning in San Clemente, California. We went to bed in Pocatello, Idaho. This is what today looked like.
We would need to be flexible. If you're not flexible of both mind and body you're going to be left in the trackchasing dust. Heck, you'll be left in the world dust. My alarm came at 4:12 a.m. Carol was already up by that time. I don't know how she does it. She doesn't sleep at night.
We were flying out of the Long Beach, California airport today. It's one of six commercial airports within an hour or so of our house. The original plan was to fly to Salt Lake City, Utah. Then we would drive ten hours round-trip up to the race in Driggs, Idaho and back. This was my twentieth trackchasing trip of the year. All twenty have started with an airplane ride. I don't have a single driving trip yet for 2011.
All nineteen of my previous trips had emanated from either the Los Angeles International Airport (LAX) or the John Wayne Santa Ana Airport (SNA). Why did we pick Long Beach to fly from this morning?
Actually several of our "hometown" airports could get us to Salt Lake today. There are always plenty of seats available on a Saturday. However, getting back home on Sunday was going to be tight. Long Beach offered us our best chance although it would still be a "50/50 deal".
We were visited with a new, better idea.
We flew first class over to Salt Lake. When we landed I came up with a new, better idea. What if we could fly from Salt Lake to somewhere closer to the track's location in Driggs? It was a five-hour one-way drive from Salt Lake to Driggs. However, it was only a two-hour drive from Pocatello, Idaho to Driggs. If we could fly into Pocatello from SLC we could save SIX hours of driving round-trip.
Some folks measure their gas expense as a "cost per gallon" or on a "miles per gallon" basis. I do it differently. I know that it costs me about $10 U.S. per HOUR to drive. If I can save six hours of driving that's a sixty-dollar savings.
Travel is more difficult in smaller markets.
The flights from Salt Lake up to Pocatello were open. Now I just needed a rental car in Pocatello. Pocatello is a "small" market. That means they don't have much in the way of travel services.
The entire airport is serviced by just ONE airline, Delta. Delta flies four Brasilia 120s into Pocatello each day. Those planes have a capacity of 29 passengers. That means, if each plane flies full each day (they don't) the airport would receive only 116 passengers per day. I'll bet they have a staff of twenty or more TSA agents in total. I'll also bet the U.S. government PAYS Delta to maintain service here. To top it off, they have a beautiful new airport in Pocatello. Again I'm guessing this was paid for by the government.
My primary rental car sponsor is the National Rental Car Company. They give me great rates, pick of any car on the lot and FREE days. They are a great sponsor. However, National doesn't operate in Pocatello.

Hertz to the rescue.
Only Hertz and Avis rent cars here. I'm a member of the Hertz #1 Club. That along with my iPhone app, "Kayak" soon secured us a rental car in Idaho. First, they wanted to limit us to just 150 miles for the day. We would be driving more than 250 miles. Each "extra" mile over the 150-mile limit would cost us 17 cents per mile. My retirement savings couldn't handle that. I agreed to pay $13 more per day for "unlimited miles". That was a good deal. We wouldn't have to miss the Idaho scenery watching the odometer this way.
Carol needed a nice place to stay.
Next up was getting a hotel. I don't like to put Carol in a Motel 6, especially when I'm staying in a Marriott (ba-da-bing!). Of course, we stay in the SAME hotel. It's part of the marriage contract.
I did check out a Motel 6 for "default" pricing. The charge was $55 U.S. With that information I went "hotel shopping" first with Biddingfortravel.com and then Priceline.com. Getting good information from BFT on a small market like Pocatello was difficult. Then Priceline offered only one "bidding area". This was going to be challenging.
Nevertheless, my bid of fifty dollars for the Best Western Cottontree Inn in Pocatello was accepted. Their best rate for our king-bedded room was $94 for anyone making a hotel reservation directly with them. That was a nice savings for us. Additionally, they offered free Wi-Fi and a hot breakfast of bacon and eggs in the room rate. We got the Best Western at a good price compared to what others were paying. The value we got from the Best Western was a nice "bump" compared to what a Motel 6 experience would have offered.
Frequent readers see me writing about these travel values all the time. To me, it's as much of a game as anything else. I can shop easily and fast with the technology at my disposal. With my travel schedule I would estimate I save more than $1,000 per month doing this.
POSTSCRIPT
It would be very difficult getting home.
We had a somewhat challenging time getting home. In hindsight it was not a good idea to make this trip for just one track. Our experience with Idaho, the people and the racing was fantastic. However, the logistics of the travel was both expensive and a hassle.
All was going well when our Brasilia 120 touched down in Salt Lake City from Pocatello at about 10 a.m. Sunday morning. However, I know that trying to fly standby on Sunday afternoon/evening in the summer is fraught with minefields.
Since our airline sponsorship program began back in September, 2006 Carol and I have flown on 865 flights. We have missed our "same day destination" just four times. You all know how crowded flights have been since "9/11". When airline traffic dropped off so dramatically after "9/11" the airlines cut flights a significant amount. One of my most significant trackchasing accomplishments is to have flown standby this many time with so few "misses".
This trip tonight almost became the fifth miss! Our car was parked at the Long Beach airport (LGB). I don't have an airport parking sponsorship at LGB as I do at LAX and the John Wayne Orange County Airport. I've become accustomed to paying little or nothing for airport parking. A few years ago, parking at Long Beach was three dollars per day. They opened a huge new parking garage their last month. Now the cheapest airport parking at Long Beach is $17 per day. I didn't like it, but it was the best option for parking.
The three remaining flights from Salt Lake to Long Beach had filled up fast. Recall, the ORIGINAL plan was to see another figure 8 race in an unnamed (for security purposes) state tonight, Sunday. That would have had us coming home on Monday. Mondays are much better standby flying days than Sundays!
I began to wear out my batteries.
When Long Beach looked "bad" I began to wear out the batteries on my iPhone and MacBook Pro. The Salt Lake City airport has some of the sorriest Wi-Fi service of any airport that offers "free" airport Wi-Fi. Someone told me long ago, "don't give away free BAD product. The customer remembers that longer than if they had paid regular price."
From 10 a.m. until 8 p.m. I checked our options and then I checked them some more. I looked into flying to these cities: Phoenix, Tucson, Reno, LAX, San Diego, Fresno, Oakland, San Francisco, San Jose, Dallas, Orange County and Burbank (BUR). With Burbank we struck gold!
Thank goodness for misdirects.
On nearly the last flight of the night, at 8:15 p.m. we found a flight that had space for us flying from Salt Lake to Burbank. It seems that six passengers scheduled for that flight would be "misconnecting". That means their flight into Salt Lake would not arrive in time to make their connection to Burbank. Their misfortune was our good fortune. If we didn't make this Burbank flight then we would have to get a hotel in Salt Lake City and try again tomorrow.
Carol was very accommodating with our travel difficulties. I kept reminding her that I was actually getting her home "a day early" since the Sunday night track had canceled. Yes, it was like our congressmen saying they were cutting spending while the deficit was increasing.
We were in Burbank, but where was our car?
Of course, flying into Burbank while our car was parked at the Long Beach airport created another "opportunity". How would we get from BUR to LGB? By the way, did you know that the Burbank airport is actually the "Bob Hope Airport". They've been serving air travelers there since 1930.
My primary rental car sponsor, National Rental Car, came through with an outstanding one-way rental rate at the last minute. Those guys are great.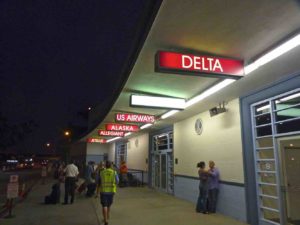 You wouldn't believe both the Bob Hope Burbank airport (above) and the Long Beach airport. They are either "dumps" or "national landmarks" depending upon your point of view. The Pocatello Regional Airport is MILES and MILES ahead of these two places. The National Rental Car agent in Long Beach told me the airport can't be replaced because it IS a national landmark!
We were dragging a little bit after spending our entire Sunday in the Salt Lake City airport. However, a round-trip ticket from SoCal to Pocatello, Idaho goes for about $430 per person. Trust me, we paid a lot less, a lot less. However, there is something I call the "price of free". Actually, I wouldn't want to do it any other way!
Soon we had our rental car in Burbank. We made the drive from Burbank to Long Beach in about 45 minutes. Then we returned the rental car and picked up the Carol Lewis owned and Life of Virginia sponsored Lexus LS 430 from the brand spanking new Long Beach parking garage. It would normally be a 45-minute drive back home.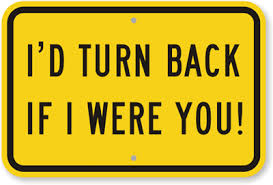 Are we going the WRONG way?
After the car was loaded we headed out onto the San Diego Freeway. Traffic was heavier than might be expected for a Sunday night at 11 p.m. However, traffic up toward Los Angeles is always heavy but flowing.
We were driving along in silence. That was until about 20 minutes into the drive. "Are we going the WRONG way" Trackchasing's First Mother asked? At this point I awoke from a sound sleep and looked at the next road sign. It read "LAX". If you're not from SoCal you need to know that an "LAX" sign meant we WERE going in the wrong direction. I guess this proves how dependent I am on "Garth" our friendly GPS buddy. At the time of this "misstep" I wasn't using Garth since I know my way around Los Angeles (famous last words). We had gone at least 20 minutes out of our way, which meant ANOTHER twenty minutes just to get back to where we started from in Long Beach.
We were headed northbound in the wrong direction. We needed to get going southbound but the six lanes headed south were in bumper-to-bumper gridlock and it was nearly midnight on Sunday night! This meant we would have to get on the "TEN" freeway, one of the busiest in the world as the best alternative route.
Let's get something to eat. Are you kidding me….here?
Now our estimated arrival time back home into the sunny (but not at night) seaside village of San Clemente would be nearly 1 a.m. About this time, Carol suggested we stop for something to eat. There were two things that made this request most unusual.
First, she never asks for food. That's one of the reasons I take her on these trips. She doesn't eat much! She does go to the gym six days a week (trackchasing schedule permitting) for both aerobics and weightlifting. I can truthfully say that I do not personally know any other woman, at any age that is in as good a shape as Carol. That's a pretty amazing statement.
The other "problem" with this request was that we were in one of the worst areas of Los Angeles to be stopping at midnight. This was "just up the street" from the heart of the Rodney King riots. Pale skinned people driving Lexus' were like a pet rabbit looking into the eyes of a coyote. I don't make up reality, I just describe it. Don't kill the messenger. You read these reports because you know you get the unvarnished truth.
Nevertheless, we asked Garth to guide us at this point. We wanted an In N Out Burger place but settled for a McDonalds when it popped up. We got our food and drove back onto the freeway as fast as we could.
I do this to 'collect experiences'.
At a moment or two after midnight we pulled into the driveway. This trip had NOT been about racing. It had been about "collecting experiences" We did just that. That's why you will find me out on the road just as soon as I can get rested up!
The People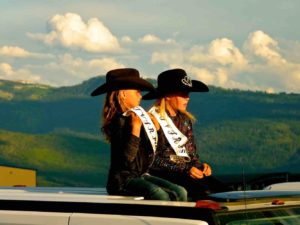 Just nice folks up this way.
The people in this part of the world are just nice folks. I find that to be the case in rural areas all around the country. Granted they don't have as many things to do in their living areas. They don't have the options that major metro spaces provide. Does that make them "nicer"? I don't know. Maybe.
Earlier in the week the Teton Valley News newspaper had contacted me about doing an interview about my trackchasing hobby. They publish on a weekly basis, each Thursday.
Just one stop for a soda and snack…….
When Carol and I arrived into Driggs we stopped at a convenience store to get a soda and snack. O.K……………….we REALLY stopped here to get a copy of the local newspaper. O.K………………we REALLY stopped here to get FOUR copies of the paper.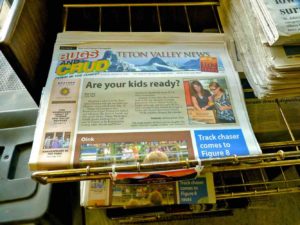 We wanted to see if "our story" had been published. It had! The story's title screamed off the front page with a bright blue background, "Track chaser comes to Figure 8 races". They even had a fantastic graphic. It featured an "8" with a series of maps making up the "8". That was creative!
Newspaper reporter, Rachael Horne did a great job with the trackchasing story. I've had about one hundred of them written about my hobby. Carol labeled the coverage as one of the best we have ever received.
The article was carried over from the front page into the middle of the paper. There the story continued even offering a picture of me from one of my past track visits.
This hobby of mine is about collecting experiences.
The story focused on a new theme that covers what I've been doing for a very long time. I'm not really "collecting racetracks", I'm "collecting experiences". I got this descriptor from our son, J.J.
J.J. is a captain for a regional commercial airlines. When he's not working he travels the world. My passport looks like it's been taking steroids with 48 additional pages added. J.J.'s is that big or more. He probably takes a major international trip every month.
Learning from your kids….it's the best.
One day J.J. and I were talking about material things. He mentioned that "buying" travel experiences is really the same as getting a new car, a set of golf clubs or a brand new suit. I began to think about it. He was right. The memories from a vacation are just as valuable as any "hard good" one might acquire. I had never named it before but I had been "collecting travel experiences" forever.
It was time for Carol's 'at the track' interview.
After we had been at the track for a few minutes, the track announcers mentioned my name. One announcer was in the tower and the other had a remote microphone on the track. At that moment the track was being watered. They took this break to seek me out.
There might have been a crowd of 300 people spread across several sets of low-rise bleachers. I was asked to identify myself. Soon one of the announcers was calling me down to the front of our grandstand. He was part of a two-man comedy team all night. I've been to my share of comedy clubs. A spectator can never compete with a professional.
I knew it would be best to play the "straight man". He asked me what I liked best about figure 8 racing in this part of the world. I told him I really enjoyed the "Lemans" start where each driver ran to his car and then drove off at the nearby Jackson, Wyoming figure 8 races.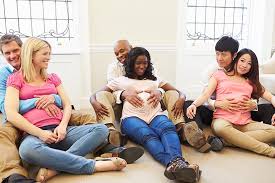 The Lamaze birthing technique revisited at a county fair figure 8 race!
He then took that statement and went off on a "Lamaze" birthing technique routine! The crowd enjoyed that one. We finished talking and I mentioned that Carol was with me. "Where is she", the announcer asked. Truth be told she was in the top of the grandstand filming the entire encounter.
Soon the track announcer was making his way to the top row of the grandstand for a "Carol visit". This was not Carol's first track interview. Everything went well and the crowd seemed to enjoy the fact that two Californians had come a long way to visit beautiful Driggs, Idaho.
That's a lot of hay.
After these interviews, several folks in our grandstand came up to say hi. One local rancher sat down beside me to talk. He handled 300 head of cattle, grew hay for other ranchers and built farm buildings. He told me that it takes three tons of hay to feed one cow over the winter! It was great meeting these folks. There are so many benefits that come our way when people at the track know what we're doing and why we're here.
RACE REVIEW
TETON VALLEY COUNTY FAIRGROUNDS – DRIGGS, IDAHO
It was just plain entertaining.
Tonight's racing program met its #1 objective. It was entertaining. Isn't that why "fans sit in the stands"? They came out for an evening of entertainment.
The program started on time at 7 p.m. They began with the county fair queens and princesses parading around the figure 8 track in a pickup truck during the national anthem. It doesn't get much more American than that.
Let's not kid ourselves…people vote with their feet.
I commonly say that "people vote with their feet". Here's what I mean by that. People may tell you "one thing or another". However, it's what they DO that really counts. What's this got to do with the opening of tonight's figure 8 races?
After the national anthem the announcer went on to thank our military for keeping us free. Yes, we live in the "home of the brave and the land of the free". People all over the world "vote with their feet". People are clamoring to get into the U.S.A. I don't see a big rush of folks seeking residence from the outside into China, Mexico or …..Belgium. We have the best country!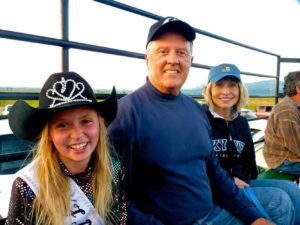 We were seated next to royalty.
This was the last night of the fair. There was no carnival here. However, livestock showing and judging had been done all week. We sat next to one of the fair "princesses". She was a very outgoing 12-year old who could easily explain what it took to achieve her position.
……and cowboys!
Tonight's figure 8 races were contested in a rodeo arena. Folks, this is "cowboy country". The racing surface, normally used with livestock, was very sandy. It was a great racing surface. It allowed the cars to go fast relative to what the track's configuration would allow. It was not so muddy that cars could barely get traction like some of the Midwest venues I saw last week. The cars raced as decent speeds two-wide around the entire "8".
The announcers helped make the show.
Tonight's program was narrated by two announcers. They could have easily handled a morning radio program in a major market. They kept the crowd entertained with their "cowboy" related humor. Importantly, the P.A. system was strong so the crowd could hear everything these guys were up too.
Quality small county fair figure 8 racing.
There were about a dozen racers tonight. One fan told me the car count used to be about thirty. Yes, just about everywhere I go the car counts are way down. Maybe "short track car counts" should be added to the list of "leading economic indicators."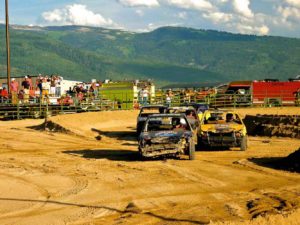 Despite having only about 12 cars most races had six or more competitors. On a shorter figure 8 track that's fine. They started with two heat races. The top two transferred into the "winner's bracket". The rest went to the, aptly named, "loser's race". Two more from the loser's race moved up to the feature. The "feature" event was followed by the last race of the night, the "jackpot" race.
The racing was intense. Drivers pushed and shoved, just like they are supposed too, toward the front. Whenever a driver got stuck in one of the "dirt berms" the race was red flagged. That was actually a good idea. The stoppage wasn't for long. Last week during my tour of the Midwest and east several races ended up having only one or two cars running at the end of the race. The rest were all disabled or stuck.
Don't miss these cowboys scaling the fence.
You won't want to miss the video of the cowboys, scaling the six foot tall cattle pen fences, from the grandstands to help push car out of their stuck position. When folks need help out in these parts, help comes a runnin'.
EDITOR'S NOTE:
Sadly I must report that the video (taken from my camera) from tonight's program was lost. There were a few clips taken with my iPhone however. Sorry! That's never happened before.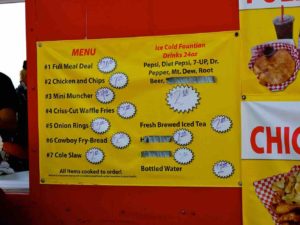 We enjoyed good 'cowboy' food.
The food was good here too. We went with some delicious cheeseburgers that were moist and huge. The highlight was the "cowboy fry bread. In New York they call it "elephant ears". So Carol could enjoy it more I smothered it in cinnamon and sugar. Then a liberal dose of raspberry jam was added. We dined on this delicacy in the privacy of our Hertz Rental Car Racing Dodge Journey. After a rocky start with this model (faulty gas cover a few weeks ago) I'm really liking the Dodge Journey. We got 23 M.P.G., a wonderful high-sitting ride and Sirius satellite radio with this rental.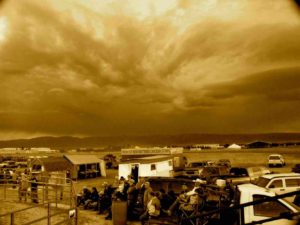 Bad weather was coming.
After the last race of the night we sought the shelter of our SUV to dine because "weather was coming in". For the last hour of the show dark blue rain clouds began building off to the west. When the winds picked up and the temperature began to drop we were glad the last race had just finished up.
At race time the ambient temperature was about 80 degrees. By the time we hit the road at a bit past 9 p.m. the temperature gauge had fallen to 55 degrees. That's how they do it in the Far West. It can be hot during the day. However, when the sun sets it will freeze you.
STATE COMPARISONS
Idaho
This evening I saw my 12th lifetime track in Idaho, the Gem state, yes the Gem state. Carol and I are the first trackchasers ever to see figure 8 racing up here. Carol and Allan Brown hold down second place in the Idaho trackchasing rankings with six tracks each.
Coming Soon – RLR – Randy Lewis Racing Exclusive Features!
Do some trackchasers carry an unfair geographical advantage?
Should foreign trackchasers be given a handicap so they can enjoy the fruits of trackchasing glory?
Thanks for reading about my trackchasing,
Randy Lewis
World's #1 Trackchaser
Idaho sayings: More Than Just Potatoes…Well Okay, We're Not, But The
Potatoes Sure Are Real Good
TRAVEL DETAILS
AIRPLANE
Long Beach, CA (LGB) – Salt Lake City, UT (SLC) – 588 miles
Salt Lake City, UT (SLC) – Pocatello, ID (PIH) – 150 miles
RENTAL CAR #1
Pocatello Regional Airport – trip begins
Teton Valley Fairgrounds – 135 miles
Pocatello Regional Airport – 265 miles – trip ends
AIRPLANE
Pocatello, ID (PIH) – Salt Lake City, UT (SLC) – 150 miles
Salt Lake City, UT (SLC) -Long Beach, CA (LGB) – 588 miles
Total air miles – 1,476 (4 flights)
Total rental car miles – 265 (1 car)
Total miles traveled on this trip – 1,711 miles
TRACK ADMISSION PRICES:
Teton County Fairgrounds – $8
Total racetrack admissions for the trip – $8
COMPARISONS
LIFETIME TRACKCHASER COMPARISONS 
There are no trackchasers currently within 200 tracks of my lifetime total.
Randy Lewis, San Clemente, California – 1,695
Guy "The Kid" Smith, Effort, Pennsylvania – 1,404
Ed Esser, Madison, Wisconsin – 1,394
Official end of the RLR – Randy Lewis Racing Trackchaser Report
Click on the link below to see the video production from the racing action today.
Click on the link below for a photo album from today's trackchasing day.  You can view the album slide by slide or click on the "slide show" icon for a self-guided tour of today's trackchasing adventure.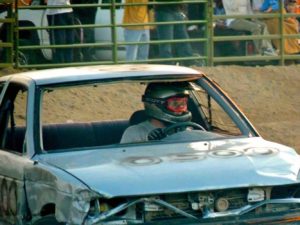 A most fun trip to Idaho….the photo album