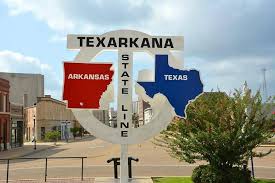 Greetings from Texarkana, Arkansas
.
.
From the travels and adventures of the 
"World's #1 Trackchaser"
.
.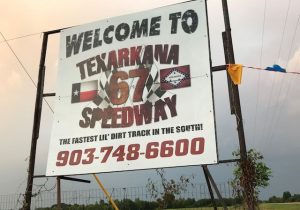 Texarkana 67 Speedway
Dirt oval
 Lifetime Track #2,448
The EventVideo PlusPhotos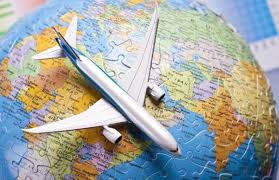 THE EVENT
I am a "trackchaser". So, what the heck is that? I get that question from racing and non-racing people all the time. This is a difficult question to answer. Why? Because after I do my best to respond people say, "I've never heard of such a thing"!
Here's my best answer.
I'm a racing fan. I love to travel. I love to analyze opportunities to get the most out of everything while saving time and money.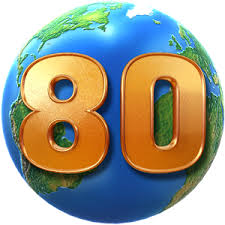 Trackchasing fills the need for all of the above. The racing part of my trackchasing has me trying to see wheel to wheel auto racing at as many different racetracks as I can all over the world. Yes, all over the world. So far things are going pretty well. I've seen racing at nearly 2,500 tracks in 80 countries. As a matter of fact, I've seen racing at more tracks than anyone else in the world.
Equally important to me are the things I get to see and experience over the "long and dusty trackchasing trail". I call these adventures "Trackchasing Tourist Attractions". You won't want to miss my "Trackchasing Tourist Attractions" page. Here's the link:  Trackchasing Tourist Attractionsor my "Sports Spectating Resume" page, Sports Spectating Resumeon my website at www.randylewis.org.
I live in southern California. Most of the racetracks in the U.S. are located well over 1,000 miles from where I live. As a matter of fact, my average trip covers 5,000 miles and more. I take 35-40 of those trips each season. In any given year I will travel well over 200,000 miles, rent more than 50 cars, and stay in more than 150 hotel rooms.
I get the chance to meet people all over the world. With trips to 80 countries and counting just getting the chance to experience so many other cultures, spend times in their homes and meet their friends is a huge reward for being in this hobby. I am indebted to several of these folks for their help and friendship.
It's takes a good deal of planning to do the above and not spend my entire retirement portfolio. I enjoy the challenge, the travel and every other aspect of "trackchasing". In reality, my trackchasing hobby is a lot like being with the carnival. I breeze into town, stay a little while and then head on down the road.
Today's adventure was one more of the 2,000 trips that have taken me up, down and around the long and dusty trackchasing trail. If you would like to see where I've been and experience those adventures here's the link: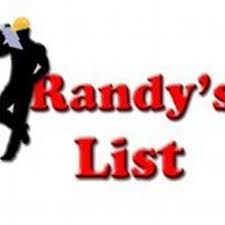 If you've got a question, comment or whatever please leave it at the bottom of this report.  It's very easy to do.  Or you can visit me on Facebook.  Thanks!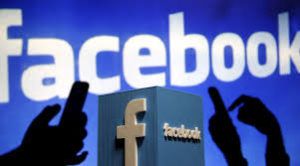 FOREWORD
Thursday, June 7, 2018.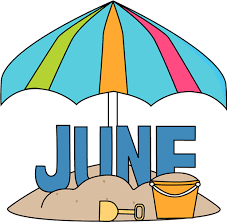 It's June. For the months of June, July and August I put the trackchasing "pedal to the metal". It is during these three months that the proverbial men are separated from the boys in the hobby of trackchasing.
I will be making a solo trip this weekend. Carol is committed to four weekends in Maui, Hawaii, several family trips, and visits to New Orleans and New York City this year. She's contracted to make a few trackchasing appearances too. For the most part these three day long-driving trips are not her cup of bubble tea.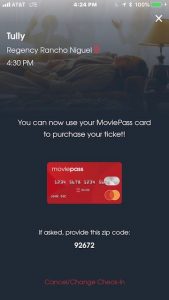 When she isn't going to come with me on a racing trip we will almost always go out the night before I leave for dinner and maybe a movie. On this evening we first caught a movie using our Movie Pass program. As long as the Movie Pass company can stay in business it's a great deal for. For $7-10 per month we can see a first run movie in any of our local cinemas every day of the month. You can't beat that deal.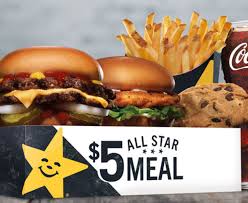 We do a lot. It doesn't cost us nearly as much money as it might for less experienced spenders. Tonight following our nearly free movie we stopped at Carl's Jr. for a quick dinner. Right now they have a special "five dollar per box" promotion going. They give you a double cheeseburger, hotdog, medium order of French fries, a chocolate cookie and a medium drink for five bucks. How can that deal be beaten? We like the food at Carl's Jr. as well.
Friday, June 8, 2018.
I would be doing a lot of flying and a lot of driving over the next three days. This morning I had a 7 a.m. scheduled flight from Los Angeles to Dallas. The driving time from our modest seaside cottage in San Clemente to the Los Angeles International Airport can range from a quick one hour to a longish two hours. I usually budget two hours. If I get there quicker that's a bonus.
I was backing out of our driveway at 3:30 a.m. By 5 a.m. I had reached LAX. I had time to stop at McDonald's for two sausage, egg and cheese McGriddles. Of course I used the McDonald's app to get those two sandwiches for the price of one.
My parking garage at LAX is about a 20-minute walk from most terminals. At a leisurely pace that covers about a mile. When I have a little extra time, like I did today, I take the long way around LAX which adds to my mileage. As you may know, I have a goal of walking at least 4 miles some five times a week for the entire year. By the time I finished walking I had covered 2.7 miles before my 7 a.m. flight was scheduled to leave.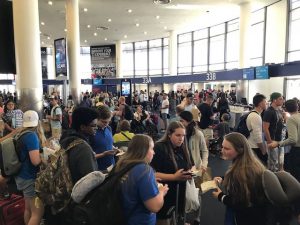 This was going to be a crazy day. The airport was a madhouse with summer just about ready to begin. To make a long story short my 7 a.m. flight was delayed until 11 a.m. I don't get flight delays very often. I certainly don't have four hour delays often. I was rewarded for my patience with a first class seat on the 11 a.m. departure.
If my flight had been on time I would have rented a cheap hotel near the DFW International Airport. That way I could sleep for two or three hours in the late afternoon and then again for five or six hours starting around midnight. With a delayed flight. my hotel plan was out the window.
As it was I landed at 4 p.m. Tonight's race time at the Texarkana 67 Speedway in Texarkana, Arkansas had the first green flag dropping at 8 p.m.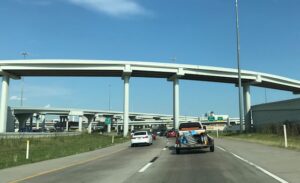 The driving distance from DFW to Texarkana, Arkansas was nearly 200 miles. The driving time, including Friday afternoon Dallas traffic, would be about 3 1/2 hours. With a comfort stop and a stop for a McDonald's Southwest grilled chicken salad I would not arrive at the track until 8:20 p.m.
My delayed flight today was surprise number one. As I approached tonight's speedway, surprise number two and surprise number three were coming my way.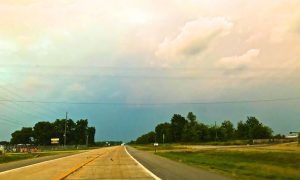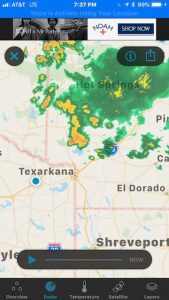 Tonight the rain forecast had been 20%. I hadn't given precipitation much thought at all. That was an oversight on my part. There was heavy rain, which showed itself as both yellow and red on my radar, north and east of Texarkana, Arkansas.
THE RACING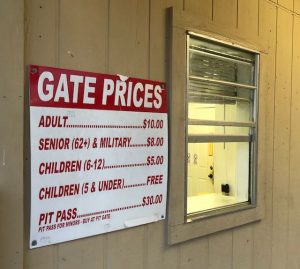 Texarkana 67 Speedway – Texarkana, Arkansas
As I got closer to the speedway I noticed that heavy rain was going to be a real possibility. The rain was so close and so heavy that as soon as I paid my eight dollar general admission fee, reduced two dollars for being aged, I took action. That's right. I took a video clip of the hobby stock heat race. That way I could prove that I had seen some actual racing even if the rain started immediately. It looked like it could pour at any moment.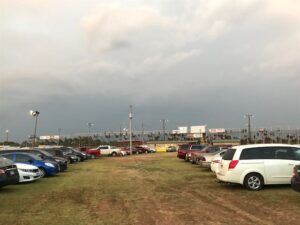 I had gotten up early, driven 65 miles to the airport, flown more than three hours to Dallas and now driven nearly 4 hours to the track. I arrived 20 minutes after the official starting time. If I had been rained out during those 20 minutes after making the commitment that I made I would have been pretty disappointed.
Ugly surprise number three came when I tried to use my computer cable lock with my MacBook Pro laptop. I always lock my computer to something secure in my rental car. Somehow the keys had been separated from that lock. That made the cable lock 100% unusable. I have no idea where the keys went!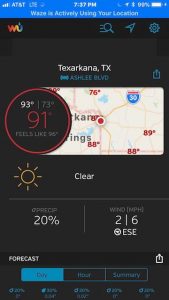 Today's high temperature was 95°. Toward the end of the racing evening the temperature had dropped to 76° with a constant 20 MPH plus wind. During the race the wind blew directly into the grandstand. Luckily, by feature time the wind has shifted a bit and wasn't blowing into the grandstand any longer.
With threatening weather the track management did a good job of moving the program right along. Since I arrived 20 minutes late I don't know for sure if they started on time but I suspect they did.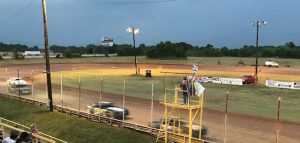 Tonight's racing program featured five classes. There were a couple of street stock type stock-car classes, two classes of modifieds and a four-cylinder mini stock division. Car counts by class ranged from 8-13. That's just about the car count I see at every dirt oval track I visit. It's rare for any individual class to have more than 13 or 14 cars nowadays.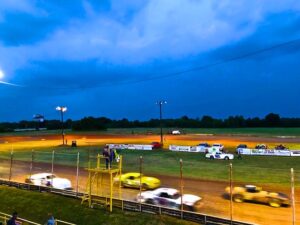 Despite such skinny car counts each racing division had two heats. I'm not a huge fan of heat races that runs only four or five cars. The heat racing on tonight's quarter-mile banked dirt oval was wrapped up by 9:15 p.m. They ran 10 heat races in about 75 minutes.
When I come to a racetrack by myself I try to sit next to someone who looks like they might be interesting to talk to. I'm pretty good at this. Tonight I sat down next to a young man who met my "profile". Was he interesting to talk with? He was.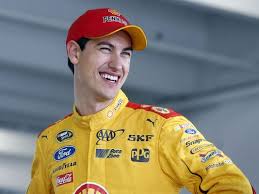 This fellow was a 21-year-old from Alabama. He had a bright and sunny disposition. He could have been Joey Logano's younger brother. That would not have surprised me in the least.
When he turned 21 he got his commercial driving license. He's been driving truck for seven months. Each week he drives about 2,500 miles. It was fun to talk to him. In a way what I do on a weekly basis has a lot in common with truck driving.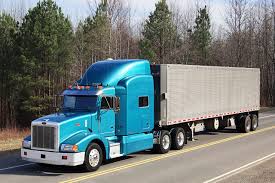 He told me he can drive a maximum of 11 hours each day. All of his driving must be done in a continuous 14-hour period. He hauls Tracker boats out of Lebanon, Missouri to their customers. He gets to go home to Alabama every other weekend. He packs his own lunch to save money. Yes, it was fun talking to this youngster who had such a positive attitude toward everything.

You're not going to want to miss the YouTube video that I produced from my visit to the Texarkana 67 Speedway. A quarter-mile dirt oval track is my most favorite configuration. Tonight's racing, especially for the "A" modifieds, was very good. If you can get a dozen competitive cars on a small dirt oval you can have some pretty good racing.
The track had two announcers tonight. I really couldn't hear them all that well over the speaker system. I didn't try any concessions because I was running late when I arrived. The grandstand was so steep I didn't want to be running up and down.
I was happy to see the "A" modified feature be the fourth feature race out of five classes. I would have been even happier if they had run that race second or third. Lots of fans left after the eight modifieds finished up.
I stayed for the last race of the night for about a dozen four-cylinder cars. The entire program was finished at 11 p.m. Taking three hours for a five-division stock car group is about the maximum amount of time I would want to invest in that type of program. Overall, I would say that tonight's program was entertaining and run effectively.
AFTER THE RACES
I don't trackchase all that often in Arkansas. First of all, they don't have that many tracks down here. Secondly, Arkansas is somewhat geographically remote to the more mainstream airports in our country. Tonight I was seeing just my 13th racetrack in the Razorback state. That ranks Arkansas 41st in the 50 states I have visited in terms of trackchasing production.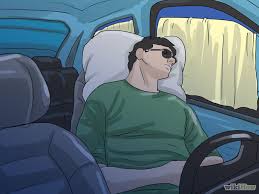 After tonight's racing, including all of the stops I would need to make for refueling, bathroom breaks etc., I wouldn't get back to the Dallas area until about 2:30 a.m. I had to be returning my car by about 7 a.m. That meant that I could get about five hours of sleep overnight in the car. I don't want to do it that way often but sometimes I don't have any choice.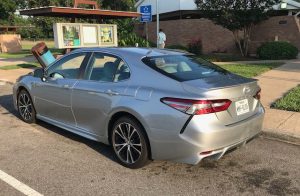 I'm driving a Toyota Camry for this one-day trip. I really like this car. I can get close to 35 miles per gallon.
There is something just a little bit strange about the Camry. I've had several of them over the past couple of months. When I put the car's acceleration in speed control the car slows down as it approaches slower traffic going in the same direction. It's almost as if I'm getting a NASCAR aero push while I'm driving on America's interstate highways! Right now I don't know how to disable that function.
This morning's delayed flight was going to put me behind the eight ball. There's a good chance I won't have time to get a hotel on either Saturday or Sunday night of this racing weekend. Now that I didn't have time for a hotel on Friday night I might go three full days without sleeping in a bed. I can't recall doing that in a long time, if ever. I'll probably be visiting a truck stop shower somewhere down the long and dusty trackchasing trail.
Good evening from Texarkana, Arkansas.
Randy Lewis – 80 countries – 2,448 tracks.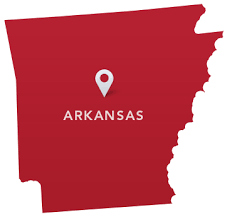 Arkansas
The Razorback state
This evening I saw racing at my 13th lifetime track in the Razorback state, yes, the Razorback state.  I hold the #3 trackchasing ranking in Arkansas.  I've seen 13 or more tracks in forty-one different states.
Thanks for reading about my trackchasing,
Randy Lewis
World's #1 Trackchaser
Peoria Old Timers Racing Club (P.O.R.C.) Hall of Fame Member
Arkansas sayings:  "My belly thinks my throat's been cut."
Translation: Friends, I appear to be so hungry that I may starve to death at any moment. I shall soon require approximately seven pounds of fried catfish.
QUICK FACTS
LIFETIME TRACKCHASER COMPARISONS 
The threemost important trackchasing comparisons to me are:
Total lifetime tracks seen
Total "trackchasing countries" seen
Lifetime National Geographic Diversity results
Total Lifetime Tracks
There are no trackchasers currently within 655 tracks of my lifetime total.  Don't blame me.
Randy Lewis, San Clemente, California – 2,448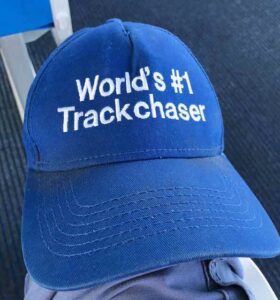 Total Trackchasing Countries
There are no trackchasers currently within 25 countries of my lifetime total. 
Randy Lewis, San Clemente, California – 80
Current lifetime National Geographic Diversity results
Randy Lewis, San Clemente, California – 4.14
That's all folks!  Official end of the RLR – Randy Lewis Racing Trackchaser Report
Click on the link below to see the video production from the racing action today.
Click on the link below for a photo album from today's trackchasing day.  You can view the album slide by slide or click on the "slide show" icon for a self-guided tour of today's trackchasing adventure.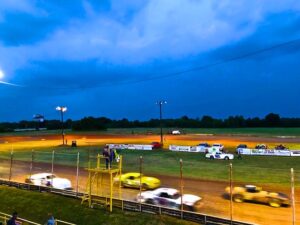 Racing from Arkansas on a hot, humid and almost rainy night