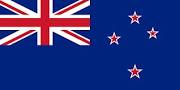 .
Greetings from Richmond, New Zealand
From the travels and adventures of the "World's #1 Trackchaser"
.
Top of the South Speedway – Lifetime Track #1,141
HighlightsThe Event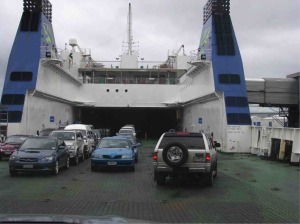 A major highlight of the day was riding the New Zealand "Interislander" ferry from the North Island to the South Island of NZ.  This was our first ever trip to the South Island.  Additionally, the Top of the South Speedway would be the first of two tracks on this trip to be seen on the South Island.  I love riding ferryboats.  I've ridden several and each has it's own unique characteristics.  The mountainous roads that took us to tonight's track were a challenge.  On the one hand the scenery was gorgeous but the driving was tough.  It rained all the way to the track.  We were VERY fortunate to see any racing here tonight at all.  As it was the entire program was rained out after just one hour of racing.  I don't understand how New Zealand and Australia (plus the U.S. and Canada) can get rained out when England rarely cancels when wet weather strikes.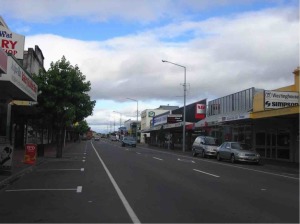 This is typical of the small New Zealand towns that we drove through so often on our trip.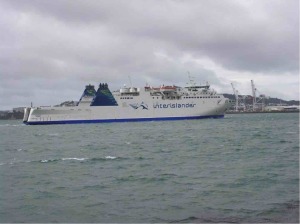 This is the ferryboat that would take us and our car from the North Island (Wellington) to the South Island (Picton) of New Zealand.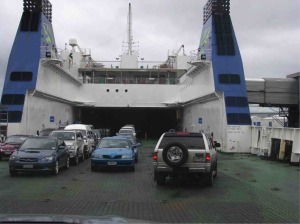 This was our view as we drove onto the ferry.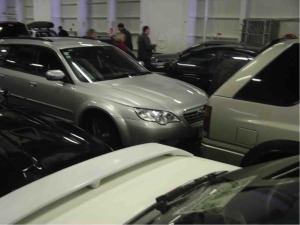 Considering how rough the seas were today, they did not allow much room between each car.  The cars were not restrained in any way, other than applying the parking brake.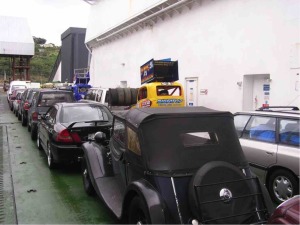 I was happy to see these two stock cars on board.  I figured I would follow them when we landed to the Top of the South Speedway.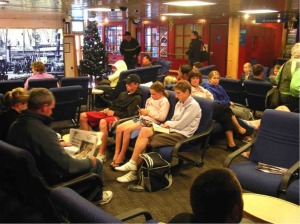 Everyone seems settled in for their post Christmas ferryboat ride to the South Island.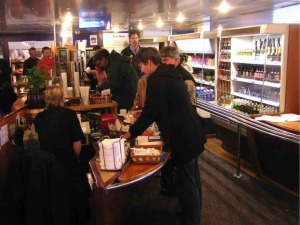 The Interislander Ferry had a number of amenities including this cafeteria.  They even had a movie theater.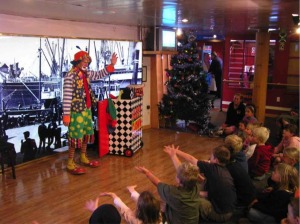 No one would want to miss "Harry the clown!"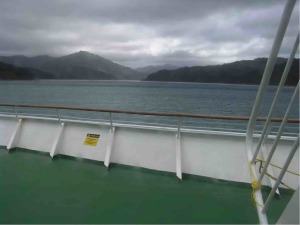 After a very rough three hour ride, we spotted land!  Even so, it was still more than 30 minutes of navigating through a narrow inlet until we reached our destination.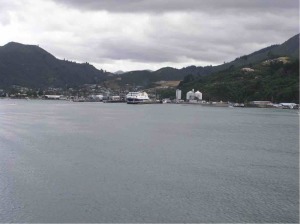 It was cloudy, but we were about ready to set foot on New Zealand's South Island for the first time ever.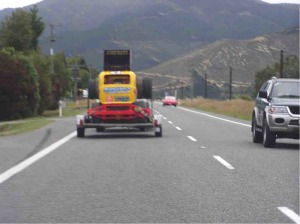 My master plan was to follow this stock car to the Top of the South Speedway.  Unfortunately, they lost me in traffic.  Fortunately, I didn't follow them since this stock car DID NOT show up at the Top of the Speedway!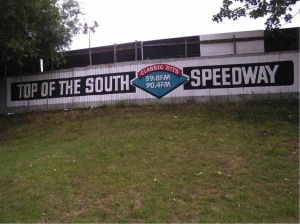 After driving through the mountains in the rain for more than 100 miles, we finally reached the Top of the South Speedway.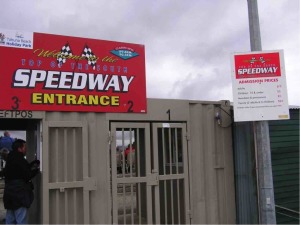 The track's entrance was located on the backstretch.  Admission was a reasonable $12NZ.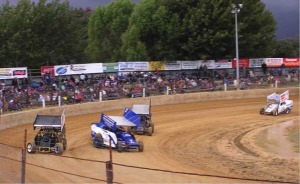 Can you tell which car is pushing and which is loose?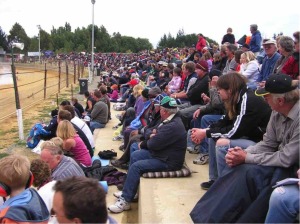 There was no shortage of fans at this track or any of the venues we visited in New Zealand.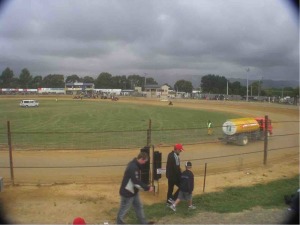 Here's the wide angle view of the track.  Note the water truck is doing its job, while the clouds threaten.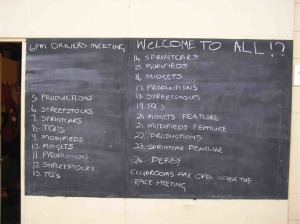 Many tracks we visited had a simple chalkboard in the pits to let the competitors know what the race order looked like.  This was a good idea.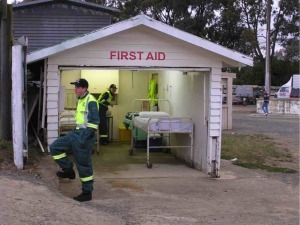 The interior of a track first aid station is a sight not often seen.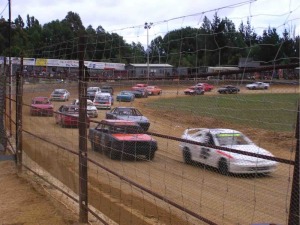 There was no shortage of cars in the heat races.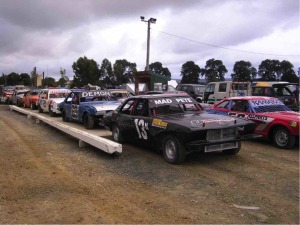 Every track we visited had the next race ready to go in the pit area.  Why can't U.S. tracks do that?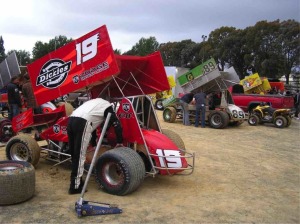 There were several different classes of sprint cars in the pits tonight.  These sprint cars looked top notch.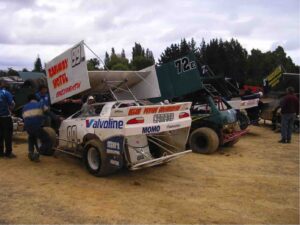 The modifieds brought some wild looking machines.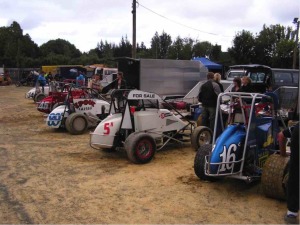 Midgets are probably the most popular open-wheeled division in New Zealand.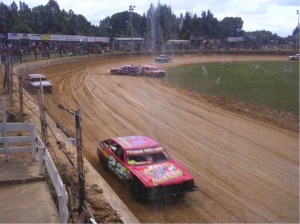 This is my view from the commentator's booth.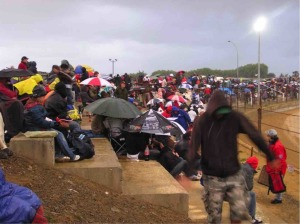 We had only been at the track for an hour when the skies opened up.  It was time for people to run for cover!  The races were soon canceled.
GREETINGS FROM HASTINGS, NEW ZEALAND (THAT'S WHERE THE DAY BEGAN)
IN MEMORIUM
I was sad to hear of the passing of Benny Parsons.  From what I could tell, Benny was the nicest of guys.  I had two very brief encounters with him. 
The first was back on March 14, 1982 at the Bristol Motor Speedway.  Darrell Waltrip had just won the race.  I was walking the NASCAR Winston Cup pits.  This was back when those pits were just like any other short track and open to everyone after the races.  I got a great picture of Benny standing by his car holding court with a large group of friends.
My most recent encounter with Benny was just a bit more than a year ago at the Martinsville Speedway in Virginia.  Here is what I wrote about that brief meeting on October 23, 2005.
"The crowds at these events are staggering.  I feared a stampede with the fans trying to walk out of the track.  While Carol and I were waiting for the crowd to thin, I had a conversation with NBC broadcaster, Benny Parsons.  All right "conversation" may be exaggerating.  Benny was leaving the grounds with a friend and walked past us.  Nobody else in the crowd seemed to recognize him.  When he passed I said, "Nice job, Benny."  He replied with a quick "Thank you" and was gone."
R.I.P.  Benny Parsons
This is the FOURTH report in a multi-part series that will detail our 17-day trackchasing and touring adventure to New Zealand and French Polynesia.  The format of this Trackchaser Report will differ from those you have been reading all season. 
Our activities will be listed chronologically by day and divided into "Trackchasing" and "Tourist" categories.  You will get a glimpse into how another family approaches and takes a long and exotic trip like this.  I hope you enjoy reading about our adventures, until you and your family head out on your next tour of the world.
Warning:  If you do not want to experience the feeling of "being there" I recommend that you not read the descriptions of what went on or view the pictures of what was seen.  I would not want any future visits to these faraway parts to be ruined by the realism you are about ready to experience in words and pictures.
If you are receiving this Trackchaser Report via email, you can view the pictures at www.ranlayracing.com.
Part IV
Tuesday, January 2, 2007
TOURIST ACTIVITY
The main tourist activity today is to ride the Interislander Ferry boat from the North Island of New Zealand to the South Island.  The distance is only 53 kilometers but the ride takes three hours.
Recall our last ferryboat ride from Washington state to Vancouver resulted in an alleged accident.  I forgot to put on the parking brake of my vehicle.  I was accused of letting my car slide into the car in front of me causing the most minor of blemishes.  My insurance company covered that issue (about $400) without any negative repercussions to me.
With that experience fresh in my mind, I made certain to put the parking brake on today.  I noticed at least two racecars and haulers being transported on today's ferry.  It is not cheap to make this crossing.  I purchased our ferry tickets online in advance for a fare of $285NZ one-way.  This fare included passage for our car and the two of us.  I bought the "fully flexible" fare, but could have saved 10-15% if I had wanted a non-refundable fare.
Our day started at 8 a.m. from near Napier.  It was a tough four hour drive down to Wellington through the mountains.  It rained all the way.  We were scheduled to leave on the ferry to Picton at 2 p.m.  Finding the ferryboat docking area was easy.
The ferryboat is huge.  They parked the cars only inches apart with no apparent restraint systems in place.  The ship has its own movie theatre, bar, cafeteria and several TV viewing areas for its passengers.
The captain warned us it was going to get rough….and it did.  The stewards went around passing out barf bags to every seating area before we disembarked.  It wasn't long before the ship was tossing and turning in the rough seas in the Cook Straits.
It was not long after that when people starting selecting the barf bags for their intended use.  There was one major crash of waves that sent Carol and I flying to the left more than six feet in our chairs.  The cups and glasses at the nearby bar went crashing to the floor.  A nearby young fellow in a wheelchair was knocked over on his side.  It was rough.
People all around us were heaving their guts out.  Yuk!  Since we hadn't eaten much, we didn't heave but we felt the effects of the rough ride.  Of course, this is all just part of the international trackchaser lifestyle.  We wouldn't have it any other way.
Once we landed, getting off the ship with the car was easy.  There were two stock cars being transported on the ferry.  I figured I would just follow them to the Top of the South Speedway in, what I thought, was nearby Nelson.
Once we left the ferry, I began following the stock cars but they lost me.  Dang!  The next major surprise was that Nelson, New Zealand wasn't as close to the ferry docking point as I thought.  It was 148km away!  Adding insult to that injury was that the drive was almost entirely through the mountains.  The drive through the mountains took us three hours.  I wasn't too happy about that.
Nelson is a beautiful seaside resort city.  The skies had rained on us for our entire journey through the mountains.  Once we came down the mountain into Nelson, the skies were clear toward the seaside.  The mountainside of Nelson had dark and ominous clouds.  It was going to be touch and go on whether we would see a race tonight.  That's the way it's been for several of our races so far on the trip.
The ferryboat had been 30 minutes late due to the rough seas.  The mountainous drive was more than we expected.  We then had some difficulty finding the track.  After two convenience store stops, we arrived at the Top of the South Speedway.  By the way, this track is frequently referred to as being in Nelson, when it is actually in the town next door, Richmond.  It was 7:45 p.m.  They were racing!  They had started at 7 p.m.
The parking lot was a mud pit.  We had to walk around nearly half of the track until we reached the ticket booth.  The booth was located on the backstretch.  Admission was just $12NZ.  That wasn't bad.
As you will see below, we were rained out after only an hour of racing at 8:45 p.m.  That was good in two different ways.  First, we could find a motel easier in this seaside resort area.  We drove by place after place that had "No vacancy" signs.  I was beginning to get minorly worried.  This was the most difficult night of the trip to find a motel.  If the track had not been rained out, we might have had an impossible task of getting a room at 11 p.m.
At nearly 10 p.m., after getting a room, we were on the prowl for a nice dinner.  The Nelson area has a good number of waterfront restaurants.  Unfortunately, by the time we got there they had stopped serving dinner.  We did find a Thai place that was willing to provide us dinner on a takeaway basis.  We lugged our Thai food back to the motel room and ate it there with our chopsticks.  With a four hour mountain drive this morning, a three hour very rough ferryboat ride, a three hour early evening mountain drive, then an hour at the track and a tough time finding a motel and dinner, it had indeed been a long day.  We slept well!
TRACKCHASING
TOP OF THE SOUTH SPEEDWAY, RICHMOND, NEW ZEALAND – RANDY'S TRACK #1,141 & CAROL'S TRACK #297 – 1/2/07
With the weather threatening, I wasn't sure we would get this track in tonight.  However, they were racing and the grandstands were absolutely jammed on a Tuesday night.
We grabbed a seat just at the end of turn two and only three rows from the track.  The wind was at our back, which helped with the dust.  Even though it had rained and more rain was eminent, they watered the track lightly after most races.  We found that most NZ tracks water frequently.  This made dust rarely an issue.  Listening, U.S. promoters?
There were several classes racing tonight including sprint cars, midgets, modifieds, street stocks and production cars.  Almost every track we visited during the trip ran two heats and a feature for each class.  All of the cars in each class raced in each heat and feature for their class.  This often meant that 20+ cars were racing in each heat race.  I liked that.  There were none of those boring 4-5 car heat races that U.S. tracks are noted for.  Listening, U.S. promoters?
Entrance to the pit area was restricted.  Nevertheless, I broke through the security barrier to get my trackchasing press release to the commentator.  Soon I was in the booth having a very nice chat over the P.A. with the track's commentator.
He was most impressed with the idea of trackchasing.  He asked several questions and let me explain to the packed house what we trackchasers do.  I estimate I talked to more than 30,000 New Zealanders about our hobby during the trip.  If you are from New Zealand and reading this, I hope you were able to hear what I had to say at one of the tracks we visited.
As we were finishing our interview, the commentator made the comment that he was "pretty sure the rain would stay away."  About two minutes after that it began to rain!  At first, the rain wasn't too heavy, but it was consistent.
The track was getting wet.  The commentator told the crowd, "We're going to run our demolition derby while we wait out this shower."  After that comment was made, it really started to rain!  Then this announcement came, "NZ race officials have decided that we will not be able to continue.  The races are cancelled."
With that, the fans got up and ran for cover.  I was just then making my way back from the front stretch interview to Carol's backstretch location.  She was patiently sitting in the rain with an umbrella.  She also had the dirt and rained soaked Sabo sponsored stadium seats and race blanket.  Yes, she is a trooper.  I'm thinking about renting her out to worthy trackchasers in need of a racing companion.
We bundled up our stuff and ran for the car.  When we entered the grounds, we had parked in a muddy quagmire.  If we hurried, we might be able to make it back to the car before the Europecar Subaru Outback was carried out to the sea.  We did and the rest is history.
LIFETIME TRACKCHASER STANDINGS UPDATE:
These worldwide trackchasers are within 100 tracks (plus or minus) of my current trackchaser total.
Randy Lewis, San Clemente, California – 1,141
Guy Smith, Effort, Pennsylvania – 1,077 (-64)*
Rick Schneider – Bay Shore, New York – 1,064 (-77)*
Gordon Killian, Sinking Spring, Pennsylvania – 1,044 (-97)*
Ed Esser, Madison, Wisconsin – 965 (-176)**
* Warning, you are within 50 tracks of being removed from this list. 
** Special exemption.
Other notables
These worldwide trackchasers are within 10 tracks (plus or minus) of Carol's current trackchaser total.
Chris Economaki, Ridgewood, New Jersey – 302 (+5)
Gary Jacob, Turlock, California – 301 (+4)
Carol Lewis, San Clemente, California – 297
Ron Rodda, Lincoln, California – 297 (+/-0)
Johnny Gibson, Grand Island, Nebraska – 290 (-7)
2007 TRACKCHASER STANDINGS
Carol Lewis, San Clemente, California – 3
Randy Lewis, San Clemente, California – 3
Tracks through this date have been reported from two different worldwide trackchasers this season.
 Thanks for reading about my trackchasing,
Randy Lewis
#1 Trackchaser Living West of the Mississippi
Your best bet is to work your butt off, reach your goals and enjoy your rewards. 

CUMULATIVE TRAVEL DISTANCES:
AIRPLANE
Los Angeles, CA – Sydney, Australia – 7,490 miles
Sydney, Australia – Auckland, New Zealand – 1,340 miles
RENTAL CAR – AUCKLAND, NEW ZEALAND
Auckland International Airport – trip begins
Driving all over New Zealand
TRACK ADMSSION PRICES:
Western Springs Speedway – $20NZ
Blue Chip Speedway at Baypark – Free
Upper Hutt Family Speedway – $20NZ
Stratford Speedway – $15NZ
Huntly Speedway – Free
Meremere Raceway – Free
Meeannee Speedway – $15NZ
Top of the South Speedway – $12NZ
UPCOMING TRACKCHASING PLANS
G'day, mate.  Yep!  We're finished with the South Island.  We'll be back some day.  Just a few more tracks to see in the North and we will finish up our trip.