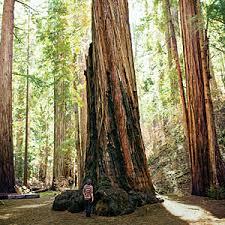 Greetings from Ukiah, California
.
.
From the travels and adventures of the 
"World's #1 Trackchaser"
.
.
Ukiah Speedway
Outer asphalt oval
Lifetime Track #302
.
.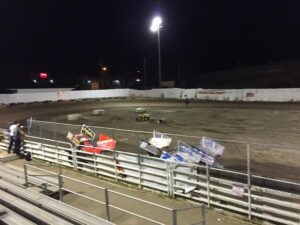 Ukiah Speedway Flat Track
Dirt oval
Lifetime Track #2,167
.
.
Ukiah Speedway
Inner dirt oval
Lifetime Track #2,368
The EventUkiah 2017Ukiah 2015Video PlusPhotos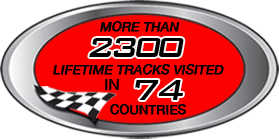 THE EVENT
I have had the opportunity to follow my trackchasing hobby all over the world. As this is written I have seen racing in 74 countries. My lifetime track total exceeds 2,300. Each and every year I will trackchase in 25-30 states.
At track #1,040 I moved into the "World's #1 Trackchasing" spot. Here's the funny thing about that. I was perfectly content to remain in about seventh place in the worldwide trackchasing standings. Then I had rotator cuff surgery, which knocked me out of golf for about six months. With no golf and time on my hands I turned up my trackchasing by a notch or two. I discovered I liked MORE trackchasing and LESS golf. It didn't take all that long to move up to the top of the world trackchasing standings at that point.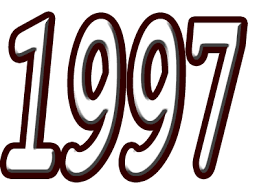 I'm starting to build a "history" with the Ukiah Speedway way up north in Ukiah, California. I first went there in 1997. However, I didn't begin writing my famous Trackchaser Reports until I had seen about 430 tracks. The asphalt oval on that visit to Ukiah more than twenty years ago was just track #320.
Then in 2015 I returned to the city for their flat track racing action. Now I have come back to the area to see the jalopies race on the inner oval at the Redwood Empire Fairgrounds. Sometimes I think I will never get back to a facility after I've seen racing there. I've learned never to say "never".
My hobby is not only about racing. Trackchasing for me centers around three things. The racing part is pretty obvious. However of equal importance is the logistics of trackchasing and the opportunity to see the world.
I live in Southern California. The vast majority of tracks are located in the Midwest and East. It takes a good deal of logistical planning to get from where I live to where the tracks are. For the past 15 years I have traveled about 175 nights each and every year. Surprisingly to some, more than half of those overnights were not part of trackchasing.
Then there's the travel just for the fun of seeing new things. You won't want to miss my "Trackchasing Tourist Attractions" page or my "Sports Spectating Resume" page on my website at www.randylewis.org. That will give you some understanding on how important seeing the world is with my hobby.
Today's adventure was one more of the 2,000 trips that have taken me up, down and around the long and dusty trackchasing trail. If you would like to see where I've been and experience those adventures here's the link: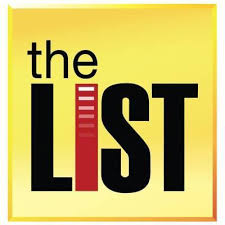 If you've got a question, comment or whatever please leave it at the bottom of this report.  It's very easy to do.  Or you can visit me on Facebook.  Thanks!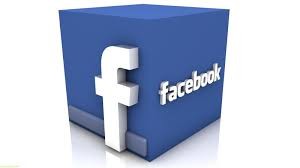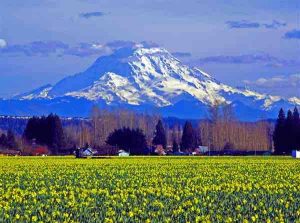 FOREWORD
Carol and I had just returned from a weeklong trip of trackchasing up in the Northwest. Everything had gone perfectly on that trip. We saw six tracks, had some excellent hotel accommodations, a fantastic rental car and ate some excellent food. The trip could not have gone better.
I was back in San Clemente for one day after the Northwest adventure. This trip to Northern California would take just 30 hours. When I returned from Ukiah I would embark on my longest trip 2017 at least mileage wise. My trackchasing activity is nothing if not diverse.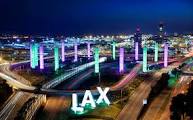 For this trip I set my alarm for 4 a.m. I had a flight scheduled that would depart from Los Angeles International Airport at 6:45 a.m. That was cutting it a bit close but at this time of day there should be absolutely no traffic on Los Angeles' massive freeways.
At 4:21 a.m. I was backing out of the driveway. I had already given Trackchasing's First Mother a goodbye kiss. I promised I would be back home soon.
My destination was Ukiah, California. The plan was to fly to San Francisco. Then I would drive three hours north to Ukiah.
This would not be my first visit to the Ukiah Speedway. Back in 1997 I saw their stock car racing program on the quarter-mile asphalt oval. At the time it was my 320th lifetime track.
I've also been to the Ukiah Speedway Flat Track adjacent to the Redwood Empire Fairgrounds in Ukiah. This winged outlaw dirt track is located about 200 yards off of turns three and four of the big asphalt traffic. That was lifetime track #2,167.
Since I had already seen all of the countable racing at the Ukiah Speedway why in the heck would I be returning? Well, here's the story. The Ukiah Speedway is doing something that lots of tracks across the country are getting involved in.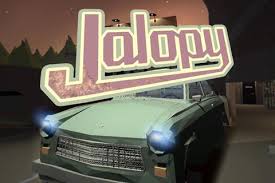 They are developing a class of racecars for the novice driver. Why? These cars don't cost much to build and race. The class is called "jalopies". It's for those drivers just learning the sport who don't have much money to spend on a racecar.
The Ukiah jalopy track is small. It is temporary. Tonight's track used a series of large tractor tires to outline both an inner and outer barrier. The entire dirt oval track was probably an eighth of a mile in length. Of course I'm guessing at that.
A few days ago I had spoken with Ukiah Speedway promoter David Furia. David has been the promoter at the Lakeport speedway for 12 years. The Lakeport track is only about 35 miles from Ukiah Speedway. A few years ago David took over the promotional reins at Ukiah as well.
Only one division, the jalopies, races on the small dirt track. The jalopies race on inner oval tracks at both the Ukiah Speedway as well as the Lakeport Speedway. David told me that they had run the jalopies on a temporary road course this past summer in Ukiah. He then added that he was planning on doing some figure 8 racing with these cars next year. If he does that the Lakeport and Ukiah properties could potentially have six countable tracks for the jalopy class alone. Will the new track opportunities never end?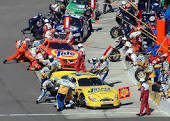 Often times the racing quality at the small inner ovals is not top notch traditional stock car racing. However, to the participants in these divisions it's as serious as the Daytona 500 is to the NASCAR Cup stars.
There is one major advantage to making a trip with the express purpose of seeing racing on a temporary inner oval. What could that be? It brings me back to tracks that I have long ago seen. I probably wouldn't return to these locations (there's just not enough time in my schedule) if there weren't an extra motivation, like the inner oval track to see. That's a plus.
For a moment let's take a look at what it took for me to get here today. I had to be on an 8 a.m. jet airplane departure from LAX up to the San Francisco International Airport. I landed at about 9:30 a.m.
I did have a couple of touring options. I could have easily driven into downtown San Francisco to check things out. However, I've been in downtown San Francisco a million times on business and with Carol. Secondly, I could have checked out a tourist attraction or two along the way on my drive up to Ukiah.
As it was I had gotten up at 4 a.m. I needed some relaxation. Rather than go touring I went to the SFO American Airlines Admirals Club and just kicked back. There I had some breakfast and worked on some of my upcoming trackchasing plans. It takes a lot of strategy and planning to make these trips go flawlessly. That's one of the things that I very much like about my hobby.
At about 1 p.m. I hopped on the airport's AirTrain and rode it out to the San Francisco rental car facility. Getting a rental car at SFO is a little bit time consuming and not all that convenient. I made a mental note that it was going to take me a little extra time when it came time to return my car.
I selected a Toyota Camry from my long-time sponsor the National Car Rental Company. These Camry automobiles get nearly 40 miles a gallon. Today the fuel gauge did not drop off of full until I had driven nearly 200 miles!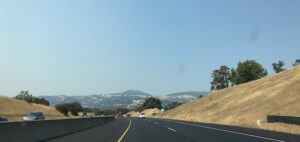 Getting to Ukiah, California was a simple drive of 135 miles straight up California's famous 101 Highway. For some odd reason 101 goes directly through downtown San Francisco. The going is slow and got even slower once I cleared the Golden Gate Bridge. Luckily, I had plenty of time to get to the track tonight.
The weather was warm in Ukiah. The expected high temperature was going to be 99° and dry. There are lots of places in the Golden State where it gets very warm during our summer time. Luckily we live at the beach. The warmest average high monthly temperature of any month in San Clemente is only 77°.
The Ukiah Speedway answering machines told me that qualifying would begin at 5 p.m. It didn't mention what time racing would actually be again. I showed up at a little past 6 p.m. They were just wrapping up their time trials.
I find it beyond amazing, that after seeing racing at more than 2,300 tracks, I can still see things at a track that I've never seen before. Tonight I could count at least two of those most unique situations. I'm wondered this. If after seeing 5,000 tracks will I still be seeing new things?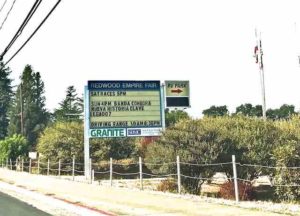 Most racing at California speedways is done at county fairgrounds. That's a pretty unusual situation. I would say that a greater percentage of all of the permanent speedways in California are at county fair locations than any other state in the country.
THE RACING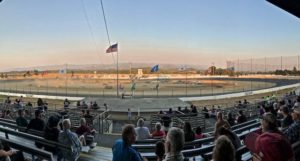 Ukiah Speedway – Ukiah, California
As I parked at the Redwood Empire County Fairgrounds I noticed a huge building just outside where the racetrack was located. I've seen this kind of situation in the past. Mexican music was playing from inside. Tonight while the white people enjoyed their stock car racing the Mexican people would be having a joyous and festive quinceanera party for one of their daughters. This is a special event honoring a young woman's 15th birthday party and ascension into maturity. You aren't likely to see one of these at the Lernerville Speedway! The party was still going strong with the races were finished at 10 p.m.
The admission price for seniors was just nine dollars. That would turn out to be an excellent value. However, it wasn't the senior ticket price that was in most notable item as I approached the ticket booth.
There was a prominent sign that said no marijuana could be consumed at the track tonight. Offenders would be asked to leave the premises. I have never seen such a sign in all of my years of trackchasing. Of course, recreational marijuana is now legal in the Golden state.
Tonight racing would be done on a quarter-mile slightly banked asphalt oval track. They have a covered grandstand as well as some open-air bleacher seating. The cars pit from beyond the backstretch of the big track.
The track announcer did an excellent job of informing and entertaining the crowd over a strong PA system. They started racing on time. I grabbed a seat in the covered grandstands because the bleachers in that area had seat backs.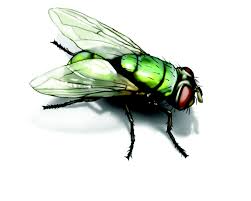 The only drawback I noticed with tonight's entertainment was the flies. They were pesky. I am not a fan of flies. Who is? I am certainly not a fan of flies when I am trackchasing. They were everywhere in the covered grandstand and at the concession area.
Often times I eat before I come to the track. That way I know what I'm going to get. The track concession can be hit or miss.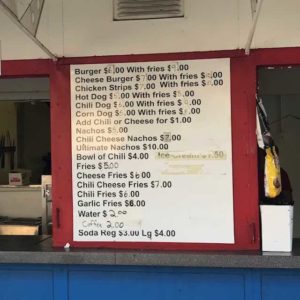 Tonight the track had a fairly extensive menu of food and drink options. They offered among other things chicken strips, chilidogs, a bowl of chili and garlic fries. Those items are not on every racetrack menu. At intermission I went with the garlic fries and a 16-ounce Bud Light draft beer.
I ordered triple garlic on my French fries. When I placed my order the cook yelled out, "Going home alone"! Tonight he was right about that. I was simply expressing my love for garlic.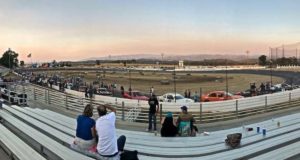 Just to check things out I decided to enjoy my food and drink in the open-air large aluminum grandstand located off of turned one. There was a nice breeze blowing out there. The temperatures were falling rapidly as they do in the California desert. It wasn't long before I moved seat cushion to the top row of the grandstands by turn one.
Tonight there were five primary divisions of stock cars making up the race program. They all ran trophy directions, heat races and feature events. As mentioned I had shown up about an hour and 15 minutes following the beginning of qualifying.
The cars counts and feature race distances looked like this. The jammers, with two classes racing together, had five racers and ran a 30-lap feature. The five Pro 4 modifieds raced a 30-lapper. The ten bombers on hand ran a 30-lap main event. I'm not a big fan of divisions with small car counts running features this long. However, if a driver shows up it's not a bad idea to reward him with more laps.
The racing highlight of the night on the big track was the modifieds. There's a special traveling group, the North State modifieds that race up this way. They brought 22 good-looking asphalt mods to the show. They ran a 60-lap feature. It was very entertaining. Don't miss the video.
The jalopies ran two heat races before intermission on the inner oval. As that point the small track was officially recorded into my trackchasing record books.
They were also the last event of the night with the 12-car, 20-lap main event. Much of the crowd left before this race took the green. I was one of only about 100 fans left to see it. The lighting in the infield wasn't the greatest. Nevertheless, they raced hard. Don't miss the feature event in my YouTube video.
The track did something at intermission that more tracks should consider. All of the race teams brought their cars onto the front stretch for the fans to see. Yep. The fans were allowed to walk out onto the track, get autographs and photos of the cars and drivers. I would have done that but I had just purchased an order of French fries with triple garlic. Bad timing! This type of thing (the cars available to the fans….not the garlic fries) is a great promotional technique.
As noted the jalopies ran their 20-lap main as the last competitive event of the night. The temperatures were dropping now. It felt like it was in the 50s but I'm sure it was probably about 70°. However, from 99° with no humidity that feels cold.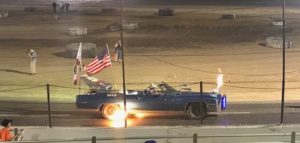 I mentioned that I had seen a couple of items tonight that I had never seen anywhere else. The first of those was the "no marijuana" sign. The second was seeing the starter wave both the American flag and the checkered flag to signify the conclusion of each of tonight's races. It was kind of a cool thing and as mentioned something I had never seen before. I find it beyond amazing that I see things virtually every night, after more than 2,300 tracks, that are "firsts".  Oh, yeah!  They had one of the most unusual pace cars as well.  This guy's car shot fire out of the exhaust pipes on command.
AFTER THE RACES
Now was time to work on a plan for getting home. I was out of the track by 10 p.m. I was about three hours from the San Francisco International Airport. My flight was leaving at 8 a.m. I needed to be returning the rental car no later than about 6:30 a.m.
I'm sure you can do the math. I would only have about five hours to sleep tonight. That would not make getting a hotel a financially sound or practical idea. What should I do? I had a plan. I would simply grab a few hours of sleep in my rental car.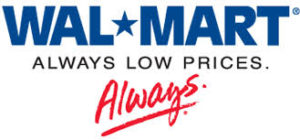 I had not seen a single highway rest area on my drive up the 101 to the track. If there were no rest areas and I wasn't going to sleep in the airport where COULD I sleep? My fallback position was a Wal-Mart parking lot. Wal-Mart normally lets campers and recreational vehicles stay overnight in their parking lots at no charge. I figured sleeping next to a camper is a fairly safe and convenient idea.
I did a quick search. I found a Wal-Mart located in Rohnert Park, California. The location was only about 60 miles from the airport. I got down there a little past 11 p.m. I slept until 4:48 a.m. Then I was off in the dark along with some other early Sunday morning travellers headed to SFO.
Flights were going to be tight on this Sunday morning getting back to Los Angeles. The Los Angeles – San Francisco air corridor is one of the busiest in the country especially on Fridays and Sundays. Lots of people are swapping ends of California for a relaxing weekend.
If I didn't make the 6:45 a.m. flight I would simply standby for the next one. There must be 30 or 40 planes between Southern and Northern California just with the Los Angeles and San Francisco airports let alone all of the satellite airports that service this general route. I would end up making the 8 a.m. flight after having breakfast at the Admirals Club.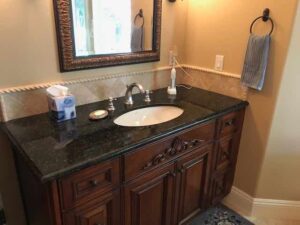 As you know I lead a pretty busy lifestyle. On Monday morning at 9 a.m. we have a home appraiser coming to check out the value of our house. We are refinancing our mortgage. If this goes through I'm thinking it may be the last refinance we will ever do. However, I think I've thought that after our last five or six refinances!
Then on Tuesday morning Carol will be dropping me at the Orange County John Wayne airport. I'll be heading out on what will become a 24,000-mile round-trip airplane ride. It will be my longest trip of 2017. I'll be telling you more about that real soon.
Good night from Ukiah, California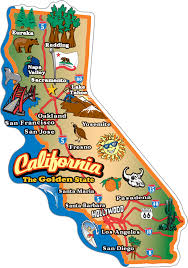 California
The Golden state
This evening I saw my 161st lifetime track in the Golden state yes the Golden state. I hold the #1 trackchasing spot in Arizona as I do in 24 total states. I've seen more tracks in California than any other state.
Thanks for reading about my trackchasing,
Randy Lewis
World's #1 Trackchaser
Peoria Old Timers Racing Club (P.O.R.C.) Hall of Fame Member
California sayings: "I'll take a Double-Double, animal style."
Californians are deeply proud of their In-N-Out, a fast-food burger chain that comes with its own jargon and a secret menu not advertised in stores. A burger served "animal style" has mustard fried into the patty and comes with extra spread and grilled onions. 
You can also order your fries animal style. If you're especially hungry, try a 3×3 burger, which comes with three beef patties, or even a 4×4, which comes with four.
QUICK FACTS
LIFETIME TRACKCHASER COMPARISONS 
The three most important trackchasing comparisons to me are:
Total lifetime tracks seen
Total "trackchasing countries" seen
Lifetime National Geographic Diversity results
Total Lifetime Tracks
There are no trackchasers currently within 600 tracks of my lifetime total. Don't blame me.
Randy Lewis, San Clemente, California – 2,368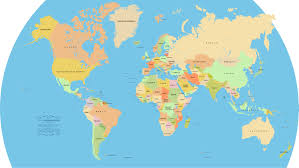 Total Trackchasing Countries
There are no trackchasers currently within 20 countries of my lifetime total.
Randy Lewis, San Clemente, California – 74
Current lifetime National Geographic Diversity results
Randy Lewis, San Clemente, California – 4.37
That's all folks! Official end of the RLR – Randy Lewis Racing Trackchaser Report
Reprinted with permission from my October 2, 2015 Trackchaser Report.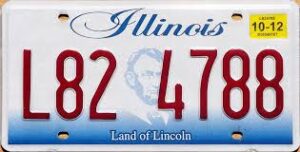 I am a native of Illinois. I spent the first 23 years of my life living there. However, of all the states where we've lived I've lived in California the longest, 35 years.
As a trackchaser there are goals and objectives that I would like to achieve within my hobby. I've been ranked as the World's #1 Trackchaser for many many years. As a matter of fact I became the number one trackchaser when I saw my 1,040th lifetime track. That was more than 1,000 tracks ago. I'm now up to 2,167 tracks after tonight's visit.
However there are still some "little" goals I would love to achieve. I currently hold a number one rank in more than twenty states and a few Canadian provinces.
I've spent 58 years of my life first in Illinois and now California. I'd like to achieve a number one trackchasing ranking in each of those states.
I was most pleased to knock off one of those goals earlier this summer. Coming into this trackchasing season Ed Esser was the leader in Illinois with 99 tracks. Ed, now deceased, was from Madison, Wisconsin.
Back in August I visited the Illinois State Fairgrounds Multipurpose Arena to see racing on their temporary figure 8 and oval tracks. This gave me my 99th and 100th lifetime Illinois tracks. This helped me pass Ed for the state trackchasing lead. It wasn't easy as I had two other Illinois tracks cancel for various reasons earlier during my mega summer trackchasing trip.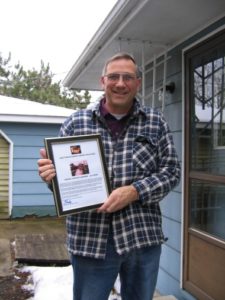 Ed was one of the most prolific "racechasers" in the history of auto racing spectating. The definition of a "racechaser" is really rather simple. A racechaser tries to see racing at as many different races as possible. They will normally go to their favorite tracks where the best racing takes place.
During the last 10 years or so he switched from racechasing to trackchasing. He won the racechasing "amateur" spectating championship on multiple occasions. That's a very prestigious honor.
Ed had some excellent success in trackchasing as well. He won the 2003 annual trackchasing championship. Additionally Ed is a one of only a handful of trackchasers who has ever seen more than 100 tracks in a single season. He did it several times.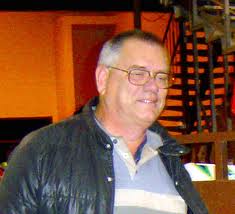 Out in California there was a very prolific racechaser named Gary Jacob. Gary hailed from Turlock, California.
I believe that Gary was the most committed and successful racechaser there ever was in the history of auto racing. That's a pretty strong statement but I believe it to be true.
What made Gary's racechasing so remarkable? Much of the racing he was seeing wouldn't stack up very well with what most racechasers consider to be great automobile racing. California is not noted for outstanding short track racing at a large number of venues. States in the Midwest and East have much better racing at many more tracks than California does or did when Gary was racechasing.
Gary held down a 12-month a year day job. Nevertheless, he could be found at a racetrack virtually every Friday, Saturday and Sunday almost every week of the year. Many of the tracks he visited were a very long drive from his house or from each other.
I first met Gary back in 1976 at the Speedway 605 in Irwindale, California. On that day I was seeing a major high dollar stock car race. Texan Freddy "The Beaumont Flyer" Fryar was racing that day.
I would come to see and meet up with Gary at several California tracks over the years. I was not a close personal friend of his. I can't remember ever having any in-depth conversations with him.
I believe that Gary lived with his parents until his untimely death from a heart attack about 10 years ago or so. I know that he enjoyed reading my Trackchaser Reports. I remember Gary telling me about him reading one of my stories. He read something that I had written and had to rush downstairs to share my comments with his mother. We laughed about that one.
As I said Gary was a racechaser. I believe he told me once that he had seen more than 100 races a year for well over 25 consecutive years.
Despite seeing racing some 2,000-3,000 times or more Gary's lifetime trackchasing total took him to only 302 tracks. If there were any question about Gary being a racechaser not a trackchaser those stats would answer that question.
Nearly half of Gary's 302 tracks, 149, were seen in his home state of California. I didn't think I would ever end up matching or even approaching Gary's numbers in the Golden state.
By 1980 I had seen just 18 California tracks despite having lived there for four years. In 1990 my Golden State total was twenty-eight. As you can see I was a LONG way from Gary's California trackchasing totals.
We had moved back to California for good in 1983. At the end of the 90s I had seen 69 California tracks. Ten years later, at the end of 2009, I still had only seen 109 California tracks.
I never expected to come close to seeing more than Gary's 149 California tracks. No, I didn't think I would ever come anywhere close to his totals.
However, I have learned to never say never in the trackchasing hobby. One of the best ways to achieve significant results in anything is to simply be consistent and keep and keeping on.
I have reviewed Gary's complete California trackchasing list closely. I'm going to guess I've only been to about half of the tracks he attended. I noticed there were several locations where he saw racing on both an inner and outer oval as well as a figure 8 track.
When I came on the California trackchasing scene a very large number of Gary's trackchasing visits no longer existed for me. That's the advantage a trackchaser has when they've been trackchasing in there own area for a long time.
I have that advantage in many Far Western states. First of all, there are not many tracks in most of the Far West states. I've been trackchasing in the Far West for more than 20 years. Many of the tracks I saw in these locations, ten or twenty years ago, no longer exist. If a trackchaser were to come into a Far Western state now their opportunities would be far less than what I've had over such a long period of time.
As the years have gone by I've been adding a few California tracks to my resume each year. Over the past 10 years I've averaged 4-5 new California tracks each season.
Long ago I had seen virtually every oval track that raced on a regularly scheduled basis in California. Now my new tracks have been mostly "novelty" venues. I've seen some kart tracks and UTV tracks and several stadium off-road racing locations. These are the types of racetracks that didn't exist when Gary Jacob was racechasing or trackchasing.
I have a rather significant advantage over both Ed Esser and Gary Jacob now given the fact that they are deceased. They won't be adding any tracks to their totals in Illinois and California. Additionally there are no other active trackchasers in these two states to challenge whatever achievements I may have. I'll lose that advantage, for the same reason as Gary and Ed, to other trackchasers some day!
As this trip begins I still trail Gary Jacob in California by eight tracks. That's a rather large total considering I don't really have eight active racetracks remaining to see in my home state.
Nevertheless, I am not too concerned about that. I do have three California oval tracks on my near-term agenda. I suspect other tracks will "popup". I now feel I can catch and surpass Gary's total as long as I remain patient and vigilant.
Carol and I just got back 36 hours ago from a 10-day trip to the big Island of Hawaii. We had a nice time as we always do. She can't believe I can get back in the trackchasing saddle so quickly after a long personal trip. Although she can't believe it… I can.
I mentioned there are three California oval tracks that I hope to see in the next year. None of those tracks race very often.
The track I am visiting today, the Ukiah Speedway Flat Track races just four or five times a season. Today is their last race for 2015.
One of the other ovals I plan to see, sorry I cannot divulge the name at this time, just opened up for racing. I found it somewhat hard to believe they were having their second ever race tonight on the same day as the Ukiah Speedway Flat Track was wrapping up their season. Given the two locations there was no way I could see them both in one day.
The third California oval has raced on their configuration only a time or two. I'm hoping that I will get a chance to see them race next month. We'll have to see how that goes.
If I were to knock off these three ovals, I would still be five tracks short of Gary Jacob's total. There may be a permanent road course or two where I can squeeze out an extra variation.
Beyond that I'm counting on some various and sundry side-by-side racing tracks. California is a big state with lots of desert. These tracks come and go and their countability is sometimes in question until the last moment. You can rest assured of one thing. I will not give up.
You probably know that California is a very "tall" state. From north to south the state is nearly 900 miles in length. Yep. That's tall.
My initial plan was to fly from Los Angeles to San Francisco for today's trackchasing activity. Then I would rent a car in San Francisco and drive another 2 1/2 hours northward to Ukiah, California.
However, when I fly I lose a little bit of the control I like to have. Will the flights be on time? Will I be able to get a seat on the plane?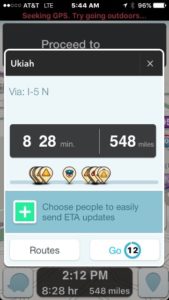 Normally the best way to have full control over the situation is for me to drive. However, the round-trip driving distance from San Clemente to Ukiah was about 1,100 miles. That's right. I was actively entertaining the idea of driving 1,100 miles round-trip just to see a caged kart race. Call me crazy just don't call me late to dinner.
The one-way driving distance from San Clemente to Ukiah was a little bit more than eight hours. Here's how I thought about that drive compared to flying.
If I flew it would be a one-hour's drive from my house to LAX. I would have another hour of waiting at the airport for my flight. The flight from LA to San Francisco would be about an hour. It would take another hour's time upon landing to get my rental car. Finally, I'd have a 2 1/2 hour drive from the San Francisco International Airport up to Ukiah. I added all of that up and it came to 6 1/2 hours.
If I simply drove I would only be adding an hour and a half or two to my one-way flying/driving time. The advantage to driving only would be that I would increase my control over the trip.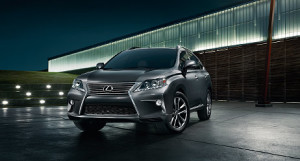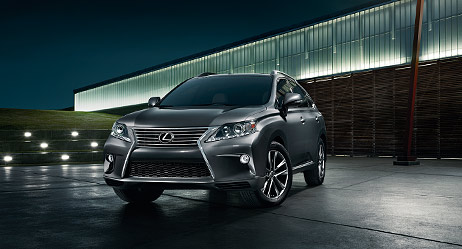 Of course, I would never drive the Carol Lewis owned and MFunds sponsored Lexus RX 350 1,100 miles to see a kart track. I know trackchasers who do that. I think they're crazy.
If I rented a car in San Francisco it would cost me $65 for one day's rental. However I discovered I could rent a car for TWO days at the Orange County airport for just $51.
Tonight's racing was happening on a Friday night. I needed to be at the Rose Bowl in Pasadena, California for tomorrow night's late afternoon UCLA game against Arizona State University. I would be joining son J.J. for the 4:30 p.m. kick off.
Had I flown out for this race I likely would've had to sleep in my car overnight in order to meet the 24-hour rental cut off. By renting a car for two days I would have enough time to stay in a hotel and then have a leisurely drive down to the greater Los Angeles area for the football game.
Everything was pointing toward renting a car at the Orange County airport and making the nearly 1,100 mile drive up and back to Ukiah with a stop in Pasadena on the way home. This plan would allow me to leave early on Friday morning and be back home later in the evening on Saturday. That was the plan I was going with.
When Carol and I went to Hawaii there was a three-hour time difference compared to California. After being in the Aloha state for 10 days I was fully acclimated to this three-hour time change. When we got back to California and prepared to go to bed at 11 p.m. local time that was only 8 p.m. Hawaii time.
I'm not much for going to bed at 8 p.m. "body" time. My alarm was set for 4:20 a.m. California time, which again was 1:20 a.m. "body time". However, in trackchasing I do what I have to do.
I ran into a couple of hiccups with my rental car. The National Car Rental customer service folks told me that the Orange County airport location opens at 5:30 a.m. With an eight-hour drive to Ukiah I needed to pick up the car as early as I could. In point of fact the Orange County National Car Rental location opens up at 6 a.m. I had to wait around for nearly 30 minutes longer than my plan was calling for.
As I almost always do I picked a Hyundai Sonata for today's driving activity. The gas savings alone, driving the Sonata, would pay for two days of car rental compared to driving my Lexus SUV up to Northern California and back.
I told the car rental agent that I would check to see if the Sonata had an active XM satellite radio subscription. He told me not to check. That was a curious thing to say, I thought.
It's one thing to find a car that has satellite radio capability. They probably only exist in 10 or 20% of a company's entire fleet. Then with THAT 10 or 20% of cars maybe only 50 to 70% of those cars have an ACTIVE satellite radio connection.
I've been renting cars from National Car Rental with satellite radio for probably 10 years. Today I got a big surprise. Within the last month National has started charging for the use of satellite radio!
Yes that's right. I didn't like it either. However, I guess I could look at it like I've been getting "free" satellite radio for years and years.
The new charges are now $5.99 per day for satellite. The checkout agent told me this was a discount over other car companies that were charging at $7.99.
I was going to be in this rental car for about 20 hours over the next two days. I could certainly spend an extra 12 bucks or about $.50 per hour in order to be entertained. I would have crystal-clear radio reception all the way up and back on my drive.
Today's trip was going to involve significant time expenditure and a reasonable amount of cash so that I could add one more California-based racetrack. If this opportunity were in Nevada or Arizona or anywhere else I would not have attempted it. However, as you've read seeing more tracks in California is a priority for me.
California is a wondrous state. In any given year I will set foot in 30-35 different states. There is not a state that I visit that has the diversity of geography, culture entertainment and climate that you will find in the Golden State. It is all of this and more than draws people to California to live. It is a wonderful state to live in and travel about.
Most of my California touring has been from the Mexican border up to the San Francisco/Sacramento area. It's too bad I haven't had much experience traveling north of the greater Bay Area.
Most people divide California into three main geographical groups. That would be Southern California, Central California and northern California.
Normally the greater Los Angeles area is considered Southern California. The greater San Francisco area is Northern California. And the vast agricultural regions of California would be generally classified as central California. Did you know that seven of the 10 most valuable agricultural counties are in central California?
However there is a large geographical region that is north of Northern California. San Francisco is 378 miles north of Los Angeles. The California/Oregon border is about 350 miles north of San Francisco. That leaves a large region some 350 miles from north to south and another 275 miles from east to west all north of what is traditionally called Northern California. Yes, north of northern California is a BIG place.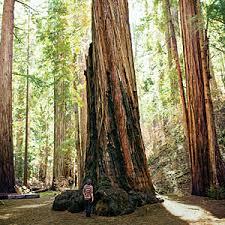 Today's destination was Ukiah, California. Most of the trip from Southern California toward Ukiah was along California's famous freeway Interstate five. The last hour to hour and a half of the drive was off on two-lane roads. They offered some very pretty scenery.
We are just wrapping up the "dry" season in California. It's actually drier than normal because California has been in a severe drought for a few years now.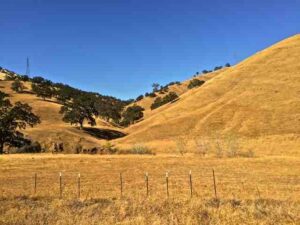 Northern California has more of a rolling hills topography than it's neighbors to the south or central part of the state. At this time of year those rolling hills are a beautiful golden tone.
I had been told that practice for tonight's racing event would begin at 6 p.m. with racing to follow. Whenever I read that description I know it is a most optimistic assessment by either the track promoter or the race director or someone with a very sunny attitude. I am a gullible person. I like to believe what people tell me. I've met a few people in life that have violated the code of honesty. Once that happens I go out of my way to avoid that person.
Ukiah is the county seat and largest city in Mendocino County. They've got about 16,000 residents. Ukiah is a major center for wine production. The city is home to Dharma Realm Buddhist University.
THE RACING
Ukiah Speedway – Ukiah, California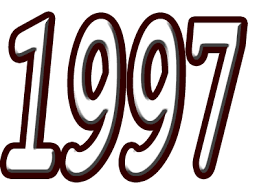 This was not my first visit to Ukiah to see auto racing. Back in 1997 I had visited the Ukiah Speedway in Ukiah, California. That was so long ago and I've seen so many tracks sense then that my memories of the visit are far beyond blurry.
My one phrase comment that I record for every track I visit was NASCAR's "Bill Broderick flagged the feature". Denny Cashada in his #69 racer won the feature race. The Ukiah Speedway full-sized asphalt oval was my 331st lifetime track. I have seen more than 2,000 tracks since that visit to Ukiah!
Tonight I would almost get a two-for-one value. The Ukiah Speedway's paved oval races mostly on Saturday nights. However, with tonight being Friday several cars were in the pit area of the larger track running a few practice laps. I could view from a distance that activity from the grandstands of the Ukiah Speedway Flat Track.
I paid my $10 spectating admission to the kart track at a few minutes before 6 p.m. Drivers and crews were still signing in. There wasn't much activity in the pit area. I found a good spot to park my car near the track, leaned back the driver seat and got about thirty minutes of shut eye. I had driven 564 miles from the Orange County airport up to the track. Following the night's races I would still have more than 200 miles of driving to get back to my hotel in Wesley, California.
Tonight I would be seeing racing on a small dirt oval. The track had a nice bank to it and plenty of grandstand seating. However, for some reason most of the front stretch is obscured with a tall 6-8 foot plywood wall. Even from the top row of the grandstand the cars would go out of sight for 2-4 seconds as they raced down the front straight. Lap times were in the 10-second range.
There were about six classes of racing carts tonight. All of them were winged caged karts with the exception of one flat kart division.
All of the karts used transponders. This allows the track to electronically time the vehicles. The results of the time trials were posted on the pit board next to the concession stand.
Although I saw some speaker systems in place at the kart track there were no PA announcements whatsoever. Therefore I didn't really know if I was seeing a heat race or a feature event or which class was on the track. I knew that at least two of the classes were open to adults. Tonight adults were racing in those classes and that would make tonight's track a countable situation.
The most popular "go kart" in terms of trackchasing accountability is the Senior Champ Kart. They were not racing senior champs tonight. These caged karts are called "winged outlaw karts".
The racing was generally good. I asked that you view the videos and photos that I post on my site to see exactly what the racing did look like.
In order to see just this one kart track I would drive a rental car more than 1,000 miles, pay for a hotel, buy a race ticket and stop at several restaurants along the way. Luckily I had an airport parking sponsorship and no airline expense on this particular adventure.
AFTER THE RACES
I normally wouldn't use this much time and expense to pursue one track. However as mentioned previously I'm on a quest to see more tracks in California than anybody else. In order to do that I have to do this. I know that you understand.
I had driven nearly nine hours from my home to the track today. After the races I would have an additional 3-1/2 hour drive back to my hotel in Wesley, California. What did that mean? It meant that it would be a 5-Hour energy drink night.
That stuff works really well for me. I have no side effects or aftereffects from using the product whatsoever. I always try to carry a bottle of the extra strength version in my briefcase.
SATURDAY
I am a goal setter. I attribute goal setting too much of the success that I have achieved in life.
I have several season long trackchasing goals. One of those goals is to try and stay in good physical conditioning by doing a reasonable amount of aerobic exercise. My goal for the year is to have twice as many 45-minute exercise periods as I do trackchasing days.
This year I'm going to trackchase between 90 and 95 days. That means I'm going to have to have 180–190 exercise sessions. I have fallen a little behind on this goal up to this point in the year. I'm going to put a heavy press during the fourth quarter to see if I can make it. Stay tuned.
That being the case I was out the front door of room 116 of the newly acquired Motel 6 property for a 45-minute power walk. Although it will be in the 90s later in the day it was cool enough for a nice power walk this morning. I left the small "town" of Wesley and was soon walking by the California agricultural aqueduct. This is the water that is transported from the California mountains down to the central valley. It irrigates much of the fruit and veggie crop that you have in your home right now. It was a nice walk. I enjoyed it very much especially the part that took me down a lonely, lightly traveled two-lane highway amongst the almond tree farms.
I consider any activity that occurs from the time I leave my house on one of these trips until the time I return home to be fair game for inclusion in one of my famous Trackchasers Reports. I would have a little more "touring" activity before I returned home late tonight.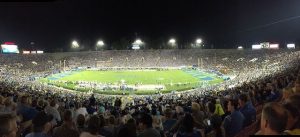 I would be visiting the famous Rose Bowl see the UCLA football Bruins play the Arizona State University Sun Devils. I had a personal attachment to both of these universities.
On the UCLA side my "link" is our three children. All three of our children, JJ, Kristy and Jim graduated from UCLA. They each did it in four years, which is a great accomplishment that most can't match. Did you know that UCLA gets more applications for freshman admittance than any other school/college in the world? It's a very competitive place to get into. Currently a student would need better than a 4.0 average as well as super high test scores to be considered for admission.
My link to Arizona State University in Tempe, Arizona is as a student. I received my bachelor's degree from Northern Illinois University. Then I went on to pursue my MBA from first Bradley University in Peoria, Illinois and then Xavier University of Cincinnati, Ohio and finally Arizona State University in Tempe, Arizona.
However each time I unrolled it in MBA school and completed a class or two, I received a job promotion and relocation. After having to move away from three MBA programs for the next MBA program (UC-Irvine) balked at accepting my earlier credits. It was at this point that I decided that business experience was going to be much more important than an advanced business degree. As I look back on it I think that was a good way to think about it!
Today our son J.J. and I would be attending the game together. That was a nice father-son situation. I wish we could do it more often.
Carol was back in San Clemente resting up from her ten-day tour of the big Island of Hawaii. On Monday morning she'll make a quick visit to the "crash house" and spend some time "between the sheets". It's nothing super serious but just something that needs to be maintained.
Following the game I motored from famous Pasadena, California down to the Orange County airport. I had driven my National Car Rental Racing Hyundai Sonata machine some 1,104 miles. It gave me some pause to think about my objective of becoming the number one California trackchaser.
I am now seven tracks behind Gary Jacob's Golden State leading total. I'm pretty sure I will have to get those tracks one at a time. That means one trip for one track. I cringe to think about how much time and money that's going to take but I'm willing to do it.
I hope you've enjoyed reading about one man's up obsession. Yes it is in obsession or possibly an addiction or maybe both. How ever as one man once told me it doesn't hurt you and it doesn't hurt me so why not just enjoy it. I couldn't argue with that logic one bit.
Good night from Ukiah, California.
California
The Golden state
This evening I saw my 143rd lifetime track in the Golden state yes the Golden state. I hold the #1 trackchasing spot in California as I do in 24 total states.
Thanks for reading about my trackchasing,
Randy Lewis
World's #1 Trackchaser
Peoria Old Timers Racing Club (P.O.R.C.) Hall of Fame Member
California stuff: You have an incorrigible avocado habit.
In other parts of the country, avocados are an expensive luxury. I've seen New Yorkers cradling a sorry-looking avocado they just paid three dollars for. We just put avocados on everything because their creamy decadence makes all of our fresh food taste even better.
QUICK FACTS
LIFETIME TRACKCHASER COMPARISONS 
The three most important trackchasing comparisons to me are:
Total lifetime tracks seen
Total "trackchasing countries" seen
Lifetime National Geographic Diversity results
Total Lifetime Tracks
There are no trackchasers currently within 550 tracks of my lifetime total. Don't blame me.
Randy Lewis, San Clemente, California – 2,167
Total Trackchasing Countries
There are no trackchasers currently within 20 countries of my lifetime total.
Randy Lewis, San Clemente, California – 71
Current lifetime National Geographic Diversity results
Randy Lewis, San Clemente, California – 4.37
That's all folks! Official end of the RLR – Randy Lewis Racing Trackchaser Report
Click on the link below to see the video production from the racing action today.
Click on the link below for a photo album from today's trackchasing day.  You can view the album slide by slide or click on the "slide show" icon for a self-guided tour of today's trackchasing adventure.
Another California track is in the books after my third trip to Ukiah, California
.
.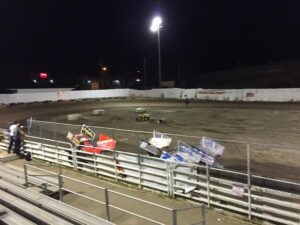 Ukiah Flat track racing – 2015