VERMONT
The Green Mountain State
Highlights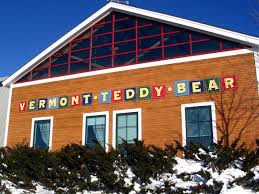 From the travels and adventures of the "World's #1 Trackchaser"
All-Time Favorite Vermont Track:
Thunder Road International Speedbowl
Current lifetime trackchasing state rank: 2
Best Memories: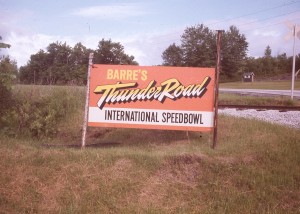 I have only visited the Thunder Road International Speedbowl one time, in 1985. They race weekly on an unusual night, Thursdays. I've been wanting to go back there for years. Each time I've considered a return trip the weather forecast has scared me away. I'll get back one of these days!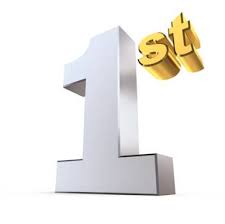 I have a strong history of being the first trackchaser to do lots of things. You'll have to trust me when I tell you I've been the first trackchaser to visit a racetrack more times, by a large margin, than anybody else.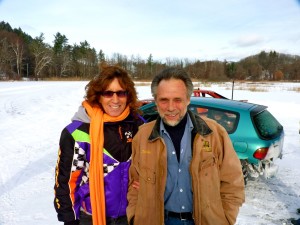 I had a really big "first" in Vermont. I saw the very first figure 8 race on…..ice. Yep! I showed up at Puffer's Pond in Vernon, Vermont in 2011. I even got the chance to ride in one of the races on ice. The hospitality from the track promoters, Dickie and Linda (above) and their friends was above and beyond.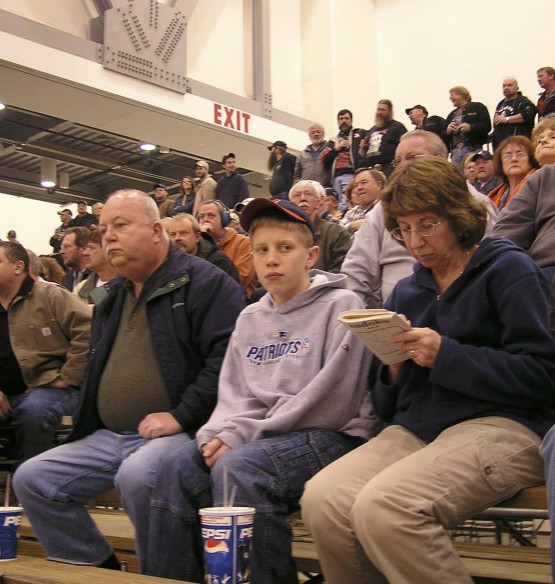 In 2009 I showed up at the Franklin County Fairgrounds in Highgate Center. Massachusetts based trackchaser John Osowski (above with grandson and Joellyn at the Devos Place in Grand Rapids, Michigan) was in attendance. I had first met John randomly at the Jacksonville Speedway in Illinois. On that night in Vermont John took me aside and told me how much he admired my trackchasing. Sadly, John died a few years later. We've stayed in touch with John's widow, Joellyn since John's death.
If you see a track link in the above list simply click on it to be transferred to my Trackchaser Report. Here you will be able to read about my adventure at this particular track. Not only will you learn about my time at the track but you'll hear about all of the interesting people, places and things I encountered during the entire trip, coming and going, to that speedway. Most of my Trackchaser Reports will also include a photo album and YouTube video. Check it all out. Don't be afraid to use the "search" box in the upper right corner of my website's home page. Just type in the track name or whatever and you'll be directed to the place you want to be.
Below is a key to surface types and track configurations so you can understand the above list just a little bit easier.
Surface types:  D-dirt; P-paved; M-mixed
Configuration types:  O-oval; RC-road course; F8-figure 8 track