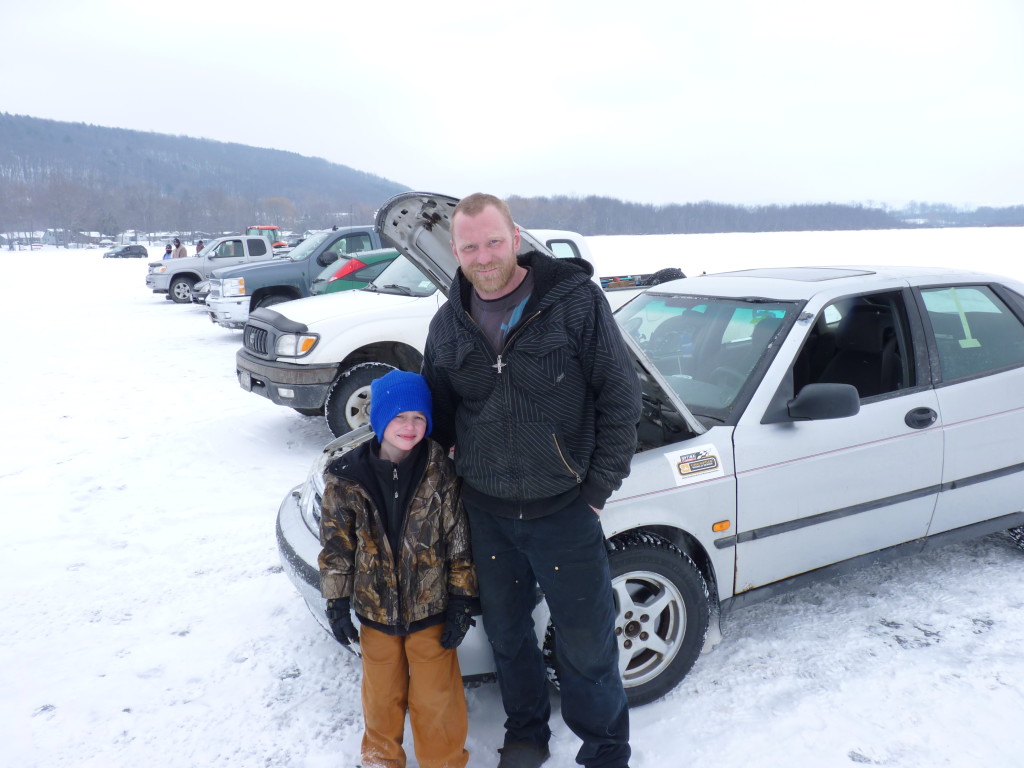 Greetings from Tyrone, New York
From the travels and adventures of the 
"World's #1 Trackchaser"
Lake Waneta Ice Track – Track #1,934
HighlightsThe DetailsAttractionsRace ReviewVideosPhotosQuick Facts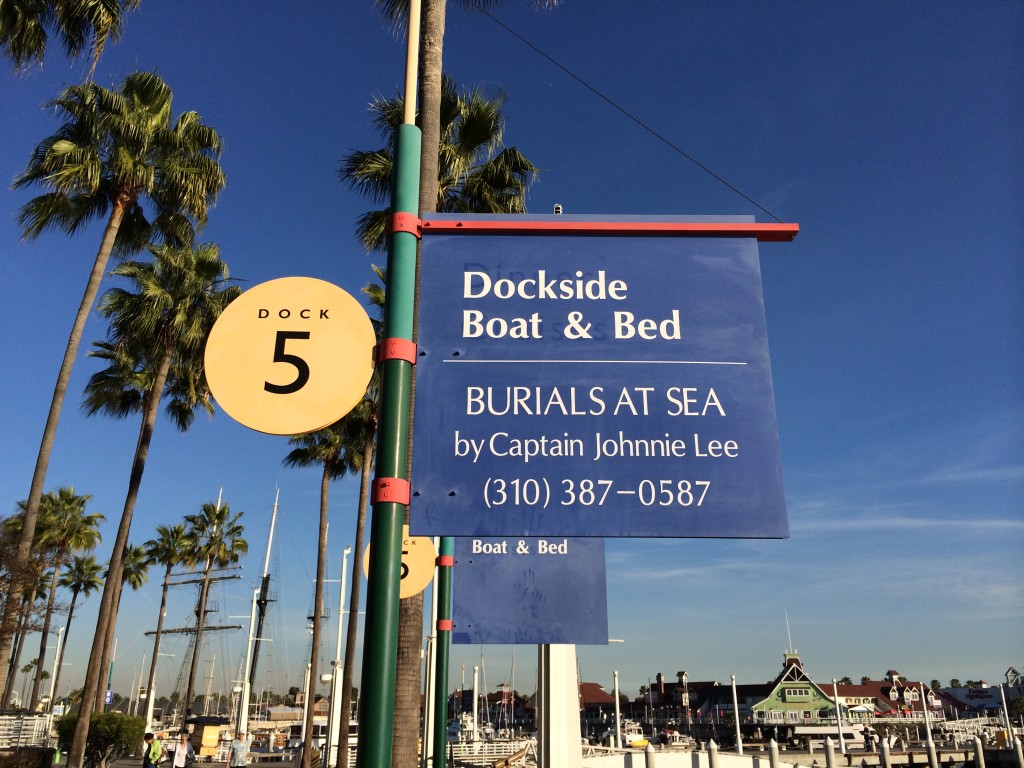 The very best Trackchasing Tourist Attraction………….more in "The Details".
I went North; Carol went South………….more in "The Details".
I am a family man………….more in "Attractions".
Long Beach has been good to us………….more in "Attractions".
We won't forget this one………….more in "Attractions".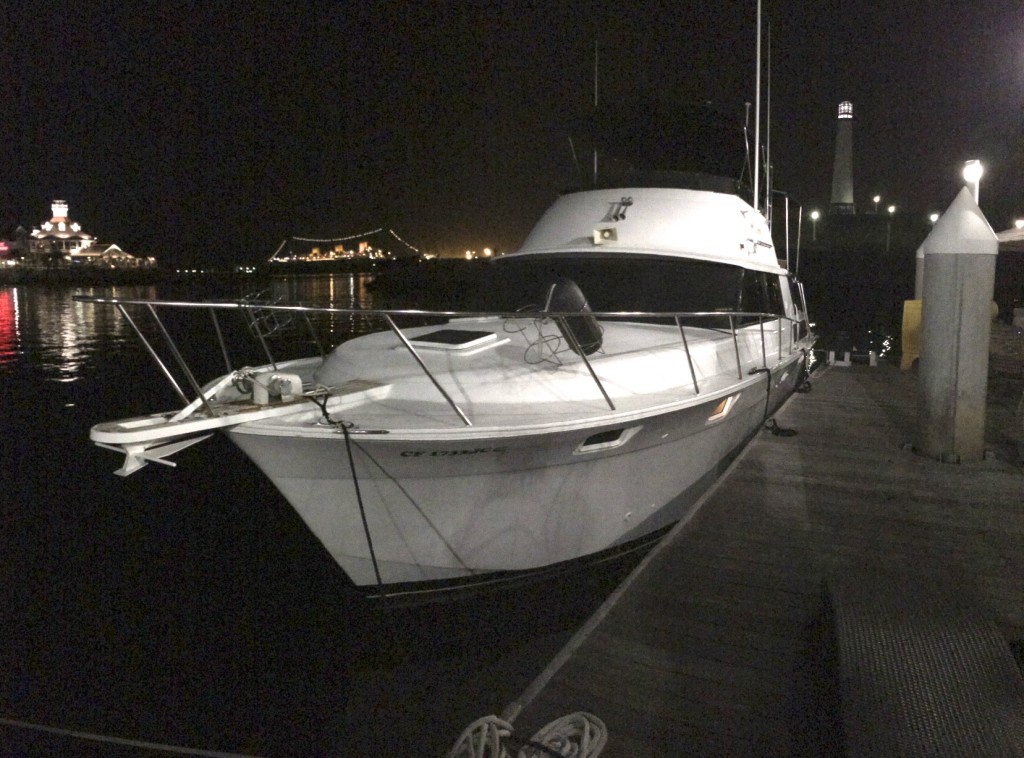 From a yacht on an ocean to a rental car on a frozen lake……..details in "Race Review".
I spent the afternoon standing on pretty much an 18-inch thick block of ice……..details in "Race Review".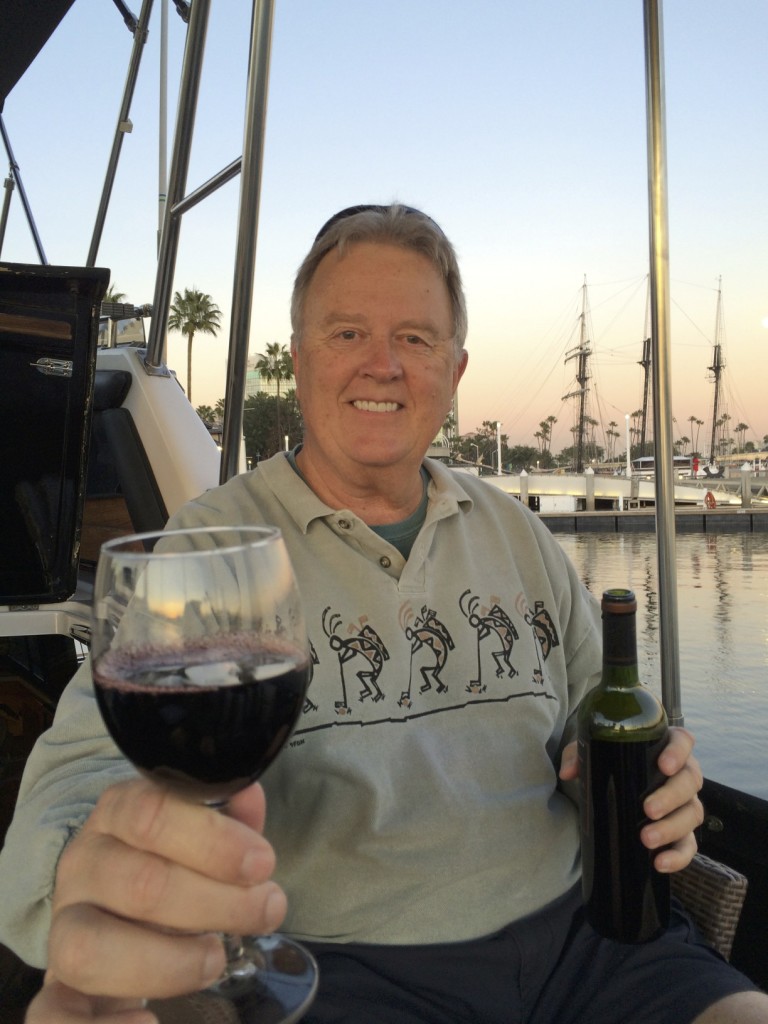 The very best Trackchasing Tourist Attraction.
Carol and I woke up this morning in Long Beach, California.  Then I flew to Boston via Charlotte and drove overnight to Dundee, New York.  This is how my trip went.
It's very important to understand that I try to limit what I discuss in my Trackchaser Reports.  If whatever happens happens after I left the house on one of these trips and before I returned to our modest seaside cottage then the subject matter is free game.
In today's report I will tell you about one of the most spectacular, creative and unusual Trackchasing Tourist Attractions I have ever encountered.  I can't believe I didn't do it sooner.  For all of those seeking "marriage points" or "significant other" points this is a must read.  Everything you need to know is sitting right behind the "Attractions" tab.
FRIDAY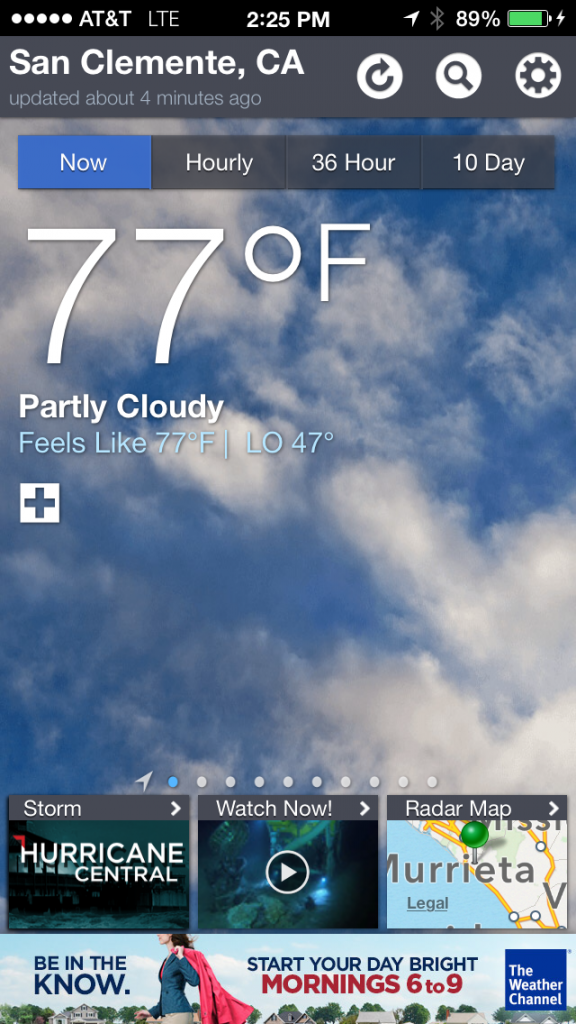 I went North; Carol went South.
After wrapping up our Trackchasing Tourist Attraction I headed north "on the 405" and Carol headed south.  I was flying to Boston via Charlotte.  Yes, with the snow and ice storms in Charlotte every flight from LAX to North Carolina had been canceled.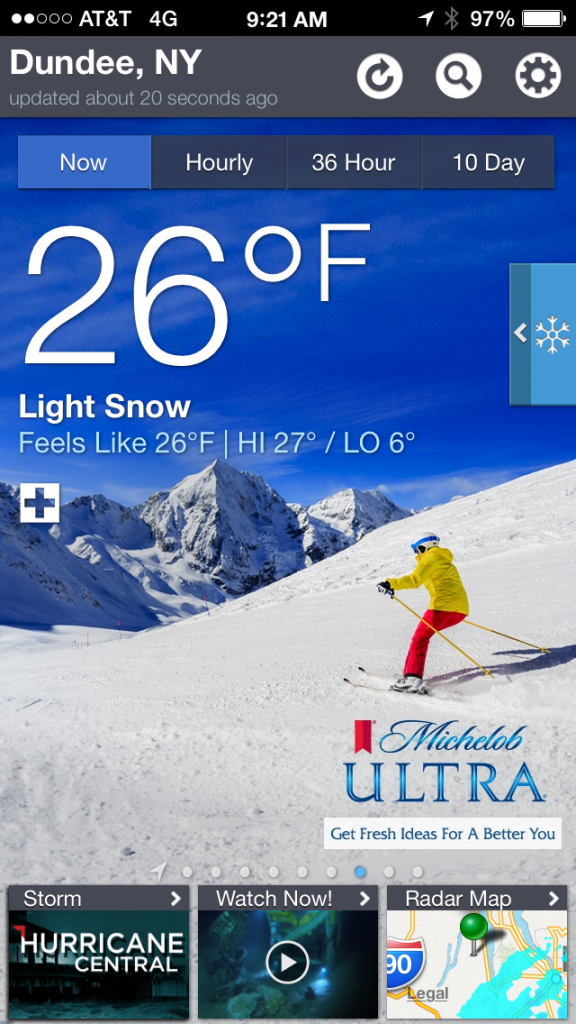 Just lucky I guess.
I had purchased my ticket to Boston several weeks ago.  I didn't know WHERE I would go ice racing but I figured I could get to just about any place I needed to go from Boston.  Little did I know that I would miss by one-day the biggest snowstorm of the season along the Eastern seaboard.
I landed in Boston at midnight.  By the time I got off the plane and picked up my rental car it was nearly 1 a.m.  The planning and research executives back at Randy Lewis Racing had identified Waneta Lake in Dundee, New York as the ice racing location for this trip.  Waneta Lake would become track #1,933.
I must go where it is most volatile.
Waneta Lake was chosen over several locations in New Hampshire because of its volatility.  The ice racing locations in NH race every year.  Waneta Lake doesn't have a long history of ice racing.  If I knocked off Waneta now I would always have those places in New Hampshire for future trackchasing years.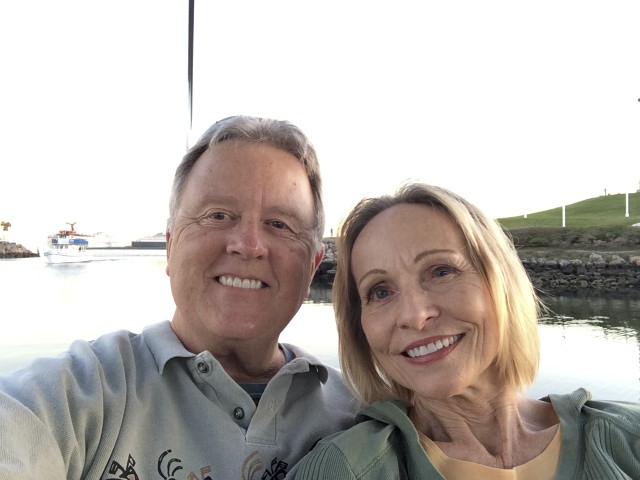 TRACKCHASING TOURIST ATTRACTION
I very much enjoy the racing when I go on trackchasing trips.  However, I am not the type of person who would feel the trip was complete if I simply left home, went to the race and came back home.
I do a good deal of traveling.  I want to do my best to see the local area when I come for a visit.  There are often some unusual attractions that one area is noted for more than any other locale.  I want to see those places.  I want to touch them and feel them.  When I leave an area, I want to have memories of these special places that I call Trackchasing Tourist Attractions.  I will remember those experiences long after the checkered flag has fallen on whatever race I have seen that day.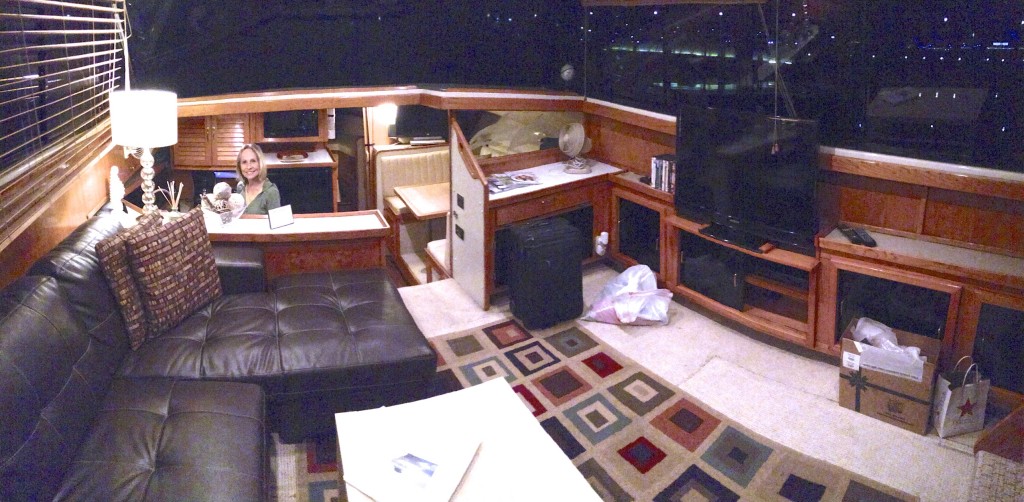 Dockside Boat & Bed – Long Beach, California
Just promise me this.
Even though these reports go out to more than 1,000 people in several different countries all over the world I need you to promise me just one thing.  Whatever you read here should not be passed along to any of the "Dreaded East Coast Trackchasers". 
You know that the DECTs have long cried in their Diet Rite Colas (cheap things cheap) about my being a "privileged" trackchaser, born with a silver spoon, the 'Bill Gates' of trackchasing and the like.  The last thing they need to hear about is how today's Trackchasing Tourist Attraction went down.
I am a family man.
You all know that I am a family man.  I love spending time with my wife, kids and grandkids.  What I love just as much is giving them gifts.  When I'm on the road I will always try to pick out a souvenir that each of them will enjoy.  If they call and need me for anything I'm there. 
That's why when it came time for Carol and I to celebrate our 42nd wedding anniversary I wanted to come up with something special.  After you've been married that long it becomes more difficult to come up with that "something special" idea.

What an idea!  Have you ever heard of something like this?
However, a couple of months ago, I came across just the idea that would be perfect for the two of us.  I would rent a YACHT for us to spend the day and the evening on.  Yes, a YACHT.  Remember, you can't tell those DECT people about this.  They'll go crazy.
In order for Carol to be able to prepare properly I had to tell her what we would be doing with some advance lead-time.  She was excited.  I was excited.
Carol is one smart cookie.
At about 2 p.m. on Thursday afternoon we headed up toward Long Beach, California in separate cars.  Carol was going on an overnight Yacht sleepover.  She was not going on the ice racing adventure to the snow-plagued east coast.  Yep, that Carol is one smart cookie.
Long Beach is about 40 miles north of San Clemente.  It's on the way to LAX.  The location would make tomorrow morning's departure for the ice racing trip convenient for me.  Additionally, Long Beach is home to the Queen Mary and the Long Beach Grand Prix.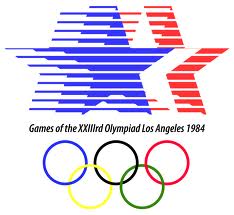 Long Beach has been good to us.
Carol and I have had some memorable experiences in Long Beach.  Back in 1984 we were part of our corporate sponsorship program of the Los Angeles Summer Olympics.  Our company rented out the entire top floor of the Long Beach Hyatt Regency hotel for the presidents and their spouses (and us) as guests of the Olympics for 16 days.  We had double decker buses, with cocktail waitresses no less, to chauffer us all over town to the Olympic venues.  It was a fantastic experience.
Then in 1987 American Airlines invited us to be their guests at the Long Beach Grand Prix.  That in itself was a fantastic time.  However, at the race, American Airlines sponsored a contest for their guests (us!).  There would be prizes for the people who could come closest to picking the winning speed of the grand prix winner.  I'd be less that honest if I didn't tell you my advance research virtually guaranteed that we would win the contest.  We did win.  What did we win?  American Airlines gave us airfare for two and a week's hotel in Zurich, Switzerland.  Yes, Long Beach has been very kind to Carol and Randy.
This was going to be a grand time.
Today we pulled into Long Beach at about 3 p.m.  It was a warm and sunny 77-degree day.  At the same time the east coast was getting hammered with up to 20 inches of snow.  Yes, there is a BIG reason we live in SoCal.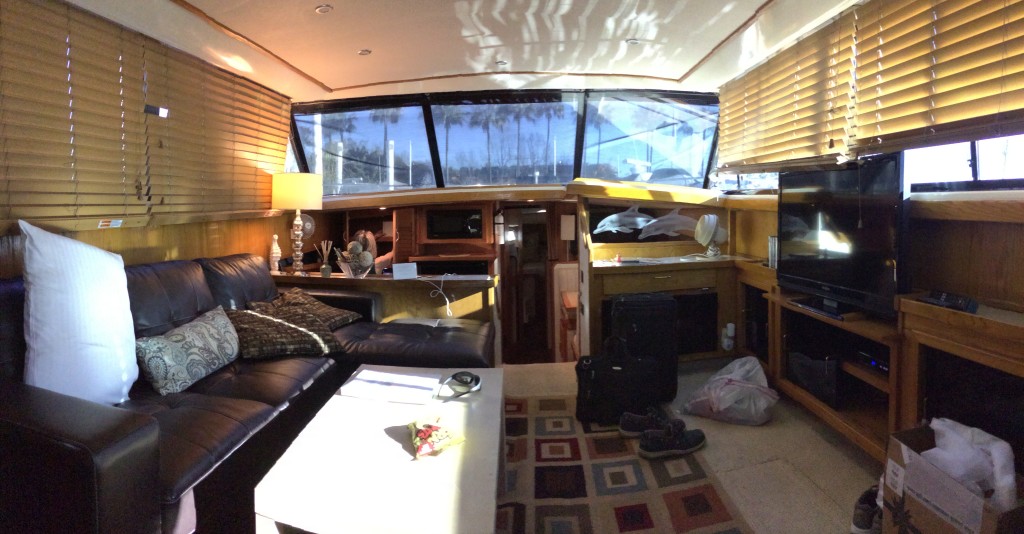 Soon we were being shown to the stateroom in our yacht, the Sea Peepers.  Just off the aft deck was a great view of the Queen Mary and a huge cruise ship that was in the port of Long Beach for the day.
Our accommodations included three flat screen TVs.  We had a full kitchen, living room and bedroom.  We walked around the Long Beach pier taking in the sights and sounds.  Long Beach has done a fantastic job of re-inventing itself over the past 25 years.  It's a very upscale place.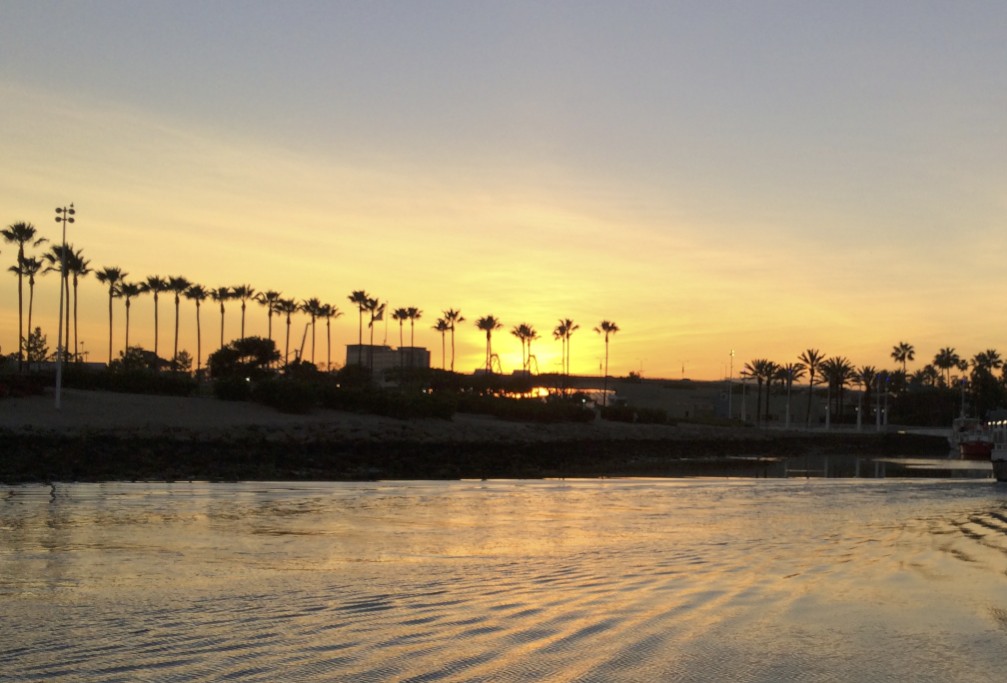 It doesn't get any better than this.
Then we were back to the Sea Peepers for a view of a most beautiful sunset.  As the sun went down a full moon came up.  We drank red wine.  The sun had set.  We drank some more wine under the stars of the most beautiful evening of the year.  The lights of the nearby restaurants and the lights of the other boats in the harbor were reflecting on the calm waters.  At this point it was actually more beautiful than it had been in the daylight.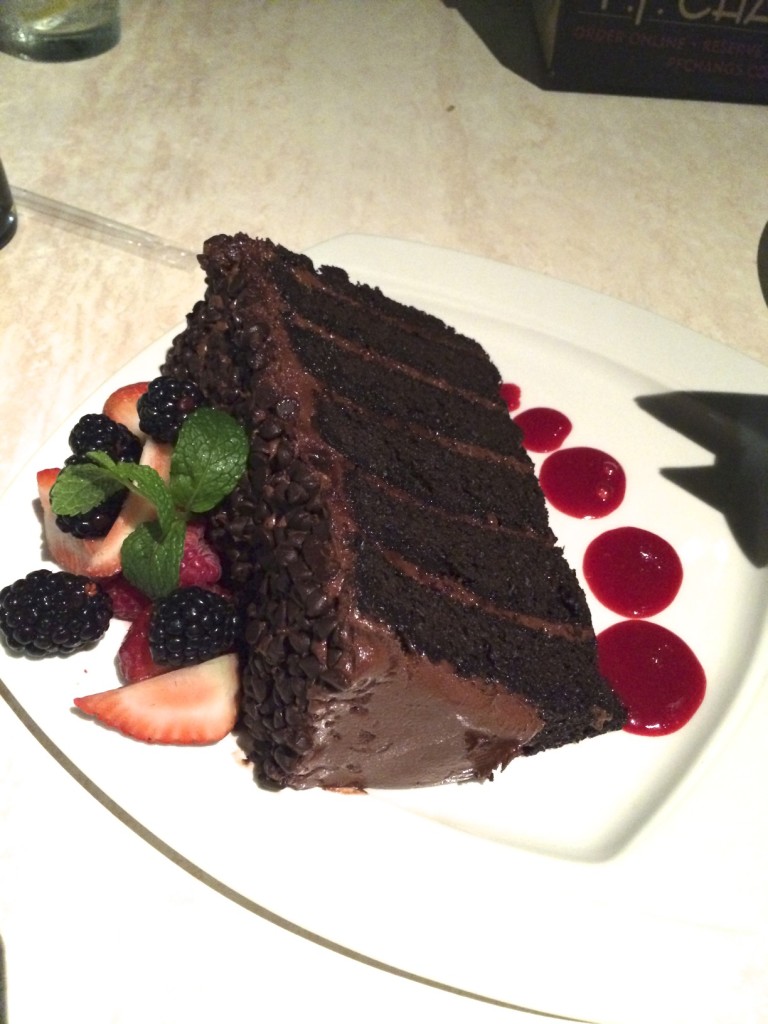 There are some 35 upscale restaurants in the harbor.  We chose P.F. Chang's a Chinese eatery just 75 yards from our boat for our anniversary dinner.  We were able to eat outside with heat lamps as it does cool off nicely in Cali at night.  For dessert we were served the "Great Wall of Chocolate" chocolate cake.  I had never seen such a large and moist piece of chocolate cake in my life served with raspberry sauce and fresh berries.  We had to take more than half of it back to the boat for later.
When we did return to our seaward overnight accommodations we had time to catch a recorded movie in our stateroom.  We spent some more time on deck as various boats cruised past on dinner and evening cruises.
If this sounds attractive you can do something like this.
Folks, I know that not all of you live in Southern California.  However, if you have that "special someone" in your life I encourage you to seek out opportunities like this that might exist in your local area.  Maybe there's a marina near you or whatever.  You get the point.
Take that special person out and entertain them with something unique and heartfelt.  It doesn't have to be a special evening on a yacht.  Although if you can swing it you won't regret it.  To me giving gifts is so much better than receiving them.  I could give gifts all day!
Zzzzzzzzzzzz.
The next morning we slept in.  Carol never gets to do that.  She's up every morning before 6 a.m.  A continental breakfast had been delivered to us the night before with juices, bagels, muffins, fresh fruit and the like.  We could have breakfast anytime we wanted.  We spent some more time sitting out on the deck and just walking around the beautiful harbor.  It was going to be another near 80-degree day.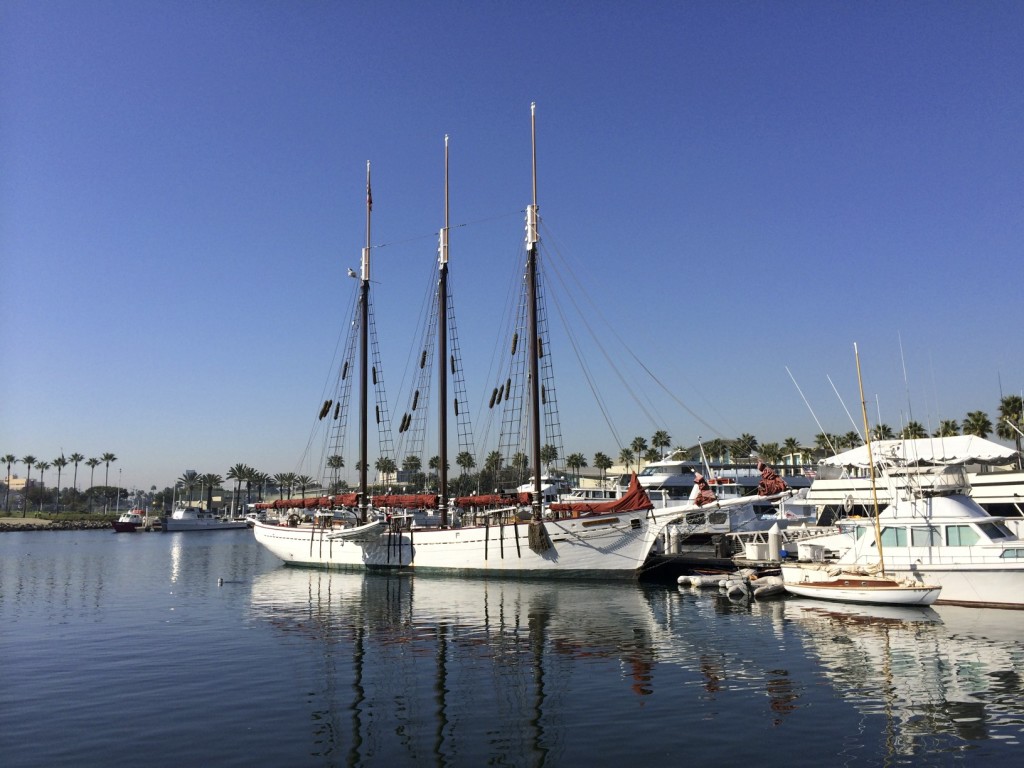 We won't forget this one.
I certainly can't remember what we did to celebrate all of our 42 wedding anniversaries.  However, it will be a long time, if ever, before we forget this one.  By the way, if you know me and if you see me you might want to ask what "Duncan Donuts" has to do with our anniversary celebration.  I can't go into that here but if you catch me in the right moment face to face I might just tell you.
Don't miss the pictures!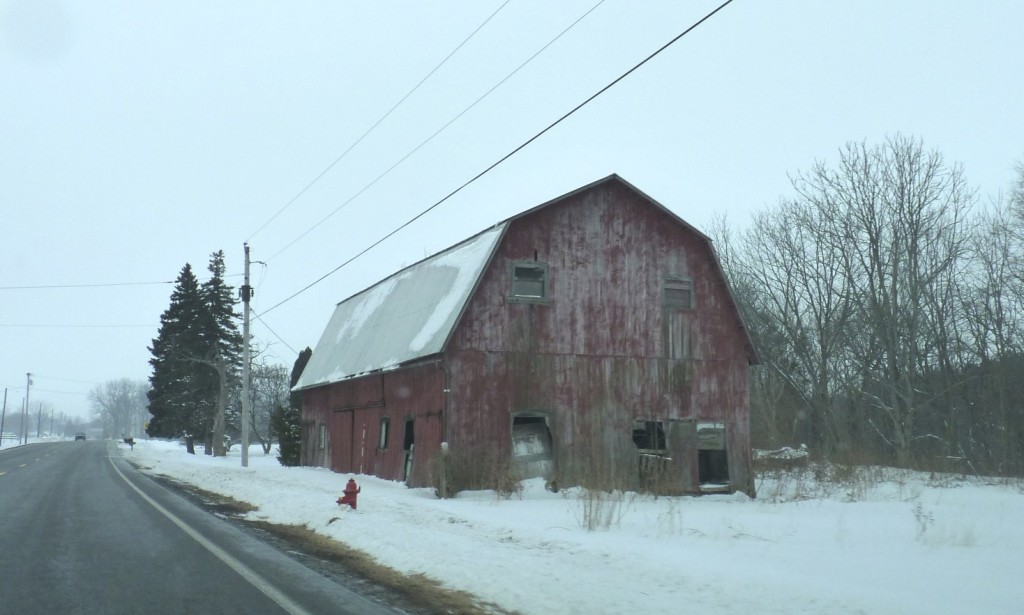 Waneta Lake Ice Track – Tyrone, New York
It was quiet in Boston.
Picking up my rental car in Boston at past midnight was a blessing.  That meant I would not have to deal with Boston traffic.
From a yacht on an ocean to a rental car on a frozen lake.
Let's think about this.  Last night I spent the evening on a yacht with evening temperatures pegged at about 75 degrees.  Tonight I didn't go to bed at all.  I drove all night from Boston to Tyrone, New York.  My drive was a distance of 387 miles.  Who does that?
In point of fact, I loved every minute.  As you've read the yacht experience was wonderful.  Getting to see ice racing in the cold and snowy northeast in the middle of winter would be fun too.  How did I know it would be fun?  Simple.  I only do fun things.  I was doing this voluntarily so that meant the outing was going to be fun.
I will tell you that the New York toll roads are not that much fun.  What did someone do wrong in life to be a toll taker at 3 a.m. in the middle of an upstate New York winter?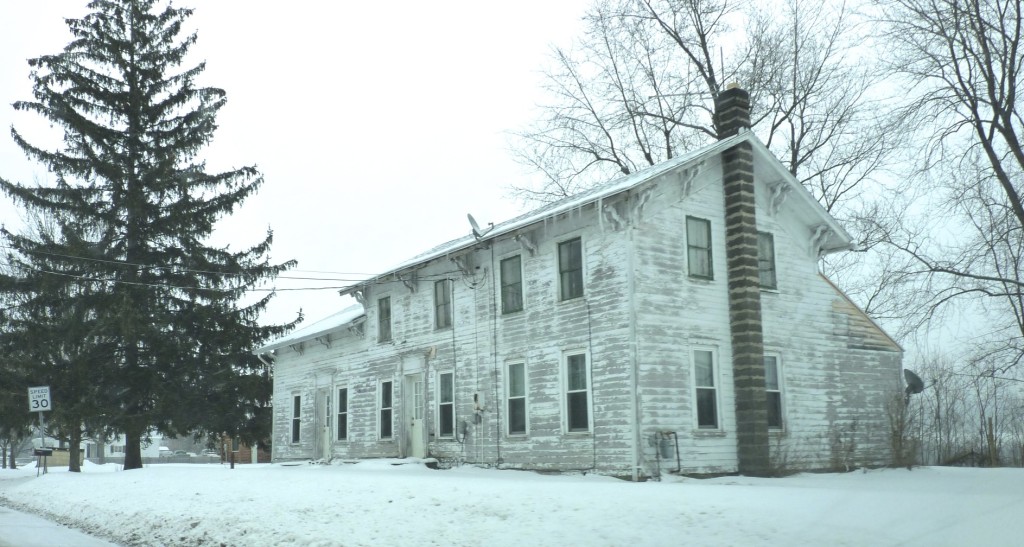 Norman Rockwell lives.
The winter scenery as the sun came up on Saturday morning was right out of a Norman Rockwell painting.  I love Norman Rockwell.  Not every house had a coat of paint.  That just added to the rusticness of the situation.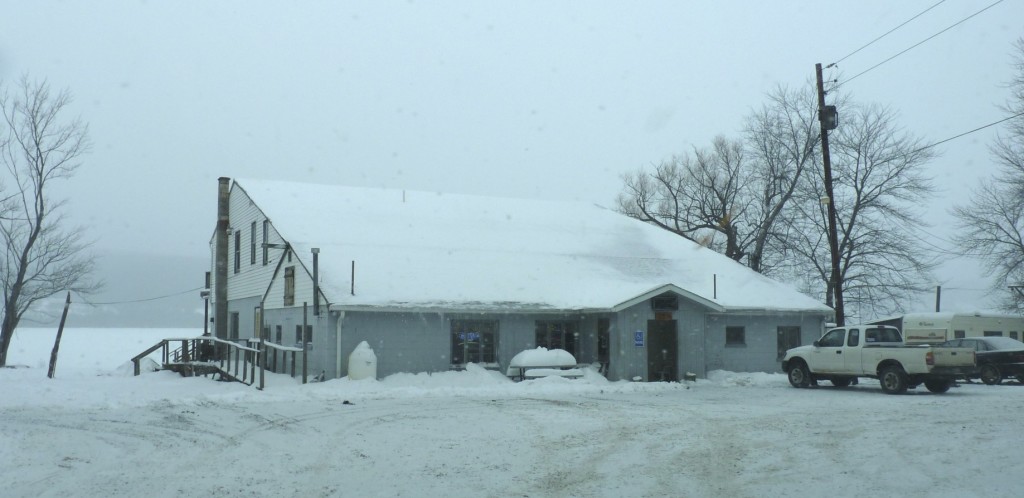 The Waneta Inn was a welcome sight.
Race headquarters for the New York ice racers was at the Waneta Inn.  The inn's location was perfect.  You could actually watch the race from indoors, albeit from a good distance from the track.  Google told me the Waneta Inn, located on the shores of Waneta Lake, was in Dundee, New York.  However, as you will see below Wikipedia told me the lake split the towns of Tyrone and Wayne!
I was in need of breakfast and the Waneta Inn was going to be the perfect place.  One Urbanspoon review had this to say about the place,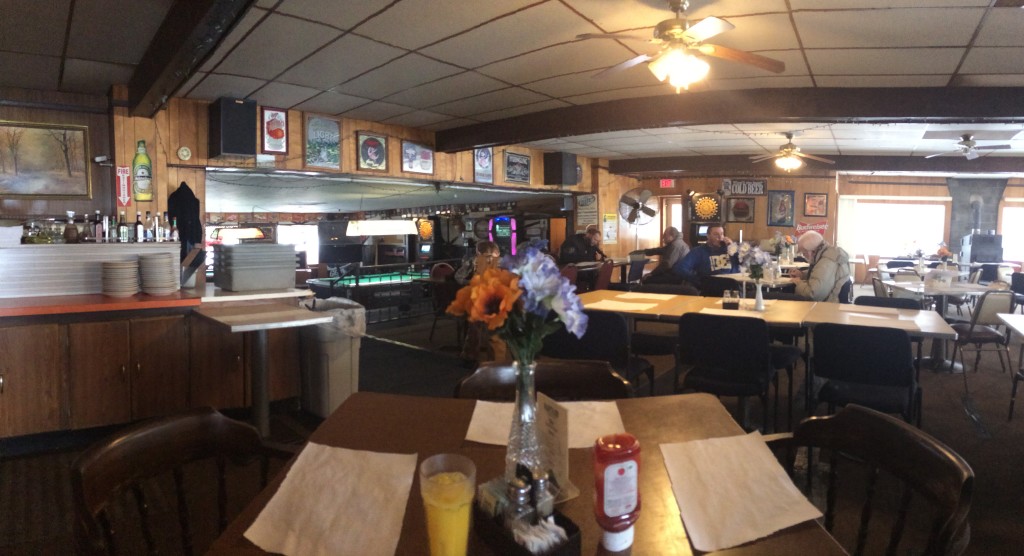 "good food, ambiance is a little rough around the edges. Not necessarily a place for children if you are opposed to having them walk through the bar into the dining room. tables, floor etc. are tattered but in reality, food remains the draw. If you are looking for fun, a beer and a reasonably priced meal, visit the Waneta Inn. Loud after 9PM (summers, holiday weekends and festivals)."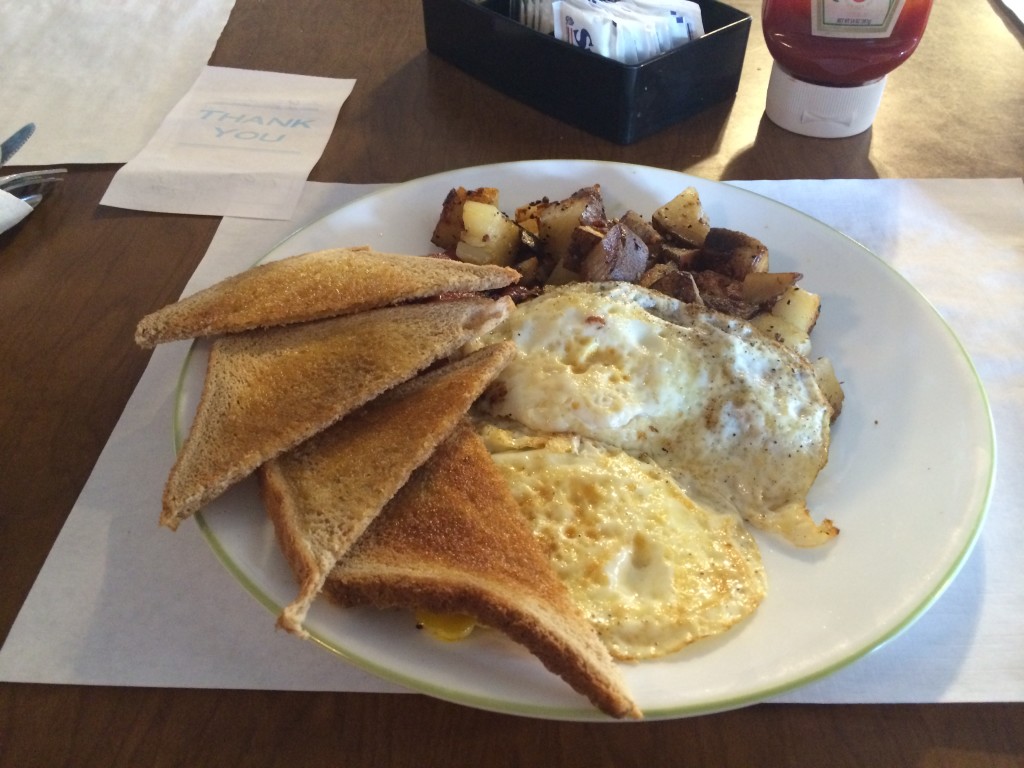 I'll take the #4.
This morning's menu was handwritten on a single piece of paper.  I went with the #4, "two eggs, toast and home fries" breakfast option.  The food was great.  While I had breakfast the ice racers dropped in to sign up for the day's racing activity.  I signed a pit release after paying my $5 and was good to go.
I spent the afternoon standing on pretty much an 18-inch thick block of ice.
I've been following the group's leader, Casey Creamer, for a few years.  Casey does a nice job of keeping everybody informed about ice racing conditions.  Ice racers in this area have their events cancelled because of poor ice conditions as often as not.
At 9:30 a.m. it was 26 degrees in nearby Dundee, New York.  For ice race spectating that's a pretty reasonable temperature.  I drove my Hyundai Sonata more than a ½-mile out onto the ice.  I would be there for the better part of the day.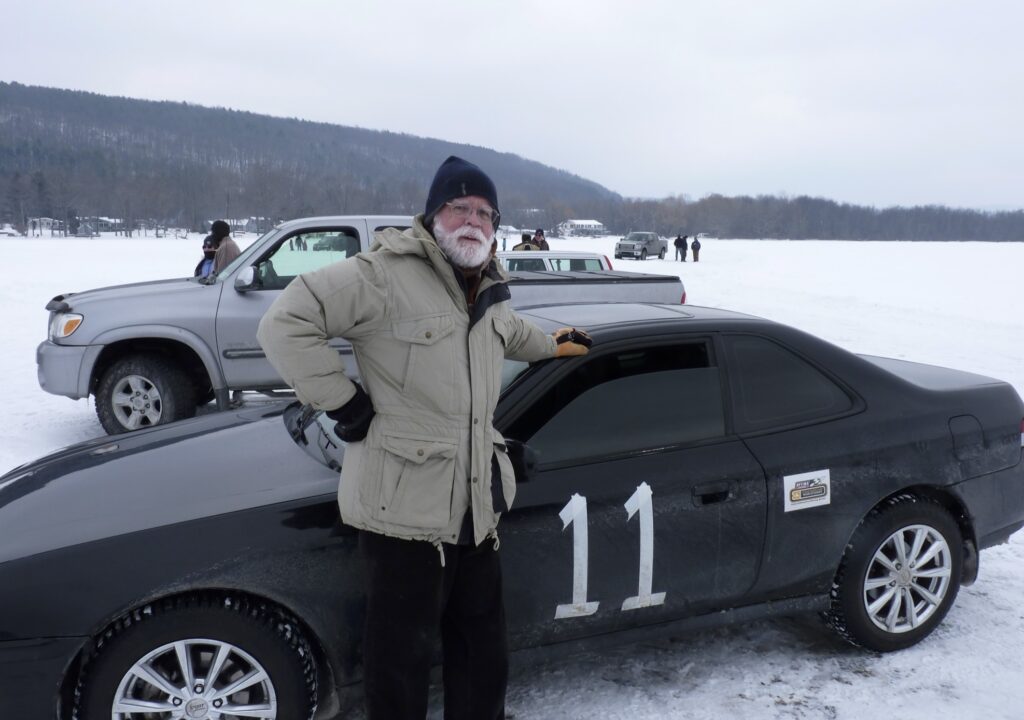 Waneta Lake.
Today's racing would take place on a well-frozen Waneta Lake.  Ever heard of that lake?  According to Wikipedia, "Waneta Lake (previously known as "Little Lake") is a small lake in the Finger Lakes region of the state of New York.  The lake straddles the border of Schuyler County and Steuben County, and is within the towns of Tyrone and Wayne.  Waneta Lake is 3.5 miles long (north-to-south) and half a mile wide (east-to-west), and lies just east of the southern branch of Keuka Lake."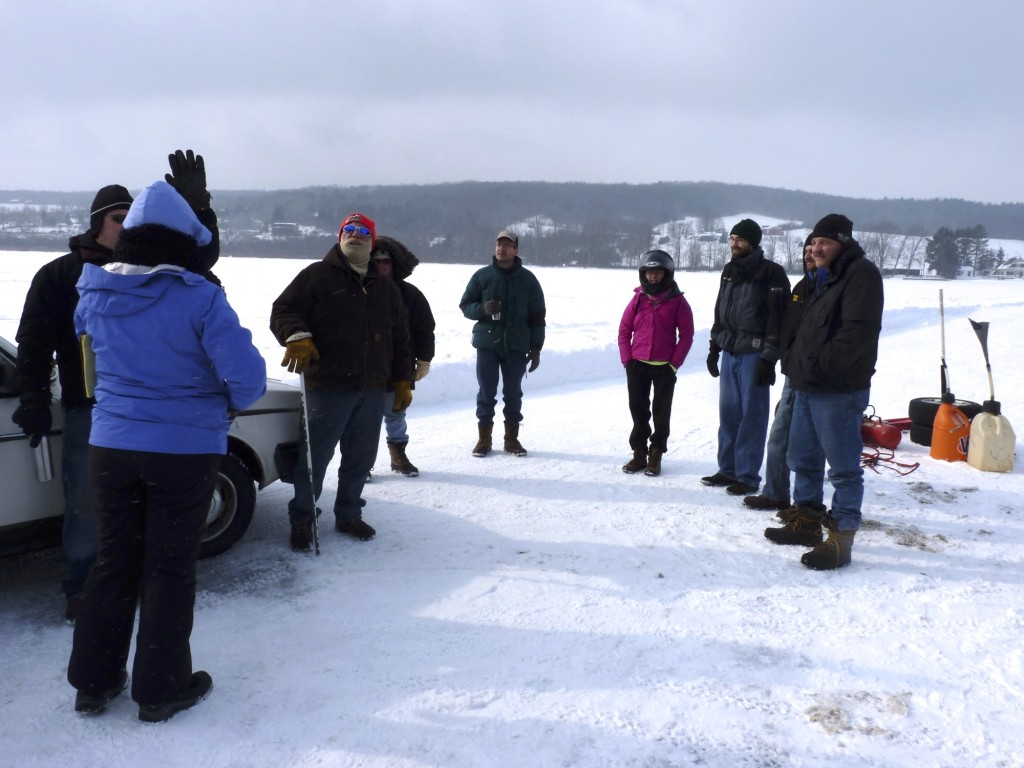 The driver's meeting!
Not every racing fan gets to listen in on the driver's meeting.  That's always fun.  I recorded a couple of minutes of today's driver's meeting.  It's "racing" with these guys and gals not "racin".  "Rubbin" is not O.K.  Don't miss the YouTube video of the driver's meeting.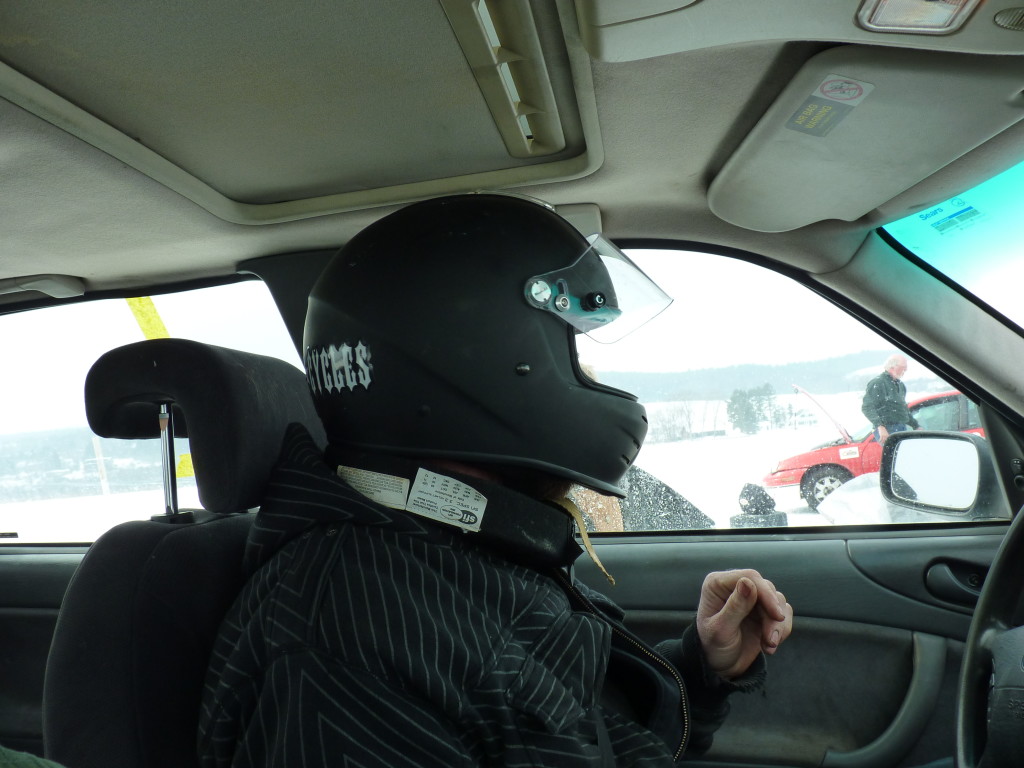 Nice folks.
During the course of the racing I was able to meet several people.  I'm sorry but I didn't catch everybody's names.  Jared Fox was most helpful.  He explained the ins and outs of driving on ice.  Guys like Jared are just as passionate about THEIR racing as any racer I run into all year from the biggest circuits to the smallest.  On the far side of the road course I had a chance to get some close up pictures of the sideways racing.  Although I did get some good shots it was rather desolate at that location and colder when the wind picked up.  
Unfortunately, I didn't write down the name of the gentleman driving the black #11.  We had a nice chat.  We had run into each other at an ice race a few seasons ago.
I had the chance to talk to several other drivers as well.  There were only about 10 racers today.  Everyone was most friendly and willing to answer my questions.  I sensed they knew that I "wasn't from around here".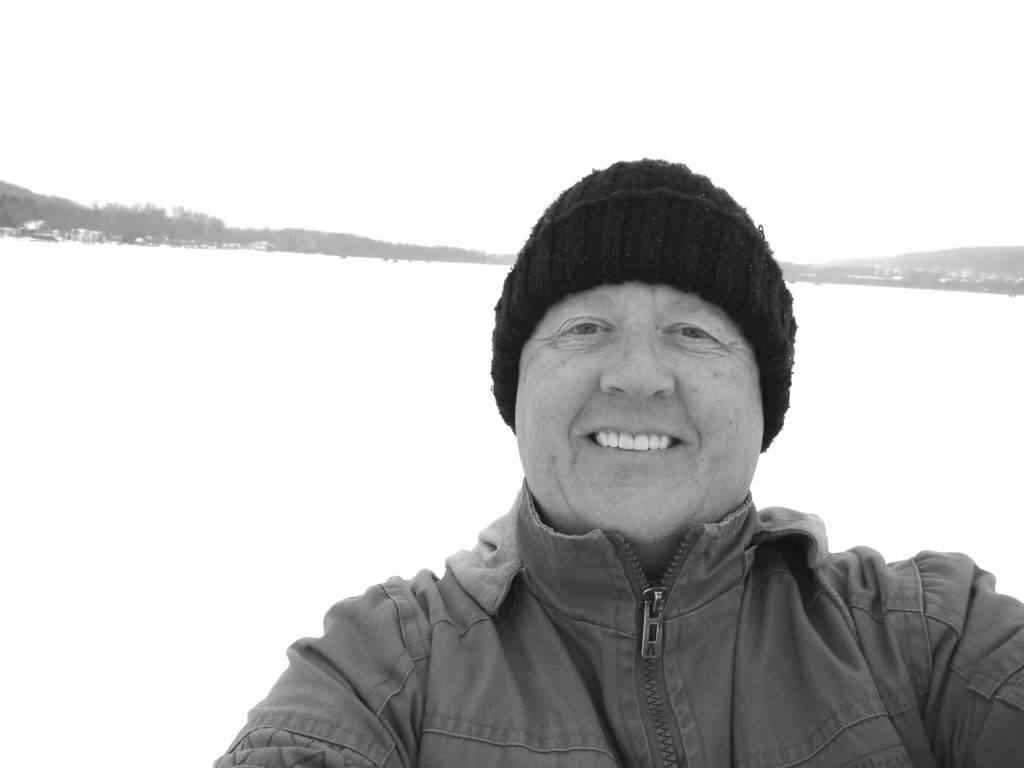 I'll be back.
I'll be back for more racing sanctioned by this group in winters to come.  I like the motto I've seen associated with New York ice racers.  What is it?  "Many are cold but few are frozen".  In the meantime don't miss the video from today's racing.
STATE COMPARISONS
New York
The Empire State
This evening I saw my 66th lifetime track in the Empire state, yes the Empire state.
Thanks for reading about my trackchasing,
Randy Lewis
World's #1 Trackchaser
Peoria Old Timers Racing Club (P.O.R.C.) Hall of Fame Member
New York sayings:  You Have the Right to Remain Silent, You Have the Right to an Attorney…and No Right to Self Defense
QUICK FACTS
AIRPLANE
Los Angeles, CA (LAX) – Charlotte, NC (CLT) – 2,131 miles
Charlotte, NC (CLT) – Boston, MA (BOS) – 689 miles
RENTAL CAR #1
Logan (Boston) International Airport – trip begins
Dundee, NY
TRACK ADMISSION PRICES:
Waneta Lake Ice Track – $5
LIFETIME TRACKCHASER COMPARISONS 
The three most important trackchasing comparisons to me are:
Total lifetime tracks seen
Total "trackchasing countries" seen
Lifetime National Geographic Diversity results
Total Lifetime Tracks
There are no trackchasers currently within 375 tracks of my lifetime total.  Don't blame me.
1.  Randy Lewis, San Clemente, California – 1,934
Total Trackchasing Countries
There are no trackchasers currently within 10 countries of my lifetime total.  
1.  Randy Lewis, San Clemente, California – 68
Current lifetime National Geographic Diversity results
1.  Randy Lewis, San Clemente, California – 4.96
That's all folks!  Official end of the RLR – Randy Lewis Racing Trackchaser Report