Greetings from Versailles, Kentucky
.
.
From the travels and adventures of the 
"World's #1 Trackchaser"
.
.
Woodford County Fairgrounds
Dirt oval
Lifetime Track #2,337
The EventVideo PlusPhotos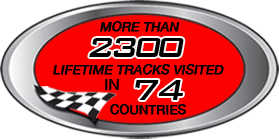 THE EVENT
I have had the opportunity to follow my trackchasing hobby all over the world. As this is written I have seen racing in 74 countries. My lifetime track total exceeds 2,300. Each and every year I will trackchase in 25-30 states. At track #1,040 I moved into the "World's #1 Trackchasing" spot.
I guess tonight was a special night. I was seeing my 45th lifetime track in the Bluegrass state. I have kinfolk with Kentucky heritage. Seeing tonight's track vaults me into the #1 trackchasing position in Kentucky. Prior to tonight I was tied with trackchaser Rick Schneider.
My hobby is not only about racing. Trackchasing for me centers around three things. The racing part is pretty obvious. However of equal importance is the logistics of trackchasing and the opportunity to see the world.
I live in Southern California. The vast majority of tracks are located in the Midwest and East. It takes a good deal of logistical planning to get from where I live to where the tracks are. For the past 15 years I have traveled about 175 nights each and every year. Surprisingly to some, more than half of those overnights were not part of trackchasing.
Then there's the travel just for the fun of seeing new things. You won't want to miss my "Trackchasing Tourist Attractions" page or my "Sports Spectating Resume" page on my website at www.randylewis.org. That will give you some understanding on how important seeing the world is with my hobby.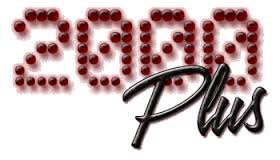 Today's adventure was one more of the 2,000 trips that have taken me up, down and around the long and dusty trackchasing trail. If you would like to see where I've been and experience those adventures here's the link:
If you've got a question, comment or whatever please leave it at the bottom of this report.  It's very easy to do.  Or you can visit me on Facebook.  Thanks!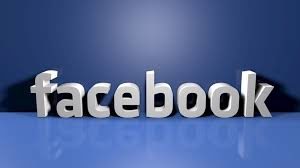 FOREWORD
TUESDAY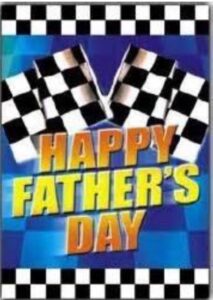 Today marks the first day of our weeklong Father's Day celebration. Yes, Father's Day was last Sunday. However, we celebrate holidays and anniversaries whenever we can. We don't let the calendar dictate to us.
Of course, I am treated well by Carol 365 days of the year. However, I am treated especially well by Trackchasing's First Mother on both my birthday and Father's Day. That being the case I try to exploit my advantage to the fullest.
Carol is on an approximately once a month trackchasing schedule. I recommended this frequency when I discovered that she didn't necessarily want to go trackchasing every weekend. Because she didn't beat me with a stick upon hearing this recommendation I took it to mean that she was OK with it.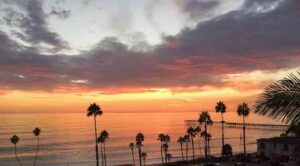 This all being the case we left our modest seaside cottage in San Clemente, California for a weeklong adventure to the Midwest. We were expected to see five new tracks in four separate states. Additionally we would be seeing friends and relatives who remain in our homeland, the beloved Midwest.
I travel just a little bit differently when I'm with Carol. You might recall from reading my most recent Trackchaser Reports that I have slept in airports, interstate highway rest areas and/or driven through the night entirely during nine of my last ten trackchasing overnights.
Rest assured that Carol would not be sleeping in any interstate highway rest areas. When she comes along I try to give provide the best accommodations/amenities in all facets of the trip that I possibly can. The more opulent the better! As her partner this allows me to become upgraded as well. This is a fact not lost on me. However, I have to be on a constant watch so as not to spoil myself by the accommodations that Carol warrants.
I'm not sure that everyone who reads and follows my hobby of trackchasing truly understands what it takes to do the travel that is required. I try to detail it as explicitly as I can. However, unless you've done this week after week, month after month and year after year some of it may be lost on the casual reader.
First of all, we would be flying on a standby basis from Los Angeles to Chicago. Folks, it's the middle of the summer. Everybody is flying everywhere to see grandma, to see a Cubs game or simply to see the world. I have no problem with that. Nevertheless, those people are taking up the precious seats that are required for Carol and I to hop on a plane with one of our airline sponsors.
There are about 15-20 daily flights from Los Angeles to Chicago. However some of those flights go to Chicago's Midway airport so that knocked them out of consideration. Additionally, at LAX some of the flights leave at the very same time from different terminals. That knocked those flights off the list as well.
After analyzing some 20 flights I selected three that might work for us. Two then we're leaving at exactly the same time. However, one was headed to Chicago and one was headed to St. Louis. Both were overbooked. The flight to St. Louis wasn't as overbooked as the flight going to Chicago. We would make a game time decision as to whether or not either one of those flights would accommodate the two of us.
By the way, it is a rare occurrence when the two of us are flying together and there's only one standby seat left. That happens less than 1% of the time out of all the flights that I take. We have to be prepared in advance for when they call us up to the front desk and tell us, "There's only one seat. Do you want it?"
When we arrived at the airport we found out that the Los Angeles flight to St. Louis was delayed by three hours. That meant we would not be going there. Then on the flight to Chicago, leaving at the same time, we saw that we were 35th and last on the standby list. That pretty much eliminated that flight.

I knew that getting a standby seat was going to be nearly impossible. Impossible doesn't work for me. The night before our trip I went to Priceline.com.
Surprisingly, I found flights on Delta Airlines that could be purchased for $181 each for the one-way trip to the Windy City. What made this offer so fantastic was that over the next 24 hours the tickets were fully refundable. That NEVER happens!
That meant that if we tried flying on a standby basis and were fully ejected we could spend about $400 and get confirmed seating. We would be connecting through Cincinnati to get to Chicago but at least we would get to Chicago.
We were down to our very last standby flight option with one of our airline sponsors. They were overbooked as well. However, we were shocked and surprised when our names were called. We were given exit row seats to boot. We were going to Chicago and we were sponsored.
I don't like to bother Carol with the details of these trips or the planning process that is required. I want her to simply get on the plane as a tourist and enjoy all of the amenities coming her way. When she boarded the plane I sat down in my seat and went to work.
I needed to refund the price of our Delta airline tickets with Priceline. I first went online. That wasn't going to work. I was told I had to call Priceline. I never like doing that with Priceline. They are not very accommodating with regard to refunds.
Just as the plane was boarding its last passengers I finally got a Priceline representative on the line. She agreed to help me get the refund. I was talking to her all the way through my walk in the jet way and after I boarded the plane. I was literally in my airplane seat about ready to take off before we got everything taken care of with Priceline. When I was finally sure that a refund was coming our way I could breathe a sigh of relief. No, no one travels like I do.
You already know that whenever I shop for a hotel room during any one of my trips I am very much more than likely to be using Priceline.com. We would need a hotel in Chicago tonight. Generally, Chicago hotels are very expensive.
Yes, I admit it. I feel obligated to provide the most superior accommodations for Carol that I possibly can. I ended up paying $124 including taxes for a hotel on Priceline. That's a little higher price than I would normally pay if I were traveling by myself but like I say this is all for Carol's benefit.

So we paid $124 for our hotel. What did we get? We got a Courtyard by Marriott. That's a nice enough place to stay. However, $124 isn't that great of a deal on a Courtyard by Marriott hotel.
That is until you consider that the regular price for tonight's hotel in Bedford Park, Illinois was $279 plus tax! With tax that made a one night stay in a Courtyard by Marriott some $310. Are you kidding me?
Who in their right mind would pay more than $300 to stay in a Courtyard by Marriott? A businessperson traveling on an expense account is the answer to that question. I used to be "that guy".
We landed in Chicago O'Hare International Airport without incident. I've been traveling to some very nice airports with nearly new airline terminals recently. This includes places like Portland, Detroit and Minneapolis. All of those updated and moderate facilities made O'Hare look a little bit shabby. It's getting a little long in the tooth.
I've been to the O'Hare International Airport at least one million times if not two million times. I've ridden the National Car Rental bus at ORD a lot for more than 40 years. I even knew some of their drivers by name.
When I got off the rental car bus I didn't really see any cars in the executive elite section that I wanted. I was looking for a Chrysler 300 or maybe a Toyota Avalon. The manager recommended I take a Chevy impala. I look at him as if he had asked if I would eat some spinach for breakfast. No, I wasn't interested.
The staff at the National Car Rental location at O'Hare has always been more than accommodating. The manager told me he would call down to the cleanup area and see what he could do for me on an up scale basis. While we waited he asked if I would be interested in having an Infiniti QX70 crossover vehicle. This was an upgraded luxury car. I couldn't turn that down. Remember, this was a special trip for Carol. In hindsight I should have rejected that car.
I was a little concerned about the gas mileage I was going to get with the Infiniti. A Chrysler 300 or some of the other better cars that I get could pretty much be guaranteed to provide 30 miles per gallon. I'm thinking that the Infiniti was going to give me something in the low 20s for gas mileage. If I'm right that will cost me an extra 60 bucks in fuel expense. Then I figured we were more we were more than $400 ahead with the airline ticket game so why not.
We headed over to our Courtyard by Marriott hotel. I was feeling like Mexican food so Yelp was on the lookout. Chicago is one of the bigger Hispanic markets in the country. It probably ranks in the top five.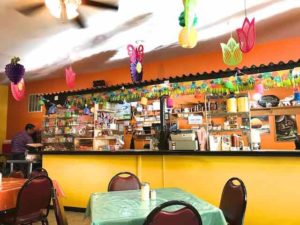 It wasn't long before we were headed to Antojitos Dona Maria restaurant in the Chicago suburb of Summit. What I find! The décor, ambience and service could not have been any more identical to a restaurant you would find in Mexico than if we were actually in Guadalajara.
I'm on a big queso fundido kick right now. That's essentially mozzarella cheese/Mexican cheese and chorizo sausage in a melted cheese configuration. Sometimes, I'll ask them to throw in some scrambled eggs as well. It's a low-carb treat. Tonight they did it to perfection.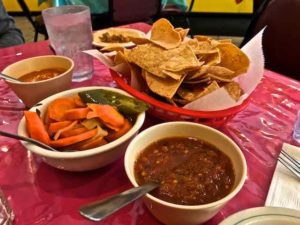 It was a wonderful dining experience. Our trip was getting off to a good start. We expect decent weather. It won't be too hot or too rainy for the entire week.
The woman checking us into the Courtyard by Marriott hotel was a little nonplussed when I suggested that because I was a platinum marquis elite member that I get special treatment. She checked us in and off we went to just a regular room.
Unfortunately, the Internet wasn't working well. I spent 30-40 minutes on the phone with the Marriott tech person. This was the worst Internet experience I've ever had with a Marriott property. I have stayed in well over 1,000 of them.
We had flown into O'Hare International Airport. Our hotel was just a couple of blocks from Chicago's Midway airport. I think our hotel must have been totally under the final approach path for incoming planes. It sounded as if they might be rubbing their landing gear on the hotel rooftop at any moment.
On the one hand I was a little sad that we had paid $124 for a hotel with spotty internet as well as being directly under the airport's flight path. The only thing that made me feel minorly better was that we had not paid $310 U.S. for the privilege!
WEDNESDAY
We will begin our morning with breakfast and a visit with longtime family friends. Track with me on this. We will be visiting with Carol's mother's best elementary school friend's husband. Got that?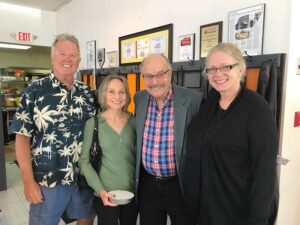 Jack will be 92 years old in a week. He and his daughter Val joined us for breakfast. We spent a lovely 2 1/2 hours reminiscing over all of our long ago experiences as well as the places we have all traveled. Jack and Val are worldwide travelers and you know we are as well.
We bid farewell to our friends with everyone enjoying the visit. Carol had not seen Val in some 35 years or Jack in about ten.
Once back in the car we sent them a Postagram postcard with one of the photos taken at breakfast today. That will be a nice surprise when they receive it. I'm a big fan of Postagram although a little bit less so since they raised their price from $.99 to $1.99 per card. I was able to forestall that price increase a little bit by buying 50 card credits at the old price.
I always tell Carol that there's not a lot of "track" in her trackchasing. Why is that? It's because we do so many other fun and interesting things when she comes along on the trip. I don't schedule the trips with her when I have to drive overnight to get from one track to the next. Hopefully, she values that approach. I know she does.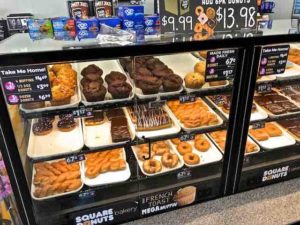 Next up was a 5 ½-hour drive down to the small town Versailles, Kentucky. Versailles is in the Eastern Time zone. That meant we would lose an hour getting there.  We did stop at a convenience store along the way.  I was reminded of all the things I am NOT eating on my low-carb food consumption plan at the moment.
Versailles is a small town of about 8,500 people. The town name is pronounced Ver-"sales" not like the town in France. The town was incorporated in 1837. During the Civil War both the confederate and union forces occupied it briefly. Happy Chandler, former baseball commissioner and John Conlee, country and western singer are from here.
If we didn't have any trouble on the trip down there or any major traffic, which I didn't expect, we would arrive just in time to see some circle track racing hosted by Top Dog Promotions. They run demolition derby as their main motorsports activity. They also offer "circle track" racing at lots of fairs in Kentucky and Indiana. Circle track counts for my hobby of trackchasing. I like their programs because often times they have mid-week shows. That allows me to link up one weekend with another.
They say there are four seasons in the Midwest. Those would be winter, still winter, almost winter and the Fourth of July. That's not far from the truth. I should tell you the interstate highways in Indiana are abysmal. Construction is everywhere. Potholes rule. The roads are rough.
We had a little bit of a difficult time finding the Woodford County Fairgrounds. For a while we followed an ambulance. I was sure it would lead us to the fairgrounds. When we got out in the country it dawned on us that we were making a mistake following this emergency vehicle.
THE RACING
Woodford County Fairgrounds – Versailles, Kentucky
At that point we turned on our Waze GPS system. We soon found that we were a good 20 minutes away from the fairgrounds. That was a bit of a bummer. However, we were soon back on track and paying our $10 per person general admission charge. Our ticket included unlimited rides at the carnival for tonight's fair. This was a bargain. We would take advantage of that.
Tonight will be seeing a Top Dog Promotions event. The top dog at top dog is John Peck. I first met John a couple of years ago. I've seen several of his shows. This will be the first Top Dog Promotions' race for Carol to attend.
Top Dog Promotions is primarily a demolition derby promotion company. However a few years ago they introduced "circle track " racing. Demo derby is still their bread-and-butter but circle track is picking up in popularity. That's especially true at the fairs where they promote in and around Cincinnati.
Tonight there must have been 30-40 cars or so in the pit area. From outward appearances, it's difficult to tell whether a driver has entered his car in the demolition derby or the circle track racing program.
Carol and I attended the driver's meeting. John Peck first addressed the big car group. Then he talked to the mini car group. Both the big car and mini cars are divisions within the demolition derby program.
I was a little bit concerned that John had not mentioned anything at the driver's meeting about circle track racing. I did not attend one Top Dog Promotion, a couple of years ago in Kentucky, where there were no drivers who wanted to do circle track. On that particular night I will shut out.
When the driver's meeting ended I walked up to say hello to John. I introduced Carol to him for the very first time. Soon the conversation got around to the circle track race. John told me that three competitors had shown up to compete in the circle track event. Then he gave me the good news. They would be having a race on a makeshift oval track. I breathed a sigh of relief.
From there Carol and I found a seat in the grandstand with a top row seat. Seating at the track was limited. The grandstands were only five or six rows high. Lots of people just stood and watched the demo derby tonight.
Just as we were getting into our seats we noticed a gathering of folks in the demo derby pit.  What were they up too?  It turned out that a young man was proposing to his best girl.  Yep.  Right there in front of God and everybody this young lady was being asked the big question.  What did she say?  Yes!
This evening they were racing in a true demo derby "pit". The competition arena was dug down about six or 8 feet below ground level. I'm not exactly sure why they do this. Maybe it's to give the fan a better view of the action.
The big V-8 powered cars came out and had two demolition derby heats. The demo heats started ten cars. Five of those cars would advance to the feature event. Then the mini cars came out with their 24 competitors. They had two heats with six cars advancing to the feature. Yes, demo derby still rules in these parts.
Soon it was time for the circle track race. Tonight's announcer was a woman who wasn't afraid to speak her peace. There had been a couple of scuffles in the crowd. The announcer warned everyone that they should watch cars hit each other and not people hit each other. That seemed like good advice.
I had not really known this in advance about tonight's racing in Versailles, Kentucky. Tonight was going to be a special new track for me. The Woodford County Fairgrounds would be my 2,000th track that I had seen in the United States. That seemed like a noteworthy achievement. It was nice to have Carol join me on such a special trackchasing evening.  Tonight's track surface was a moist, no dust clay-like dirt concoction. Circle track cars would race on an oval configuration.
Tonight's feature event, the only race of the night for the circle track cars, would be contested over 15 laps of competition. The race started with a green flag. It ended with a red flag because demo derby people don't use checkered flags. Two of the top three drivers were awarded with trophies. I thought I heard John, the promoter, say that the winner's share for this three-car race would be $190. Again, I'm not sure if that's what he was referring to in the conversation I was hearing.
We had enjoyed the demolition derby action. It was now 10:30 p.m. when the circle track race was finished. We took a hike over to the carnival area. We ended up riding on the Ferris wheel. It went much faster than we were expecting. We had a good time with it. How many folks our age are riding Ferris wheels?
AFTER THE RACES
After the races tonight we were be staying at a Priceline purchased hotel in Jeffersonville, Indiana. We wouldn't be arriving until past midnight. Since we didn't have to get up very early in the morning that wouldn't be a problem at all.
It was time to gas up the National Car Rental Racing Infiniti JX70. I was fearful that the gas mileage with this car was going to be significantly less than what I could have gotten with a Chrysler 300 for another vehicle of my choice.
It pains me to say that I was correct in this assessment. I can commonly get 32 miles per gallon or so with a big Chrysler 300. The Infiniti JX70 gave us just 22.5 miles per gallon. That's a deficit of about 35% in fuel expense between the two cars. I estimate will pay about $60 more in gasoline expense with the Infiniti. Truth be told I think the Chrysler 300 is a more comfortable car to ride in as well. Frankly the Infiniti JX70 is a crummy overall ride. My Lexus RX 350 is so much better than the Infiniti. Both of these brands were introduced in the same year in the U.S…..1985.
I thought I had learned my lesson a year ago when Avis Rental Car talked me into getting an SUV because it got "good fuel mileage". It didn't. This is just a reminder that I don't really need a SUV type vehicle on these trips. If I'm going to drive in excess of 1,000 miles I need a car that gets more than 30 MPG. Lesson learned.
Good evening from Versailles, Kentucky.
P.S. As noted tonight I broke my tie in Kentucky with long-time trackchaser Rick Schneider. I now have 45 Kentucky tracks and he has 44. However I must tell you that there's a very good possibility that Rick has seen more Kentucky tracks than me. Several years ago he became so dissatisfied with the group, I can understand his point of view, that he stopped reporting tracks. I can't really speak for him. All I can do is compare my results to the results reported today by others.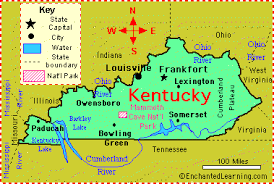 Kentucky
The Bluegrass state
This evening I saw my 45th lifetime track in the Bluegrass state, yes the Bluegrass state. I hold the #1 trackchasing spot in Kentucky. I've seen 45 or more tracks in 15 separate states.
Thanks for reading about my trackchasing,
Randy Lewis
World's #1 Trackchaser
Peoria Old Timers Racing Club (P.O.R.C.) Hall of Fame Member
Kentucky sayings: What in tarnation? AKA What in the hell.
QUICK FACTS
LIFETIME TRACKCHASER COMPARISONS 
The three most important trackchasing comparisons to me are:
Total lifetime tracks seen
Total "trackchasing countries" seen
Lifetime National Geographic Diversity results
Total Lifetime Tracks
There are no trackchasers currently within 595 tracks of my lifetime total. Don't blame me.
Randy Lewis, San Clemente, California – 2,337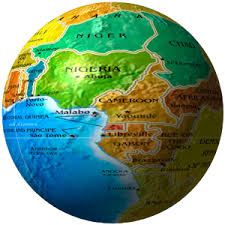 Total Trackchasing Countries
There are no trackchasers currently within 20 countries of my lifetime total.
Randy Lewis, San Clemente, California – 74
Current lifetime National Geographic Diversity results
Randy Lewis, San Clemente, California – 4.37
That's all folks! Official end of the RLR – Randy Lewis Racing Trackchaser Report
Click on the link below to see the video production from the racing action today.
Click on the link below for a photo album from today's trackchasing day.  You can view the album slide by slide or click on the "slide show" icon for a self-guided tour of today's trackchasing adventure.
Down home demo derby plus family and friends visiting from Kentucky and Illinois