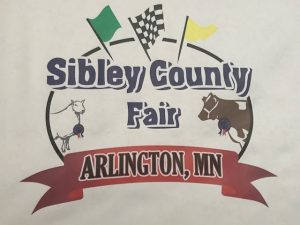 Greetings from Arlington, Minnesota
.
.
From the travels and adventures of the 
"World's #1 Trackchaser"
.
.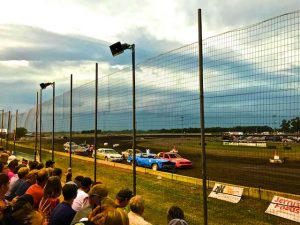 Sibley County Fairgrounds
Dirt figure 8
 Lifetime Track #2,474
The EventVideo PlusPhotos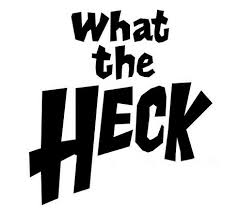 THE EVENT
I am a "trackchaser". So, what the heck is that? I get that question from racing and non-racing people all the time. This is a difficult question to answer. Why? Because after I do my best to respond people still say, "I've never heard of such a thing"!
Here's my best explanation.
Trackchasing is a three-pronged hobby. I'm a racing fan. I love to travel. I love to analyze opportunities to get the most out of everything while saving time and money.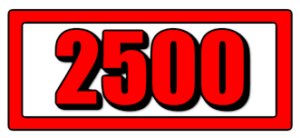 Trackchasing fills the need for all of the above. The racing part of my trackchasing has me trying to see wheel to wheel auto racing at as many different racetracks as I can all over the world. Yes, all over the world. So far things are going pretty well. I've seen racing at nearly 2,500 tracks in 80 countries. As a matter of fact, I've seen racing at more tracks than anyone else in the world.
Equally important to me are the things I get to see and experience over the "long and dusty trackchasing trail". I call these adventures "Trackchasing Tourist Attractions". You won't want to miss my "Trackchasing Tourist Attractions" page. Here's the link:  Trackchasing Tourist Attractions or my "Sports Spectating Resume" page, Sports Spectating Resume on my website at www.randylewis.org.
I live in southern California. Most of the racetracks in the U.S. are located well over 1,000 miles from where I live. As a matter of fact, my average trip covers 5,000 miles and more. I take 35-40 of those trips each season. In any given year I will travel well over 200,000 miles, rent more than 50 cars, and stay in more than 150 hotel rooms.
I get the chance to meet people all over the world. With trips to 80 countries and counting just getting the chance to experience so many other cultures, spend times in their homes and meet their friends is a huge reward for being in this hobby. I am indebted to several of these folks for their help and friendship.
It's takes a good deal of planning to do the above and not spend my entire retirement portfolio. I enjoy the challenge, the travel and every other aspect of "trackchasing". In reality, my trackchasing hobby is a lot like being with the carnival. I breeze into town, stay a little while and then head on down the road.
Today's adventure was one more of the 2,000 trips that have taken me up, down and around the proverbial long and dusty trackchasing trail.  If you would like to see where I've been and experience those adventures here's the link: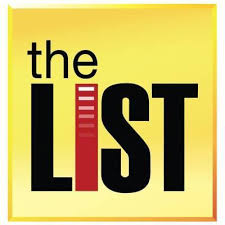 If you've got a question, comment or whatever please leave it at the bottom of this report.  It's very easy to do.  Or you can visit me on Facebook.  Thanks!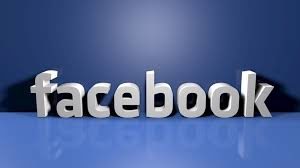 FOREWORD
Friday, August 3, 2018.
Logistics is everything in trackchasing. You need to be where you need to be on time. Many of the tracks I visit race only two hours each year. That's a pretty narrow "window" isn't it?
I had a really good plan worked out today. I would be departing from the Syracuse Hancock International Airport. The airport was really torn up with construction for a new airport coming to town. Syracuse is a small town. It doesn't have the air service options of larger metropolitan airports.
Nevertheless, I had the perfect flight picked out. At 6:45 a.m. this morning I would fly from Syracuse to Minneapolis. This flight was the only non-stop flight of the day going to the Twin Cities. If I made that flight I would be "Golden" as my fellow factory workers back at the Caterpillar Tractor Company used to say. I worked there for three summers to earn money to pay for college.
Of course, I was flying standby. Standby flying only works if there is an unsold seat on the plane. Yesterday morning there were 17 seats available on the flight I wanted this morning. I was the only standby flyer listed.
Then last night the total of unsold seats decreased to just eleven. I was now number three on the standby list. Despite these changes everything still looked good.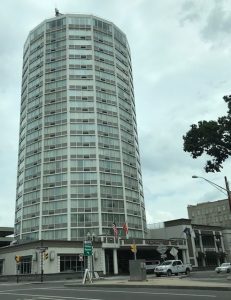 My alarm came at 4:45 a.m. Eastern time. That's early. It was only a 7-mile drive from my Crown Plaza hotel over the airport. By the way, the airport is an absolute mess. It's under construction while they build a new terminal. The place looks like a bomb hit it.
When I went to print my boarding pass at the first self-service kiosk it didn't print. Maybe the machine was out of paper. Was this a signal on how my day was going to go? Maybe. After trying another machine I had my boarding pass and had cleared TSA security with my pre-check advantage.
Then I used my laptop to check the number of unsold seats on my hoped for plane. The number had gone from eleven to minus one! Now I was fifth on the standby list, not third. This didn't look good. I didn't make the flight. I really hate to say that. I didn't make the flight.
It was scramble time now. However, it's just situations like this that keep my mind sharp. There were no more non-stop flights going to Minneapolis. I had to check connecting points such as Chicago, Philadelphia, Charlotte and the like. All of those flights were tight.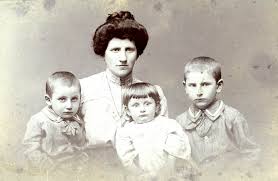 I tried for a flight from Syracuse to Chicago. It didn't look good. I was fifth on the standby list. Four people ahead of me made up one family, a mother and her three small children. I was elated when their name was called from the standby list.
Why was I elated? I figured I could win in one of two ways. If they had three or fewer standby seats I knew the mother of three was not going to split up her traveling party. If she didn't want to do that I would be next in line to get one of the one, two or three seats available. If there were four seats available for her family, maybe there would be one more seat left for me. The combinations were in my favor.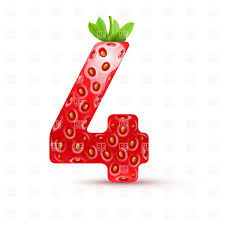 It turned out there were exactly four unsold seats. Not three not five. The number four was a loser for me. The young mother and her three children happily accepted their reward. Now it was just me and the two airline agents in the entire terminal. They gave me the bad news. The flight was full. The door was closed on this flight. The plane pulled away from the terminal.
I needed to get to Minneapolis for two reasons. First, I was trying to see a race at the county fair in Arlington, Minnesota. That race was tonight. Secondly, and more importantly, I had a purchased an airline ticket leaving Minneapolis tomorrow morning at 6:15 a.m. If I didn't get to Minneapolis tonight then I wouldn't make that flight and I wouldn't have a grand trackchasing weekend in British Columbia this weekend. It was very important that I get to Minneapolis today.
All the flights I was looking at were oversold. That meant I needed to purchase a full-fare ticket one way or the other. I could pay cash or I could use frequent flyer miles.
I could also entertain other flight options if they could meet my scheduling needs. There was a flight going from Syracuse to Chicago. I could pay $375 for that single flight or use 30,000 frequent-flier miles. I didn't like either option but I chose to spend the miles.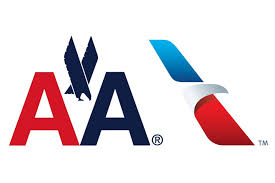 During my 30-year business career I earned 6 million frequent flyer miles on American Airlines. I estimate that I earned approximately 6,000,000 miles on all the other airlines combined. That's 12,000,000 miles! Where did they all go? Carol and I have three children. When they were small we traveled a lot. Five people on frequent-flier tickets can use up the miles quickly.
Once I got to Chicago I could drive to Minneapolis if I had to. If I had to drive I would never make it in time to see any racing tonight in Minnesota. At least I knew I could get to Minneapolis in time before tomorrow morning's early flight to British Columbia.
I like to "max" things out. That's just me. Maybe I could connect once I was in Chicago to somewhere else in the Midwest somewhat close to Minneapolis. Then I could rent a car from there and drive to Arlington, Minnesota for tonight's race. I could sleep in my car overnight near the Minneapolis airport and make my flight tomorrow. Now do you believe me when I tell you I will do anything to make it to the next track?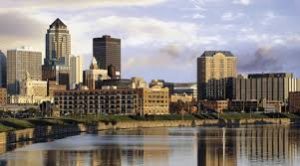 There was one option that would work. I could fly from Chicago to Des Moines, Iowa (above). But before I made that attempt I needed to call the National Car Rental Company. Would they let me pick up a car in Des Moines and drop it in Minneapolis? They would.
I would have 50 minutes from the time my flight touched down in Chicago from Syracuse until the flight was leaving Chicago for Des Moines. That's not much. As it turned out we landed in the far end of terminal L. I needed to make it all the way over to terminal G. It was a long, fast walk but I made it. I was on a plane bound for Des Moines, Iowa now.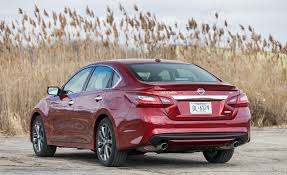 Once in Des Moines the National Car Rental agent did her job quickly and flawlessly. She gave me a Nissan Altima. That would be a great road car for this 400-mile trip.
My Waze GPS ETA showed a 6:53 p.m. arrival into Arlington, Minnesota without stops. The show was scheduled to begin at 7 p.m. These numbers worked for me.
I hadn't eaten since an early breakfast. I figured I could stop at a McDonald's, use the drive-thru and be out in as quickly as five minutes and maybe no longer than ten. Wrong! I was in the drive-thru for f'ing 18 minutes! I couldn't resist but had to tell the McDonald's clerk their service was terrible. I didn't share my feeling until I had my food!
When I left McDonald's with a triple cheeseburger, a McDouble, a large Diet Coke light ice and a bottle of water my ETA had slipped to 7:11 p.m. Terrible. Terrible. It was going to be pedal to the metal time for the next four hours covering a distance of 257 miles.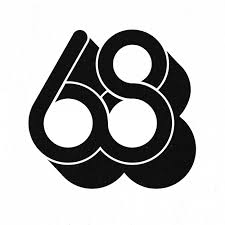 Waze, my trusty GPS program, told me I would have to average a little bit more than 68 MPH in order to get there eleven minutes late! If I could average a little bit more than that I could cut into the 11-minute deficit I now faced. The first three hours of the ride would be on interstate highway. I figured I could make time on the interstate. I might lose a little bit to the 68-mile an hour requirement on the two-lane highways for the last hour of the trip.
I had contacted the Sibley County Fairgrounds a few days ago. I was able to talk to woman by the name of Susan. She was very helpful. Susan tried to give me every bit of information she possibly could.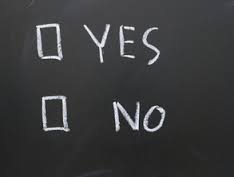 Tonight's county fair entertainment schedule called for a "Night of Destruction" program. They were going to have all manner of things, which included a figure 8 race. That's what I was coming for. However, Susan was very honest with me. She told me that only "three or four" figure 8 cars had registered. I asked her if the car count was that small if they would still have the race. She told me they would.
I had a much better racing option in Iowa for tonight. It was an hour and a half closer to Des Moines and would yield a new track for me. It would have been easy to go there. However, I felt the Sibley County Fairgrounds was a little more tenuous trackchasing opportunity. "Tenuous" rules. If I didn't get the Sibley County Fairgrounds now I might not ever get it. I was headed to Arlington, Minnesota.
During my drive northward on interstate 35 I had time to think. Maybe I should call Susan back. Maybe things have changed since we talked a few days ago. I called her. She didn't answer. I left a message. She called me back. Yes, the figure 8 races were still on.
I asked her if she knew when in the program the figure 8 race would occur. If it was at the beginning of the show that might be bad for me. If it was in the middle or towards the end I would be in good shape. Susan told me that she didn't know for sure when the figure 8 race would happen. She did tell me they expected the program to begin with ATV racing. That was a good sign for me. Nevertheless, I kept the pedal to the metal.
THE RACING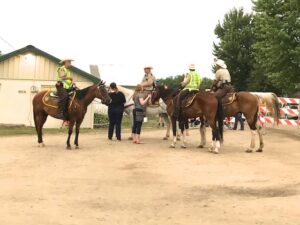 Sibley County Fairgrounds – Arlington, Minnesota
With only a two-minute stop along the roadside to take care of personal needs I arrived at the Sibley County Fairgrounds at 7:03 p.m. They were already racing!
Initially, I pulled into the pit side of the track. I could see the racing school buses in the pit area. This was beyond the backstretch of the permanent oval track. This is a county fairgrounds that races weekly on a ½-mile dirt oval. Tonight's county fair racing was a special event and did not include any of the weekly stock car racing.
Upon further review of my situation, I decided that it would be best to park on the spectator side of the track. This would necessitate another four or five minutes of navigating into a very crowded residential and county fair parking area.
I parked pretty much just outside of the middle of turns one and two of the big oval track. I didn't realize it at the time but it was a godsend that a young lady came past with a golf cart and offered me a ride up to the ticket booth. If she doesn't come along at that moment I might've missed tonight's countable racing entirely.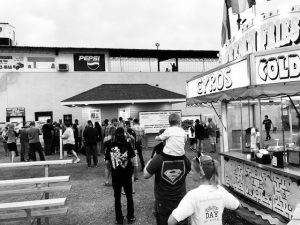 As it was at 7:13 p.m. there was still a line of 20 people buying their tickets to get into the event. From the pit side of the track I could see that the grandstands offered both covered and uncovered seating areas. Those grandstands were nearly full. I waited in line to buy my tickets for another three minutes. Time was of the essence. The weather was closing in.
Just as I was handing my ticket stub to the ticket taker and getting my hand stamped I heard the announcer say the green flag was falling. Falling? Falling on what? I didn't know what the green flag was falling on but there was no time to waste. In another 15 yards I entered the grandstand area with a view of the track. Lo and behold, the figure 8 race had begun. From everything I could surmise I had missed the first lap.
There were five cars racing. These looked like street stock type machines. The figure 8 course was large. I'm going to estimate that from tip to tip it was nearly 200 yards. There was a series of huge tractor tires marking the course. This wasn't just the two tractor tires that you might see at most county fairs. There were several tires.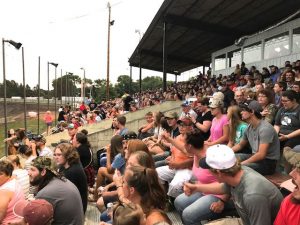 I hastily grabbed a seat in the fourth row. I never sit that low at any other events I attend. However, there was no time to try to find a seat higher when the race was in progress. I sat down and videotaped for the next two minutes and seven seconds until the checkered flag was thrown. There were lots of people walking in front of me and up and down aisle. Nevertheless, I think you'll get the jist of what the figure 8 racing looked like.
Tonight, immediately upon my entering the grandstand and getting a view of the track with the cars already racing, the figure 8 race configuration at the Sibley County Fairgrounds was in the books! Sometimes I've had to wait hours after arriving to see the race I needed to see. Now I had seen it in the 1st microsecond.
That was the good news. However, there was some bad news. Heavy weather was coming in. The forecast I looked at this morning didn't say anything about "heavy weather". Now the Western skies were black and it was moving in our direction. My Weather Underground app kept moving up the time in which heavy thunderstorms would hit. Initially it said 9:45 p.m. Then a few minutes later it was 8 p.m. That was just about right.
They moved the program along really well. As soon as one race was finished the next one was coming onto the track. My advance contact told me there would be "ATV" racing that was incorrect. It was UTV racing. There's a difference.
I had missed the UTV race when I mistakenly thought about parking on the pit side of the track. From what I could tell from the announcer I also missed the first of three school bus races. In addition to those two classes they had cars racing in what they called "autocross" and trucks in what they called "autocross" on a dirt road course.
This was not my first visit to the Sibley County Fairgrounds for trackchasing. I had come here back on July 28, 2012 to see stock car racing on their oval and truck racing on their dirt road course. Those were lifetime tracks #1,777 and #1,778. Those tracks came under the "Arlington Raceway" banner.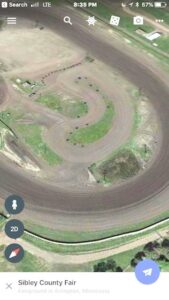 The permanent road course is marked by a series of tractor tires that stay in place permanently. Of course they could be moved like the Daytona international Speedway COULD be moved. It's just that it never has been once it was put in place. If you were to go to Google Earth and check out the view of the fairgrounds you'll see the road course in the infield with all of the tires in place.
There's just one problem with the infield road course at the Sibley County Fairgrounds. It's a long way from the grandstands. There are several obstructions which prevent getting a good view of the racing. That's too bad. It's kind of a funky little course where the cars and trucks start on the main straight of the regular oval's start/finish line. They then race down toward turn one of the oval and make a left-hand turn to get onto the "road course" part of the road course. To finish the race they leave the road course, come back onto the oval at the point where they left it and drive past the start finish line of the big oval in the OPPOSITE direction. Got that?
The UTV racers put a little bit of a different twist on the "regular" road course race. The final two laps of their racing is done on the full half-mile oval. What does that mean? They start racing on the smaller road course and finish up with a couple laps on the big oval.

Initially I thought this might count as a second road course at the fairgrounds. However, upon closer examination of the rules written and perfected by the devious minds of former trackchasers and Commissioner Will White this was not a new countable configuration. The exact verbiage of the rules go like this:
"Any racing event in which the shape of the course is not predetermined, and/or may change from lap to lap, cannot be used to count a track. These events include, but are not limited to, Hound & Hare events."
I remained in my seat for all of the heat races for the five different classes. The trucks had enough entries for two heat races. When the races were finished they went directly into the feature events.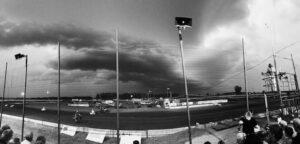 All the while the bad weather was rapidly approaching. The clouds were getting darker and closer to the grandstands. In the middle of the UTV feature race it started to sprinkle. Bad weather was almost on top of the grandstand.
The announcer was lively and informative. My advanced information seemed to indicate there would be only one figure 8 race. I had already seen one figure 8 race. The announcer made no mention of the figure 8 cars returning to the action tonight.
I saw the feature races for the UTVs, school buses,  car autocross and now I was watching the truck cross feature race. It was starting to rain harder. I thought I would try to stay ahead of the curve. I stepped out of the grandstand and looked for shelter. Along the way I ran across a cheese curd concession trailer. I try not to walk past those.
It was starting to rain pretty hard now. I was second in line for cheese curds when the announcer told the crowd that the figure 8 feature was starting. Say what? I had a choice. I could leave the cheese curd line and head back into the grandstand and get soaking wet. Alternatively…..
In point of fact, I really couldn't leave the cheese curd line. No one does that. However, as soon as I got my cheese curds I started to walk back into the grandstand. About that time a large sound of crunching metal was heard. There had been a major impact in the figure 8 race. I heard several fans who were leaving the grandstand yelling, "We missed it. We missed it"! They had missed the big crash. So had I.
With cheese curds in hand I attempted to swim upstream against a huge crowd LEAVING the grandstands. As I did that I got wetter and wetter. My cheese curds got wetter and wetter. It was pouring now. There would be no more racing tonight. I don't know exactly how many laps of the figure 8 feature were completed. I didn't see any of it. It didn't matter. I had seen the figure 8 heat race.
AFTER THE RACES
From there I saw sought more permanent shelter in a modern huge pole building. A blue grass type quartet with singing inside. I grabbed a chair in the first row and enjoyed my cheese curds. They were good!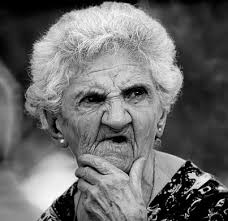 An older lady with bluish white hair in the second row tapped me on the shoulder. She said, "Young feller. Is that rain I hear on the roof. It's so loud I can't hear the music inside". I can spot a pickup line a mile away!
Yes it was rain. I was relatively dry but it was raining cats and dogs and cows outside. Not a problem. I had cheese curds and some country music. It don't get no better than that.
I probably hung around inside that building for the better part of an hour. The rain continued. I was a little concerned about that. The rain was so heavy that puddles had already formed all over the grounds. I didn't look forward to walking back to my rental car in the far reaches of a muddy swamp like parking lot.
When it was time to go and still raining solidly I flagged down a gentleman driving a golf cart. He couldn't have been nicer. He drove me to within three feet of the passenger side of the National Car Rental Racing Nissan Altima. How's that for service. It didn't surprise me considering I was in "NIMS" country.
It was now past 9 p.m. I sat in the car for a few minutes and got myself organized. I rearranged everything in my small rolling carry-on bag. I unlocked the security cable that secures my MacBook Pro inside the car. I gave Carol a call. I was in no rush. I was an hour from the Minneapolis airport and my flight wasn't leaving until tomorrow morning.
I had gotten a little wet riding the golf cart back to my car. That wasn't great. I was going to have to sleep in these wet clothes. I was going to have to sleep in these wet clothes in my rental car. I was going to have to sleep in these wet clothes in my rental car in the Walmart parking lot adjacent to the Minneapolis airport. However, in trackchasing I do what I have to do.
The drive back to the airport took a bit less than an hour. I gassed up the car. Then I pulled into the Walmart parking lot and leaned at the driver's seat back. I would have about five hours of sleep with a wake-up call coming at 4:30 a.m. central time.
It had been a VERY eventful day. It started with some significant airplane problems. Then weather problems kicked in. There was a lot of sacrifice on my part both personally and financially to make this happen.
However, at the end of the day I could say that I had knocked off the Sibley County Fairgrounds figure 8 track on Friday, August 3, 2018. I was pretty happy about that. When I woke up tomorrow morning in the Walmart parking lot I had more trackchasing adventure in front of me. It would be international trackchasing. I always love that.
Good night from the Sibley County Fairgrounds in tiny Arlington, Minnesota.
Randy Lewis – 80 countries – 2,474 tracks.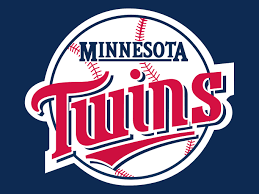 Minnesota
The North Star state
This evening I saw racing at my 89th lifetime track in the North Star state, yes, the North Star state.  I hold the #1 trackchasing ranking in Minnesota.  I've seen 89 or more tracks in seven different states.
Thanks for reading about my trackchasing,
Randy Lewis
World's #1 Trackchaser
Peoria Old Timers Racing Club (P.O.R.C.) Hall of Fame Member
Minnesota sayings: Dontcha know?
QUICK FACTS
LIFETIME TRACKCHASER COMPARISONS 
The threemost important trackchasing comparisons to me are:
Total lifetime tracks seen
Total "trackchasing countries" seen
Lifetime National Geographic Diversity results
Total Lifetime Tracks
There are no trackchasers currently within 655 tracks of my lifetime total.  Don't blame me.
Randy Lewis, San Clemente, California – 2,474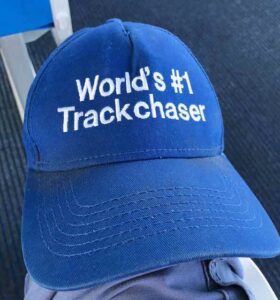 Total Trackchasing Countries
There are no trackchasers currently within 25 countries of my lifetime total. 
Randy Lewis, San Clemente, California – 80
Current lifetime National Geographic Diversity results
Randy Lewis, San Clemente, California – 4.14
That's all folks!  Official end of the RLR – Randy Lewis Racing Trackchaser Report
Click on the link below to see the video production from the racing action today.
Click on the link below for a photo album from today's trackchasing day.  You can view the album slide by slide or click on the "slide show" icon for a self-guided tour of today's trackchasing adventure.
I barely got this one in before the Minnesota summer thunderstorms hit!!