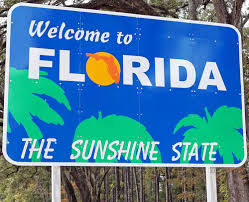 Greetings from first Jacksonville, Florida and then later in the evening Orlando, Florida 
.
.
From the travels and adventures of the 
"World's #1 Trackchaser"
.
.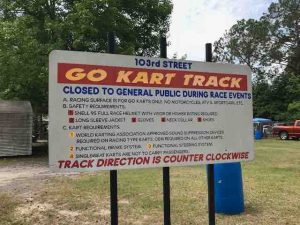 103rd Street Go Kart Track
Paved roval…not oval!
 Lifetime Track #2,433
.
.
Orlando Speed World
Paved figure 8
 Lifetime Track #2,434
The EventVideo PlusPhotos
Editor's note: From time to time I see two different tracks in one day. Sometimes I will combine those visits into one Trackchaser Report. That is the case today.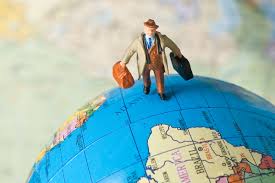 THE EVENT
I am a "trackchaser". So, what the heck is that? I get that question all the time from racing and non-racing people all the time. Here's my best answer.
I'm a racing fan. I love to travel. I love to analyze opportunities to get the most out of everything while saving time and money.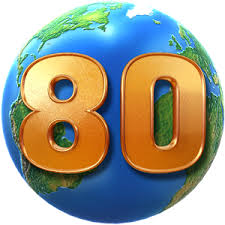 Trackchasing fills the need for all of the above. The racing part of my trackchasing has me trying to see wheel to wheel auto racing at as many different racetracks as I can all over the world. So far that is going pretty well. I've seen racing at more than 2,400 tracks in 80 countries. As a matter of fact, I've seen racing at more tracks than anyone else in the world.
Equally important to me are the things I get to see and experience over the "long and dusty trackchasing trail". I called these adventures "Trackchasing Tourist Attractions". You won't want to miss my "Trackchasing Tourist Attractions" page or my "Sports Spectating Resume" page on my website at www.randylewis.org.
I live in southern California. Most of the racetracks in the U.S. are located well over 1,000 miles from where I live. As a matter of fact, my average trip covers 5,000 miles and more. In any given year I will travel well over 200,000 miles, rent more than 50 cars, and stay in more than 150 hotel rooms.
I get the chance to meet people all over the world. With trips to 80 countries and counting just getting the chance to experience so many other cultures, spend times in their homes and meet their friends is a huge reward for being in this hobby. I am indebted to several of these folks for their help and friendship.
It's takes a good deal of planning to do the above and not spend my entire retirement portfolio. I enjoy the challenge, the travel and every other aspect of "trackchasing".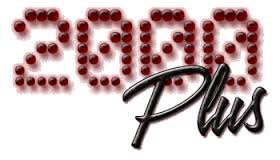 Today's adventure was one more of the 2,000 trips that have taken me up, down and around the long and dusty trackchasing trail. If you would like to see where I've been and experience those adventures here's the link:
If you've got a question, comment or whatever please leave it at the bottom of this report.  It's very easy to do.  Or you can visit me on Facebook.  Thanks!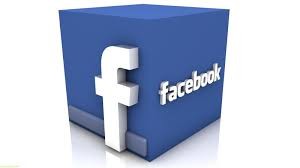 FOREWORD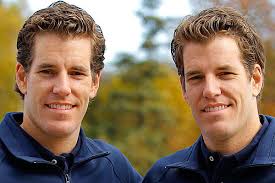 Saturday, May 12, 2018.
Once in a while I get the chance to see racing at two different tracks in one day. That's called a "trackchasing double". That happened today. I was seeing a "day/night" trackchasing double. I'll tell you all about what happened at both tracks in one Trackchaser Report.
Today was going to be a big day of trackchasing in the Sunshine State, Florida. Coming into the weekend I had seen 70 tracks in Florida over the years. I've made 57 separate trips to make that happen. Of course I've been down in Florida many many times for Speed Weeks during February.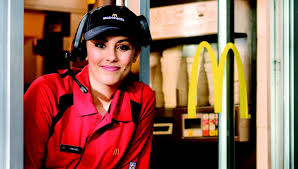 Last night I left the Clark County Fairgrounds in Charlestown, Indiana at 10 p.m. I thought I would reward myself with a chocolate sundae at their local McDonald's. Little did I know I was pulling into the drive-through lane of the slowest McDonald's in North America. To top off their extreme tardiness their ice cream machine was down!
I know I have eaten at McDonald's thousands and thousands of times. McDonald's has to be pretty slow to be the slowest McDonald's I have ever visited. However, this was not the only unique thing about this particular McDonald's.
When I saw that I wasn't going to have a chocolate sundae I switched over to a fish sandwich. The calories were similar. The sandwich was stale when I got it. That was almost to be expected given their overall tardiness.
I pulled up to the pay window. There was no one there. I waited and then I waited some more. No one came. I figured that maybe I should be paying at the next window where they would be handing me the food. I had been in line on this Friday night for exactly 20 minutes. When I got to the food window they gave me my food order. There was no mention of paying. I didn't offer to pay simply because of their most dreadful customer service. I thought that was being fair to them.
I didn't get to my hotel in Indianapolis until past midnight last night. My flight was leaving this morning on Saturday at 5:50 a.m. That meant my wake-up call came at 3:35 a.m. Eastern time. Actually, that's only a few minutes past midnight California time. I'll be back in California tomorrow morning. I will be the first to tell you that it was a little challenging flying overnight on Thursday night and getting three hours of sleep on Friday night. However if this trackchasing game was easy everybody would do it right? It's not all that easy and everybody cannot do it.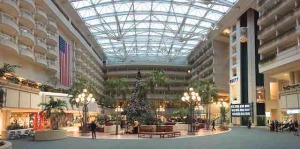 I landed at the Orlando International Airport this morning at about 8 a.m. Did you know that Carol and I honeymooned in Orlando back in 1972? We went to Disney World, which had only been open three months at the time!
I quickly grabbed a Chrysler 300 from the National Car Rental executive elite section. That's a good road car and gives me about 30 miles per gallon. I didn't know for sure but I might have to sleep overnight in the car tonight. I'll make that decision little bit later.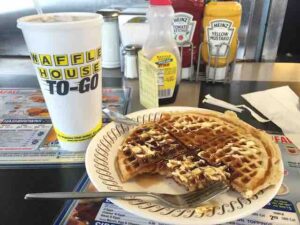 After a stop at a local Waffle House I began my trackchasing day in earnest. This afternoon, I would be seeing go-kart racing at the 103rd Street Go Kart Track in Jacksonville. Then in the evening I was going to see the "Night of Destruction" event at the Orlando Speed World facility in Orlando, Florida. The weather was good and there wasn't all that much driving to do.
THE RACING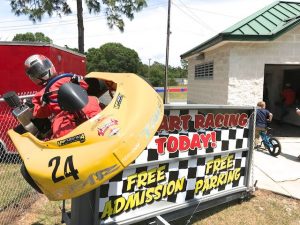 103rdStreet Go Kart Track – Jacksonville, Florida
I was anxious to meet up with a friend of mine whom I had never personally met. I'm talking about Brent Kuehl. Brent and I just missed each other at the Inverness Grand Prix in Florida earlier this year. We've become Facebook friends and comment back-and-forth to each other from time to time.
Brent's daughter Lacy races flat karts. It was going to be fun seeing her drive in the kart races at the 103rd Street Go Kart Track. She races in the "Junior 2" class.
I found the track easily. I soon learned that spectators could watch for free. If I wanted to go into the pit area it would cost $10. I definitely wanted to visit the pits but unfortunately there was no one inside the ticket booth selling pit passes. I waited outside for several minutes and no one showed up. It was sort of like last night's McDonalds!
I could see Brent and Lacy's racecar trailer from the entrance to the pits. Brent was expecting me. After a while I gave up on buying a pit pass and simply walked into the pit area. We were soon shaking hands and talking back-and-forth as if we had known each other for very long time.
Brent introduced me to his lovely wife Heather and their 11-year old racing daughter Lacy. The Kuehl family supports a very worthy cause. Their trailer and racer proudly support the cause of diabetes awareness.
A few years ago the family lost their infant son, Rocco, to the dreaded disease diabetes. Since that time they've made it their life's work to make others aware of the potential dangers of diabetes.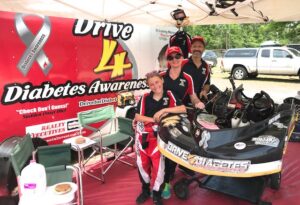 After talking with Brent for several minutes about diabetes I can conclude that I have never seen a family as passionate about their cause as Brent, Heather and Lacy. They are trying to make everyone aware of the symptoms of diabetes so that others don't permanently damage their health or worse. If you ever run into the Kuehl's you're going to learn a lot about this disease very quickly. Thank goodness for the good work they are doing.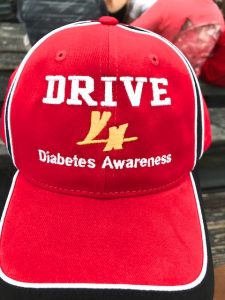 The Kuehl racing team gave me a Drive for Diabetes Awareness hat, shirt and a stress ball. Brent tells me I can lower my blood sugar using the stress ball! I never would have known that.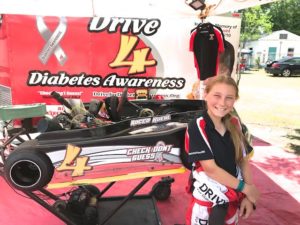 The driver of the #4 junior 2 flat kart Drive for Diabetes Awareness racing machine is their daughter Lacy. Lacy is 11 years old. I have no idea what her future in auto racing will be. Following a bicycle racing BMX career she's been racing flat karts for five years.
I spent much of my time in business recruiting new employees. If I've conducted one interview I've done 1,000 and more. During those interviews I was trying to look for those special qualities in a person that might indicate future success.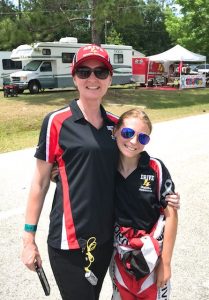 I found Lacy to be one of the most impressive youngsters of her age that I've ever met. She was very comfortable speaking with adults. She had a smile and positive upbeat attitude, like each of her parents, which is another indicator of success. You could tell she was disciplined as well. When her dad gave her some driving instruction she listened intently, made good eye contact and was really into it. Like I say I don't know what direction life will take her but I can tell you this. She's going to be successful in whatever she does.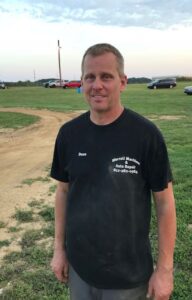 They say racing is a family sport. I was talking to Dean Worrall the promoter at last night's track in Indiana. He told me that an adult kart driver pretty much shows up by himself. However, young kart drivers come with their parents, their brothers and sisters and maybe grandma and grandpa. I believe racing is much more of a family sport when you have a young driver leading the way as you are likely to see with go-kart racing.
You could just tell by watching mother Heather, father Brent and daughter Lacy that the Kuehl's are a tight family unit. Right now they are using racing as a family focus. Sports are fantastic for family bonding. It also teaches the child all of the good qualities that will be needed later on in life.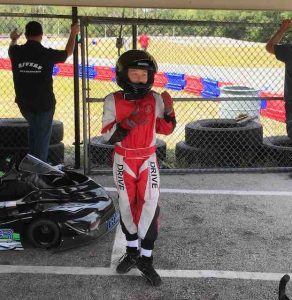 Lacy was one of only two female drivers at the track today. I'm going to guess they had about 50 competitors in total. In her junior 2 race there were seven competitors. Lacy finished up in third place in her heat race. She held her line really well all around the asphalt oval track. For the last couple laps she had somebody banging on her bumper, Dale Earnhardt Sr. style. Nevertheless, she maintained her composure to get a podium finish.
Today there was racing on three separate configurations. The classes that were age limited for youngsters raced on an oval. The senior champs, raced on a "roval". That course included parts of the oval and the track's road course. Some other karts raced on the 103rdStreet Go Kart Track's full road course. Maybe I'll be back some day to see racers that meet trackchasing's somewhat spastic rules on either the oval or the road course.
There were only three senior champs in the pit area today. I was expecting more. The minimum needed in order to count the track by trackchasing rules is two. They didn't beat that number by much. 
The races were sanctioned by the F.O.A.S. group. I think that acronym stands for Florida Oval Asphalt Series. Each class racing today, and there were about a dozen, would run one heat race and a feature event.
There were three senior champs in the pits today. Only two started the race on time. The third driver showed up to the grid late. His crew was adding fuel to the car when the green flag was displayed for the two senior champ racers who showed up on time. As Gerry O'Reilly would say, "If you're not early you're late!" This third driver got onto the track about two laps late and promptly spun out. He wasn't having a good day. 
It is common practice with the trackchasing hobby for trackchasers not to stay for feature events when there is only one countable class at the track and that class has very few competitors. That was the situation today. I had already seen three senior champs race in a heat race. The feature wasn't going to be much different, for the senior champs, than the heat race. I elected to get in early start on my travels down to Orlando for tonight's racing.
There was no question the highlight of this afternoon's activities was meeting Brent, Heather and Lacy Kuehl. They are not only a great American racing family but they are diehard supporters of making people aware of the dangerous effects of the diabetes disease. I considered myself just plain lucky to have the experience of meeting them. The good they are doing is immeasurable.
Good afternoon from Jacksonville, Florida.
THE RACING

Orlando Speed World – Orlando, Florida
Tonight's racing at the Orlando Speed World oval track was going to be totally different than the kart racing I had seen in Jacksonville this afternoon or in Indiana last night. Orlando was hosting their twice year "Night of Destruction".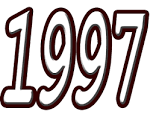 I first went to the Orlando Speed World oval track back in 1997. At the time that track visit was my 297thlifetime track. That was more than 2,000 new track visits ago! Folks, that was a long time ago. I don't remember much of what I saw back then. By the way, I didn't begin writing my Trackchaser Reports until I had seen about 430 tracks. Therefore, there is no official report from the trip I made to the Orlando Speed World more than twenty years ago.
I've known about the figure 8 racing in Orlando for well over 10 years. It's just that in the past they always did their Night of Destruction over Thanksgiving weekend. I could never justify spending Thanksgiving away from home to see that figure 8 race in Florida.
It is true that I have known about the kart racing at the 103rd Street Go Kart Track and the figure 8 racing in Orlando for many many years. I never would have thought I could knock off both of those tracks in one day. Today's action gives me 72 lifetime Florida tracks and a strong advantage over my nearest fellow competitor in the Sunshine State.
Tonight's novelty Night of Destruction promotion was really popular with fans. The general admission ticket price for adults was $25. Tonight they had a crowd larger than what I've seen at any short track event in recent memory.
The funny thing about what's happening at the Orlando facility is they have not been able to race on their oval configuration for years. They just can't make an economic go of short track stock car racing in Orlando. Nevertheless, they can get a crowd of four or five thousand people twice a year at $25 a pop to see crash, bang and destruction demolition derby action. That might tell you something about both the state of oval track racing and the attraction of the novelty event when done properly.
Tonight's show was scheduled to begin at 7 p.m. I showed up about an hour early. The traffic waiting to get into the track was backed up all the way out onto the highway. They were parking cars in double rows. I had to walk through 13 aisles of parked cars to get from my outlying parking spot to the ticket booth. Surprisingly there was no line to buy tickets. I was shocked at that. I went in and grabbed a seat just three rows from the top which gave me an excellent view.
They started about 20 minutes late in an accommodation for late arriving fans. This was a country crowd. Florida is a lot like Michigan in that sense. You might not think of those two states as being home to southern country folks but they are. Both Florida and Michigan have a significant population of small-town country residents.
Tonight's Night of Destruction offered a lot of different forms of novelty motor sports entertainment. They had automobile soccer. They had two "flagpole" races that started 32 cars each. I had not seen a flagpole race in a very long time. There was a tug-of-war between the two monster trucks in Orlando tonight. The monster trucks also came out and did some freestyle driving. They had a skid plate stock car race on the regular oval track. They also had a "Chain" race where two cars are connected by a chain with drivers in both cars. There must have been 30 or 40 total cars in that race, maybe more. They also had the famous Green Mamba jet engine attraction. I've seen that car or a replica of that car all over the country. It's highlight act is backing up to a junk car and having the Green Mamba jet engine literally melt the junker to the ground.
From a trackchasing point of view I was here to see the school bus figure 8 race. Of all of the entertainment being offered tonight the figure 8 "racing" was all that would count in my trackchasing totals. I was impressed with the 19 school buses that showed up to compete.
By the way I was secretly thinking one of tonight's acts might run some form of trackchasing countable racing. Maybe the skid plate cars would race on something other than the regular oval. This did not happen. You can't blame a trackchaser for trying though!
I would have thought that with that many buses there would have been some major crashes at the intersection of the figure 8 track. They let the buses run for nearly 15 minutes. I think they were hoping for that big crash. Despite such a large number of school bus entries they never did have the big crash at the "X". Nevertheless, it was entertaining and I think the crowd might have enjoyed the figure 8 race the most by way of applause.
AFTER THE RACES
I couldn't help but be concerned about the potential traffic jam that was going to be happening when this entire event cleared out. That's why I gladly left when the figure 8 school bus race was finished even though the demolition derby and Green Mamba junk car burn down were still coming up.
From the track I was off to the Motel 6 in Winter Park, Florida. My wakeup call would come at 2:10 a.m. California time. I boarded a 7:30 a.m. eastern time zone flight back to Los Angeles to Orlando. We landed 45 minutes early. However, often times when that happens there is no gate to handle our early arrival. That was the case today. We were stuck on the plane for nearly an hour and a half until a gate opened up for us.

We didn't get off the plane until past 11 a.m. local time. I needed to walk twenty minutes to get my car. Then I had to drive 65 miles in what might be heavy Mother's Day traffic to take a quick shower and then retrace nearly that entire 65 miles BACK toward LAX for the evening's Jay Leno show.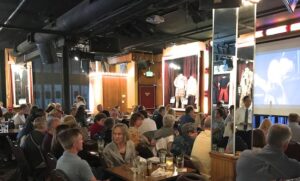 I had about an hour at home to pick up Carol and join son J.J. for dinner and the show. We had fantastic seats at the Hermosa Beach Comedy and Magic Club where Jay Leno performs on most Sunday nights Remember, I am never complaining about my lifestyle only explaining. I signed up for this. I am a volunteer.
Randy Lewis – 80 countries – 2,434 tracks.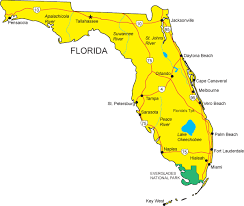 Florida
The Sunshine state
This afternoon and evening I saw racing at my 71st and 72nd lifetime track in the Sunshine State, yes, the Sunshine State.  I hold the #1 trackchasing ranking in Florida. I've seen 72 or more tracks in twelve different states. I hold a very comfortable lead over my nearest fellow competitor for the Florida trackchasing lead.
Thanks for reading about my trackchasing,
Randy Lewis
World's #1 Trackchaser
Peoria Old Timers Racing Club (P.O.R.C.) Hall of Fame Member
Florida sayings:  Florida: The Plywood State 
QUICK FACTS
LIFETIME TRACKCHASER COMPARISONS 
The threemost important trackchasing comparisons to me are:
Total lifetime tracks seen
Total "trackchasing countries" seen
Lifetime National Geographic Diversity results
Total Lifetime Tracks
There are no trackchasers currently within 645 tracks of my lifetime total.  Don't blame me.
Randy Lewis, San Clemente, California – 2,434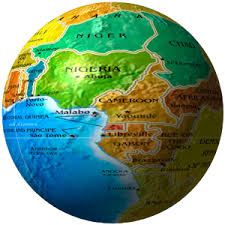 Total Trackchasing Countries
There are no trackchasers currently within 25 countries of my lifetime total. 
Randy Lewis, San Clemente, California – 80
Current lifetime National Geographic Diversity results
Randy Lewis, San Clemente, California – 4.14
That's all folks!  Official end of the RLR – Randy Lewis Racing Trackchaser Report
Click on the link below to see the video production from the racing action today.
Go-kart racing from Jacksonville, Florida
.
.
Night of Destruction…if you watch only one video all year you need to watch this one! Orlando Speed World
Click on the link below for a photo album from today's trackchasing day.  You can view the album slide by slide or click on the "slide show" icon for a self-guided tour of today's trackchasing adventure.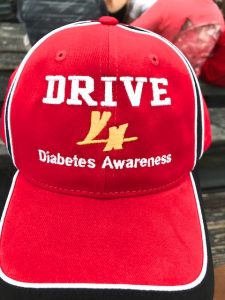 Go-kart racing with a special cause
.
.
Night of Destruction from Orlando Speed World