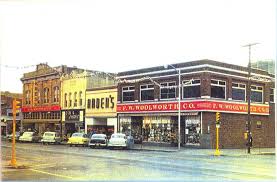 Greetings from Shawnee, Oklahoma
.
.
From the travels and adventures of the 
"World's #1 Trackchaser"
.
.
Heart of Oklahoma Speedway
Dirt oval
Lifetime Track #2,310
The EventVideo PlusPhotos
THE EVENT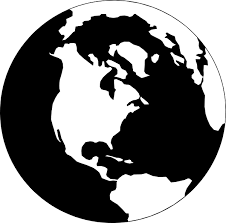 I have had the opportunity to follow my trackchasing hobby all over the world. As this is written I have seen racing in 74 countries. My lifetime track total exceeds 2,300. Each and every year I will trackchase in 25-30 states. At track #1,040 I moved into the "World's #1 Trackchasing" spot.
My hobby is not only about racing. Trackchasing for me centers around three things. The racing part is pretty obvious. However of equal importance is the logistics of trackchasing and the opportunity to see the world.
I live in Southern California. The vast majority of tracks are located in the Midwest and East. It takes a good deal of logistical planning to get from where I live to where the tracks are. For the past 15 years I have traveled about 175 nights each and every year. Surprisingly to some, more than half of those overnights were not part of trackchasing.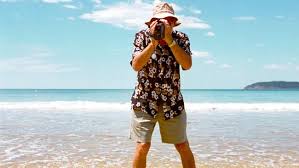 Then there's the travel just for the fun of seeing new things. You won't want to miss my "Trackchasing Tourist Attractions" page or my "Sports Spectating Resume" page on my website at www.randylewis.org. That will give you some understanding on how important seeing the world is with my hobby.
Today's adventure was one more of the 2,000 trips that have taken me up, down and around the long and dusty trackchasing trail. If you would like to see where I've been and experience those adventures here's the link: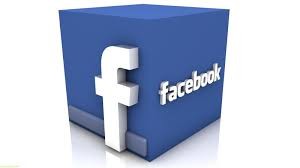 If you've got a question, comment or whatever please leave it at the bottom of this report.  It's very easy to do.  Or you can visit me on Facebook.  Thanks!
ON THE WAY TO THE RACES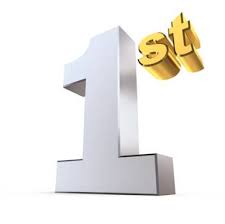 There have been quite a few racetracks, over the years, where I showed up for their first ever event. That was going to be the case tonight with the Heart of Oklahoma Speedway. The track, located in Shawnee, Oklahoma, was having its very first event.
It should be noted that I was taking a huge financial risk to see racing in Oklahoma tonight. In hindsight, it probably wasn't worth the cost of travel to tonight's event nor the risk of future financial losses.
I was up at 5:30 a.m. on Friday morning. No one who is retired should be up at 5:30 on any morning! However, I had to go to LAX to catch an early morning flight if I was going to make it to the track in time to see any racing.
If all went really well after seeing the racing on Friday night I would catch a flight leaving Oklahoma City at 6 a.m. Central time on Saturday morning to head back to Los Angeles. If everything was on time I would get back to our house by about 9 a.m.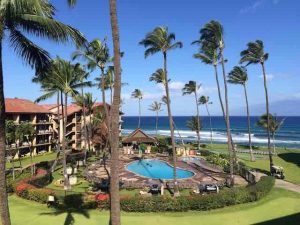 Then just six hours later Carol and I would be leaving the house for San Diego. We had already purchased our non-refundable airline tickets for a week's visit to Maui, Hawaii.  That's the view from our place in Maui above.  If somehow my transportation plan coming home from Oklahoma City got screwed up the entire Maui trip was in jeopardy. No, in hindsight going to Oklahoma this weekend was probably not a good idea.
I will tell you that there has never been a trackchaser who travels as much as I do or as inexpensively as I do. I would estimate that I pay about one third, possibly even less, for each trip that I take compared to what it would take anyone else to do. However, even one third of the expense on this trip was still a lot of money for one night of micro sprint racing.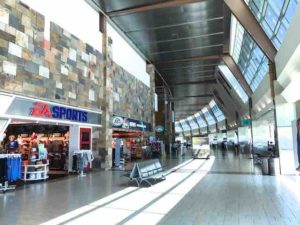 Nevertheless, I landed in Oklahoma City at about 3 p.m. While still at the airport I helped a friend with his new car purchase. Then I went on Priceline and got an inexpensive hotel at a nice savings. For the next couple of hours I had a late lunch at Whataburger and then watched the Masters golf tournament in my hotel room. In hindsight it might have been better to just sleep in my car tonight since I would be spending so little time in the hotel room itself.
THE RACING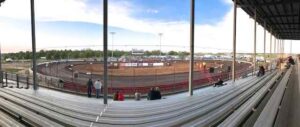 Heart of Oklahoma Speedway – Shawnee, Oklahoma
Racing was scheduled to begin at the Heart of Oklahoma Speedway at 8 p.m. It would be dark at just a few minutes past eight. I wanted to get some daylight photographs so I showed up at 7:30 p.m.
General admission tickets for tonight's racing were $10 U.S. However, folks aged 60 and over were admitted for six dollars. That was a very nice savings.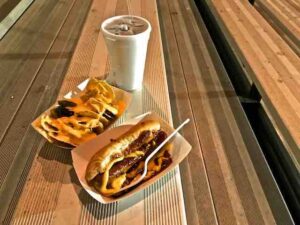 Later in the night I would stop at the concession stand. My supper would consist of a hotdog covered in cheese whiz and chili, some nachos and a soft drink all for eight bucks. That seemed reasonable.
Tonight's racing program was a tale of two extremes. I don't want to forget that this was the first night of this operation at this facility. However, I was told that the race organizer had run the short track at El Reno for a few seasons. So it wasn't like they had a rookie promoter.
Let's get the "bad" out of the way first. The first race began at 8:21 p.m. Right out of the gate they were already more than 20 minutes behind on an ideal weather night. They ran a series of about 10 heat races for seven classes of open-wheeled cars. There were 61 cars in the pit area.
Then at 9:15 p.m. they inexplicably went to an intermission to do some prep on the track. To my eyes the track looked fine. There was no dust. The track was relatively smooth. They tore up the top line during this break and never did pack it in.
However, the intermission continued. And then it continued some more. They ended up having a one and a half hour intermission and did not resume racing until about 10:40 p.m.
Initially there was a crowd of about 100 people (above) maybe a little bit more. By the time they started feature racing after the intermission there were probably only 50 people in the stands.
When they raced the racing was very good. The lighting was outstanding as was the PA system. The grandstand itself was modern, covered and large.
I was very impressed with the announcers. They were the highlight of the evening. Both Hoss and Jake did an excellent job. They were informative, entertaining and they could be heard well over a stout PA system.
Before the racing started I walked over to say hello to the commentators. Like many tracks in this part of the country they were announcing from the center of the grandstand. Not many people do that but I've seen it in Nebraska, Kansas and now Oklahoma.
We ended up doing a nice interview over the PA system. A little bit later Hoss came by and interviewed me for his podcast. They were nice guys and very enthusiastic about doing their job.
However, when the intermission continued to last forever, I asked the announcers why the delay was taking so long. They weren't exactly sure because they couldn't communicate that well with the pit area. The pits were located on the backstretch of the track.
What could have been a very nice racing event with some very competitive open wheeled micro sprints on a beautiful early April weather evening wasn't. The program was seriously marred by the lack of organization by this group.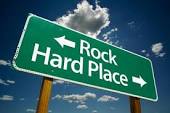 A racing promoter can be between a rock and a hard place. They have two masters to serve. One is the racer and the other is the spectator.
The spectator wants the program to start on time. They don't want to have a lot of yellow flags or other delays. They don't really like time trials. They don't want to have long intermissions. They don't necessarily, especially on a night like tonight, want to see the track reworked.
The racer generally doesn't have any of the concerns mentioned above for the spectator as their own. Often times they're not all that concerned about getting out onto the track and racing in a timely fashion. I suspect it was the drivers tonight that held up the show because they felt that they were not getting a fair shake from the lineup process. Maybe they were right and maybe not. Nevertheless their behavior created an outcome that was very negative for the fans. One fan came up with his wife and told the announcer that they would never be back. That was direct feedback!
I watched five of the seven feature events. I left the track at 11:15 p.m. They were already past my three-hour rule. My departure would put me back to my hotel, after I gassed up my rental car, by about 12:30 p.m. I had to be leaving my room at 4:30 a.m. in order to make my 6 a.m. flight. Even that was cutting it a bit close.
AFTER THE RACES
On Saturday evening I expected to be landing in Maui at about 10 p.m. Hawaiian time. By getting up at 4:30 a.m. Central time in Oklahoma I was actually awakening at 11:30 p.m. Friday night Maui time. Do the math. That's not a great way to start a vacation.
I simply went to the track tonight because I thought I could squeeze it in. I probably could have tied this track into a midwestern weekend later in the summer. However I had some free time. I thought "why not". I think that a lot of times. Then after I do it I sometimes regret it.
I must admit both a winged and the non-winged micro sprint feature racing tonight was very good. You won't want to miss the video I think you'll like it.
SATURDAY.
My alarm woke me at 4:12 a.m. In a most unusual move for me I didn't shower or do anything. I simply put my clothes on and walked out the door. In just 36 minutes I drove to the airport, returned my rental car, hopped on a rental car bus, used the kiosk in the airline terminal to get my boarding pass and cleared airport security using TSA PreCheck. Yep. All in 36 minutes. I don't like to waste time.
Then I hopped on a jet airplane that was departing Oklahoma City at 6 a.m. bound for the Los Angeles international airport. Once at LAX I would need to pick up my car and drive 65 miles south to our home in San Clemente. At home I would have a 3-4-hour layover before grabbing Trackchasing's First Mother and all of her gear.
We would then drive another 60 miles south to the San Diego International Airport. From San Diego it was a six-hour flight to Maui, Hawaii. We landed in the Aloha state at about 9:30 p.m. and walked through the front door of our condo two hours later.
Folks, I woke up in Oklahoma City at 4:30 a.m. on Saturday morning. I walked into our Maui condo at 4:30 a.m. on Sunday morning Oklahoma time. I had now been up for 24 hours. When was the last time you did that?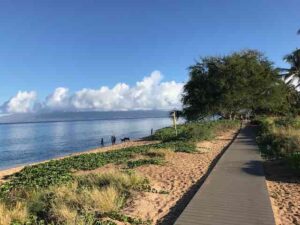 Carol and I will relax in the Hawaii sun for a week. We'll try to chase away the incredible stresses of the retirement lifestyle. But wait. There are no incredible stresses in retirement. It's all honey and sweet cakes or something like that.
Good day from Shawnee, Oklahoma.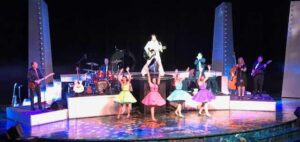 P.S. Our week in Maui could not have gone better. We just vegged a good deal of the time. We went to the Burn'n Love Elvis Show for the very first time. I was impressed with the production. We watched sunsets while drinking mai tais, took a sunset cruise and saw the last of the whales before they migrate to Alaska. We ate in our favorite restaurants including the Kula Bistro. We've been to Maui well over 50 times. We hope to go back for many more visits.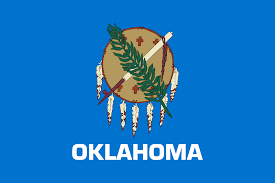 Oklahoma
The Sooner state
This evening I saw my 37th lifetime track in the Sooner state, yes the Sooner state. I hold the #1 trackchasing spot in Oklahoma. I've seen 37 or more tracks in 18 separate states.
Thanks for reading about my trackchasing,
Randy Lewis
World's #1 Trackchaser
Peoria Old Timers Racing Club (P.O.R.C.) Hall of Fame Member
Oklahoma sayings: "Fraidy Hole" – The term grandma uses for tornado shelter.
QUICK FACTS
LIFETIME TRACKCHASER COMPARISONS 
The three most important trackchasing comparisons to me are:
Total lifetime tracks seen
Total "trackchasing countries" seen
Lifetime National Geographic Diversity results
Total Lifetime Tracks
There are no trackchasers currently within 580 tracks of my lifetime total. Don't blame me.
Randy Lewis, San Clemente, California – 2,310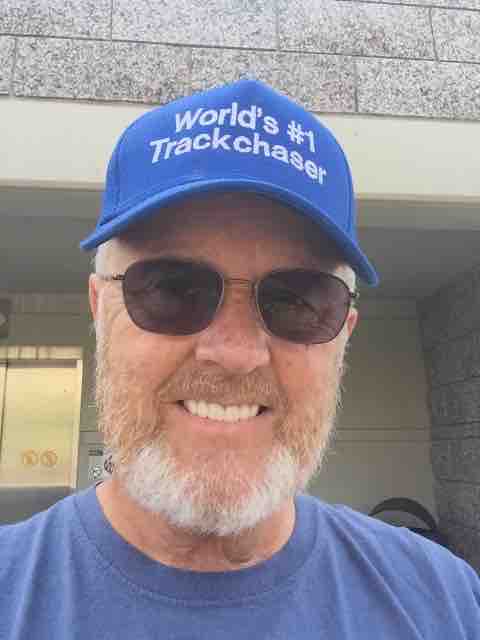 Total Trackchasing Countries
There are no trackchasers currently within 20 countries of my lifetime total.
Randy Lewis, San Clemente, California – 74
Current lifetime National Geographic Diversity results
Randy Lewis, San Clemente, California – 4.37
That's all folks! Official end of the RLR – Randy Lewis Racing Trackchaser Report
Click on the link below to see the video production from the racing action today.
Click on the link below for a photo album from today's trackchasing day.  You can view the album slide by slide or click on the "slide show" icon for a self-guided tour of today's trackchasing adventure.
The first race ever from the Heart of Oklahoma Speedway PLUS a trip to Maui