Greetings from Glendale, Arizona
From the travels and adventures of the 
"World's #1 Trackchaser"
 .
.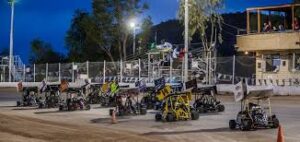 AKA Speedway
Dirt oval
Lifetime Track #2,052
Highlights
THE EVENT
Florida – Arizona – Back Home….in just a few hours.
Iwoke up this morning at home in Winter Park, Florida.  I went to sleep on the Temperpedic mattress in the master bedroom of our home in San Clemente, California.  This is how the day turned out.
Today was going to be a long trackchasing day.  First I would fly from Orlando, Florida to Phoenix, Arizona.  I would have lunch with my brother and then catch a race at a track in a suburb just north of Phoenix.  Then the plan was to fly back to Los Angeles.  This was an ambitious plan.
My alarm came at 3:50 a.m. Eastern time.  By the end of the day I hoped to be in the Pacific Time zone.  That made all the sense in the world to think I was REALLY getting up at 12:50 a.m. Pacific time.  Folks, that's just 50 minutes past midnight.  Lots of folks hadn't even gone to bed yet in California when I was getting up!
It was nice to have the TSA pre-check capability getting into the terminal at the Orlando.  That saves 5-15 minutes each time I pass through security.  As much as I fly that adds up to a lot.
I was looking at a four and one-half hour flight from Orlando to Phoenix.  Of course my current practice is to watch iTunes movies on most of my flights.  I used to spend my flight writing Trackchaser Report.  Now I use my Evernote app to dictate my Trackchaser Reports.  That saves a lot of time compared to using a computer keyboard for the entire process.  Once I dictate the report in Evernote I send it to my email address. Then I will copy and paste that text into a Word file.  I'll dress it up a bit and send the information off for your enjoyment.
Carol and I lived in Phoenix in 1974.  The place sure has grown and changed a lot since we lived there.  When I'm driving around Phoenix I rarely know where I'm at nowadays.
I was not pleased with the new rental car center, open about two years, at the Sky Harbor (Phoenix) International Airport. It takes about 15 minutes to get from the terminal to the rental car center.  That's way too long especially when I am returning the car.  By the way I could have rented a Maserati for just $100 more for the day!
In actuality I grabbed a Hyundai Sonata and was off for a driving trip that would have me driving less than 75 miles in total.  My first agenda item was to meet my brother Mark.  He lives in the Phoenix area.  We would match up for a quick lunch at Subway.  Whenever I can I use my trackchasing trips to meet up with family and friends.  Since Mark was working he couldn't join me at the races today.
Following lunch I made the less than 5-mile drive down to where we used to live in the Phoenix.  Back in 1974 our Phoenix home was the first place we ever purchased.  It was a steal at $40,000 USD.
For 25-year-olds it was a pretty nice place.  The single level house had 1,700 square feet on one third of an acre with a beautiful backyard pool.  We only lived in Phoenix for one year.  The area was a major upgrade from the Midwest but couldn't hold a candle to living in Southern California with its beautiful climate.
Some 30 years ago there used to be a Kmart beyond our back fence in Phoenix.  Today that building is home to an indoor karting facility.  That's pretty apropos isn't it?
After the races……….
After being at the track for three hours I faced an important challenge.  It was 3 p.m.  I entertained the thought of driving my car directly from the track back to Southern California.  In hindsight that would not have been a bad idea.
However I decided to return the car to the Phoenix airport. I paid just $2.02 to fill the tank with gasoline.  However, my "Gas Guru" app told me that gas was available somewhat nearby at just $1.83.
I was soon going to encounter some major airline problems. Several of the flights that had looked so "good" were now filling up fast.  As you know my airline sponsors will have a seat for me if not all seats are sold.  If every seat IS sold then my sponsors wish me well and I look elsewhere.
As one flight after another left the airport full I became somewhat concerned.  I was down to the last two flights of the day.  If I didn't make one of those I would be out of airplane options.  If that happened I would have to resort to a one-way car rental.  I would have a 390-mile drive that would  get me home at about 3 a.m.  It was important that I get home because we had guests from Seattle arriving at 8 a.m. the next morning!
Recall that two nights ago I had flown overnight.  Not much sleep there.  Then last night I went to sleep only to have my alarm ring at 12:50 a.m. Pacific time. If I had to begin a six-hour drive, on night #3 at 10 p.m. it was going to be a real 5-hour Energy night!
On the second to last flight of the night I missed getting on by two seats. That meant I was down to the very last flight of the night.  I can see what the airline "loads" look like on a real-time basis by using my laptop. It looked like I was going to miss the last flight of the night by two seats again.
There was an older man sitting next to me who appeared to be the one passenger ahead of me on the standby list.  That meant that he and I both would not make the flight.  He was on the phone with his daughter, who apparently worked for the airlines.  She was giving a blow-by-blow rundown on his standby position.  I could tell she was recommending he change destination from trying to get to LAX in the hopes of finding a plane he could ride before time ran out tonight.  He soon made the decision to head to another terminal and try his look there with a different airline to a different destination.  Sometimes that's how it's done.
Even when him gone I was still going to miss this flight by one seat.  Everyone had checked in.  The flight was full and it was ready to go.  I would wait until the flight left and then go get a rental car. 
However it was at this point that the gate agent made an important announcement.  There were high winds in Southern California.  They were so strong that LAX was temporarily closed. The flight would be delayed for an hour. What did that mean for me and other passengers?
Some paying passengers would miss their connections in Los Angeles with this flight being delayed by an hour.  The gate agents went to work trying to route them on other airlines in hopes of getting these folks home tonight.  I smiled. I knew what this meant.  When a passenger was changed from the flight I was trying to get on that would open up a seat for me.
That's exactly what happened.  Two seats were freed up.  One was in first class and the other in coach.  The gentleman who had left the area was in line for the first class seat. They called his name but I knew he wasn't going to answer.  Then they called MY name and soon I was flying home, in first class no less.
I had gone from facing a nearly 400-mile drive to sitting in first class.  As it was I still didn't get home until around midnight. My day had begun 23 hours earlier. Just about eight hours later Carol and I heard our door bell ring.  Our guests from Seattle had arrived!  Nevertheless, I absolutely love the rush of this lifestyle.
THE RACE 
AKA Speedway – Glendale, Arizona
So, this is how the racing came about.
From there I drove over to the AKA Speedway.  The track is actually located in northern Phoenix suburb of Glendale. This track has been on my radar screen for at least 10 years.
Today they were running 20th annual Christmas classic. For most of the years in the past they never ran any countable trackchasing classes.  My last remembrance of a countable class competing at the track was back in 2006.  However today they were planning on racing "senior outlaw karts". I had called to confirm and was reasonably confident that would be the case.
When I pulled onto the track I found a parking spot right at the fence between turns three and four. I knew that spectator admission was free.  However as I explored further it seemed like getting a pit pass for $10 would be a good idea.  That's what I do.
It was a beautiful sunny day but a little bit on the cool side for Phoenix.  Temperatures were 60s.  Phoenix is an area that gets more than 100 days of 100° temperatures each year. It's a very hot place!
Phoenix and Las Vegas have a couple of things in common. What is not a brand-new housing development or commercial business center is raw desert.  I'm talking about dirt, rocks cacti etc.  The AKA Speedway is located in such a place.
It was interesting to note that the separate PKRA speedway is located right next door to the AKA speedway.  The AKA Speedway is a dirt oval and the PKRA facility is home to an asphalt road course.  As far as I can tell there is no countable racing (just flat karts) at the PKRA Speedway. Nevertheless, you can bet I will keep an eye on things.
The AKA Speedway is a slightly banked 1/6-mile oval  Of course when I tell you that I'm making my best guess as to the track's length. Since this is mainly a "kart" track the outer retaining wall isn't built to withhold much.  The "wall" was mainly a chain-link fence with small thin piece of plywood around 3-4 feet tall in most places.  While standing in the pit area I peered over toward my rental car parked precariously and right up next to this flimsy fence!
They had a quality PA system.  The announcer did a good job as well.  It's so important to have an announcer that can both entertain and inform.  Today's commentator did a good telling the crowd (about 100 people) which class was racing when.  There were about eight classes competing today with maybe 50-75 carts in the pit area.
Today there was a very bad wreck in the open outlaw heat race.  As the six-kart heat race poured into turn three a driver lost control. He and his kart hit the outside retaining wall.  The kart must have hit a pole.  When it did the kart stopped almost immediately.  Drivers of karts in this class do NOT wear seat belts or any restraint whatsoever.  This sent the driver flying high into the air.  He landed on the track and lay motionless for some time.
I never ever want to see a driver injured or killed. That's my number one concern each time I visit a track.  However I would be less than genuine if I didn't tell you that thought this to myself. If this guy is dead the races will be cancelled.  Then I'll have to wait at least a year to get back to the track.  Of course what I was thinking had no bearing whatsoever on the driver's condition.  I was glad to see the Australian adult driver finally get up although he was quite shaken. I caught this wicked crash on video….don't miss it.
There were six senior outlaw karts racing today.  They were the only countable trackchasing class competing today.  Each of the classes would run two 10-lap heat races and a feature event.  During the senior outlaw kart race three of the competitors dropped out with mechanical woes.  Sometimes when the car/kart counts are low I will see more racers in a heat race than in the feature event!
Following the heat races I spent some time during intermission talking to a few drivers. One driver told me about two kart tracks in Arizona that I had never hear of.  I found it interesting that I had knocked off one track today and found two more.  At this rate I will never see them all!
It was a nice Tuesday afternoon in the middle of the winter.  I very much enjoyed having the access to move around all over this facility. That allowed me to take photos of anything that was worth seeing.  Don't miss the photos.  All of my photographs and YouTube movies were filmed with my iPhone 6.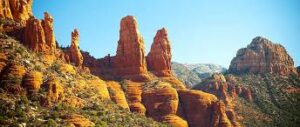 Arizona
The Grand Canyon state
This afternoon I saw my 36th lifetime track in the Grand Canyon state, yes the Grand Canyon state.  That's good enough for a #1 ranking here.  The "Racing Eckels", relocated to Indiana from Pennsylvania, hold down second place with 31 tracks visited.
Thanks for reading about my trackchasing,
Randy Lewis
World's #1 Trackchaser
Peoria Old Timers Racing Club (P.O.R.C.) Hall of Fame Member
Arizona sayings: A hundred ten in the shade is sorta hot, but you don't have to shovel it off your driveway.
QUICK FACTS
AIRPLANE
Los Angeles, CA (LAX) – Orlando, FL (MCO) – 2,210 miles
RENTAL CAR #1
Orlando International Airport – trip begins
Daytona Beach, FL
Orlando International Airport – trip ends – 152 miles
AIRPLANE
Orlando, FL (MCO) – Phoenix, AZ (PHX) – 1,847 miles
RENTAL CAR #2
Phoenix Sky Harbor International Airport – trip begins
Glendale, AZ
Phoenix Sky Harbor International Airport – trip ends – 69 miles
AIRPLANE
Phoenix, AZ (PHX) – Los Angeles, CA (LAX) – 369 miles
Total air miles – 4,426 (3 flights)
Total rental car miles – 221 (2 cars)
Total miles traveled on this trip – 4,647 miles 
TRACK ADMISSION PRICES:
Daytona International Speedway – $20
AKA Speedway – $10 (includes pit pass)
Total racetrack admissions for the trip – $30
LIFETIME TRACKCHASER COMPARISONS 
The threemost important trackchasing comparisons to me are:
Total lifetime tracks seen
Total "trackchasing countries" seen
Lifetime National Geographic Diversity results
Total Lifetime Tracks
There are no trackchasers currently within 450 tracks of my lifetime total.  Don't blame me.
Randy Lewis, San Clemente, California – 2,051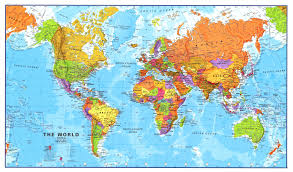 Total Trackchasing Countries
There are no trackchasers currently within 10 countries of my lifetime total. 
Randy Lewis, San Clemente, California – 70
Current lifetime National Geographic Diversity results
Randy Lewis, San Clemente, California – 4.96
That's all folks!  Official end of the RLR – Randy Lewis Racing Trackchaser Report