Greetings from Lakeside, California
.
.
From the travels and adventures of the 
"World's #1 Trackchaser"
.
.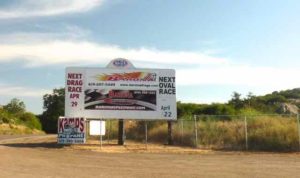 Barona Speedway
Dirt oval
Lifetime Track #257
.
.
Barona Speedway
Dirt figure 8
Lifetime Track #2,311
The EventVideo PlusPhotos
THE EVENT
I have had the opportunity to follow my trackchasing hobby all over the world. As this is written I have seen racing in 74 countries. My lifetime track total exceeds 2,300. Each and every year I will trackchase in 25-30 states. At track #1,040 I moved into the "World's #1 Trackchasing" spot.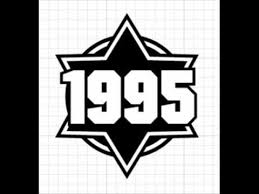 I sometimes, but not all that often, re-visit tracks I've already been too. I first went to the Barona Speedway oval track in 1995. It was my 257th lifetime track to see. I didn't begin writing my famous Trackchaser Reports until I had seen about 430 tracks. I've been back to Barona a few times. They have some decent racing and it's close to home.
My hobby is not only about racing. Trackchasing for me centers around three things. The racing part is pretty obvious. However of equal importance is the logistics of trackchasing and the opportunity to see the world.
I live in Southern California. The vast majority of tracks are located in the Midwest and East. It takes a good deal of logistical planning to get from where I live to where the tracks are. For the past 15 years I have traveled about 175 nights each and every year. Surprisingly to some, more than half of those overnights were not part of trackchasing.
Then there's the travel just for the fun of seeing new things. You won't want to miss my "Trackchasing Tourist Attractions" page or my "Sports Spectating Resume" page on my website at www.randylewis.org. That will give you some understanding on how important seeing the world is with my hobby.
Today's adventure was one more of the 2,000 trips that have taken me up, down and around the long and dusty trackchasing trail. If you would like to see where I've been and experience those adventures here's the link: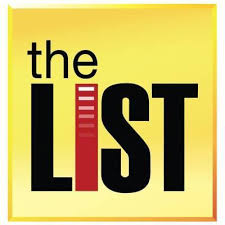 If you've got a question, comment or whatever please leave it at the bottom of this report.  It's very easy to do.  Or you can visit me on Facebook.  Thanks!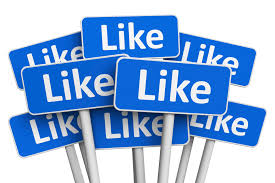 FOREWORD
Folks, I got to be honest with you. By this time in my trackchasing career I would have thought I would have run out of tracks to see in North America a long time ago. That has not been the case.
Using rough numbers I've seen about 350 tracks in foreign countries. Of the remaining 2,000 tracks or so that I've seen in the United States about 400 have been road courses. Some 300 were figure 8 tracks. The remaining 1,300 were oval tracks.
Let me try to put those numbers into perspective. I've seen racing in 74 countries. A number of those countries that I have visited have racing at only one or two tracks in the entire country.
Of course countries like Canada, Australia, New Zealand and the United Kingdom have several tracks, as do a few countries in Europe. You have the Netherlands/Belgium general region that hosts most of their racing events in the pastures of local farms.
When you consider the large continents of South Africa and South America they have very little racing. Most countries in Africa don't race at all. Most countries in South America have just a handful of tracks or less in each of their country locations.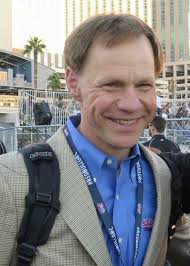 Just recently Tim Frost owner of the National Speedway Directory teamed up with the National Speed Sport News magazine.  I'm a good friend of Tim's.  He a super enthusiastic guy.  Tim published an article stating that there were 915 active oval tracks in the United States right now and 153 road courses. For the most part he doesn't keep track of figure 8 locations.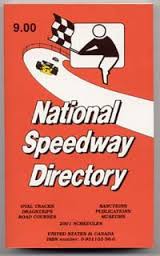 So Tim says there are 915 active oval track and 153 active road courses. Let's think about that. Right now I've seen about 1,300 oval tracks in the United States and 400 road courses. Looking at those numbers wouldn't you think that I would have run out of tracks to see by now?
Currently, I have somewhere in the neighborhood of 250-450 active/somewhat active oval and road course tracks still to see in the United States. Why such a ride range?
About 200 of those tracks only race once a year. Even at that rate their "activity" is a little suspect. Let's just say I only have 250 tracks left to see.
Over the past 15 years I've been averaging about 125 new tracks visited each year. If I were to keep up that pace right now I would be out of tracks in only two or three years. What am I going to do when that happens?
Actually, I'm not sure it ever will happen. Why would I make such a statement? Here's the reason.
This week and Carol and I are returning to the Barona Speedway in Lakeside, California. We've been there a few times to see oval racing. However, they've just added a figure 8 track to their facility. Until a month or two ago I didn't even know the figure 8 track existed.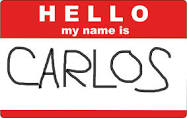 About two weeks ago I got a call from my good buddy Carlos Perdoma. Carlos has been in touch with me for about a decade. Whenever a new track pops up in his native country of Mexico he lets me know.
Carlos contacted me to tell me there would be a race in the streets of Tecate, Baja California, Mexico. Wouldn't you know it! That race would be on a Sunday afternoon following the Saturday night figure 8 action at the Barona Speedway.
Now I had magically added two tracks that up until a couple of months ago, or even less, I didn't know existed. How many tracks are out there that I don't know about? When and where will they pop up just like these two did? Honestly, I've got to imagine there are hundreds.
ON THE WAY TO THE RACES
With all of the above in mind Carol and I set out on a local Southern California/Mexico trackchasing weekend. We would only be gone from home for about 30 hours. The expense wouldn't be too great but I thought the entertainment value would be fun.
Barona Speedway in Lakeside, California, according to Google maps, is only 68 miles from my home in San Clemente. That makes it nearly the closest permanent oval track to our home. I think the Irwindale Speedway might be 65 miles from us.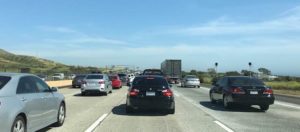 The driving time to Lakeside was expected to be about an hour and a half. It turned out to be about an hour longer than that. There was a tremendous amount of weekend freeway traffic and an accident as well.
Most prominent oval tracks with a Saturday program begin at seven or maybe 7:30 p.m. The green flag falls on the first race at the Barona Speedway at 5 p.m. That's early!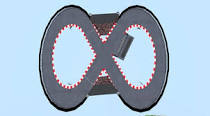 We were returning to the speedway for one reason. They were having the first out of four scheduled figure 8 events for the 2017 season. They held their first ever figure 8 race during the last race of 2016.
Barona Speedway is located on the Barona Indian reservation. It truly is out in the boonies at an elevation of about 1,700 feet. You'll find very few racetrack locations like this one.
THE RACING

Barona Speedway – Lakeside, California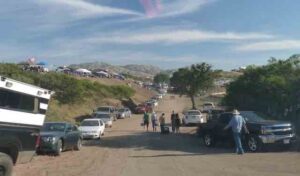 When we arrived we paid our $10 general omission fee per person. Then we found a spot in one of the most unusual and funky parking lots I have ever visited. Imagine driving back into a canyon in the mountains somewhere. That's a lot like what today's parking lot was like. Don't miss the photos.
Our visit to the Barona Speedway certainly had its highs and lows. I always like to cover things that didn't work out quite as well as I would have liked so I can finish on a high note!
We sat in the main grandstand. Sunset tonight was at about 7:30 p.m. With traffic we found our seats in the grandstands at 5:30 p.m. They had already run a couple of heat races.
Today's high temperature was expected to be 91°. Tonight's low would be 54°. That's a pretty big swing.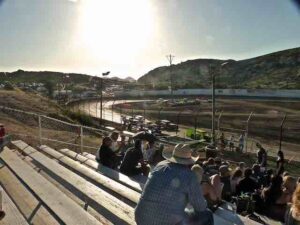 The primary drawback to sitting in the grandstands was that we faced directly into a setting sun for the next two hours. That doesn't happen very often. When it does I don't like it a bit. Two days later I had a very red race from sunburn!
There were four classes of lower-level stock cars racing on the quarter mile dirt oval. There would be two classes of stock cars, pure stocks and unlimiteds racing on the traditional dirt figure 8 track.
I think we missed two or three heat races. Each of the stock car classes had between 15-20 competitors. In today's world those were pretty good car counts.
In the figure 8 divisions there were 11 pure stocks out of 18 pure stocks that would race on the oval. I guess not every driver was enthused about racing on a figure 8 track. The unlimited stock car class, which did not race on the oval track, brought just four cars for the figure 8 racing.

From 5 p.m. until 7:30 p.m. the heat races were conducted. I'm not a big fan of watching 2 1/2 hours of heats. At the same time I'm not a big fan of doing that while facing directly into a warm setting sun. There were quite a few yellow flag delays for spinning cars during the heat races. As you might imagine this was exactly like a day show with a very dry and slick surface.
During intermission, that begin at 7:30 p.m. they brought out a Caterpillar Tractor grader. They tore up the entire track and then watered. Intermission took exactly one hour. At the end of the break it was 8:30 p.m. The program had started at 5 p.m. Taking 3 1/2 hours, in order to run heat races and have intermission, in my opinion is way too long.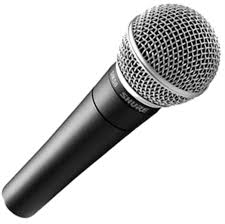 However there were a couple of highlights during the one-hour break. First the announcer asked me to come down and do an interview about my hobby of trackchasing. I was glad to oblige. I am always happy to try to inform and educate people about trackchasing.
Folks I've seen racing at more than 2,300 tracks. Surprisingly, to me anyway, at every one of those tracks there always seems to be something that happens that has never happened before. That was the situation tonight.
The track promoter, Judy, came all the way up to our top row grandstand seating position. No, I wasn't being kicked out of the track! She just wanted to thank me for thanking her.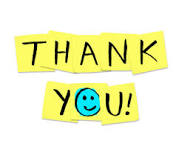 One of the reasons that Judy came up to say hello was to thank me for something that happened last week. I had called the track and listened to a very complete and thorough message about this week's racing program.
I left a message after listening to the Barona Speedway phone announcement. I simply told them that I probably call up tracks 200 times year. I continued to say that their phone message was one of the best that I had heard. It had all the pertinent information that any race fan might be calling about. I left my name but I did not make any comment about my trackchasing hobby. It's nice to give people good feedback when they do a nice job.
Judy and her son have been promoting the track along with others for 18 years. They lease the land from the Indian reservation. There was a good crowd on hand in the grandstands. A large number of people watched the races from several locations in their cars or from their camping areas.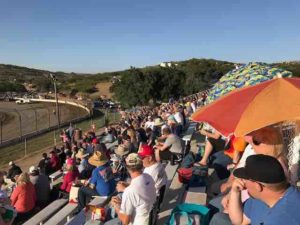 Judy told us that an average crowd for their every other week racing program is about 500-550 people. I mentioned that most of the tracks that I attend have crowds much smaller than that.
She said she was disappointed with the figure 8 car count. I told her that the 11 pure stocks weren't all that bad. Nevertheless, she wants more in order to justify their position on the racing program even if it's only four times each year.
The track had a good announcer. The lighting was acceptable. They did one run one race after another without too much delay. It's just that the races had too many yellow flags and the one-hour intermission was a killer.
On the other hand they DID have a two spin and you're out policy. I think that's a great idea. Also, after the sunbaked track was reworked at intermission it was perfect for the feature racing. They've been running the program for a lot longer than I've taken to watch their races on four different occasions.  They must know what works for them.  They had a good crowd and as you know people vote with their feet.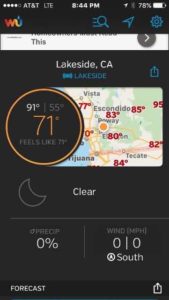 By 8:30 p.m. the temperature had dropped from the 85° when we arrived to about 70. California gets cool in the evening. It was nice to see such a great dust free smooth track for the feature events.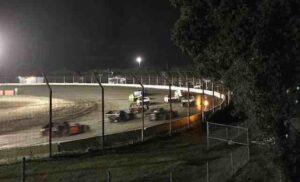 We watched three of the oval track features. We saw two of them from our grandstand seating position. Our final race was viewed from up on the hill overlooking turns one and two.
It was now 9:30 p.m. We had been at the track for four hours. The program was at a point that was now 4 1/2 hours beyond the advertised start time. I had already exceeded my "three-hour rule". That was enough for Carol and me.
Yes, we would miss the figure 8 features. However we had seen the three figure 8 heat races. The unlimiteds would be running the same four cars in the feature on the figure 8 track that they did in the heat race. The traditional figure 8 track used the turns of the oval. A grader had made a simple two lane wide straightaway to create the "X" in the oval track's infield. They normally race a kid's class on an oval track inside the larger oval. That track was wiped out tonight in favor of the figure 8 configuration.
This was definitely one of the larger traditional dirt figure 8 tracks that I've seen. It took the leader in the pure stock figure 8 heat race nearly 29 seconds to complete a lap on a dry track.
Most of the spectators in the grandstands and in the hillside parking areas brought their own refreshments. Fans could bring in alcohol and any food that they wanted. The track itself does not sell alcohol.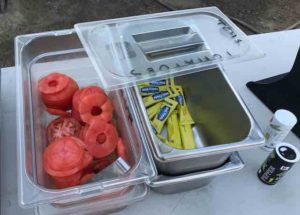 I thought the concession prices were a little on the high side. I can't recall seeing a hotdog selling for five dollars at any other short track that I have attended.  Nevertheless, Carol enjoyed her burger and was impressed with the fresh tomatoes and lettuce offerings.
I know it must be a tough decision for the track promoter to allow people to bring in their own food. They have to figure out how many extra people they get at $10 per adult because of their liberal concession policy.  Let's say that's $300 in extra ticket sales because fans can bring in their own food and drink. They would then have to balance that incremental profit ($300) against whatever concession food profits they would lose because virtually everybody in the grandstand seems to bring their own food and drink.  They might have to sell $400-500 in food to generate $300 in concession profit.
AFTER THE RACES
In summary, I will tell you that we were very pleased to be able to add a new track so close to our home. At the same time we were super excited about the idea that we will be seeing a race tomorrow in Tecate, Mexico.
The Barona Speedway is 68 miles from our home. The race in Tecate is only 78 miles from the Barona Speedway. Then the race in Tecate is only 100 miles from our home in San Clemente. That's not much driving while at the same time allowing us to see two the tracks so close to home.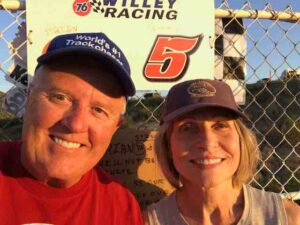 Tonight Carol was saying her 567th lifetime track. I would say that her enthusiasm for going to short tracks is diminishing. She doesn't appreciate the delays, really hates the dust and has pretty much a "been there done that" attitude. Nevertheless, she wants to be part of the World's #1 Trackchasing Couple"!
Good evening from Lakeside, California.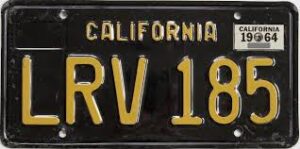 California
The Golden state
This evening I saw my 157th lifetime track in the Golden state, yes the Golden state. As you might imagine I hold the #1 trackchasing spot in California.
Thanks for reading about my trackchasing,
Randy Lewis
World's #1 Trackchaser
Peoria Old Timers Racing Club (P.O.R.C.) Hall of Fame Member
California sayings: Cruise – another way to say "come" or "leave." (Cruise also means to sail about for pleasure, often with no destination.) For example, "Hey man, you wanna cruise over to my place after work?" Or, "Hey man, it's getting late. I'm gonna cruise."
QUICK FACTS
LIFETIME TRACKCHASER COMPARISONS 
The three most important trackchasing comparisons to me are:
Total lifetime tracks seen
Total "trackchasing countries" seen
Lifetime National Geographic Diversity results
Total Lifetime Tracks
There are no trackchasers currently within 580 tracks of my lifetime total. Don't blame me.
Randy Lewis, San Clemente, California – 2,311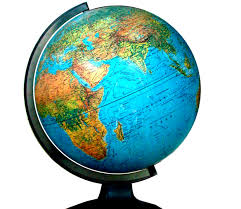 Total Trackchasing Countries
There are no trackchasers currently within 20 countries of my lifetime total.
Randy Lewis, San Clemente, California – 74
Current lifetime National Geographic Diversity results
Randy Lewis, San Clemente, California – 4.37
That's all folks! Official end of the RLR – Randy Lewis Racing Trackchaser Report
Click on the link below to see the video production from the racing action today.
Click on the link below for a photo album from today's trackchasing day.  You can view the album slide by slide or click on the "slide show" icon for a self-guided tour of today's trackchasing adventure.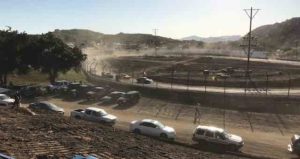 The trip to Barona for figure 8 racing after a day at home in San Clemente