Greetings from Billings, Montana
From the travels and adventures of the "World's #1 Trackchaser"
 Belaro Speedway – Lifetime track #14
The Belaro Speedway is officially listed as my 14th lifetime racetrack to see.  Belaro was part of my "group of 71".  What does that mean.  Prior to 1980 I did not record official dates of my track visits.  Therefore, for those 71 tracks, I have to rely upon my memory of my trip to the track.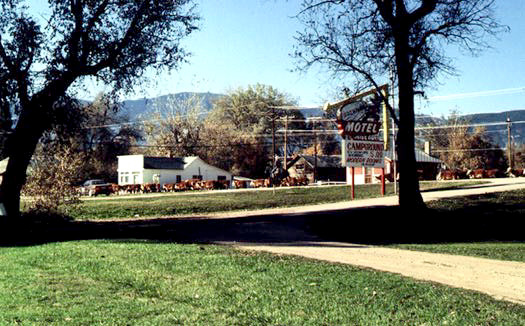 My wife, Carol, and I both graduated from Northern Illinois University in 1971.  NIU is located in DeKalb, Illinois about an hour west of Chicago.  Following Carol's high school graduation from a Chicago area suburb her family moved to the small Wyoming town of Dayton.  Each summer during her college years Carol would return to Wyoming to help her parents and siblings manage the family business called Foothills Motel and Campground.
During those same summers I was working in the factories of the Caterpillar Tractor Company in East Peoria and Morton, Illinois.  At the end of those summers (1969, 1970, 1971) I would drive out to Wyoming to see Carol.  One summer I splurged, and for the first time ever flew on an airplane to Billings, Montana.  I guess my love affair with flying (as a passenger) began on that trip.


The Foothills Motel and Campground is located (even today!) just a few miles south of the Montana/Wyoming border.  We stopped there about five years ago and the owners told us their most famous guest is Peter Fonda.  Fonda passes through the area on his way to the Sturgis motorcycle rally each year.


The Belaro Speedway was just a short drive up the road from Dayton, about 120 miles.  I drove up there one night in about 1970 to see the racing on their dirt track.  Just about the only thing I remember from that track was that they had four racing divisions and four cars in each division.  I had never seen such small car counts.  However, I would come to learn that the majority of Far West located tracks would struggle to get race cars.  This is likely due to two things.  First, there is not much of a racing "heritage" in these parts compared to the South, Midwest and East.  Secondly, there isn't a whole lot of population in these areas.


Records I've seen show this track running as late as 1985.  Since I didn't have a camera at the time I have no personal photos from this track.
You might have remembrances about this track.  If so, please feel free to share in the comments section below.  If you have any photos from back in the day, send them to me at Ranlay@yahoo.com.  I'll try to include them here.