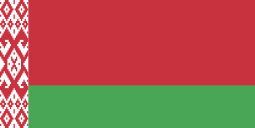 BELARUS
.
.
.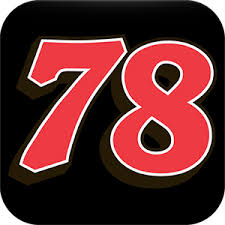 Trackchasing Country #78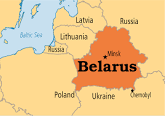 Greetings from places on the way to Minsk, Belarus.
Click on the links below to read about and see the photos and videos from my visit to Minsk, capital and most populous city of Belarus, formerly known by its Russian name Byelorussia or Belorussia in eastern Europe ……trackchasing country #78.
HighlightsBelarus - Trackchasing Country #78VideosPhotos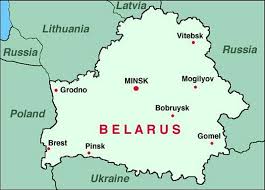 LIKE TO KNOW MORE ABOUT BELARUS – TRACKCHASING COUNTRY #78?
As a service to my readers I always provide a top-line background of each country I visit. If you'd like to learn a little more about the eastern European nation of Belarus check out the "background" information I prepared for you. It appears at the bottom of this report. I have condensed this section so you can get a good "feel" for this former Russian satellite state.  Belarus has had a tough history over the years especially during World War II.  Most of the material comes from Wikipedia.  We can trust them.
PRE-TRIP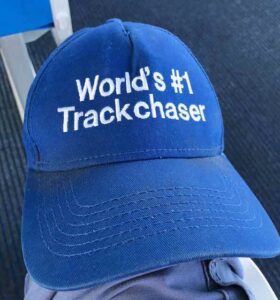 Advance Preparation
I've never had more international cooperation from people all over the world than I have right now. International trackchasing has certainly taken me all over the world. Some places aren't too much different than my culture and others are about as far apart as I could possibly get.
I plan all of my own foreign trips….with the help and advice of my international friends. They give me ideas. They give me options. Then I put all of their input and my research together. I mix it all up and decide on the final plan. That entire process is just as much fun as actually taking the trip. This was a particularly challenging effort is so many ways. Stay with me and I'll tell you all about it.
THE RACE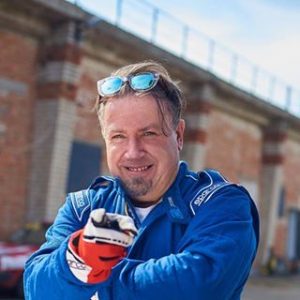 My trip to Belarus would get its start after talking with a friend from Ukraine, Igor Romanov. Igor and I first met, ever so briefly, at the Autodrome Chayka in Kiev, Ukraine. Igor was taking photos out in the middle of the track. Carol and I were roaming around the area, where no other spectators were allowed with our friend Slava, a race observer who lives in Kiev.
While we were at Autodrome Chayka Slava (above) invited Carol and me on a one-day trackchasing road trip. We would leave the very next morning. Slava and a couple of his Ukrainian buddies would join us for a four-hour one-way drive to Rivne, Ukraine. That trip was planned on less than 24 hours notice with three people whom we had never met until the day before. That's how we roll. This was just one more example of the fun that comes from international trackchasing.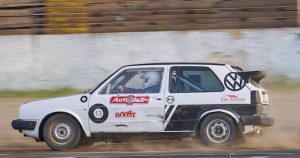 Down in Rivne, the photographer Igor Romanov whom I had met the day before was racing on the Motorpark Rivne oval. I gave Igor my card. He was busy racing and we didn't have any more contact that day. Sometime later I heard from Igor again. We stayed in contact.
Igor was great at giving me ideas most specifically on the racing held in neighboring country Belarus. Igor is a major NASCAR fan. One of his dreams is to see some NASCAR racing in the states one day. I helped him with those ideas. Igor helped me with my plan to trackchase in Belarus.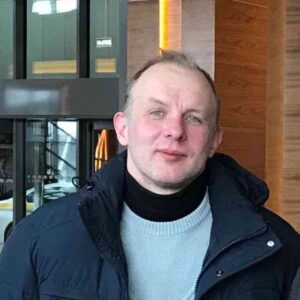 A little while later a man by the name of Владимир Киселёв came into my Belarusian life. His "English" first name was Vladimir (long) and Volodya (short). I will refer to him at Volodya. At first, we communicated in Russian. I know what you're saying. You're thinking to yourself, "But Randy you don't speak Russian". You are correct about that. BUT I know how to use Google translator!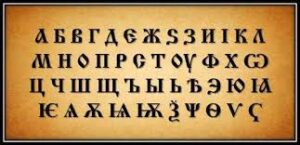 For several days we wrote back and forth to each other in Russian. It worked very well…considering. Then on the spur of the moment I asked Volodya if he might like to communicate in English. I explained I had been using a translator. Volodya told me he thought I spoke fluent Russian! From that point forward, we sent our notes in English several times a week.
It was Igor from Ukraine who first turned me onto wheel to wheel auto racing in Belarus. It was Volodya who narrowed things down to a specific location and a specific date. I have both Igor and Volodya to thank for making this trip possible.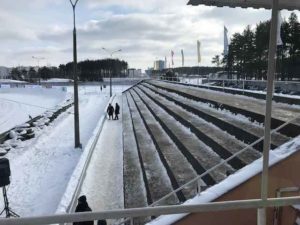 I would be heading to Minsk, Belarus to see an oval ice race at Stadium Zarya near the Ring Road in the city of Minsk. You will come to find out, these trips are initiated with a race date. It is the race date that starts the ball rolling. However, the ball rolls in all kinds of directions….once it starts rolling.
I'll be in Belarus for six days. I expect to be at the racetrack for about four hours. If that doesn't tell you what my hobby is really about then I fear I am a very poor communicator or the reader is a poor listener. Six days in Belarus will be a trip of a lifetime. In my world I want to do a "trip of a lifetime" several times each year!
THE VISA 
Foreign country travel visas can be expensive.  Getting a travel visa can also be time-consuming.  It's not unusual to have to be without my passport for 7-10 days or longer while awaiting a visa O.K.
I had been loosely considering traveling to Belarus for a few years. I had heard from some German sources that ice racing took place in the country during the winter. When I checked into a visa I saw the cost for U.S. travelers was about $200 USD. That would be expensive to come all that way for an ice race. As you know sometimes there is no ice! Airlines, and their non-refundable tickets, are not the friends ofinternational ice racing.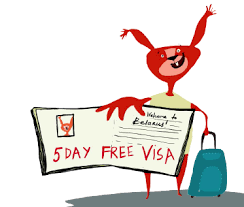 Then about a year ago, Belarus came up with a "Visa Free" idea. This new plan has some significant strings attached to it however. There are 195 countries in the world. Only residents of eighty of those countries were eligible for the Visa Free program in Belarus. Luckily, U.S. citizens could use this idea.
There is a very short limit on how long a person can be in Belarus with the Visa Free program. The limit was just five days. The day a traveler arrived was counted as day #1. This was true even if the visitor arrived at 11 p.m. The day the foreigner left would have to be day #5 at the most. What if someone tried to stay for a sixth day under this program? They would be deported and face a fine of about $500 USD.
Additionally, I would need a few other more basic things. Of course, I would need a passport. I would need to prove where I was staying and what my airline plan was. They also required that I have at least 25 euros on me for each day I would be staying in Belarus. I was hoping Carol could help with the euros!
There was one other sticking point that had the possibility of driving up the cost of the trip. There are no non-stop or direct flights from the U.S. to the Minsk International Airport. I would have to connect in one or more cities to make this trip happen.
One of the Visa Free requirements was that anyone who wanted to use the program must fly into and out of the Minsk International Airport. Folks couldn't come into the country and use this program, by car or boat or any other way than flying into the Minsk International Airport. Why? I have no earthly idea.
I used Kayak.com and then Skyscanner.com to check airfares. All of the cheapest fares had me connecting in Moscow, Russia. I've been to Russia a couple of times and had great visits. However, I didn't have a transit visa for Russia.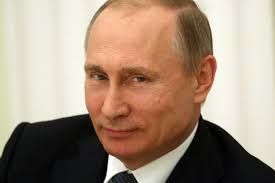 That didn't matter. One of the requirements of the Visa Free program is that no one could enter Belarus from Russia! Do you think these countries might still hold a grudge against each other?
This last requirement put a financial wrinkle into the plan. It looked like connecting in Russia would save me a couple hundred dollars. I rarely waste that amount of money.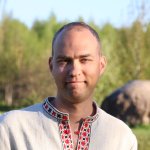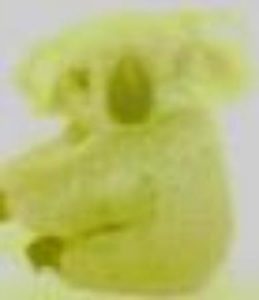 I had some fantastic help from the Belarus experts on TripAdvisor. First, "Felix300" (above) had shared a very succinct and complete explanation of the Visa Free program. He and "bir2007" (above but below!) both freely answered my questions. Thanks guys.
Even when I told them my plan was to "stretch" the rules they provided expert council. I think Felix300 was a little skeptical of my plan. He need not worry. It was me who would be on the hook if my "six-day visa-free plan" failed. I'll tell you how walking the "grey line" worked just a little bit later.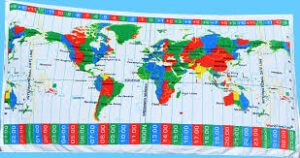 TIME ZONES 
Minsk, Belarus is 11 hours ahead of the Pacific time zone where I live in San Clemente, California. That's a pretty big-time difference and would take some time getting used too.
The funny thing about the time zone situation was that I was in Philadelphia (three-hour time zone change from Los Angeles) on Sunday. I flew back to Los Angeles from Philadelphia on Sunday night. Then I got on a plane on Tuesday and flew right past Philly (sort of) on a 12-hour flight to Warsaw, Poland. From Warsaw, I connected to a plane headed to Minsk. Don't worry. If you're going to be the World's #1 Trackchaser" (77 countries and counting) this is what you do.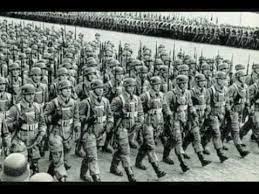 BOOTS ON THE GROUND
I could certainly do these long foreign trips without the help of anyone else. However, if I did the trip wouldn't be nearly as good and I wouldn't have nearly as much fun.
I already told you I have the help of others but make all of my own decisions. I decide when and where and how I will enjoy the trip. There have really only been two international trackchasers, Roland Vanden Eynde and Will White who did it this way.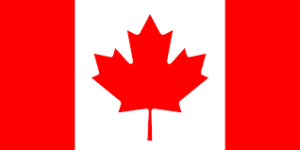 Most other trackchasers don't do any real foreign trackchasing. I can say that because I don't think of Canada as a foreign country. My Canadian friends know that I say that as a compliment.
A couple of other people have trackchased under the "hold my hand" international trackchasing plan. They fly to a foreign country. A friend picks them up at the airport and drives them everywhere they go on the trip. All of the "international challenges" are handled by the driver. Folks, the most fun of an international trip is both encountering and conquering the international challenges. I know that my Trackchaser Reports will certainly make the travel challenge a lot easier for those who seek to emulate my adventures going forward. Effectively, I will be holding their hand.
I've already told you that first Igor and then Volodya gave me all kinds of advice. Their contributions were invaluable. However, when I landed into Minsk I was on my own. There was no one at the airport to speak to me in English. There was no one at any point on the trip that held my hand. Roland and Will did this before I ever did. I just took it to a new level, a whole new level.
THE TRANSPORTATION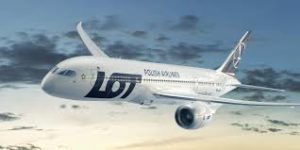 I would be flying LOT Polish Airlines on the first leg of this trip. In Warsaw, Poland I would connect to Belavia Airlines. They would take me to Minsk, Belarus. I would reverse that itinerary on the ride home.
I couldn't recall ever flying on those carriers but maybe I did when Carol and I went to Poland – trackchasing country #54. On that trip, we saw Rallycross racing at Tor Slomczyn (road course). It was track #1,713 in Slomczyn, Poland. The year was 2011.
This trip would have me flying for about 27 hours.  This is what the flight travel itinerary looked like.
Los Angeles, California – Warsaw, Poland – 11H55M
Warsaw, Poland – Minsk, Belarus – 1H10M
Minsk, Belarus – Warsaw, Poland – 1H10M
Warsaw, Poland – Los Angeles, California – 12H40M
I would be gone from home for six days. The above flight schedule would cover nearly 13,000 miles.  That might seem like a lot until you consider that my total travel mileage (rental car and airlines) in any given year is 200,000-250,000 miles.
CURRENCY
Wife Carol is my international currency dealer.  I don't know how she does it.  I simply tell her where I'm going and a pile of local currency shows up on my desktop a day or two later.  What would I do without her?
However, she couldn't help me with Belarus currency. She didn't have any Belarusian rubles. I would have to get those in country.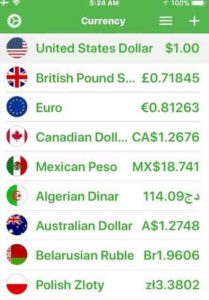 I did know this about the currency. I knew that one U.S. dollar would buy me nearly two Belarusian rubles. Carol gave me a supply of euros.  One euro would get me 2.45 Belarusian rubles. My main plan was to use credit cards as much as I could.
WEATHER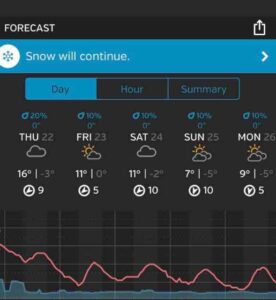 It's the middle of winter in Eastern Europe. During the past couple of weeks, the high daily temperature had been about 30 degrees Fahrenheit. I figured I could handle that. Then just a few days before I left on this trip the temperatures dropped dramatically! I would be on the ground for five days. During that time the average high temperature would be about 10 degrees. It was expected to be only seven degrees on race day. Yuck.
OVERNIGHT ACCOMMODATIONS
Up to this point I have trackchased in 77 countries. We've been to another eight countries where we didn't see any racing. That leaves just 110 more countries to visit! Belarus is one of those countries.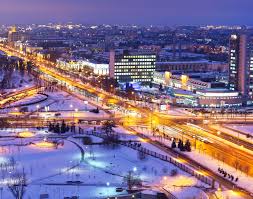 I would spend the entire trip in and around Minsk, the capital city of Belarus. It's a big city of some two million people. I wanted to stay at a hotel near the city centre. That way I could get my power walking in and see the major sites.
I use Kayak.com for these kinds of trips to find hotels. Hotels in Minsk are not all that expensive. They seemed to be in the $50-125 UDS price range.
One of the more expensive hotels was the nearly new Marriott. Nevertheless, staying for five nights there would cost me only $600. That was reasonable. However, I had a better idea. I would use my frequent stay points. That would drop my cost to zero.
I've stayed in more than my share of Marriott hotels since I first started in business in 1972. As such a frequent user of Marriott I have some status with these folks. I'm a "platinum elite" member of their program. I figured I would get a complimentary breakfast and maybe even an upgrade to a suite. We would see soon.
THE RENTAL CAR
No rental car for me on this trip. I would be using Uber. With Uber, I wouldn't have to worry about spending my cash. I wouldn't have to worry about being ripped off by a cab driver who didn't speak English. I would order each Uber ride from my cellphone. This sounded like a grand plan.
NAVIGATION 
I wasn't driving.  I didn't need any navigation help.  However, my Uber drivers used their phones for GPS help constantly.  With the Cyrillic alphabet and no GPS aid, I think it would be nearly impossible for an American tourist to drive himself or herself around a place like Belarus.
THE TRAVELING COMPANION
Carol gets invited on every trip I make. I make about forty trips each year. That's too many for Carol's tastes. No problem there. She doesn't mind me taking forty trips. She just doesn't want to make forty trips.
Carol gets to pick and choose her trips. Last week she took off with me to New Orleans and the French Quarter. A couple of days after I get back from this trip she and I will be off on a Caribbean cruise for nine days. Shortly after that Carol has selected Maui for her spring break vacation. Nope, she doesn't always go on each trackchasing trip. However, I do try to take care of her. She deserves it.
THE SUMMARY
The plan was in place. I had gotten some great advice. I had taken all of that advice and crafted my own plan. When I land it will be just me. I'll do the best to make this a memorable trip.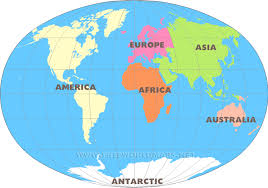 My "world map" has filled up surprisingly quickly.  However there are "agents" working as you read this on new trackchasing countries to visit.  I appreciate every one of their contributions. Here's where I've been so far.
RLR – Randy Lewis Racing Lifetime Trackchasing Countries
# 1 – UNITED STATES OF AMERICA – Peoria Speedway – Mt. Hawley (oval) – Track #1, Peoria, Illinois – circa 1955 
# 2 – CANADA – Cayuga Speedway (oval) – Track #174, Nelles Corner, Ontario – 1988 
# 3 – AUSTRALIA – Parramatta City Raceway (oval) – Track #180, Granville, New South Wales – 1989
# 4 – UNITED KINGDOM – Northhampton International Raceway (oval) – Track #378, Northhampton – 1999
# 5 – NETHERLANDS – Driesum Racetrack (oval) – Track #839, Driesum – 2005
# 6 – BELGIUM – Bellekouter oval (oval) – Track #841, Affligem – 2005
# 7 – FRANCE – Circuit de Croix en Ternois (road course) – Track #843, Saint-Pol sur-Ternoise – 2005
# 8 – GERMANY – Nurburgring (road course) – Track #844, Nurburg – 2005
# 9 – NEW ZEALAND – Western Springs Speedway (oval) – Track #1,134, Western Springs – 2006
# 10 – MEXICO – Triovalo Bernardo Obregon (oval) – Track #1,281, Tiajamulco de Zuniga, Jalisco – 2007
# 11 – BARBADOS – Bushy Park Racing Circuit (road course) – Track #1,296, Bushy Park – 2007
# 12 – THAILAND – Bira Circuit (road course) – Track #1,300, Pattaya – 2008
# 13 – SOUTH AFRICA – Durban Grand Prix (road course) – Track #1,315, Durban, KwaZulu-Natal – 2008
# 14 – JAMAICA – Dover Raceway (road course) – Track #1,322, Brown's Town St. Ann – 2008
# 15 – SWEDEN – Sturup Raceway (road course) – Track #1,335, Malmo – 2008
# 16 – DENMARK – Ring Djursland (road course) – Track #1,336, Tirstrup – 2008
# 17 – CZECH REPUBLIC – Automotodrome BRNO (road course) – Track #1,381, Brno – 2008
# 18 – AUSTRIA – Lambrechten Stock Car Track (road course) – Track #1,382, Lambrechten – 2008
# 19 – IRELAND – Tipperary International Raceway (oval) – Track #1,388, Rosegreen – 2008
# 20 – GUYANA – South Dakota Circuit (road course) – Track #1,390, Timehri – 2008
# 21 – CHINA – The Guia Circuit (road course) – Track #1,392, Macau – 2008
# 22 – COSTA RICA – Autodromo La Guacima (road course) – Track #1,398, La Guacima – 2008
# 23 – ANDORRA – Grandvalira Circuit (road course) – Track #1,404, Port d'Envalira – 2009
# 24 – ARGENTINA – Circuito Efren Chemolli (oval) – Track #1,406, Buenos Aires – 2009
# 25 – QATAR – Losail International Circuit (road course) – Track #1,408, Doha – 2009
# 26 – BAHRAIN – Bahrain International Circuit (road course) – Track #1,410, Sakhir – 2009
# 27 – UNITED ARAB EMIRATES – Dubai Autodrome (road course) – Track #1,411, Dubai – 2009
# 28 – COLOMBIA – Autodromo de Tocancipa (road course) – Track #1,415, Tocancipa – 2009
# 29 – SPAIN – Motorland Aragon (road course) – Track #1,416, Alcaniz – 2009
# 30 – PORTUGAL – Circuto de Murca (road course) – Track #1,417, Murca – 2009
# 31 – ICELAND – Kapelluhraum (road course) – Track #1,420, Hafnafjorour – 2009
# 32 – HUNGARY – Hungaroring (road course) – Track #1,426, Mogyorod – 2009
# 33 – SWITZERLAND – Hock Ybrig (road course) – Track #1,427, Hoch Ybrig – 2009
# 34 – ITALY – Vighizzolo d'Este Stock Car Track (road course) – Track #1,428, Vighizzolo d'Este – 2009
# 35 – DOMINICAN REPUBLIC – Autodromo Mobil 1 (road course) – Track #1,515, Santo Domingo – 2009
# 36 – MALTA – Ta'Qali Race Track (road course) – Track #1,521, Ta'Qali – 2010
# 37 – FINLAND – Lake Pidisjarvi Ice Track (road course) – Track #1,524, Nivala – 2010
# 38 – JAPAN – Suzuka Circuit (road course) – Track #1,530, Suzuka – 2010
# 39 – CHILE – Autodromo de Interlomas (road course) – Track #1,531, Temuco – 2010
# 40 – MOROCCO – Circuit de Marrakesh (road course) – Track #1,535, Marrakesh – 2010
# 41 – BRAZIL – Circuit de Caruaru – Aryten Senna (road course) – Track #1,540, Caruaru – 2010
# 42 – ESTONIA – Laitse Rally Park (road course) – Track #1,571, Laitse – 2010
# 43 – LATVIA – Bikernieki (road course) – Track #1,572, Riga – 2010
# 44 – GUATEMALA – Autodromo Pedro Cofino (road course) – Track #1,580, Alotenango – 2010
# 45 – EL SALVADOR – El Jabali (road course) – Track #1,582, Quezaltepeque – 2010
# 46 – ROMANIA – Bradu (road course) – Track #1,603, Bradu – 2010
# 47 – BULGARIA – Closed Route – Burgas (road course) – Track #1,604, Burgas – 2010
# 48 – SOUTH KOREA – Korea International Circuit (road course) – Track #1,605, Yeongam, Jeollanam-Do – 2010
# 49 – PHILIPPINES – Batangas Racing Circuit (road course) – Track #1,608, Batangas – 2010
# 50 – NORWAY – Lyngas Motorbane (road course) – Track #1,648, Lier – 2011
# 51 – MALAYSIA – Sepang International Circuit (road course) – Track #1,656, Sepang – 2011
# 52 – INDONESIA – Sentul International Circuit (road course) – Track #1,657, Babakan Madang, Boder – 2011
# 53 – LUXEMBOURG – Alzingen (road course) – Track #1,711, Alzingen – 2011
# 54 – POLAND – Tor Slomczyn (road course) – Track #1,713, Slomczyn – 2011
# 55 – SINGAPORE – Marina Bay (road course) – Track #1,714, Singapore – 2011
# 56 – URUGUAY – Piriapolis Grand Prix (road course) – Track #1,724, Piriapolis – 2011
# 57 – SRI LANKA – Pannala Race Track (road course) – Track #1,732, Pannala – 2012
# 58 – ECUADOR – Autodromo Internacional de Yahuarcocha (road course) – Track #1,736, Ibarra – 2012
# 59 – SLOVAKIA – Slovakia Ring (road course) – Track #1,745, Orechova Poten – 2012
# 60 – MONACO – Circuit de Monaco (road course) – Track #1,747, Monte Carlo – 2012
# 61 – CROATIA – Automotodrom Drobnik (road course) – Track #1,762, Rijeka – 2012
# 62 – PERU – Autodromo La Chutana (road course) – Track #1,802, Lima – 2012
# 63 – GREECE – Serres Circuit (road course) – Track #1,807, Serres – 2012
# 64 –RUSSIA – Moscow Central Hippodrome (oval) – Track #1,824, Moscow – 2013
# 65 –LITHUANIA – Marijampole Autocross Track (road course) – Track #1,842, Marijampole – 2013
# 66 –INDIA – Buddh International Circuit (road course) – Track #1,915, Noida – 2013
# 67 –GEORGIA – Rustavi International Motorpark (road course) – Track #1,916, Rustavi – 2013
# 68 –TRINIDAD AND TOBAGO – Larry Gomes Stadium (road course) – Track #1,928, Arima – 2014
# 69 – TURKEY – Istanbul Park (road course) – Track #2,035 Akfirat – 2014
# 70 – AZERBAIJAN – Streets of Baku (road course) – Track #2,037, Baku – 2014
# 71 – SERBIA – Usce (road course) – Track #2,224, Belgrade – 2016
# 72 – BOSNIA AND HERZEGOVNIA – Zaluzani (road course) – Track #2,235, Banja Luka – 2016
# 73 – PANAMA – Circuito Internacional de Panama (road course) – Track #2,290, La Chorrera – 2016
# 74 – ZIMBABWE – Bulawayo Motorsports Park (road course) – Track #2,291, Bulawayo – 2016
# 75 – NAMIBIA – Desert Raceway (oval) – Track #2,369, Walvis Bay – 2017
# 76 – MACEDONIA – Skopje Street Circuit (road course) – Track #2,386, Skopje – 2017
# 77 – UKRAINE – Autodrome Chayka (road course) – Track #2,387, Kiev – 2017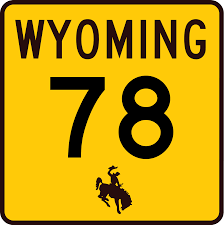 I am facing some obstacles on this trip once I get into Belarus. If I can overcome those potential roadblocks  Belarus will become trackchasing country #78. As I go along I'll tell you all about it. International trackchasing trips are the best. I wish I could do this in 500 countries!
So how did this trip really come down?
Below I will share with you, on a day by day basis, how the trip went. Maybe you will get some ideas and plan a trip to Belarus. Maybe you will never ever come to Belarus but will use some of my travel ideas on other adventures. Maybe you will simply sit back in the comfort of your own home and enjoy reading about the travel I do.
Tuesday – February 20, 2018
Today was a travel day. I needed to move my body from San Clemente, California to Minsk, Belarus. That was going to be a flying distance of 6,333 miles. Along the way, I would lose 11 hours to time zone changes.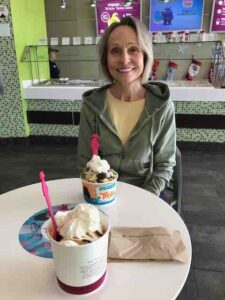 Last night Carol and I had our "last supper" a tradition we have before I head off on long trips. First, we stop at the Habit, an upscale hamburger fast food outlet headquartered in Santa Barbara, California. Their product rivals In N Out Burgers and I don't say that about any hamburger chain with the possible exception of Whataburger. Then we walk across the shopping center parking lot to Yogurtland. I'm a huge fan of this place. I love the "make it your way" approach that Yogurtland fosters. In our town they do great business.
I was facing some logistical hurdles on this trip. My airline ticket allowed me to check one bag, weighing a maximum of 50 pounds, for free. Then I could carry a bag onto the airplane that weighed as much as eight kilograms (about 17.4 pounds). Both bags had dimensional limitations. Added to all of that was the fact that I could also bring on a "computer" bag.
One would think that I could easily enjoy a six-day/five-night vacation with that much baggage. However, there were extenuating circumstances. As it turned out checking a bag was not going to be a doable idea. More on that later.
I was going to be able to have just one piece of luggage that could weigh a maximum of eight kilograms/17.4 pounds plus a computer bag. Losing 50 pounds of luggage was a huge hit! Carol thought it was an impossible hit.
The rolling bag I was using weighed six pounds when it was EMPTY. It doesn't take much for an empty piece of luggage to weigh six pounds! That meant I only had space for 11.4 pounds of clothing, toiletries and the like.  That wasn't much for the time I would be in Belarus especially during the middle of the winter.
I had to be judicious. I replaced my full-sized tube of toothpaste with a travel size. I replaced my electric toothbrush with the manual kind your dentist gives you. I used that weight-saving strategy with as many things as I could. It was a lot like trying to take the weight out of a sprint car.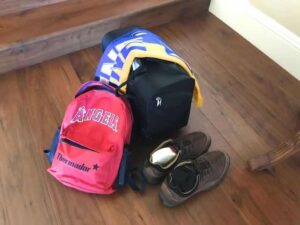 Then I grabbed my Los Angeles Angels of Anaheim backpack. Carol and I each got one of these as a premium while attending an Angels' game in the past. That would be my computer bag. I must tell you I graduated college before backpacks became standard equipment. I have never thought much of putting a backpack on my back and after this trip was finished I still don't.
Finally, I had my winter ski jacket. Did you know that a jacket can morph into a piece of luggage? It can! I frequently stuff the sleeves, and sometimes the pockets of my jackets, with excess gear. For this trip the sleeves were filled with my winter shoes. Those size 14s are HEAVY. A few other miscellaneous items were squeezed in there too.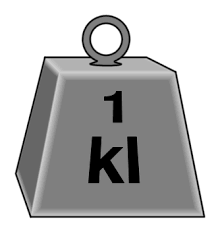 When I got to the airport my carryon bag weighed in at 7.3 kilograms beating the eight-kilogram limit by about a pound. I kept my computer backpack on my back so as not to arouse suspicion as to what else was jammed in there. Finally, I used my friendly conversational style to divert the attention of the airline gate agent from my jacket. That part of the logistical challenge had now been cleared.
Why didn't I just check a bag that could weigh as much as 50 pounds? It was free. There was no charge for doing that. The answer to this situation was just two words long. The visa.
Belarus used to charge about $200 USD for a tourist visa. During this past year, they changed that policy. As noted above tourists can now visit the country for a maximum of five days, "visa free".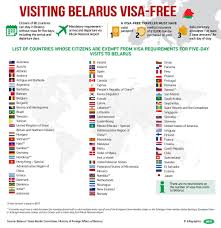 I was planning to come to Belarus on the visa-free program. Here's how that worked. The day you arrive is counted as day one. It doesn't matter what time you arrive. It can be 6 a.m. or 11:59 p.m. When you arrive is day one. Day 5 is the same situation. It doesn't matter what time of day you leave. The fifth day that you are physically in Belarus will be your last day. If you overstay your five-day visa you will be deported and can be fined around $500 USD.
Here's how I figured things. My airplane into Minsk would land at 1810 (that's 6:10 p.m. for you folks who don't live in Europe or didn't serve in the military). I wouldn't get much touring in by landing that late in the day.
If the day I landed was "day one" then I could tour on days two and three. Race day would be day four. With the race starting at 12 noon and running until 4 p.m. or so there wasn't much time for touring on day four. My plane was scheduled to leave at 3 p.m. on what for me would be day five. There wouldn't be much time to tour on my last day in Belarus.
I didn't fancy flying nearly 13,000 miles and only have two full days to see things. I had a plan to increase those "two" touring days to three. If would require a bit of sacrifice on my part. However, most good ideas require some sacrifice, right?
Here was the grand plan. I was still going to land at 6:15 p.m. However, unlike the situation described above this would NOT be day one. It would be day zero! What? Read on.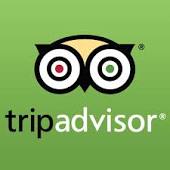 I really leaned on the advice of people at TripAdvisor for my foreign trips and lots of domestic adventures as well. The Belarus experts thought I might be able to land at 6:15 p.m. and then hang out in the "neutral" zone until midnight. Then I could approach the border control agents at 12:01 a.m. which would be MY day one. What a brilliant idea.
There was no guarantee this would work. Someone else had done this successfully but they had landed at 10 p.m. Hanging out in the neutral zone for nearly six hours was pushing it. However, I like to push things to create an advantage. I had already pushed the luggage idea. What did I have to lose?
Well, I guess I had a LOT to lose. If they denied this plan they would make me use the day I landed as day one. That would make my departure day from Minsk day SIX. The number SIX does not work all that well with a five-day visa-free program, does it?

It was with this uncertainty that I boarded a LOT Polish Airlines flight. The nearly 12-hour flight was aided by headwinds. As we were about to take off the pilot told everyone we were expecting to land an hour earlier than the schedule called for. The flight was expected to be "only" ten hours and ten minutes. Have you ever flown on a flight that long?
When I did land I would not have the normal use of my cellphone. My carrier is AT&T. Recently they came up with a program that applies to more than 100 countries in the world.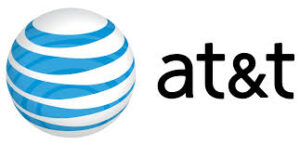 With this international plan, AT&T charges $10/day so that an AT&T customer's phone will have virtually all of the capabilities it does in the U.S. My cell phone plan includes unlimited data. Having this plan when traveling abroad is fantastic. However, and you might have guessed it, Belarus was not part of the 100+ country plan!
Instead of the above functionality I would pay $60 USD to have one gigabyte of data for the trip. That's not much. I would have to manage my usage wisely so as not to encounter excess roaming charges. I did expect to have full internet capability at the hotel. I would do all I could at the hotel in the morning and again in the evening that involved internet or smartphone app usage. Then during the day, when I was out and about and touring I would use my phone as a camera. By the way, I don't think of myself as having a phone with a camera. I have a camera with a phone!
The limitations I have described above were certain limitations. They needed to be managed much like you would manage your food supply if you were stranded for a few days on a mountain hike. Living with rationing is not quite as much fun as having an unlimited supply of everything you need.
This entire thing was somewhat similar to a marketing program we used at Procter & Gamble. Most of the marketing people had MBA degrees from the finest universities in the country. They often came from privileged backgrounds.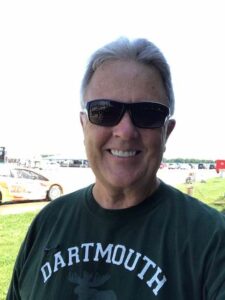 How does a marketer from an Ivy League school who grew up wealthy relate to a lower-income consumer? If that consumer must pinch pennies in order to buy disposable diapers for their young child or the cheapest form of laundry detergent can the young MBA relate?
The company had a program where the marketing people, who accepted the requirements, were limited in what they could spend on themselves and their family in all categories in their personal life. This program was designed to mimic the lifestyle of a lower-income shopper. The program normally lasted six months.
The employee could be making a huge salary, and they were. Nevertheless, the employee and his/her family was only allowed to spend the amount of money the average consumer for that category had to spend. I thought the concept was brilliant. The children of these well-educated and wealthy people probably didn't like it when Santa didn't leave much under the tree though!
I left Los Angeles on Tuesday at 4 p.m. local time. That was already 3 a.m. on WEDNESDAY in Belarus. That being the case let's move onto Wednesday!
Wednesday – February 21, 2018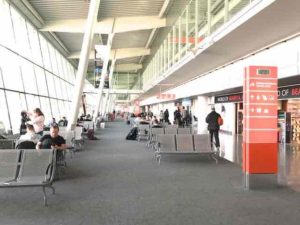 I landed in the Warsaw Chopin Airport in Poland at about noon. I did not get much sleep on the 10+ hour flight. I watched a couple of movies and just rode it out in coach. I would never buy a business or first class ticket on these long international flights. I would rather save the upgrade money and spend it on experiences or hard goods.
The experience in the Warsaw airport was a little strange. I had flown in on LOT Polish Airlines. I was flying to Minsk in Belarus from Warsaw on Belavia Airlines. I figured I would have to clear some sort of Polish border control. Nope. I simply walked through the jetway into a rather spartan airport terminal. There might have been 15-20 gates.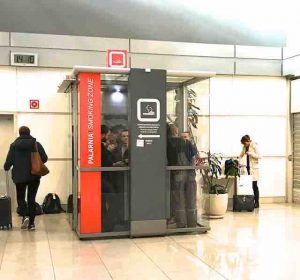 I would have to wait three hours before my next flight. I found an electrical outlet and used my international adapter to get both my phone and laptop fully charged. I was amazed at the smoking "room" (above) allocated for passengers who smoke. The room couldn't have been much bigger than 12′ x 12′ and it looked to have about twenty people crammed inside. If that doesn't give someone a good reason to stop smoking I don't know what would!
The airport also offered 30 minutes of free Wi-Fi. When the thirty minutes was up I could simply "re-up" for another thirty minutes. I locked everything up with my security cable to a metal bench. Then I laid down and took a 45-minute nap.
The plan, once I landed into Minsk, was to "hang out" for more than FIVE hours. I guessed (accurately) there would be no place to eat or drink while I waited in the Minsk' "neutral zone".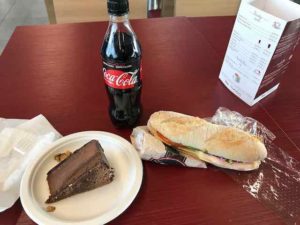 That being the case I grabbed a quick lunch from the ONLY place selling food in the small terminal I was locked up in while in Warsaw. A ham and cheese baguette, a slice of chocolate cake, and a bottle of Coke Zero set me back $19 USD. I was surprised at that but didn't have much choice.
The one hour and ten-minute flight on Belavia Airlines from Warsaw to Minsk was uneventful. I slept much of the way. When I woke up I noticed a migration card on the seat next to me. I would need to fill that out before clearing border control in Minsk. There was just one problem. I was traveling without a pen! I guess I really have gone high tech.
There was no snow on the ground in Warsaw. When I landed in Belarus it looked like a whiteout. Snow covered 100% of the earth's surface. It was spitting snow as well. The temperature was 22 degrees with a "feels like" temperature of just sixteen. That was actually warm compared to the forecast for the next five days.
The high temperatures for the five days I would be in Belarus were expected to be 16, 13, 11, 7 and 8. The low temps would be 2, 3, -3, -7 and -8. I guess that meant I would have to change out of my shorts that had gotten me from Los Angeles to Warsaw to Minsk! By the way, I didn't see a single soul in either European airport wearing shorts. I am a trend-setter.
When we landed in Minsk we had to deplane down the stairs of the airplane itself. There was no jetway. Then all of the passengers hopped on a bus that would transport us to the terminal. This is a common practice in European airports.
I had made it this far with my somewhat unconventional checked/carry-on baggage strategy. Now I was up against possibly the stiffest challenge of the trip….to this point anyway.
It was 6:10 p.m. I needed to stay in the "neutral" zone for the next six hours. The neutral zone was that space from where the passengers got off the terminal bus to where the border control agents were located. The distance between those two points might have been 75-100 feet.
If I could stay "in the background" for six hours in such a small space I was golden. If I couldn't and I was forced to cross border control before midnight I would face deportation and a large fine later in the trip.
The first thing I noticed before I reached border control was a huge sign that read, "Obligatory Medical Insurance". My pre-trip research had told me about this. Unless I could prove that I had medical insurance that would cover me in Belarus I would have to buy such insurance from Belarus itself.
I am old enough to qualify for Medicare. Yes, I know that comes as a surprise to you doesn't it? Did you know that Medicare does not cover people when they are traveling out of the country? Nope. I would need to buy the Obligatory Medical Insurance. It wasn't expensive. The lady working the desk was friendly and efficient. The cost for the six…..er five days I would be in Belarus was just six euros. I was able to pay for it using a credit card.
I brought only 300 euros with me on this trip. I know. I should have had more. Three hundred euros would be plenty if I could use credit cards everywhere I went. If I couldn't do that I might face a cash crunch.
From the first floor of the neutral zone I went upstairs to use the toilet. I found one that was about three feet wide and maybe six feet in length. That space included the toilet itself. In that small space, I changed from my golfing trousers (shorts) into the one and only pair of long pants (blue jeans) I had brought on this trip. Yes, I travel light.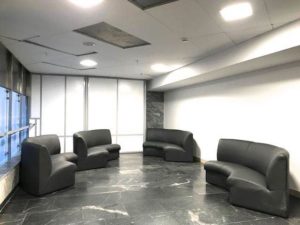 Rather than go downstairs where each of the border control agents could stare at me from a distance of 50 feet for six hours I elected to stay upstairs. There were a series of soft sofas up there. There wasn't much people traffic either. I just needed to fly under the radar up here until midnight.
I had read that the Minsk airport had free Wi-Fi. However, in order to get it they would need to SMS me a code to my iPhone. All of this was "explained" using the Cyrillic alphabet on the screen of my MacBook Pro. I just sort of guessed what went where in their form and soon I had the code and was surfing the net. If I don't decipher that page in 100% Cyrillic letters then my six hours would have felt like twelve! There are lots of points in the trip where I encounter a fork in the road. If I go the wrong way the trip suffers. I try to go the right way.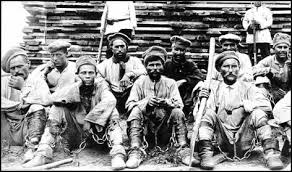 While I was waiting a large number of uniformed young men and women passed my waiting position. I tried not to make eye contact. I learned that trick in my own military service. About every 15 minutes or so one of them would stop and ask me questions. As soon as they got the idea that I was "waiting until midnight" they smiled and moved on. I felt like I was an international spy that was being interrogated. One wrong answer and I might end up in a Siberia work camp for 10 years. Don't laugh. It happens.
Since I was getting so much attention I decided to move to the end of the hallway still on the top level right above where the border control agents were working. There is no food, drink or any other conveniences, other than a bathroom in the upstairs neutral area. It is quiet and heated and with the soft sofas very comfortable. The weird thing about staying here, without any food options, is there is a huge billboard like ad for McDonalds on the wall. Maybe later for that.
As soon as the clock struck midnight on my digital iPhone I did not turn into a pumpkin. In point of fact, it was time to turn into the country of Belarus! This party was on.
I couldn't believe the amount of staff they had at that time of night. There appeared to be zero airline passenger activity. Nevertheless, the two ladies were still there in the "Obligatory Medical Insurance" booth. That service seems to operate 24/7.
Luckily, for me there was a fixed writing pen at a desk near the insurance booth. I used it to complete the required migration card. There wasn't much information to complete. Nevertheless, one of the border control officers came over to see if I needed assistance.
That same officer checked me through border control. I've never had that happen. He kept using a jeweler's eyepiece to closely examine the authenticity of my passport. After the better part of five minutes I was allowed to pass. There were virtually no questions other than my telling him I had come to Belarus for "tourism".
I could not check a bag on this trip for strategic reasons. I had arrived tonight at about 6 p.m. I wasn't going to clear border control and be able to get to baggage claim until just after midnight. I couldn't risk my bag not being available when I finally did clear border control six hours after I landed.
Someone might "put it away" when it arrived. Then if I couldn't claim it after midnight I would be in a pickle. When I passed through baggage after clearing border control I didn't see a single person in the area. Although it was majorly inconvenient having to carry a backpack in addition to my carry-on rolling bag AND stuffing my jacket sleeves I think it was the right call.
Next up I would need transportation from the airport to my hotel in Minsk. It was a long ride into the city. The distance was about 55 kilometers or more than 30 miles.
I had committed to using Uber as my transportation method on this trip. Uber, I hoped, would eliminate the language barrier and save my cash. All of my Uber transactions would be handled by the credit card registered to my Uber app on my iPhone. What a convenient service! I wish I had thought of Uber!!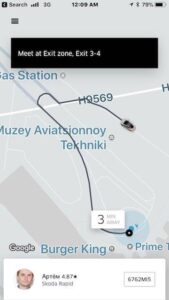 It took less than five minutes for my driver to show up. I was still using the airport's free Wi-Fi. Even if the airport didn't have free Wi-Fi my phone still would have worked with my AT&T international phone package.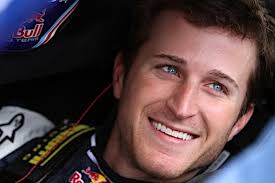 My Uber driver was a Kasey Kahne look alike. He spoke virtually no English. Without technology it would have been a long drive from the airport to my hotel. However, with technology, I experience a lot of "firsts". These are firsts that many people have never experienced. I guess that's why they call them firsts.
My driver pulled out his cell phone and showed me the translation feature. Soon we were having a "conversation", albeit at a slower than normal pace. We continued using this method for the next 40 minutes. Not only did it make the ride go faster but we both learned a lot about each other and had a few chuckles along the way. My driver was a friendly sort. He shook my hand five times during the ride which was his version of a "high five".
Kasey….er my driver told me he drives 12 hours a day and seven days a week. He said the money he earns from driving full-time for Uber equates to about an average salary earned in Belarus. He also had a three-year-old son but was divorced at the age of 28. He told me that the "cost of housing" might have been the reason for his divorce. We both laughed whenever the technology was a little slow to catch up with what we were trying to say. It was certainly the kind of "taxi ride" that would not have been possible a few years ago.

I estimate I have stayed overnight on business and vacation trips more than 5,000 nights during my lifetime. If that is true, and I think that estimate is accurate, then I've probably stayed more than 2,000 nights in Marriott hotel properties. That is why they have given me a "platinum elite" status forever. Having this level of recognition with the Marriott chain gives me a free room upgrade, often to a suite, free Wi-Fi, complimentary breakfast in the morning and late checkouts among other things. Yes, the Marriott goes out of their way to make sure my stays are the very best.
From my first glimpse of this Marriott hotel I think it might easily be in the top ten, or even higher, of all the Marriotts I have ever used. Staying here for five nights is going to be a luxurious pleasure. Good night from my first late evening in Minsk, Belarus.
Thursday – February 22, 2018
My first night in Belarus was going to be my toughest. By the time I got everything together and went to bed it was 2 a.m. My wake-up call would come at 7 a.m. I was facing an 11-hour time zone change. Getting five hours of sleep on the first night wasn't very good but as you will see it was the best I could do given what today would bring in touring benefits.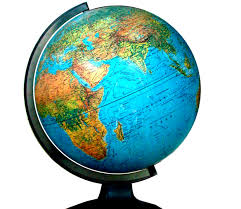 One of the benefits of these international trips for my trackchasing hobby is sightseeing. When I tell people about my hobby and the world travel that it entails I often get a look that seems to say, "You traveled all across the world to some faraway location and all you saw was a race"? Of course, nothing could be further from the truth. As a long-time reader of my Trackchaser Reports you know that is not the case.
My advanced research told me that taking the Mir and Niasviž castle's full-day tour would be a good idea. It just turned out that this tour is only done on Thursdays. Today was Thursday. I needed to be over to the tour office by 8:45 a.m. Also, because the tour company did not accept credit cards, (their computer terminal wasn't working – wink!) I would have to pay cash. As a matter of fact, I would have to pay cash to a woman who would show up at my hotel this morning at 7:45 a.m. She was a quiet, friendly sort. She accepted my €50 bill and gave me change in Belarusian rubles.
I would be using the Free Tour tourist company. I originally learned about them because they offer free walking tours of Minsk on a daily basis. I would come to learn these folks do a very good job. I recommend them.
But before I would begin today's tour I needed to check out my complimentary breakfast in the hotel's restaurant. Wow! Not only did they have cooked to order omelets but their selection of hot foods and bread served buffet style was beyond outstanding. It was going to be a pleasure having breakfast in the restaurant for each day of my five-day stay. I also had access to the "executive lounge". That was open all day. I would have to check that out later.
Following breakfast I quickly ordered an Uber car. I soon found out that morning traffic in Minsk was heavy in spots. The car ride over to the tour office took 20-25 minutes. Despite that time and distance the cost for an Uber car turned out to be about $4 USD. I would come to learn that Uber was efficient, fast and cheap. I didn't know how much taxis would charge. However, if I used taxis I would have had to spend my cash, would surely have faced language barriers and might have had to fight the "rip-off" factor. No, thanks. Uber rocks. Uber is fly!
Today's tour would begin at 9 a.m. We were told it would end at 7 p.m. or later. The all-day tour included lunch. The cost of today's tour was €45. For what this tour included that was a fair price.
The weather for today and the rest of the time I will be in Belarus will be cold. The average high temperature will be 10-15°F. The only saving grace is that, except for possibly on race day, I don't plan to be outside all that much. I hope that part of the plan works!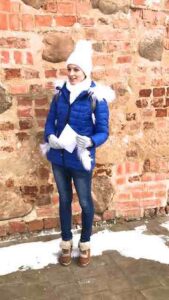 Today we would be using a 20-passenger tour bus. There were two guides and the driver. Our English-speaking guide, Julia, would lead four of us. One fellow was from Switzerland, another from the Netherlands and his girlfriend was from Russia although she lived in China. Yes, this was an international group of travelers! The remaining 12-14 passengers or so would have the services of a Russian speaking guide.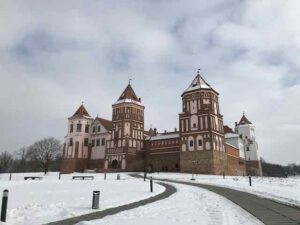 We would be touring two castles today. They were the Mir and Niasviž castles. I recommend you take a look at my photo album to see what we saw today. That beats anything I might say about the castles. I will tell you this. It wasn't the most exciting tour I've ever been on. That lack of excitement might have been due to getting only five hours of sleep and dealing with an 11-hour time zone change. When the tour began at 9 a.m. that was actually 10 p.m. California time. My entire daylight tour today happened between 10 p.m. and about 8 a.m. in the time zone I had been on only yesterday! That was tough but it was what needed to be done in order to take the Thursday only tour.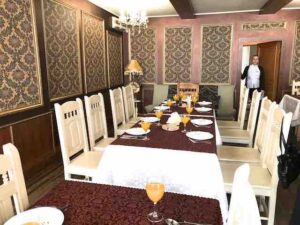 Our group lunch was interesting. For the most part, I would classify myself as a picky eater. I like what I like. However, today there was no ordering from the menu. Everyone was served a coleslaw/salad starter. That was followed by a yellow broth type vegetable soup. The main entrée was chicken and mashed potatoes with carrots. Overall, considering the circumstances, it wasn't bad even though left to my own devices I wouldn't order any of those foods.
As we drove along each passenger had their own personal headset. This allowed both the English-speaking guide and the Russian speaking guide to entertain and inform their guests at the same time.
Actually, the system worked very well. We were probably on the bus for about half of today's touring time. The rest of the time we were inside the castles, having lunch and walking to and from the castles. The tour also included a visit to an ice-cold Roman Catholic church. The church was beautiful inside. I am always impressed with the interiors of these European churches. Below the ground level of the sanctuary caskets of several of the church's parishioners were stored!
 When it came time for our tour to end I asked Julia our tour guide for a dining recommendation. When I had visited the nearby country of Georgia I fell in love with their national dish khinkali. Khinkali is a pasta like encasement for beef, chicken and pork. In a way, it's sort of like an expanded meat ravioli. Julia had just the spot for me.
As we departed the tour bus she inputted the restaurant's location into my Uber app. In less than two minutes an Uber driver picked me up. With no English spoken or cash exchanged he drove me over to the restaurant in downtown Minsk. The fare for this ride was about $2.50 USD. You can't beat Uber.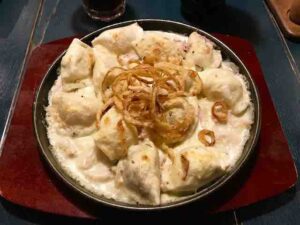 My dinner at the restaurant called Vasilki was outstanding. They had a very wide selection of menu items, desserts and drinks. I ended up going with the dumplings filled with chicken and beef and served in a kind of white gravy. The serving size was large. On top of that, I had a piece of apple pie with vanilla ice cream. I added two large plastic bottles of Coke Zero. The dinner was delicious. It was inexpensive as well. My entrée, dessert and drinks came to the astoundingly low total of $10 USD. What a value!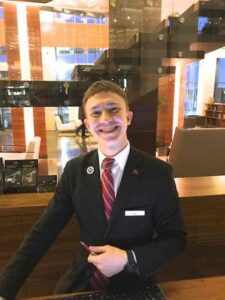 I took an Uber car back to the Marriott. There I stopped and spent several minutes talking to the concierge, Ilya. He was most helpful. I have several interesting Trackchasing Tourist Attractions planned for the last three days of this trip. I'll keep you posted as those materialize.
The payment process for the tour tickets I would need was a little challenging. The system wouldn't accept my Visa card even though I used it to buy my dinner an hour earlier. The concierge got the bellman to use his credit card to buy one of my tickets. I needed to pay the bellman for that in rubles. I didn't have any rubles.
 In order to get some local Belarusian rubles, I could exchange some euros next door at the money exchange. However, at the late hour, the money exchange facility was closed. I ended up giving a 50-euro bill to the bellman to hold until tomorrow morning. Then I will get the currency situation rectified at the money exchange. Everyone, including me, was very trusting!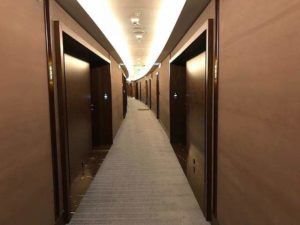 The hallway on the sixth floor of the Marriott where I am staying is a little bit more than one-tenth of a mile long. I was still a little short in achieving my goal of four miles of walking for the day. I fixed that by walking up and down the hallway for about 15 minutes. Yes, I will do anything to make a goal.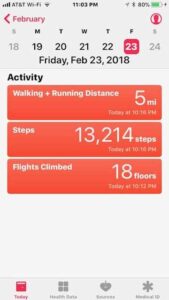 My iPhone heart app is excellent at measuring distances walked and the number of stairs climbed. There was a lot of stair climbing during our castle tour. Some of the stairs were so narrow that was difficult to get my big and tall body up-and-down them. I was not all that surprised to see that I had walked a world record 18 floors of stairs during the day!
While I was relaxing in the late evening in my room I got a knock on the door. They were delivering my welcome gift. Since I arrived so late last evening I asked them to do it tonight.
The room service attendant served me a bottle of white wine along with three scoops of ice cream, chocolate, vanilla and strawberry. I told you that Marriott treats me pretty well! Good night after a successful day of touring from my second night in Minsk, Belarus.
Friday – February 23, 2018
Today would be a good touring day like all international trackchasing trip days are! The first event of the day was breakfast in the Marriott hotel restaurant. Once again, the selection and quality of foods was outstanding. I can always count on Marriott to deliver.
In a place like Belarus, where the predominant language is Russian, having a third-party translator influence is quite beneficial. I was back at the concierge desk trying to track down some details with the Marriott concierge, Ilya. He was quite patient and answered all of my questions. He even inputted the addresses of where I would be going today into my Uber app.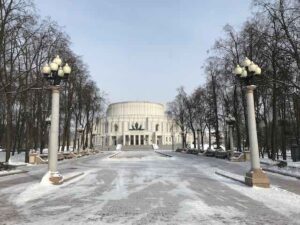 The first travel plan for the day was go over to the National Academic Opera and Ballet Theatre. Ilya had made a reservation for me for Sunday night's ballet performance. I simply needed to go to the ticket office, give them the information Ilya had provided to me and pick up my ticket. The ticket price was 20 Belarusian rubles.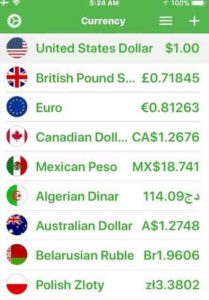 The exchange rate for Belarusian rubles in U.S. dollars is 2 to 1. Twenty rubles would cost about $10 USD. Where in the world can you go to watch a world-class ballet for 10 bucks?
However, in life things do not always go as planned. The ticket seller didn't speak English, although she did have some other obvious assets. I didn't speak Russian. I gave the woman working the ticket booth the ticket information that Ilia had given me. That seemed like a pretty foolproof way to handle things. Wrong!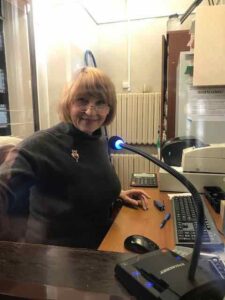 The ticket seller told me there was only one ticket available. It was priced at 8 ½ rubles, even less than what I was expecting to pay. However, the seat was in the balcony. With ticket prices like this, I certainly didn't want to sit a long way from the stage. When I go to places I want good seats. If I can't get good seats, in most cases, I would rather not go. However, today given the language barrier and the lack of a phone that worked as a phone there was nothing I could do at this point. I gave her the eight and half rubles and took the ticket.
I had some difficulty with my next two Uber rides. I couldn't seem to figure out where the pick-up point was because it was being communicated to me in Russian. I could see the moving dots on the map but the driver and I were not able to connect. When that happens with Uber in the United States they charge you a $5 cancellation fee. When it happens in Belarus the cancellation fee is $1.69 USD! When I get back in my hotel room all I will have to do is send a quick email message to Uber. They will cancel the cancellation fees.
About half of my Uber drivers speak enough English so that I can communicate with them. It just so happened that the driver I got when I wanted to visit the Belarus mini-museum didn't speak any English. He dropped me off at the spot I was asking for. But with the Cyrillic language on every building, I couldn't figure out if I was in the right place or not. I asked a couple of people on the street but they couldn't help me.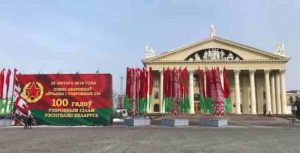 I decided I would simply walk along the city streets of Minsk and see what I could see. With a high temperature of about 18° I ducked inside whenever I had the chance. I wanted to stop at McDonald's first to get warm and then see if they had anything unique on the menu. They didn't. Nevertheless, while I was there I ordered a double cheeseburger, fries and a Coke Zero. They don't offer diet cola drinks as fountain sodas. They are only sold in plastic bottles. That's a little unusual.
Now, with nowhere in particular to go this afternoon, I elected to give the Metro subway a try. I had read that there are just two lines for the subway in Minsk. I went down into the metro and checked things out. In situations like this it's a good idea to watch people, see what they are doing and then do that yourself. I bought my metro ticket from a live person. I figured an automated ticket machine with the Cyrillic alphabet was just a bit beyond my skill set. My ticket wasn't a ticket it was a token. I needed to insert the token on the way in and would not need anything to exit the metro.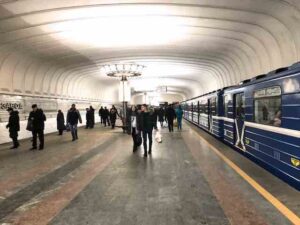 It was only about 2 o'clock in the afternoon but for whatever reason the subway was packed. It was fun just to observe the scene in general. That's a big part of touring for me. My plan was to ride the subway down a few stops and get off and see what I could see. I would then grab an Uber back toward the hotel.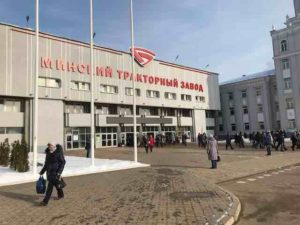 When I finally did decide to get off I emerged in the cold fresh air to see what looked like a huge industrial plant just letting their workforce out for the afternoon. In point of fact I was at the Belarus Minsk Tractor Works. That was somewhat ironic given that I grew up in the Peoria, Illinois area which is the world headquarters of the Caterpillar Tractor Company. I actually worked there for three summers while going to college. It was the high income I made working in Caterpillar factories that allowed me to graduate from college with zero debt.
It was easy to get an Uber ride. On the way back toward the hotel my driver dropped me at a huge shopping center. The center was a 10-minute walk from my Marriott hotel. Most European shopping centers like this are anchored with a huge grocery store and then all kinds of shops that you would find in a typical U.S. shopping mall. That was the case today.
If I couldn't see in some pictorial form what products were being sold in an individual store it was nearly impossible to figure out what business I was observing. That's the power of the Cyrillic alphabet!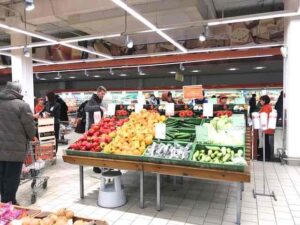 I did some wandering through the grocery store. I always love visiting foreign food stores. I like to compare them to what stores are like where I come from. I took several photographs and ended up buying a bottle of Cremossa cream liqueur. It was sort of a Bailey's knockoff. I also grabbed a small package of Oreos. I haven't eaten Oreos in years. I figured after a long cold day walking around Minsk that some cookies and chocolate milk would do me good.
By the time I arrived back at the hotel my iPhone pedometer showed I had covered 3.5 miles. It'll be easy to make my daily 4-mile goal. I was climbing a surprising number of stairs too. Yesterday, the castles we visited had a lot of stairs. I climbed 18 floors yesterday!
The first person I looked up was Ilya, the Marriott concierge, when I got back inside the hotel. I told him about the problem I encountered at the National Theater with my ballet ticket. He was disappointed things had not worked out. The ticket I was given for 8 ½ rubles was not the ticket he had reserved for me. He called the theater and straightened out the problem. They would refund the purchase price of the ticket that I picked up this morning. Then they would get me the ticket that was originally reserved for the 20-ruble price. Ticket prices were so cheap that I really wanted to get the very best seat I could.
Ilya recommended that I go back to the National Theatre and pick up the new ticket. That didn't seem like a very good idea to me. I had spent the better part of the morning doing that with no good results. Ilya had another idea. He would send the bellmen over to the theater, at my expense, to pick up the ticket. The extra taxi fare round-trip for the bellman would cost me about ten dollars U.S. I really didn't mind. That would still make the cost of my ballet ticket about $20 for a very good center section seat. That was a steal.
I had just about an hour to relax in my hotel room. I'm here for five nights at the Marriott in Minsk. It's a beautiful hotel. The price was excellent and the service on all levels is outstanding.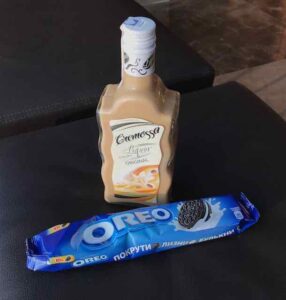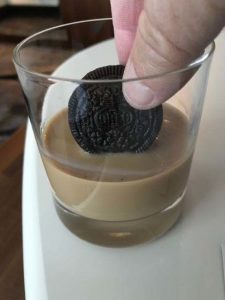 I took a few moments to sample my crème liqueur purchase. It had a 17% alcohol level. It came in a 0.5-liter bottle. I started dunking a few Oreos. By the time I finished, I was feeling relaxed and I still had half a bottle left!
When I'm going to be gone from the hotel, and electricity for the entire day like I was today, I'm very concerned and conscientious about managing the battery life of my iPhone. My iPhone is like the air I breathe. Without it I wouldn't do well. Without my iPhone operating at maximum efficiency, I wouldn't have any transportation via Uber.
When I got back this afternoon I was down to 37% battery capacity. Not only would a few minutes spent relaxing in my room drinking cream liqueur and eating Oreo cookies be a good idea but, charging my phone would be as well. By the time I left the room the phone charge was nearly 100% so I was good to go for the rest of the day.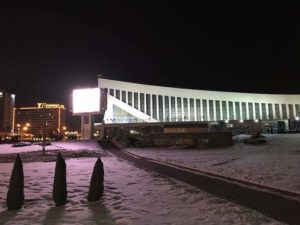 Tonight I was headed to the Palace of Sport. The Belarus National team was playing Spain in a World Cup qualifying game. The FIBA Basketball World Cup will be played in 2019.
The FIBA Basketball World Cup began back in 1950. Today it features 32 teams from the best basketball countries in the world. According to Wikipedia:
"The FIBA Basketball World Cup is an international basketball competition contested by the men's national teams of the members of the International Basketball Federation (FIBA), the sport's global governing body. Winning the World Championship is considered to be just as prestigious as the Olympic Basketball Tournament gold medal, tournament of IOC International Olympic Committee.
The tournament structure is similar, but not identical, to that of the FIFA World Cup; both of these international competitions were played in the same year from 1970 through 2014. A parallel event for women's teams, now known as the FIBA Women's Basketball World Cup, is also held quadrennially. From 1986 through 2014, the men's and women's championships were held in the same year, though in different countries. The current format of the tournament involves 24 teams competing for the title at venues within the host nation. The winning team receives the Naismith Trophy, first awarded in 1967. The current champions are the United States, who defeated Serbia in the final of the 2014 tournament.
The 1994 FIBA World Championship was the first FIBA World Cup tournament in which currently active American NBA players, that had also already played in an official NBA regular-season game, were allowed to participate. All FIBA World Championship/World Cup tournaments from the 1994 edition onward, are thus considered as fully professional level tournaments.
In the 2010 FIBA World Championship final the USA beat Turkey and won gold for the first time in 16 years. The 2019 World Cup qualifying process, which began in 2017, is the first under a new format. Qualifying takes place over a two-year cycle, involving six windows of play. In each qualifying zone, nations are divided into Division A and Division B, with promotion and relegation between the two. FIBA did not initially reveal full details of the new process, but announced that at least in opening phases, it would feature groups of three or four teams, playing home-and-away within the group.
This is how tournament medals have been won since the competition began in 1950.
Rank
Nation
Gold
Silver
Bronze
Total
1
 United States
5
3
4
12
2
 Soviet Union
3
3
2
8
 Yugoslavia
3
3
2
8
4
 Brazil
2
2
2
6
5
 Yugoslavia/ Serbia[31]
2
1
0
3
6
 Argentina
1
1
0
2
7
 Spain
1
0
0
1
8
 Russia
0
2
0
2
9
 Greece
0
1
0
1
 Turkey
0
1
0
1
11
 Chile
0
0
2
2
12
 Philippines
0
0
1
1
 Croatia
0
0
1
1
 Germany
0
0
1
1
 Lithuania
0
0
1
1
 France
0
0
1
1
This was one of the many cultural events that I will experience while in Belarus. When I go to a game in an environment like this I'm looking for all of the things that are different from what I would see when watching a basketball game in the United States. It didn't take me long to notice quite a number of differences.
There were a lot of police dressed in dark green uniforms monitoring the crowd and manning the metal detectors. It was surprising to see that the coat check was doing a brisk business. I don't recall seeing any coat checks at the college or pro basketball games I attend.
It was hard not to notice the variance in refreshments. First of all, they weren't very expensive. I haven't encountered anything in Belarus that comes close to prices I would see in United States. At the end of the first quarter I grabbed hotdog. That's right the first quarter. In these international games, they play four 10-minute quarters.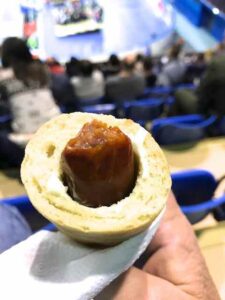 My hot dog wasn't a "normal", for me anyway, hotdog presentation. They essentially had a baguette with the center of the cylinder hollowed out. They then squirted the condiments, mayonnaise or ketchup, inside the open cylinder and then slid the hotdog in! I added a jelly donut and Coke Zero to my selections. No, they don't sell jelly donuts last time I checked at Angels Stadium. The entire cost of these three items was an astoundingly low $3.50 USD. A hot dog at a major arena in the U.S. could cost twice that amount by itself.
The Minsk Sports Palace aka Palace of Sports basketball arena seats only 3,311 people. It was built in 1966. They only have seating on one side of the court. My ticket location was in the upper section of the grandstand. In an arena this small it was still a good seat. By the way, famous musical groups have performed here such as Deep Purple, Jethro Tull and Toto Cutugno. You've got some Toto CDs right?
As noted in the international game they play for 10-minute quarters. Players are allowed to block a shot when the ball is on the rim. At home, those plays are goaltending calls. This type of basketball is much rougher than what I'm used to seeing. The big men here could be called for assault and battery in other places. Players constantly complained to the refs about the calls and did a lot of flopping as well.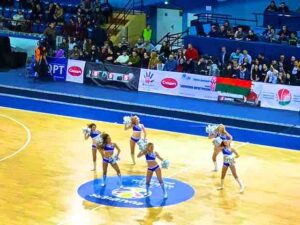 Spain led the game by 5-12 points most of the way but seemed to lose the lead down to three or four points from time to time. With about four minutes to go Spain lead by 12. Then Belarus made a run and got to within one point with five seconds to go. Spain inbounded the ball and a Belarus player hacked him on the arm to stop the clock. In any other basketball environment this would've been a simple foul even though everyone the crowd knew it was made intentionally to stop the clock. Tonight they called that foul intentional giving Spain free throws and the ball. The Belarus players and crowd couldn't believe that call and I couldn't either. Spain went on to win the game 84–82.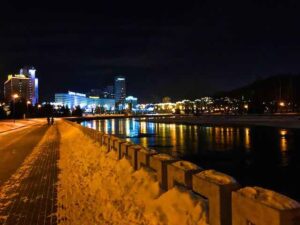 I would be looking for an Uber car to take me back to the hotel after the game. The distance was probably about 4 km. I figured that others in the crowd might be thinking the same thing. That being the case I walked for five or ten minutes to get away from the arena. The weather is cold but there hasn't been much wind. Cold is much easier to take without wind.  The rate for my Uber ride was an astoundingly low $3.47 USD.
A couple of months ago Carol and I went to first Macedonia and then Ukraine in Eastern Europe. Now I was visiting nearby Belarus. Those three countries all had something in common. The people were very friendly. The areas we visited were safe. The cost of transportation, food and lodging was very reasonable and, in many cases half the price or less of what we would pay in states. If you're looking for a good value on a vacation with lots of interesting things to see and people to meet I highly recommend Eastern Europe.
Tonight will be my third overnight of the five I have planned for this trip. My visit is going fast but I'm seeing lots of interesting things. The next couple of days are going to be busy with some unusual activities. That doesn't surprise you, does it?
Saturday – February 24, 2018
The really good thing about this trip is that except for the very first day I have no early morning wake-up calls. That is very unusual for a trackchasing trip.
The best thing I can do to get the most out of these international trips is to do research ahead of time and then locate sources once I am in a country that can give me recommendations on what would be fun and interesting and educational to do. I had done my research in advance. That was working out really well. My on the ground help for touring activities was centered at the desk of the concierge at the Marriott hotel.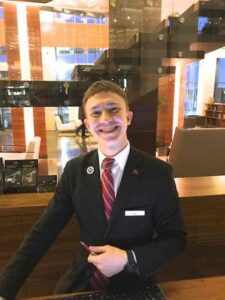 The concierge Ilya did his best to work with me. However, a couple of his recommendations didn't exactly work out. I didn't know if I should attribute that the language barrier or what.
My morning plan was to see a tennis match. I understood from Ilya there would be a women's tennis tournament nearby. I wasn't expecting Wimbleton but I was expecting more than I got.
A couple of days ago Ilya told me the tennis tournament was located near the hotel. Then yesterday he changed his mind and said the it was located near the city centre. No problem either way. Transportation is so cheap there was essentially no cost difference.
I grabbed an Uber and gave the driver the address that Ilya had given me for the tennis tournament location. Today's weather was extremely cold at about 8°F. The feels like temperature was just one degree. Without the wind it wasn't so bad but with the wind it was. My Uber driver got me to the building that matched the address I had given him. I was at the tennis center or so I thought.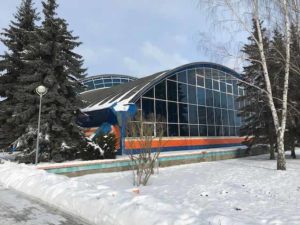 What I got in fact was more like a tennis/health club. The receptionist didn't speak any English but it soon became apparent that the Royal Cup tennis tournament was not being played there. She called a friend, Alena, who spoke some English and that helped me out. It turned out the Royal Cup tennis tournament was actually being played where Ilya initially thought it was, which wasn't that far from the hotel. I grabbed an Uber and soon showed up there.
Before I go any further let me make a comment about language differences. There is "understanding" and there is "understanding". Let's say you go to a baseball game with your spouse. You're a big baseball fan. Your spouse is not. You explain how a suicide squeeze works. You explain the concept in English to a person whose native language is English. You know what a suicide squeeze is. Does your spouse "understand" the true meaning of a suicide squeeze after your explanation? Maybe not. That's how "understanding" is often times when I make these international trackchasing trips.
When I arrived at the second tennis location the receptionist knew just enough English to point me in the direction of the tennis courts. There were three indoor courts. I used to play a lot of indoor tennis back in the day. That was a lot of fun. I must admit that I had a bit of a temper and from time to time would throw my racket. In hindsight, that was pretty stupid.
Ilya's idea of a tennis tournament and mine are not exactly the same. Two men were playing on one of the three courts. I was told this was the "tournament". I have not played tennis in well over 10 years. I will tell you this. I could have been beaten either of these two players. That meant that if I met the eligibility requirements I could have become the Royal Cup tennis champion of Belarus. It was a bit disappointing that I didn't get to see a real tennis tournament but just the cultural experience of meeting and talking to the people along the way was worth the price of admission.
The second item on my agenda today would be the Belarusian Great Patriotic War Museum. The museum was in a building that architecturally looked really unique. At night they had some very colorful lighting on the building and you couldn't miss it.
I paid my eight-ruble general admission ($4 USD) and also an additional two rubles so that I could take pictures inside. I hope American museums don't pick up any ideas from that policy!
This was the first World War II museum to ever open anywhere in the world. It actually opened in 1944 just after Belarus had been liberated from the Nazi occupation. It relocated to its current location in 1966. This was a good enough museum. It's just that about two weeks ago Carol and I had seen the World War II museum in New Orleans, which is one of the best museums, of any type, that we've seen anywhere. Nevertheless, this museum in Minsk was highly rated on the TripAdvisor things to-do list. I'm glad I stopped by to check it out.
It was only 3 o'clock in the afternoon and I already walked 3.1 miles in eight-degree temperatures. It was time to go back to the hotel and relax with some Oreo cookies and Cremossa cream liqueur. I figured I could warm up with that refreshment.
A lot of times when you go to a boxing match they have the main event and then several undercard matches. I would classify today's tennis match and the World War II Museum as part of the undercard.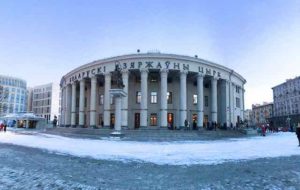 The highlight of my touring day was going to be a visit to the famous Minsk Circus. Circuses in Eastern Europe are the best. Carol and I have been to the Moscow Circus a couple of times in Russia. I was looking forward to tonight's event very much.
My first full day in Minsk had been devoted to touring castles outside of the city. Last night's main event was a Federation International Basketball Association (FIBA) World Cup qualifying game. Tonight I'll be at the circus. Tomorrow would be a race in the afternoon and another big event for the evening. I was getting a very diverse exposure to Minsk specifically and Belarus in general.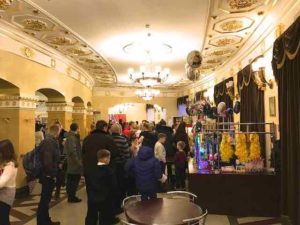 To dislodge the Minsk Circus from being my most fun and entertaining activity of this trip was going to be difficult. Of course, I put the racing in its own separate category. Tonight I joined about 1,500 moms, dads and kids enjoying a night at the circus. I am always telling our grandkids that, "I'm still a kid"! This wasn't any normal circus.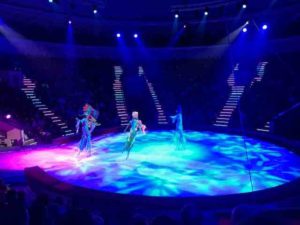 I suspect you have all been to a circus at one time or another. You see people perform very unique and difficult routines. You wonder how they could do the things that they do. All of that wonderment is nearly doubled at a circus in Minsk. The entire performance was done on ice! That's right. The performers did all of their tricks on ice skates.
Ilya, the Marriott concierge, helped me get my ticket to the circus. He gave me advice on what type of ticket to buy tonight that would give me a good seat and be a good value as well. Tonight I was in the seventh row of a completely circular arena. I could not have been more than 30 feet from the center of the ice rink. You absolutely will not want to miss my video, which will feature several clips from tonight's performance. I was a bit surprised they allowed photos and video. The last time we in Russia they did not.
I always enjoy seeing what types of refreshments are being offered. There were the normal things like popcorn and soda. However, it was most unusual to see people eating corn on the cob indoors in the middle of winter. That was a favorite of several people who came to the circus tonight.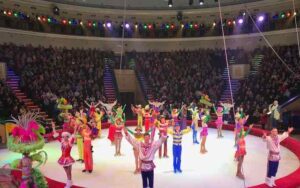 At a circus the language barrier of Russian being spoken in Belarus was not an issue for me.  The performers replaced language with lots of action, color and even comedy that was big on slapstick. That's why a circus can be so popular with a multi-cultural international audience.
The action started at 7 o'clock, had an intermission and finished up by about 9:30 p.m. I think the Belarusian State Circus plays virtually every night and sometimes has more than one performance in a day. Eastern Europeans have always been known for their famous circus acts, many of which migrated all across the world.
Again from Wikipedia:
"The stone-built circus in Minsk was the first stationary winter circus in the Soviet Union. The decision to build this circus was made in 1952 to acknowledge Belarus' contribution to the victory in the Great Patriotic War and the post-war revival of the Soviet Union.
Construction works kicked off in 1954 and was completed in 1958. The Belarusian States Circus was the largest and most beautiful circus that could host any kind of performances – from water shows to aerial acrobatics shows.
The opening night took place on 11 February 1959, which is now marked as the official birthday of the contemporary Belarusian circus."
Following the performance, I was looking for something to eat. It would have been very easy, cheap and convenient the head to McDonald's. Their nearest location was just a block or two away. I almost did that for the three benefits noted above. However, I'm in Belarus. An American should not eat at McDonald's more than one time on an international vacation and that one time should be for research purposes only.
I ended up in a downstairs bar with lots of live music. I saw their sign outside advertising pizza. I could go for a couple of slices of pizza. It was a nice relaxing and warm atmosphere.
My server was a young woman who did a great job with English. I noticed two things about Belarusians speaking English. First, everyone was somewhat self-conscious about speaking English and apologized profusely because they couldn't speak it better. Secondly, they blushed with pleasure when I complimented their English-speaking ability which I tried to do often. Even the worst Belarusian English speakers were ten times better than my ability to speak Russian!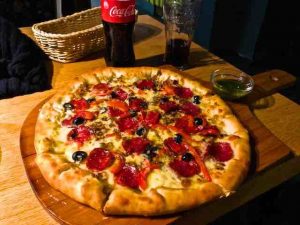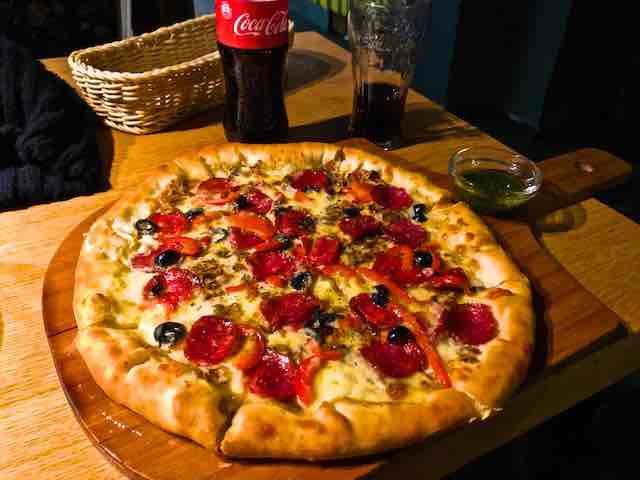 Soon I was dining on about a 14-inch salami pizza with a side of pesto sauce and a Coca-Cola Classic. I almost never ever drink a soft drink with sugar. However, that was the only choice tonight. The pesto sauce was used for dipping and came with a two-ruble surcharge. Nevertheless, this huge pizza with pesto sauce and my soft drink came to a little bit less than $10 USD. I'm telling you an American could move over here and live like a king.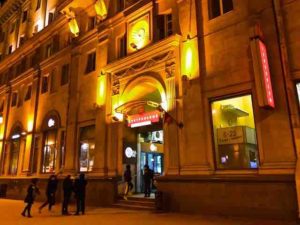 The wind chill temperature was down below zero. That's why I was glad it didn't take long for my Uber driver to show up. I think in the first three days I've been here I've used Uber about 15 times. Tonight the Uber fare from downtown out to my Marriott hotel, a distance of about a mile and a half was $1.59 USD. You've got to wonder who makes how much money when they have to split up a $1.59.
Tomorrow is race day. Racing is what brought me to Belarus. However, I'm having so many memorable experiences that I think five years from now I will remember those things more so than the racing. We'll see.
Racing on Sunday is supposed to begin at 11 a.m. The projected temperature is 3°F with a 5-7 MPH wind. That equates to a wind-chill temperature of 10° below zero or so. I brought a lot of warm clothes including hand warmers but I'm not 100% sure they're going to keep me warm for the 3-4 hours I might be a track.
I've had some absolutely wonderful international trackchasing experiences. Belarus is going to be another one. Frankly, I can't think of any international trackchasing trip I've ever had that I didn't like. That's just how I look at things. Some were rated A+ but even the lowest ranking I can give any country is probably an A. That's how much I like doing this.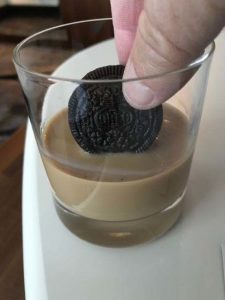 In order to get just a little bit warmer after tonight's cold temperatures, I soaked a couple more Oreo cookies in my cream liqueur. That warmed me up! See you tomorrow at the races.
Sunday – February 25, 2018
I will watch auto racing in a new country for the very first time today. This is the 78th time I've been able to say that. It doesn't happen very danged often. Belarus is happening today!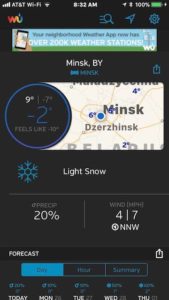 When I woke up at 8:30 in the morning the temperature in Minsk was 2° below zero. The "feels like" temperature was 10° below zero. There was light snow. I figured it was going to be cold at the races today. In point of fact, it wasn't as bad as I was expecting. This just goes to show that your expectations can often be worse or better than the results you get. Make sense?
After another good breakfast at the Marriott, I prepared for my new Belarusian friend Volodya to pick me up at the hotel. He was coming at 9:30 a.m. Racing was set to begin at 11 a.m. Over the past few months he and I have exchanged literally hundreds of messages.
We first started speaking online in Russian. After many many messages, I asked Volodya if he would mind communicating in English. He told me he thought I spoke fluent Russian. He wondered how someone from the United States could speak Russian so well. I felt the same way about his English. It turned out we were both using translators!
It's always fun to meet someone that you feel you already know because you've been communicating with them for a long time by some other means than face to face contact. That's how I felt with Volodya. When I came down to the lobby he was already ordering himself a cup of coffee. These Europeans love their coffee. I don't drink it myself.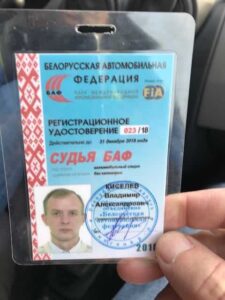 Off we went to the races in Volodya's three-year-old Renault. Of course, I don't speak any Russian whatsoever. Volodya kept apologizing for the quality of his English. It was actually very good. He spoke it well enough for me to understand and on those occasions when I said something that he didn't understand he used his Google translator. We got on very well.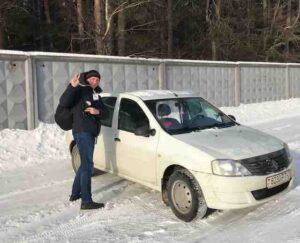 We arrived at Stadium Zarya at about 10 a.m. Racing was scheduled to begin at 11 a.m. an hour earlier than normal because of the cold. It's always a good idea to get to the track early especially on a cold day!
Because we were early they were not charging admission. For that reason, I don't know how much a ticket would cost to these races. By the end of the afternoon, even on such a frigid day, the stands would be pretty well filled with I'm guessing 400-500 people.
Volodya was here to video the races. He comes to all of the races and creates movies of the event for viewing on YouTube. He has more than 3,000 movies on his YouTube channel. Volodya's YouTube channel name is Autoby. His website is Autoby.biz. I only have about 1,200 on my YouTube channel. My channel name is "RANLAY".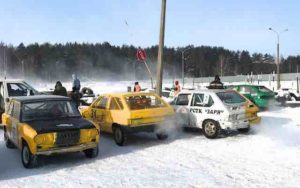 Our first stop was the pit area. There were about 30 cars in the pits. Since all of the PA announcements were in Russian I didn't know for sure what the names of the racing classes were. It seemed like they were separated primarily by the type of racing tire they were using. Some used studs and some didn't.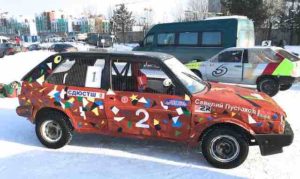 They did have an interesting manual lineup board in the pit area. Each racecar had its own individual number painted on the side. However, there was also a sheet of paper affixed to the windows of the racer with numbers ranging from 1-10. Those paper numbers appeared to be the official number as far as the race lineup for today.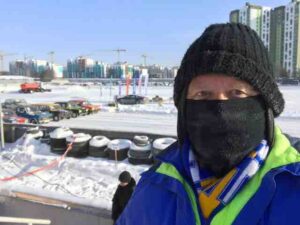 I was dressed warmly. I brought pretty much all of the cold weather gear that I had. Except for socks that is. All I brought in that department for the trip were my ankle-high golf socks. I'm pretty much an ankle-high socks and shorts guy….if I wear any socks at all. 
The temperature for the 6 days that I was in Belarus was about 10-15° colder than during the previous two weeks. I did have a major advantage over most fans. I had two very different warming huts at my disposal that warmed me up when I needed it.
It was now time for Volodya to get up onto the scoring tower to do his video recording. He told me I could go anywhere I wanted. He just wanted me to make sure I was safe.
I meet a lot of people for the very first-time at racetracks. Oftentimes they really emphasize the safety aspect. It should be noted that I've done this at more than 2,000 racetracks. I have a good idea of what safety looks like but you can never take anything for granted.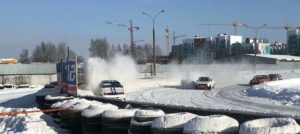 For the next couple of hours, I roamed around the track talking to people when I could be understood and getting photographs and video clips from all different angles. I think if you view my photos and my video you'll get feel like you were there!
There were a few things that were unique to the racing today. I hoped there would be. It's one of the reasons I make these trips to international tracks.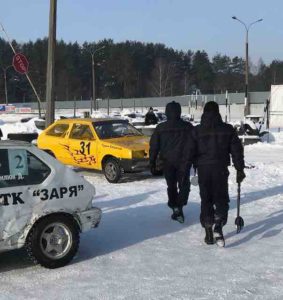 There was an outstanding presence of what I called the "police" but Volodya corrected me by saying they were "militia". There were 15 of these people if not more at the track today. I was told they were there to ensure the safety of the fans. When the fans entered the stadium they walked through a metal detector, had their bags searched and received a pat-down. I even saw a couple of militiamen carrying what I described as "selfie mirrors". These are mirrors on a three-foot-long rod. They are commonly used to place underneath a car when searching for bombs.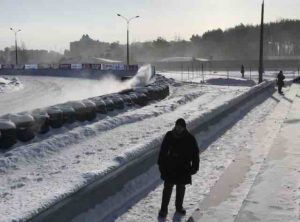 The militiamen were stationed about every 30 yards all around the entire track. Even in places where there was almost no foot track a militiaman was in place. The militia stood in their dark uniforms in front of the grandstands for the entire day. This had to be some cold duty. I don't think I've ever seen anything like that although I do recall Russia having a lot of uniformed people in place at the track.
I spent a few minutes talking with one of the young guys in uniform. He told me he was the "police". He was friendly enough and got a kick out of my being from California. Many folks in Belarus did. I didn't think it would be appropriate to ask him for a photo but I probably should have. It never hurts to ask. I once asked Gladys Knight for her photo. She said no. I asked Hale Irwin for a photo. He pretty much said no. I took them anyway!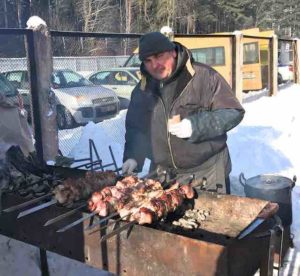 There were plenty of refreshments available. The most notable were huge chunks of beef being roasted on outdoor grills. That looked tasty but I wasn't all that hungry.

Another unusual sight was a huge canvas military tent. It had to be 60 feet long and 40-50 feet wide. The entrance door was only about 5 feet tall. I went in there a couple of times. Inside I found a very smoky atmosphere generated from a potbelly stove. I think the tent's primary purpose was to act as a warming house for the fans. During each of the two times I went there I was by myself or with the fellow who was in charge of managing the tent. He was a nice guy. Everyone I met was nice. He encouraged me to move my wooden bench closer to the stove for more warmth. The smoke was just heavy enough to provide some sort of an incense effect. It was a lot warmer in there than it was outside.
I also got to go up in the scoring tower. They had a heater up there that was so strong they had to open the door from time to time to cool things down. No jacket whatsoever was needed up in the scoring tower! There were a couple of nice ladies scoring the event. Several men came in and out as well. They were all very friendly and cordial to me and wanted to make sure I was having a good time.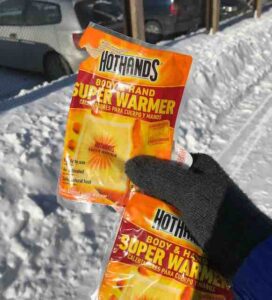 I did bring my hand warmers today. When I first opened the package I wasn't sure if they were going to work or not. Then, believe it or not, eight hours after the races started the hand warmers were so hot that I couldn't put them directly on my hands for fear of being burnt!
The good thing about today's racing is that one race came right after another with no delays. From what I could tell one full class did all of their racing, which meant each driver competed in about four races. When they were done the champions from that class got their podium photos taken while track workers plowed the ice and snow on the track to smooth it out. I believe there were two such intermissions which led me to believe there were three different classes racing today.
Later in the day, the temperature had risen to 6°. The "feels like" temperature was 2° below zero. The wind wasn't too bad at maybe about 5 miles an hour. For the first part of the show, the sun shone brightly. That made things feel warmer!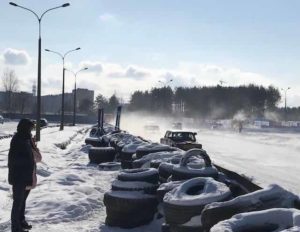 Stadium Zarya looks to me to be a full-time auto racing track at this stage. I'm told they race there in the summer as well. Folks also mentioned this is the only racing facility for this type of racing in the entire country. I've been to a few countries to see the only track they have inside their borders.
Today the outer walls were made of wood backed up by lots of big rubber tire barriers. They did have a "NASCAR soft wall" effect. There were several feet of snow, about 4-5 feet high that served as an inner barrier for the outer barrier of today's ¼-mile or so flat oval.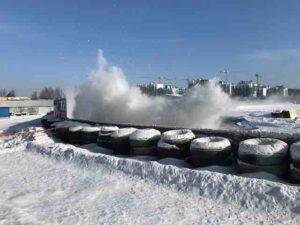 One driver had a unique strategy of driving the high line. He simply put his car up against the snowbank in the turns and went through them at full speed with the right side of the car sliding against the snow. That was the driver of car #25. He was aggressive with this line. He was the only driver who did this consistently and was very successful. I should have checked the right side of his car at the end of the day's racing! By the way, the cars all raced in a counter-clockwise direction.
A little bit later I went down to the refreshment stand. I selected a hotdog. It came with a delicious bread roll that was quite a bit bigger than the dog. The dog itself was still nearly a foot long. I downed it all with an orange drink. The total price was five rubles. I think the charge might have been either four rubles and 50 kopeks or five rubles and 50 kopeks. I didn't have the 50 kopeks in change so it was five rubles for me.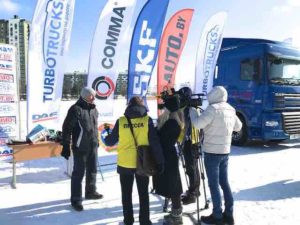 During one of the intermissions, I went down into the center of the track. This is where the podium celebration was going on. Down there I had an opportunity to talk to the track announcer. His name was Анатолий Шевченко (Yes, that Cyrillic alphabet is a toughie!). He and I had messaged just a bit the day I left for this trip.  
There was another interesting opportunity awaiting me in the middle of the oval. You all know I love to promote the hobby of trackchasing. When I can do it on an international stage so much the better.
I had seen a few folks dressed in sharp looking blue and yellow uniforms if you will. I wondered what they were up too? It turns out they were a TV crew on the prowl for some local news. What better storyline for them than to interview an American who had come all the way to Belarus to see today's ice racing. I pitched my story to the director. He saw where I was going with this. He directed his cameraman to set things up. Then he asked me a few questions in English. I learned the reporter was really a political reporter working for the news station. However, when a news day is slow he can be assigned to just about anything that might be newsworthy. I answered his questions and off the crew went.
I wondered how they would manage an interview with me at a TV station where the audience mainly spoke Russian or Belarusian. That was answered a few hours later when Volodya sent me the attached video clip from the news program that was broadcast all over the country. Check it out and you will see how they handled my English-speaking interview. Here's the link:
Belarusian nationwide coverage of today's ice racing and my visit to trackchasing country #78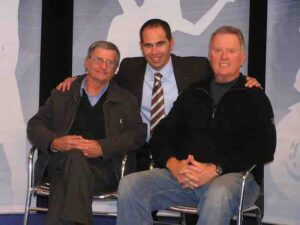 I've done TV interviews in the past and in foreign countries as well. The highlight was doing a one-hour ESPN Sports Center type show in the country of Malta. I would have given anything to have received a copy of that broadcast but we were never able to do it. That trip to Malta reminded me of Frans the Malta race organizer. Not only did he set up the TV interview but he took the next day off from work to show Carol and me around his country. I've met the very best people trackchasing abroad. Frans was one of the best.
Today's races were short. Most were four laps. I've come to like shorter races. We've all seen those ten-lap heat races for 4-5 cars where no one makes a pass after the first lap or two. Yes, I've come to like the short races but not when there is significant downtime between them.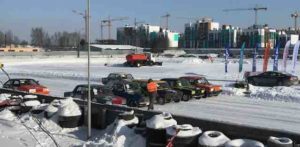 They started anywhere from five cars to eight or nine in a single race today. The lineup called for a maximum of six cars in one row. Any extras began the race right behind the first row. That makes a whole lot of sense too. If you're going to have a standing start why only put two or three in the first row. Give more drivers an equal starting opportunity. All races used the standing start method just like they did when I first started watching races at my home track, the Peoria Speedway, in about 1954 or 1955.
The starter stood on the track to wave the flags. That's the way they used to do it back in the day. There was no white flag today signifying one lap to go in the race. They used a yellow flag with a large black "X" on it to show the drivers there was one lap remaining. Maybe they did that because a white flag is difficult to see with a white background of snow and ice.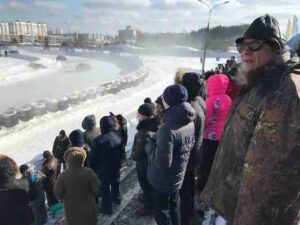 For the last two feature events, I went out into the grandstand to see what the view was like there. There was something unique going on in the grandstands. All of the fans STOOD for the entire day. They stood for nearly three hours of racing. Why? I don't know for sure. Maybe the cold concrete of the stands made standing a better option. Maybe the dirty snow in the stands would make their winter coats dirty. Then again maybe standing was just a better way to see the race. I can't recall observing that at any other track when there was seating available.
When the races ended at about 2:30 p.m. the stands cleared out quickly. I guess when the wind chill temperature is below zero there's no need to linger is there? Some of the patrons went down to the center of the infield to get an up-close view of the cars and drivers. Other fans headed for the highway. That's exactly how it happens at your Saturday night dirt track in the U.S.A. People really are the same all over the world.
Volodya and I didn't hang around long either. We had both been at the track for nearly five hours….in below zero wind chill temperatures. It was tougher on Volodya. He didn't get the chance to warm up as much as I did.
It was nice that we had enough time to go back to the Marriott Hotel and use the executive lounge. We were the only two folks in there during the midafternoon.
We sat around and talked for several minutes. Volodya enjoys his coffee. I am addicted to diet cola and on this day Pepsi Light. I couldn't thank Volodya enough for his hospitality and willingness to communicate with me at all hours of the day over the past few months. All I can really say is a heartfelt thank you.
I know that when I went/go to events with our children and our grandchildren my responsibility as a parent or grandparent was/is to keep an eye on them. They might be having the time of their lives at whatever activity they are doing but they were/are never really out of my eyesight. That was pretty much the case today but in reverse.
I could be walking all around the track property trying to see as much and experience as much as I could. Nevertheless, I knew that Volodya had his eye on me to make sure I didn't get into any kind of trouble and that I was safe. Toward the end of the day, he walked the entire length of the grandstands simply to tell me the last two finals of the day were coming up. Volodya, great meeting you. Thanks for everything.
During the car ride back to the hotel I did ask Volodya what he thought when I first contacted him. Did he really think I would be coming to Belarus? He looked at me and said something along these lines, "When I saw you had visited all of these countries around the world just to see races I"……then he paused and gave me a big smile and a spontaneous thumbs up!
My racing day was finished. However, my touring day was just beginning. The major touring activities for my week up to now had been an all-day tour of Belarus' famous castles, a World Cup qualifier basketball game and last night the Minsk Circus. I had something special planned for tonight too.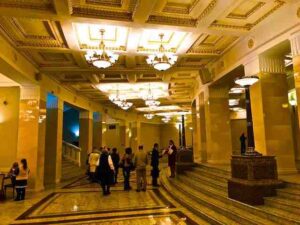 Tonight I would be attending a show at the National Academic Opera and Ballet Theater. There was a 6 p.m. ballet performance. I first found out about this and some of my other activities on the website TicketPro.
My Marriott concierge Ilya came through with a ticket for me to the ballet. Tonight's seating location was absolutely fantastic. I was in the fifth row from the orchestra pit and stage in the center section. I might have had the very best seat in the house! Thanks Ilya.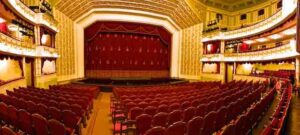 I won't say that the ballet was the most entertaining and intriguing event I've ever attended. I'm not a ballet aficionado. Frankly without reading the explanation of what the theme was all about I would have a hard time telling you. I'll just say this. They did a lot of dancing! I'll also say this. Even for things that I don't enjoy to the max doing them just for the experience is well worth it. I know some people swear off certain activities without ever having done them. I don't want to be like that. I'm not.
Following the theatrical performance, it was still early enough to have a late dinner. I went to a restaurant and had some traditional Belarusian food including fried dumplings (this reinforced the fact that I like boiled better) stuffed with chicken and pork. I added a pina colada to the mix with some spicy, not like those served in America, cheese sticks. It might seem like a strange combination but it was tasty.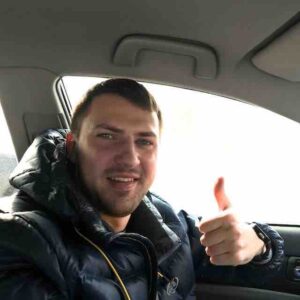 From there I grabbed an Uber back to the hotel. I've ridden Uber on this trip more than 15 times. I noticed that virtually none of the drivers wear their seatbelts. Quite a few of them listen to music with English lyrics even though they don't speak or understand very much English. All the drivers have driven safely. The Uber fares have been extraordinarily low. Some were very friendly and seemed to understand why I was visiting Belarus.
Tonight was my last night in Minsk, Belarus. Prior to beginning my research for this trip, I could not have told you a thing about Minsk. Now that I've driven around the city more than a dozen times and experienced some of its most popular attractions I can!
International trackchasing is fun. Remember, for me, trackchasing is equal parts racing, touring and the logistics of making it all happen. Some folks get that. Some really don't.
It is the racing that draws me to these locations. It is the experience of meeting people and doing all of the activities that I've told you about up to this point that make the long-term memories.
My two most recent foreign track locations were Macedonia and Ukraine. When I think back on those two visits the first things I remember were the people we met and the things we did. I have to give a little more thought to remember what the racing was like. I'm sure that will be the case from Belarus as well.
With the touring and the racing for this trip in the rearview mirror, my focus switched to getting prepared and packed for tomorrow's flight back to Los Angeles via Warsaw, Poland. I thank my lucky stars that tomorrow's flight doesn't leave until 3 p.m. That will let me get a full night of sleep, have a relaxing breakfast and still get out of the airport well in advance of my flight time.
Monday – February 26, 2018
Today is getaway day. I'll have about 12 hours of flying. There will be three or four hours in airports spent waiting. Once back in Los Angeles I'll use my Global Entry capability to clear customs in a flash. Then it's a 20-25-minute walk to the parking garage and a 65-mile drive back home in the Carol Lewis owned and MFunds sponsored Lexus RX350.
Even a deluxe buffet breakfast served by the most attentive waiters around can get a little boring after a while. I'll look forward to my normal breakfast served at my desk each morning of two fried eggs and three sausage patties. Can you imagine that? I've been retired for nearly 16 years. I still have breakfast at my work desk every morning.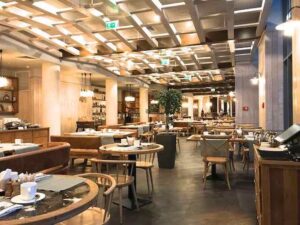 The staff at Marriott Minsk was outstanding in every way. Let me give you just a couple of examples. Last night I received a knock on my door. It was hotel security. Normally, that's not good is it? What was up?
I had dropped my stocking cap somewhere between entering the hotel and my room. The security officer had the cap in his hand to return to me. How did he know which room to return the cap too? Maybe I didn't want to know!
Each time I ordered an Uber driver the concierge staff called the driver to make certain he could correctly navigate the somewhat confusing if you've never done it before, entry to the hotel. If I come back to Minsk I'll be staying at the Marriott. By the way, will I come back to Belarus? I really would love to but then there are so many other places on my waiting list that I still need to see.
One of my last duties was to exchange my Belarusian rubles back into euros. The rubles of Belarus won't do me much good outside of the country. I can use euros in lots of different countries.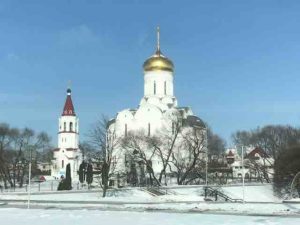 I ordered an Uber car for the 40 km drive out to the airport. The driver showed up in just two minutes. It wasn't long before I was entering Minsk International Airport.
As I look back on my six-day and five-night experience in Belarus I must tell you that everything went according to plan. I put a reasonable amount of time into planning this trip, to begin with. Then a couple of folks on TripAdvisor helped me along. Igor Romanov got me started with the idea of seeing racing in Belarus. Then Volodya took it from there. Without all of this help, I wouldn't have had the fun trip I did.
Now I had to begin thinking about gifts for my loved ones back home. I had already gotten candy treats from the circus for the little kids. I was bringing them back all of my leftover small coins from Belarus too.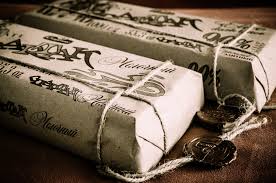 Belarus is famous for its chocolate.  You probably knew that the higher the cocoa content in the chocolate the more rare and expensive it is. I had already asked Carol if she wanted a higher content of cocoa or lower in her gift. She said, "Higher". I hope what I got her isn't too bitter. It's 90%! I picked up some packages of 72% chocolate for the bigger "kids".
When Carol comes on these trips she sends out about 10 postcards to the kids in the family. Even the older kids if they ever told her they liked the cards they got when they were younger still get them! We've been known to make some very special efforts to get postcards. Carol even keeps a "stash" of cards from hard to find places just in case the cards are "hard to find" the next time we go a place like that!
When I go on these trips by myself I'll find a postcard and get it off to Carol. Sometimes, in foreign countries finding a card is the easy part. Sometimes getting a stamp and a place to mail the card is the more difficult action.
I hadn't seen much in the way of postcards in Belarus. I was saved by the bell when there was a post office in the airport that sold cards AND stamps. Then when I went to buy these crucial items they wouldn't accept any of my credit cards. I had to raid the stash of small Belarusian coins that were ticketed for the grandbabies. Hopefully, they won't notice that 1.98 worth of rubles are missing!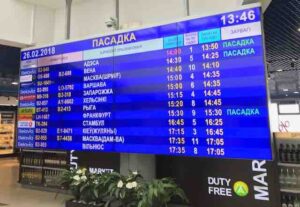 Clearing security was easy. They didn't make me take off my shoes AND they let me pass with a half-full bottle of water. Those are no no's in U.S. security. Passing border control was quick and easy. I got my passport stamped just like I had done on entry into Belarus. It still makes me smile at how a sign in Cyrillic is unreadable compared to the same sign in English!
I had to decide how I was going to handle eating. My flight left Belarus at 3 p.m. for Warsaw, Poland. There wouldn't be much to eat on the one hour and ten-minute flight. I did have a two-hour connection in Warsaw. However, a baguette sandwich, slice of chocolate cake and bottle of Coke Zero had cost me $19 U.S. coming through Warsaw on the way to Belarus. I didn't want to repeat that experience because the food wasn't very good and it was outrageously expensive.
There was a Burger King in security area B. I don't endorse eating American fast food on foreign trips. However, some times because of time, ease of operation and cost it can make sense. If you're just a non-adventuresome individual stay home and sit on the porch. You might visit Belarus but you won't really "visit" Belarus.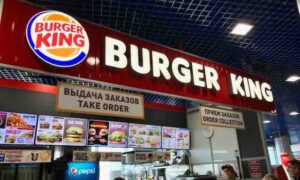 There were two lines at Burger King. Above the lines were two signs explaining what the lines were for. The explanations were printed in Russian and English. One line's English notation read, "Take Order". The other read, "Order Collection".
The whole thing was pretty obvious to me. They would take my order in the "Take Order" line. I would collect my order in the "Order Collection" line. Wrong! They did things exactly the opposite way of my thinking.
They would "collect" my order in the "Order Collection" line. I would take my order in the "Take Order" line. I wanted to debate it with the BK clerk. However, when I coached youth basketball I used to tell my kids, "It's a foul if the ref calls it a foul and it doesn't really matter what you think". I thought that was priceless life advice!
With a two-hour layover in Warsaw, I figured I could get at least a mile of power walking in. When I landed in Poland I was already up to 1.8 miles for the day. If I got that up to nearly three miles total in Warsaw my walk to the parking garage would easily get me over my goal of four miles for the day.
A couple of weeks ago I was power walking at the beach like I have been doing for a long time. I go a minimum of one hour and cover a minimum of four miles. About halfway into the power walk I began to experience pain in my calf. It wasn't bad so I kept walking. Then with ten minutes to go in that exercise period the pain became so intense I had to stop. That had never happened before.
My calf has been sore ever since. Today I was walking at a much slower pace in the Warsaw airport. I felt something "pop" and that was followed by extreme pain. I gave Carol a call. She'll work on getting a doctor's appointment for me. I fear this will not be good. We will see. I lead a pretty active schedule. If I have to have surgery life could change at least temporarily.
By definition, if it's not one thing then it is another. Nevertheless, I won't stop doing what I do even if I have to do it with a cane.
Even if I were perfectly healthy one might expect that I might just sit back at our modest seaside cottage and watch the sunset over the Pacific Ocean after this long trip.  Yes, that would be a good thing to do….but not yet.  There's too much "out there" to see and do.  I'm going to see and do it while I can.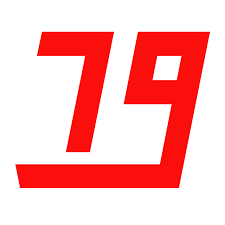 Can trackchasing country #79 be far off?  It might be far off from San Clemente. It might not be far off in terms of time. I've got several irons in the fire. I have international friends who are just waiting to help. They will not be denied. If they want me to visit their country then I will. Stay tuned right here at www.randylewis.org and you won't miss a thing.
Thanks for reading about my trackchasing, 
 Randy Lewis
World's #1 Trackchaser
Randy is a freelance journalist who winters in San Clemente, California and sometime flies in coach.
And so it goes from country #78, Belarus.
THE COUNTRY LIST
#78!!
RLR – Randy Lewis Racing Lifetime Trackchasing Countries
# 1 – UNITED STATES OF AMERICA – Peoria Speedway – Mt. Hawley (oval) – Track #1, Peoria, Illinois – circa 1955 
# 2 – CANADA – Cayuga Speedway (oval) – Track #174, Nelles Corner, Ontario – 1988 
# 3 – AUSTRALIA – Parramatta City Raceway (oval) – Track #180, Granville, New South Wales – 1989
# 4 – UNITED KINGDOM – Northhampton International Raceway (oval) – Track #378, Northhampton – 1999
# 5 – NETHERLANDS – Driesum Racetrack (oval) – Track #839, Driesum – 2005
# 6 – BELGIUM – Bellekouter oval (oval) – Track #841, Affligem – 2005
# 7 – FRANCE – Circuit de Croix en Ternois (road course) – Track #843, Saint-Pol sur-Ternoise – 2005
# 8 – GERMANY – Nurburgring (road course) – Track #844, Nurburg – 2005
# 9 – NEW ZEALAND – Western Springs Speedway (oval) – Track #1,134, Western Springs – 2006
# 10 – MEXICO – Triovalo Bernardo Obregon (oval) – Track #1,281, Tiajamulco de Zuniga, Jalisco – 2007
# 11 – BARBADOS – Bushy Park Racing Circuit (road course) – Track #1,296, Bushy Park – 2007
# 12 – THAILAND – Bira Circuit (road course) – Track #1,300, Pattaya – 2008
# 13 – SOUTH AFRICA – Durban Grand Prix (road course) – Track #1,315, Durban, KwaZulu-Natal – 2008
# 14 – JAMAICA – Dover Raceway (road course) – Track #1,322, Brown's Town St. Ann – 2008
# 15 – SWEDEN – Sturup Raceway (road course) – Track #1,335, Malmo – 2008
# 16 – DENMARK – Ring Djursland (road course) – Track #1,336, Tirstrup – 2008
# 17 – CZECH REPUBLIC – Automotodrome BRNO (road course) – Track #1,381, Brno – 2008
# 18 – AUSTRIA – Lambrechten Stock Car Track (road course) – Track #1,382, Lambrechten – 2008
# 19 – IRELAND – Tipperary International Raceway (oval) – Track #1,388, Rosegreen – 2008
# 20 – GUYANA – South Dakota Circuit (road course) – Track #1,390, Timehri – 2008
# 21 – CHINA – The Guia Circuit (road course) – Track #1,392, Macau – 2008
# 22 – COSTA RICA – Autodromo La Guacima (road course) – Track #1,398, La Guacima – 2008
# 23 – ANDORRA – Grandvalira Circuit (road course) – Track #1,404, Port d'Envalira – 2009
# 24 – ARGENTINA – Circuito Efren Chemolli (oval) – Track #1,406, Buenos Aires – 2009
# 25 – QATAR – Losail International Circuit (road course) – Track #1,408, Doha – 2009
# 26 – BAHRAIN – Bahrain International Circuit (road course) – Track #1,410, Sakhir – 2009
# 27 – UNITED ARAB EMIRATES – Dubai Autodrome (road course) – Track #1,411, Dubai – 2009
# 28 – COLOMBIA – Autodromo de Tocancipa (road course) – Track #1,415, Tocancipa – 2009
# 29 – SPAIN – Motorland Aragon (road course) – Track #1,416, Alcaniz – 2009
# 30 – PORTUGAL – Circuto de Murca (road course) – Track #1,417, Murca – 2009
# 31 – ICELAND – Kapelluhraum (road course) – Track #1,420, Hafnafjorour – 2009
# 32 – HUNGARY – Hungaroring (road course) – Track #1,426, Mogyorod – 2009
# 33 – SWITZERLAND – Hock Ybrig (road course) – Track #1,427, Hoch Ybrig – 2009
# 34 – ITALY – Vighizzolo d'Este Stock Car Track (road course) – Track #1,428, Vighizzolo d'Este – 2009
# 35 – DOMINICAN REPUBLIC – Autodromo Mobil 1 (road course) – Track #1,515, Santo Domingo – 2009
# 36 – MALTA – Ta'Qali Race Track (road course) – Track #1,521, Ta'Qali – 2010
# 37 – FINLAND – Lake Pidisjarvi Ice Track (road course) – Track #1,524, Nivala – 2010
# 38 – JAPAN – Suzuka Circuit (road course) – Track #1,530, Suzuka – 2010
# 39 – CHILE – Autodromo de Interlomas (road course) – Track #1,531, Temuco – 2010
# 40 – MOROCCO – Circuit de Marrakesh (road course) – Track #1,535, Marrakesh – 2010
# 41 – BRAZIL – Circuit de Caruaru – Aryten Senna (road course) – Track #1,540, Caruaru – 2010
# 42 – ESTONIA – Laitse Rally Park (road course) – Track #1,571, Laitse – 2010
# 43 – LATVIA – Bikernieki (road course) – Track #1,572, Riga – 2010
# 44 – GUATEMALA – Autodromo Pedro Cofino (road course) – Track #1,580, Alotenango – 2010
# 45 – EL SALVADOR – El Jabali (road course) – Track #1,582, Quezaltepeque – 2010
# 46 – ROMANIA – Bradu (road course) – Track #1,603, Bradu – 2010
# 47 – BULGARIA – Closed Route – Burgas (road course) – Track #1,604, Burgas – 2010
# 48 – SOUTH KOREA – Korea International Circuit (road course) – Track #1,605, Yeongam, Jeollanam-Do – 2010
# 49 – PHILIPPINES – Batangas Racing Circuit (road course) – Track #1,608, Batangas – 2010
# 50 – NORWAY – Lyngas Motorbane (road course) – Track #1,648, Lier – 2011
# 51 – MALAYSIA – Sepang International Circuit (road course) – Track #1,656, Sepang – 2011
# 52 – INDONESIA – Sentul International Circuit (road course) – Track #1,657, Babakan Madang, Boder – 2011
# 53 – LUXEMBOURG – Alzingen (road course) – Track #1,711, Alzingen – 2011
# 54 – POLAND – Tor Slomczyn (road course) – Track #1,713, Slomczyn – 2011
# 55 – SINGAPORE – Marina Bay (road course) – Track #1,714, Singapore – 2011
# 56 – URUGUAY – Piriapolis Grand Prix (road course) – Track #1,724, Piriapolis – 2011
# 57 – SRI LANKA – Pannala Race Track (road course) – Track #1,732, Pannala – 2012
# 58 – ECUADOR – Autodromo Internacional de Yahuarcocha (road course) – Track #1,736, Ibarra – 2012
# 59 – SLOVAKIA – Slovakia Ring (road course) – Track #1,745, Orechova Poten – 2012
# 60 – MONACO – Circuit de Monaco (road course) – Track #1,747, Monte Carlo – 2012
# 61 – CROATIA – Automotodrom Drobnik (road course) – Track #1,762, Rijeka – 2012
# 62 – PERU – Autodromo La Chutana (road course) – Track #1,802, Lima – 2012
# 63 – GREECE – Serres Circuit (road course) – Track #1,807, Serres – 2012
# 64 –RUSSIA – Moscow Central Hippodrome (oval) – Track #1,824, Moscow – 2013
# 65 –LITHUANIA – Marijampole Autocross Track (road course) – Track #1,842, Marijampole – 2013
# 66 –INDIA – Buddh International Circuit (road course) – Track #1,915, Noida – 2013
# 67 –GEORGIA – Rustavi International Motorpark (road course) – Track #1,916, Rustavi – 2013
# 68 –TRINIDAD AND TOBAGO – Larry Gomes Stadium (road course) – Track #1,928, Arima – 2014
# 69 – TURKEY – Istanbul Park (road course) – Track #2,035 Akfirat – 2014
# 70 – AZERBAIJAN – Streets of Baku (road course) – Track #2,037, Baku – 2014
# 71 – SERBIA – Usce (road course) – Track #2,224, Belgrade – 2016
# 72 – BOSNIA AND HERZEGOVNIA – Zaluzani (road course) – Track #2,235, Banja Luka – 2016
# 73 – PANAMA – Circuito Internacional de Panama (road course) – Track #2,290, La Chorrera – 2016
# 74 – ZIMBABWE – Bulawayo Motorsports Park (road course) – Track #2,291, Bulawayo – 2016
# 75 – NAMIBIA – Desert Raceway (oval) – Track #2,369, Walvis Bay – 2017
# 76 – MACEDONIA – Skopje Street Course (road course) – Track #2,386, Skopje – 2017
# 77 – UKRAINE – Autodrome Chayka (road course) – Track #2,387, Kiev – 2017
# 78 – BELARUS – Stadium Zarya (oval) – Track #2,421, Minsk – 2018
The International Big 3.
. Randy Lewis, San Clemente, California USA – 78
. Roland Vanden Eynde, Vilvoorde, Belgium – 52
. Carol Lewis, San Clemente, California USA – 42
It should be noted that this week I saw racing in my 39th European country. That breaks a tie I had with Belgium's Roland Vanden Eynde for trackchasing countries seen on the European continent. Ten years ago who would have ever seen that coming?
LIFETIME TRACKCHASER COMPARISONS 
The three most important trackchasing comparisons to me are:
Total lifetime tracks seen
Total "trackchasing countries" seen
Lifetime National Geographic Diversity results
Total Lifetime Tracks
There are no trackchasers currently within 640 tracks of my lifetime total. Don't blame me.
. Randy Lewis, San Clemente, California – 2,421

Total Trackchasing Countries
There are no trackchasers currently within 25 countries of my lifetime total.
. Randy Lewis, San Clemente, California – 78
Current lifetime National Geographic Diversity results
Randy Lewis, San Clemente, California – 4.47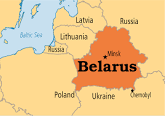 Belarus – FAST FACTS*
Provided by my friends at Wikipedia
Belarus, officially the Republic of Belarus, formerly known by its Russian name Byelorussia or Belorussia, is a landlocked country in Eastern Europe bordered by Russia to the northeast, Ukraine to the south, Poland to the west, and Lithuania and Latvia to the northwest. Its capital and most populous city is Minsk. Over 40% of its 207,600 square kilometres (80,200 sq mi) is forested. Its major economic sectors are service industries and manufacturing Until the 20th century, different states at various times controlled the lands of modern-day Belarus, including the Principality of Polotsk (11th to 14th centuries), the Grand Duchy of Lithuania, the Polish–Lithuanian Commonwealth, and the Russian Empire.
In the aftermath of the 1917 Russian Revolution, Belarus declared independence as the Belarusian People's Republic, which was conquered by Soviet Russia. The Socialist Soviet Republic of Byelorussia became a founding constituent republic of the Soviet Union in 1922 and was renamed as the Byelorussian Soviet Socialist Republic (Byelorussian SSR). Belarus lost almost half of its territory to Poland after the Polish–Soviet War of 1919–1921. Much of the borders of Belarus took their modern shape in 1939, when some lands of the Second Polish Republic were reintegrated into it after the Soviet invasion of Poland, and were finalized after World War II. During WWII, military operations devastated Belarus, which lost about a third of its population and more than half of its economic resources. The republic was redeveloped in the post-war years. In 1945 the Byelorussian SSR became a founding member of the United Nations, along with the Soviet Union and the Ukrainian SSR.
The parliament of the republic proclaimed the sovereignty of Belarus on 27 July 1990, and during the dissolution of the Soviet Union, Belarus declared independence on 25 August 1991. Alexander Lukashenko has served as the country's president since 1994. Belarus has been labeled "Europe's last dictatorship" by some Western journalists, on account of Lukashenko's self-described authoritarian style of government. Lukashenko continued a number of Soviet-era policies, such as state ownership of large sections of the economy. Elections under Lukashenko's rule have been widely criticized as unfair; and according to many countries and organizations, political opposition has been violently suppressed. Belarus is also the last country in Europe using the death penalty. Belarus's Democracy Index rating was the lowest in Europe until 2014 (when it was passed by Russia), the country is labelled as "not free" by Freedom House, as "repressed" in the Index of Economic Freedom, and is rated as by far the worst country for press freedom in Europe in the 2013–14 Press Freedom Index published by Reporters Without Borders, which ranks Belarus 157th out of 180 nations.
In 2000, Belarus and Russia signed a treaty for greater cooperation, forming the Union State. Over 70% of Belarus's population of 9.49 million resides in urban areas. More than 80% of the population is ethnic Belarusian, with sizable minorities of Russians, Poles and Ukrainians. Since a referendum in 1995, the country has had two official languages: Belarusian and Russian. The Constitution of Belarus does not declare any official religion, although the primary religion in the country is Eastern Orthodox Christianity. The second-most widespread religion, Roman Catholicism, has a much smaller following; nevertheless, Belarus celebrates both Orthodox and Catholic versions of Christmas and Easter as national holidays. Belarus is a member of the United Nations since its founding, the Commonwealth of Independent States, CSTO, EEU, and the Non-Aligned Movement. Belarus has shown no aspirations for joining the European Union but nevertheless maintains a bilateral relationship with the organisation, and likewise participates in two EU projects: the Eastern Partnership and the Baku Initiative.
Etymology
The name Belarus is closely related with the term Belaya Rus', i.e., White Rus'. There are several claims to the origin of the name White Rus'. An ethno-religious theory suggests that the name used to describe the part of old Ruthenian lands within the Grand Duchy of Lithuania that had been populated mostly by early Christianized Slavs, as opposed to Black Ruthenia, which was predominantly inhabited by pagan Balts.
An alternate explanation for the name comments on the white clothing worn by the local Slavic population. A third theory suggests that the old Rus' lands that were not conquered by the Tatars (i.e., Polatsk, Vitsiebsk and Mahilyow) had been referred to as "White Rus'".
Belarus first declared independence under German occupation on 25 March 1918, forming the Belarusian People's Republic.Immediately afterwards, the Polish–Soviet War ignited, and the territory of Belarus was divided between Poland and Soviet Russia. The Rada of the Belarusian Democratic Republic exists as a government in exile ever since then, in fact it is currently the world's longest serving government in exile.
In the 1920s and 1930s, Soviet agricultural and economic policies, including collectivization and five-year plans for the national economy, led to famine and political repression.
In 1939, Nazi Germany and the Soviet Union invaded and occupied Poland, marking the beginning of World War II. The Soviets invaded and annexed much of eastern Poland, which had been part of the country since the Peace of Riga two decades earlier. Much of the northern section of this area was added to the Byelorussian SSR, and now constitutes West Belarus. The Soviet-controlled Byelorussian People's Council officially took control of the territories, whose populations consisted of a mixture of Poles, Ukrainians, Belarusians and Jews, on 28 October 1939 in Białystok. Nazi Germany invaded the Soviet Union in 1941. The Brest Fortress, which had been annexed in 1939, at this time was subjected to one of the most destructive onslaughts that happened during the war. Statistically, the Byelorussian SSR was the hardest-hit Soviet republic in World War II; it remained in Nazi hands until 1944. During that time, Germany destroyed 209 out of 290 cities in the republic, 85% of the republic's industry, and more than one million buildings The Nazi Generalplan Ost called for the extermination, expulsion or enslavement of most or all Belarusians for the purpose of providing more living space in the East for Germans.
Casualties were estimated to be between 2 and 3 million (about a quarter to one-third of the total population), while the Jewish population of Belarus was devastated during the Holocaust and never recovered. The population of Belarus did not regain its pre-war level until 1971. It was also after this conflict that the final borders of Belarus were set by Stalin when parts of Belarusian territory were given to the recently annexed Lithuania.
After the war, Belarus was among the 51 founding countries of the United Nations Charter and as such it was allowed an additional vote at the UN, on top of the Soviet Union's vote. Vigorous postwar reconstruction promptly followed the end of the war and the Byelorussian SSR became a major center of manufacturing in the western USSR, creating jobs and attracting ethnic Russians. The borders of the Byelorussian SSR and Poland were redrawn and became known as the Curzon Line.
Joseph Stalin implemented a policy of Sovietization to isolate the Byelorussian SSR from Western influences.This policy involved sending Russians from various parts of the Soviet Union and placing them in key positions in the Byelorussian SSR government. After Stalin's death in 1953, Nikita Khrushchev continued his predecessor's cultural hegemony program, stating, "The sooner we all start speaking Russian, the faster we shall build communism."
In 1986, the Byelorussian SSR was exposed to significant nuclear fallout from the explosion at the Chernobyl power plant in the neighboring Ukrainian SSR.
Independence
In March 1990, elections for seats in the Supreme Soviet of the Byelorussian SSR took place. Though the pro-independence Belarusian Popular Front took only 10% of the seats, the populace was content with the selection of the delegates. Belarus declared itself sovereign on 27 July 1990 by issuing the Declaration of State Sovereignty of the Belarusian Soviet Socialist Republic.
With the support of the Communist Party, the country's name was changed to the Republic of Belarus on 25 August 1991. Stanislav Shushkevich, the chairman of the Supreme Soviet of Belarus, met with Boris Yeltsin of Russia and Leonid Kravchuk of Ukraine on 8 December 1991 in Belavezhskaya Pushcha to formally declare the dissolution of the Soviet Union and the formation of the Commonwealth of Independent States.
Post-independence
Alexander Lukashenko has ruled Belarus since 1994, and is Europe's longest currently ruling elected head of state.
Two-round elections for the presidency on (24 June 1994 and 10 July 1994) catapulted the formerly unknown Alexander Lukashenko into national prominence. He garnered 45% of the vote in the first round and 80%[76] in the second, defeating Vyacheslav Kebich who received 14% of the vote. Lukashenko was re-elected in 2001, in 2006, in 2010 and again in 2015. Western governments, Amnesty International, and Human Rights Watch have criticized Lukashenko's authoritarian style of government.
Since 2014, following years of embrace of Russian influence in the country, Lukashenko has pressed a revival of Belarusian identity, following the Russian annexation of Crimea and military intervention in Eastern Ukraine. For the first time, he delivered a speech in Belarusian (rather than Russian, which most people use), in which he said, "We are not Russian—we are Belarusians", and later encouraged the use of Belarusian. Trade disputes, a border dispute, and a much relaxed official attitude to dissident voices are all part of a weakening of the longtime warm relationship with Russia.
Belarus lies between latitudes 51° and 57° N, and longitudes 23° and 33° E. Its extension from north to south is 560 km (350 mi), from west to east is 650 km (400 mi). It is landlocked, relatively flat, and contains large tracts of marshy land. About 40% of Belarus is covered by forests.
The climate features mild to cold winters, with average January minimum temperatures ranging from −4 °C (24.8 °F) in southwest (Brest) to −8 °C (17.6 °F) in northeast (Vitebsk), and cool and moist summers with an average temperature of 18 °C (64.4 °F). Belarus has an average annual rainfall of 550 to 700 mm (21.7 to 27.6 in).[86] The country is in the transitional zone between continental climates and maritime climates.
Natural resources include peat deposits, small quantities of oil and natural gas, granite, dolomite (limestone), marl, chalk, sand, gravel, and clay. About 70% of the radiation from neighboring Ukraine's 1986 Chernobyl nuclear disaster entered Belarusian territory, and about a fifth of Belarusian land (principally farmland and forests in the southeastern regions) was affected by radiation fallout. The United Nations and other agencies have aimed to reduce the level of radiation in affected areas, especially through the use of caesium binders and rapeseed cultivation, which are meant to decrease soil levels of caesium-137.
Belarus borders five countries: Latvia to the north, Lithuania to the northwest, Poland to the west, Russia to the north and the east, and Ukraine to the south. Treaties in 1995 and 1996 demarcated Belarus's borders with Latvia and Lithuania, and Belarus ratified a 1997 treaty establishing the Belarus-Ukraine border in 2009. Belarus and Lithuania ratified final border demarcation documents in February 2007.
Governance
Belarus is a presidential republic, governed by a president and the National Assembly. The term for each presidency is five years. Under the 1994 constitution, the president could serve for only two terms as president, but a change in the constitution in 2004 eliminated term limits. Alexander Lukashenko has been the president of Belarus since 1994. In 1996, Lukashenko called for a controversial vote to extend the presidential term from five to seven years, and as a result the election that was supposed to occur in 1999 was pushed back to 2001. The referendum on the extension was denounced as a "fantastic" fake by the chief electoral officer, Viktar Hanchar, who was removed from the office for official matters only during the campaign. The National Assembly is a bicameral parliament comprising the 110-member House of Representatives (the lower house) and the 64-member Council of the Republic (the upper house).
The House of Representatives has the power to appoint the prime minister, make constitutional amendments, call for a vote of confidence on the prime minister, and make suggestions on foreign and domestic policy. The Council of the Republic has the power to select various government officials, conduct an impeachment trial of the president, and accept or reject the bills passed by the House of Representatives. Each chamber has the ability to veto any law passed by local officials if it is contrary to the constitution.
In the 2012 parliamentary election, 105 of the 110 members elected to the House of Representatives were not affiliated with any political party. The Communist Party of Belarus won 3 seats, and the Agrarian Party and Republican Party of Labour and Justice, one each. Most non-partisans represent a wide scope of social organizations such as workers' collectives, public associations, and civil society organizations, similar to the composition of the Soviet legislature.
Corruption
The judicial system in Belarus lacks independence and is subject to political interference. Corrupt practices such as bribery often took place during tender processes, and whistleblower protection and national ombudsman are lacking in Belarus's anti-corruption system. However, there is a political will to fight against corruption in the government, and the government has made some progress in combating corruption, such as minimizing tax regulations in order to improve transparency in the tax office.
Human rights
Lukashenko has described himself as having an "authoritarian ruling style". Western countries have described Belarus under Lukashenko as a dictatorship; the government has accused the same Western powers of trying to oust Lukashenko.The Council of Europe has barred Belarus from membership since 1997 for undemocratic voting and election irregularities in the November 1996 constitutional referendum and parliament by-elections.
The Belarusian government is also criticized for human rights violations and its persecution of non-governmental organisations, independent journalists, national minorities, and opposition politicians. In a testimony to the United States Senate Committee on Foreign Relations, former United States Secretary of State Condoleezza Rice labeled Belarus as one of the world's six "outposts of tyranny". In response, the Belarusian government called the assessment "quite far from reality
Lukashenko announced a new law in 2014 that will prohibit kolkhoz workers (around 9% of total work force) from leaving their jobs at will—a change of job and living location will require permission from governors. The law was compared with serfdom by Lukashenko himself. Similar regulations were introduced for the forestry industry in 2012.
 Foreign relations
The Byelorussian SSR was one of the two Soviet republics that joined the United Nations along with the Ukrainian SSR as one of the original 51 members in 1945. After the dissolution of the Soviet Union, under international law, Belarus became the internationally recognized successor state to the Byelorussian SSR, retaining its UN membership.
Belarus and Russia have been close trading partners and diplomatic allies since the breakup of the Soviet Union. Belarus is dependent on Russia for imports of raw materials and for its export market.
On 11 December 2007, reports emerged that a framework for the new state was discussed between both countries. On 27 May 2008, Belarusian President Lukashenko said that he had named Russian Prime Minister Vladimir Putin the "prime minister" of the Russia-Belarus alliance. The significance of this act was not immediately clear; some incorrectly speculated that Putin would become president of a unified state of Russia and Belarus after stepping down as Russian president in May 2008.
Military
Major General Andrei Ravkov heads the Ministry of Defence, and Alexander Lukashenko (as president) serves as Commander-in-Chief. The armed forces were formed in 1992 using parts of the former Soviet Armed Forces on the new republic's territory. The transformation of the ex-Soviet forces into the Armed Forces of Belarus, which was completed in 1997, reduced the number of its soldiers by 30,000 and restructured its leadership and military formations.
Most of Belarus's service members are conscripts, who serve for 12 months if they have higher education or 18 months if they do not. Demographic decreases in the Belarusians of conscription age have increased the importance of contract soldiers, who numbered 12,000 in 2001. In 2005, about 1.4% of Belarus's gross domestic product was devoted to military expenditure.
Belarus has not expressed a desire to join NATO but has participated in the Individual Partnership Program since 1997, and Belarus provides refueling and airspace support for the ISAF mission in Afghanistan. Belarus first began to cooperate with NATO upon signing documents to participate in their Partnership for Peace Program in 1995.] However, Belarus cannot join NATO because it is a member of the Collective Security Treaty Organisation. Tensions between NATO and Belarus peaked after the March 2006 presidential election in Belarus.
Administrative divisions
Belarus is divided into six regions, which are named after the cities that serve as their administrative centers.
Regions (with administrative centers):
Brest Region (Brest)
Gomel Region (Gomel)
Grodno Region (Grodno)
Mogilev Region (Mogilev)
Minsk Region (Minsk)
Vitebsk Region (Vitebsk)
Economy
Industry
In 2014 the share of manufacturing in GDP was 37%, more than two thirds of this amount falls on manufacturing industries. The number of people employed in industry is 32.7% of the working population. The growth rate is much lower than for the economy as a whole – about 1.9% in 2014.
At the time of the dissolution of the Soviet Union in 1991, Belarus was one of the world's most industrially developed states by percentage of GDP as well as the richest CIS member-state. In 2015, 39.3% of Belarusians were employed by state-controlled companies, 57.2% were employed by private companies (in which the government has a 21.1% stake) and 3.5% were employed by foreign companies. The country relies on Russia for various imports, including petroleum. Important agricultural products include potatoes and cattle byproducts, including meat. In 1994, Belarus's main exports included heavy machinery (especially tractors), agricultural products, and energy products.
In the 1990s, however, industrial production plunged due to decreases in imports, investment, and demand for Belarusian products from its trading partners.GDP only began to rise in 1996; the country was the fastest-recovering former Soviet republic in the terms of its economy. In 2006, GDP amounted to US$83.1 billion in purchasing power parity (PPP) dollars (estimate), or about $8,100 per capita. In 2005, GDP increased by 9.9%; the inflation rate averaged 9.5%.
In 2006, Belarus's largest trading partner was Russia, accounting for nearly half of total trade, with the European Union the next largest trading partner, with nearly a third of foreign trade. As of 2015, 38% of Belarusian exported goods go to Russia and 56% of imported goods come from Russia.
The labor force consists of more than four million people, among whom women hold slightly more jobs than men. In 2005, nearly a quarter of the population was employed by industrial factories. Employment is also high in agriculture, manufacturing sales, trading goods, and education. The unemployment rate, according to government statistics, was 1.5% in 2005. There were 679,000 unemployed Belarusians, two-thirds of whom were women. The unemployment rate has been in decline since 2003, and the overall rate of employment is the highest since statistics were first compiled in 1995.
Until 1 July 2016, the currency of Belarus was the Belarusian ruble (BYR). The currency was introduced in May 1992, replacing the Soviet ruble. The first coins of the Republic of Belarus were issued on 27 December 1996. The ruble was reintroduced with new values in 2000 and has been in use ever since.As part of the Union of Russia and Belarus, both states have discussed using a single currency along the same lines as the Euro. This led to a proposal that the Belarusian ruble be discontinued in favor of the Russian ruble (RUB), starting as early as 1 January 2008. The National Bank of Belarus abandoned pegging the Belarusian ruble to the Russian ruble in August 2007.
A new currency, the new Belarusian ruble (ISO 4217 code: BYN) was introduced in July 2016, replacing the Belarusian ruble in a rate of 1:10,000 (10,000 old rubles = 1 new ruble). From 1 July until 31 December 2016, the old and new currencies will be in parallel circulation and series 2000 notes and coins can be exchanged for series 2009 from 1 January 2017 to 31 December 2021. This redenomination can be considered an effort to fight the high inflation rate.
The banking system of Belarus consists of two level: Central Bank (National Bank of the Republic of Belarus) and 25 commercial banks. On 23 May 2011, the Belarusian ruble depreciated 56% against the United States dollar. The depreciation was even steeper on the black market and financial collapse seemed imminent as citizens rushed to exchange their rubles for dollars, euros, durable goods, and canned goods. On 1 June 2011, Belarus requested an economic rescue package from the International Monetary Fund.
Demographics
According to the National Statistical Committee, as of January 2016, the population is 9.49 million people. Ethnic Belarusians constitute 83.7% of Belarus's total population. The next largest ethnic groups are: Russians (8.3%), Poles (3.1%), and Ukrainians (1.7%). Belarus has a population density of about 50 people per square kilometer (127 per sq mi); 70% of its total population is concentrated in urban areas. Minsk, the nation's capital and largest city, was home to 1,937,900 residents in 2015. Gomel, with a population of 481,000, is the second-largest city and serves as the capital of the Homiel Voblast. Other large cities are Mogilev (365,100), Vitebsk (342,400), Hrodna (314,800) and Brest (298,300).
Like many other eastern European countries, Belarus has a negative population growth rate and a negative natural growth rate. In 2007, Belarus's population declined by 0.41% and its fertility rate was 1.22, well below the replacement rate. Its net migration rate is +0.38 per 1,000, indicating that Belarus experiences slightly more immigration than emigration. As of 2015, 69.9% of Belarus's population is aged 14 to 64; 15.5% is under 14, and 14.6% is 65 or older. Its population is also aging; the median age of 30–34 is estimated to rise to between 60 and 64 in 2050. There are about 0.87 males per female in Belarus. The average life expectancy is 72.15 (66.53 years for men and 78.1 years for women). Over 99% of Belarusians aged 15 and older are literate.
Languages
Belarus' two official languages are Russian and Belarusian; Russian is the main language, used by 72% of the population, while Belarusian, the official first language, is spoken by 11.9%. Minorities also speak Polish, Ukrainian and Eastern Yiddish.
Religion
Religion in Belarus (2011)
Eastern Orthodoxy
48.3%
Irreligion
41.1%
Roman Catholicism
7.1%
Other religions
3.3%
According to the census of as of November 2011, 58.9% of all Belarusians adhere to some kind of religion; out of those, Eastern Orthodoxy (Belarusian Exarchate of the Russian Orthodox Church) makes up about 82%. Roman Catholicism is practiced mostly in the western regions, and there are also different denominations of Protestantism. Minorities also practice Greek Catholicism, Judaism, Islam and Neopaganism. Overall, 48.3% of the population is Orthodox Christian, 41.1% is not religious, 7.1% is Catholic and 3.3% follows other religions.
Belarus was once a major center of European Jews, with 10% of the population being Jewish. But since the mid-20th century, the number of Jews has been reduced by the Holocaust, deportation, and emigration, so that today it is a very small minority of less than one percent. The Lipka Tatars, numbering over 15,000, are predominantly Muslims. According to Article 16 of the Constitution, Belarus has no official religion.
Culture
Dress
The traditional Belarusian dress originates from the Kievan Rus' period. Due to the cool climate, clothes were designed to preserve body heat and were usually made from flax or wool.
Cuisine
Belarusian cuisine consists mainly of vegetables, meat (particularly pork), and bread. Foods are usually either slowly cooked or stewed. Typically, Belarusians eat a light breakfast and two hearty meals, with dinner being the largest meal of the day. Wheat and rye breads are consumed in Belarus, but rye is more plentiful because conditions are too harsh for growing wheat. To show hospitality, a host traditionally presents an offering of bread and salt when greeting a guest or visitor.
Sport
Receiving heavy sponsorship from the government, ice hockey is the nation's second most popular sport after football. The national football team has never qualified for a major tournament; however, BATE Borisov has played in the Champions League. The national hockey team finished fourth at the 2002 Salt Lake City Olympics following a memorable upset win over Sweden in the quarterfinals, and regularly competes in the World Championships, often making the quarterfinals.
Tennis player Victoria Azarenka became the first Belarusian to win a Grand Slam singles title at the Australian Open in 2012. She also won the gold medal in mixed doubles at the 2012 Summer Olympics with Max Mirnyi, who holds ten Grand Slam titles in doubles.
Ice racing from Belarus
.
.
Belarus….a great place to tour
Click on the links below
Belarus – Trackchasing country #78…..the racing
.
.
Belarus – Trackchasing country #78…..the touring