While traveling on the South Island of New Zealand during a 2013 trackchasing trip, Paul Weisel and I stumbled upon the Bill Richardson Truck Museum.  It's located in Queenstown, NZ. 
How did we find it?  When we asked how we could spend the afternoon the proprietor of our hotel at the Invercargill Kiwi Holiday Park recommended we visit a "truck museum".  That didn't sound all that interesting but we had nothing else to do so why not?  What a great recommendation!  This was one of the highlights of the trip.  Below is some information from the Bill Richards Truck Museum website.  Those words will give you some background on the place.  Then at the very bottom of this post, you can see the wide variety of absolutely beautiful trucks and other antiques this museum offers.  Just click on the link.  I love auto-related museums and this was one of the best I've seen.  If you venture down to Queenstown be sure to stop by.
 
Truck Museum

 
Bill Richardson always had a passion for trucks.  So it was only natural that he began to collect them.  The collection started with the purchase of the remains of his grandfather's 1933 International truck.  He went on to purchase a handful of trucks over the next few years but the collection really started to expand rapidly in the mid-eighties.
At the time of Bill's death in 2005, he had over 170 vehicles, numerous petrol bowsers and related memorabilia.  It was the Richardson family's desire that the collection continues to expand and be available to people who share Bill's passion.
On Friday, October 19th 2007 the new wing and entrance to Bill's Truck Museum was opened, the result of over 16 months of planning, construction and restoration.
Bill's wife Shona and daughter Joc opened the new extensions, which were dedicated to Bill and his late son Harold.
Presently the museum is home to 230 trucks and 150 petrol bowsers, and is still growing.  Four-wheel tractors and five crawler tractors in the collection reflect Bill's interest in farm machinery.  While trucks will continue to be the main focus who knows what the future may hold.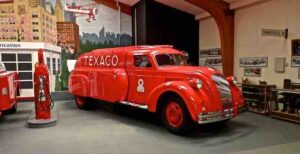 Click on the link below to see the beautiful machines we saw during our visit.