Greetings from Marshall, Michigan
From the travels and adventures of the 
"World's #1 Trackchaser"
Lifetime Track #1,883
HighlightsThe DetailsRace ReviewVideosPhotosQuick Facts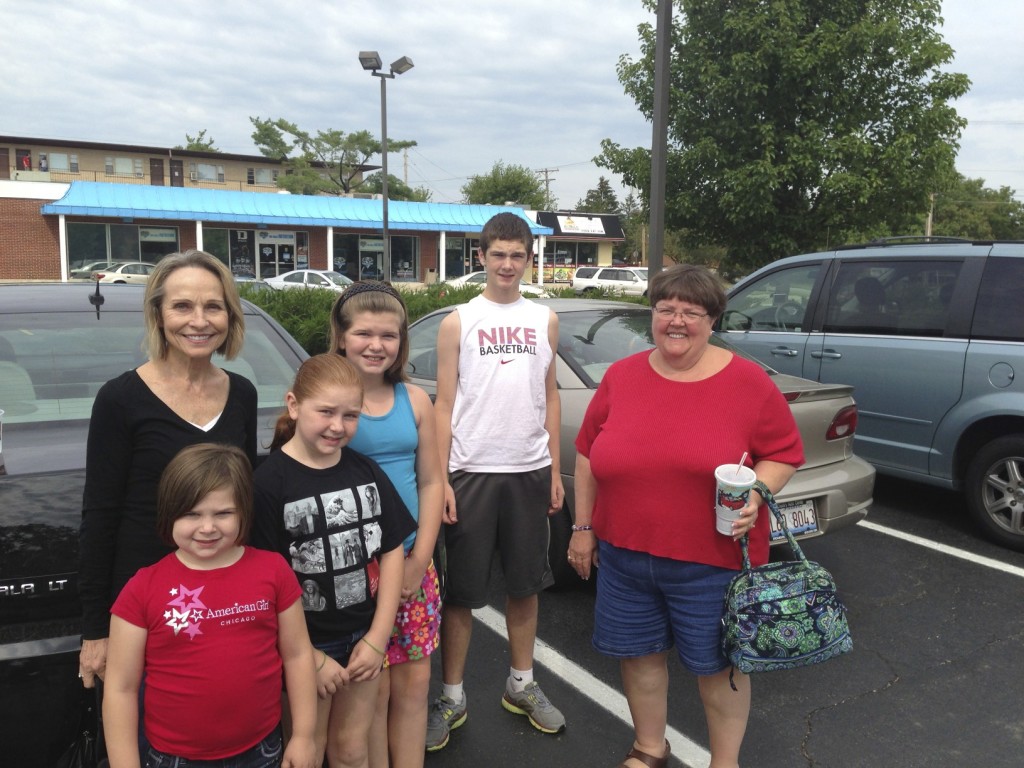 Every day is not a trackchasing day or family reunions are wonderful…………….more in "The Details".
I had to throw Carol under the trackchasing bus…………….more in "The Details".
Did you know this?…………….more in "The Details".
Beauty but not much in the way of brains …………..details in "Race Review".
It's the track stupid (I keep repeating this over and over to myself) …………..details in "Race Review".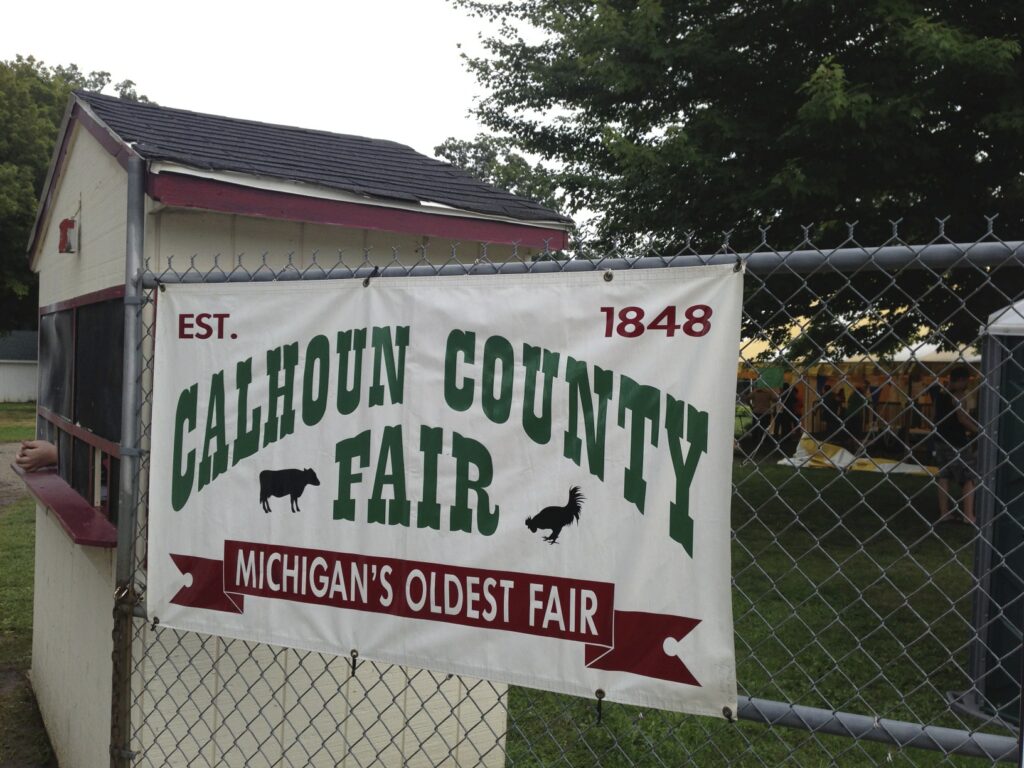 Every day is not a trackchasing day.
Not every day on this 27-day adventure will have me visiting a new track.  Why?  Sometimes I can't find a new track opportunity for my schedule.  Sometimes track re-visits trump the idea of seeing a brand new track.
That happened a couple of nights ago when I went back to the Florence Speedway to watch and participate in the Darrell Dake induction into the National Dirt Late Model Hall of Fame.  It happened a couple of weeks ago when I made a special trip to see the first ever NASCAR dirt race at the Eldora Speedway.  This was also the first NASCAR dirt race ANYWHERE in 43 years.  Those were special occasions.
Not part of the advanced plan.
Yesterday was another track "re-visit" for me.  It wasn't originally planned that way but that's the way it turned out.  Over the winter I discovered that the Quad Cities Speedway (formerly the East Moline Speedway) had brought back figure 8 racing to their program for 2013.  That was great.  It would give me an excuse to return to the track for the first time since 1983 when I saw competition on their tight little racy oval track.
I was excited.
I was so excited about this opportunity I included an August, 2013 visit to the Quad Cities Speedway into Carol's summer trackchasing plans.  Heck, I was so excited about this figure 8 situation I organized an entire Illinois family reunion around our visit.  That's excited.
However, the best laid plans don't always work our perfectly.  On the family front the plan did work perfectly.  However, on the trackchasing front not so much.
I had to throw Carol under the trackchasing bus.
About a month ago I was in Indianapolis on a Sunday afternoon.  With a phone call to the fairgrounds I learned their website was screwed up.  The race I was planning to see in Indiana was not going to be on Sunday but Monday.  That meant I suddenly had nothing to do on that Sunday night trackchasing wise.  That was, of course, unless I immediately hopped into my rental car and drove six hours non-stop to East Moline, Illinois.  Of course, that is exactly what I did.
What was the outcome of that last minute trip?  I ended up driving 12 hours to see the racing at the East Moline Speedway, spend some time talking to my friend Scott Shults the track's announcer AND seeing a THREE-CAR figure 8 race.  That's right.  I drove four hours for EACH figure 8 car I saw race.  Was it worth it?  To me it was.  However, I can't imagine doing such a thing would be worth it to anyone else.
I would soon learn that do to lack of support from the local figure 8 racers the rest of the season's figure 8 races were canceled.  Yes, I had been willing to throw Carol under the proverbial trackchasing bus by seeing the race without her, even though our visit was planned for a month later.  However, whether I saw the F8 last month or not we still would have (and did) returned to the East Moline Speedway.  It didn't really matter all that much to Carol as she is not trackchasing for points.  So THAT's my recent history with the East Moline Speedway.
Family reunions are fun.
We had a lovely family reunion at my niece's house.  It was our first visit there to see Sarah, her husband Dan and their four children Kyle, Abby, Katie and Aunica.  My other sister Becky and husband Bob drove over from Northern Illinois.  My other sister Lynn and husband Ed came up from Central Illinois.  Our niece Jennifer and her new husband Stan were up from that area as well.  Finally, my first cousin Rick and his wife Sue were over from the Iowa City area.  A fun time was had by all sitting out in the front yard under some huge trees relaxing and eating fried chicken.  It was just like a good old family reunion should be.  Then six of us headed over for a night of racing at the East Moline Speedway.  I had a chance to catch up with Scott Shults, East Moline track announcer and Randy Hasbrook a new friend we had met the night before in Florence, Kentucky (six hours away).
Only in the Midwest.
Following the races we headed over toward DeKalb, Illinois but not before stopping at Culver's for a late night pork tenderloin sandwich.  At that time of night only the drive-thru was open.  However, I needed to use the restroom and they let me inside the building even though it was officially closed.  You've just got to love the Midwest.
And now on with today's report!
If you don't ask you don't get.
We woke up this morning in DeKalb, Illinois, home of our alma mater and Orange Bowl second place finishers Northern Illinois University.  This evening we went to bed in Kalamazoo, Michigan.  Both last night and tonight we stayed in a Best Western motel.  I almost never stay in Best Westerns.  I think of it as an old brand.  However, when Priceline.com nearly gives them to me I can't resist.  Then when we checked in and I asked for a suite and they gave it to me I was even happier.  You might want to know that when I get double hotel "wins" like this I am hard to live with or so Carol my intimate.  Sometimes she needs to be reminded what a lucky draft pick she made.  It's all part of the fun we've had being married for 41 years.  This is what today looked like.
One last family activity.
Our morning began with one more mini-family reunion.  We had breakfast at McDonalds with my sister Becky and her four grandchildren (Sarah's children if you're making a family tree diagram).  It was all good.
From there Carol and I were off to the O'Hare International Airport.  She had done her trackchasing duty, had some fun over the first six days of my 27-day trip and now it was time for her to head home.  She will come back home, get those chores done, and then return for the final week of this trip.  It works for us.
Not a big fan.
I will tell you I am not a fan of Chicago area roads.  They are chock full of toll stops.  Now they have tollbooths that are a real pain in the butt if you don't have a local toll transponder.  Some ask for as much as $2.10 IN COINS at their unmanned stops.  Are you kidding me?  I rarely have a single coin on my person at any point in time.  To top it all off it costs TWICE as much if you must pay in cash and takes THREE times as long to get through the toll area.  Is this system stacked in favor of the home team or not?
I dropped off Carol without incident and headed east toward Michigan. During our travels we agreed that Boston and Chicago have the worst freeway city traffic. Pittsburgh has the worst overall street system around an individual city. However today I breezed through Chicago and then Indiana and then Michigan without any hassles whatsoever at around noon time. That was a miracle sent from above!
Did you know this?
Along the way I stopped at Wendy's to find out that senior citizens can get a 16 ounce soft drink for just $.50. Initially the server didn't mention this idea even though the sign was prominently displayed. She told me she never likes to offend anyone by assuming they are a senior citizen. I asked her what age requirement was needed to qualify.  She said she didn't really know, "Maybe 65".  Why mention this here?  Some day you're going to be a senior citizen, you'll be stopping at Wendy's and you'll be thirsty.
Regarding the senior citizen discounts, it never ceases to amaze me that financial savings are being passed along to people who have retired with enough money to live on for the rest of their life.  In the meantime couples and families that are still struggling to make ends meet pay higher prices. Why is that?
Embarrassed.
During my drive to Michigan I did get a phone call from one of the demolition derby promoters in the Michigan area. He clarified some very important trackchasing information for me.  His call will make my future trackchasing in Michigan much more effective and efficient.  I get lots of support from track promoters.  I must tell you though that I am embarrassed to explain the trackchasing rules to them.  So many promoters and racers are passionate about what they do.  Then when I have to tell them, in a nice way of course, that our rules are somewhat "exclusionary" I feel badly.
Just staying in touch.
During my drive over to Michigan I traded phone calls with representatives of the National Dirt Late Model Hall of Fame.  They were interested in knowing what types of cars Darrell Dake was driving during the 60s.  I didn't know for sure and had to bring Dake aficionado Randy Hasbrook into the conversation.  During the long drives I make from one track to the other my iPhone is a constant companion.  I don't use it all that much as a phone but for every manner of other tasks.

Calhoun County Fairgrounds – Marshall, Michigan
What kind of town was I visiting?
Today I was headed for Marshall, Michigan a small town about 100 miles west of Detroit and just to the east of Kalamazoo.  Marshall has only about 7,000 residents but is home to the Dark House Brewery.  Notably the second largest U.S. Postal Service museum is in Marshall.  I arrived too late to check it out.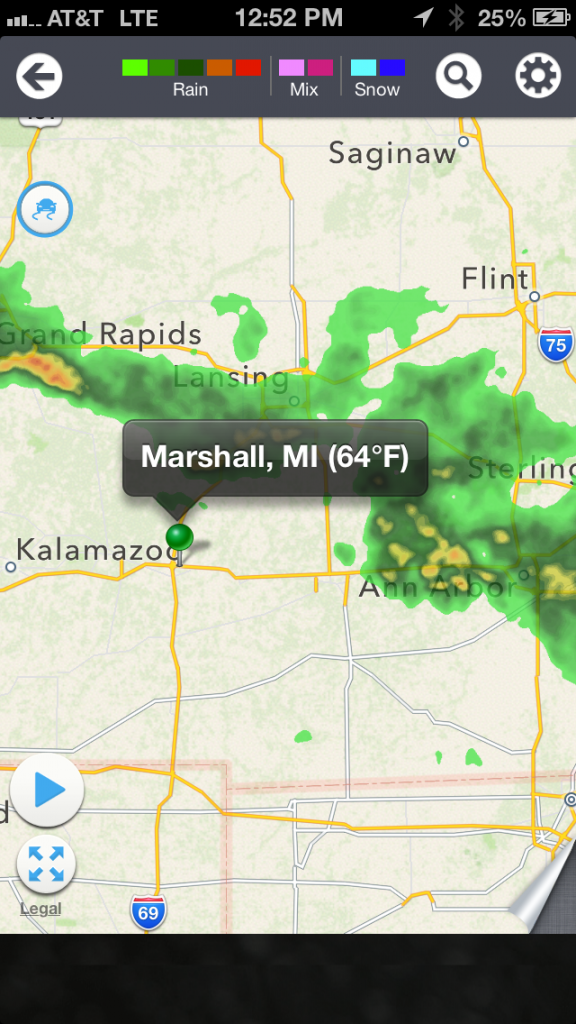 Lots of rain but I didn't care too much.
Today's weather forecast called for rain on and off all day.  Prior to my arrival they had a huge downpour.  This made the fair parking lot one soggy affair.  Luckily, they rarely cancel these fairgrounds events because of rain.  The race is normally held just one day a year during the fair.  Usually the fairgrounds arena/grandstand is booked with a different activity each night.  Therefore, they almost always go on with the show.  In the nearly 300 fairs that I have seen I cannot recall ever being rained out despite these events being scheduled during the summer when they get lots of rain back here.
Beauty but not much in the way of brains.
I was admitted to the fair for just two dollars after a major snafu by a woman selling ticket that was bestowed with much more beauty than brains.  I pointed out her monetary mistake (as I always do) but she continued to make additional ones.  Admission to the grandstands, separate from the fair, was an additional $10 U.S.
Did you know the Calhoun County Fairgrounds was the oldest fair in Michigan having started in 1848?  That was nice info to know but I was more interested in the fact they were holding an oval race on a Monday night.  As a trackchaser I couldn't ask for more.
It's the track stupid.
However, when I attend events like this I do have to remind myself that I am a TRACKchaser and not a RACEchaser.  Yes, this would qualify as a new track but was a little (a lot?) light on the racing part of the equation.  Nevertheless, I had a good time.
The grandstand on this rainy night was one half or less full.  I would guess the $16 combined fair and grandstand admission had something to do with that.  Remember I only paid $12.  I did bring the error to the cashier's attention she was just too slow to make it right the second time.  As Forrest Gump or somebody once said, "You can't fix stupid".
The fairgrounds had lots of huge shade trees reflecting the seniority of the place.  There were dark rain clouds in every direction I looked.  The radar indicated severe rain just to the south.  However, it did not rain on the races.
What was the racing like?
The racing was of the "junk car" variety.  The dirt track was really a muddy track from the afternoon rain.  They were racing around an oval track.  About midway during the show, to add some variety, they raced on the oval in the clockwise direction.  Trackchasing rules, somewhat surprisingly, do not allow a track to be counted another time based upon which direction they race.
These guys do a nice job.
This was a Unique Motorsports promotion.  They always do a nice job with these kinds of shows.  The owner always does the announcing which makes the night fun.  Really, that's why I and the rest of my friends in the stands were here.  We were just looking for a little bit of fun.  The races began about 20 minutes late but still wrapped up at just past 9 p.m.
There were about sixteen 4-cylinder cars racing and some 7-8 8-cylinder cars.  This was pretty much "novelty" racing as one might expect.  Please don't miss the photos or videos if you're looking for more on the racing aspect of tonight's outing.
One parting weather shot.
Just as the final checkered flag flew on the last feature event of the night it began to rain. I've been so lucky with the rain this summer.  It comes just at the right times so as not to disrupt much of the racing action.
I tiptoed through the display barns to avoid as much of the rainfall as I could. However there was one point where the downpour was so heavy that I could only stay in a commercial exhibit building and watch the rain until it let up.  When it did slow I tiptoed back to my car, which was parked in a very soggy grass parking lot much like our experience in Butler Pennsylvania last week.
Luckily the rain forecast for the next several days is perfect.  Temperatures are projected to be in the mid-70s with no rain forecasted. I can't wait to see beautiful Michigan under those circumstances. On my drive back to Kalamazoo for tonight's hotel it rained most of the way. I couldn't help noticing a large number of casinos along interstate 94.  Remember that casino revenue that goes to the government is considered a regressive tax.  Of all taxes those are my favorite.
STATE COMPARISONS
Michigan
The Wolverine State
This evening I saw my 92nd lifetime track in the Wolverine state, yes the Wolverine state.  You can bet I'll be back for some more action in 2013.
Thanks for reading about my trackchasing,
Randy Lewis
World's #1 Trackchaser
Peoria Old Timers Racing Club (P.O.R.C.) Hall of Fame Member
Michigan sayings:  America's left hand
AIRPLANE
Los Angeles, CA (LAX) – Chicago, IL (ORD) – 1,745 miles
Chicago, IL (ORD) – Detroit, MI (DTW) – 234 miles
RENTAL CAR #1
Detroit Metro Airport – trip begins
Belleville, MI
Butler, PA
Urbana, OH
Union, KY
East Moline, IL
Marshall, MI
TRACK ADMISSION PRICES:
Wayne County Fairgrounds – $10
Butler Farm Show – $12 (not trackchasing expense)
Champaign County Fairgrounds – $12
Florence Speedway – Complimentary admission
Quad Cities Speedway – $8 ($2 senior discount – not trackchasing expense)
Calhoun County Fairgrounds – $10
LIFETIME TRACKCHASER COMPARISONS 
The three most important trackchasing comparisons to me are:
Total lifetime tracks seen
Total "trackchasing countries" seen
Lifetime National Geographic Diversity results
Total Lifetime Tracks
There are no trackchasers currently within 350 tracks of my lifetime total.  Don't blame me.
1.  Randy Lewis, San Clemente, California – 1,883
Total Trackchasing Countries
There are no trackchasers currently within 10 countries of my lifetime total.
1.  Randy Lewis, San Clemente, California – 65
Current lifetime National Geographic Diversity results
1.  Randy Lewis, San Clemente, California – 5.10
That's all folks!  Official end of the RLR – Randy Lewis Racing Trackchaser Report