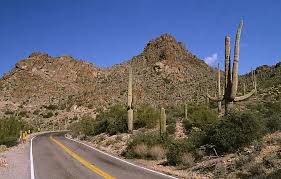 Greetings from Peoria, Arizona
.
.
From the travels and adventures of the 
"World's #1 Trackchaser"
.
.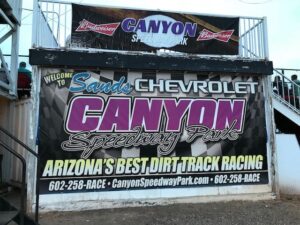 Canyon Raceway
Dirt outer oval
 Lifetime Track #406
.
.
Canyon Speedway Park
Dirt oval – "Short track"
 Lifetime Track #2,426
The EventVideo PlusPhotos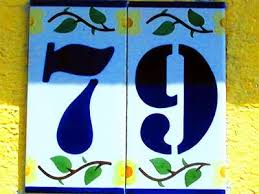 THE EVENT
I have had the opportunity to follow my trackchasing hobby all over the world.  As this is written I have seen racing in 79 countries.  My lifetime track total is just over 2,400.  Long ago I wrapped up seeing racing in every American state.
Some twelve years ago I moved into the "World's #1 Trackchasing" spot.  Of course, that's if that title is awarded to the person who has seen the most lifetime tracks.  Frankly, I don't think it should be.   Maybe "Most Prolific Trackchaser" is a better description for that category.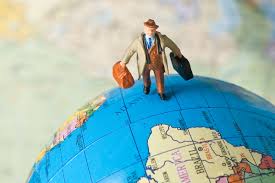 The World's #1 Trackchaser title should be bestowed on the person who has seen the most racing in the most countries.  That's what the "world" is made up of isn't it?  Countries!
There is one plus to counting "track variations" at one location. It allows me to return to the main track at these places to see their racing. Under most circumstances I wouldn't do that. When I first started "racechasing" I would NEVER EVER consider returning to a location to see an inner oval or a figure 8 track or temporary road course. In my world seeing a race on the "big oval" was IT. Yes, times change.
It's important to note that my hobby is not only about racing.  Yes, that is one part of it.  However, of equal importance are the logistics of trackchasing (getting from point A to B to C, etc.) and the opportunity to see the world.
I live in Southern California.  The vast majority of tracks in the U.S. are located in the Midwest and East.  It takes a good deal of logistical planning to get from where I live to where the tracks are.  A typical weekend trip within the U.S. will cover more than 5,000 air and driving miles.  I do about forty of those trips each year.  For the past 15 years I have traveled about 175 nights each and every year.  Surprisingly to some, more than half of those overnights were not part of trackchasing.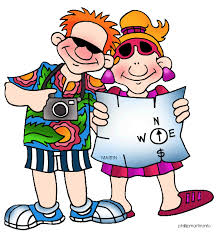 A big part of trackchasing for me is simply travel just for the fun of seeing new things.  You won't want to miss my "Trackchasing Tourist Attractions" page or my "Sports Spectating Resume" page on my website at www.randylewis.org.  Search around on my site.  Use the drop-down menus.  They will take you all over the world!  My site will give you some understanding on how important seeing the world and just "seeing stuff" is with my trackchasing hobby.
Today's adventure was one more of the 2,000 trips that have taken me up, down and around the long and dusty trackchasing trail.  If you would like to see where I've been and experience those adventures here's the link: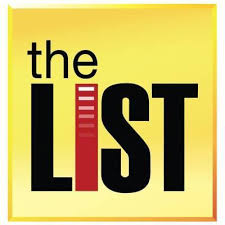 If you've got a question, comment or whatever please leave it at the bottom of this report.  It's very easy to do.  Or you can visit me on Facebook.  Thanks!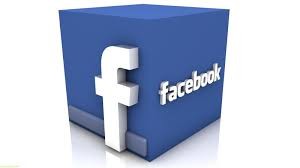 FOREWORD
Saturday, March 31, 2018.
Today is Saturday. It's my last new track visit of the quarter. Back in my working career the end of the quarter was a big deal. If we met and exceeded our goals we got paid some big bucks!
Just eight days ago I was trackchasing in the country of Maldives. That trip took me literally to the other side of the world. I flew a little bit more than 20,000 air miles to get there and back. I had returned to our modest seaside cottage in the sleepy little village of San Clemente on Monday. Now it was back in the trackchasing saddle domestically. The key to long-term success in trackchasing is just to be consistent.
My original plan for this weekend was to trackchase in Arizona on Sunday only. I would rent a car on Sunday morning, drive 680 miles round-trip, and then return the car by late Sunday night. Although that seemed like a long distance to drive I liked the idea that the entire trip could be done in less than a day with no overnights.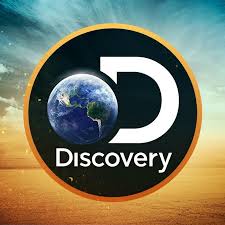 That was until I discovered that I could see another new track in Peoria, Arizona, a suburb of Phoenix, on Saturday night. Now I could rent a car on Saturday morning, see one track on Saturday night and another on Sunday afternoon and still be home by Sunday evening. That sounded like a really good logistical plan.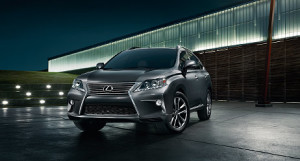 You will not see me using my own personal car, that's the Carol Lewis owned and MFunds sponsored Lexus RX 350, on any of my driving trackchasing trips unless the distance is extremely short. My Saturday and Sunday plan called for about 920 miles of driving. I only drive my own personal car about 1,000 miles a month. I certainly wasn't going to put 920 miles on my car's odometer in less than two days.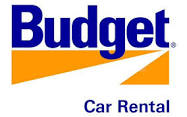 I sometimes use Costco Travel for my rental car needs. For this trip Costco got me a deal with Budget Rental Car. I would pay only $45 over two days for a full-sized rental car. Just the gas savings for a trip like this by using a rental car compared to the Carol Lewis owned and MFunds sponsored Lexus RX 350 would save me nearly $40. That's right. The gas savings nearly paid for the entire cost of the rental car. Over a period of five or six years, which is about the time I'll keep a brand new car, I can probably save 10-15,000 miles or maybe more by renting cars rather than using my own on these West Coast trackchasing trips.
For several years I've had a fully sponsored airport parking sponsorship at the John Wayne Orange County airport. However, when I went to park my car today I couldn't get into the parking garage. That was a bit of a problem. I needed a place to park. I didn't have a lot of time to waste. I certainly wasn't going to pay the exorbitant airport parking fees.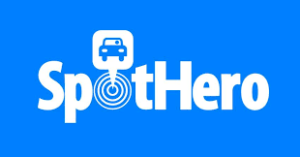 I am trained to handle last-minute unusual travel logistical situations like this. I went online and found an outfit called, "SpotHero". They are kind of the Priceline of airport parking.
Soon by using SpotHero I had secured parking at the nearby Marriott hotel for a fee of only $16 for two days. I noticed when I parked my car at the Marriott there was a parking fee for non-hotel guests of $29 per day! I was paying $16 U.S. for what others would need to pay $58 U.S. That was a deal!
I downloaded the SpotHero parking app and could see the reservation I had just made. I then moved that information into my "Apple Wallet". I would simply show that information to the Marriott upon my return. It was a pretty slick system.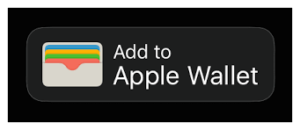 Don't know what an "Apple Wallet" is? Keep reading these Trackchaser Reports and you'll learn about that and a whole lot more. Remember, these are pearls being sent your way. All you have to do is bend over and pick them up.
When I got to the Budget Rental Car counter I had a choice between a Toyota Camry with 22,000 miles on it or a Chevy Impala with 2,000 miles. I chose the Camry. That might tell you what I think about domestic cars. 
However, today that was a bad choice. I got all my gear into the Toyota Camry and begin to drive it out of the rental car parking garage. However, every time the tires made a single rotation a sound was made as if something was sticking to the tire. It made a fairly loud noise. That wasn't going to work for 920 miles.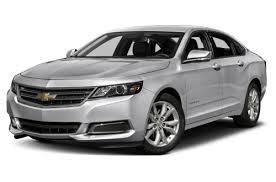 I returned the car and quickly hopped into a silver Chevy Impala with 2,000 miles on the odometer. Through the first day of the trip I am quite pleased with the Chevy. Maybe I had been too hasty in my judgment for these types of vehicles. When I had my first fill up I noticed I was getting 32 miles per gallon. That was great because I use the air-conditioning 100% of the time and don't always drive 55 MPH. The radio paired easily with my iPhone and everything with the car was good. Yes, if I see a better mousetrap I'm willing to change my opinion. 
Tonight I was headed to the Canyon Speedway Park in Peoria, Arizona. You might recall that my boyhood hometown track was the Peoria Speedway in Peoria, Illinois. It just turned out that the Peoria Speedway was having their opening night tonight.
The high temperature in Peoria, Arizona today was 93°. The low temperature in Peoria, Illinois tonight would be 31° with lots of wind. That's a pretty big difference isn't it? My brother-in-law Ed White was driving in the street stock division tonight the Peoria speedway. I wished him the best of luck.
THE RACING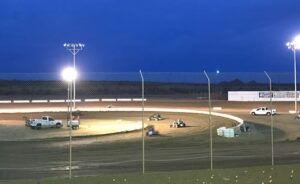 Canyon Speedway Park – Peoria, Arizona
I have some history with the Canyon Speedway Park. I've seen racing at three different tracks there. I had to check with my brother Mark on this one. He has lived in the Phoenix area for nearly 15 years and drives all over the Valley of the Sun nearly every day.
I first went to the "Canyon Raceway" in "Adobe", Arizona back in the year 2000 to see racing on their larger outer oval. My short comment from that visit was "Taurus broke down". That would have been my rental car!
My visit in 2000 was the first track I had seen after the turn of the century! The date was Saturday, January 15, 2000. The next day I could be found at the famous Manzanita Speedway. Kenny Hatfield won the feature race. Did you know that in 1974 the Manzanita Speedway was my home track. Yep. We lived in Phoenix for a year as I was moving up the corporate ladder.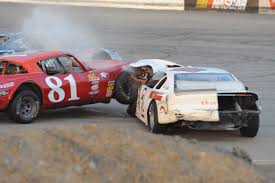 Then in 2004 I returned to the same location with my brother for their figure 8 racing. On this afternoon I saw the worst figure 8 crash at the "X" that I have ever seen. The race promoter was driving one of the cars in the crash. The impact was so bad it totally dislodged one of the racecar's engines. Afterwards the promoter told the announcer he was just "trying to create a little excitement" with the intentional crash.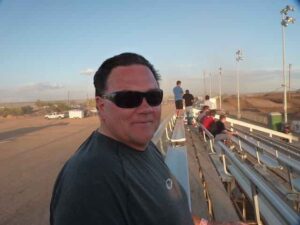 In 2014, Mark my brother, and I visited the Canyon Speedway Park which was now calling its home "Peoria". Mark assures me that "Adobe" and "Peoria" are one and the same location. I'll go with that.

On that evening in 2014 Mark and I saw my first ever Arizona Off-Road Promotions (AZOP) desert off-road event. We had a good time like we always do at the races.
Tonight I was hitting for the cycle. That would be an outer oval, inner oval, figure 8 and road course all on the same property. Granted it did take me four visits to see four tracks. Frankly, I don't think any trackchaser should be allowed to count more than one track per visit to one location.
Tonight's racing was to begin at 7 p.m. The track is right at 373 miles from the John Wayne Orange County airport. Actually, Canyon Speedway Park is probably one of the ten or so closest tracks to my home! I paced myself with naps, restroom stops and food stops along the way. I pulled into the track tonight at about 6:30 p.m.
Tonight's general admission was $20 per person. That seemed a little steep. Seniors were admitted for $15. I liked the idea of being able to use a credit card to pay for my race ticket. I go out of my way to save cash. Cash is king.
There were four divisions of racers competing tonight. On the larger 1/3-mile oval track they would be racing sport modifieds, modifieds and wingless sprint cars.
Trackchasers have come to call an oval that sits inside a larger oval an "inner oval". Of course, that is accurate. However at the Canyon Speedway Park they call their smaller oval the "short track". That is accurate as well.
Tonight on the short track they would be racing 600cc micro sprints. They had about 10 of them. Racing started on time at 7 p.m. with two heats for the micro sprints on the short track. By approximately 7:07 p.m. the Canyon Speedway Park short track was now officially known as my lifetime track #2,426.
Before any of the racing started I took a walk up to the announcing tower. I introduced myself to track announcer Tony Steele. I had been in contact with Tony earlier in the week confirming tonight's race activity. We talked briefly and wished each other well.
The sport modifieds brought about a dozen cars for their two heat races. The wingless sprint cars showed up with about 15 cars and also competed in two heats. The modifieds ran last on the big track. They had about 18 cars in their division running three heat races.
Intermission came at a reasonable 8:07 p.m. Tomorrow is Easter Sunday. There was a non-religious observation of the holiday tonight for children 11 and under. They were treated to an Easter egg hunt. There must've been a couple hundred Easter eggs on the ground between the racing fence and the first row of the grandstand. Youngsters made short order of the eggs putting them in Easter baskets provided by the track. That was a nice promotion.
Tonight's first feature was for the ten 600cc micro sprints. They did their thing on the short track without too much fanfare.
I didn't want to stay at the track too long. I did have a 2 1/2 hour drive northward up to Kingman, Arizona on primarily a two-lane road when I left the track tonight. I wasn't necessarily looking forward to that drive on a Saturday night. There are too many crazies out there!
I stayed for the sport modified feature for about a dozen cars. That's about the minimum number of cars needed to make for an entertaining feature on a track of this size.
I really wanted to see the wingless sprint car feature. However, their performance made it difficult for me to love them. They started about 15 cars.
On the first lap they had a major crash with a sprint car flipping end over end several times in turns three and four. If you watch my video you be able to see what I'm talking about.
On the restart, I noticed that the flagman threw the red flag even though all the cars appeared to be racing just fine. What was that all about?
The flagman had been hit in the head with some debris from the track. He fell to his knees but had enough presence of mind to display the red flag. During the stoppage he was administered to. Despite his injury he continued on to finish his flagging duties.
The next two restarts had sprint cars spinning, which caused yellow flag delays. I decided to go to the bathroom and probably head for the parking lot. By the time I got out of the bathroom they were on their fifth caution/red flag with only two or three laps in the books.
The non-winged sprinters need to be push started. After each red flag tonight they needed to be push started. Dang tradition! Push starting takes time. The race was going on thirty minutes as they had not completed a single lap!
I did like the retro display of a midget racer sitting behind the main grandstand. A 40-year old midget doesn't look that much different than a current model. I love the old-time race cars. However, I grew up with stock cars not open-wheeled cars. What I really love are old-time stock cars.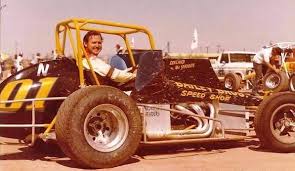 For some reason the Phoenix area has been a huge open-wheel racing market pretty much from day one. The Unsers came from nearby New Mexico. Phoenix has produced many open wheel specialist including one of my favorites Lealand McSpadden.
AFTER THE RACES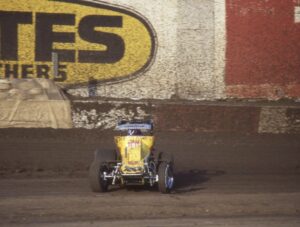 I first grew up with wingless sprint cars at Ascot Park. Big names like Dean Thompson, Jimmy Oskie and Rick Goudy, along with my personal favorite Buster Venard, sped around the famous Ascot Park. Tonight's sprint car racing did not remind me of Ascot Park. After five delays I didn't mind leaving.
The drive up to Kingman, Arizona tonight was uneventful. I was happy for that. Back in the day I used to stay at Motel 6 properties quite a bit. I don't do that anymore. However, tonight it made sense to do it in Kingman. It worked out just fine.
Good night from Peoria, Arizona.
Randy Lewis – 79 countries – 2,426 tracks.

Arizona
The Grand Canyon state
This evening I saw racing at my 39th lifetime track in the Grand Canyon state, yes, the Grand Canyon state.  I hold the #1 trackchasing ranking in Arizona. Those pesky racing Eckels are in second place.  I've seen 39 or more tracks in eighteen different states.
Thanks for reading about my trackchasing,
Randy Lewis
World's #1 Trackchaser
Peoria Old Timers Racing Club (P.O.R.C.) Hall of Fame Member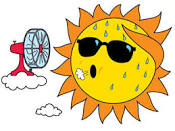 Arizona sayings:  Just Park Over There, Right In The Sun
QUICK FACTS
LIFETIME TRACKCHASER COMPARISONS 
The three most important trackchasing comparisons to me are:
Total lifetime tracks seen
Total "trackchasing countries" seen
Lifetime National Geographic Diversity results
Total Lifetime Tracks
There are no trackchasers currently within 640 tracks of my lifetime total.  Don't blame me.
Randy Lewis, San Clemente, California – 2,426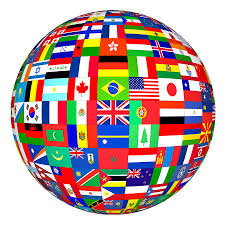 Total Trackchasing Countries
There are no trackchasers currently within 25 countries of my lifetime total. 
Randy Lewis, San Clemente, California – 79
Current lifetime National Geographic Diversity results
Randy Lewis, San Clemente, California – 4.14
That's all folks!  Official end of the RLR – Randy Lewis Racing Trackchaser Report
Click on the link below to see the video production from the racing action today.
Click on the link below for a photo album from today's trackchasing day.  You can view the album slide by slide or click on the "slide show" icon for a self-guided tour of today's trackchasing adventure.